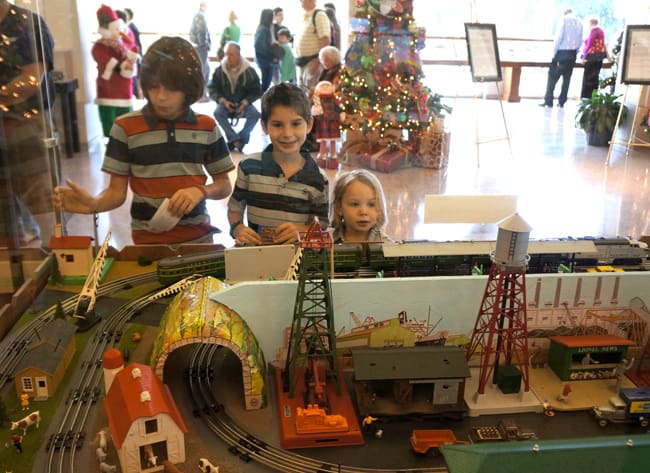 the annual Richard Nixon Library train exhibit is now open for the holiday season. it is called Train, Trees and Traditions. i took the boys to the grand opening last week to check it out, and we were surrounded by fabulous vintage trains.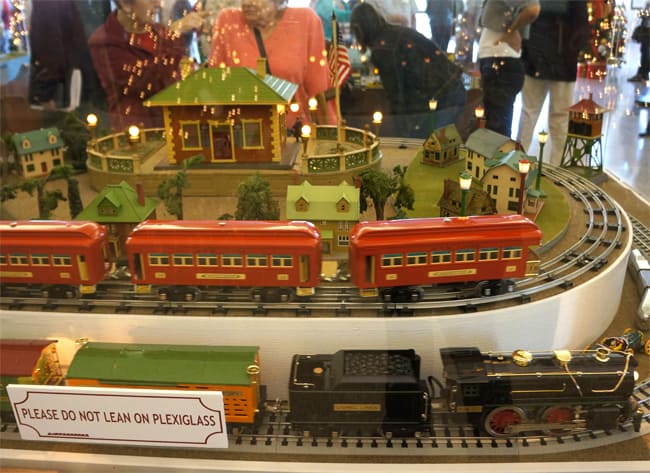 at the Trains, Trees and Traditions exhibit, visitors get a birds-eye view of a Louis Marx & Company railroad town complete with skyscrapers, tunnels, shops, automobiles and figurines, and get to experience the sights and sounds of the American Flyer powered by red-glowing steam. there are also pre-WWII tinplate models from the early 1900's, a 1950′s Lionel Dealer Display…plus a Thomas the tank Engine display!
the boys had a great time checking out all the train displays in the library. there were about 8 full displays…with a lot of great detail and unique vintage models.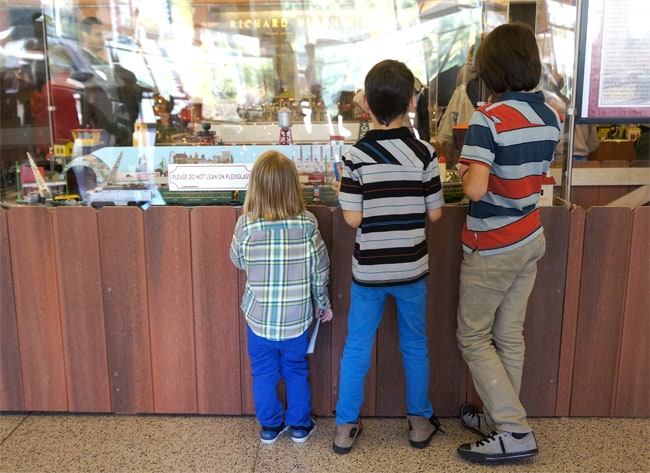 any train lover would love to see this great set-up.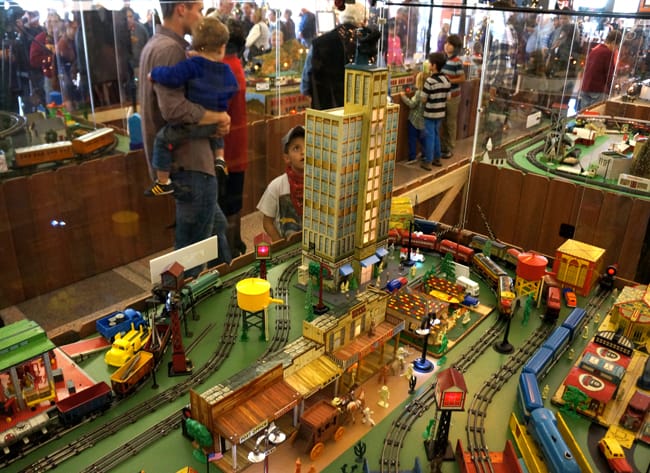 even Thomas the Train has made it into the display.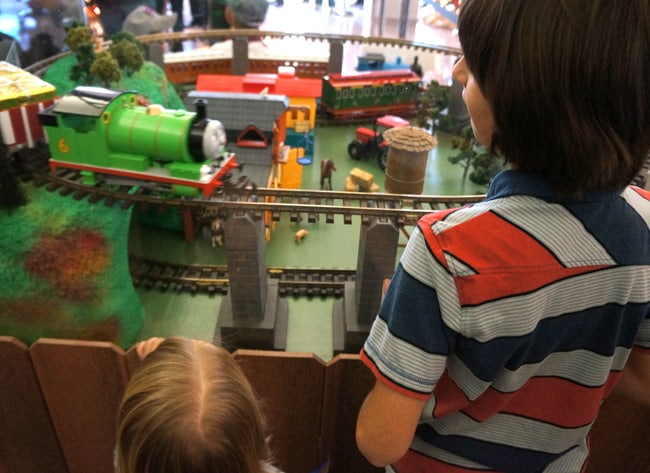 the showcase reflects Richard Nixon's love of trains that began with his childhood. it is written in his Memoirs, that he recalled one of his earliest memories from growing up in Yorba Linda as: "In the daytime I could see the smoke from the steam engines. Sometimes at night I was awakened by the whistle of a train, and then I dreamed of the far-off places I wanted to visit someday." he really loved trains.
along with the train exhibit, there are also over 25 beautiful trees that are uniquely decorated throughout the library.  each one has a different theme.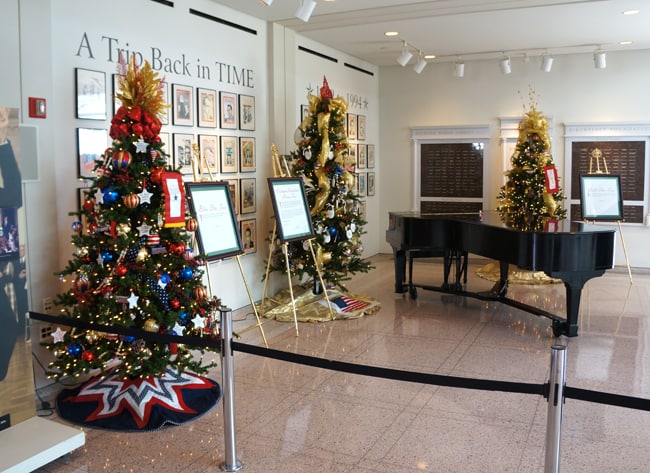 the boys were especially excited about the Star Wars tree….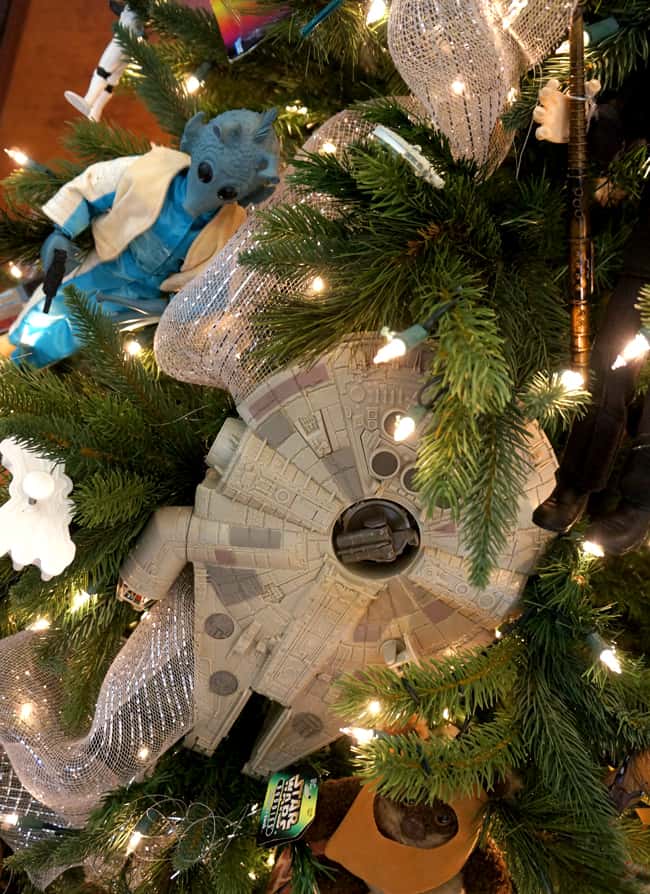 and the the space tree….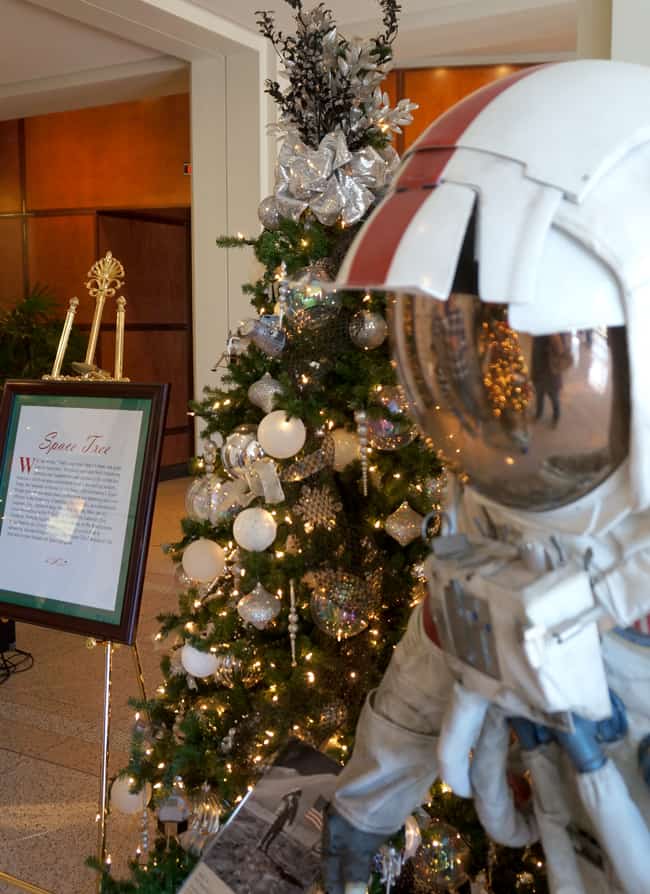 and other trees like the China tree, Spanish tree, Elvis tree and more.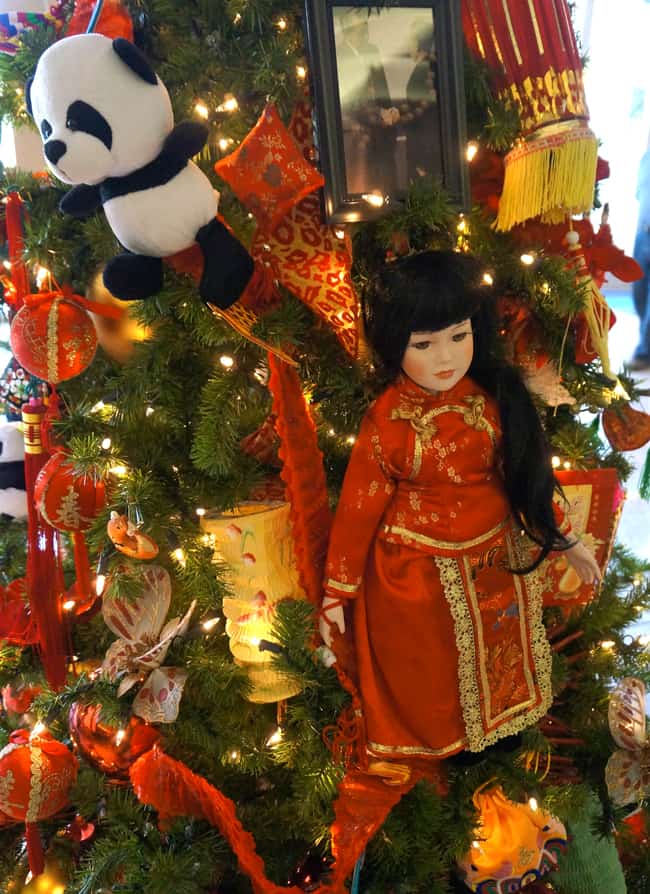 our visit to the Richard Nixon Library was the perfect adventure to get us in the mood for the holidays. the older boys were interested in going through the rest of the museum, which had to be cut short since we had a three year old in tow.  but we are going to try to make it back during the season to attend a few of these holiday events the library is hosting. they are the perfect opportunity to visit the Trains, Trees and Traditions exhibit for free. they look like fun for the kids.
Free Holiday Train Reading Program
December 3rd at 3:30 pm
Book: The Polar Express by Chris Van Allsburg
December 10th at 3:30 pm
Book: Thomas Gets a Snow Plow by Rev. A. Watt
December 17th at 3:30 pm
Book: The Little Engine that Could by Watty Piper
Free Friday Family Film Shows
December 13 & 20, 10 a.m. and 2:00 p.m.
"Polar Express"
December 27th and January 3rd at 10 a.m. and 2:00 p.m.
"Thomas and the Magical Railroad"
for more information, visit the Nixon Library website