On the weekend nights, we love to go out as a family and do fun activities around the OC. Whether it's the beach, the movies or exploring new places, we're always looking for something fun AND that the whole family will enjoy. One of our most favorite places to go in Orange County is to Sender One SNA Climbing, Yoga & Fitness Center in Santa Ana.
Last weekend, we decided to spend the evening at Sender One, and spent some time in both Sender City and Sender One. We had such a great time....as always!
Sender One SNA an awesome indoor rock climbing center here in Orange County. This is Sender One's Santa Ana location, that consists of two climbing areas. First, there is Sender One, the main area where pros to beginners come for indoor rock climbing. This area is great for teenagers and adults of all ages.
The second area, Sender City, great for kids (as well as parents) with brightly colored climbing challenges, towers, and obstacles.
I have also written about Sender City and how amazingly fun it is. The only thing that has changed since I wrote that post, is its name. It was called Funtopia, and has now rebranded itself as Sender City. It still has all the same great attractions and great staff, just a name change and the Funtopia letters on the walls.
Everything You Need to Know About Sender One SNA
Let me tell you about Sender One SNA, this indoor climbing place is amazing!!!!! People from all over Southern California come to Sender One SNA to climb their amazing rock walls. They offer classes to beginners everyday, and you can come in rock climb for a daily fee that is pretty reasonable. If you are a beginner, head over to the Sender One website to check out the beginner info.
Sender One SNA Beginner Climbers
If you have never indoor rock climbed before, the best way to start climbing at Sender One is by taking Sender One SNA Intro to Climbing class. This class includes a day pass and all the rental gear you will need. Reservations are required. This 1-Hour class will teach you how to:
Tie into the rope as a climber
Top rope belay using a GriGri
How to properly clip in and out of the auto-belays
Use climbing commands and perform checks to minimize risk while climbing
(14 yrs is the age minimum use this area of Sender One, and to take the class.)
After completing the Intro to Climbing course, you should be able to climb independently at Sender One!  
What Kind of Climbing is Offered at Sender One SNA
Sender One SNA offers two kind of climbing experiences. They offer Rope Climbing and Bouldering.
Top Rope Climbing is a great way for beginners to learn how to climb on a rope. A rope is tied to the climber's harness which then runs through an anchor at the top of the climbing route and then back down to a belayer at the bottom of the wall. As the climber goes up, the job of the belayer is to tighten the rope.
A Sender One Top Rope Belay Card is required to Top Rope Belay. In order to be a belayer, you must take the Intro to Climbing Class!
Bouldering is climbing without a rope on shorter walls. All you need are a pair of climbing shoes and chalk if desired.
Sender One SNA offer rock climbing classes where you can learn both Top Rope Climbing and Boldering, from begging to advanced levels. Click here for the classes offered.
What Amenities Does Sender One SNA offer?
Sender One SNA not only offers climbing and boldering, they also have a full gym and fitness facilities. At Senior One SNA you can enjoy:
Climbing and Bouldering in the Main Facility
Climbing and Fitness Classes
An additional Fitness building with a Yoga / Fitness Center and a S1 Training Center
Free weights and treadmills
Showers & Towel Service
Here are some photos from our time on the big rock walls at SenderOne...
This was the first time we spent a lot of time in the main climbing area, and we absolutely loved it. there were so many areas to explore and the Sender One team members were so helpful teaching us the prober way to climb.
Sender City Kids Rock Climbing Fun Center
Sender City is great for families! It closes earlier than Sender One, so plan accordingly. The boys and the hubby had fun climbing all our favorite obstacles. This evening, I decided just to take pictures. I do love climbing...but i also love taking pictures of my boys.
What Amenities Does Sender City offer?
Sender City is an amazing space for kids and adults alike. This interactive climbing center is filled with colorful climbing obstacles that will give kids the ultimate adrenaline rush. It's their chance to become a real life Spiderman. It's definitely a place where kids can conquer their fear of heights with all the high towers and giant human slide.
At Sender City, visitors can enjoy:
Fun walls to climb on
Velcro wall
Giant drop slide
Trapeze bar
Mineshaft
Jump Catch
Toddler area
Birthday parties
Adult supervision is required at Sender City.
What I love most about Sender City, is that it is a great place to help kids learn confidence. A lot of the obstacles seem scary at first, but it is fun to see them try again and again and gain the ability and confidence to get to the top.
It's hard to believe that little Vann was scared at first..and then to see him climb to the top and jump was amazing!
And parents have blast too. It's also great exercise!
Then there is this giant slide!
Half of the family was too scared to try it out, but the other half loved it. By holding onto the handle, you get pulled up to the top of the slide. when you let go.....WHEEEEEE!!!!!! You get dropped down the slide.
There's also a toddler area data Sender City. It's great for those smaller kids and toddlers who are not quite big enough to climb. this way parents can keep watch on both their kids in Sender City climbing area, and in the toddler area.
Frequently Asked Questions About Sender One SNA
Here are some questions that people have about the Sender One Santa Ana location.
How tall are the walls in Sender One Santa Ana?
The tallest walls at Sender One Santa Ana are 60 feet tall.
What is harder, rock climbing or bouldering?
Whether rock climbing or bouldering is harder depends on the person. But most would say that bouldering is physically harder. Top rope climbing is a more complex sport that requires different skills.
Does Sender One have auto belays?
Sender One does not have auto-belay devices in their main rope climbing area. But they do have auto belays for their Speed Walls located at SNA and LAX.
How big is Sender One Santa Ana?
The Sender One Santa Ana facility spans more than 35,000 square feet with a climbing center, fitness center and kids fun center!
What should I wear to Sender One Santa Ana?
You should wear clothes that are flexible and lightweight to Sender One. We recommend comfortable clothes such as slim fit pants and shirts that won't interfere with movement. You'll want to be able to reach far hand and foot holds!
Bring socks to but you will be renting shoes at Sender One. Climbing shoe rentals are free!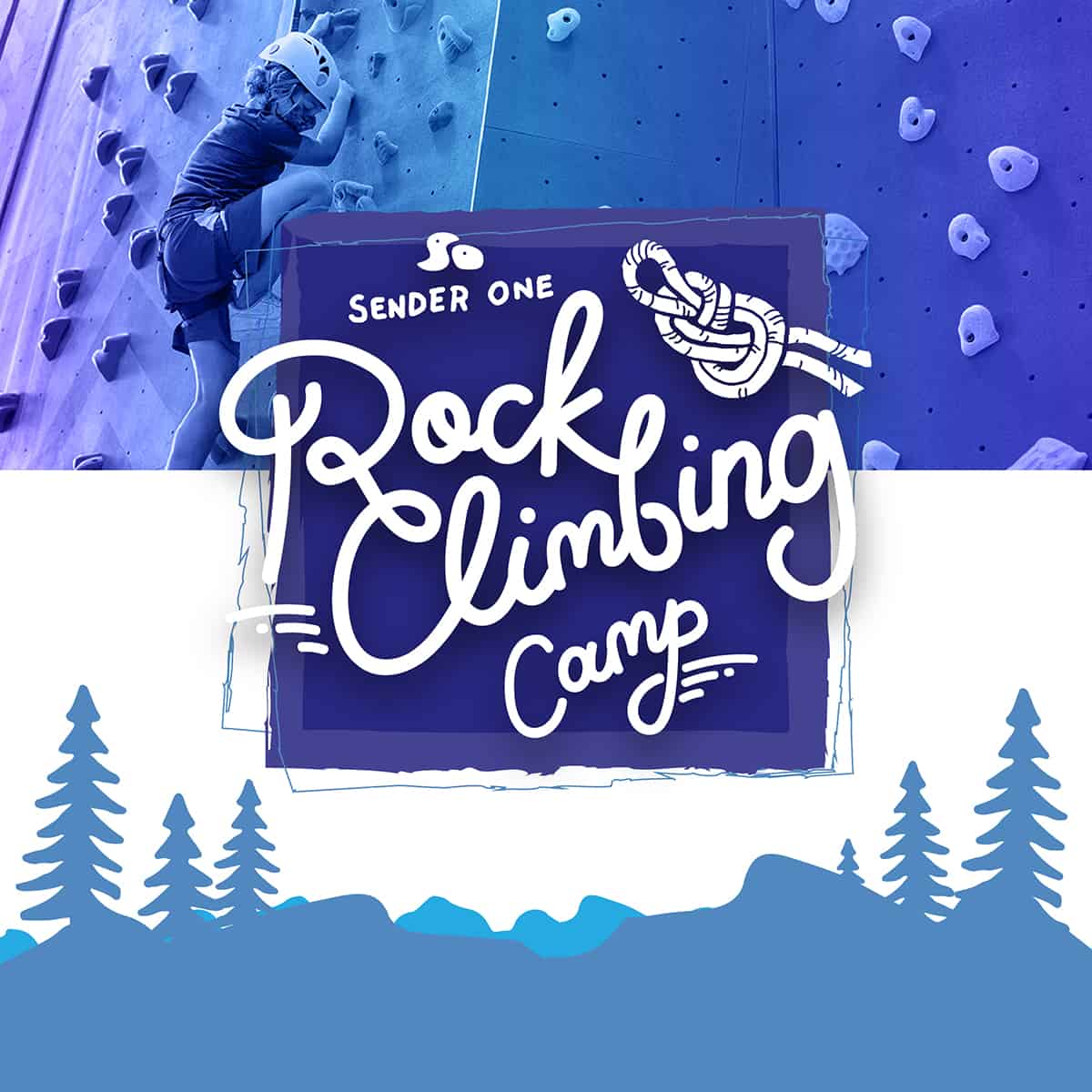 Sender One Rock Climbing Camps for Kids in Orange County
Looking for something fun for your child during a school break? Sender One offers rock climbing summer camps, fall camps and winter camps! These camps are great for kids ages 6-13 and activities include rope climbing, bouldering, king swing, slackline, fun games, and entrance into Sender City.
We have first hand experience sending our kids to Sender One Summer Camps. My kids loved it so much!
Check the Sender One SNA for rock climbing summer camp dates.
Our whole family always has such a great time at Sender One and Sender City. They are always asking to go back. I especially love that when we visit, it's and activity that includes learning, building their skills and also getting great exercise while they are at it. I hope that you have a chance to get your kids to Sender One or Sender City. It also makes a great date night adventure, so don't think this place is just for kids....because its for everyone!!!!