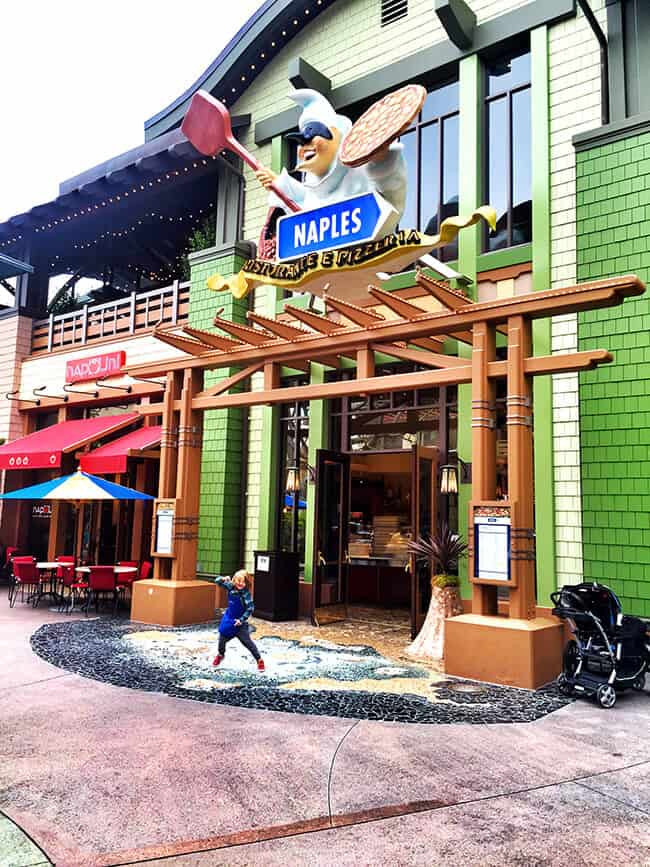 last weekend my family was invited to a Pizza Making Party at Naples Ristorante e Pizzaria. it's one of the fabulous Downtown Disney restaurants here in Orange County at Disneyland Resort. we were all very excited to attend because, besides loving pizza, we were going to get to make them ourselves. the boys have been obsessed with Master Chef Jr. and now have been begging for cooking lessons. so a pizza making party was right up their alley. i might've been just as excited as the boys!
Naples Ristorante e Pizzaria is an elegant, upscale, two-story Italian eatery and pizzaria, yet it's casual enough to enjoy lunch or dinner every day of the week. it has the charm of Italy but the magical feel of Disney, with charming decor and a vibrant atmosphere. the first floor is a classic Italian pizzeria that features an open kitchen where you can actually watch the chefs assemble your pizza, there is a two-story glass enclosed wine cellar, and a spacious outdoor patio. the second floor features gorgeous views of the Downtown Disney promenade and our balcony offers an unexpected touch of elegance with its market lighting and a water fountain.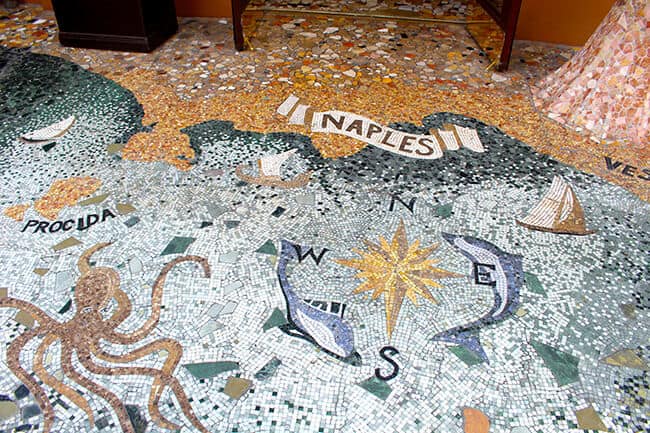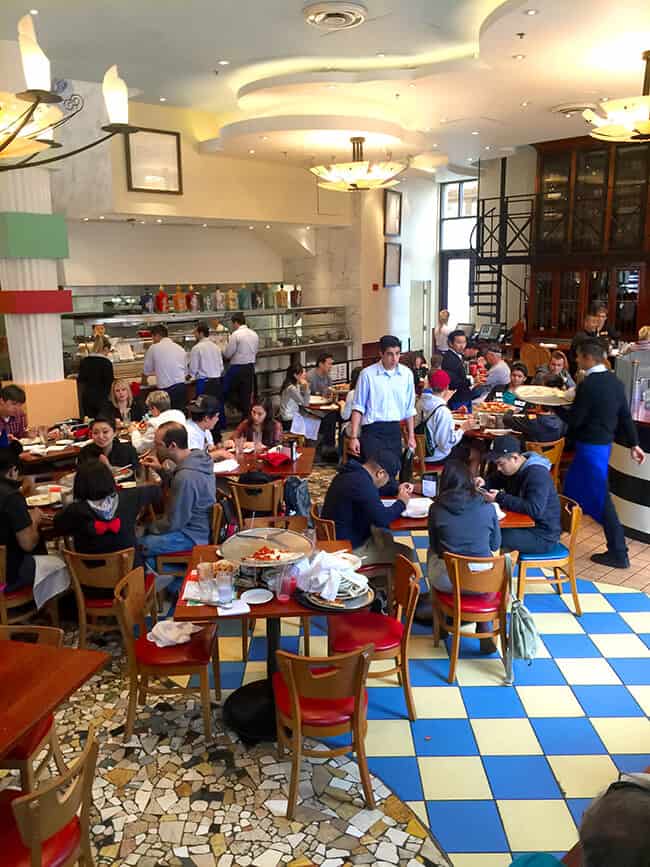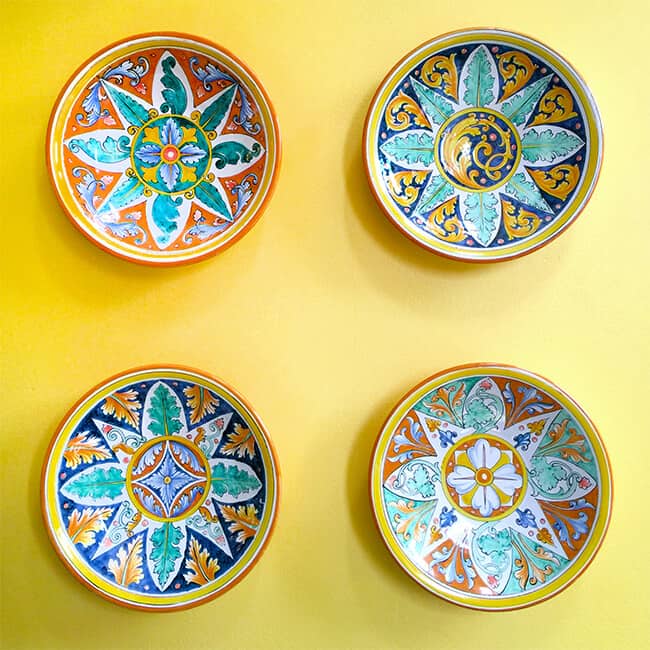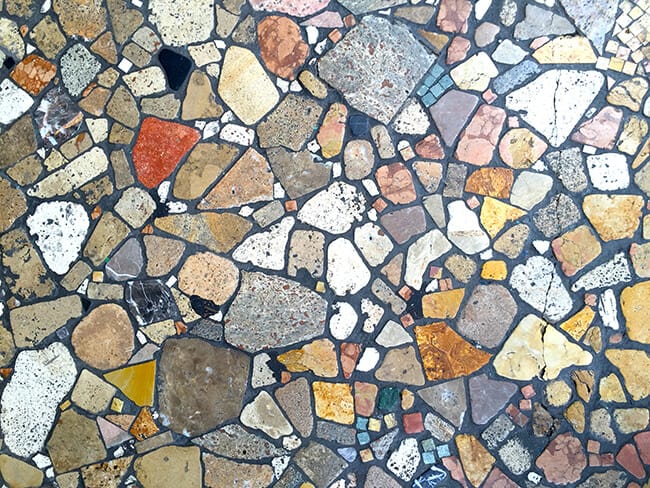 Naples Ristorante e Pizzaria Hand-On Pizza Making Parties are private events which anyone can book. they are great for all ages and for parties up to 50 people. we arrived excited to get making some pizza! but first the kids and adults got outfitted in some genuine Naples pizza aprons. you don't want to get your clothes dirty during all that pizza making.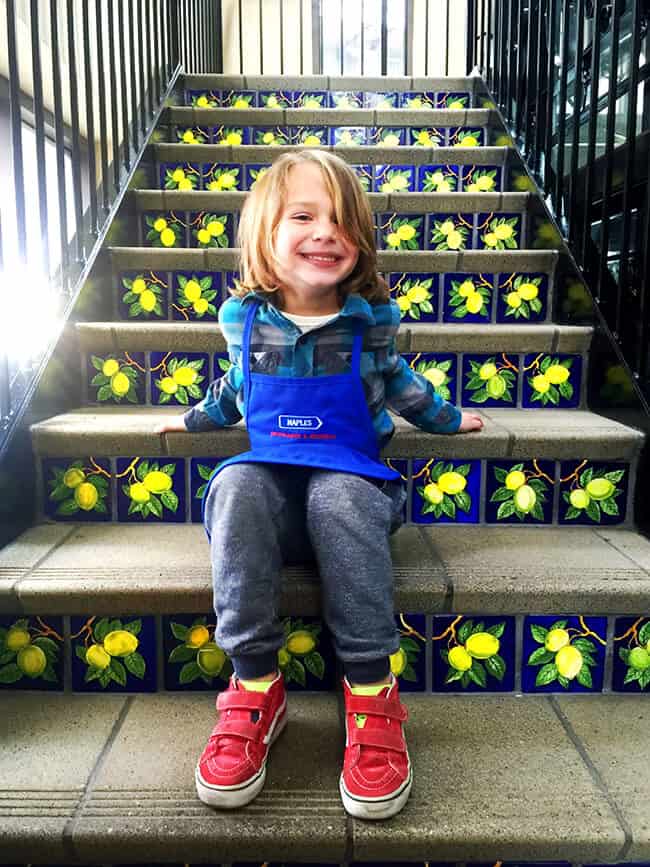 then we were served italian sodas, with our choice of flavors like raspberry and vanilla cream. YUM!!!!! i have never had a true italian soda before...let me say...GAME CHANGER!!!!!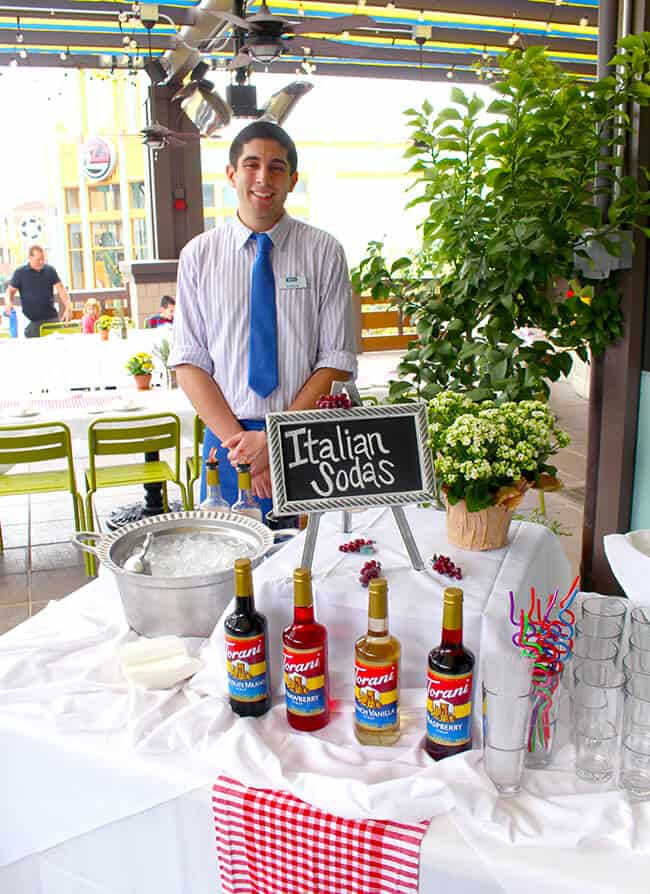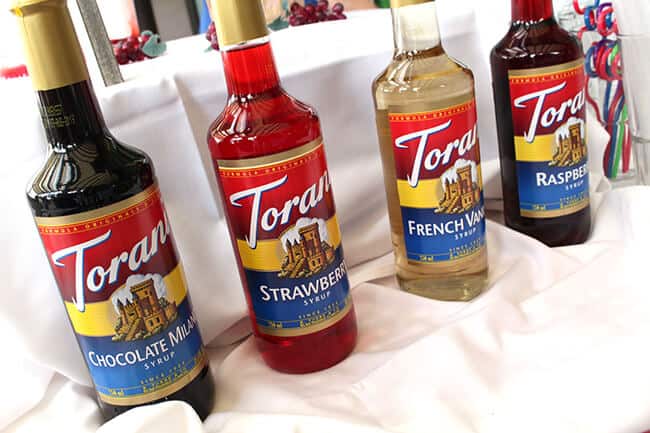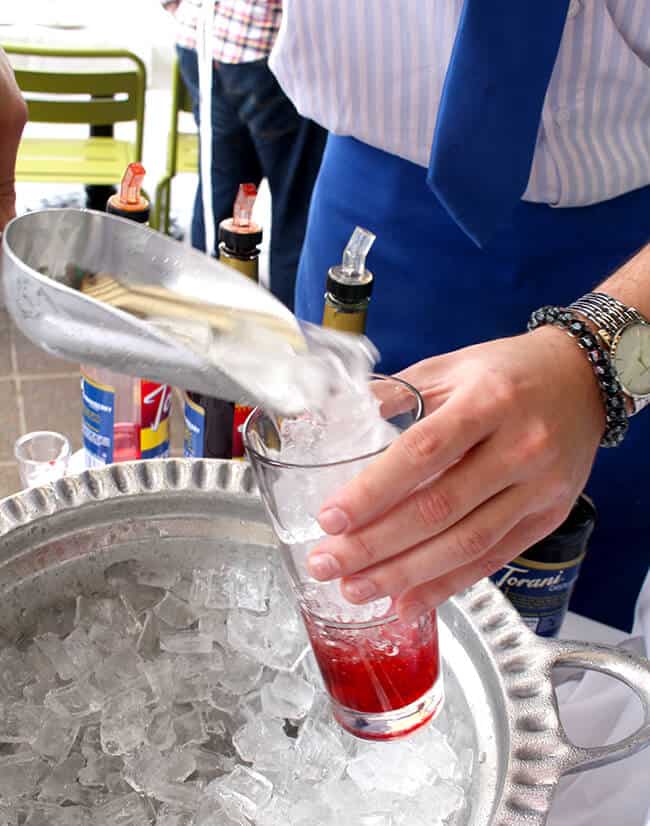 after we got our drinks, we all sat down and got a pizza making lesson from two of the talented Naples Ristorante chefs. we learned how to stretch the dough and even toss it in the air. that was the part i was ready to learn. i never seem to have luck with pizza dough.
while the boys and i waited for our turn to toss our pizzas, we enjoyed some yummy fresh bread and salad that was perfectly seasoned. it was nice to sit back and relax, watching the people of DownTown Disney off the balcony of Naples. it was such a nice day, and it was nice to enjoy the breeze and sunshine since we were sitting in the open air part of the restaurant.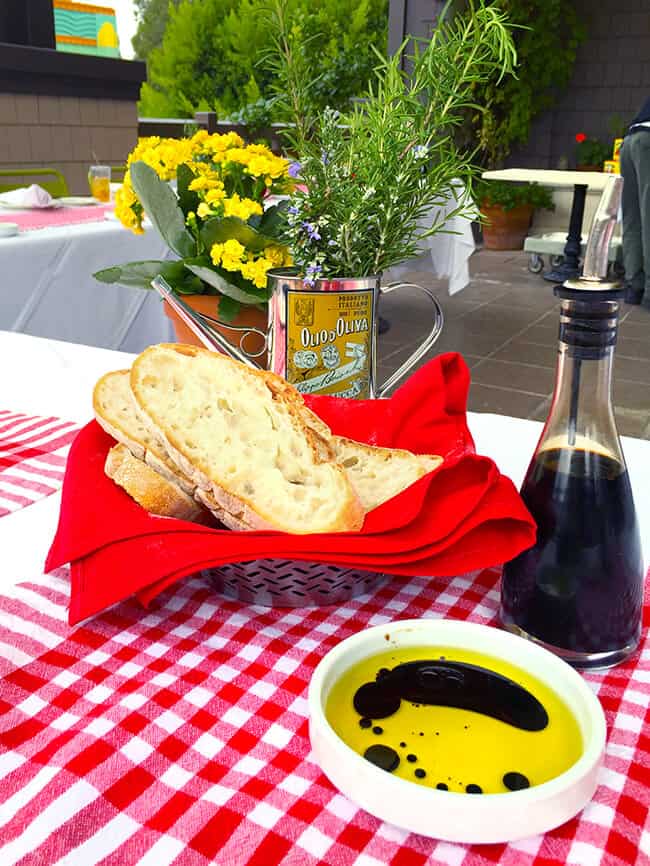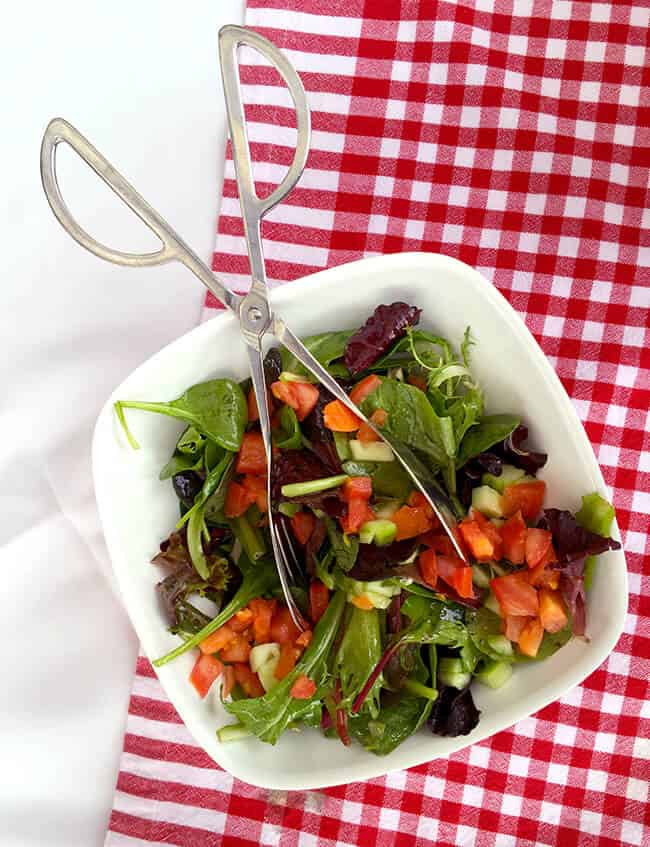 then it was our family's turn to make our pizzas! time for some fun. the boys did great, and the chefs were right by our sides to teach and help us with our dough.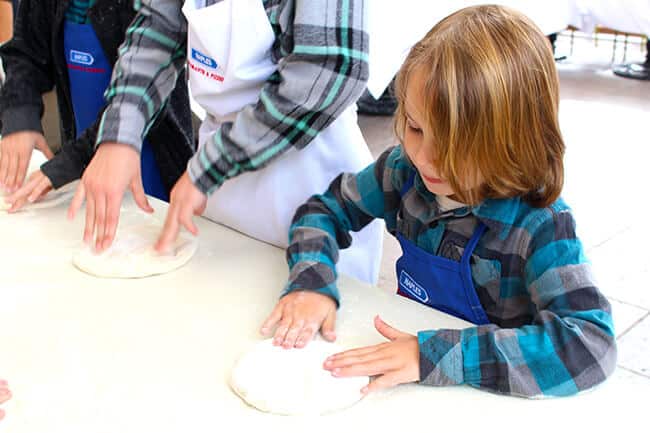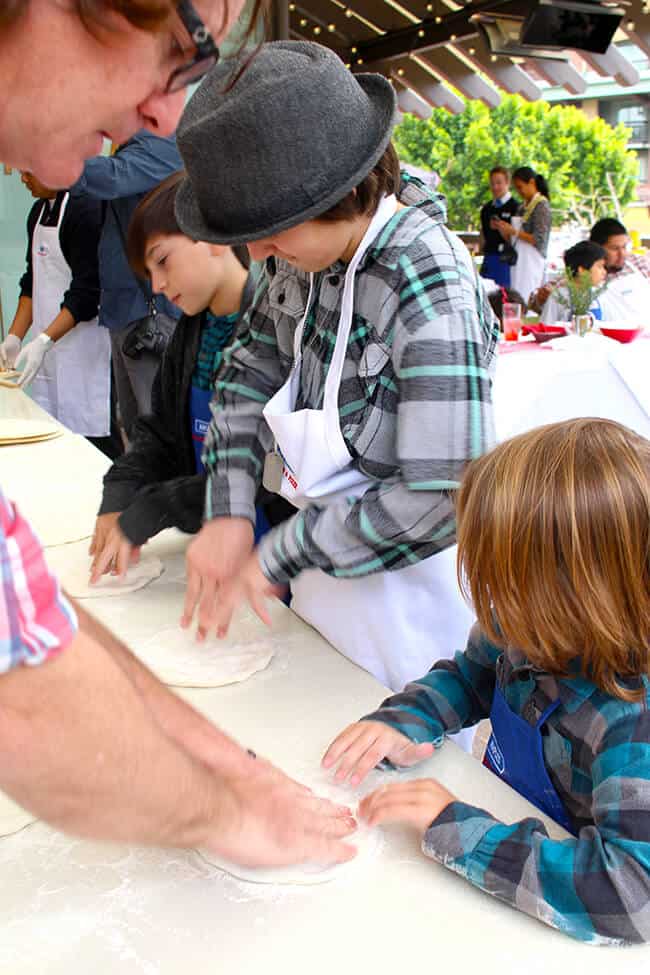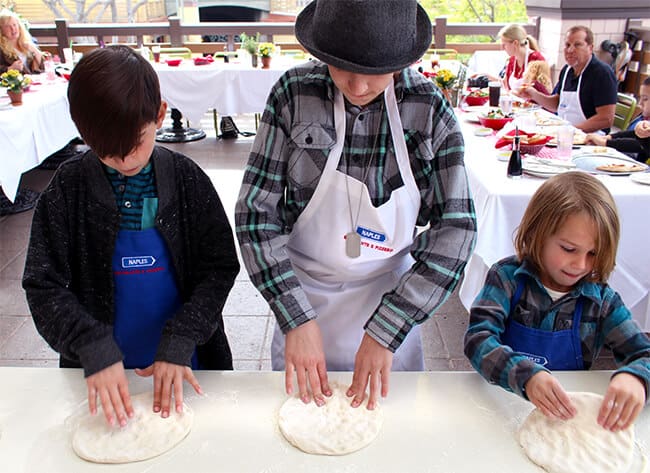 i just HAD to try throwing the dough in the air like a true pizza chef. the Naples chefs actually encouraged me to try it. and if i happened to drop it on the floor, there was plenty more dough where that come from. it was so much fun....even though this happened!!!!!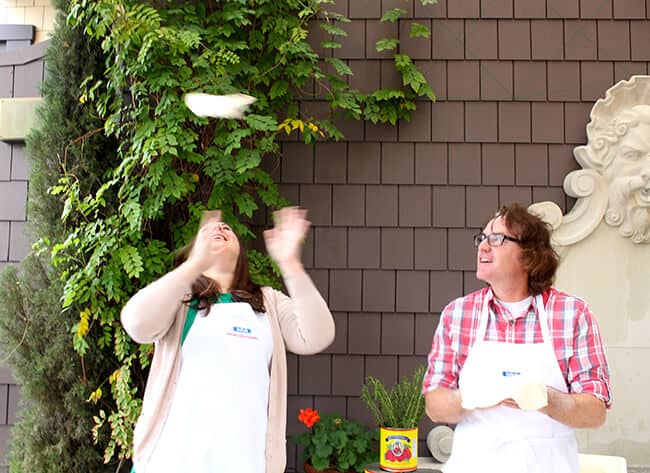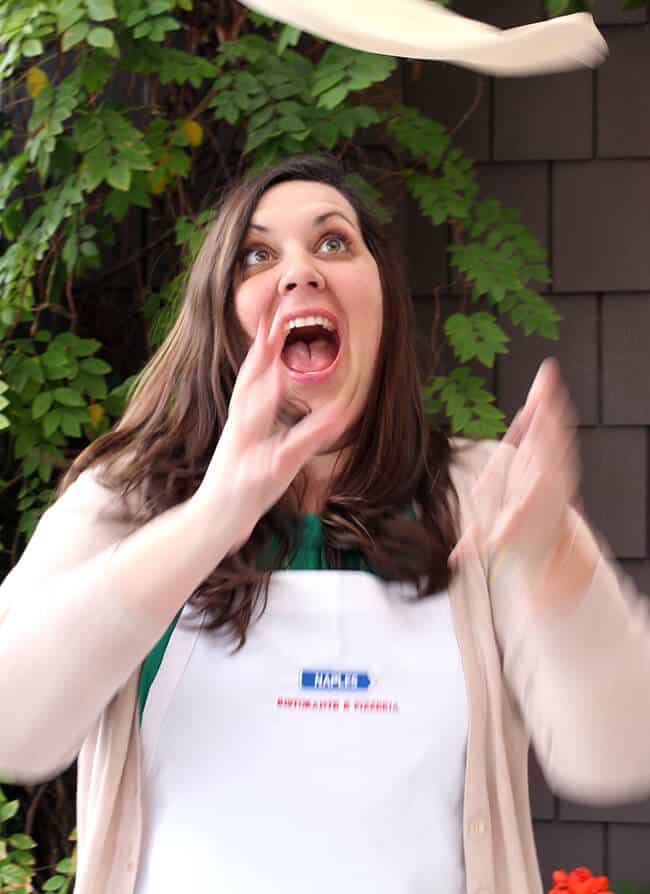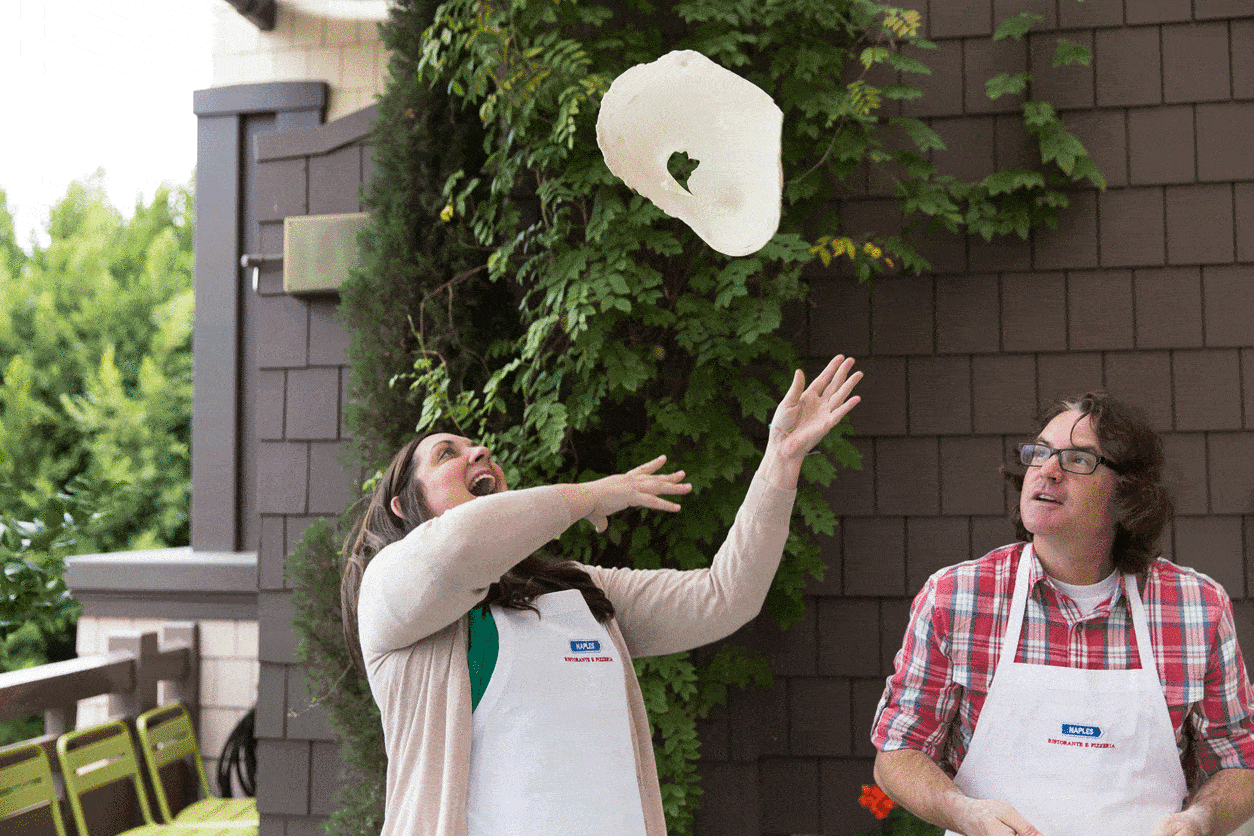 hilarious!!!
then we put our dough onto a wooden pizza tray and filled our pizza crusts with toppings. cheese straight from Italy, fresh veggies, gourmet meats, only the best toppings are served at Naples Ristorante e Pizzeria.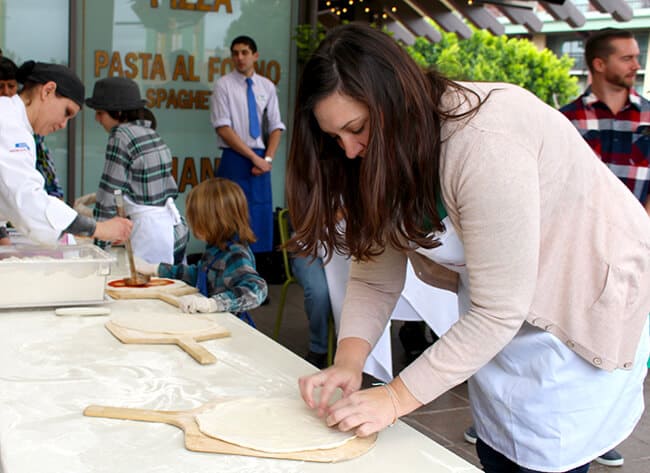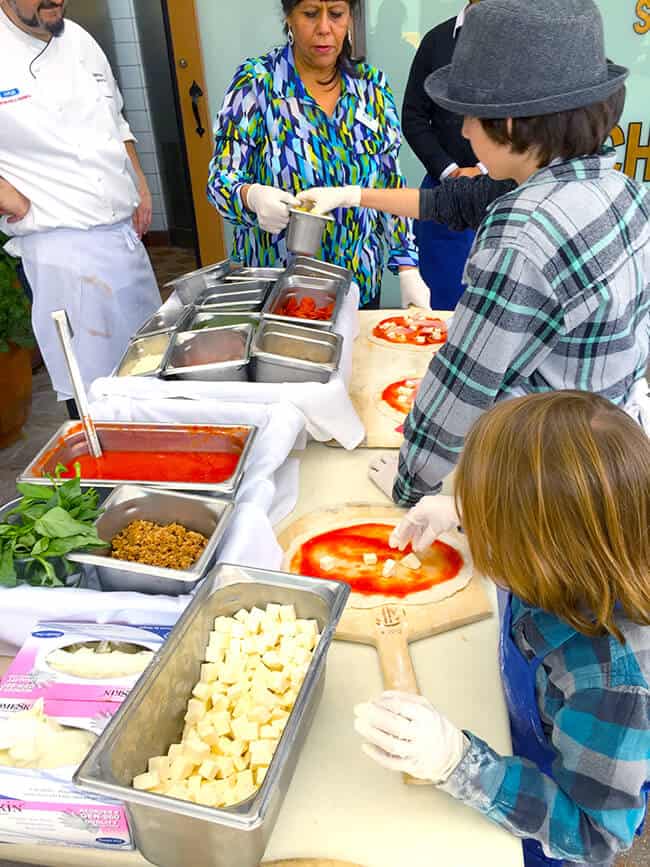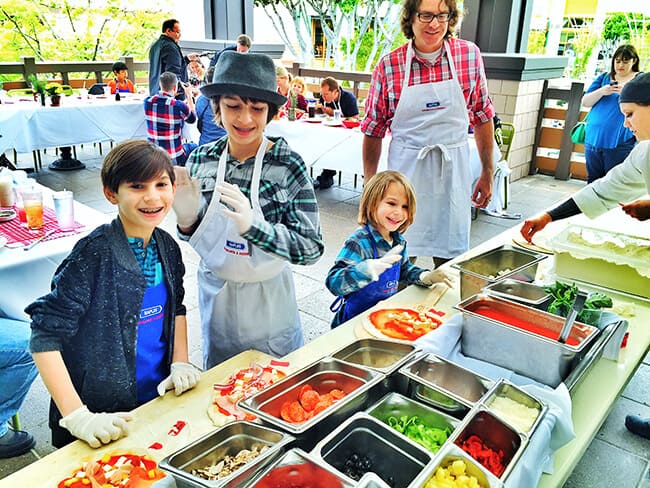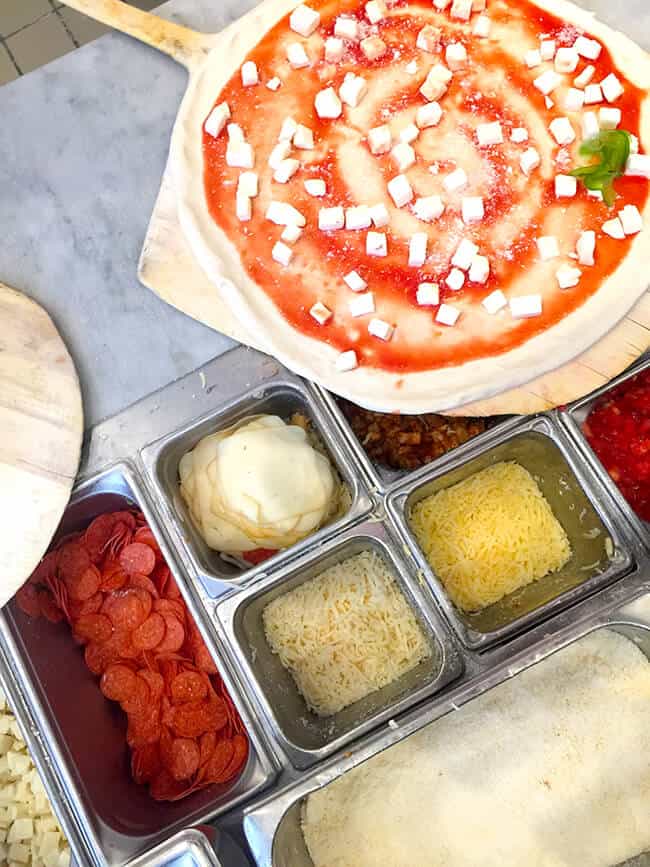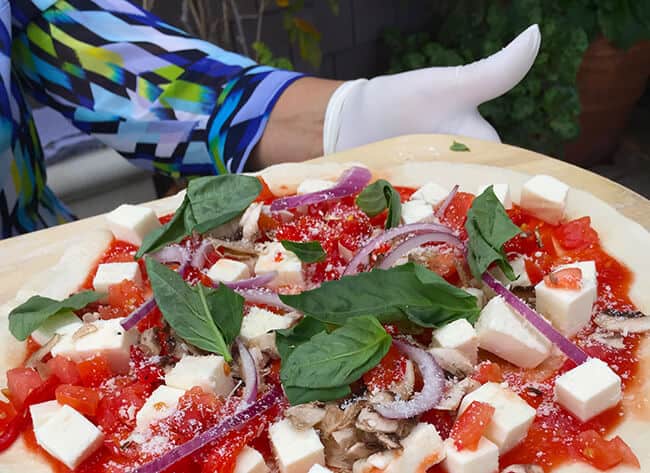 and then into the oven they went. you should see the size of this stone-fire pizza oven. it was spectacular.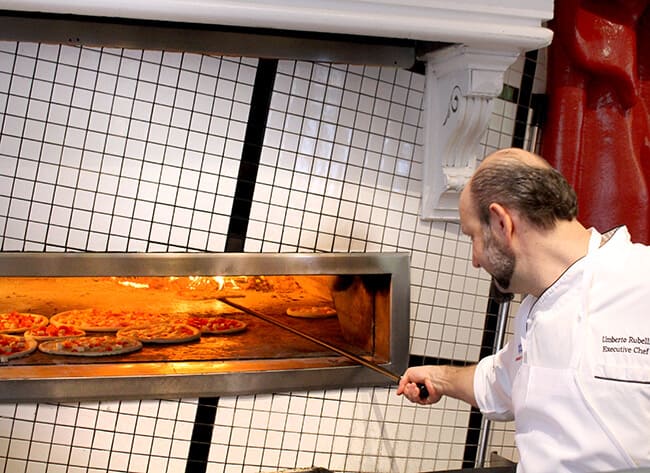 cooked to perfection! the pizzas came out with melty mozzarella cheese and perfectly crisp crust. everyone was thrilled to eat the pizzas they had made themselves.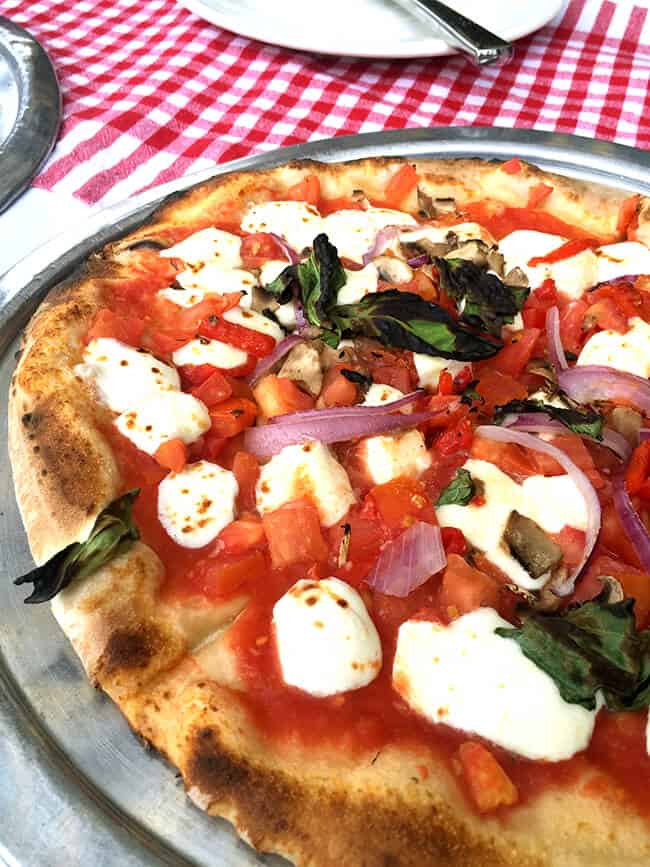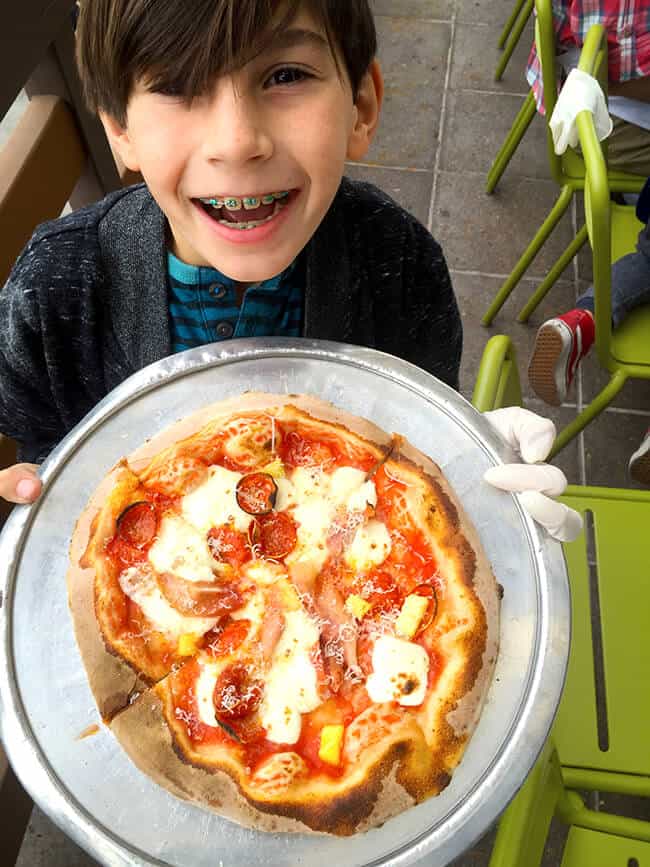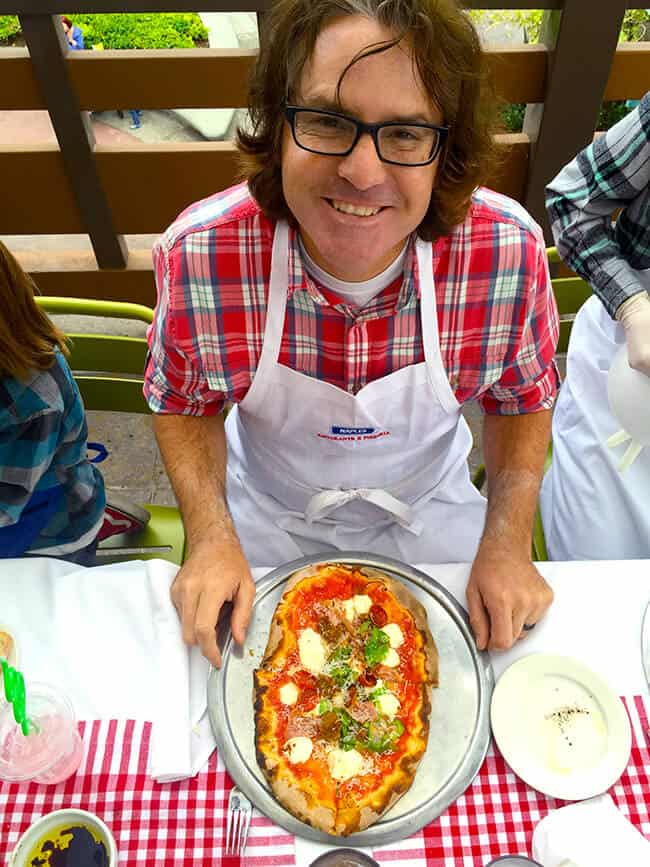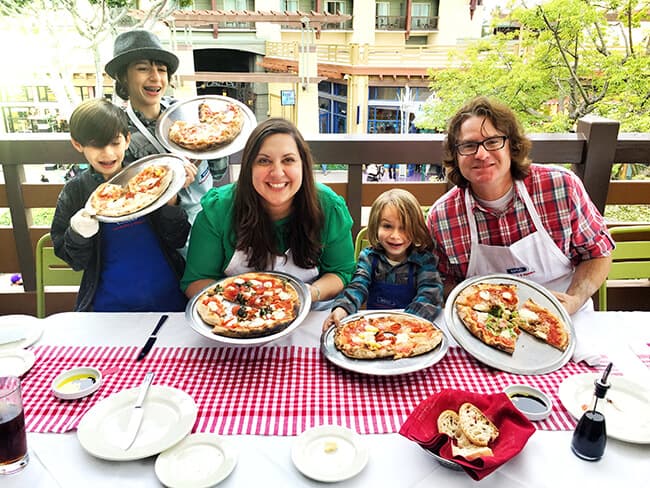 finally, after all the yummy pizza we had...we had to figure out a way to fit some italian desserts into our tummies. not hard at all. traditional cannolis, tiramasu, and dark chocolate brownies – pure Heaven!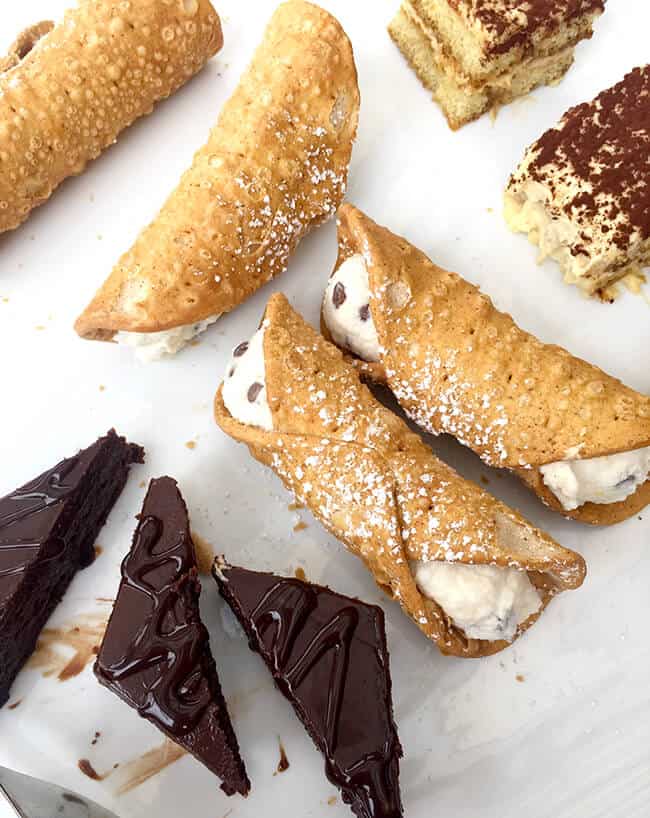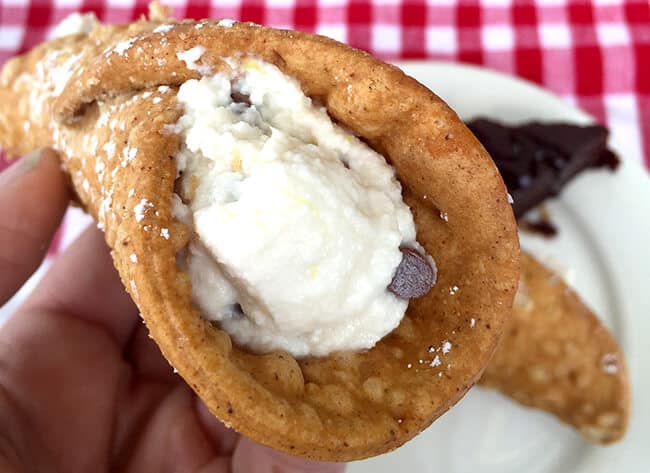 i would have to consider the time we had at Naples Ristorante e Pizzeria was the perfect afternoon spent. this sort of activity is right up my alley. now i have been trying to think of all the pizza parties i want to have in the future. my birthday is coming up...so there's at least one excuse to have a pizza party.
now it's your turn to come and make a pizza. if you would like to schedule your own Hands-On Pizza Making Party at Naples Ristorante and Pizzeria, head over to the Naples website. they will be happy to go over the details and help you set up the perfect party for your family and friends. i know i will be, i'm now a customer for life!

{ The opinions in this article are my own. I do not work for, or with any brand mentioned in this article, nor do I have any official relationship with them. I have a relationship with Gigasavvy, for whom I create original editorial content.}