although it doesn't feel like fall here in Orange County, and definitely not winter, you can still get into the winter spirit by visiting one of Orange County outdoor ice skating rinks. there are two outdoor ice skating rinks that have opened up for the holiday season here in the OC, the 
Irvine Spectrum Ice Skating Rink
and the Downtown Disney Ice Skating Rink. what a fun activity for the whole family. a fun family night...that must be paired off with a cup of hot chocolate (when the weather cools down).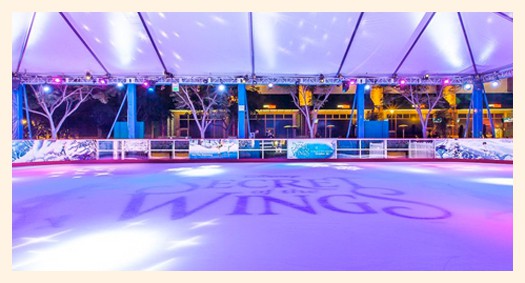 Downtown Disney Ice Skating Rink
between the AMC 12 Theatres and ESPN Zone
inspired by the Disney film Secret of the Wings — starring Tinker Bell and her fairy friends — this beautiful outdoor rink has mood-setting music and cool lighting effects. it will delight guests of all ages. don't miss your chance to celebrate the season with some traditional wintertime fun. 
Open through January 6, 2013
Sunday through Thursday: 11:00 am – 10:00 pm
 Friday and Saturday: 11:00 am – 11:00 pm
$15 general admission
  •  
$3 skate rental 
$12 toddler admission  •  skate rental (size 8T–13T double-bladed skates available)
helmets and wrist guards are mandatory and will be provided free of charge.
3 hours free parking. receive up to 5 hours of free parking with validation.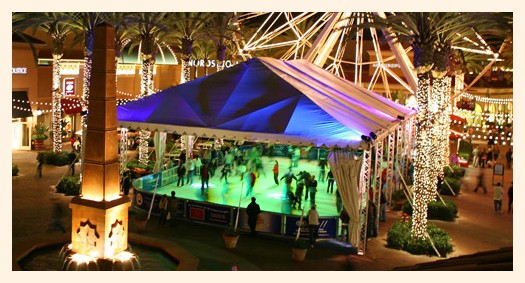 Irvine Spectrum Ice Skating Rink
Irvine Spectrum Shopping Center
by the Giant Wheel Court Adjacent to Macy's & Nordstrom
November 1, 2012 to February 18, 2013
11:00 am - 12:15 pm 
12:30 pm - 1:45 pm 
2:00 pm - 3:15 pm 
3:30 pm - 4:45 pm 
5:00 pm - 6:15 pm 
6:30 pm - 7:45 pm 
8:00 pm - 9:15 pm 
9:30 pm - 10:45 pm 
(extended session available on Fridays, Saturdays, and Nov. 18-21, Dec. 23, Jan. 1 & 20 and Feb. 17) 
CLOSED Thanksgiving Day & Christmas Day
November 23 - Open 12:30 am - 8:00 am and 11:00 am - 10:45 pm 
December 24 - Open 11:00 am - 6:15 pm 
December 31 - Open 11:00 am - 9:15 pm 
January 1 - Open 11:00 am - 10:45 pm 
$14.00 general admission  •  
$3 skate rental 
$12 
toddler admission  •  
includes skate rental (sizes 8T - 12T only) 
$129 season pass  •  includes admission + skate rental (no blackout dates) 
no charge for helmets (recommended; available upon request)