If you've been running around trying to figure out those last minute gifts, let me give you a few ideas! I've always have the hardest time getting my kids to tell me the things that they would like for Christmas. The reason is, we just aren't home very much. We're constantly on the go doing things together because we prefer experiences over things. That's what spend most of my money on, although not all the experiences we do together cost money, we do a variety. My hopes is that my children will have the best memories of the experiences we've shared together when they grow up.
Here are some ideas of Experience Gifts that you can find right here in Orange County.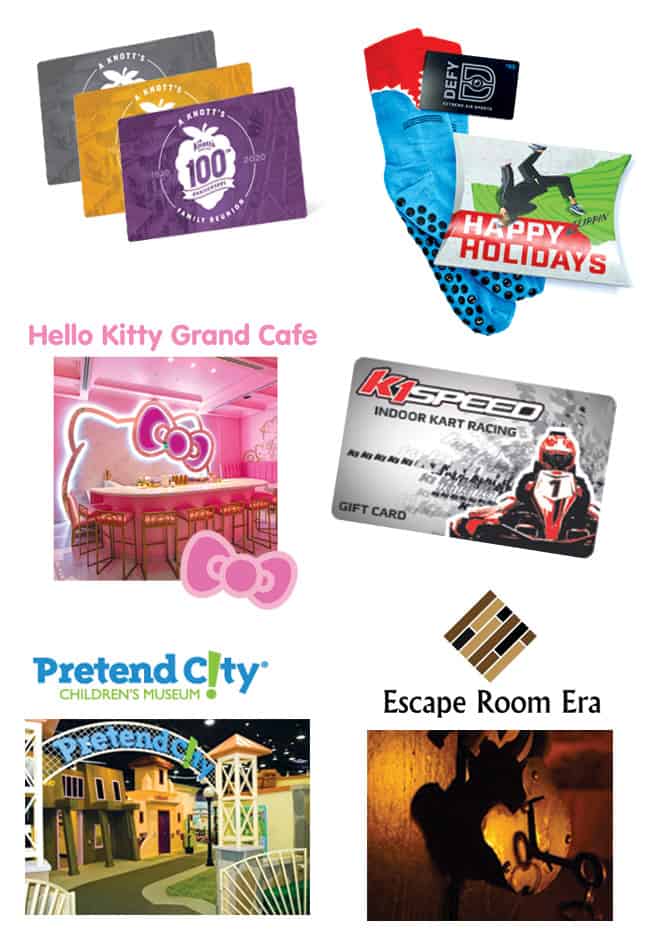 Knott's Season Passes - This is my number one pick. They are not only a fantastic deal, but you can go everyday of the year. There are no blackout dates, and Knott's has different Seasons of Fun so you can have many different experiences throughout the year.
Defy Extreme Air Sports / Orange County - DEFY Mission Viejo is your extreme indoor recreation experience that's a mix of parkour, Cirque du Soleil, trampolining, and ninja warrior courses! This holiday they are offering exclusive stocking stuffer includes a gift card in increments of either $25, $50, $75, or $100. This stocking stuffer is the ideal gift to get kids off technology and one that provides a unique, cool experience for everyone in the family.
Hello Kitty Grand Cafe - Offers a super cute menu featuring freshly baked cookies, cakes, donuts, seasonal goodies, and handmade hot and iced drinks, plus Hello Kitty Cafe merchandise! There is a sweet seating area to enjoy the experience. If you make a reservation at the Bow Room, you can enjoy a traditional Afternoon Tea service with a supercute Hello Kitty twist that includes fresh seasonal fruit, savory tea sandwiches, yummy sweets and a pot of tea from a vast selection of fine tea options.
K1 Speed - America's Premier Indoor Karting Company. Compete for the fastest lap against friends, family and other racers. First time drivers will receive a mandatory briefing session on rules and safety. After each race, you'll receive a race result sheet that allows you to compare your times and overall rank against other drivers.
Pretend City - Pretend City is an interactive children's museum that builds better brains through whole body learning experiences, educational programs, and creative exhibits. It's super cute with kid size restaurants, shops and service building that they can pretend play in.
Escape Room Era - A fun place to experience escape rooms where you will uncover interactive games with clues to find, riddles and puzzles to solve, and a mission to accomplish within one hour. These rooms will test if you are a team player and a creative thinker. Ignite your curiosity. Heighten your sense of FUN. Super fun for tweens, teens and adults.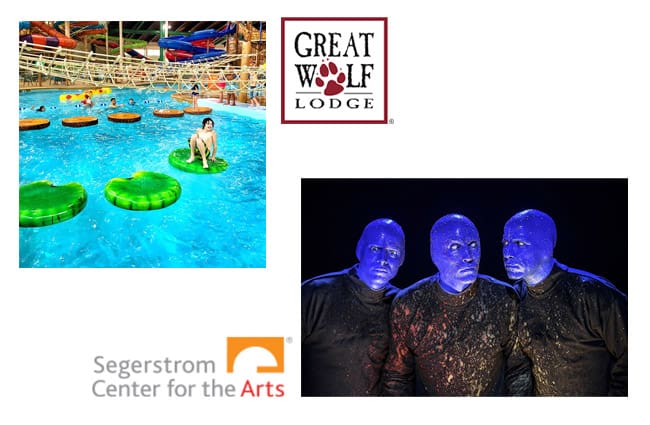 Great Wolf Lodge - Great Wolf Lodge in southern California provides indoor water park fun and dry-land experiences for your entire family. Enjoy kid-friendly indoor activities, dining, shopping, and more all under one roof. Choose from over 600 suites, each featuring free access to all the water park's 14 slides, four pools, and more. Near Los Angeles in Garden Grove, the water park is a warm 84 degrees all-year round.
Blue Man Group - BLUE MAN GROUP returns to Orange County for a limited engagement on their new North American tour. It's everything you know and love about BLUE MAN GROUP—signature drumming, colorful moments of creativity and quirky comedy—the men are still blue but the rest is all new! Featuring pulsing, original music, custom-made instruments, surprise audience interaction and hilarious absurdity. On January 7th and 8th they are hosting Kids Nights on Broadway and kids can go FREE! Use code BLUEKID when purchasing and when you buy one ticket at full-price, you'll get another ticket FREE.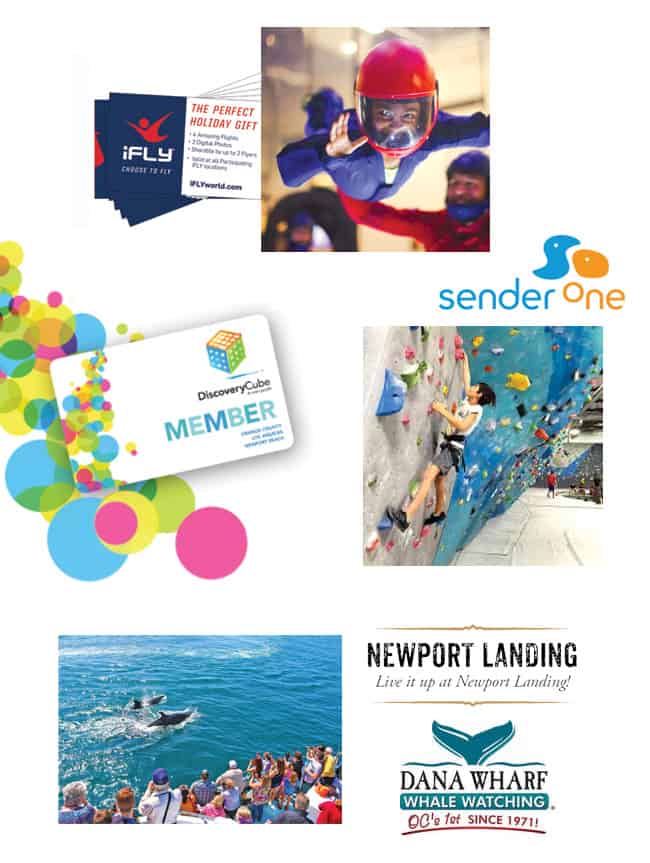 iFly Indoor Skydiving - An indoor skydiving flight experience that's equivalent to the free fall of outdoor skydiving from 14,000 feet! For 50 seconds you will be flying in the air and experience what free falling skydiving is really like! However, without the worry about the weather, lengthy delays, travel time or having to actually jump out of a plane! Kids as young as 3 can experience iFly, it's so much fun!!!! And it's safe.
Sender One Indoor Rock Climbing - Climb buildings and towers; or race your friend's to the top in Sender City — an interactive climbing center great for kids and adults. This gym also offers bouldering, and 50ft rope climbing walls, including the iconic "Ice Cream Cone" feature. Round out your training on the fully-kitted MoonBoard & hangboards.
Discovery Cube Annual Membership - A membership to Discovery Cube will give you a year of fun! You can use it to experience all 3 of their Campuses. It's the best way to experience all the new exhibits all year round. Your Discovery Cube membership comes with numerous perks including members-only programs / Special Pricing, events and exhibition previews.
Whale Watching Cruise at Newport Landing or Whale Watching Cruise at Dana Wharf - Select from several whale watching cruise times daily and year round. Whale watching & dolphin cruises view giant blue whales, finback whales, gray whales, humpback whales, minke whales, several species of dolphin and much more. 
Why Experiences Make Great Gifts
Sharing experiences together is one of the things that makes us human. It's part of our nature. It is a fact that we can start to degrade as a person when we aren't sharing life and its experiences with others. Studies by researchers reveal that people self-report that happiness from material purchases fades in time, while experiences become an ingrained part of our identity and actually become more valuable to us as time passes.
I can totally agree with this. The past few years, our family has focused on experiences and we've never been happier. And don't think it all has to be expensive and money based. You can simply make some coupons to go to the beach, or hiking, or to the park. It's the exploring and time together that creates the amazing memories. Happy Holidays!