The OC Fair opens this week! And If yours kids are anything like mine, they are already begging to go. The OC Fair is an icon of summer here in Orange County, and every year there is a month long celebration of fair favorites. I love almost everything about the fair except for the prices. Not everything is expensive, but with four kids, things can add up. So, I am sharing a list of ways on how you can Get the Most Out of the OC Fair on a Budget with Kids.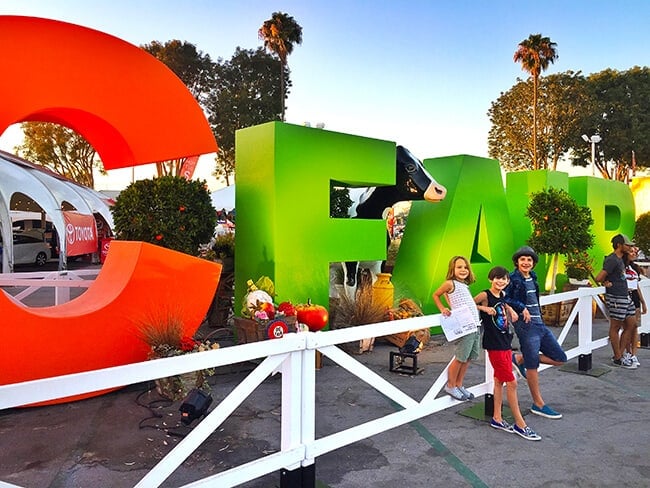 For our family, we usually go to the OC Fair 2-3 times each year. We usually go once and splurge on food, rides and activities. But the rest of our visits are definitely budget days. A typical budget day will include: going on Opening Day for free or on a "Kids Free Day". The kids get three free rides for doing the Read & Ride program (more info below). We will share a treat, visit Centennial Farm, check out the art exhibits, play in the Explorium, and watching the free shows happening around the fairgrounds.
Sometimes I give each kid $10 to spend however they'd like. If they know ahead of time, that it's the only extra money we will be spending, I curb any begging for extra items at the Fair. Plus, they get to learn about budgeting and being intentional in getting what they want.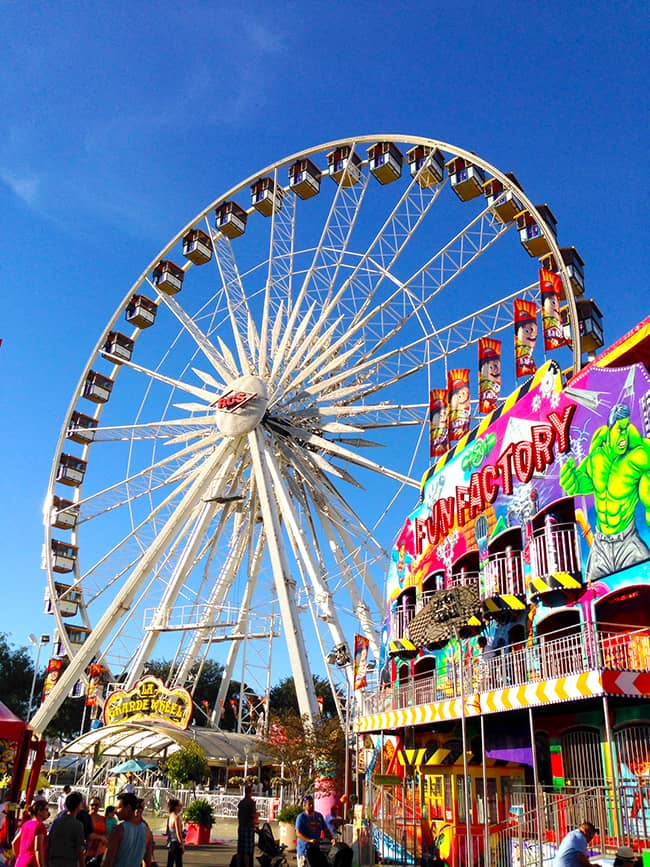 OC Fair Ticket Deals
Visit the OC for free or almost FREE. The OC Fair has free days, free kids days and discounts on admission prices. first things first, on Friday, July 12th, Opening Day, everyone is Free 'Til Three (12-3 p.m.). and did i mention FREE PARKING.
• We Care Wednesdays run from noon to 3:00 p.m. just donate the specified items to each Wednesday Non-profit partner and get a FREE admission to the OC Fair and one carnival ride per person.
July 17th - School Supply Drive
(bring new school supplies valued at $5 or more, such as pens, pencils, crayons, notebooks (items must be sealed; no coloring books or workbooks)
July 24th - Share Our Selves Canned Food Drive, benefitting Second Harvest and OC Food Bank
(bring 5 canned food items)
July 31st - Children's Book Drive, benefitting THINK Together
(3 new or gently used children's books
August 7th - Clothing Drive, benefitting Goodwill OC
(bring 5 gently used clothing items)
OC Fair Discount Tickets
• Thursdays are Kids Day
Children 12 & under receive FREE Fair admission all day.
• On Fridays, it's Seniors Day (60+). Seniors get in for $5, plus FREE Ferris wheel and merry-go-round rides all day.
• First Responders and Law Enforcement get free admission the Week of August 7th through 11th. This includes active-duty and professional staff of the police, sheriff, fire and emergency services departments. Plus, they get the option to purchase up to 4 general admission tickets for their guests at half price. Issuing agency ID is required.
• On Saturday & Sunday, the OC Fair offers the "Best Deal Ever" from 11 a.m.-1 p.m. general admission is half price. Sundays only: $35 Unlimited Ride Wristband available – ride until 4 p.m., sold until 1 p.m. Includes 1 ride on the Titan; all other rides are unlimited.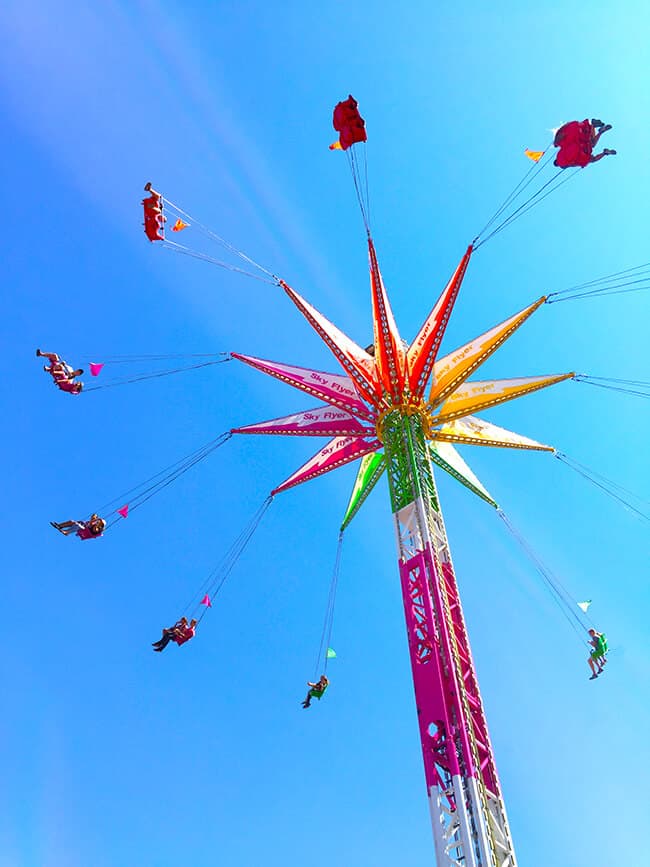 How to Save Money on OC Fair Rides
The rides are so much fun and they are one of the things that the kids beg for the most. but tickets can really add up, and each ride can cost anywhere from 3-10 tickets! yikes. Here are some ways that you can get some free or discounted tickets.
Did you know that your kids can get 3 free rides just for reading?!!! it's a great deal and worth as much at 20 tickets. the OC Fair Read & Ride program allows kid ages 5-11 can read two books to earn three free carnival rides by writing a short book report on this form. And just so you know, i don't think they are strict on ages, because i made all my kids read and write the reports last year and they all got free rides. Such a great deal. completed book report forms can be redeemed for ride tickets at the Centennial Farm Information Booth during Fair hours.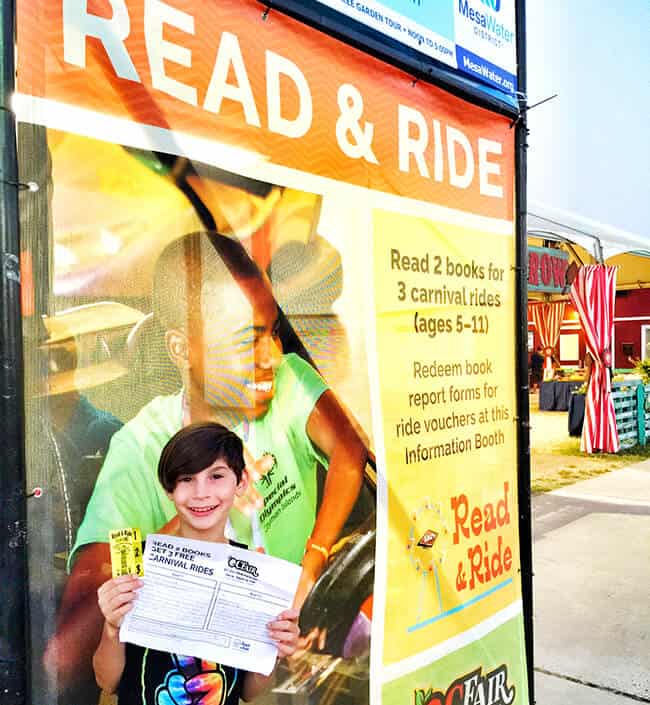 • Wednesdays $35 Unlimited Carnival Ride Wristband
Enjoy all the rides you can handle for one price. (Sold until 5 p.m. Valid until 8 p.m. Wristbands must be purchased onsite. Required Fair admission sold separately.)
• on Fridays, get $2 Rides and $2 Games noon to 4:00 p.m. in the Main Carnival and Kiddie Carnival.
• Sunday Carnival Special – get a $35 unlimited ride wristband. Valid 11 a.m. to 1 p.m.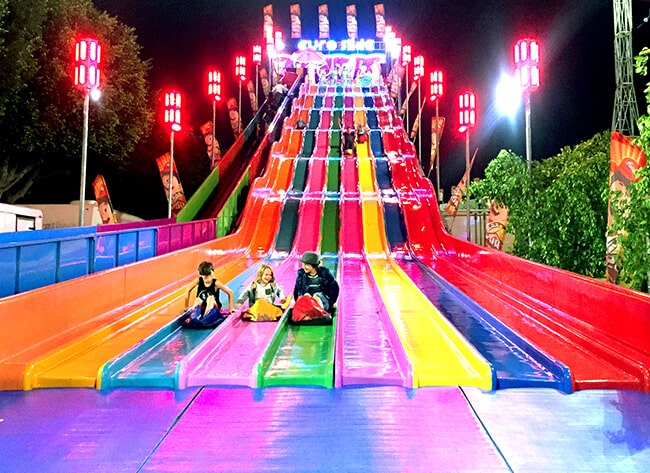 Free Things to Do at the OC Fair
There are lots of free things to do at the Fair, you don't even really need to buy anything to enjoy it. Our favorite things are - Centennial Farm, the Explorium (Kid Zone), acrobatic & hypnotists shows, arts exhibits, culinary exhibits, Reptile House, Pet Center, 4H exhibits, water area, garden and farm area, free rides for kids with the Read & Ride program, and browsing vendor booths.
Seeing the baby animals is the most favorite activity on our list, followed by the Explorium Kid Zone shows.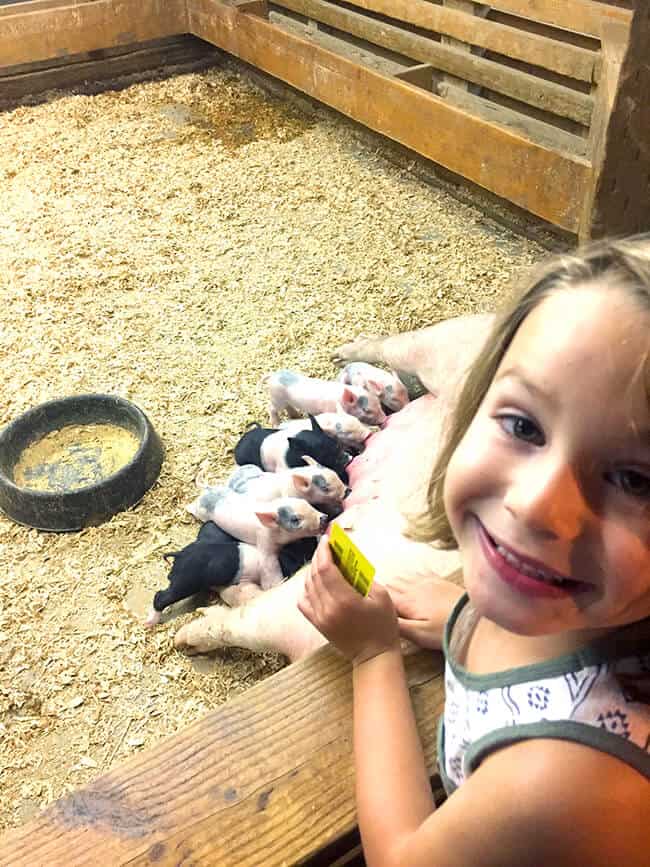 How to Save Money on Food at the OC Fair
out of all the attractions and amusements at the OC Fair, the food is what can cost the most. it really adds up if everyone wants a meal, and a drink, and a treat, and another treat.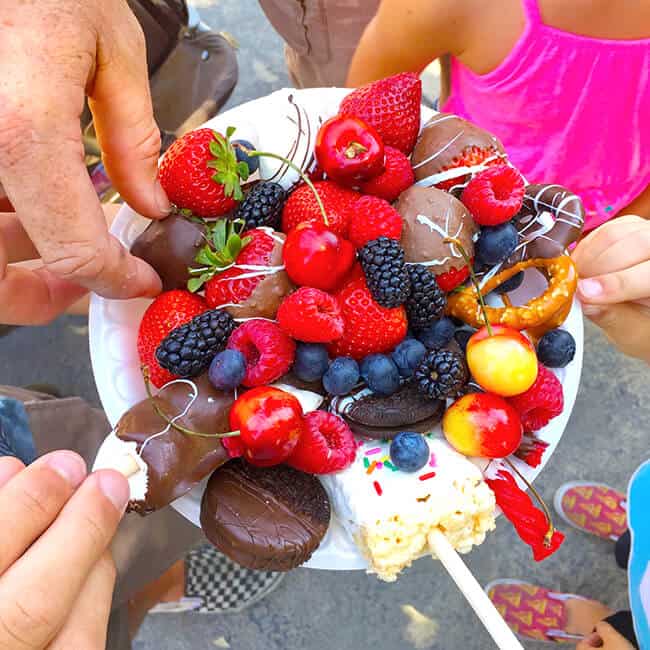 If you are on a budget and want to spend as little as possible on food, i suggest eating first and then visiting the Fair. A fair isn't a fair without food, so plan on at least getting a treat to share. Some suggestions of my favorite sharable Fair treats are – Funnel Cake (with ice cream topping), Caramel Crack Fries, Berry Treat Bowl from Sherri's Berries, Giant Donuts (look for the Unicorn Cotton Candy Donut), Giant Foot-long Corn Dogs, Loaded Curly Fries, Fried Zucchini and the Big Skillet Cookie.
Plus, on Thursdays, you can get $3 Taste of Fair Food from noon to 4:00 p.m. It's a great way to get to enjoy a variety of select fun-sized Fair treats for a value price. Samples include funnel cake, tri-tip, lemonade, cinnamon rolls, tacos, gelato, cotton candy and more.
How to Save Money on OC Fair Parking
General parking is $10 everyday. You can always park for free offsite at some of the free parking lots and walk to the Fair. Or you can get FREE Off-Site Parking on Saturday & Sunday and Free shuttle service from 10 a.m. to 1 a.m. at the Experian parking structure located off the Bristol Street exit of the 405 Freeway. follow the signs to "Experian."
The OC Fair Express costs $2 each way, or $1.50 for seniors 60+ and persons with disabilities. When you ride the OC Fair Express, you receive a coupon for $4 OC Fair admission, that's a $10 savings! OC Fair Express buses depart from nine locations on Saturdays and Sundays throughout the duration of the Fair. When riding the Metrolink, you can connect to the OC Fair Express at the Anaheim Canyon, Santa Ana, Irvine or Anaheim-ARTIC Metrolink stations. show your valid Metrolink ticket and ride the bus for free.
Now it's time to enjoy the OC Fair!
The OC Fair runs for a whole month, this year's dates are July 12th through August 11th. Hopefully with these tips and tricks, you can visit multiple times and not break the bank.