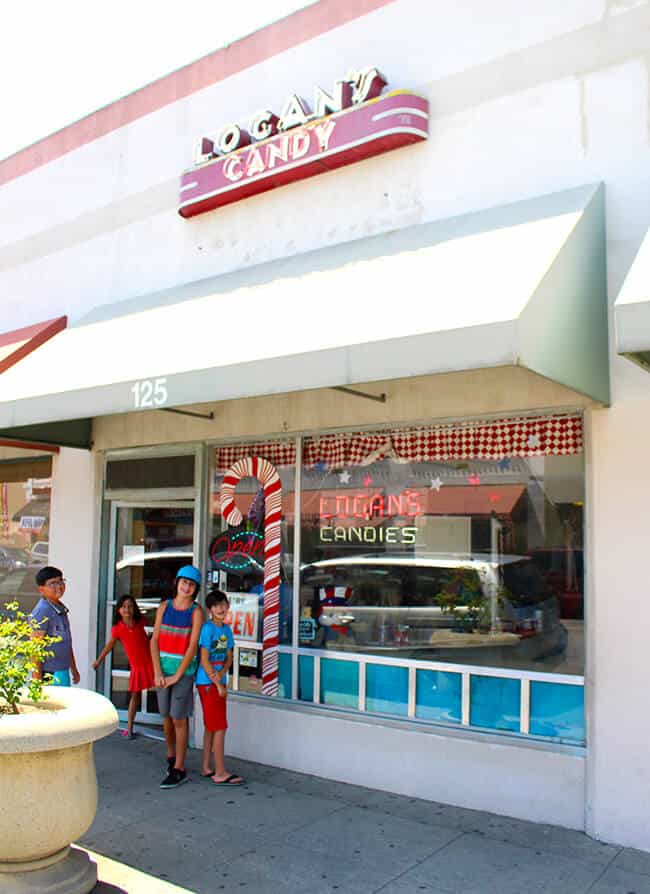 in trying to find things to keep the kids occupied during summer break, i finally made the trek out to Ontario to visit Logan's Candies. this little mom and pop candy shop is located in Ontario's historic downtown where you can get a glimpse of the architecture of the city during the times before 1950. Logan's Candies has been around since 1933 where they have been hand making signature candy canes and chocolates the same way since they opened way back when. they are best known for their hand pulled candy canes and ribbon candy. in fact, they hold the world record for the World's Largest Candy Cane.

i have been hearing about their free candy making demonstrations for a few years now, and have been wanting to take the kids to check one out. i am a sucker for brightly colored candy, especially of the vintage variety. if you follow their Facebook page, you can find out when different candy making demonstrations will be held. the demonstrations are around 30 minutes and show guests demonstrations of anything from making holiday candy canes to fruity ribbon candy to caramel apples and chocolate. at this particular demonstration, we got to enjoy a Watermelon Ribbon Candy Demonstration.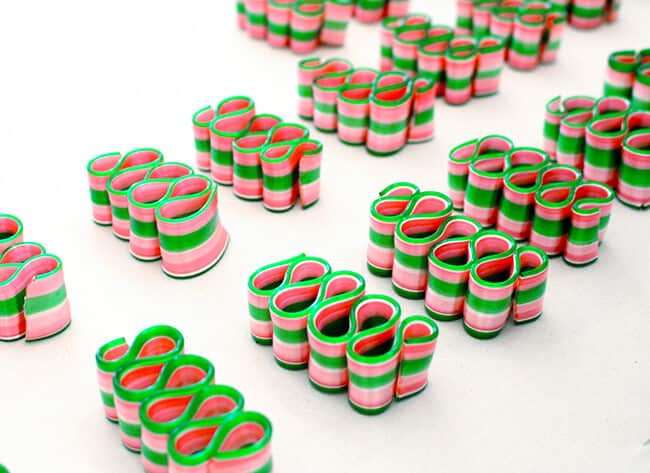 kids and adults are allowed to gather around the candy kitchen and listen to one of the owners share how the candy is made and do a step by step demo. it gets a little crowded for the demonstrations, so i recommend getting there about 20 minutes early.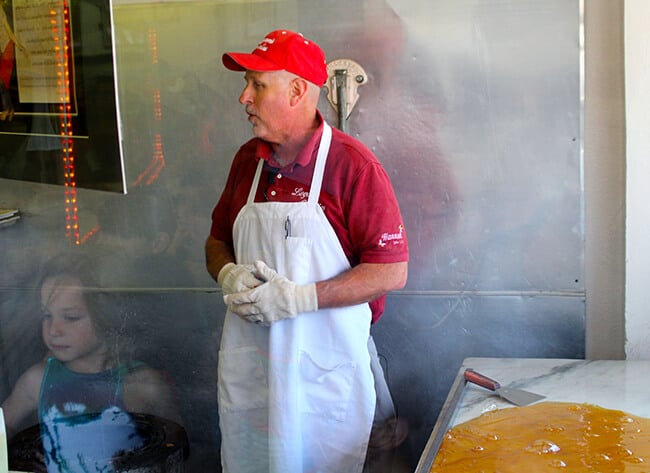 then, the candy making all starts on the original marble slab that Logan's Candies began making candy on.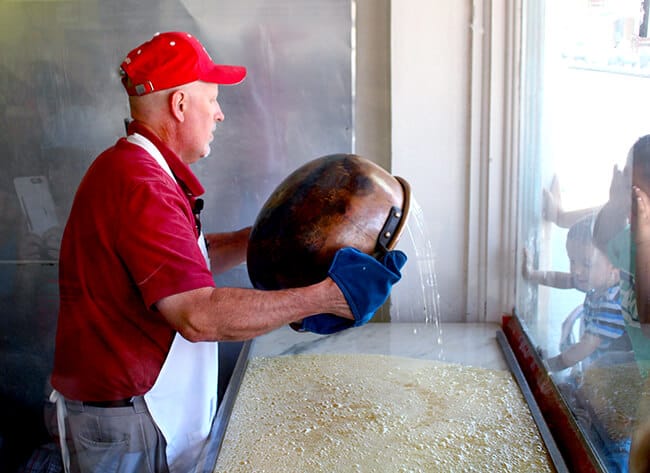 this is the same way that most hard candies begin. the boiling sugar mixture then cools on the slab and is divided into sections.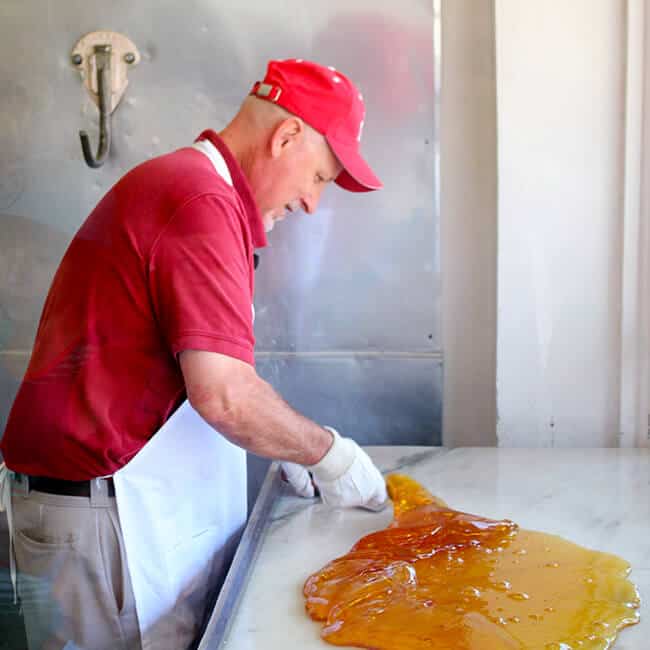 color and flavor is added. the smell is wonderful!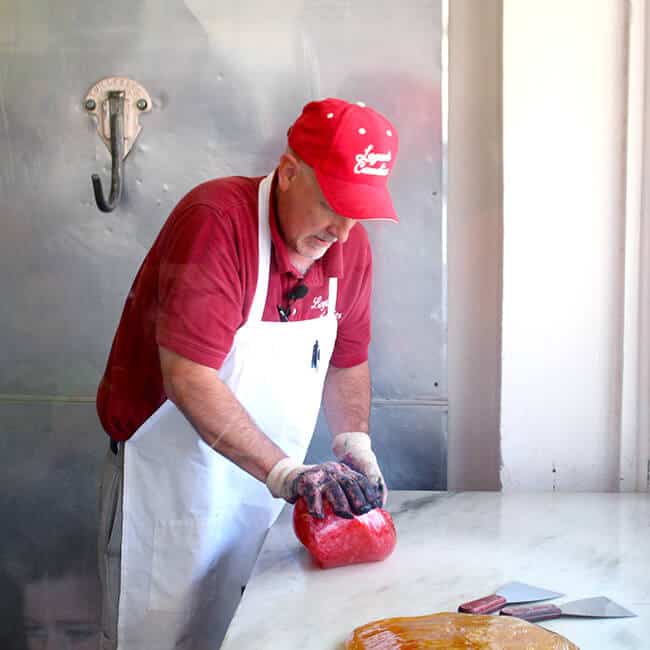 then the candy is pulled till it is the right color and consistency.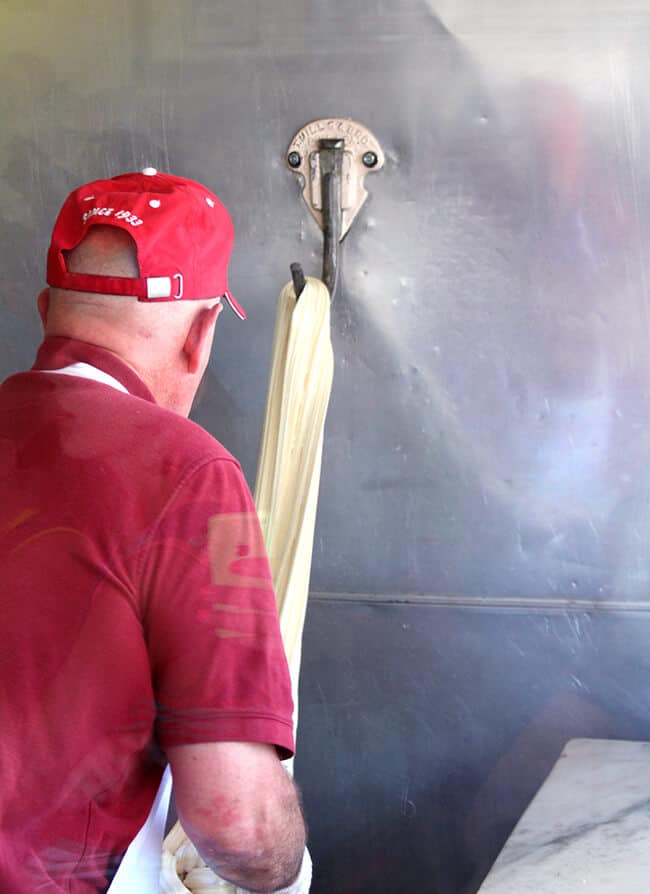 once each large piece of candy is perfect with the color and flavor, it is ready to be pulled into the correct shape. they demonstrate how they stack the pieces to get it ready to pull.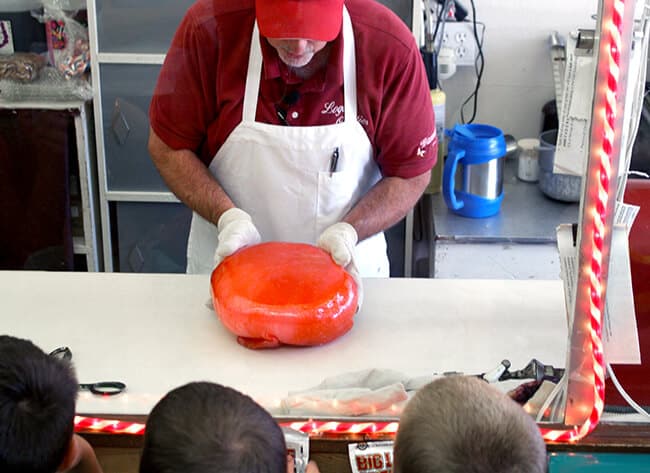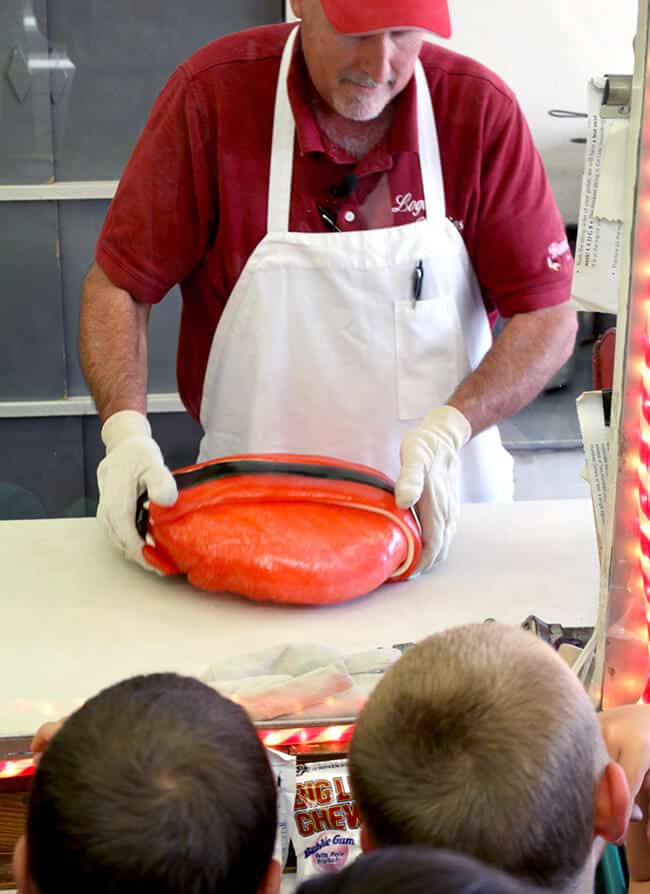 here is the large slab of colored candy pieces ready to pull into ribbons.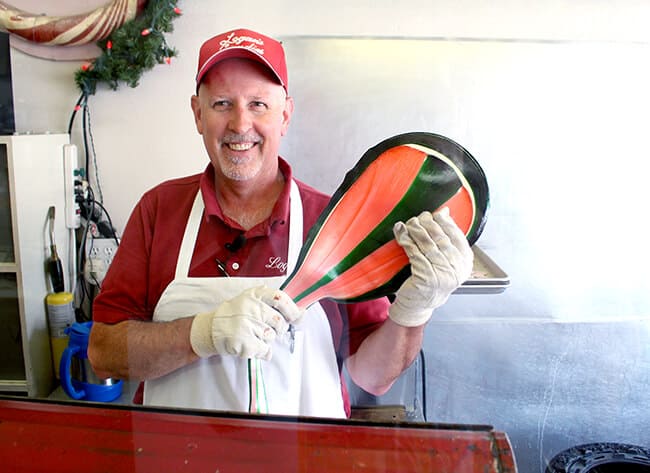 everything goes pretty quickly from here. each piece of candy is pulled and cut into measured pieces, and then hand shaped into beautiful colored ribbons. the warm candy ribbons harden almost immediately creating the hard, shiny, multi-colored candy we all know.
it is fun to watch the finished candies as they are placed on the counter into rows to cool. did i mention it smells really good?!?!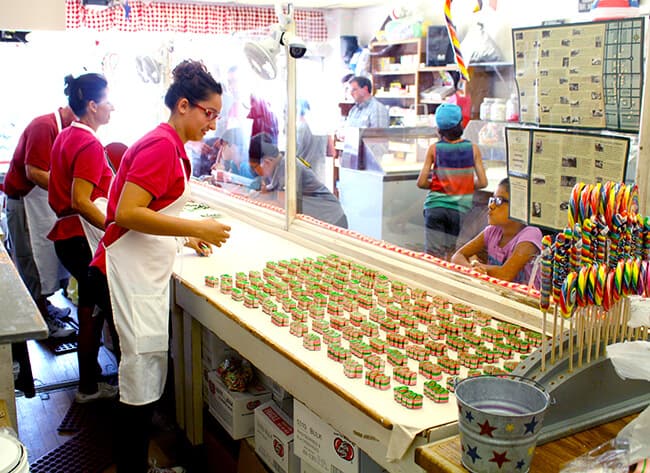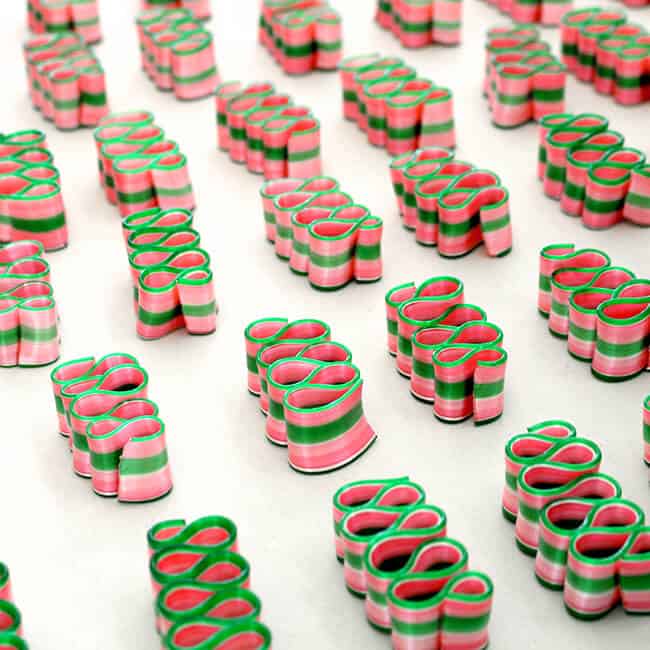 as the demonstration wraps up, they allowed anyone who wants to try shaping their own piece of ribbon candy to do so for $1.55. its a great hands-on experience for the kids to try, especially when they find out how fast they must work the candy before it is too hard.
Logan's Candies is a small little store, but they sell all sorts of great candies and gifts. you can find candy from all over the world...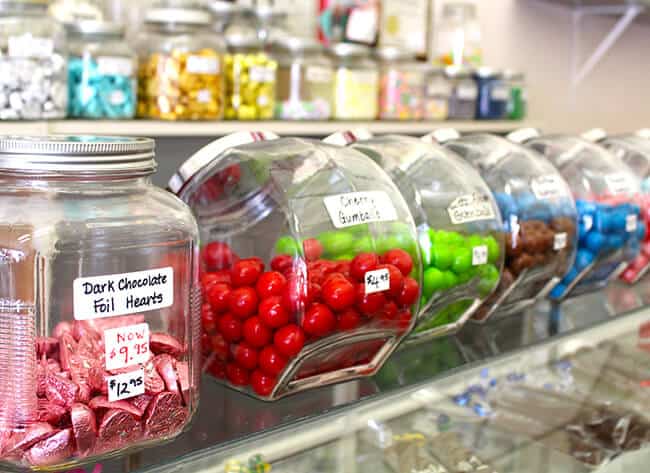 homemade fudge and chocolate....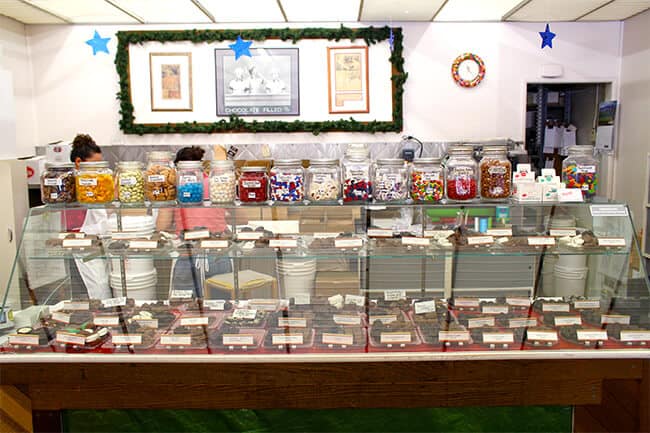 and their homemade candy canes. check out this batch of patriotic candy canes and candy hearts.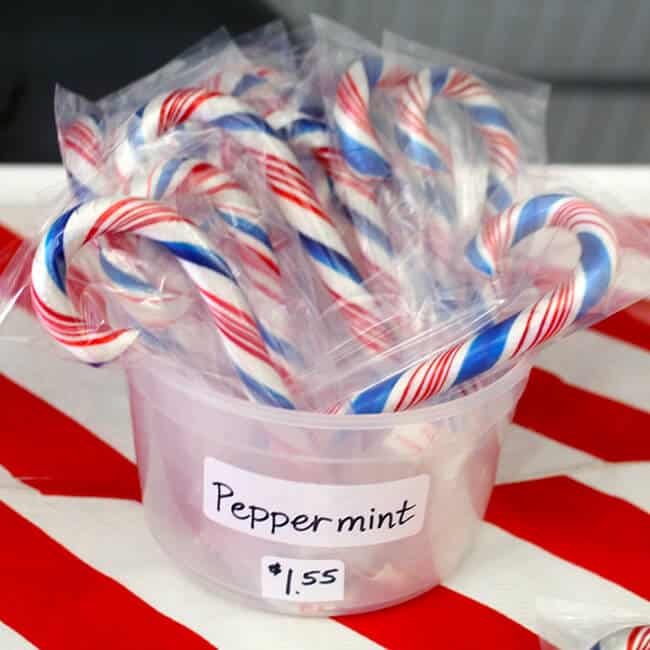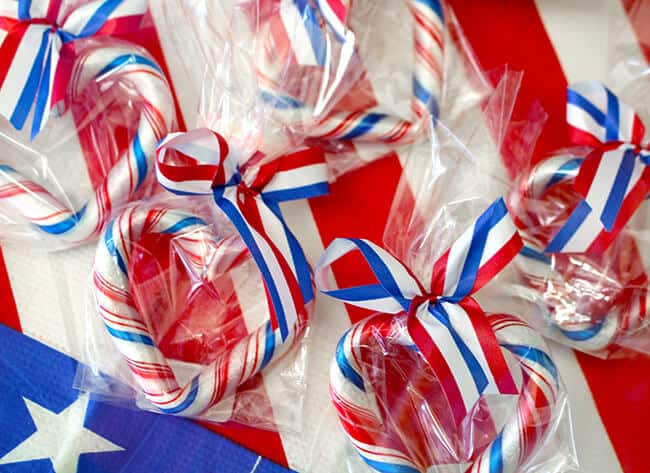 bring some pocket change for the kids to buy a few treats, as it is hard to resist all the yummy.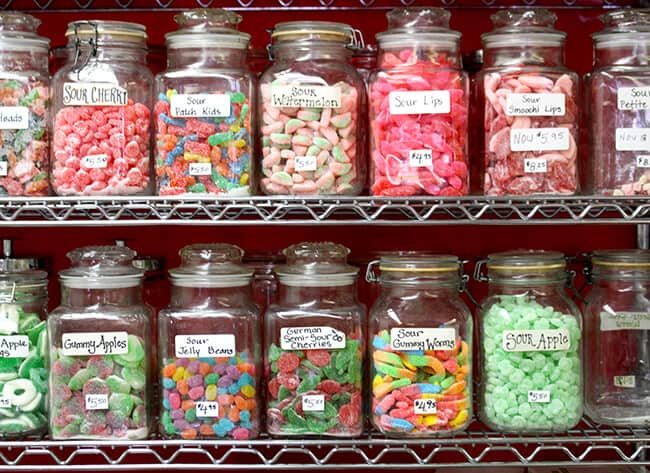 we really enjoyed the candy demonstration at Logan's Candies. it was a bit of a drive from Orange County, so i would suggest having additional plans of things to do when you go there. it is a great experience and makes a fun field trip for scouts and groups. go check them out!