we are so bummed that this is the last week of summer, and the Soak City will be closing for the 2018 season. we had so many fun days at the park. all my kids including my husband, love going to Soak City...which is pretty cool. you know how hard it is to find an activity that everyone in the entire family loves? especially when you have a teen, tween, pre-tween and toddler! Knott's Soak City is fun for all ages. so i wanted to write this quick post to encourage you to add Soak City to your Knott's Berry Farm Season Pass. it's only a few dollars more, and you get to enjoy the Soak City Water Park for the entire summer. check out your Knott's Season Pass options here.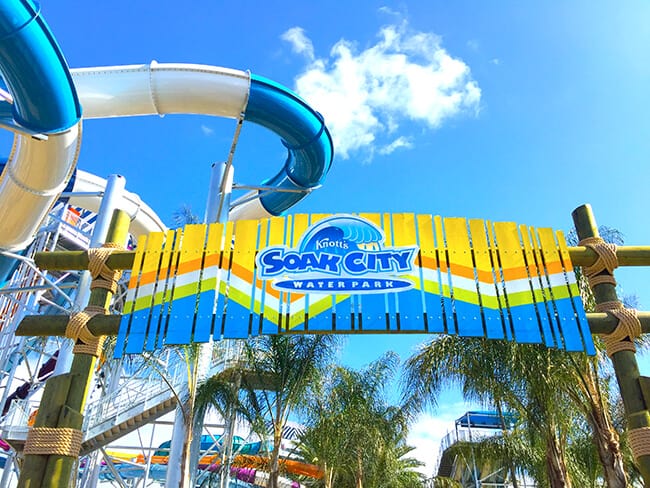 i asked all my kids what they love most about Soak City to give you an idea of how kids of different ages have fun, and here is what they told me.
Jack, my teen, loves all the water slides. the bigger and faster they are the better. i suspect that this is the case with most teens. we hardly see him at all when we go to Soak City, because he is busy riding all the slides.
Kyle, my tween, loves almost all the water slides at Knott's...just not the biggest ones. although he is tall enough to ride them all. he's just happy going on the normal speed slides. and also the Wave Pool. he said the Wave Pool is the best park of Soak City. he is especially good at taking his little sister in the Wave Pool.
Vann, my eight year old could play all day in the Lazy River. actually, the Lazy River is great for all ages. you can go around on it as many times as you'd like, and there is usually no lines. he also loves playing on the Beach House, which has a ton of water features, a big bucket that dumps water on you, and some water slides. these slides are the perfect beginner water slides...not too fast and not too tall.
Dani, my toddler, loves the Gremmie Lagoon. we can stay in there all day. in fact, i wrote an entire post about how to enjoy Soak City with a Toddler in the Knott's website. you can read about the details there. she loves all the water features in the Gremmie Lagoon, as well as the little slides. she also enjoys going on the Lazy River with mommy and daddy, and dipping her toes in the Wave Pool.
hopefully, this gives you a better idea of what you can enjoy when you add Soak City to your Knott's Berry Farm Season Pass! Soak City is the only water park of it's size in Orange County. it gets hot in the summer, so you're going to want to go!