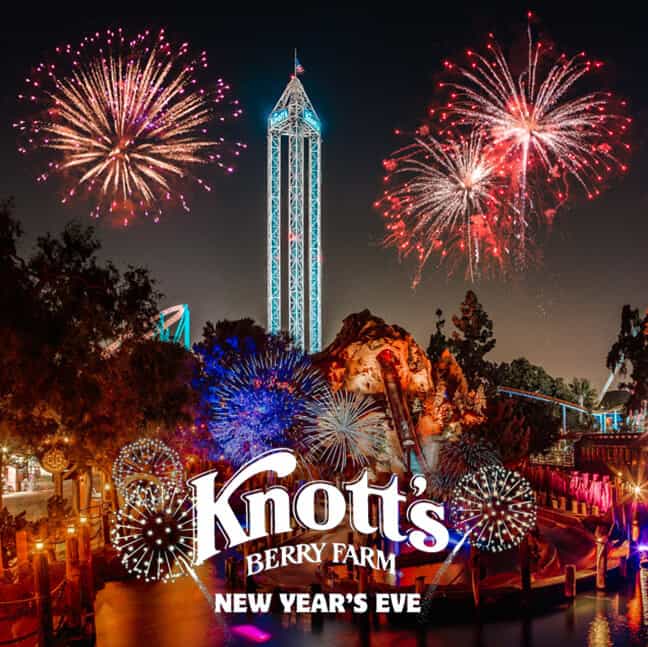 the countdown to  New Year 2015 is on at Knott's Berry Farm! every year, the boys and i celebrate ringing in the New Year at Knott's Berry Farm which was 100 times more exciting than laying on our family room couch. before we discovered the excitement of celebrating New Year's Eve at Knott's, we were big ole party poopers. but not any more!  we are doing it again…we are taking the kids to Knott's Berry Farm's New Year's Eve Celebration. we just love the family-friendly atmosphere at Knott's.
most of all, spending time at Knott's with the family makes memories that last forever! check out this fun little slide show i made of all the times we've spent at Knott's during the year. i tear up watching it because of all the sweet memories i have of my boys, hubby and friends playing at Knott's throughout the year. we've enjoyed every season at Knott's this year. Christmas time, Halloween time, Valentine's time, summer time and more!
you too can celebrate New Year's Eve at Knott's! count down the New Year with stilt walkers, music, party hats, and noisemakers for all. and new this year, the Knott's Sky Cabin will be adorned with special lighting effects. it will rise to the top of the "K" tower to count down the final moments of 2014 and will reach the top at the stroke of midnight with skies above ablazed with colorful fireworks!
here are some of the special events happening at Knott's Berry Farm's New Year's Eve Celebration. i hope to see you there.
Spur's New Year's Eve Buffet - a New Year's Eve celebration isn't complete without a yummy meal, and Knott's has just what you need. a New Year's Eve buffet will be served at Spurs Restaurant from 4:00 p.m. - 9:00 p.m. prices are $26.99+tax for adults and $14.99+ tax for kids (3-11).
Krazy Kirk & The Hillbillies and Party in the Dance Hall - from the deep country hills of Anaheim, these boys will have toes tap pin' and hands clapping' during the best darn musical comedy show ever performed on the Wilderness Dance Hall stage. between Krazy Kirk sets, enjoy boot scootin' line dancing and two-stepping good times led by Dusty, the line dance caller on the Wilderness Dance Hall stage.
The Clueless Remix - a non-stop live music adventure where old school R&B meets new school dance & hip hop in a seamless, continuous flow much like that of a DJ spinning turntables. before The Clueless Remix takes the stage, DJ Howly will spin popular high energy music in the Calico Square...i will be like a dance party.
Comedy Magic of Adam Christing - family friendly comedian, Adam Christing, will bring his hilarious comedy, magic and fun audience interaction to the Knott's Wagon Camp.
Salsa Dancing with Louie Angon, DJ JC & Snoopy - You're invited to show off your dance moves at Fiesta Plaza and groove to the beat of this spicy music scene that's Hot! Hot! Hot!
It's Christmas, Snoopy! Ice Show - Knott's will present encore presentations of this popular ice show into the evening.  please join Snoopy and his pals as they skate their way through the joys of the Holiday season.
Snoopy's Magical Nights of Lights - Stroll through Camp Snoopy and marvel at thousands of sparkling lights and festive holiday music all night long.
this is such a great line-up. the kid's AND parents are going to love it. and Knott's is affordable fun for the whole family!  wanna go? here's the info…
Knott's New Year's Eve Party
wednesday, december 31st, 2014  •  10:00 a.m. to 1:00 a.m
8039 Beach Boulevard, Buena Park CA 90620
{disclaimer: this is not a compensated post. my family is receiving tickets to attend Knott's New Year's Eve Party. all thoughts and opinions are mine.}