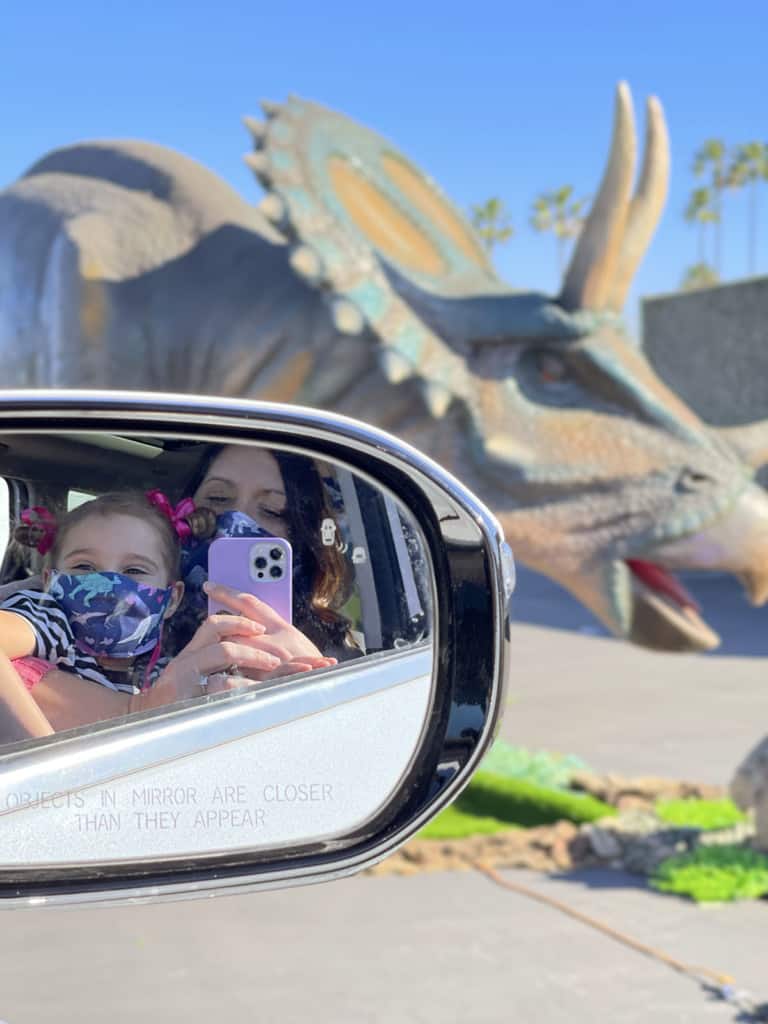 Jurassic Quest Drive Thru, the nation's largest touring dinosaur exhibit, has come to Orange County! From adorable baby dinos to a fierce T-Rex, guests embark on the adventure of a lifetime led by a thrilling-for-all-ages audio tour as they view 70 photorealistic dinosaurs that move and make sounds, all from the comfort of their own vehicles.
Jurassic Quest Drive Thru opens February 5 the 14th, 2021 at the OC Fair & Event Center in Costa Mesa. It is open everyday except Monday and Tuesday. You can purchase tickets online for any of the above dates.
READ TO THE BOTTOM FOR A GIVEAWAY!!!!!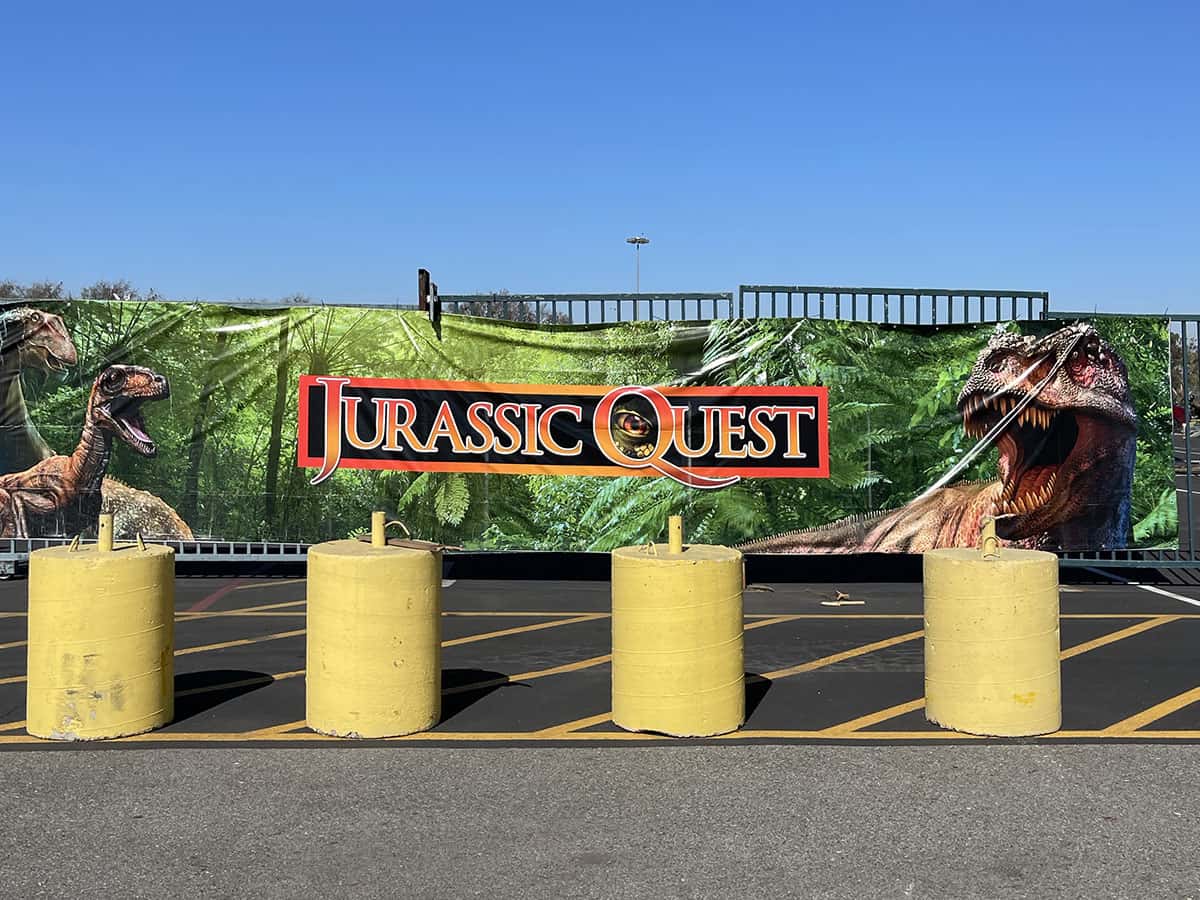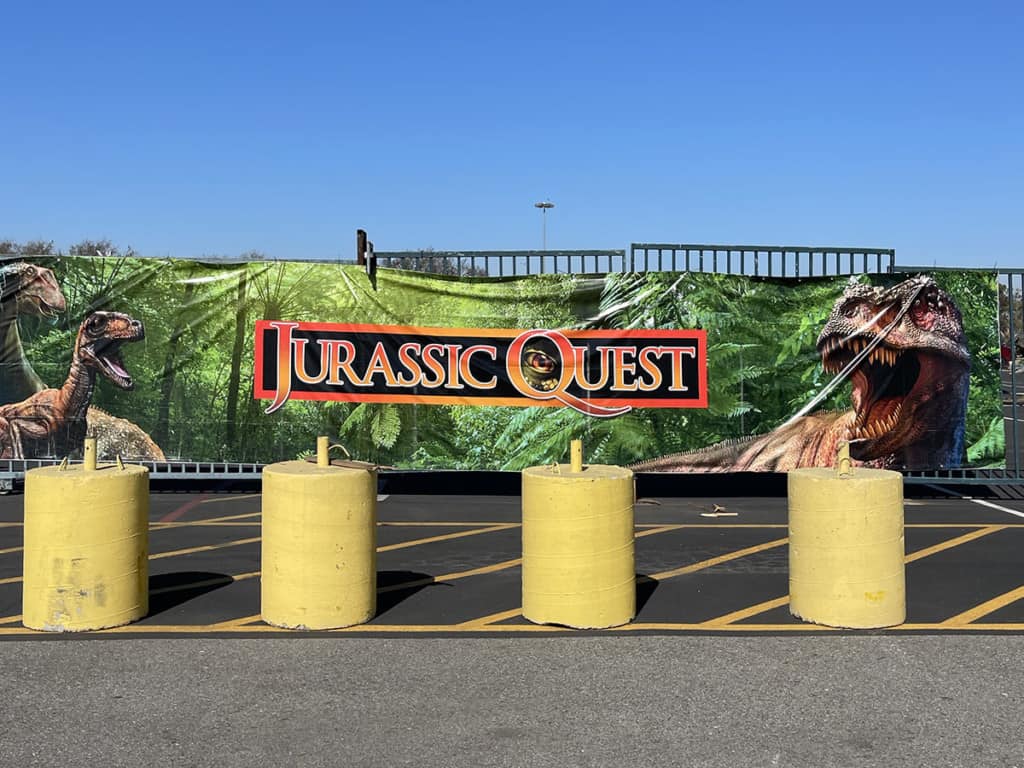 When you begin the experience, you will need to download the audio tour. I suggest doing this before you go. You will push play when you enter, and then follow the prompts for when you need to start and stop the tour as you go.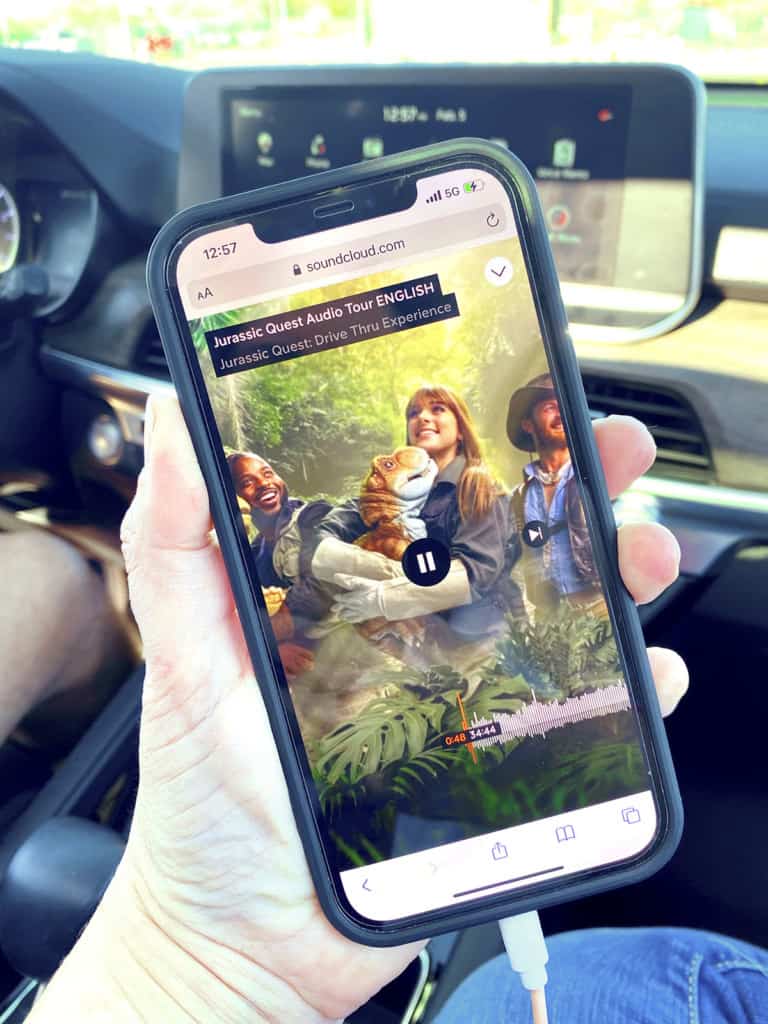 You must stay in you car throughout the tour with limited contact, if any, with staff who wear masks, social distance, and follow all state and local guidelines. To further ensure the safety of patrons and staff, all equipment and workstations undergo regular sanitization throughout the show.
Our Experience
We had a great time at the Jurassic Quest Drive Thru! We went in the daytime, which I expect is the best time to go...when it is still light outside. But I assume they have it lit up at night as well.
The first dinosaur we met was baby Betty, an interactive two week only baby dinosaur. The kids thought she was so adorable. They might have even thought she was real.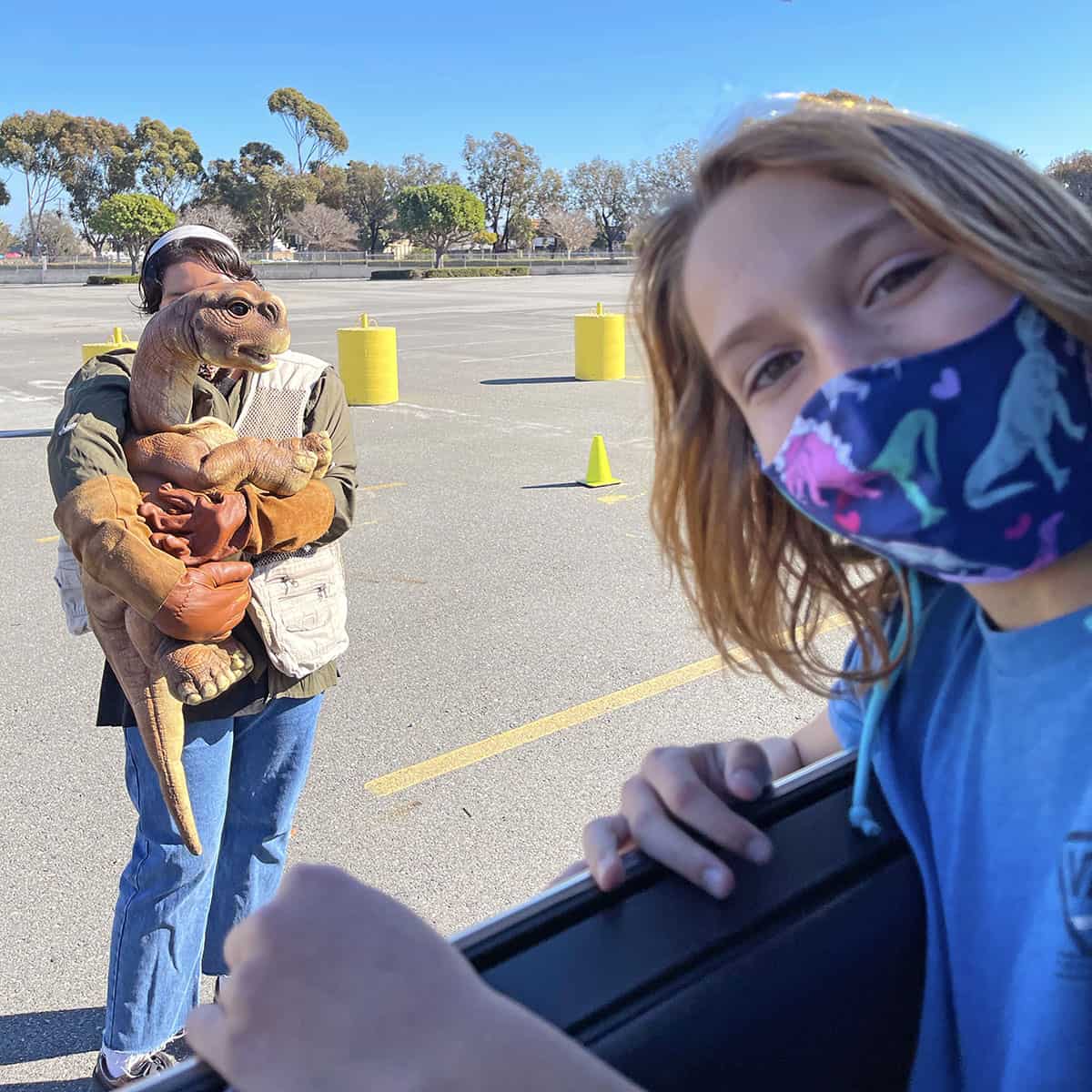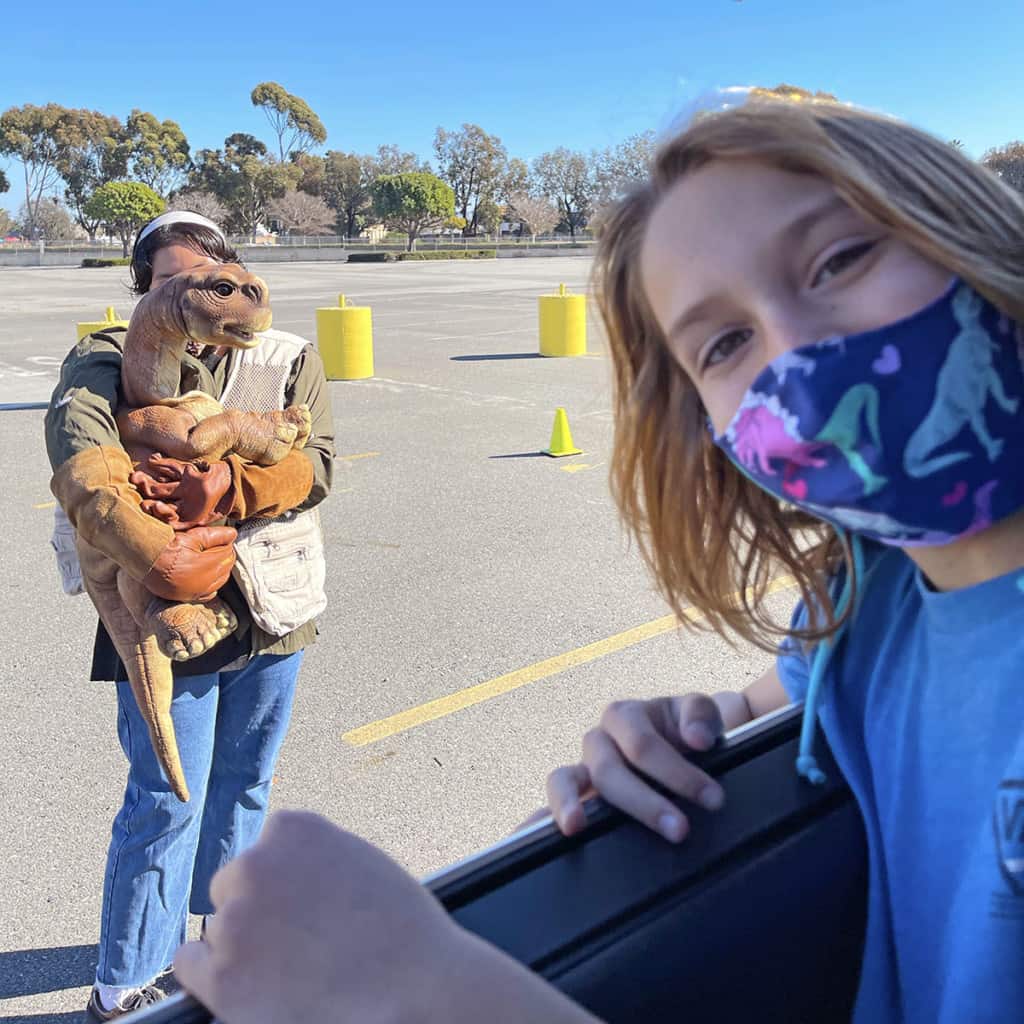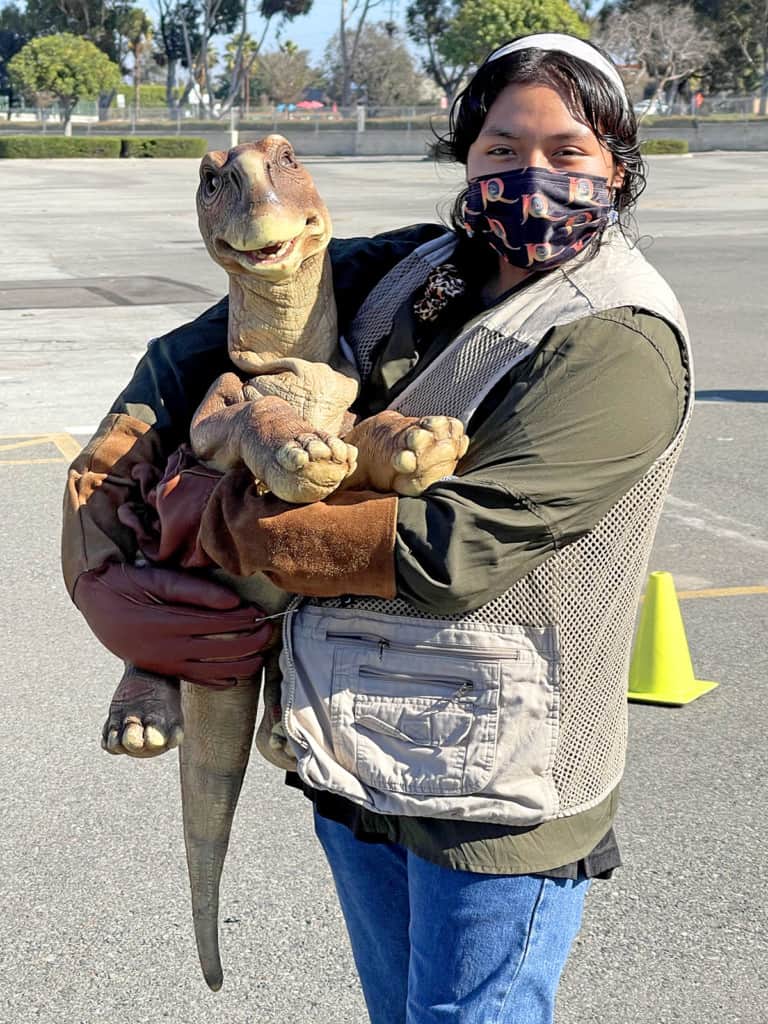 Then we entered the main dinosaur area. That is when we started the audio tour.
There were groups of dinosaurs spread out all over the parking lot. as you drove by each grouping you listened to the audio and learned about the different types. There are signs so that you can read their names and also know their pronunciations.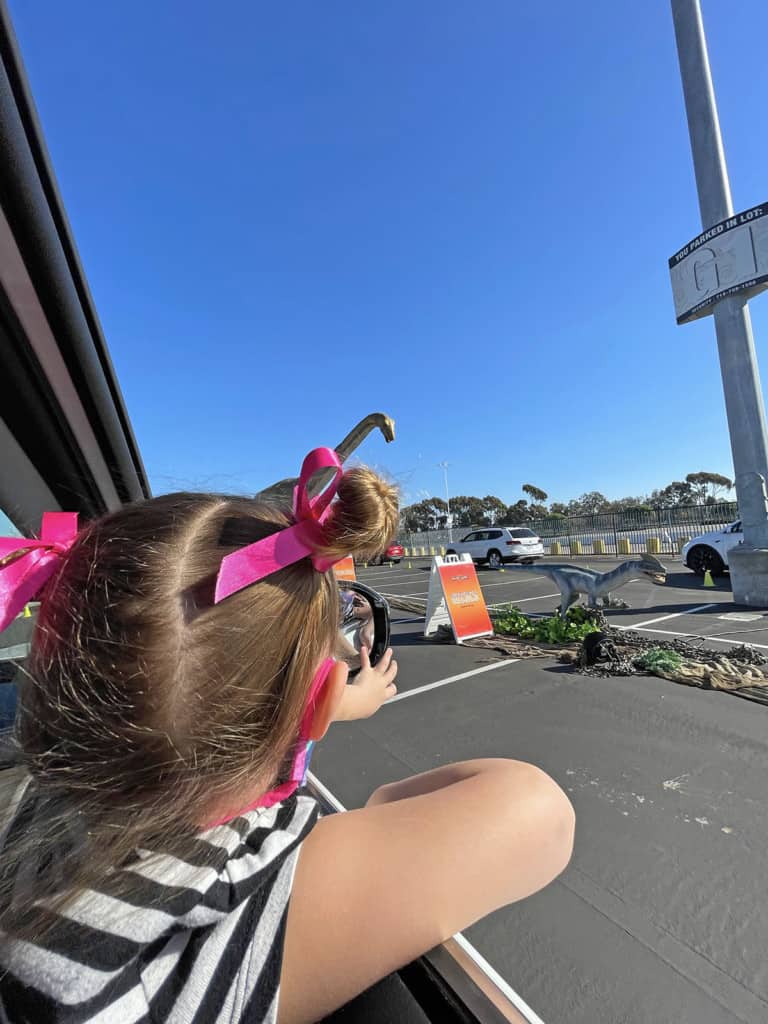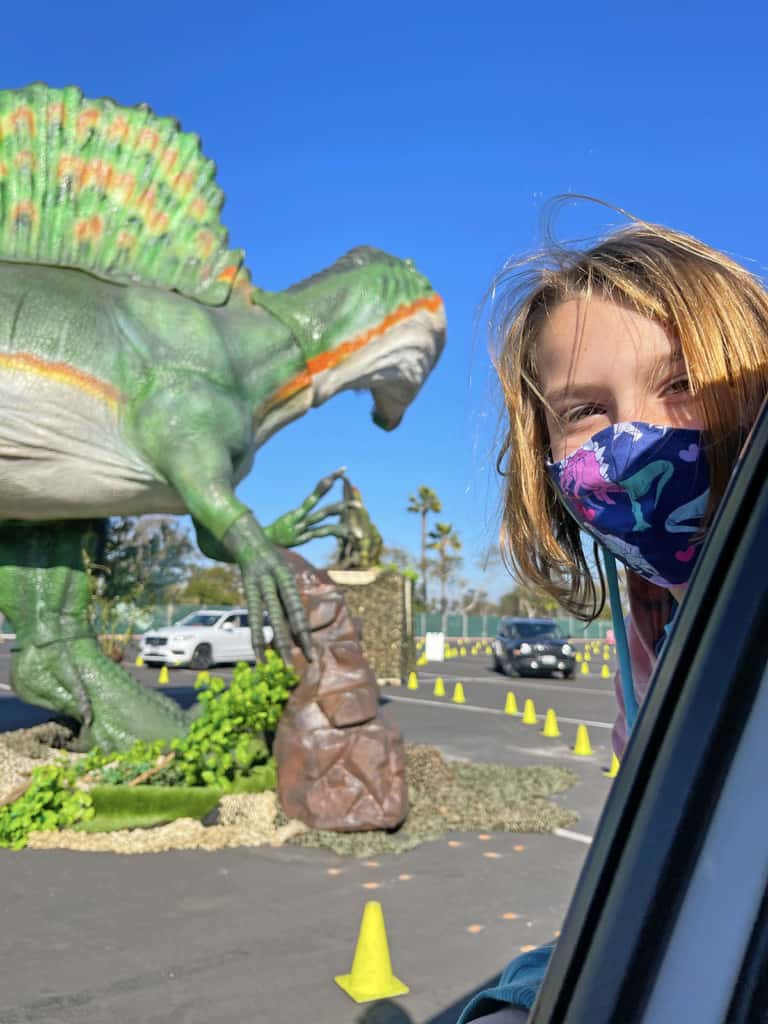 Here are some of the dinosaurs we saw along the way. They were all very realistic, and had great animatronics. There were created with leading paleontologists, so each dinosaur has been painstakingly replicated in every detail.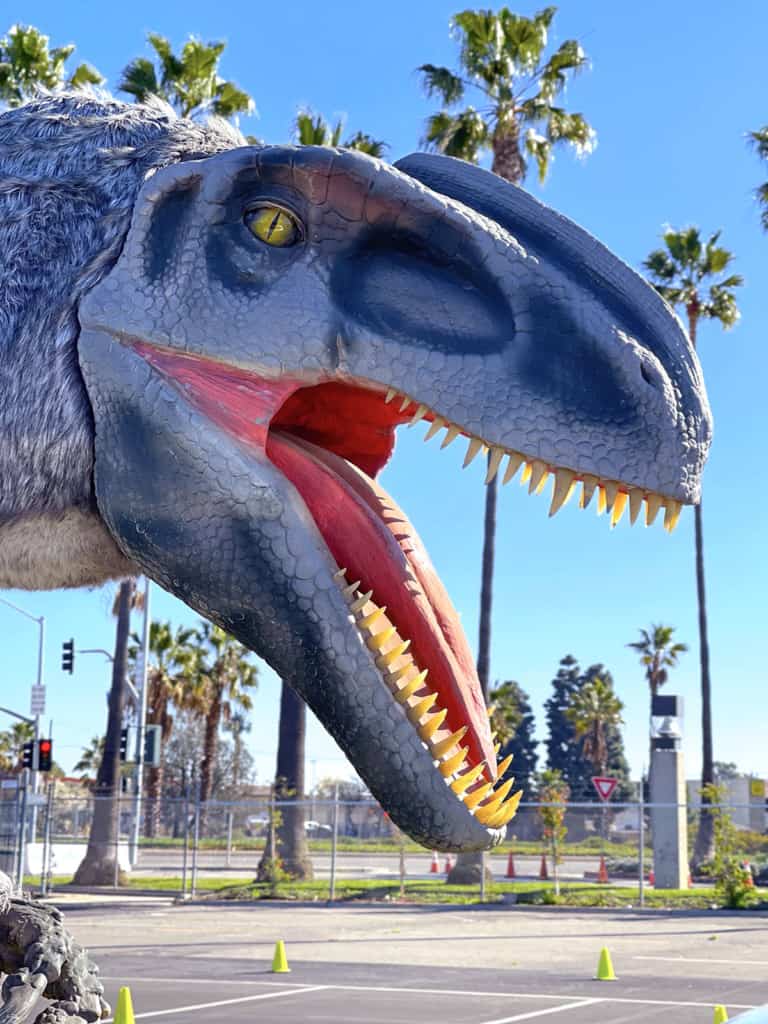 Whether their prehistoric counterpart had skin that was scaly, had feathers or fur, Jurassic Quest has spared no expense in bringing the dinosaurs to life.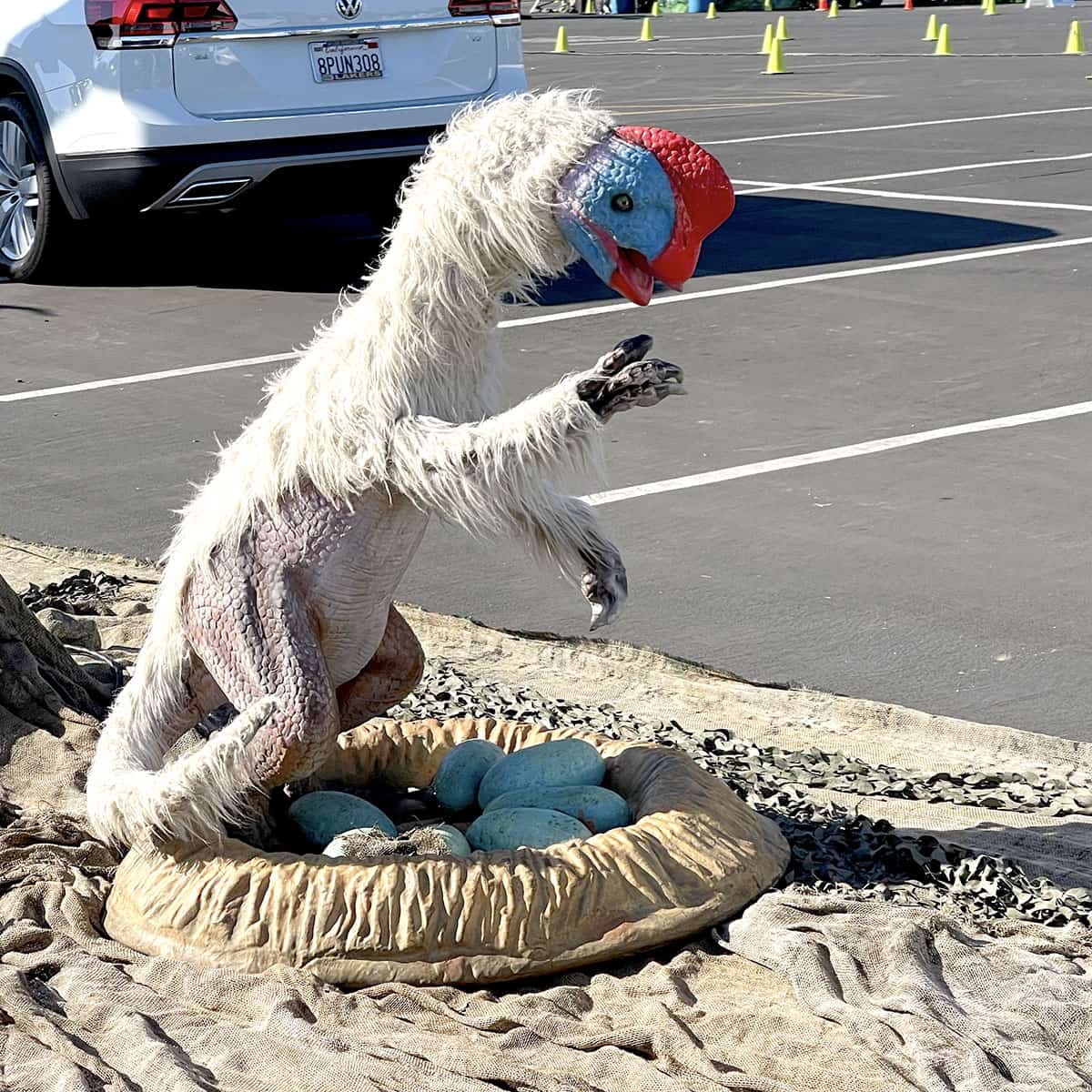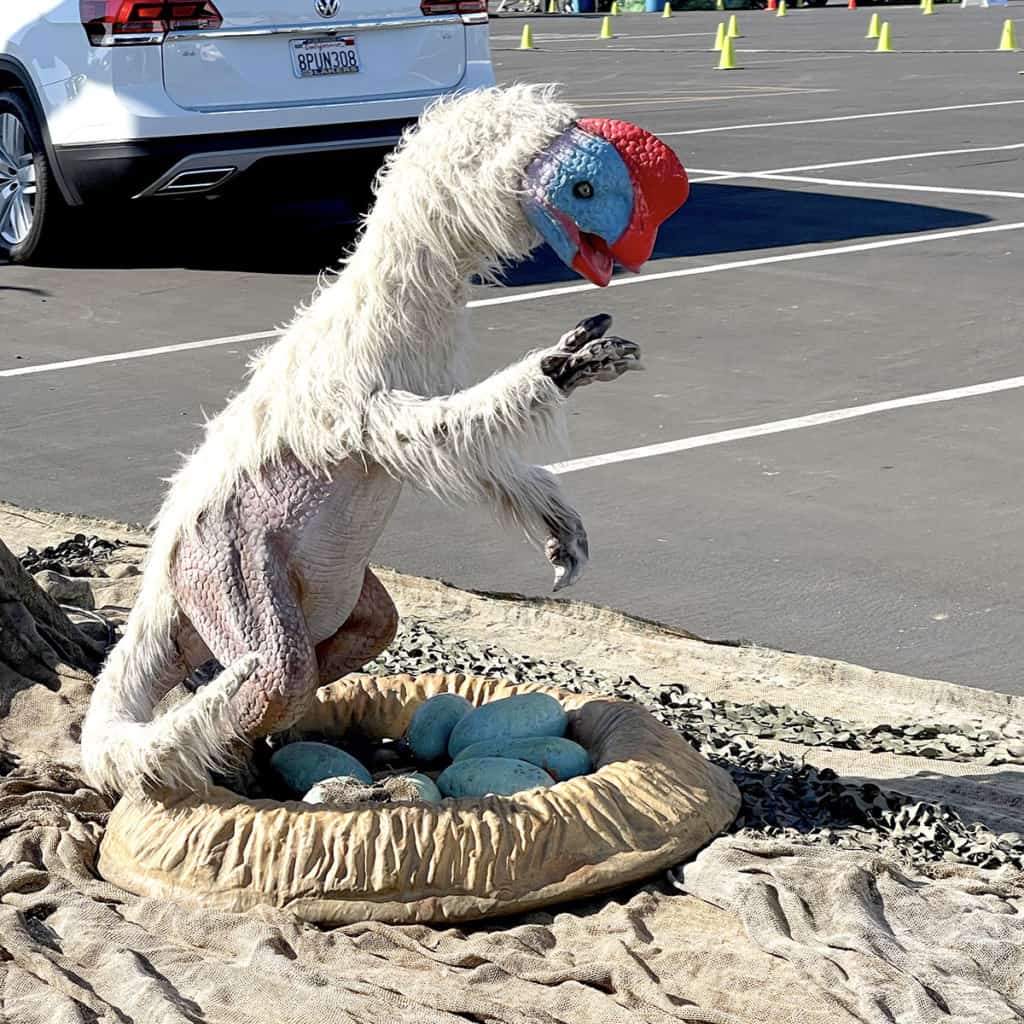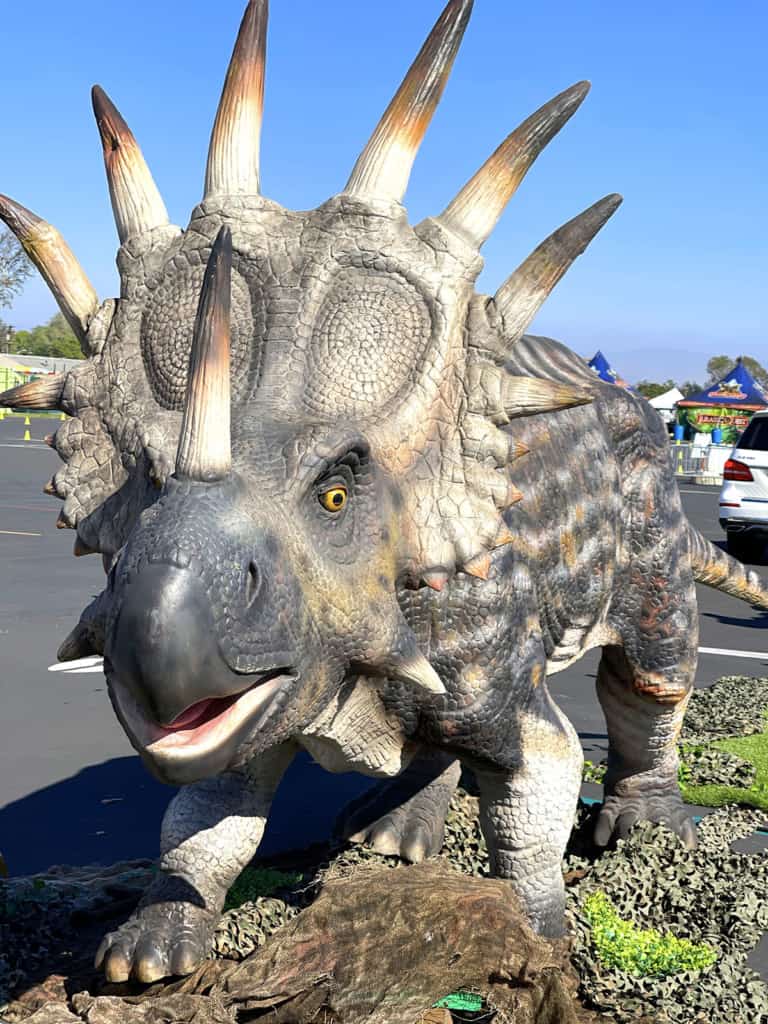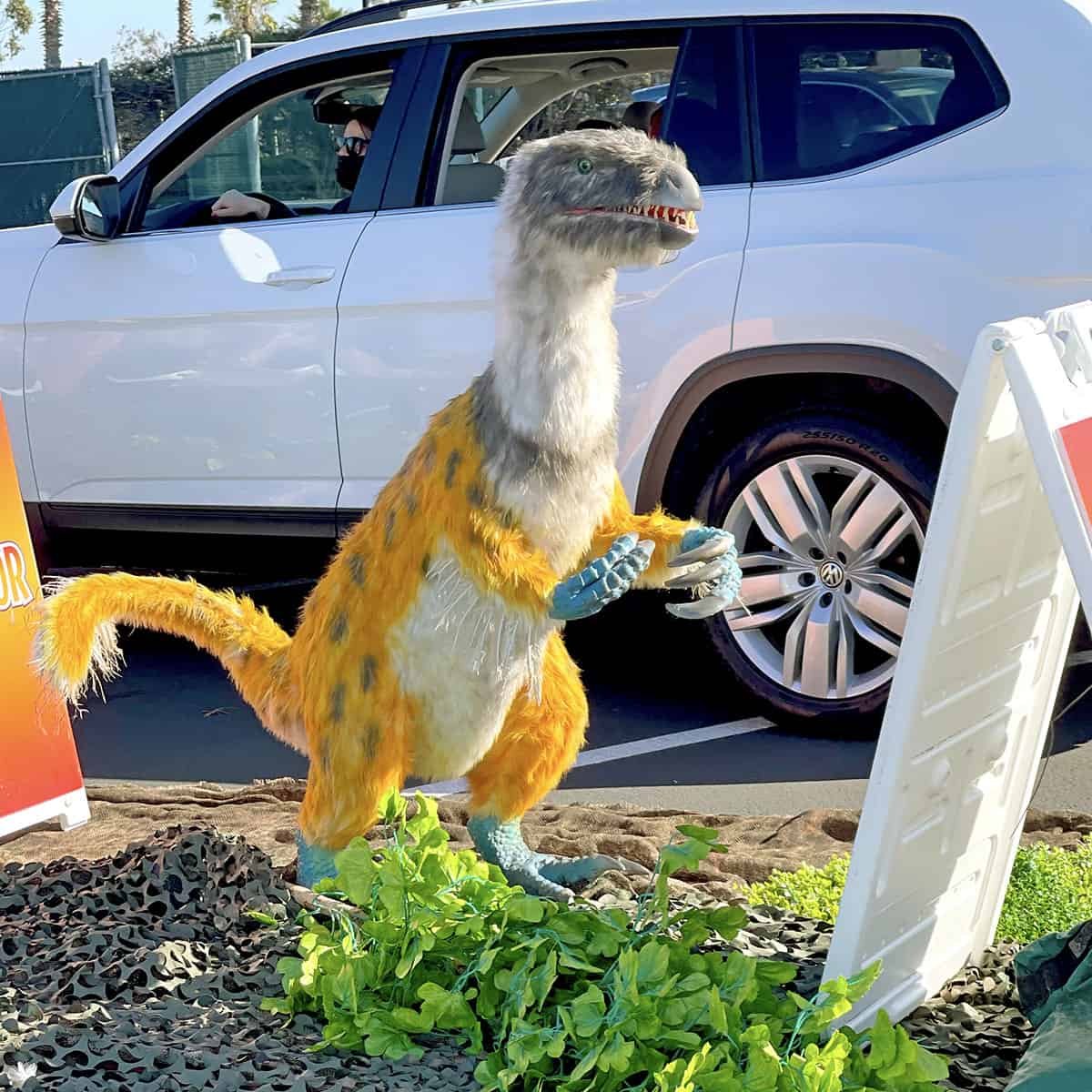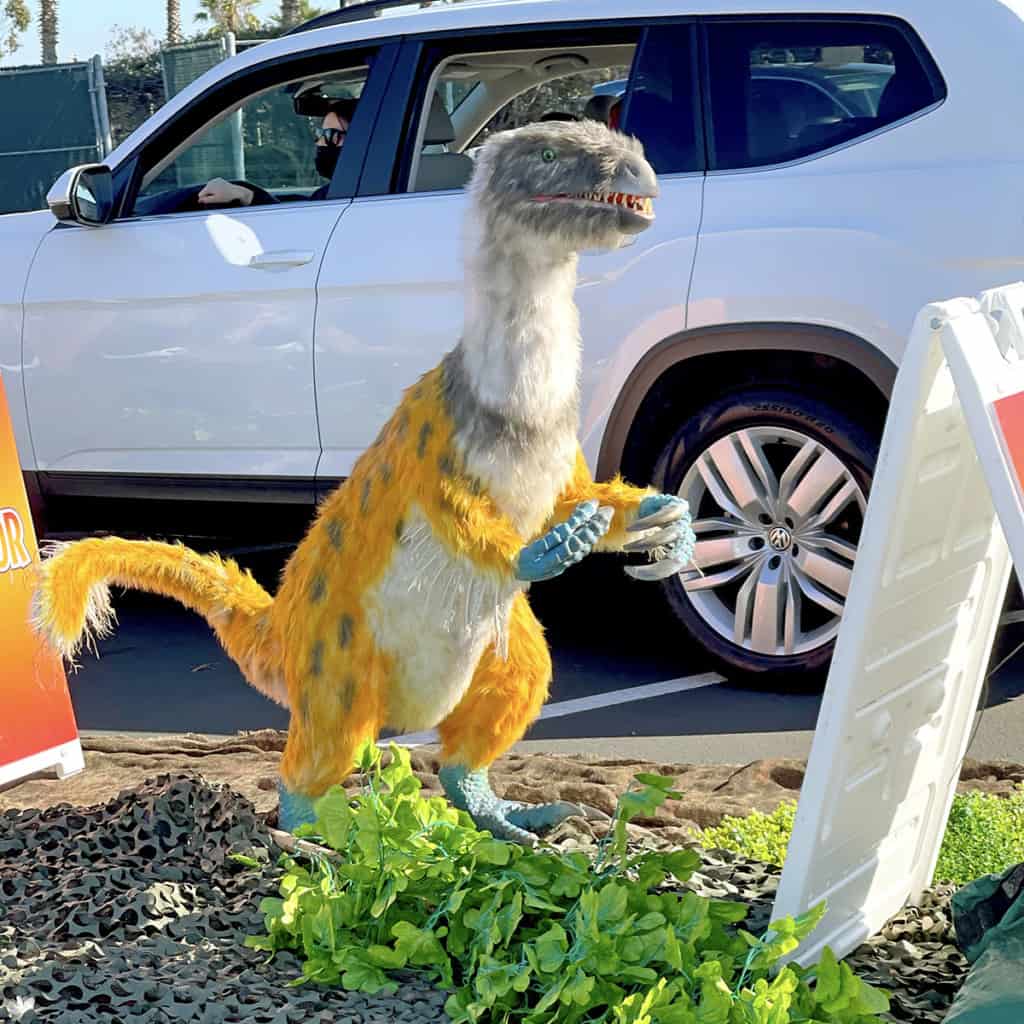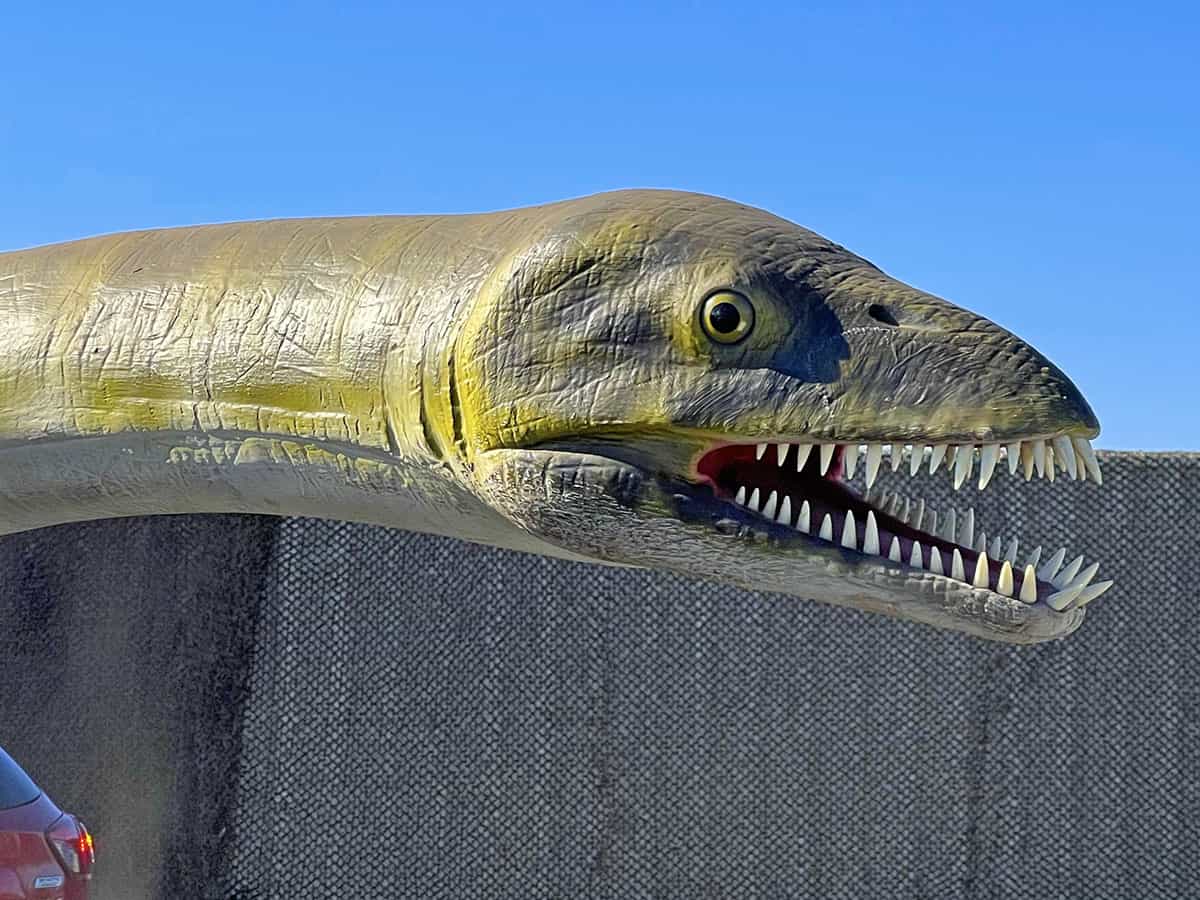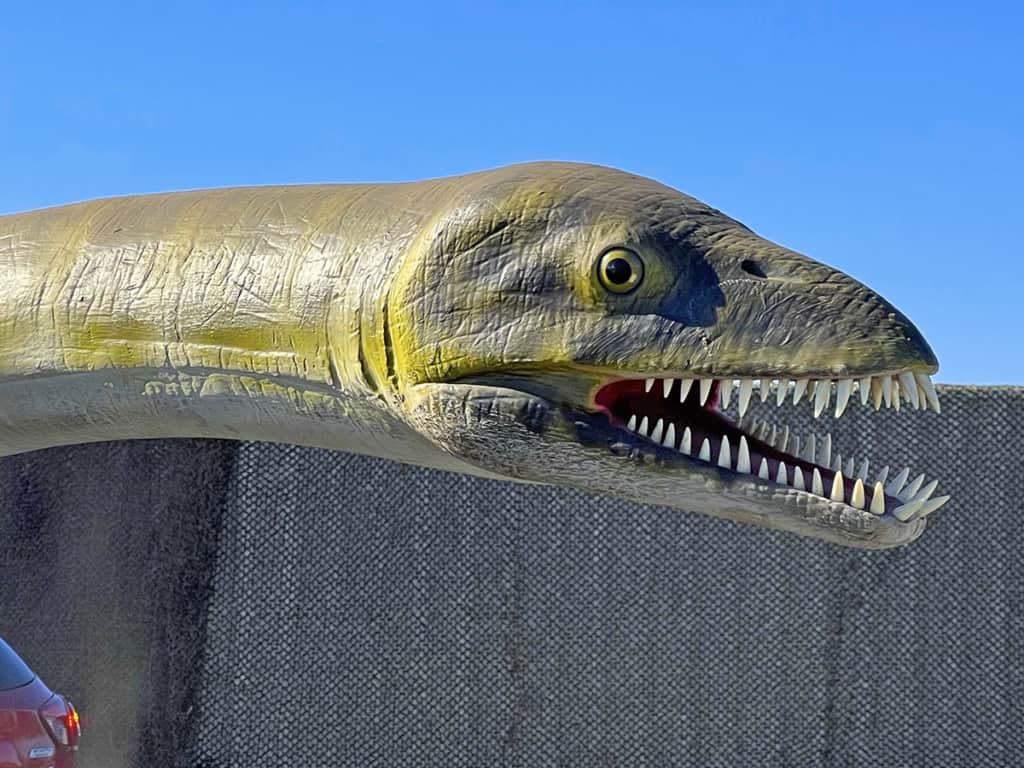 There are over 70 life-like dinosaurs including the very popular T. Rex, Spinosaurus and Triceratops.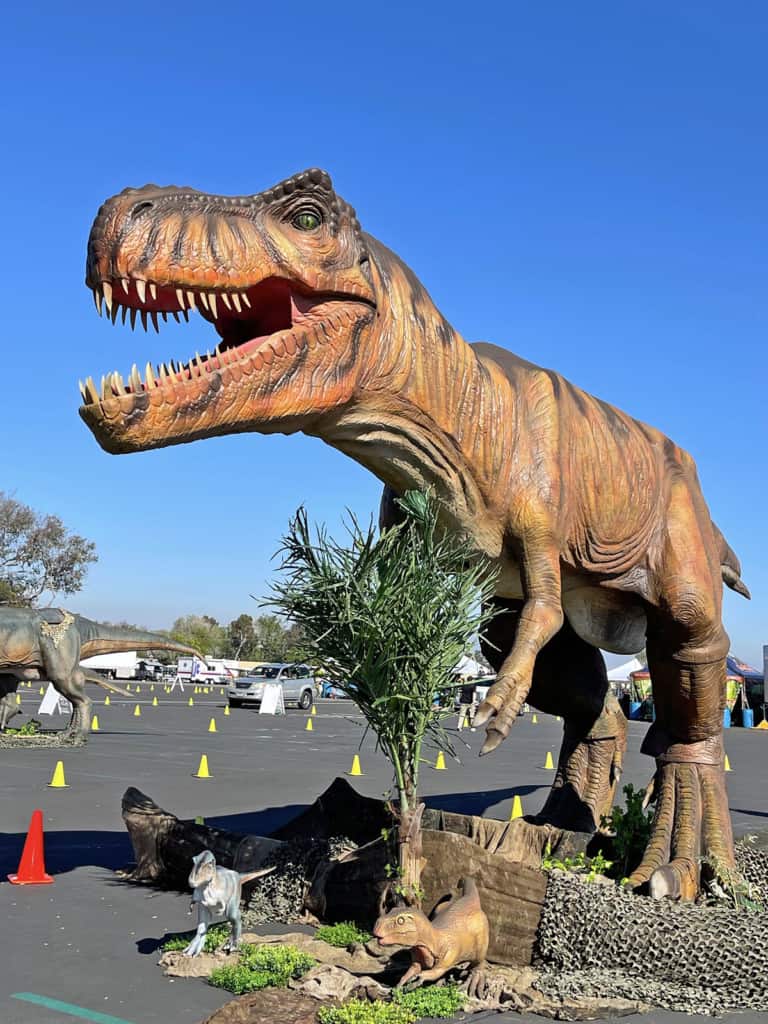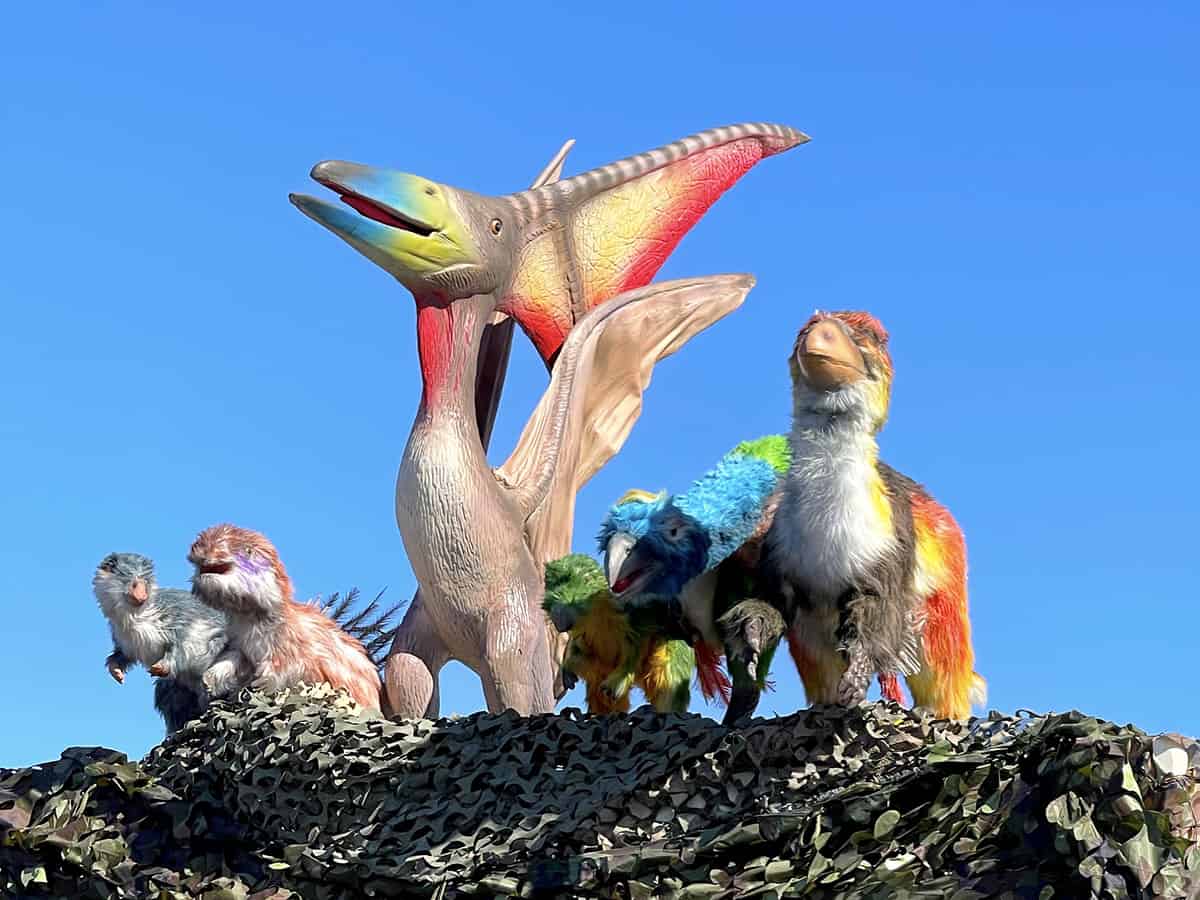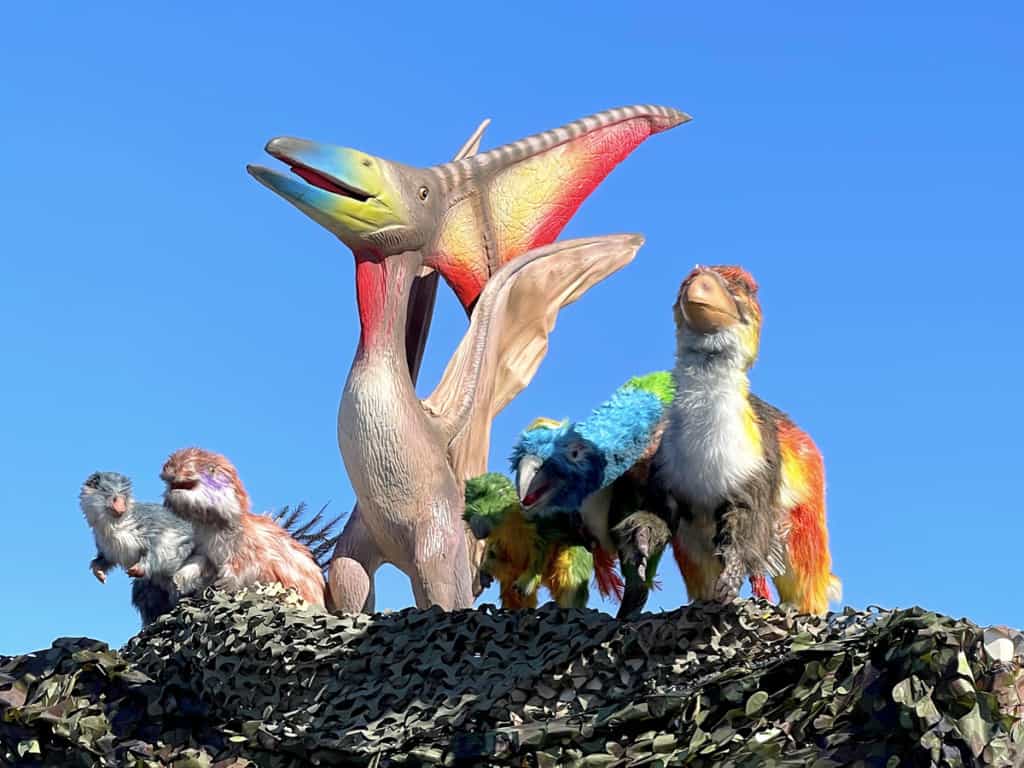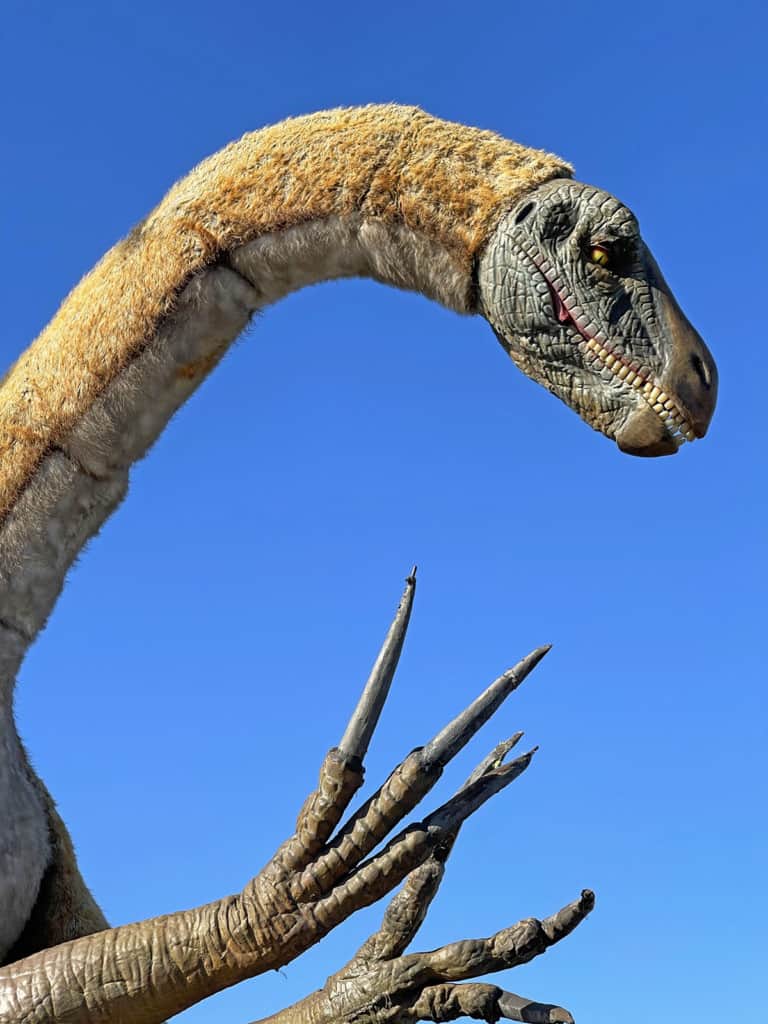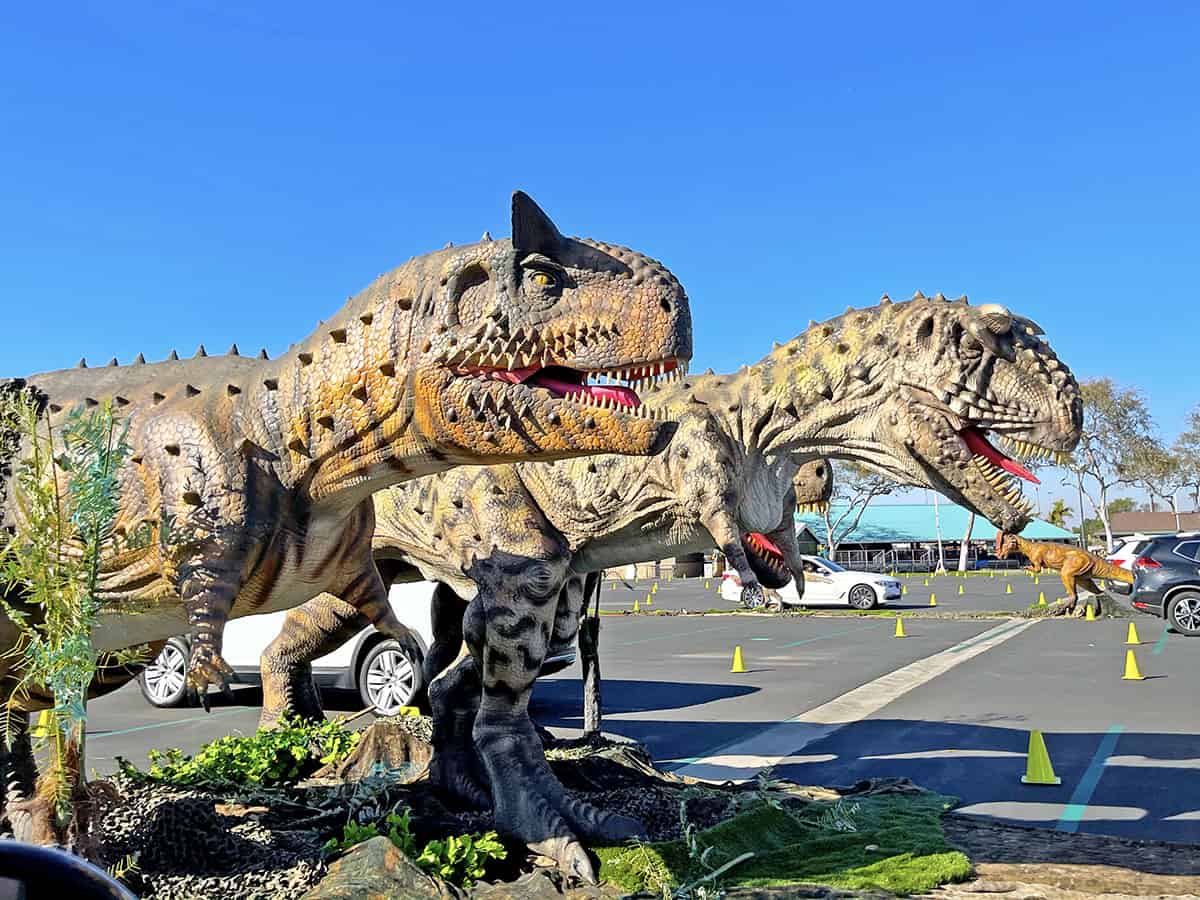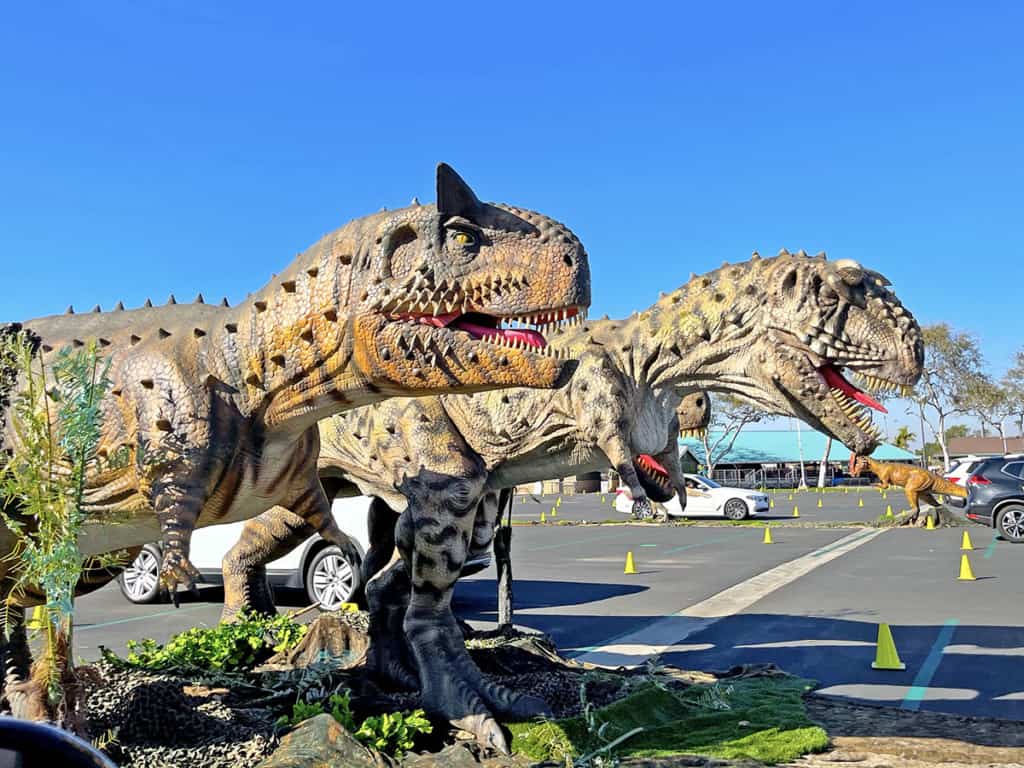 Look at just how big these dinosaur animatronics are!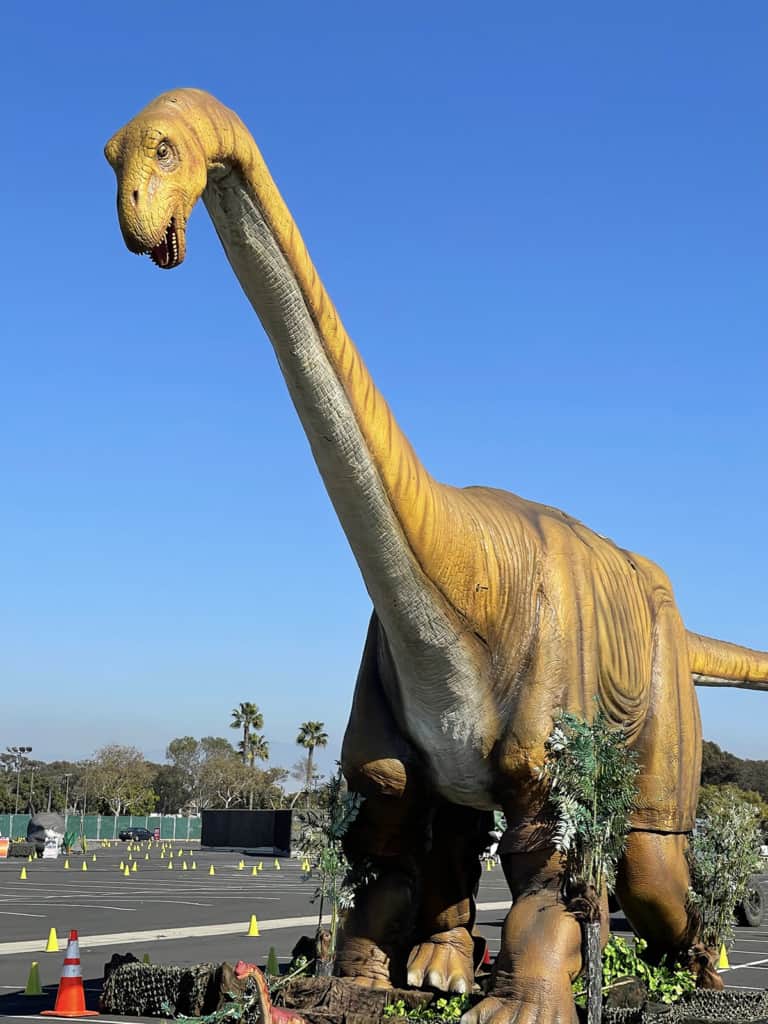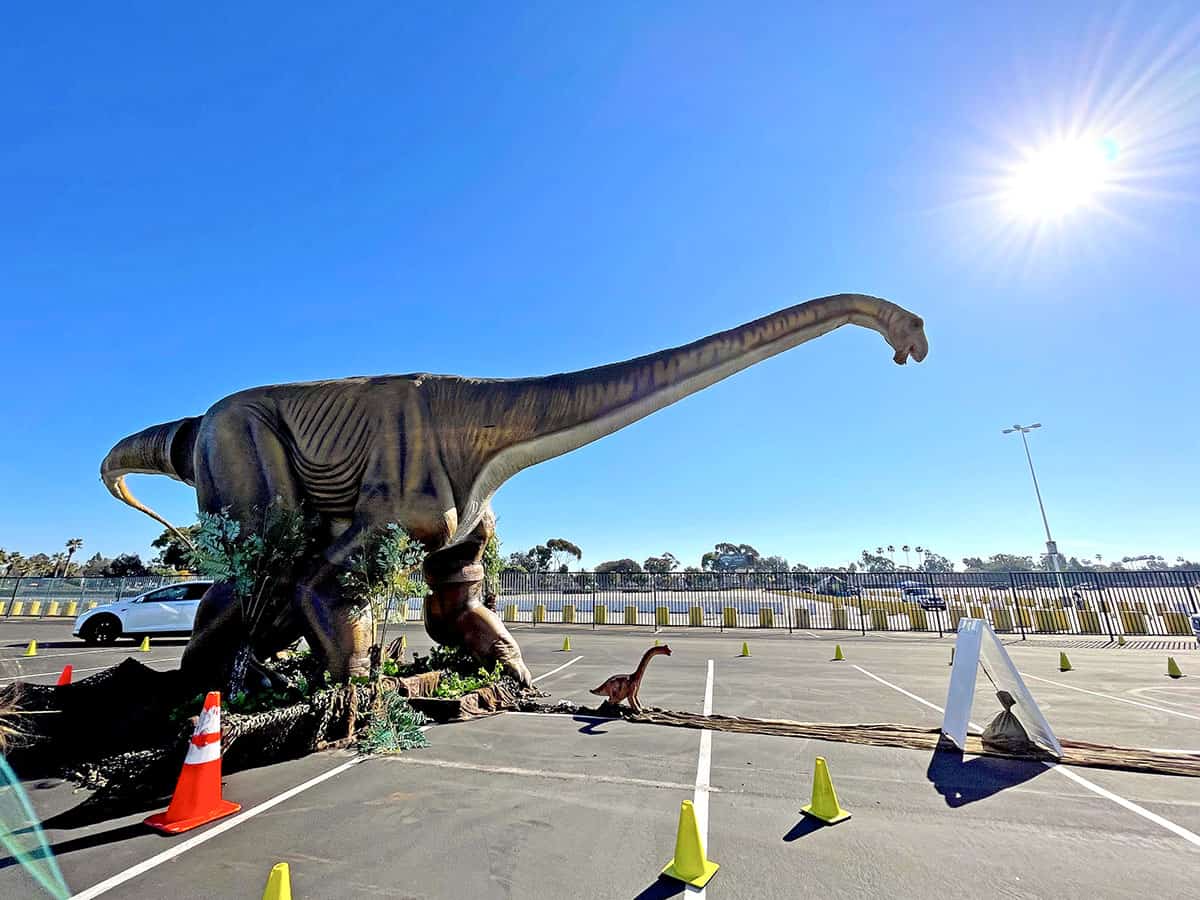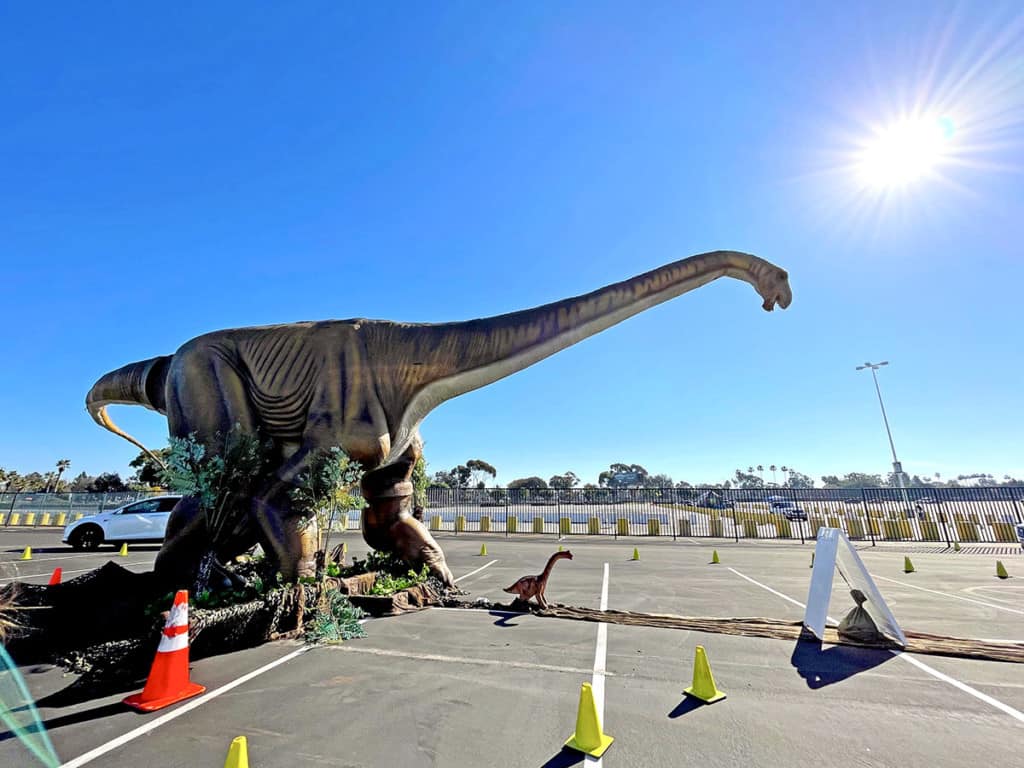 The giant Megalodon Shark dinosaur ends the Jurassic Quest experience. It was enormous and super awesome!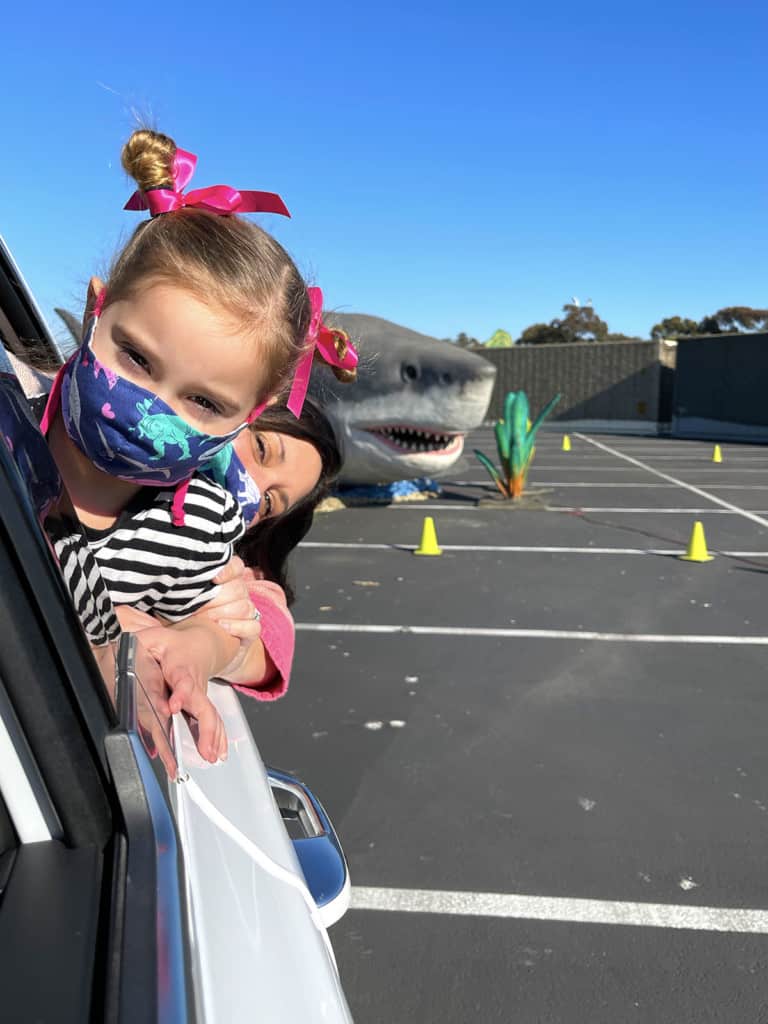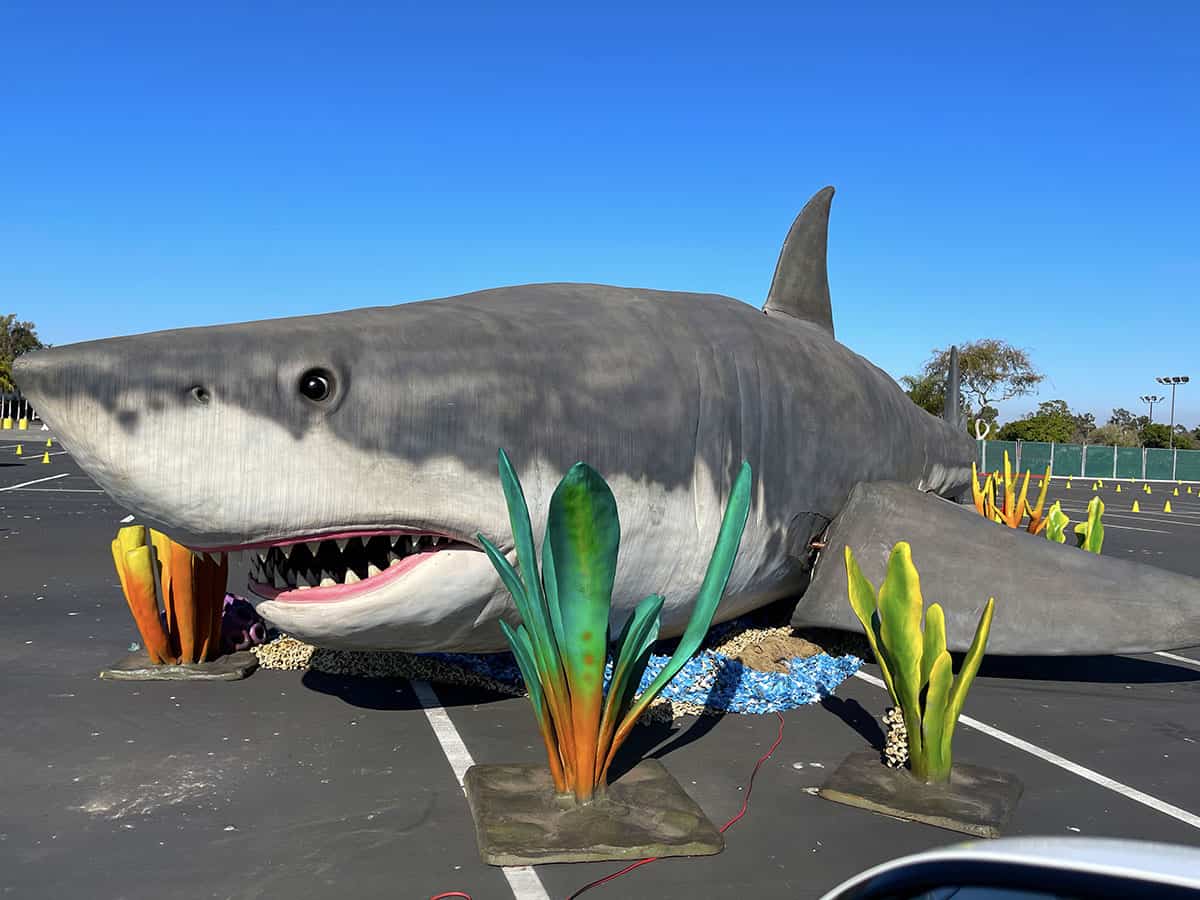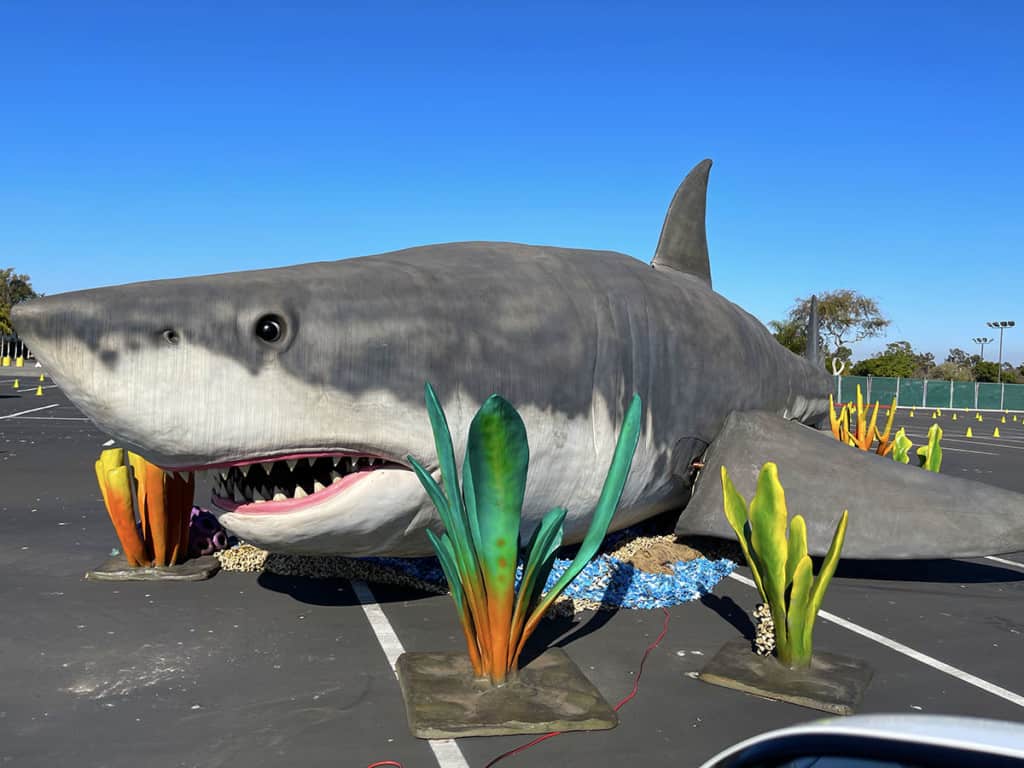 Before you leave Jurassic Quest Drive Thru, all attendees receive a free, safari-style family photo in their vehicles set against a dinosaur backdrop as a memento of their experience.
Then you head through the souvenir tents and have the opportunity to purchase dinosaur toys, shirts and bubble wands. It's all a bit pricey, but if you have a dinosaur lover, they will probably talk you into something on your way out. If this isn't on your agenda, just be prepared.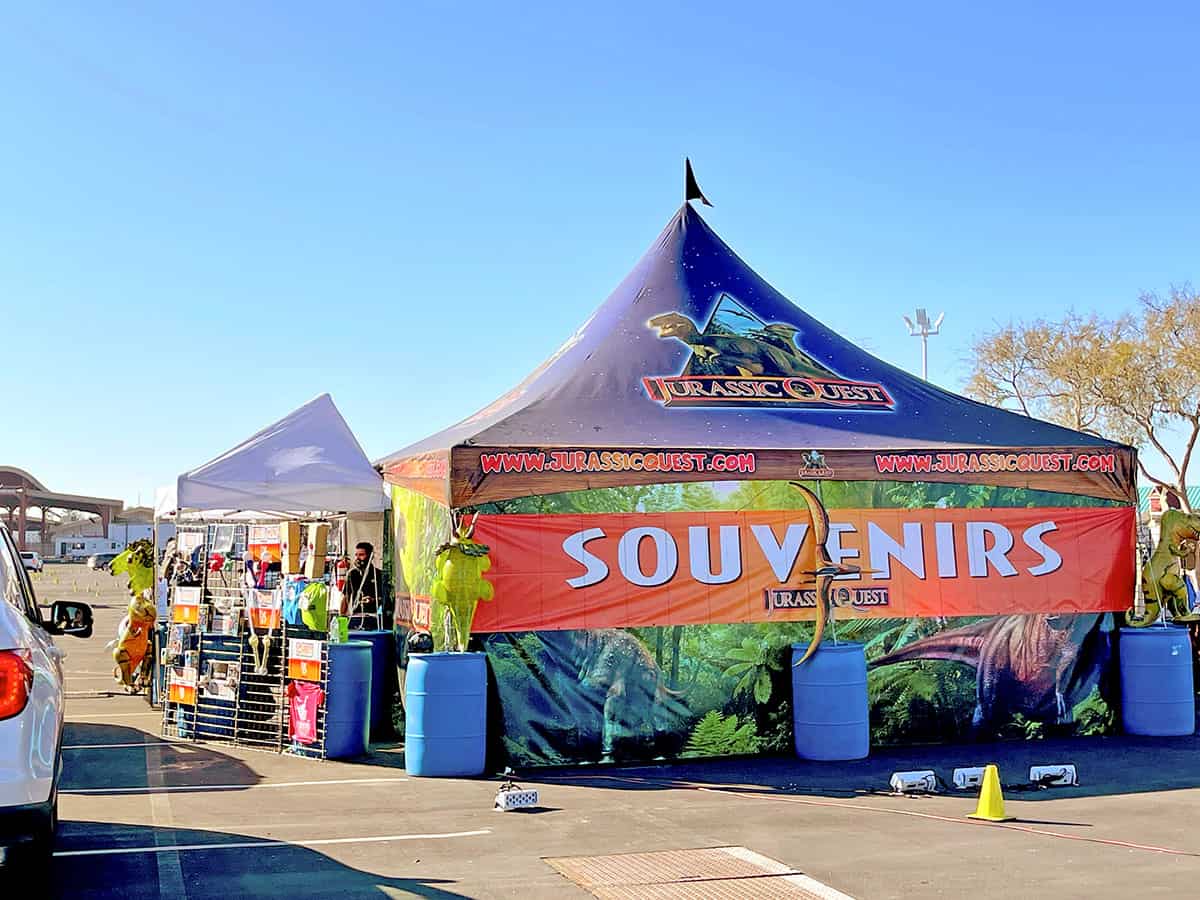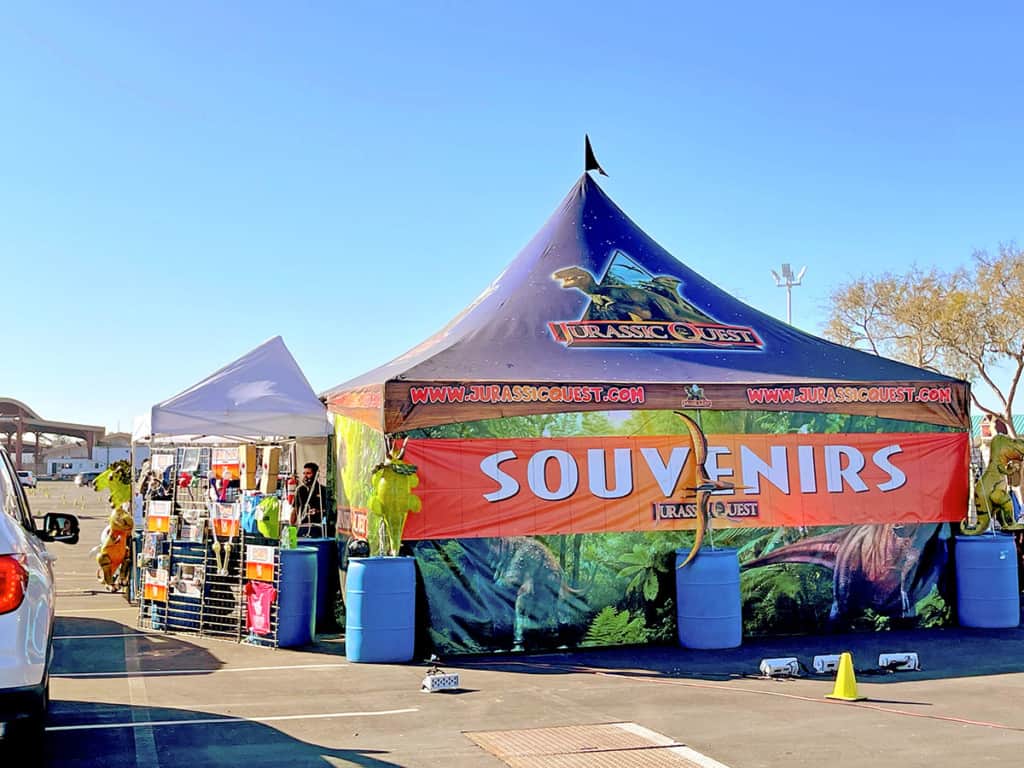 Tips before you go!
Download the audio tour and have it ready on your phone to play.
Bring snacks or purchase some on your way in.
Bring masks. You must wear one if your windows are down.
Make sure you windshields are clean.
Make sure your phone is fully charged.
Have enough gas to last 45 minutes.
Prepare your kids about the souvenirs. If you plan or don't plan to purchase in order to avoid meltdowns.
Bring a couple of dinosaur stuffed animals if you have them.
Did we enjoy the dinosaurs?
Overall, we truly enjoyed the Jurassic Quest Drive Thru. It was very informative and kept the kids attention during the entire drive thru. It took us about 45 minutes to do the entire experience...which made it worth the money. Compared to other drive thru experiences we've recently done, we rank this one towards to top! We loved the audio tour and the variety of dinosaurs. The kids loved seeing their favorites such as T-rex and triceratops...so I would highly recommend.
Can't Make it to the Orange County Jurassic Quest Drive Thru?
If you can't make it to this week's Jurassic Quest performances, don't worry. Families have one more chance to catch Jurassic Quest in the LA area following its Costa Mesa run. It will be at the Fairplex in Pomona February 9th through the 15th. Not the far from the OC.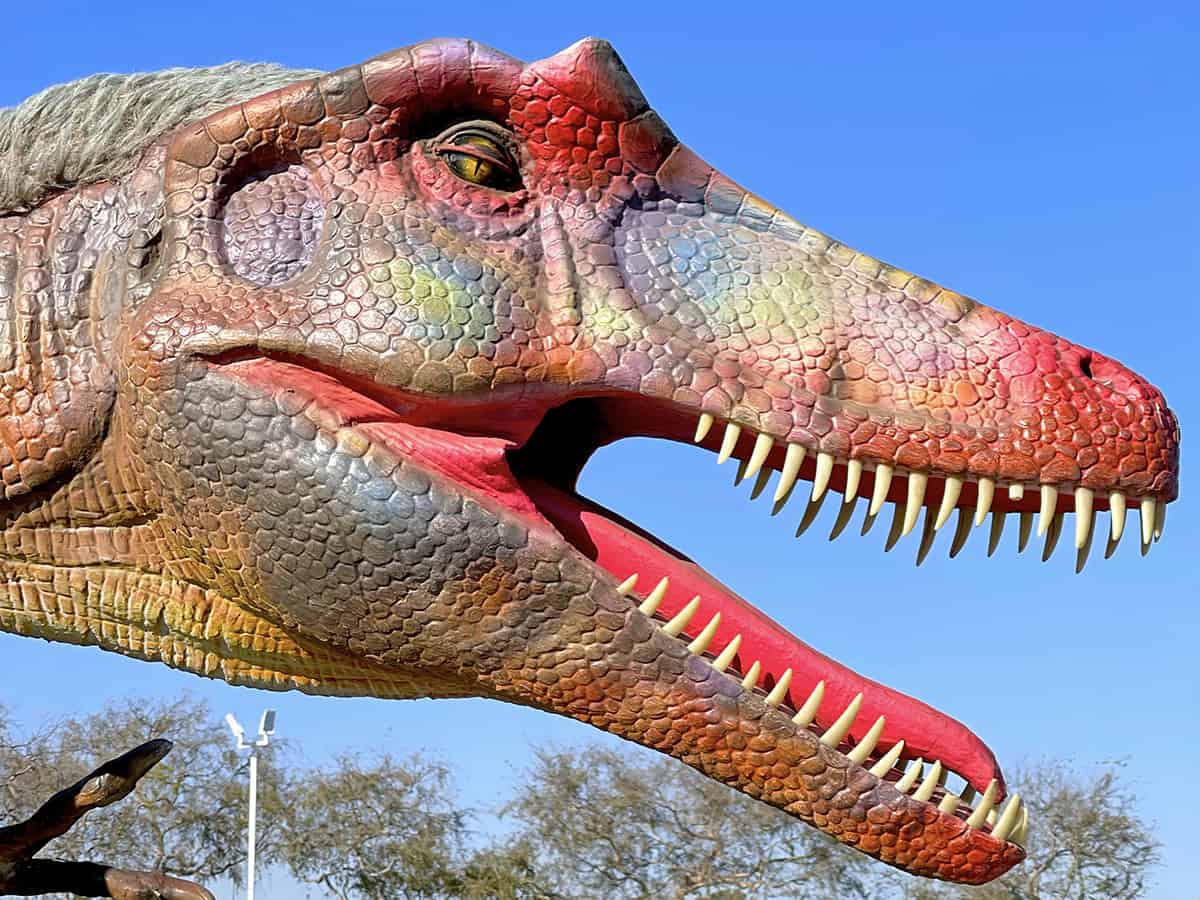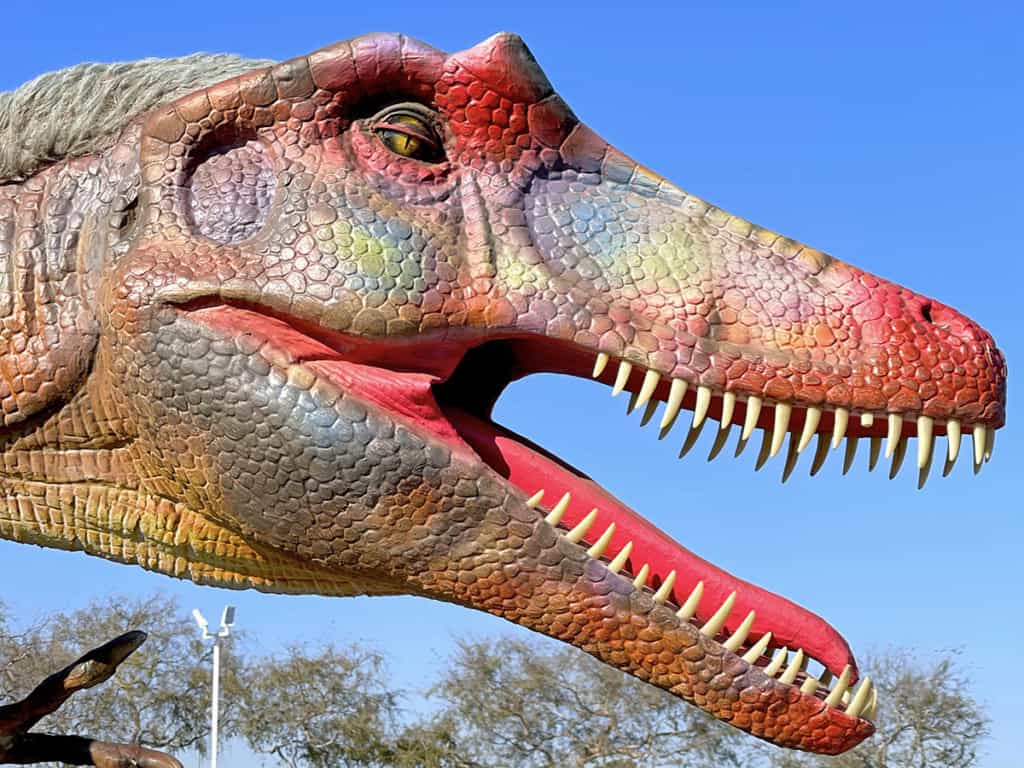 Jurassic Quest Drive Thru Giveaway
To celebrate Jurassic Quest Drive Thru coming to Orange County, I am hosting a giveaway! One lucky reader will win a ticket to the Jurassic Quest Drive Thru. You can choose Orange County or Pomona. (Giveaway valued at $50).
Enter via Rafflecopter below! Just do the entries that you want…the more you do the more chances you have to win! Giveaway ends Sunday, February 6th, 2021 at 11pm. Open to U.S. residents only. Good luck!!!
a Rafflecopter giveaway
{We were invited guests of Jurassic Quest Drive Thru. All thoughts and opinions are 100% my own.}