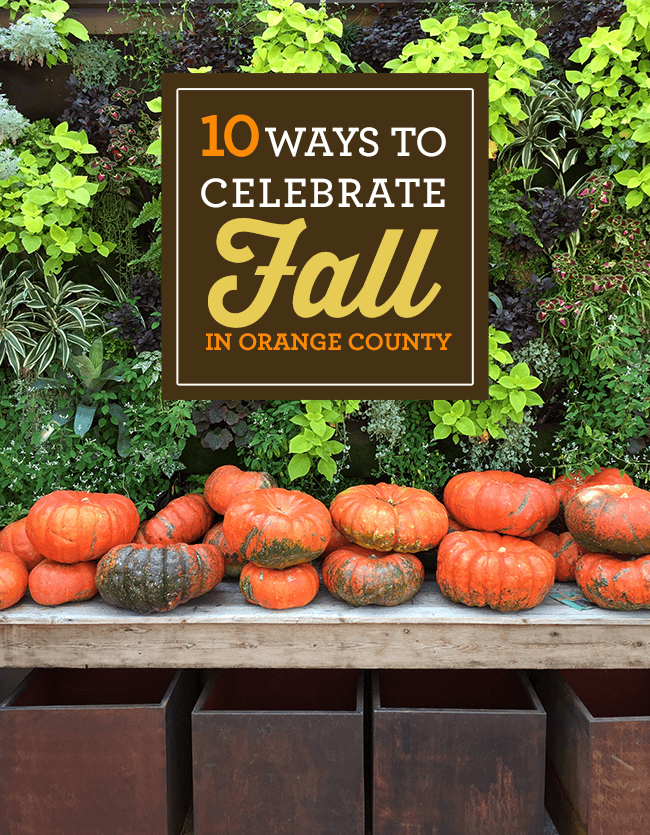 Fall is officially here in Southern California....even if it still feels like summer!
I personally love having warm weather all year round, but it is nice to wake up in the mornings and smell that little hint of Fall...we do get that from time to time. However, we aren't lucky enough to get the beautiful Fall colors that rest of the country gets when the leaves turn shades of red, yellow and orange. Because of our warm and beautiful weather, it can be hard to get in the Fall spirit here in the OC. So, I thought I would put together a Orange County Fall Bucket List to get you in the spirit of the season.
Here's my list of the top 10 Ways to Celebrate Fall in Orange County.
Orange County Fall Bucket List
Knott's Taste of Fall-O-Ween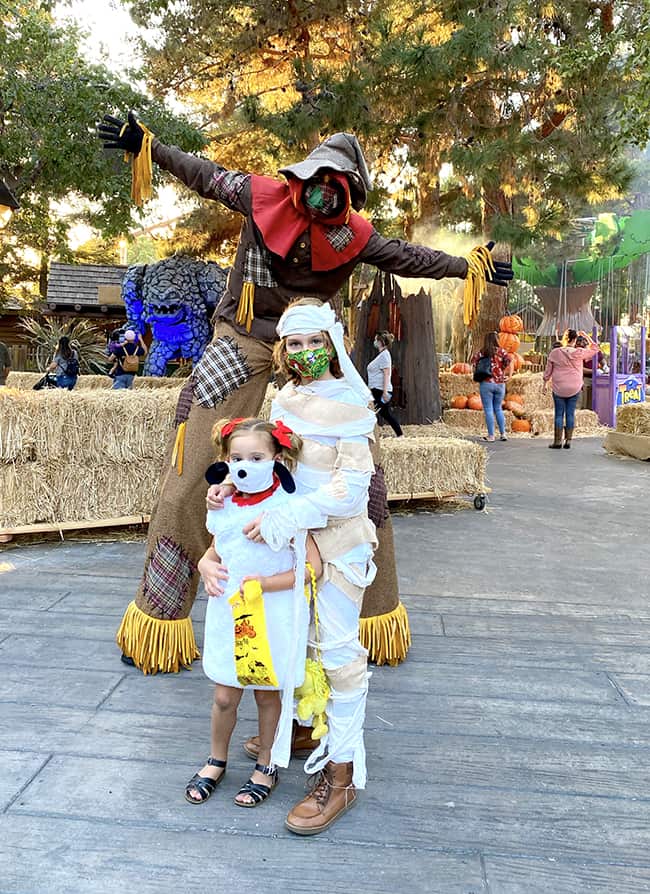 Knott's Taste of Fall-O-Ween is Knott's newest family-friendly outdoor dining and retail experience celebrating the Halloween season and the flavors of Fall. The spirit of Halloween comes to life with a cornucopia of Harvest and Halloween décor that will transform the park for the season.
Guests of all ages can dress up in their most festive costumes* to experience one-of-a-kind themed food and treats, exclusive event merchandise including specialty items from local crafters, an all-new "Into the Fog" art show, and so much more. Plus included with a junior tasting card, young guests will have an opportunity to take a trip through the fully-themed Camp Snoopy Trick-or-Treat Trail, loaded with multiple treat stations and special spooky decorations. All Knott's Taste of Fall-O-Ween activities will be conducted at a safe and socially distant space for families to enjoy.
2. Get a Pumpkin Milkshake from Ruby's Shake Shake in Newport.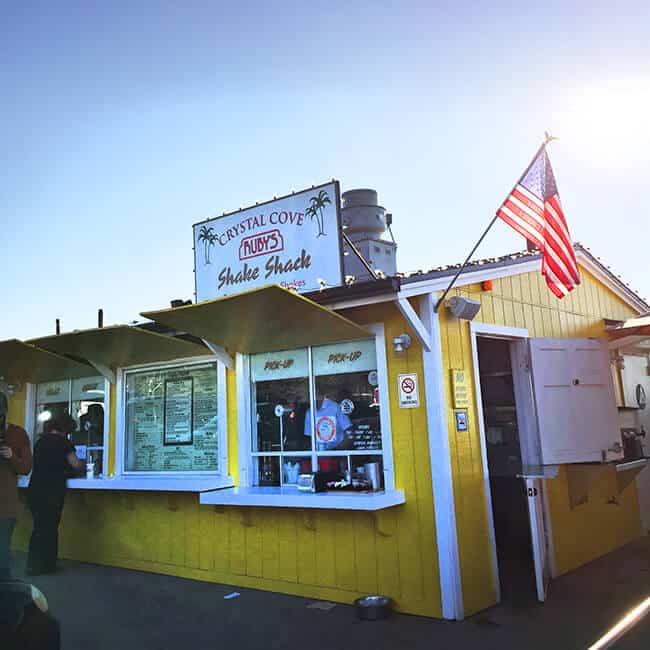 Right now it's Pumpkin Spice season at Ruby's Diner, and they are serving up Pumpkin milkshakes topped with whipped cream and candy corns. Head down to the Shake Shack for this yummy shack with a view of Crystal Cove, and hike down the beach and enjoy a stroll on the sand. It may be Fall...but it's never out of season to enjoy the fresh ocean air and some crashing waves. Crystal Cove Beach is one of our faves!
3. Visit Tanaka Farms Pumpkin Farm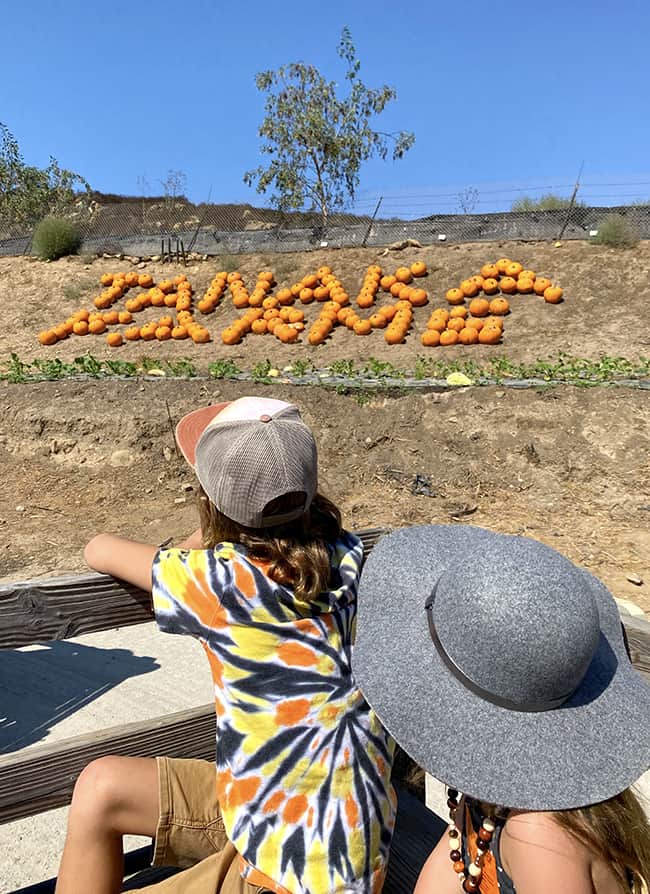 The Tanaka Farm's Pumpkin Patch has become one of the favorite pumpkin patches here in Orange County. There are two options for the pumpkin patch this year, a U-pick Pumpkin Wagon Ride and a Drive-thru Pumpkin Farm. It may look a lot different than in the past, but they've been working really hard to make sure they can provide a safe and fun experience for everyone. Reservations are required for both experiences.
The U-pick Pumpkin Wagon Ride is led by a friendly tour guide around Tanaka's beautiful 30 acre farm! You get to watch them launch the pumpkin cannon, take a ride through the barnyard educational exhibit with farm animals, lots of fun stuff to look at, a scarecrow contest, sunflowers, U-Pick veggies, and a pumpkin you pick yourself! Please note you will not exit the wagon until it is time to pick your vegetables and pumpkin. This activity lasts about one hour.
The Drive-thru Pumpkin Farm let's you stay in your car and take a leisurely 1.5 mile drive around their beautiful 30-acre farm! It includes pumpkin, samples, a barnyard educational exhibit with farm animals, lots of fun stuff to look at, a scarecrow contest, sunflowers, and more! This option is an in-vehicle only option. You will not be exiting your vehicle, except for one optional stop where you will pull off the path so you can pick your own pumpkin in the fields.Thank you for understanding. (Please note that there is a 9 ½ foot vehicle height clearance.)
3. Go to a Pumpkin Succulent Workshop in Orange County.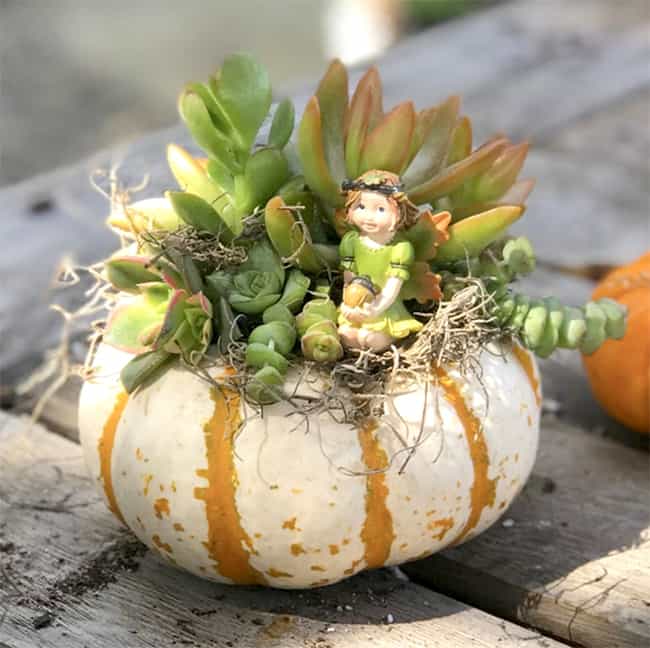 Pumpkin Succulent arrangements are the biggest rage during Fall. There are lots of pumpkin succulent workshops available in Orange County this time of year. Simply Google Orange County Pumpkin Succulent Workshops. The Dragonfly Shops and Gardens still have some workshops available!
4. Get a dozen piping hot Duck Donuts in their seasonal flavors of Fall.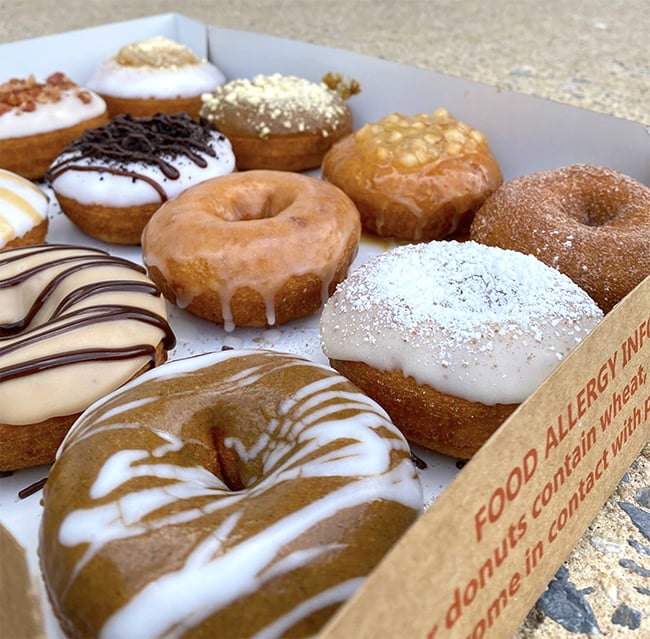 Who's ready to enjoy the ducklightful flavors of fall?! Duck Donuts are made fresh-to-order and served nice and warm. You can now get their amazing FALL flavors...they are very excited to officially welcome back their popular pumpkin icing, apple and streusel toppings!
5. Check out the "Pirate's Life for Me" Halloween Boutique at Roger's Gardens.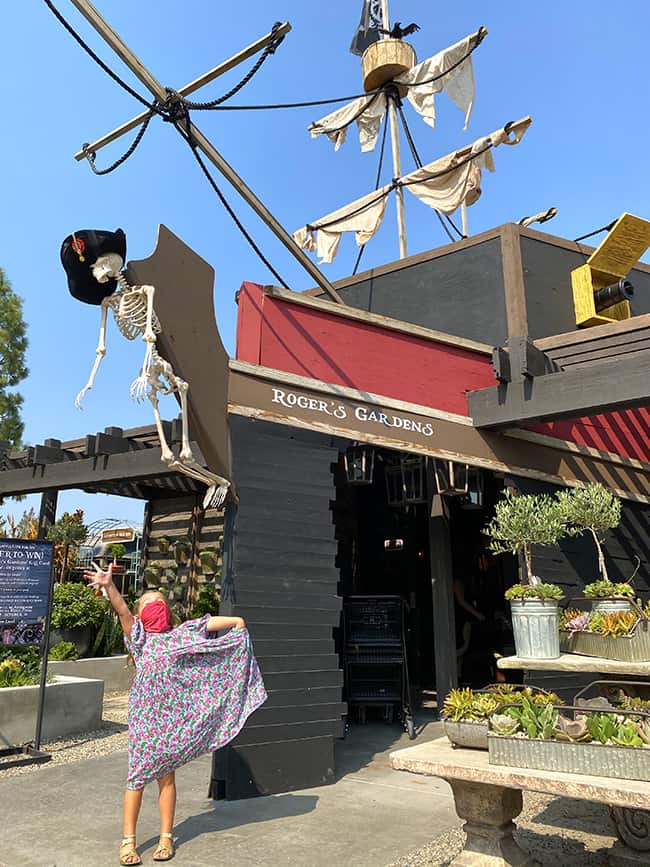 Every year, Roger's Gardens has an AMAZING Halloween themed boutique. This year it's the Pirate's Life for Me...a spooky pirate themed Halloween boutique Take a wild adventure out to sea and enter into the World of Pirates. Explore the private corridors and cabins below the ships deck to find precious gems. Venture underwater as you search through caves and discover treasures, surprises and frights to decorate your home for Halloween. There are so many spectacular Halloween decorations and props – vintage inspired, creepy and cute! Most are pretty pricey, but even if you don't buy anything, it still makes a nice family outing. There are also lots of pumpkins, interesting gourds and beautiful Halloween flower arrangements set-up all around Roger's Gardens. Bring your camera!
6. Apple Fritter Fridays at Sidecar Donuts in Costa Mesa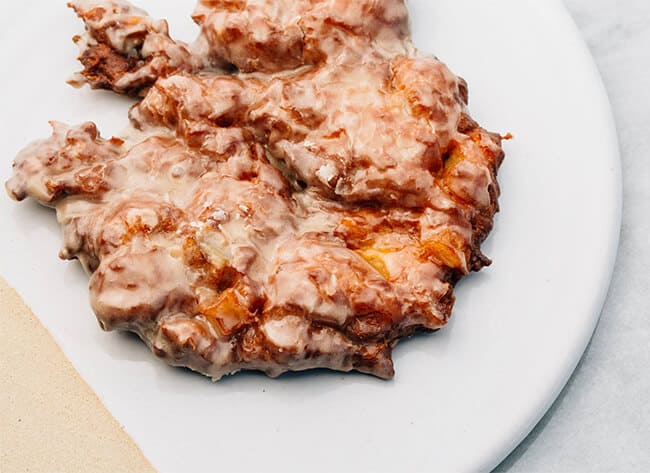 Apples mean Fall...and what goes great with apples? Apple Fritters. Sidecar Donuts is serving them up this Fall. you can get the yummiest Apple Fritters on Fritter Fridays ONLY at Sidecar Donuts' Costa Mesa location. their take on a classic – made with fresh Granny Smith Apples and topped with house made apple cider glaze. yum yum! (Photo credit: Sidecar Donuts)
7. Visit the Irvine Park Pumpkin Patch.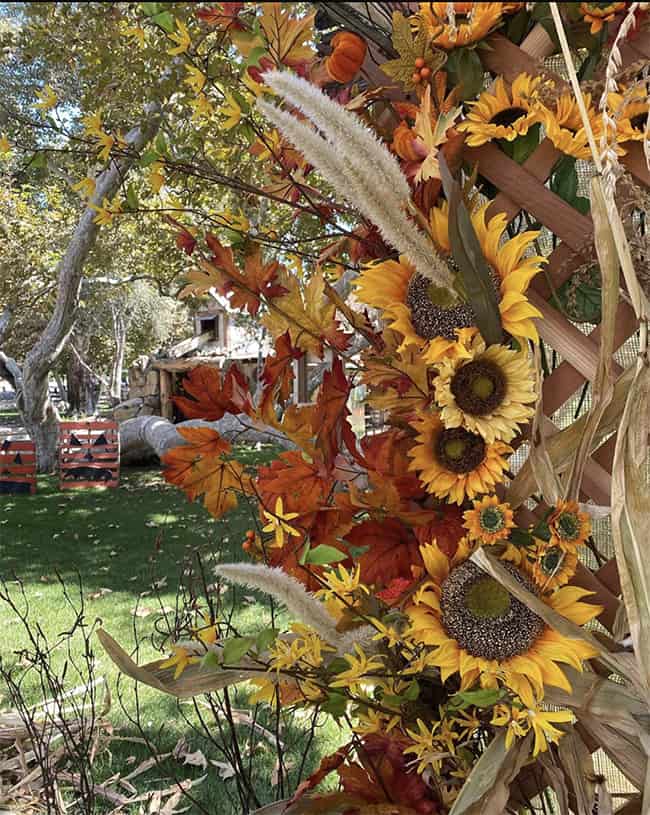 Even though the Irvine Park Pumpkin Patch will be much different than in years past, it can still be part of your family tradition. Since there aren't many events happening in Orange County, this is a fun choice. There will be several options to buy a pumpkin. You will not be able to walk around and pick out a pumpkin like in previous years. In addition to the train and hay wagon ride, there will be a couple game booths that will be sanitized after every use and a few photo opportunity areas for you to take photos with your family or group.
8. Buy ALL the pumpkin stuff at Trader Joe's!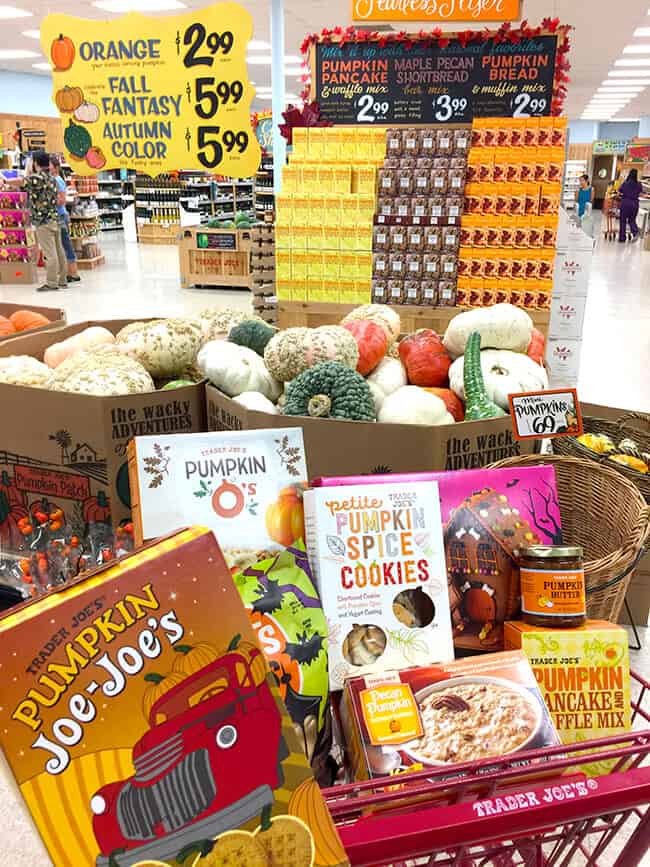 Trader Joe's is known for their yummy seasonal treats. The Fall means pumpkin everything! pumpkin cookies, pumpkin bread, pumpkin coffee, pumpkin cereal, pumpkin ravioli, pumpkin pancakes, pumpkin candy....an more! Eeverything is super yummy...you won't want to miss it. Get there earlier in month for the best selections as the favorites run out quickly. you can also get regular orange pumpkins for under $3, fun gourds and Cinderella pumpkins or Fall flowers.
9. Get a Pumpkin Shaped loaf of Sourdough from Boudin's.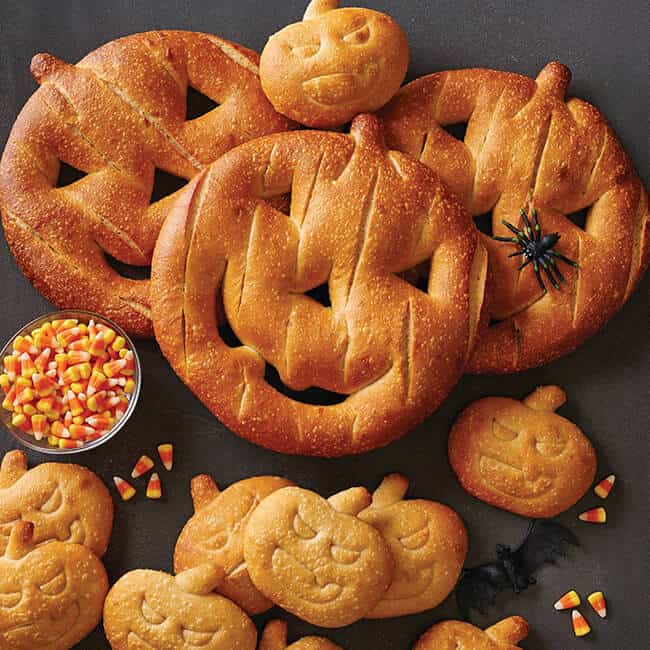 Did you know that you can only find Boudin SF in California? This sourdough magic originated in San Francisco...but we are lucky enough to have 6 of their restaurant/bakeries here in Southern California. In October, Boudin's sells their sourdough in the shape of pumpkins and Jack-o-Lanterns. So much fun. pick up a loaf or two, and have fun family evening complete with soup or chili, sourdough pumpkins and watching "It's a Great Pupkin Charlie Brown" or a "Charlie Brown Thanksgiving".
10. Go apple picking in Oak Glen.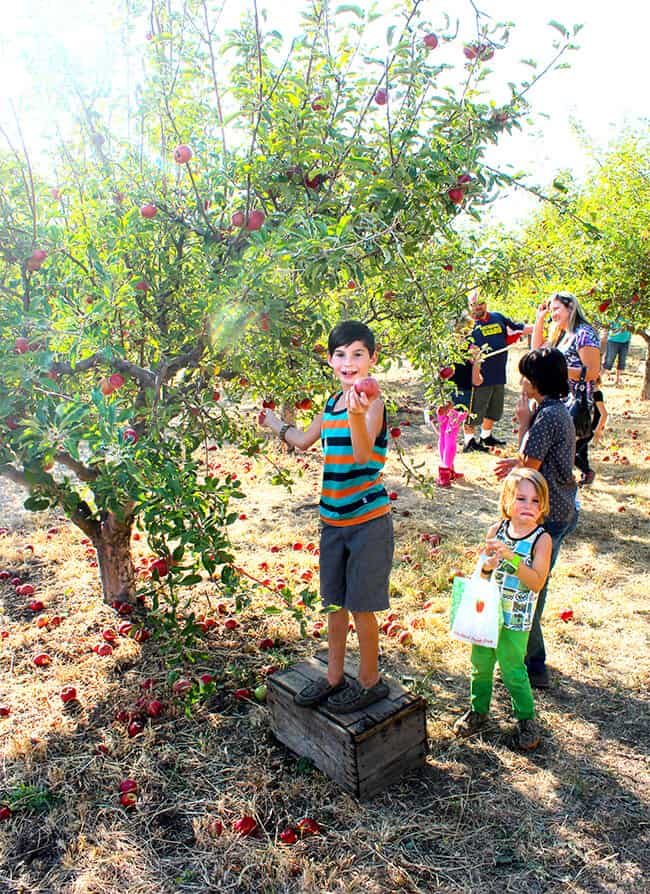 One of the best family outing is heading up to Oak Glen to go apple picking. you can stop at one of the 30+ farms on a 5-mile loop, and pick apples, raspberries, or pumpkins, run through a corn maze, petting zoo or hay ride. you can get yummy ti-tip or a mile high apple pie, taste apple cider or different kinds of apples. don't forget to press your own apple cider....that is an exciting experience for the kids. it cost around $20 and is a great learning experience. head up to Oak Glen Village and check out the mountain stores, go to the zoo or eat at one of the restaurants. everyone finds their favorites and visit them every year as a tradition. Check out our Oak Glen Apple Picking Guide.
11. (Bonus) Get the cutest Pumpkin Gelato Cones at Eiswelt Gelato in Westminster.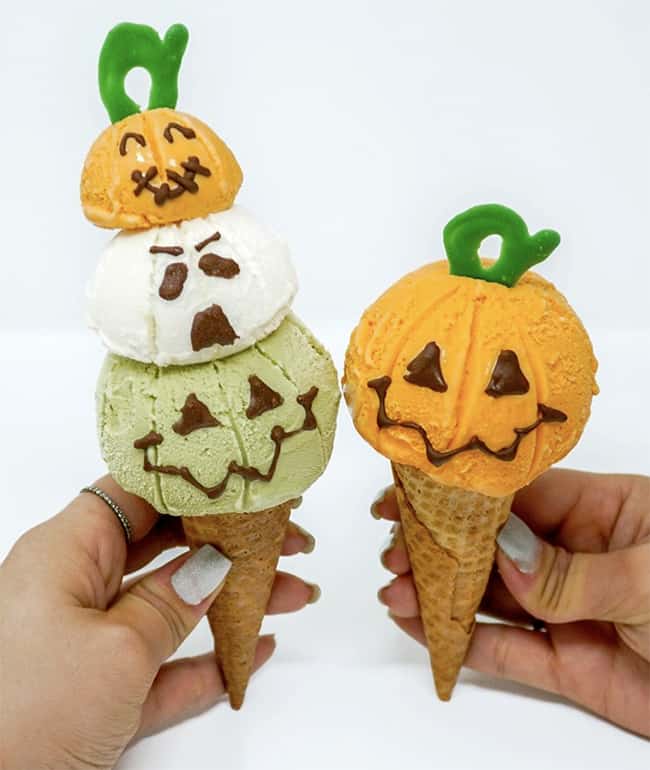 Hope you're ready for autumn because Eiswelt Gelato is! Their adorable PUMPKIN characters are available again for a limited time. You can either get PUMPKIN as a single scoop or as a stack 🎃. Eiswelt Gelato is a dessert shop located on Bolsa Ave in the heart of Little Saigon, that customizes your delicious in-store made gelato into fun characters such as a teddy or even a unicorn. All their animals are handcrafted by our employees in front of your eyes each time you order one. They also serve housemade Jasmine Milk Tea or for cold days a nice Hot Chocolate.
These are our top choices of Fall fun activities in Orange County. But if you are looking for even more fun family Halloween Events, make sure to check out this post 2020 Family-friendly Halloween Events Happening in Orange County.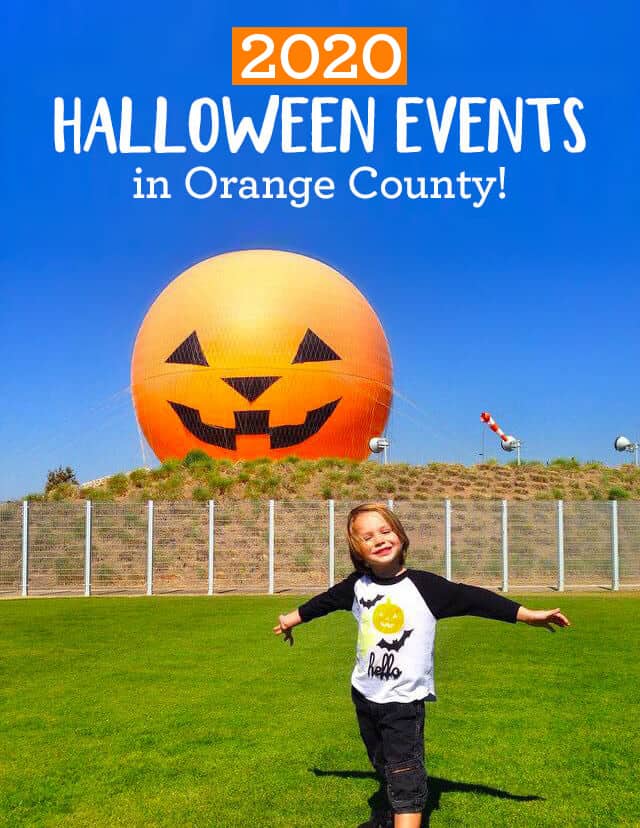 SaveSaveSaveSave
SaveSave
SaveSave
SaveSaveSaveSave
SaveSave
SaveSave
SaveSave
SaveSave