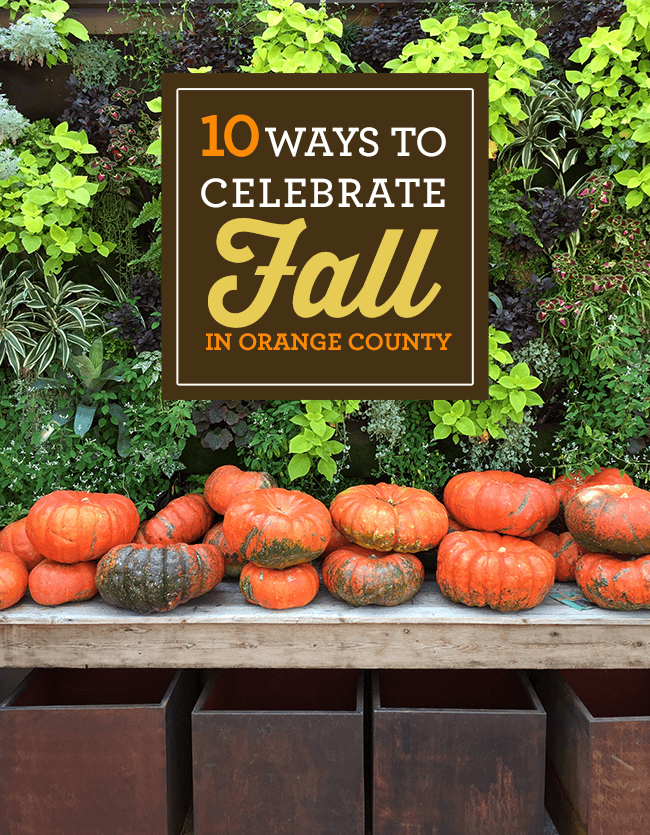 Fall is officially here in Southern California….even if it still feels like summer!
I personally love having warm weather all year round, but it is nice to wake up in the mornings and smell that little hint of Fall…we do get that from time to time. However, we aren't lucky enough to get the beautiful Fall colors that rest of the country gets when the leaves turn shades of red, yellow and orange. Because of our warm and beautiful weather, it can be hard to get in the Fall spirit here in the OC. So, I thought I would put together a Orange County Fall Bucket List to get you in the spirit of the season.
Here's my list of the top 10 Ways to Celebrate Fall in Orange County.
Orange County Fall Bucket List
1. Visit Tanaka Farms Pumpkin Patch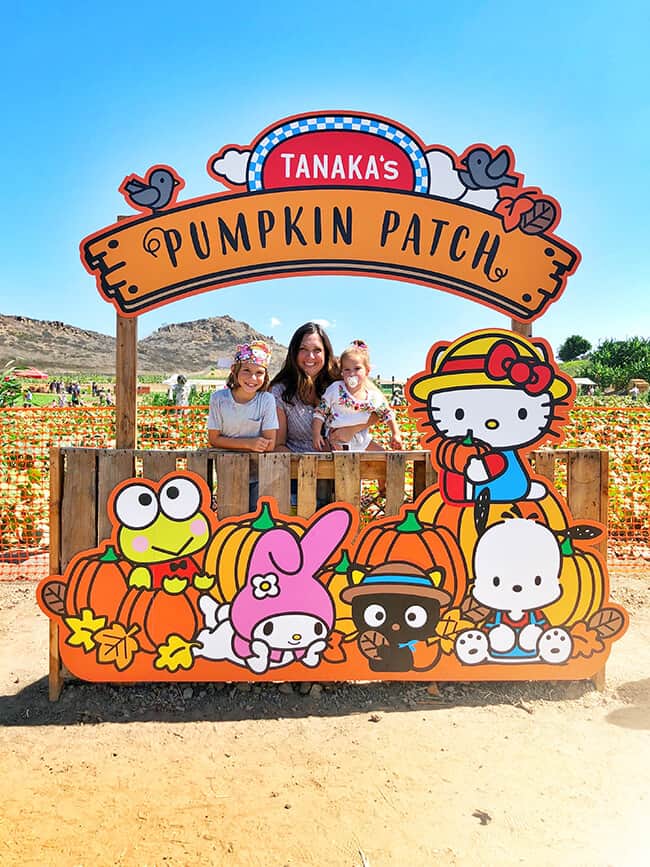 The Tanaka Farm's Pumpkin Patch has become one of the favorite pumpkin patches here in Orange County. This year it's been decorated Sanrio style with the cutest Hello Kitty decorations all over the place. and not only are there hundreds of varieties pumpkins in rows of pumpkin vines, but fun photo opts, tractor rides, carnival games, vegetable picking, and a petting zoo. new this year is the cutest sunflower patch where you can walk through and enjoy a variety of beautiful sunflowers. on your way out, you can enjoy the farm store and lots of Hello Kitty merchandise. it's a great pumpkin patch for all ages.
2. Get a Pumpkin Milkshake from Ruby's Shake Shake in Newport.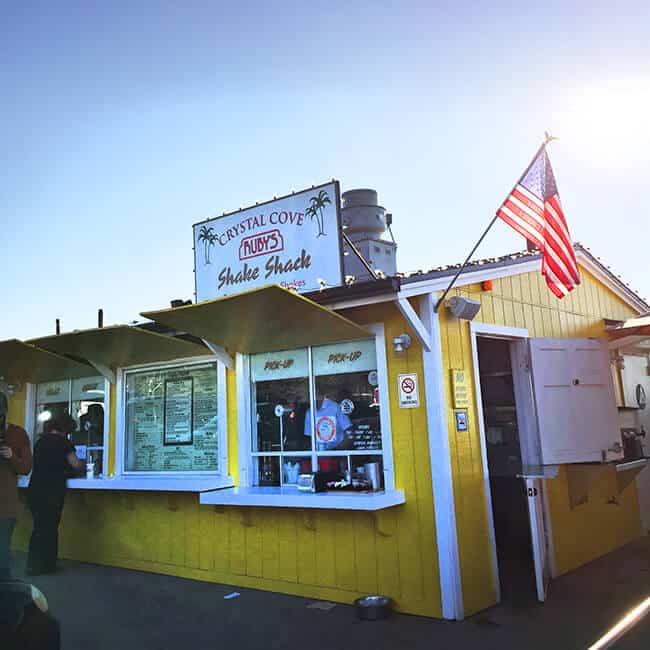 Right now it's Pumpkin Spice season at Ruby's Diner, and they are serving up Pumpkin milkshakes topped with whipped cream and candy corns. not in the mood for a shake? they also have pumpkin waffles and pumpkin pancakes!  you will then want to head down to the beach and enjoy a stroll on the sand. it may be Fall…but it's never out of season to enjoy the fresh ocean air and some crashing waves. Crystal Cove Beach is one of our faves!
3. Go to the Cal Poly Pomona Pumpkin Festival.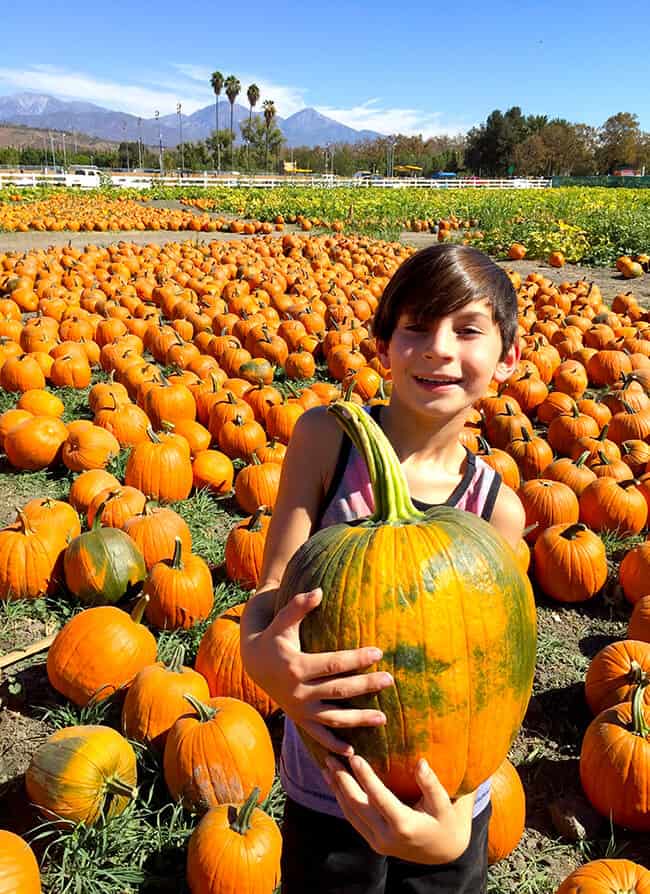 The Cal Poly Pomona Pumpkin Festival only happens one weekend each year. we always go because it's enormous, and…it's one of the most unique pumpkin patches in Southern California. The Cal Poly Pomona Pumpkin Patch is pretty incredible…there are pumpkins as far as the eye can see. thousands and thousands of them. people pick them and pick them, but the patch looks as full as ever! It's great because it give you more of a farm feel than a commercial patch. Plus at the festival, there are food booths, fruits and veggies to purchase that are grown right at the college, games and fun for the kiddies, a petting zoo, a corn maze, pancake breakfast and more. If you don't make it to the festival, there are field trips available, or you can visit it anytime after.
4. Get a Pumpkin Shaped loaf of Sourdough from Boudin's.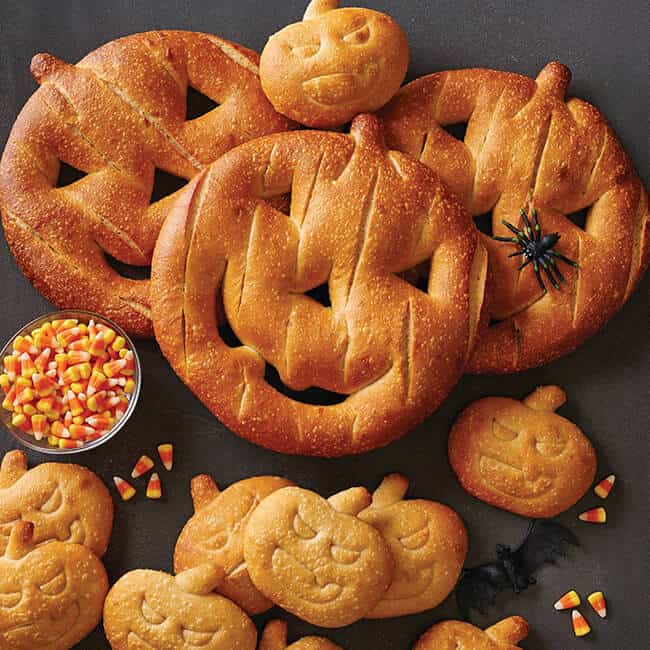 Did you know that you can only find Boudin SF in California? This sourdough magic originated in San Francisco…but we are lucky enough to have 6 of their restaurant/bakeries here in Southern California. In October, Boudin's sells their sourdough in the shape of pumpkins and Jack-o-Lanterns. So much fun. pick up a loaf or two, and have fun family evening complete with soup or chili, sourdough pumpkins and watching "It's a Great Pupkin Charlie Brown" or a "Charlie Brown Thanksgiving".
5. Go to Discovery Cube OC's Annual Pumpkin Launch.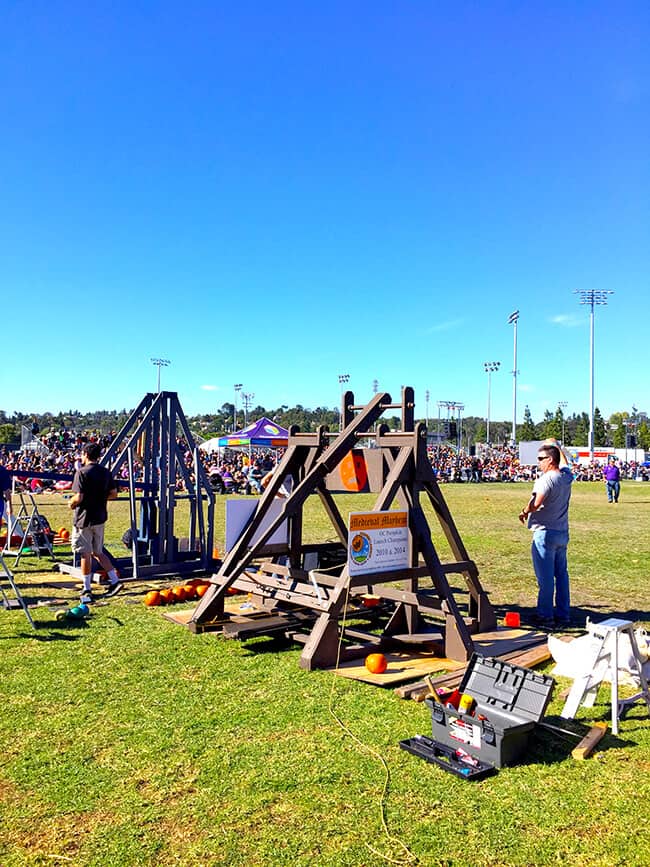 The Annual Discovery Cube Pumpkin Launch at Cal State Fullerton is a yearly tradition for many families. It's just one of the awesome FREE events that Discovery Cube OC offers to the community. families from all over Southern California attend to see pumpkins launched through the air by teams competing for the record of launching the most pumpkins – the farthest and closest to the targets. it's quite a show, and very entertaining. in addition to the flying pumpkins, there are crafts, and games for the kids and food trucks!!!  We look forward to this event every year.
6. Buy ALL the pumpkin stuff at Trader Joe's!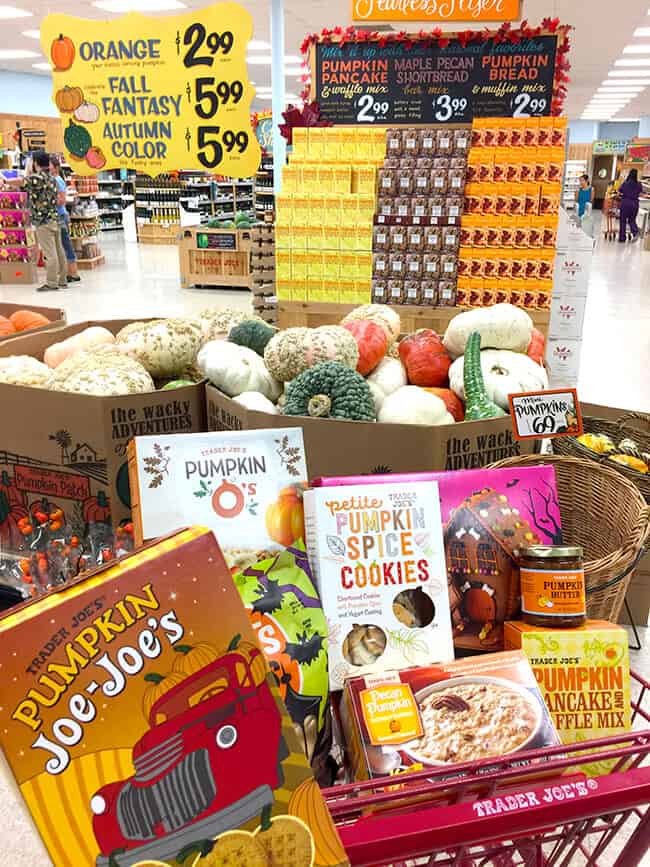 Trader Joe's is known for their yummy seasonal treats. The Fall means pumpkin everything! pumpkin cookies, pumpkin bread, pumpkin coffee, pumpkin cereal, pumpkin ravioli, pumpkin pancakes, pumpkin candy….an more!  Eeverything is super yummy…you won't want to miss it. Get there earlier in month for the best selections as the favorites run out quickly. you can also get regular orange pumpkins for under $3, fun gourds and Cinderella pumpkins or Fall flowers.
7. Go apple picking in Oak Glen.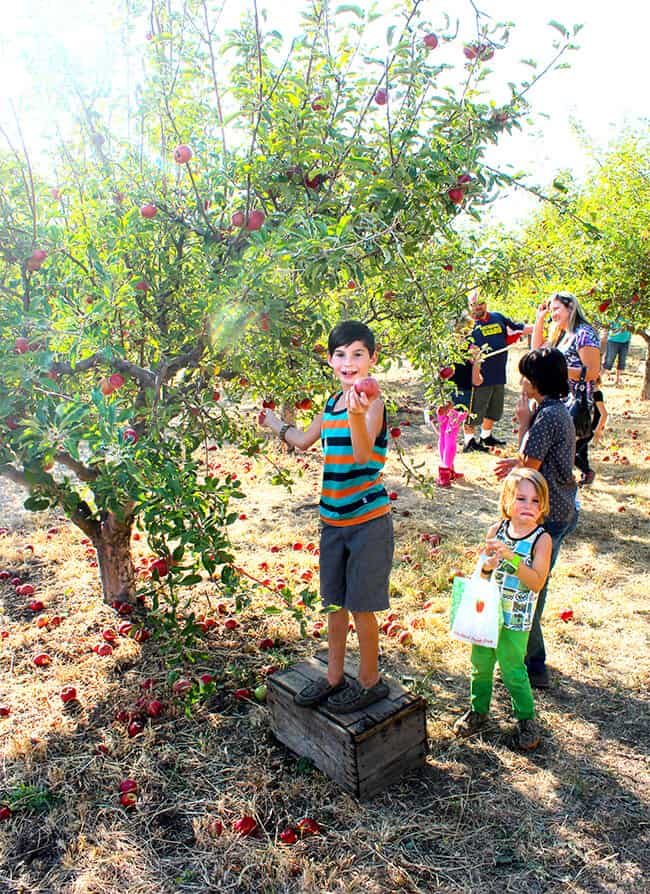 One of the best family outing is heading up to Oak Glen to go apple picking. you can stop at Riley's Farm, Los Rios Rancho (our favorite) or one of the 30+ farms on a 5-mile loop, and pick apples, raspberries, or pumpkins, run through a corn maze, petting zoo or hay ride. you can get yummy ti-tip or a mile high apple pie, taste apple cider or different kinds of apples. don't forget to press your own apple cider….that is an exciting experience for the kids. it cost around $20 and is a great learning experience. head up to Oak Glen Village and check out the mountain stores, go to the zoo or eat at one of the restaurants. everyone finds their favorites and visit them every year as a tradition. Check out our Oak Glen Apple Picking Guide.
8. Check out the Hocus Pocus Boutique at Roger's Gardens.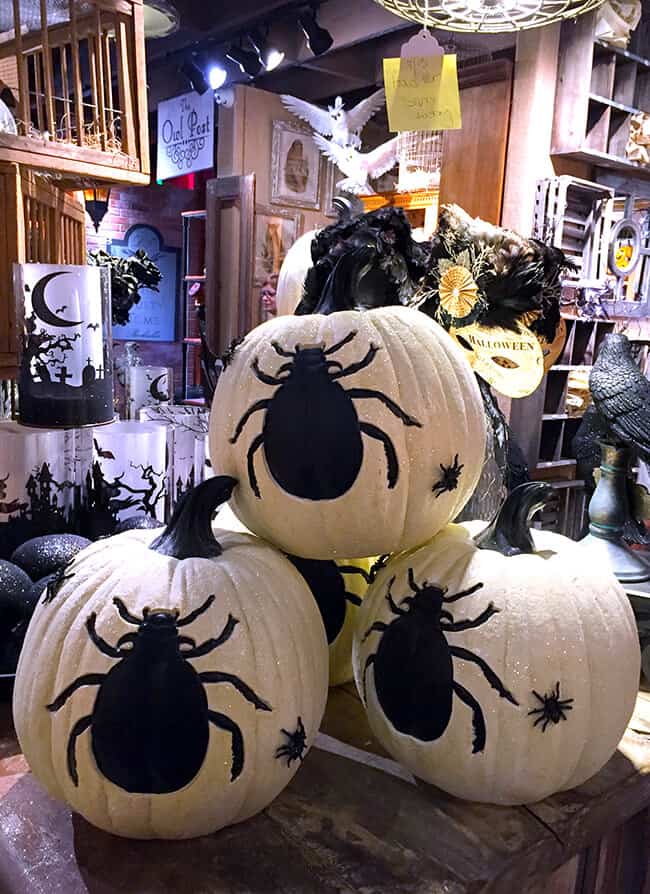 Every year, Roger's Gardens has an AMAZING Halloween themed boutique. This year it's the Malice in Wonderland…a spooky version of Alice in Wonderland. There are so many spectacular Halloween decorations and props – vintage inspired, Harry Potter inspired, creepy and cute! many are pretty pricey, but even if you don't buy anything, it still makes a nice family outing. There's also lots of pumpkins, interesting gourds and beautiful Halloween flower arrangements at Roger's Gardens. Bring your camera!
9. Take your picture in front of the Orange County Great Park Balloon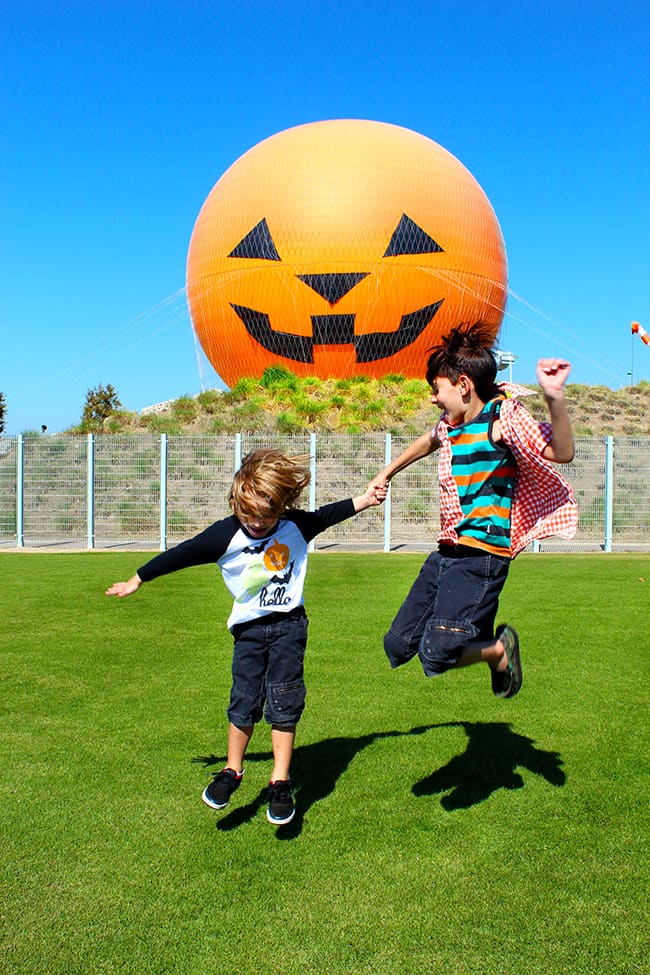 The Great Park Balloon at the Orange County Great Park is iconic to Orange County. it's big and orange and flies high in the OC sky. during the month of October, it turns into the Great Park Balloon Jack-O-lantern. it's FREE to visit the Orange County Great Park, so you can head over anytime you'd like and snap a picture with it. i recommend taking the family before dark. have a picnic dinner and take a walk or bike ride on the Thrive Walk around the park. weather permitting, you can take a ride on the balloon. $10 for adults & kids ride free with paying adult.
10. Apple Fritter Fridays at Sidecar Donuts in Costa Mesa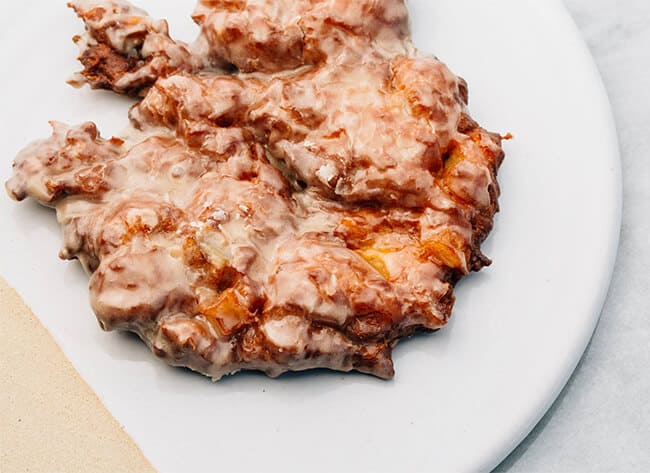 Apples mean Fall…and what goes great with apples? Apple Fritters. Sidecar Donuts is serving them up this Fall. you can get the yummiest Apple Fritters on Fritter Fridays ONLY at Sidecar Donuts' Costa Mesa location. their take on a classic – made with fresh Granny Smith Apples and topped with house made apple cider glaze. yum yum!  (Photo credit: Sidecar Donuts)
Festive Fall splurges….
I wanted the main list have the best least expensive options. But i wanted to include these more expensive options, as they are excellent Fall activities.
Knott's Spooky Farm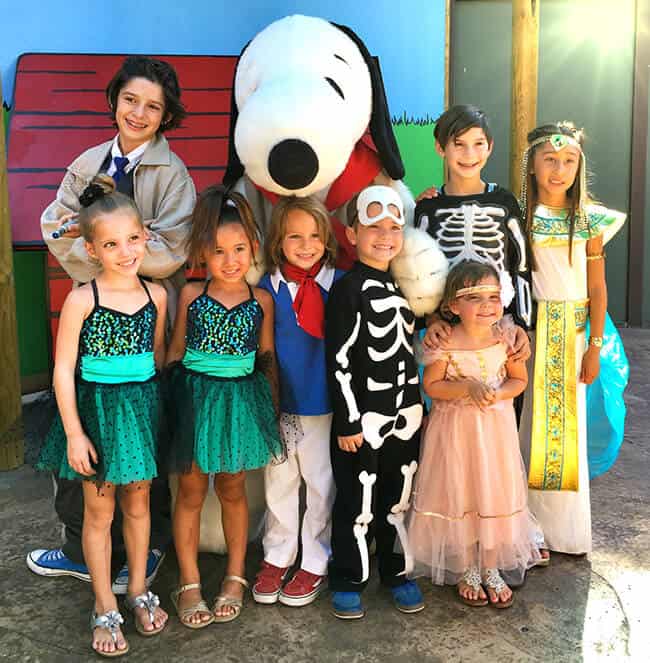 Knott's Spooky Farm takes place at Knott's Berry Farm every weekend in October. Kids can trick or treat through Ghost Town or enjoy various Halloween festivities throughout the park. be sure to have your little ones dress up in costumes for an extra fun day. the great thing about Spooky Farm is that it is included in the price of admission or your season passes! you can read about our time at Spooky Farm here.
Halloween Time at Disneyland  AND Disney's California Adventure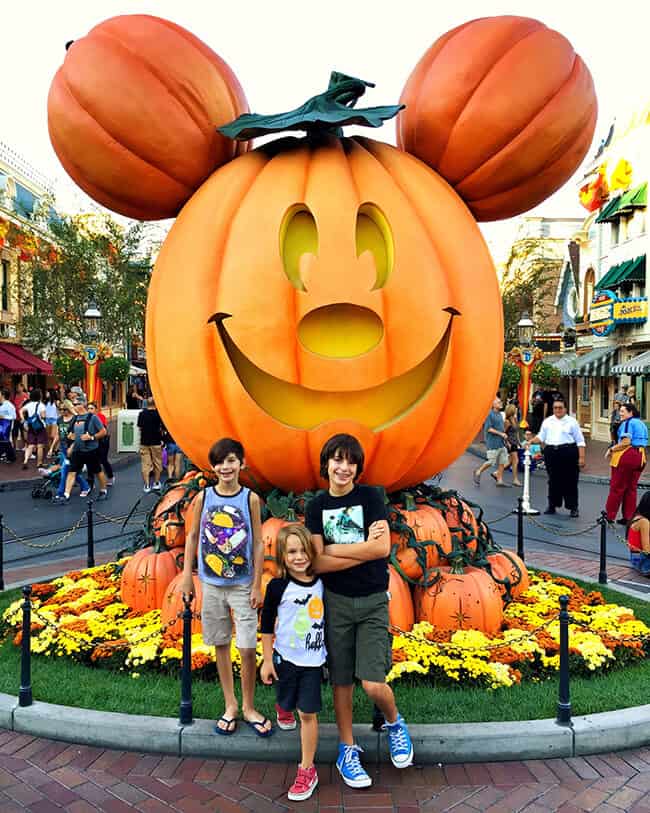 for so many, Halloween Time is the favorite time to visit Disneyland Resort. not only is there are giant Mickey pumpkin, everything else has been dressed up for Halloween. this year, Disney's California Adventure has been decorated too…so make sure to check out Cartland in particular. it's pretty awesome! there are fun themed treats, fall colors everywhere, and of course Halloween magic as only Disneyland could do.
Howl O-ween at Great Wolf Lodge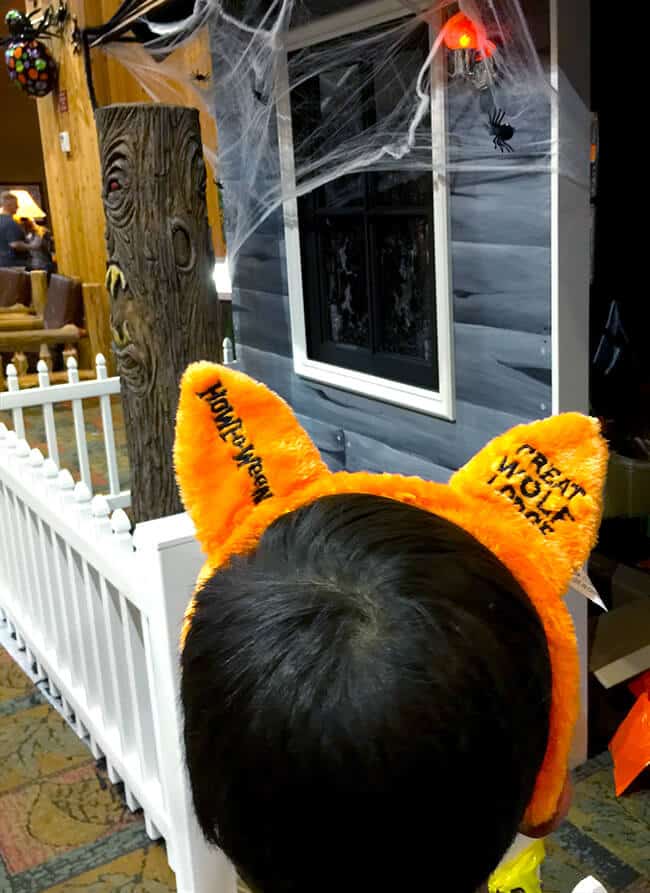 Our family loves loves loves Great Wolf Lodge in Garden Grove. It has been the perfect place to enjoy a staycation for our family numerous times. during October, Great Wolf Lodge has Howl-O-Ween, which includes, trick-or-treating, fun Halloween activities and decorations. Don't forget your costumes!  Click here for a great deal on your Great Wolf Lodge Howl-O-Ween stay.
Spooky Science at Discovery Cube OC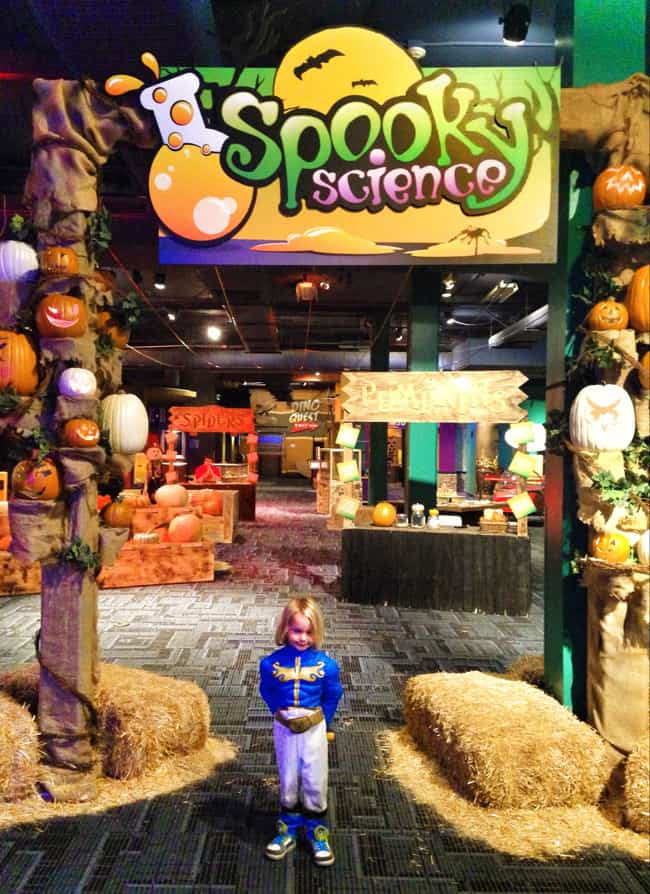 Want an educational Halloween experience for your kiddies? Then head over to the Discovery Science Center and check out their festive Spooky Science Exhibit. You get to learn fun facts about pumpkins, visit Frankenstein's laboratory, spend some time making your very own slime and join in on the Monster Academy Talent Show where each monster will be showcasing their hidden science talents!
These are our top choices of Fall fun activities in Orange County. if you are looking for some fun family Halloween Events, make sure to check out this post of 100+ Family-friendly Halloween Events in Orange County.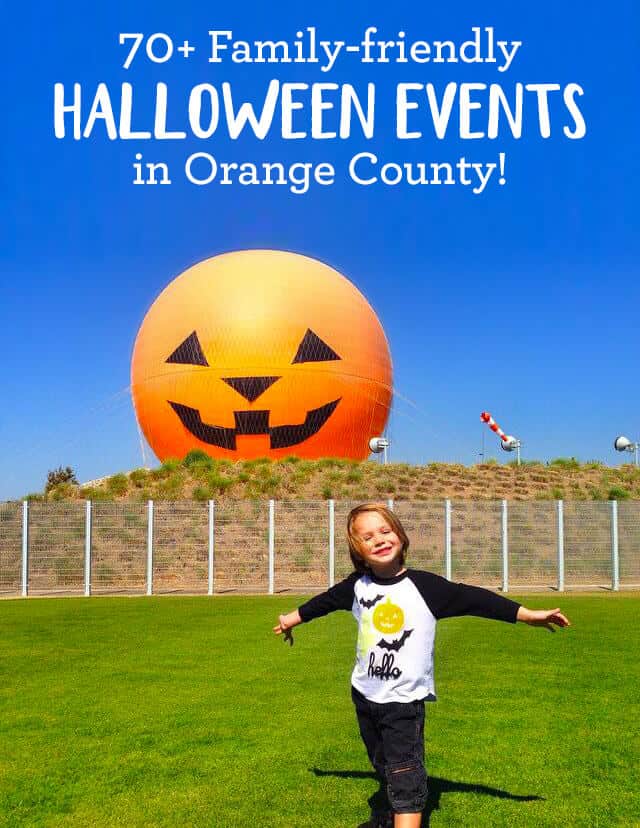 or visit on of these 30 Awesome Pumpkin Patches in Southern California.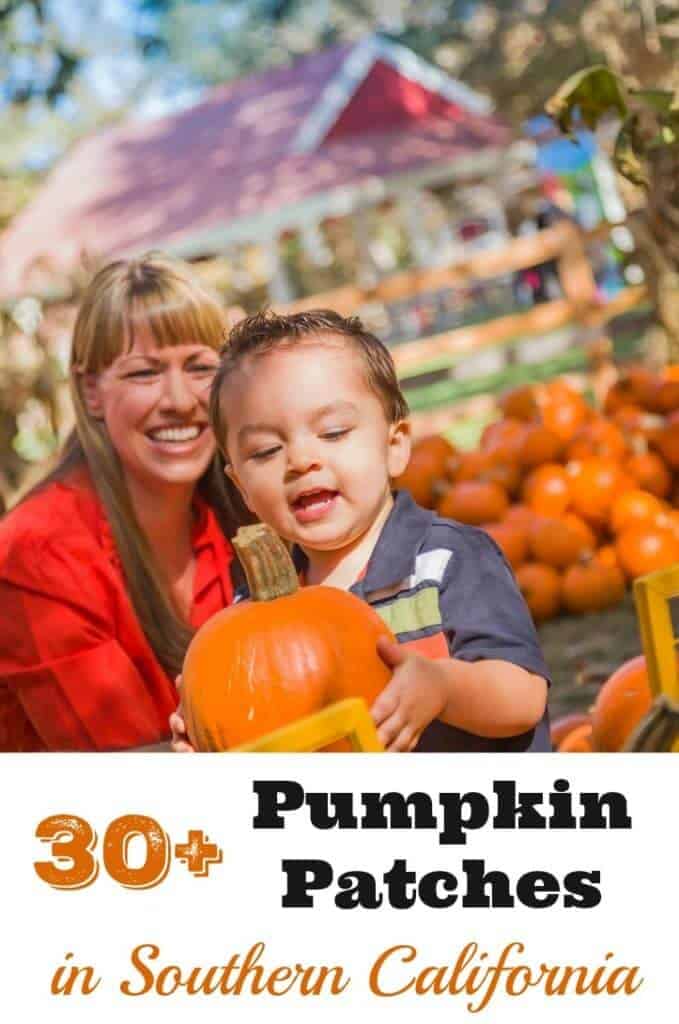 SaveSaveSaveSave
SaveSave
SaveSave
SaveSaveSaveSave
SaveSave
SaveSave
SaveSave
SaveSave