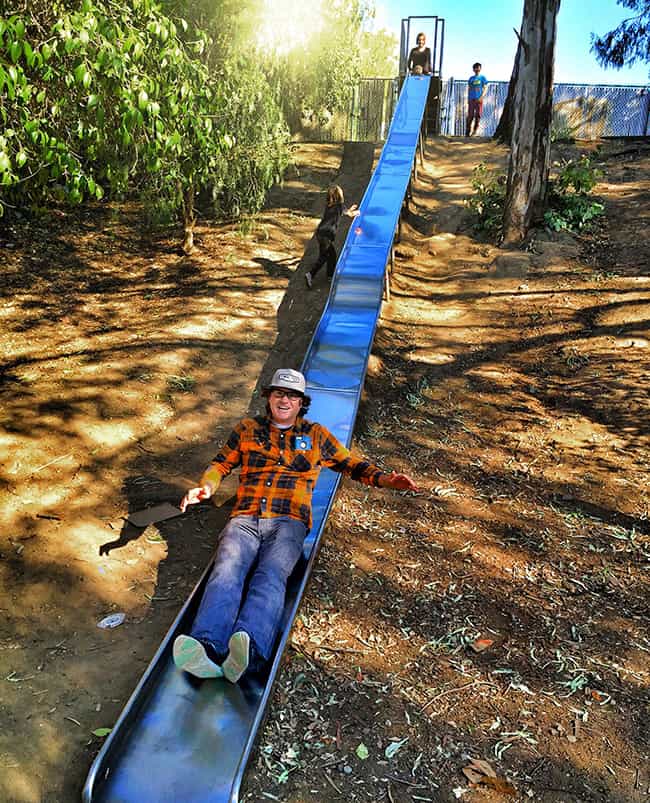 (Update: Unfortunately, the giant slides have been removed from the park.) it's always fun to find fun hidden gems in Orange County. these giant slides can be found tucked into the hillside of Santiago Park Nature Preserve in Santa Ana. they are super long and probably some of the last old-school playground slides left in Orange County. Santiago Park Nature Preserve is a fairly large park located in the northeast corner of Santa Ana near the Discovery Cube, you can even walk there from The Cube. so if you are ever in the area, stop buy and check out these fun slides.
Santiago Park Nature Preserve is right across the street from my son's orthodontist, so we are able to stop by every month or so and play. the slides are pretty awesome. the park is also large, with hiking and bike trails, a few playgrounds, a couple of run-down areas, and the Santiago Creek Wildlife and Watershed Center. there is also a large watershed that divides the reserve. most of the time, it is dried up, but when it rains, the water gets flowing pretty good, so be careful. a bridge near the lawn bowling center can help you get across to both sides of the reserve.
we visited the park during winter break, and had pretty fun time exploring. the boys love checking out nature part of the park, so this time we didn't go to the main playground. we decided to climb around on the old trees and check out what is left of the old playground that has been there for ages.
then we headed over to the giant slides. you will find the giant slides next to the Santiago Creek Wildlife and Watershed Center on the east side of the park. i just loved the beautiful natural landscape and large shade trees growing all over the reserve.
the best way to visit the giant slides is to either park near the center, where the slides are located, or you can take the hike over to them on the hiking trails and over the bridge. it is easiest to just drive into the Santiago Creek Wildlife and Watershed Center off of Memory Lane and park though.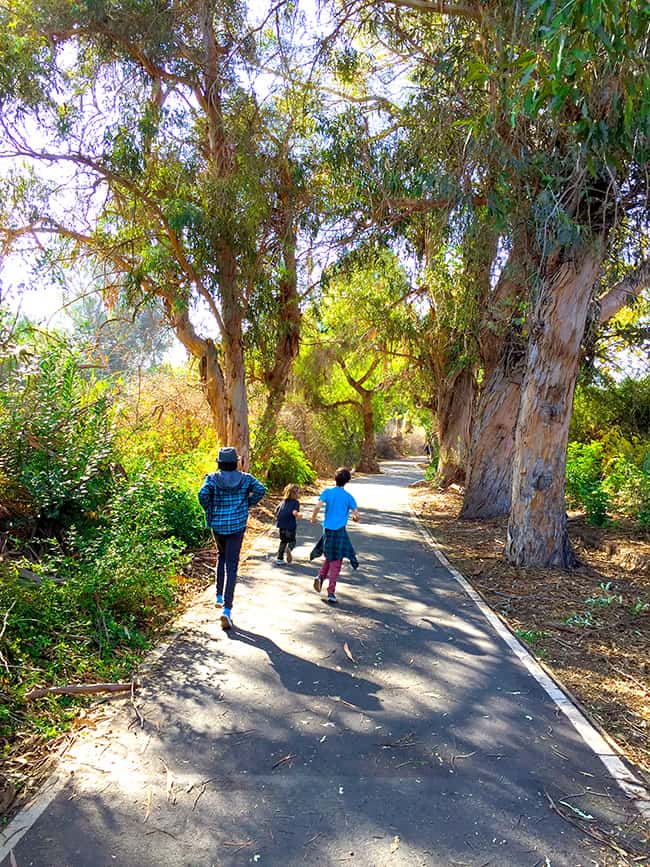 here is the Santiago Creek Wildlife and Watershed Center.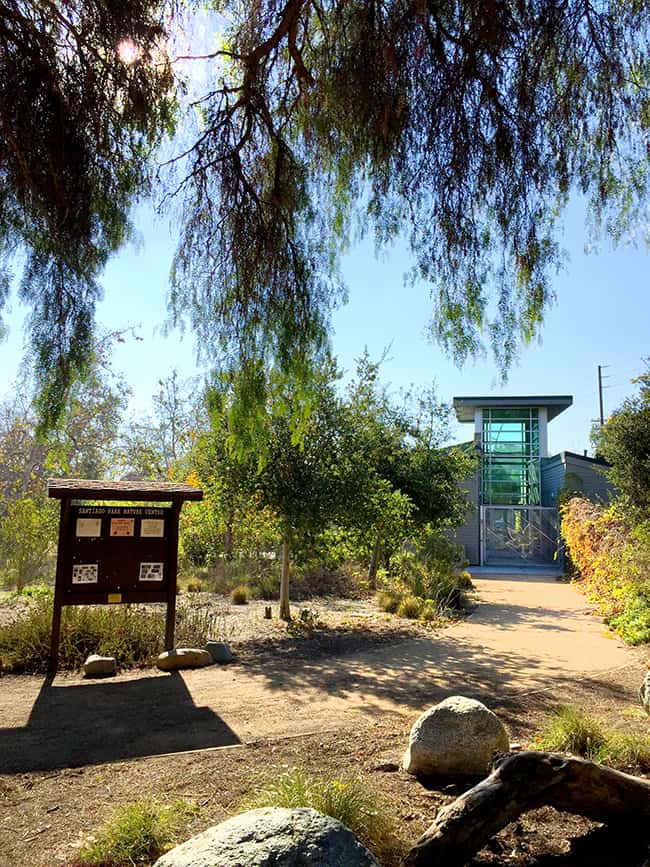 and here are the giant slides! there are two of them...and oh so much fun.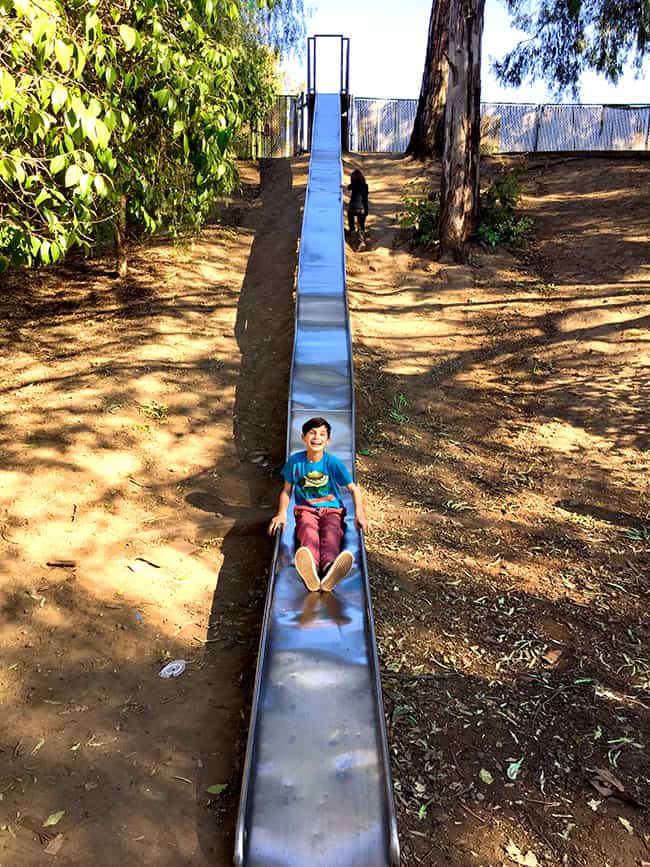 there is a staircase between the two slides, and once you reach the top, it's time to SLIDE!!!!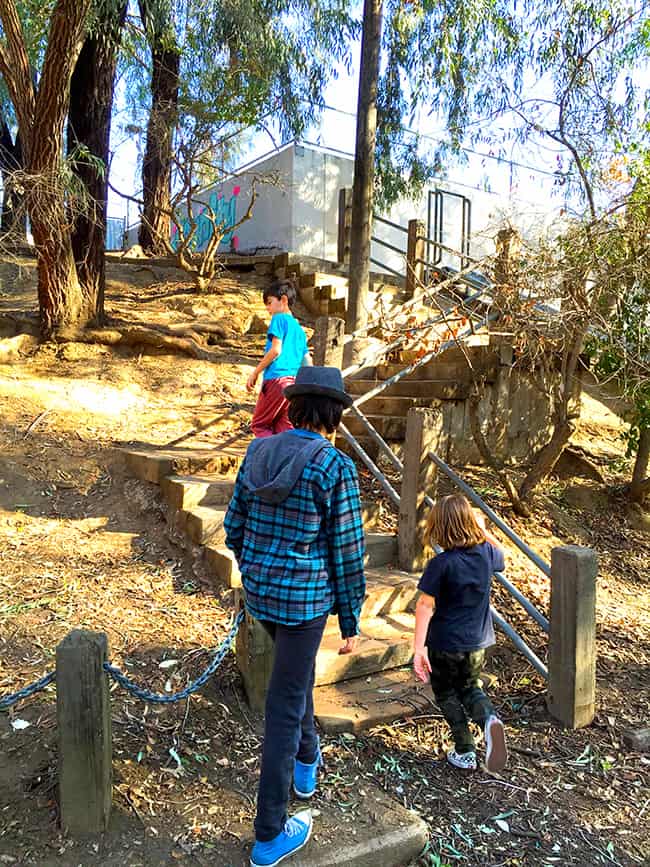 some people like to bring pieces of cardboard to slide down on. i think it makes you slide a little faster. but we always have fun without. the boys went again and again, and even the hubby enjoyed them a few times.
the giant slides at Santiago Park Nature Preserve are super fun, and i recommend stopping by when you are in the area. they are something that we look forward to visiting when we are in the area. so fun!!!!!