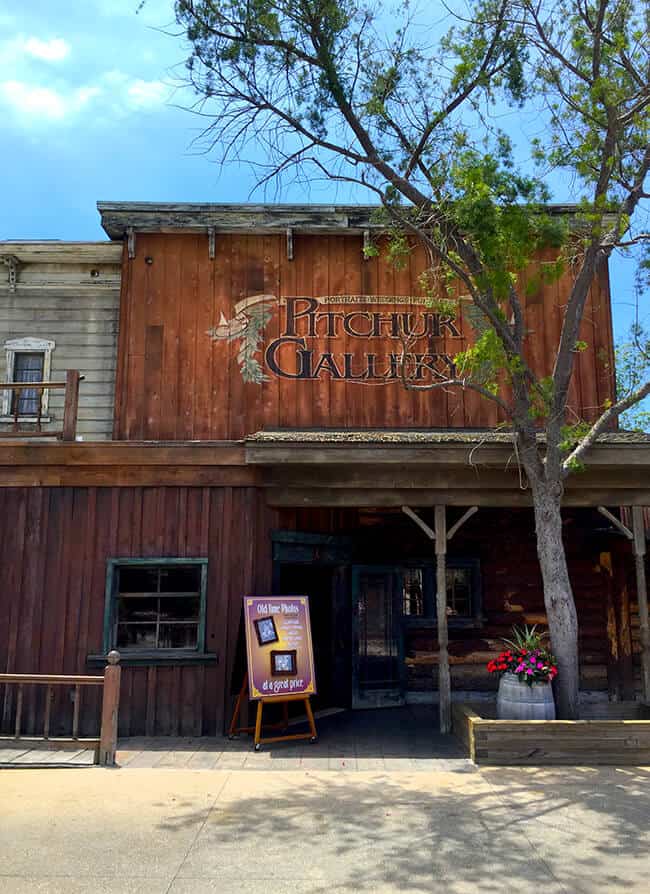 I'd have to say, one of the most unique and fun experiences you could have at Knott's Berry Farm is getting your picture taken at the old time Pitchur Gallery in Knott's Ghost Town. My husband and boys just recently visited to Pitchur Gallery and had the one of the best times we've had at the park. Not only do you get to take home a cool souvenir photo when you get your photo taken at the Pitchur Gallery, but you also get the experience of trying on old fashioned clothing and pretending you are back in time – in the old wild west. It was a great experience for all.
When you arrive at the Knott's Pitchur Gallery, a Knott's team member will take you to the Pitchur Gallery dressing room where you will get to choose a costume for your photo. There is old west proper attire, military attire and old west cowboy attire.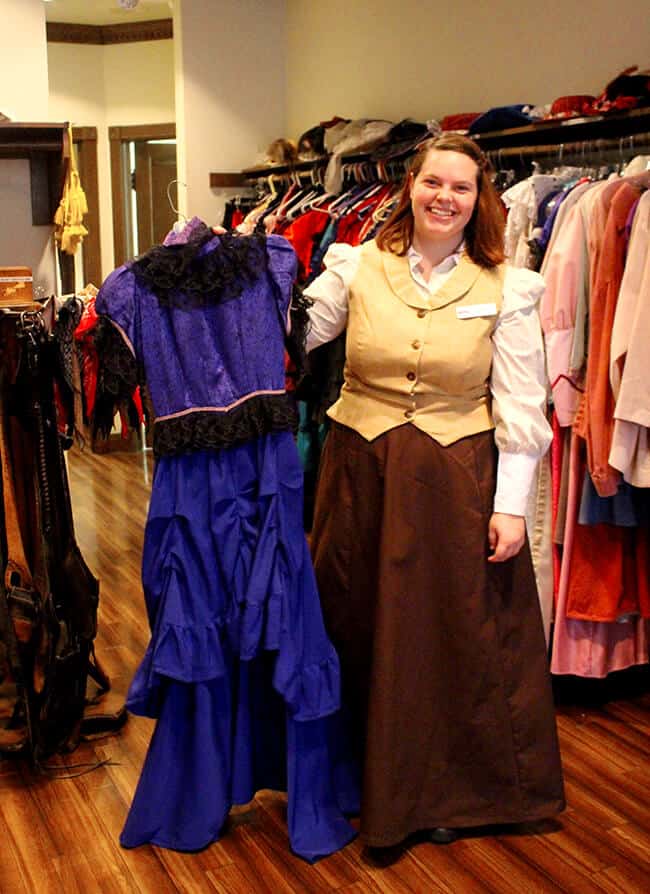 Getting Dressed up in Old-fashioned Clothing
There are so many choices of old fashioned wild west costumes in the Pitcher Gallery dressing room. There's something for everyone – as there are clothes made to fit most everyone, no matter your size. There are costumes for adults, children and even babies. Most of the clothing can be worn over your existing clothing, and there are dressing rooms provided for you if you need them.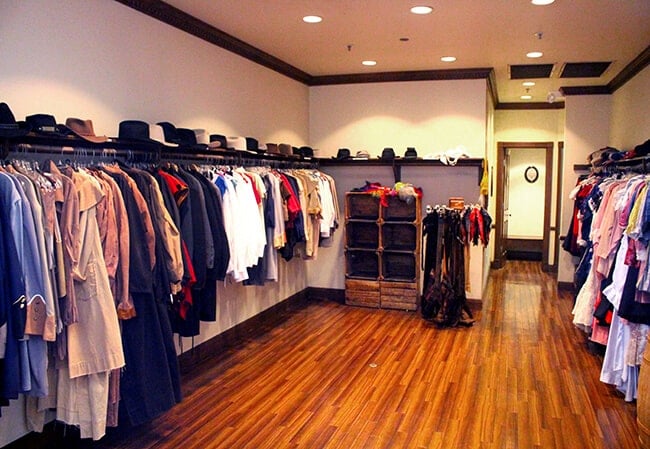 There are also lots of accessories to liven up your costumes. From vintage belts, to hats, to feather boas, parasols to guns. You can pick out whatever items you think will make your photo just right. Fun fact, it doesn't matter if your outfit matches! Since the photos are printed in black and white or sepia toned, all the colors disappear. So all you have to worry about, is if you like the style and look of your attire.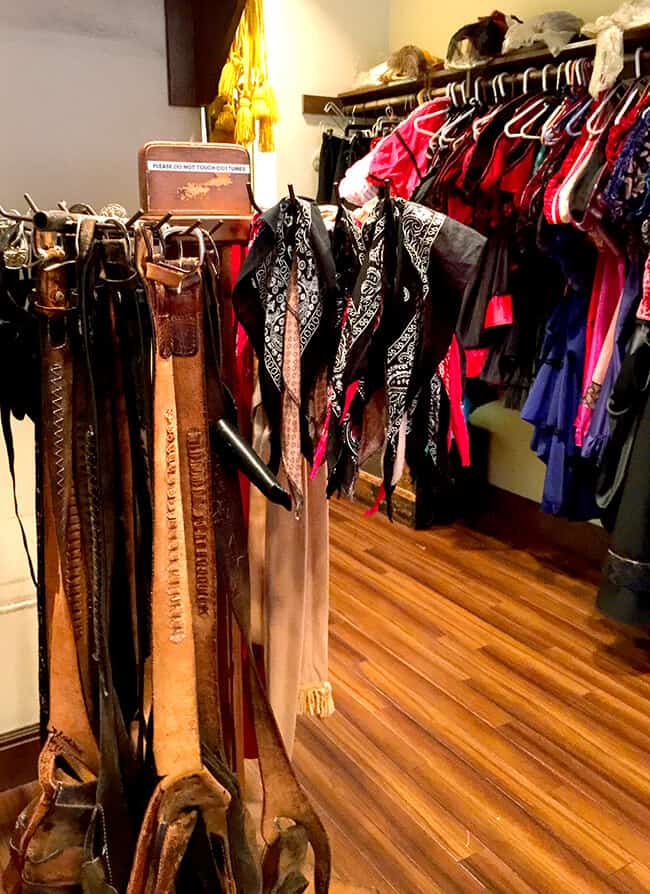 Taking Old Fashioned Photos at the Knott's
Now the fun begins. The Knott's photographers will show you to the photo studio where you can choose from five different scenes – a stable area, a saloon area, an old fashioned parlor area, a staircase or a wild west outdoor scene complete with a bucking horse.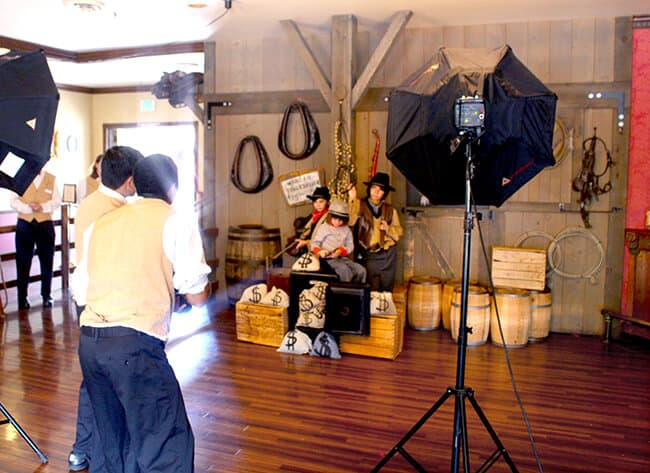 Once you pick your scene, the crew will pose you and your party for the perfect old fashioned wild west photo. It's a lot of fun....you kind of feel like a movie star.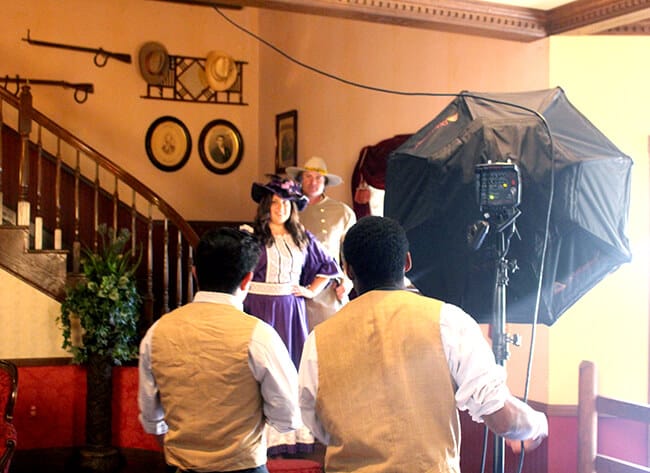 During your photo session, the photographer will take a couple different photos including ones where no one smiles, and some where everyone smiles. You can choose to move into a couple different poses as well.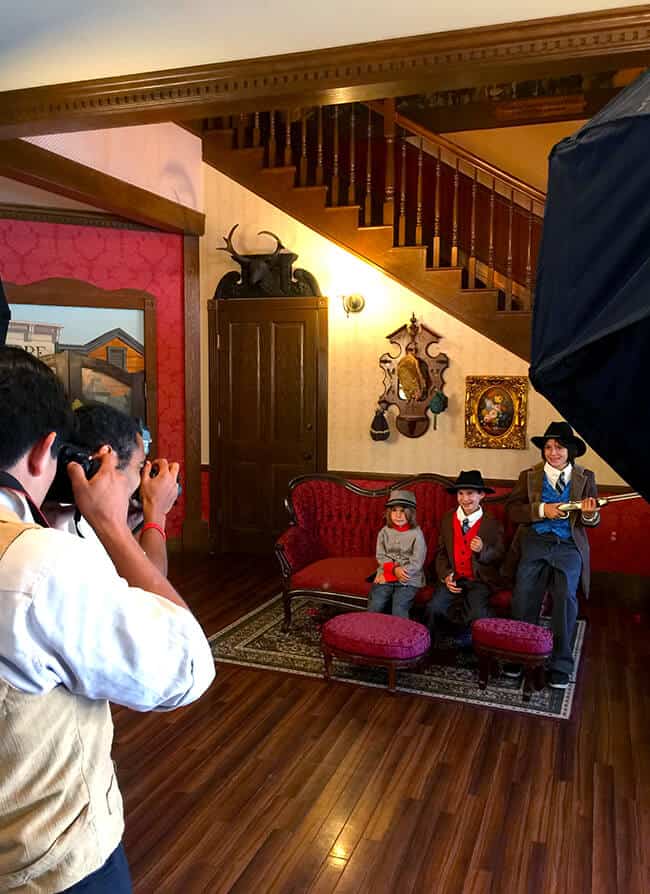 The photographers are great with setting up the scene just right and getting everyone's attention, even the kids. They make it a fun experience for everyone.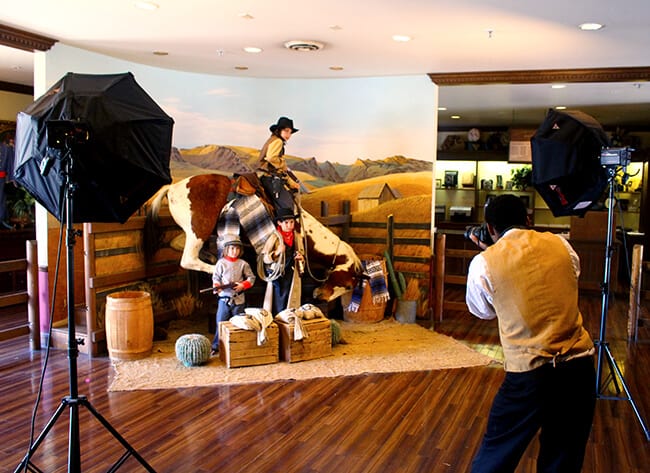 I wasn't sure about taking a saloon photo, but it ended up being a lot of fun. I think this is probably the most popular scene in the Pitcher Gallery.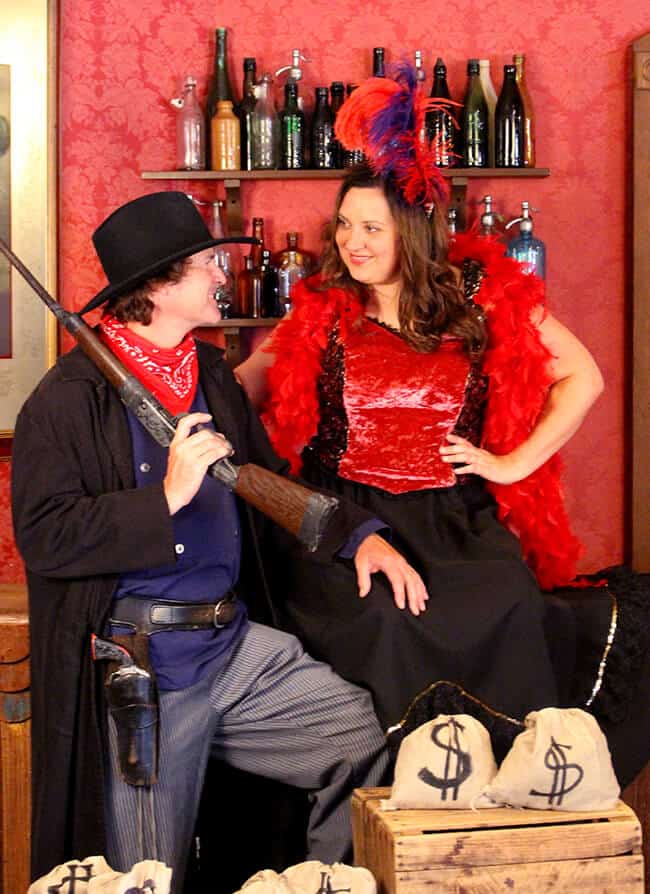 When you are finished getting your photos taken, you can then change out of your costume and head over to the front desk area to pick out your favorite photos. There is no need to wait weeks to get your photos. They will be printed right there on the spot after you choose what you want. There are a variety of size and color options and you can also purchase a digital copy.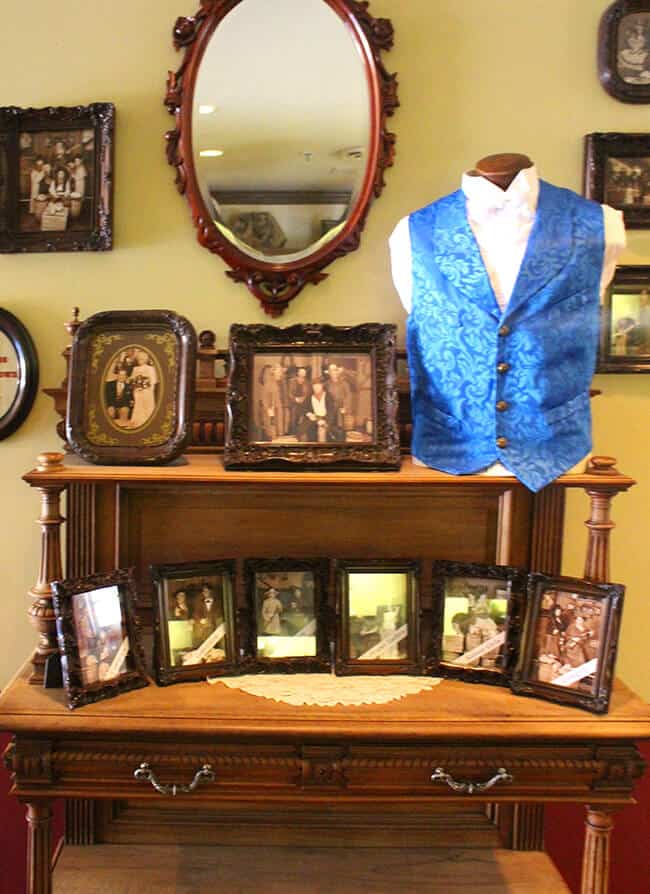 You can choose to purchase vintage style frames in unique styles to display your photos in if you would like. Maybe you want your photo as a wanted poster! That is also available as an option.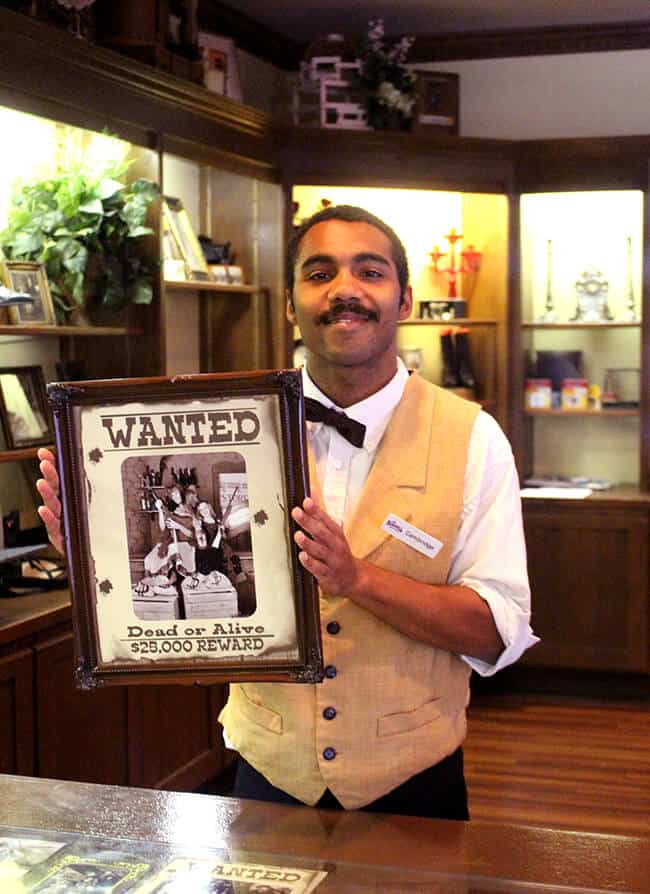 The Final Results
Let me share some of the finished photos our family got. Normally you would just take one scene unless you want to purchase multiple packages, but I wanted to be able to show the different options that are available.
Remember the saloon scene....I really like how it turned out. I chose this picture to be printed in black and white. This one was the most fun to take because you can add more personality into it.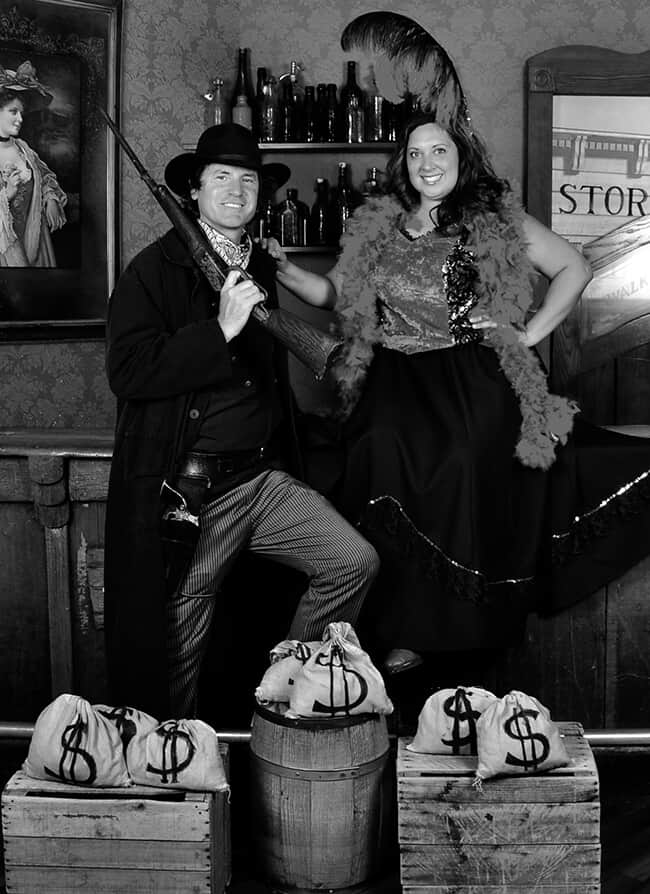 My son really wanted to take a picture riding the famous Knott's horse. I really like how it turned out, especially when printed in sepia tone.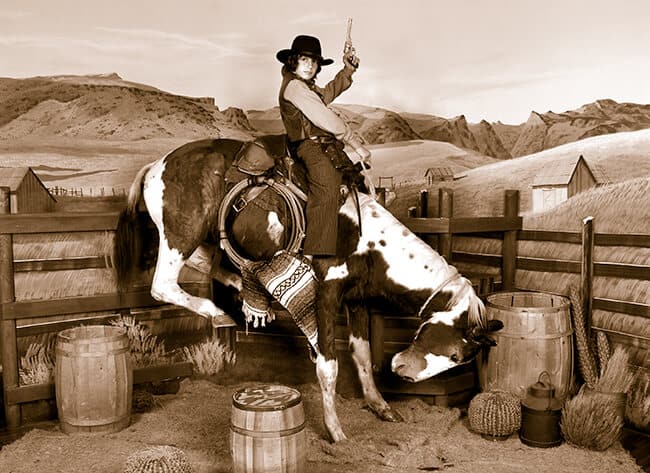 Besides the sepia toned and black and white photos, you can also choose from a tinted photo that has just a hint of color. My husband and I thought it would be fun to take a proper old time photo together. I probably should have chosen the one of us not smiling, but I liked this one of us smiling. So I guess it's not a hundred percent proper!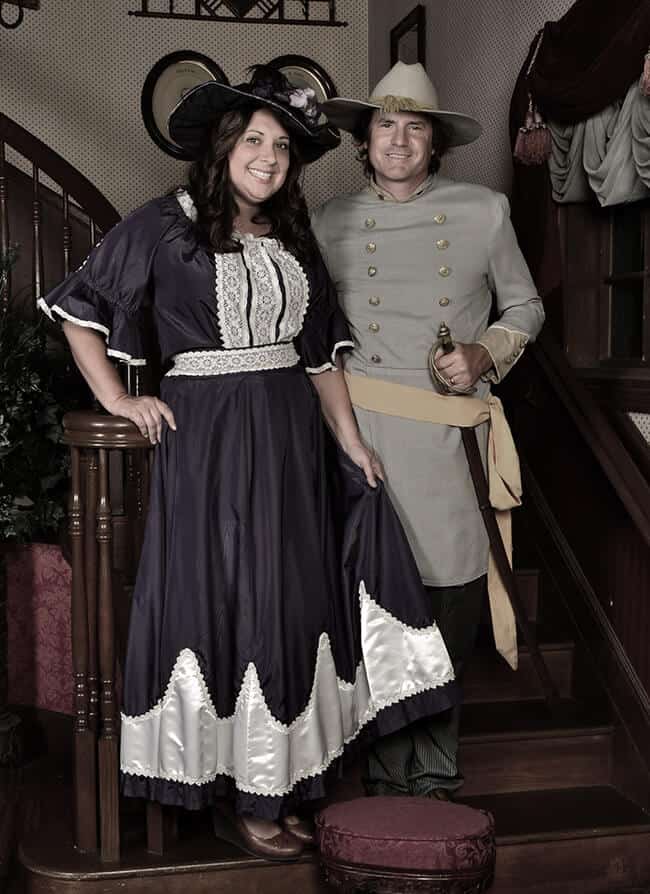 The boys took this fun robber photo of them stealing money in the barn area. It was hard to choose, because they took a lot of funny photos. I just have to laugh.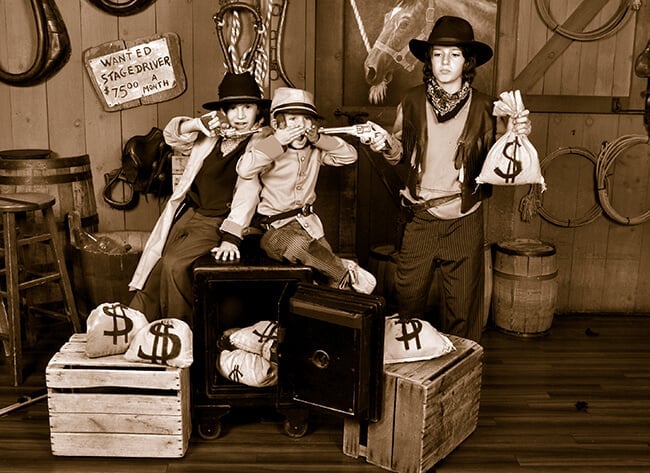 My favorite photo of the bunch was this family photo in sepia tone. I think it looks like it really was taken back in time, and most likely...it's going to be our Christmas card! Yep...this is the perfect time to get those holiday card photos taken.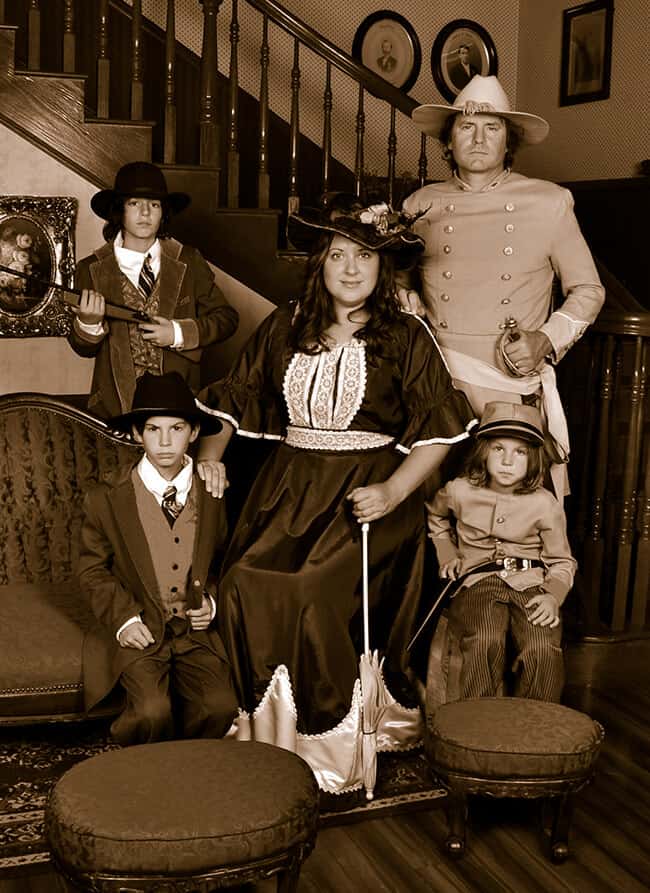 The Pitcher Gallery experience at Knott's is one-of-a-kind and actually quite affordable. Each package includes one costume change, one scene and a photo, and is priced according to how many people you have. Additional photos can be purchased as well. You can have as few as one person up to large parties of people. So getting your picture taken at the Pitchur Gallery could be a fun souvenir to remember a visit with family and friends. And even if you don't want to get your picture taken, I highly recommend to head over to Ghost Town and peek inside. It is pretty fun to watch everyone dressed up in costume. My family and I had the best time getting taking our Old Fashioned Photos at the Knott's, and plan to continue visiting every year to document how we've changed each year when we visit Knott's.