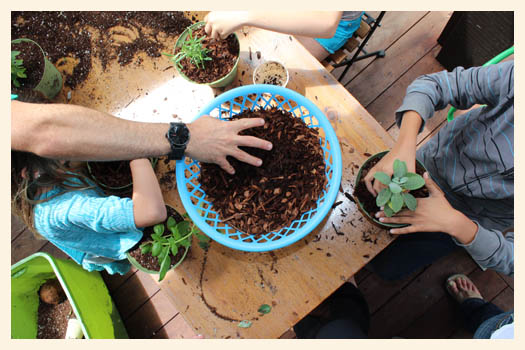 do you have a kiddie interested in gardening? or are you interested in starting your own organic garden? 
Harvest to Home
Garden Delivery Service, has began a series of classes for children this summer that teach kids about gardening and focus on the benefit of growing and eating organic food.
Harvest to Home is a Newport Beach-based garden service that installs custom organic garden boxes and raised bed gardens. boxes and beds can be replanted seasonally and may contain a self-watering feature, making them virtually maintenance free.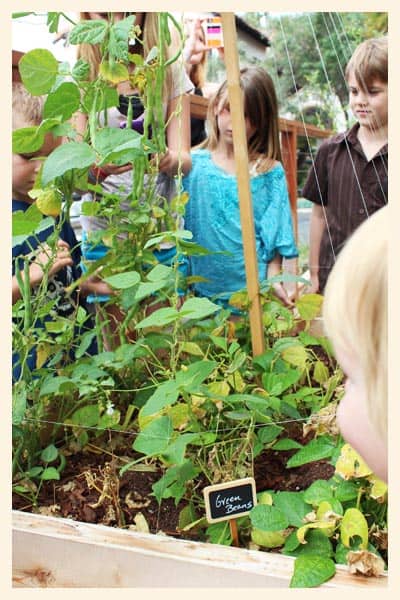 classes take place at
Greenleaf Gourmet Chopshop
in Costa Mesa, who has several raised bed and container gardens installed and maintained by Harvest to Home. the gardening classes are recommended for kids 7-13. i took baby to the class because my older boys were off camping. he was much too young...but he did okay...and i got to learn some great tips.
"Our goal is to get the kids in the dirt, potting their own plants, and seeing first-hand how enjoyable the experience of growing your own food can be," says Mike Saraylian, owner of HTH. "We take the kids on a tour of the gardens, showing them the different ways vegetables and herbs grow, then let them transplant one to take home and care for." 
in the class, we smelled different herbs....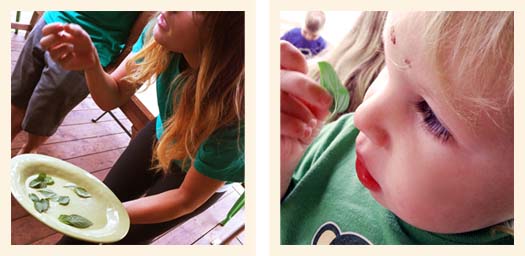 we learned about garden beds...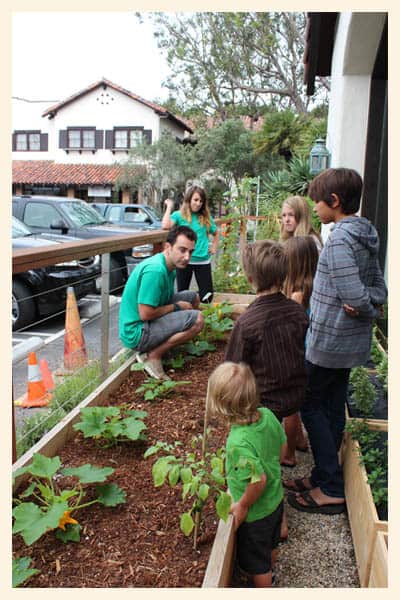 we got to go into the restaurants garden and harvest vegetables for the chefs.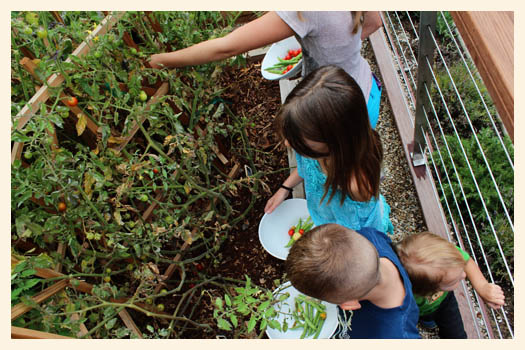 and the kiddies learned first hand the difference between an organic vegetable and conventionally grown vegetable looks and tastes like. the cucumber on the left is organic....the skin is thin and not waxy.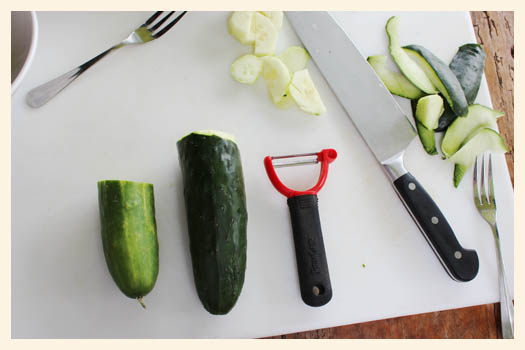 here we learned how to transfer our plants to their home containers....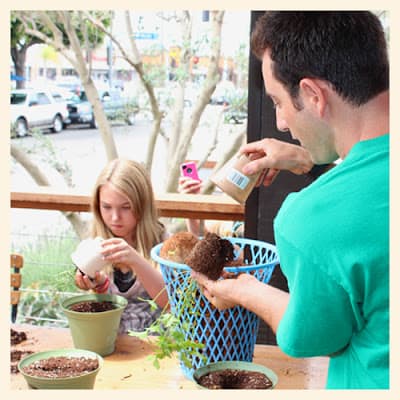 and to properly pot it.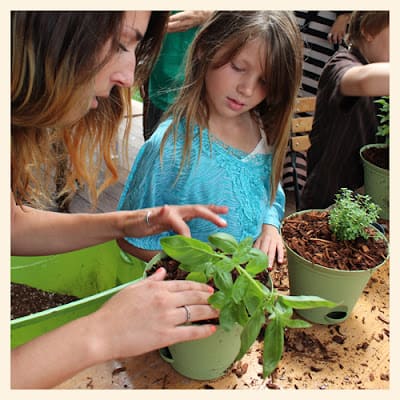 we then got to take home our new plants.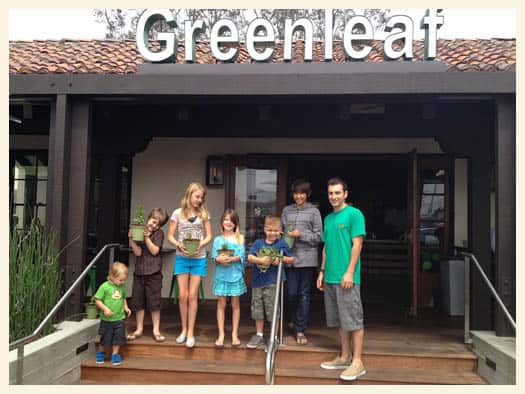 The classes are slated to last for one hour, although Mike is willing to chat with kids as long as they have questions. "We definitely want every child to leave here satisfied that they've learned something as well as encourage them to think about ways they can act organically in the future. Growing their own food and choosing restaurants that focus on serving organic offerings are a great start for their life of healthy eating."
after the garden class, we stopped inside Greenleaf Gourmet Chopshop to enjoy a lunch bite. the Mushroom and Truffle Pizza was delish. they are known throughout the greater L.A. area for their specialty salads and wraps, and offer the finest fresh organic produce grown on-site.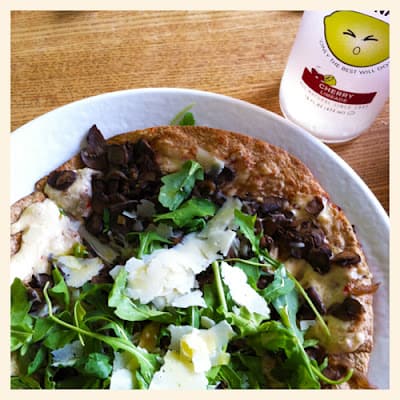 and baby enjoyed the decor.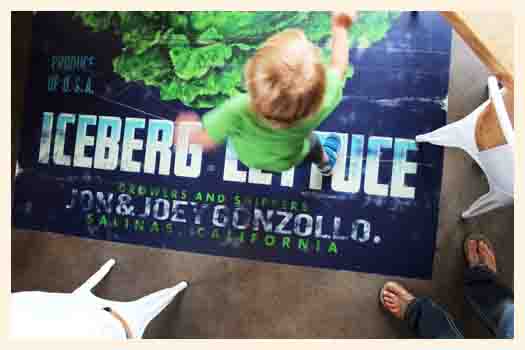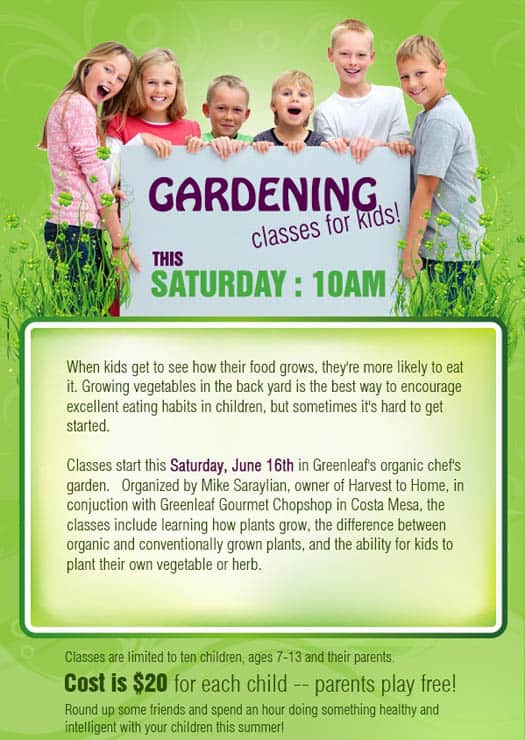 wanna go? here's the info.....
Harvest to Home Garden Classes
saturdays at 10:00 a.m.
Greenleaf Gourmet Chopshop
234 E. 17th Street in Costa Mesa.
parents are welcome to join in on the tour for free and if they also wish to take home a plant, there will be an additional charge. classes will be held every Saturday throughout summer.  classes are suitable for Girl Scout and Cub Scout badge work as well as for families who wish to learn together. if groups are larger than ten participants, accommodations can be made for two separate classes on the same day. 
{disclosure: we were invited to a complimentary garden class by Harvest to Home. of course all opinions expressed are mine. thanks Harvest to Home for having us....we are excited to start our new gardens}