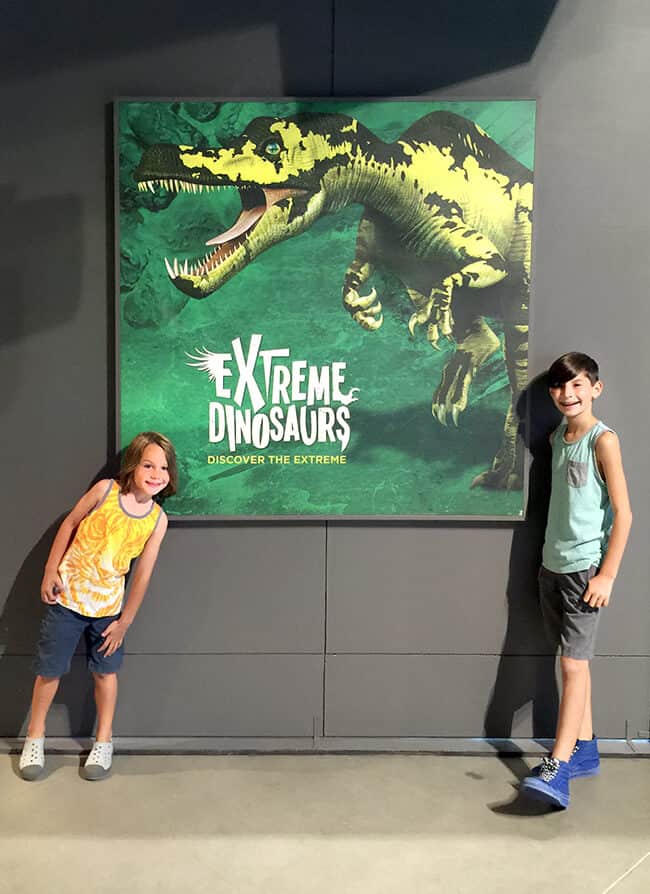 i've got a couple of dinosaur lovers at home who were really excited to hear about the new exhibit that has come to Discovery Cube OC. it's called Extreme Dinosaurs, and it will be at the Cube from May 28th - September 5th, 2016. of course we headed over to check it out a few weeks ago, and it didn't disappoint. the life-sized animatronic dinosaurs were amazing and HUGE!!!! this wing of Discovery Cube OC has been transformed into naturalistic landscape with 17 fantastic animatronic dinosaurs that can roar, snarl, move their limbs and more.
it was great to enjoy a fun afternoon at Discovery Cube OC. late afternoons mean smaller crowds, and most of the school groups have headed home, so we practically had the exhibit to ourselves. we were able to step into the prehistoric world and observe some of the most unique creatures that have ever walked the earth at the Extreme Dinosaurs exhibit. it's a very family-friendly exhibit that transports you back to the Mesozoic Era to showcase the world's strangest dinosaurs with life-size animatronic dinosaurs along side full-scale skeletons and real and replica fossils.
the dinosaurs look so real, and the boys really enjoyed reading facts about each of them. some of the dinosaurs have buttons that make them move or make noises. the exhibition features some of the newest, bizarre dinosaur finds from the current "Golden Age" of paleontology, so it was fun to see some dinosaurs that we aren't as familiar with.
in addition to the life-size dinosaur animatronic models, there are also life-sized skeletons, a variety of real and replica fossils, the exhibition features interactive activities including a children's dig site for young paleontologists to explore. there are also "Make Me Move" consoles that boy were able to initiate movement of the animatronics, and hands-on learning areas that have touch panels and a Dinosaur Detective quiz. it's all very educational....but very fun too!
we really enjoyed the Extreme Dinosaur exhibit, and if your kids love dinosaurs, i recommend taking a trip to Discovery Cube OC before it is gone. there are also lots of other great exhibits to enjoy, especially with the expansion.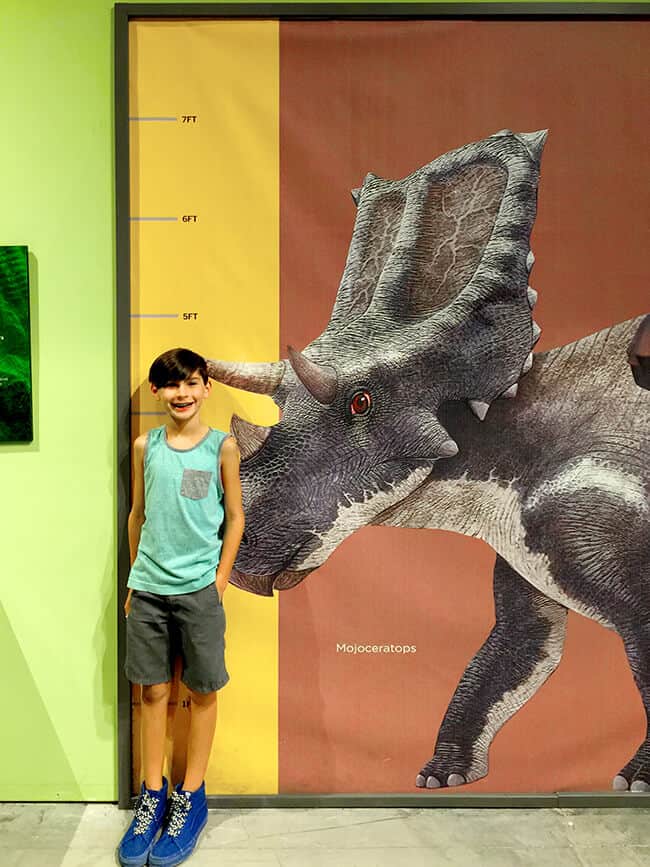 we will definitely be taking another trip back to visit this guy....he was our favorite, and was even able to scare me for a second. the boys would love to see that again!