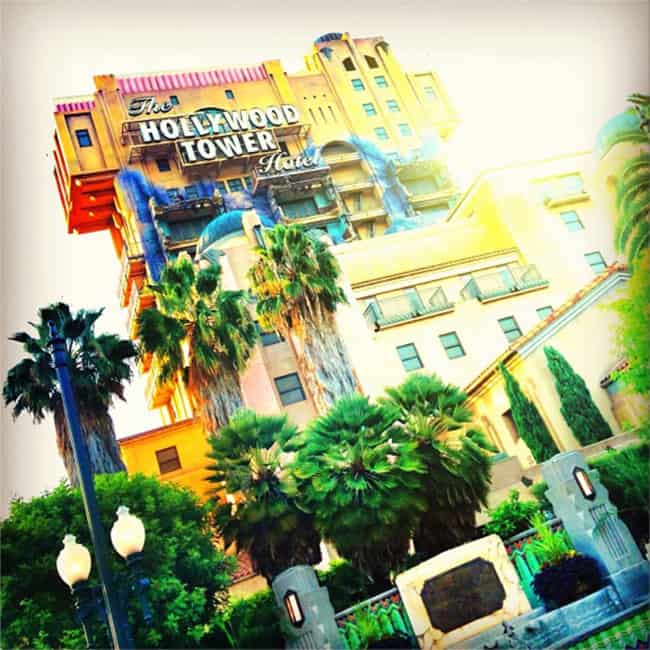 up until now, i have passed on the opportunity to ride Disney California Adventure's Twilight Zone Tower of Terror. it looked super scary and you can even hear the people screaming as they ride it. and since i am afraid of heights, it has been fine by me NOT to ride it…and i figured that i would NEVER have to experience it.
well, that is no longer because the other day, Pattie and i had the opportunity to check out Halloween Time at Disneyland Resort and were asked to ride Twilight Zone Tower of Terror. not only that, they were going to film our every move.
what, no way!!! you are not going to get me on that ride…..let alone, film me screaming like a baby?!!!!
that is what i thought...
with some STRONG encouragement and practically giving me no choice, i took the plunge. i can't say i was brave, in fact…it was REALLY SCARY…i screamed the whole time. at least i came out alive. it was fantastically screamtastic. if you like thrill rides, then this ride is for you. but if you want to see what happens on the ride before you go…check out my video below. i am warning you, YOU ARE IN FOR A GOOD LAUGH. i am a screaming fool, and Pattie too for that matter. SERIOUSLY…WATCH IT!
and here is and exclusive interview with a Disney Cast Member and one of the Tower of Terror Hotel workers. they tell you a little bit about the ride and how it came to be. you really must check it out for yourself though. so head over to Disney California Adventure and ride it. a perfect Halloween treat or a fun adventure for any day of the year. you'll probably scream too.
{this is not a sponsored post. i was an invited guest of Disneyland Resort. all thoughts and opinions are a gazillion times my own.}