This post is brought to you by Code Ninjas®and The Motherhood. All opinions are my own.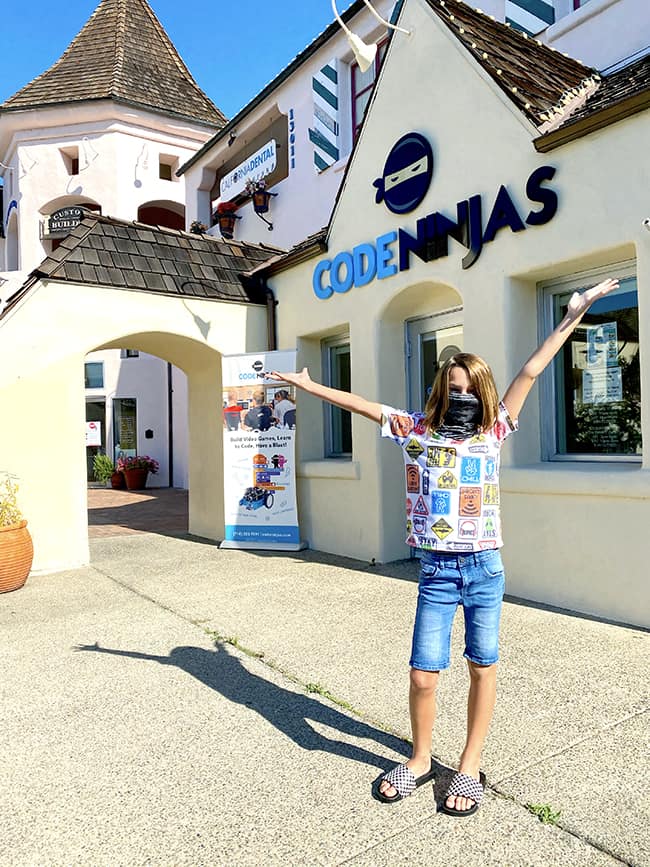 For those of you who have children and were hoping to find a summer camp for them to attend, then may I suggest Code Ninjas! At Code Ninjas camps, kids get to learn how to code and have fun while building their own video games. They gain problem solving, critical thinking, and STEM skills in a fun, safe, and inspiring environment, and most of all, have FUN! You can find week long Code Ninjas camps being hosted right here in Orange County (and at over 250 across the US for that matter), starting now and throughout the summer.
(psst! Make sure to read to the bottom of this post to see how you can win a free workshop from Code Ninjas®)
About Code Ninjas Camps
Code Ninjas has a variety of camps available to kids ages 5 -14. You can choose from week-long, full & half day, and virtual options. It's a fun learning experience for kids to explore topics such as game building, STEM, and robotics, and can build something awesome. Whether it's their own video game, a flashy robot, a cool website, or a flying drone. Camps include their drop-in CREATE program, their completely visual and hands-on JR program for younger learners, camps in a variety of engaging topics like robotics and game building, At-Home Coding for creative and productive screen time, and more!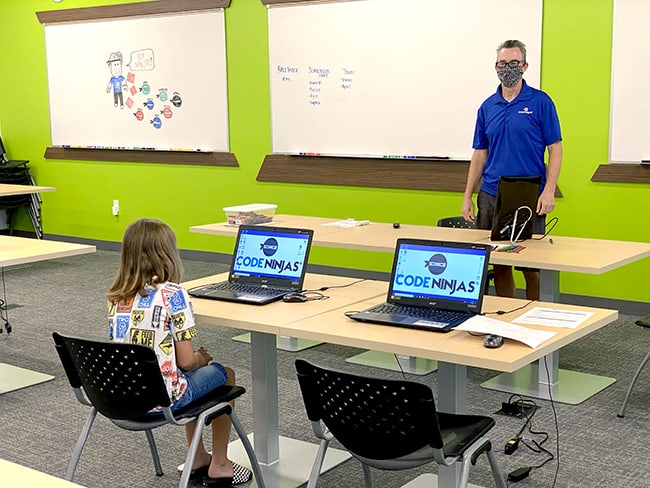 During the classes, each kids gets to work on their own computer station. They receive support from talented Code Senseis™. Since Code Ninjas is themed to martial arts, some classes allow you to earn and receive rankings with a martial arts-inspired colored belt system.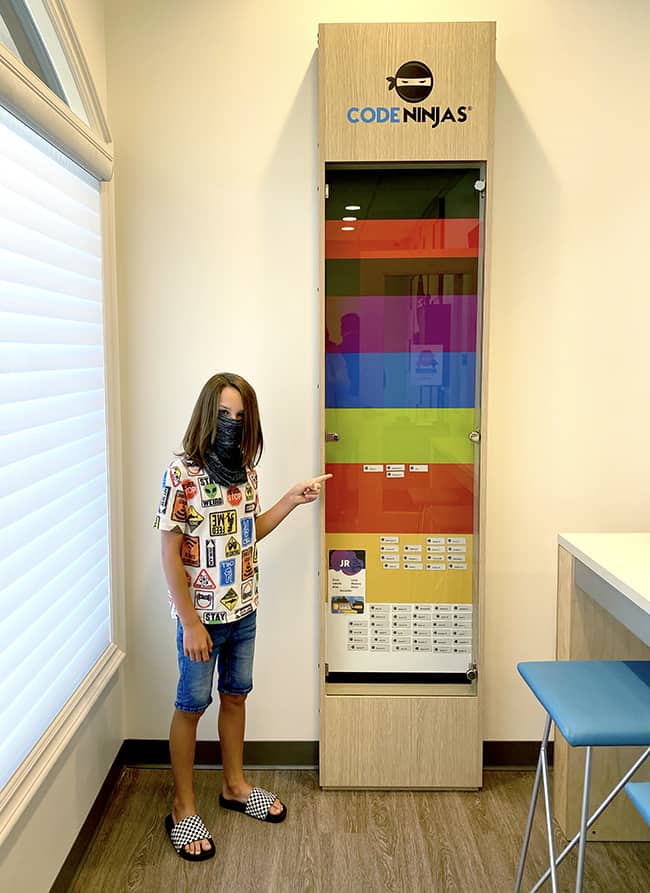 My son is so excited to attend Code Ninjas next week. He decided to join the Roblox Royale camp where he will be building his own battle royale game in Roblox. Even though he may be playing one of his favorite video games, he will also be learning skills he can take with him in the future, so it's a win win for parents and kids.
What Steps is Code Ninjas taking to Prevent the spread of germs?
In response to COVID-19, Code Ninjas is taking many safety precautions to keep families safe, including enhanced cleaning and social distancing. Kids are required to wear a mask, all instructors will be wearing masks, and desks are spread out in the classroom 6 feet apart. Siblings are welcome to sit together. I visited the Code Ninjas Tustin location, and felt totally safe. The facility was clean and set up well for social distancing, and the staff was very professional and following protocal.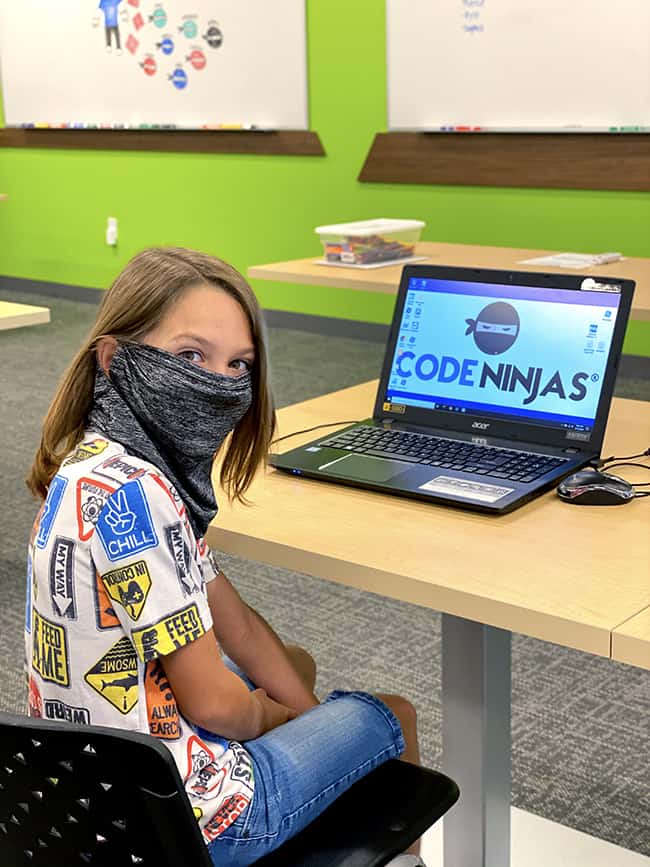 If you still feel uncomfortable taking your child to an in-person camp, many locations are offering virtual camp options.
How Can Coding Help your Child?
Coding has been called "the literacy of the 21st century". Just like math, science, and literature, coding is a key aspect of understanding our technologically-advanced world. There's a huge need for a generation that not only understands technology, but how it works. Code Ninjas believes that there's never been a more exciting time to advance our culture - starting with our youngest ones.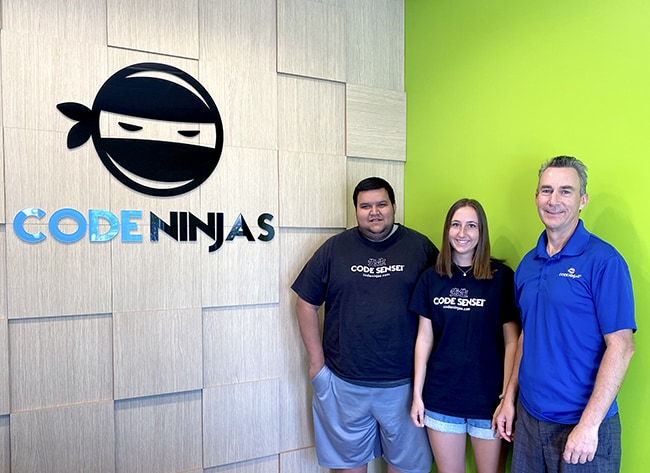 Every kid deserves the chance to unlock their innate, unlimited capacity to learn. Whether or not they pursue coding as a career, we want to provide kids with skills that will help them pursue their dreams. Computer science majors earn 40% more than the college average, so the time is now to get our children interested in the educational part of computers.
Kids have fun, parents see results®.
How to Register for Code Ninjas
To find a Code Ninja's camp near you or to register, head over to the Code Ninja's website. Right now they are offering a special 10% discount off all camps for a limited time! Woo hoo.