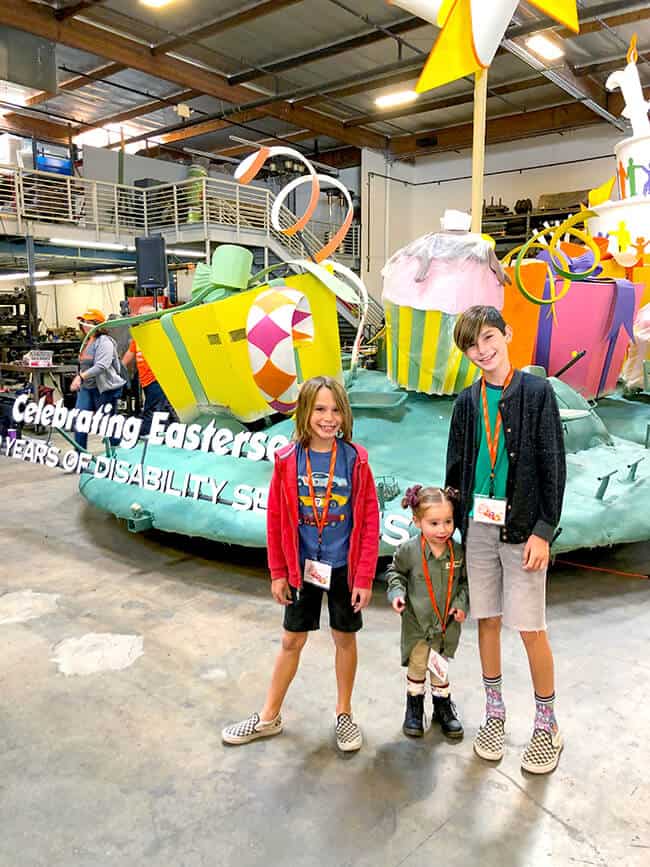 Last week, some of my kids and I had the opportunity to check out one of the many Rose Parade floats being built for this year's Tournament of Roses Parade. Easterseals invited us to view their very first float in the parade! This year Easterseals celebrates 100 years of impacting the lives of individuals with disabilities and their families. So what better way to celebrate that a huge cake built of flowers...parading down Pasadena's Colorado Boulevard.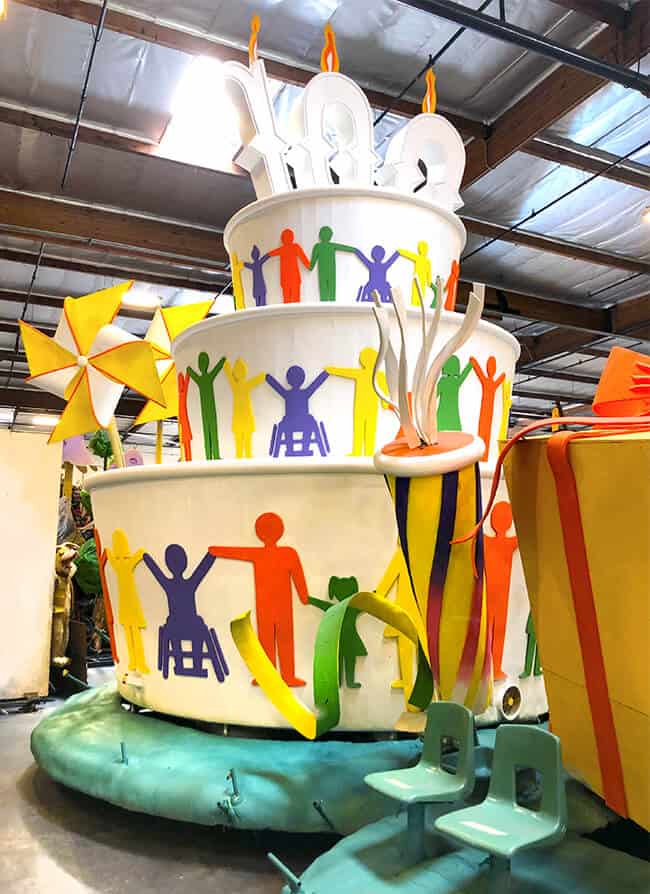 For 100 years, Easterseals has been a resource for individuals with developmental disabilities or other special needs and their families. Easterseals is a national non-profit organization with 70+ affiliates across the country serving approximately 1.5 million people. Easterseals works to change the way the world defines and views disabilities by making positive, profound differences in people's lives every day. I had a chance to meet some of the families, and they shared how Easterseals has helped them. I can say that this organization is amazing in so many ways.
This is Lora Glassman, and she will be one of the nine Easterseals float riders from around the country and three Easterseals staff members who provide life-changing services atop the float as a snapshot of the diverse Easterseals communities across the nation. She is a Southern California native, and a California State University Fullerton graduate with a, B.A. in Radio, Television and Film Lora is a longtime activist for the disability community and has been an awareness educator since a young age.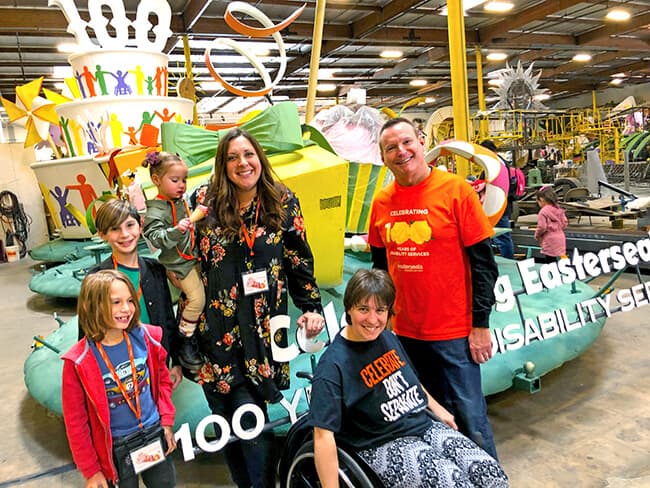 The Easterseals float theme is "Celebrating Easterseals: 100 Years of Disability Services." The float features a 20-foot tall birthday cake, complete with flickering 100th anniversary candles and images of people with and without disabilities. The cake serves as the centerpiece of the float surrounded with wrapped packages that highlight Easterseals' many services that make sure people with disabilities have every opportunity to live, learn, work, and play in their communities. Spinning pinwheels, colorful noise makers, confetti and floral fireworks add to the festivities.
some festive decorations to celebrate the 1.5 million people with disabilities Easterseals serves across the country each year. Easterseals is committed to a future where everyone is 100% included and 100% empowered by helping people with disabilities live, learn, work and play in their communities.
We had the chance to prepare some of the dried flowers that will make a gold look on the float. That was super fun.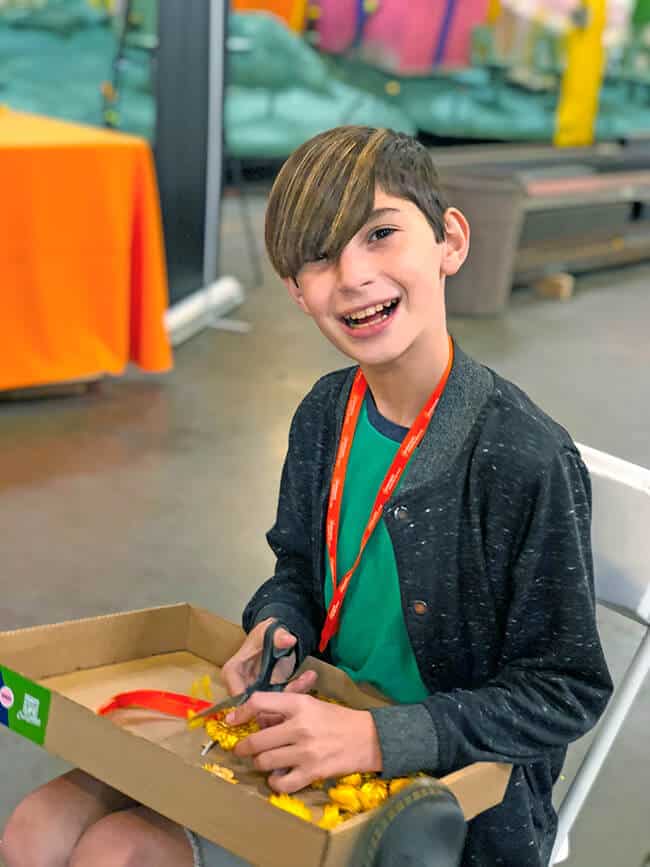 The giant gift packages and party favors will be covered in orange and yellow marigolds and gold strawflower. Their ribbons will be crafted from purple sinuata statice blossoms, orange lentil, green manzanita leaves and yellow strawflower petals. An enormous birthday cake iced in crisp white coconut flakes has floral detail of over 3,000 hot pink roses lining the cake layers. pringtime floral displays of orange and yellow tulips, lilies, alstroemeria, euphorbia, forsythia and Oncidium orchids augment the floral gardens of 12,000 orange toned roses, carnations and gerbera.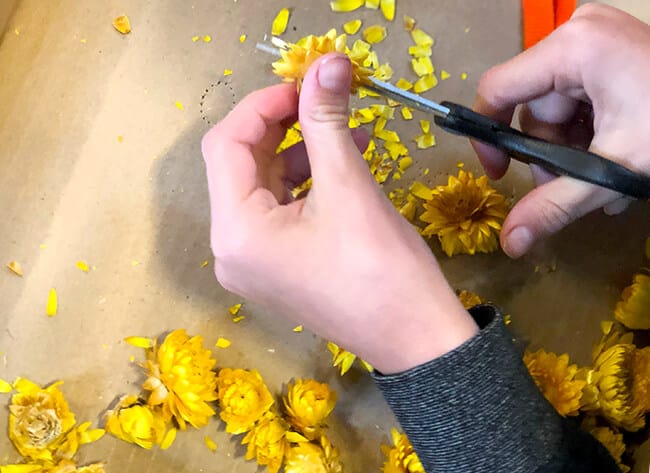 It was a fun day learning all about Easterseals and their great organization. We got to join in the festivities of the day which was also fun.
Hopefully, when you are watching the Tournament of Roses Parade on New Year's Day, you will spot this amazing float! Now you will know the meaning behind it and a little bit about the services they provide to those people in our communities that have disabilities. We can't wait to see the finished product!