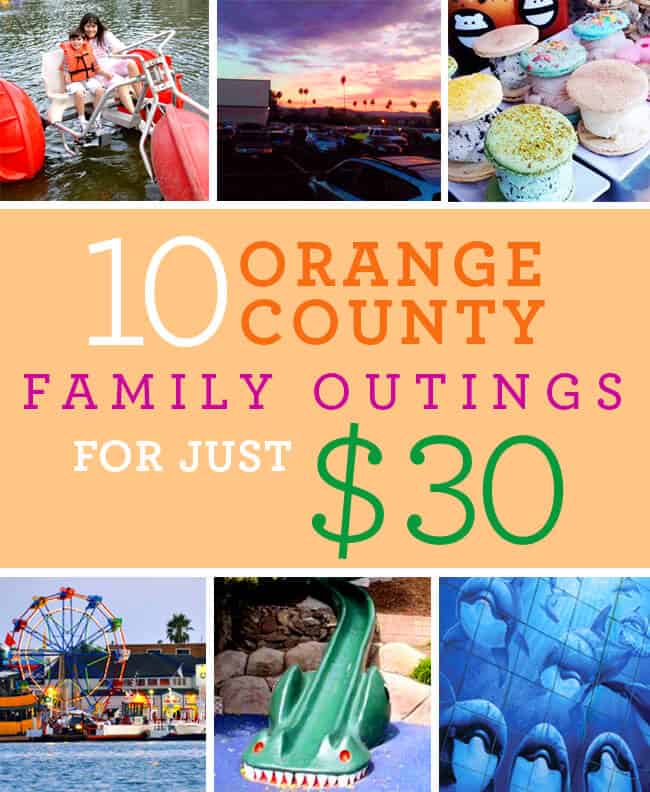 i get requests from readers all the time asking for affordable family activities in Orange County. things have changed a lot since i began this blog over 7 years ago. there used to be plenty of free activities to do in the OC, but many of those free places have now added parking charges or admission fees. Orange County has the luxury of year-round warm weather so us residents can enjoy the beaches, outdoor spaces and all these Fun Orange County Parks whenever we want....usually for just the cost of parking or free. BUT sometimes families need some other options. so, i made a list of 10 Orange County Family Outings for $30 (give or take a dollar or two). i would consider these outings as cheap family fun in Orange County. the cost breakdown for each of these adventures is calculated for a family of four (two adults, two children). however, children under 3 are often free.
in order to make these outings stay at $30, families are going to need to resist temptation to buying the kids or themselves any extras (i.e. food, souvenirs, etc.).  the trick for me when i take outings with my kids, is to discourage begging before we leave the house. i tell the kids ahead of time what is included in our outing and what we will be able to purchase during it. i ask them not to ask for any extras, as we are already going to be doing something fun. i can't remember the last time any of my kids have asked me to buy them a treat or souvenir...they just think it is the norm not to beg. in addition, be sure to bring water bottles and snacks on your outings to avoid expensive food costs. i have included a treat in each of these outings, so there is something good to eat that kids and adults can look forward to.
so, are you ready for some fun ideas????
here is my list of 10 Orange County Family Outings for $30 that are available for families to do in the OC all year round.....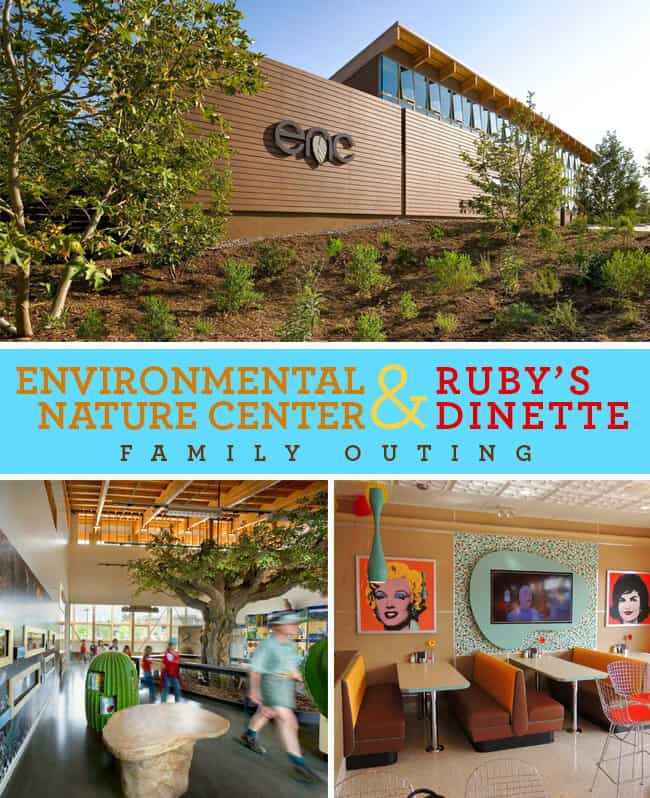 Environmental Nature Center and Ruby's Dinette Outing
the Environmental Nature Center (ENC) is one of the few free resources in Orange County. there is a lot to learn about at the center, and there are volunteers there to teach. the ENC inspires all generations to protect the natural world by serving as our community's foremost authority on ecological responsibility, environmental education and sustainable practices. children can get have hands-on experiences in the center. also, check the calendar for FREE community events at the center.
after your outing at the ENC, head over to Ruby's Dinette located at 428 E. 17th Street in Costa Mesa. Ruby's Dinette is different than the traditional Ruby's Diner. instead of the 50's theme, it has a 60's theme with cool retro decor like kidney bean shaped tables and lava lamp. the food is the same Ruby's Diner food, just served in a different groovy way! let everyone order a homespun milkshake, a sundae or fries. of course it will cost much more than $5 per person if you order full meals, so keep that in mind. if you haven't been to Ruby's Dinette, i highly recommend it.
Cost Breakdown:
Environmental Nature Center admission FREE
Ruby's Dinette Treat $5 per person = $20 + tax
Total $22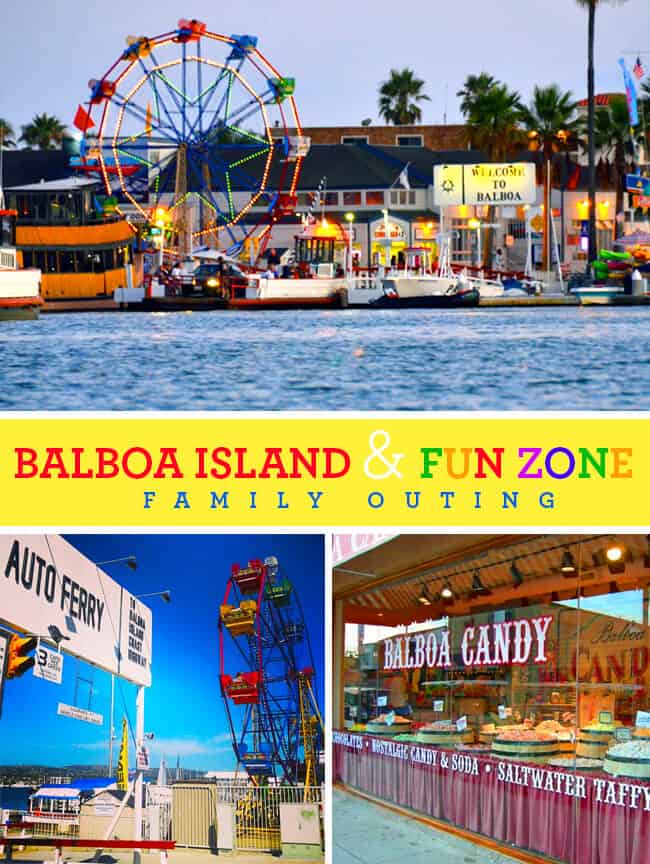 Balboa Island & Fun Zone Outing
i have done this outing dozens of times with my boys, and it has to be one of my favorites. as long as it is not raining, it is a fun outing. just dress according to the weather...bring a jacket if it's breezy. hopefully you can find parking close to the Balboa Fun Zone. sometimes you can snag a free parking space on the street or metered parking near the zone. if you still can't find a space, there is paid parking near the Balboa Pier.
first, take a ride on the Balboa Island Ferry. if you have small children, i recommend bringing a stroller, especially if you plan on walking around Balboa Island. you will pay separately for each ride while you are riding the ferry across, so have some change available.
once you arrive on the island, either walk 1 block north to the little playground and enjoy a picnic lunch and playground time, and/or take a stroll around the island walkway. if you head to the west, you will have a scenic view of ocean front homes, if your head east, you will also have a view of ocean front homes, but also there are shops about a half a mile down that you can window shop at. when you feel you have had enough fun on the island, head back to the Balboa Fun Zone via the Ferry to finish out the rest of your outing.
when you return from your Ferry adventure, take a ride on the ferris wheel or visit the ExploreOcean Nautical Museum. either choice is fun, so pick what you think your family will enjoy most.
after, a ferris wheel ride or visit to the museum, follow the boardwalk east all the way to Main Street (one block) to Balboa Candy. here they have salt water taffy and lots of different treats to choose from. let everyone have $2 to get some candy. kids love to pick out their own treats. this will make a nice treat to end the day or a souvenir to take home.
Cost Breakdown:
Adult $1 per person x round trip = $4
Child (5 through 11) $.50 per person x round trip = $2
Child (under 5) Free
PLUS (pick one)
Ferris Wheel Rides $4 per person = $16
OR
ExploreOcean $4 per child + $5 per adult = $18
Balboa Candy Treat: $2 per person = $8
Total $30-32 + parking
suggestion: Bring - picnic lunch to eat at the park, stroller for small children and camera. Bring cash for the Ferry.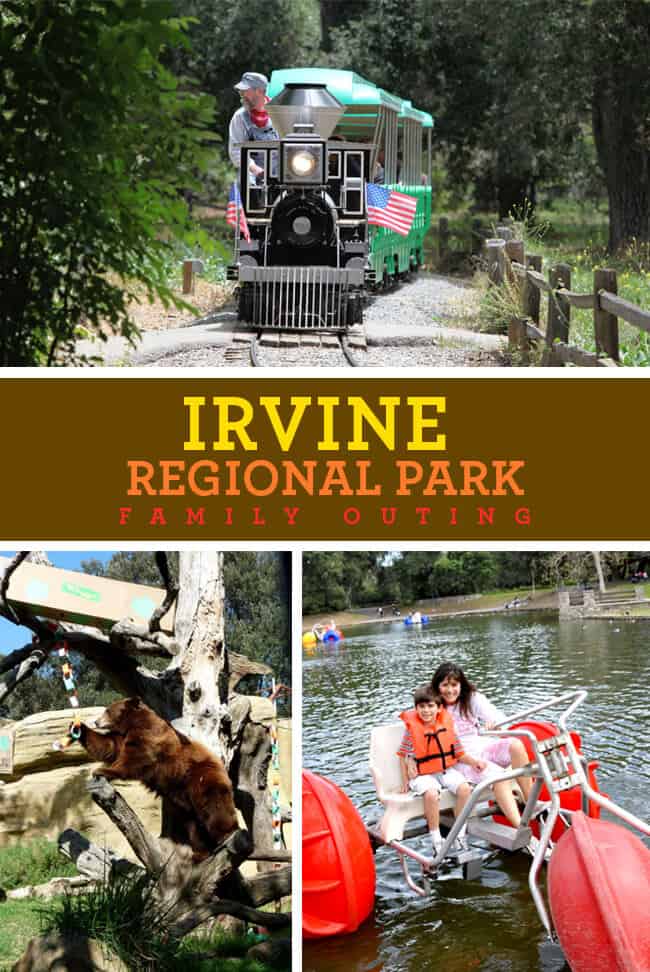 Irvine Regional Park Outing
the Irvine Regional Park has many fun activities to offer families. it is so much more than just your average park. besides the expected amenities, you also have the Irvine Park Railroad, OC Zoo and OC Fun Rentals. families can easily spend all day here with the fun activities. i suggest visiting the OC Zoo, then head over to the railroad and ride the train. after, rent a paddle boat at Fun Wheel Rentals and enjoy a picnic lunch.
Cost Breakdown:
Parking $3-5
Train using BYGO coupon = $10
OC Zoo (weekday BYGO coupon) $2 per person = $8
PLUS (pick one)
Treat at the Snack Bar ($.5o off coupon) $2.50 per person = $10
OR
Paddle boats for a half and hour using $5.00 off coupon = $10
Total: $29-$31
suggestion: Bring - picnic lunch, treat, waters, small blanket and sunscreen. Hand wipes to wash up after park. DON'T FORGET TO PRINT OUT THE COUPONS.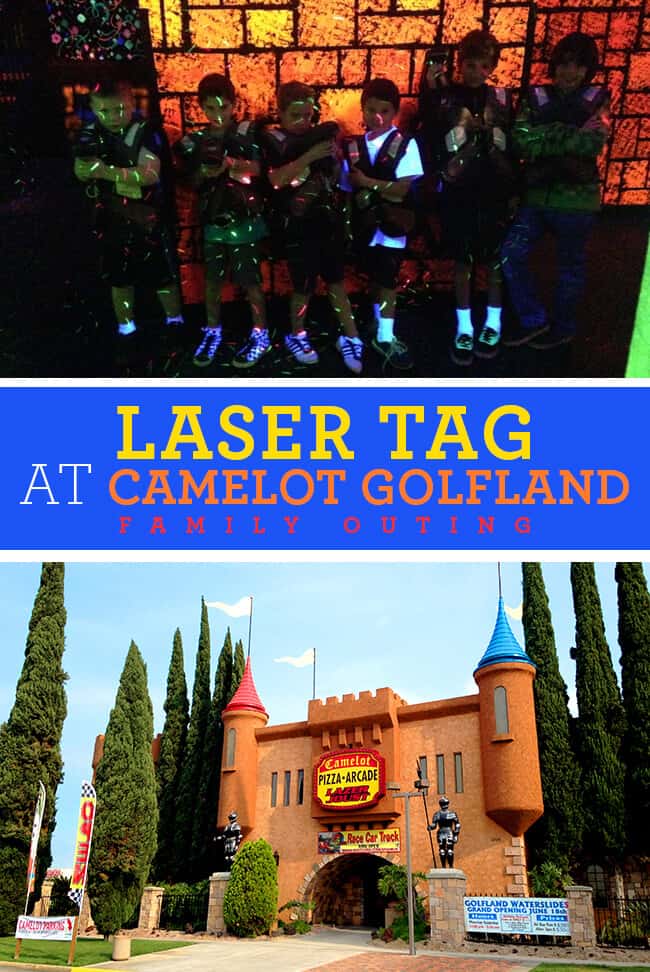 Laser Tag Outing
my boys love laser tag, and Camelot Golfland in Anaheim offers the best price for families. you can get a family of 4 package for laser tag at $23, must be ordered online. this is a great outing for kids 4 and up. if your child is too little to carry one of the laser packs, just play together by wearing the pack yourself and have the little one carry the laser. it's fun to run around with each other and trying to hit each others targets.
and since you can't get out of the arcade without the kids playing some games, give each person $2 of tokens to play some games.
cost breakdown:
Laser Tag $23 -28
Game Tokens $2 per person = $8
Total $31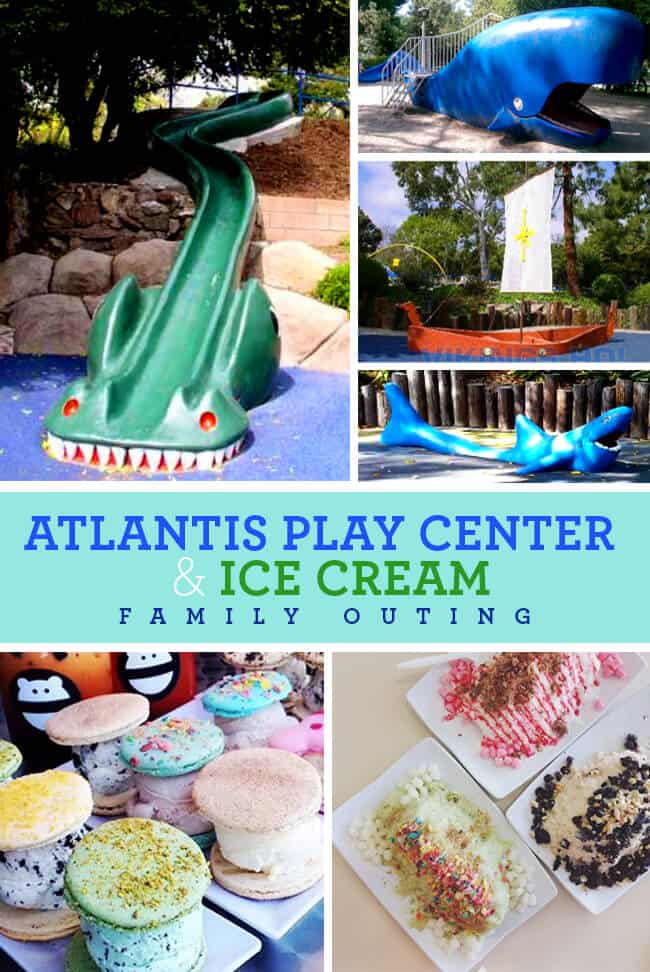 Atlantis Play Center & Ice Cream Outing 
Atlantis Play Center in Garden Grove is a unique park unlike the others in Orange County. kids will have a blast playing on the concrete animals or sliding down the sea serpent slide. all of the other expected playground amenities are here as well, from swings to climbers. there are plenty of areas for picnicking under the trees and a picnic area for parties or large groups. adults are not allowed into the park without kids, and kids are not allowed without adults, so it's the perfect chance for a little together time. spend the day exploring this special park. have a picnic and run around.
after your park date, head over to Snow Monster OC, Frozen Bar or Snow Station all located in Garden Grove. each of them offer a unique ice cream experience different than the average ice cream shop.
cost breakdown:
Atlantis Play Center entrance $2 per person = $8
Ice Cream Treat $5 per person = $20
$28 total
suggestion: Bring - picnic lunch, waters, small blanket, park toys and sunscreen. Hand wipes to wash up after park.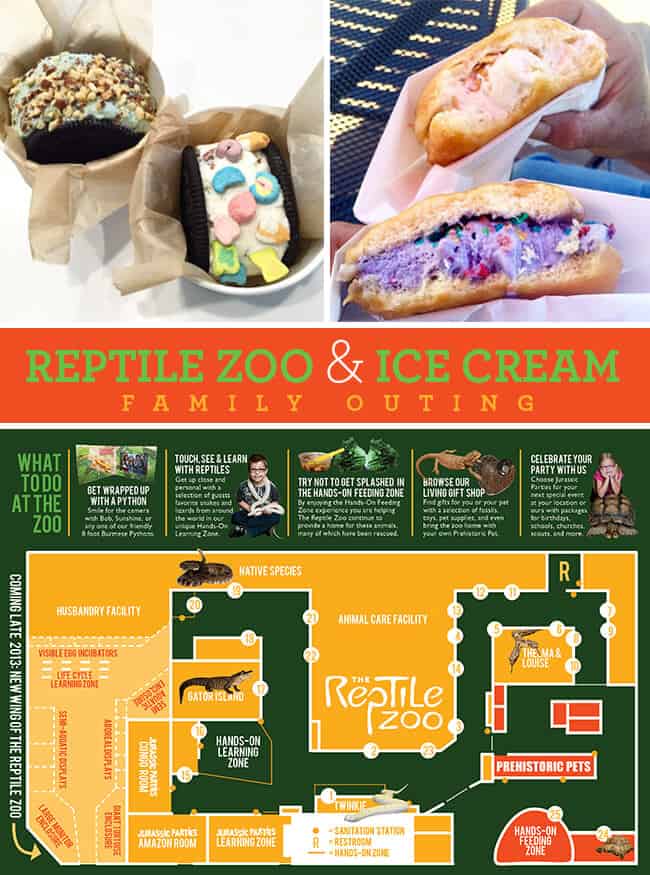 Reptile Zoo & Ice Cream Treat Outing
if your children love animals, particularly the scaly kind, then the Reptile Zoo is a great outing. i have never seen so many varieties of snakes and lizards in my life. there are hundreds of them here wall to wall. kids can learn about the reptiles, see unique species including Twinkie, the world's largest snake, and even touch or hold a lizard. plan on spending a good 1 - 1-½ hours at the zoo. the Reptile Zoo is located at 18822 Brookhurst Street in Fountain Valley. you can also feed the turtles meal worms for $3...but i didn't include that in the outing price. before you head out of the Reptile Zoo, make sure to wash the kids hands.
next, head over to one of two fun Ice Cream places. Afters Ice Cream Bar located at 18030 Brookhurst Street in Fountain Valley and home of the famous Milky Bar, or Milk Bar OC located at 16051 Brookhurst Street in Fountain Valley, who is known for their macaron ice cream sandwiches. both of these places have unique and yummy desserts that you won't find at the average ice cream shop. get a large dessert to share or a couple of smaller ones.
Cost breakdown:
Reptile Zoo $5 per person = $20
Reptile food (optional) $3
Milk Bar OC or Afters Ice Cream, 1 or 2 treats to share = $10
Total $30-33 
suggestions: Bring your camera.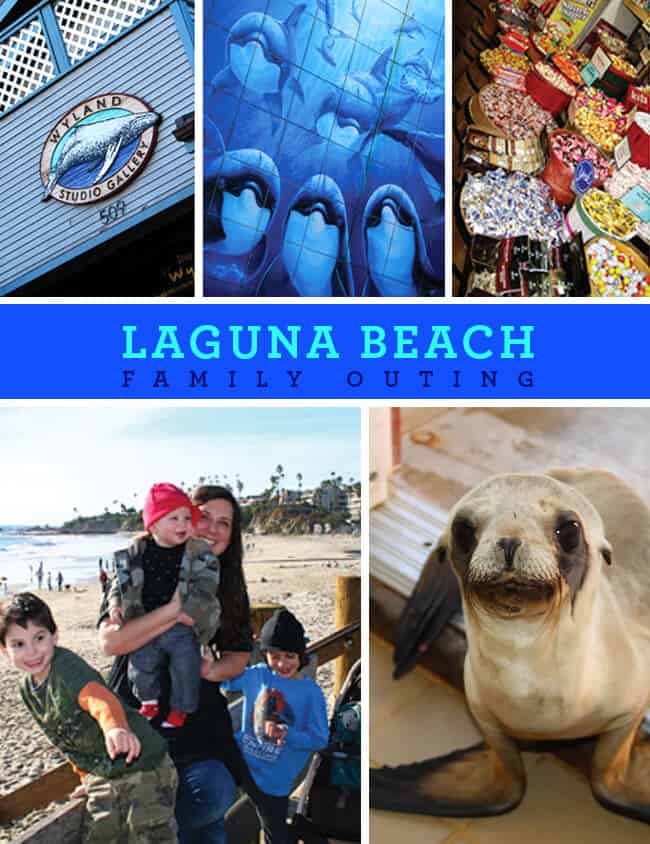 Day in Laguna Beach Outing
start you day stopping at the Pacific Marine Mammal Center (PMMC) located on Laguna Canyon Road about 2 miles from the beach. the PMMC rescues, rehabilitates and releases marine mammals and inspires ocean stewardship through research, education and collaboration. here  you can see the seals and sea lions playing in the rehabilitation pools, check out the informational displays and even talk to one of the volunteers at the center. this is a fun way to get up close and personal with local animals.
next, head down to the main Laguna Beach and find parking. there are meters, street parking and parking structures. where ever you can find a parking spot, get it! beach parking is usually the pits.
now, take a walk down PCH along the beach south of main beach and check out some of the many shops and galleries. the Wyland Gallery is one of my boys favorites. if you are nervous bringing the children in the galleries, don't be. explain your expectations to them ahead of time. i make my boys keep their hands in their pockets when we are inside. i make sure to show them interesting pieces of art and explain the art to them...asking questions and their thoughts to keep them entertained.
after you check out a few of the galleries, head over to Chantilly's Ice Cream Parlor. it is located on PCH right across from the main beach. if you are not up for ice cream, there are also a few other places to get a bit to eat.
once you get your ice cream, walk across the street and enjoy the beach. there is a large playground that you can enjoy year round. when you are done playing, head back across the street and walk over to The Candy Baron. it is located at 231 Forest Avenue, just a couple blocks from the beach. here, everyone can get $2 of bulk candy as a souvenir. enjoy it on the way home or save for home.
this has to be one of my favorite outings our family takes. i love the beach and the artistic details you find around Laguna Beach.
Cost breakdown:
Pacific Mammal Center FREE
Parking $2-4
Walk through Wyland Museum FREE
Play on Beach Playground  FREE
Get a treat at Ice Cream Store $4.50 per person = $18
Candy at The Candy Baron $2 per person = $8
Total: $28-30
suggestions:  bring - bucket and shovel, cash for parking, small blanket, stroller for small children. eat and early lunch at home and arrive home around dinner time...or pack a picnic lunch/dinner.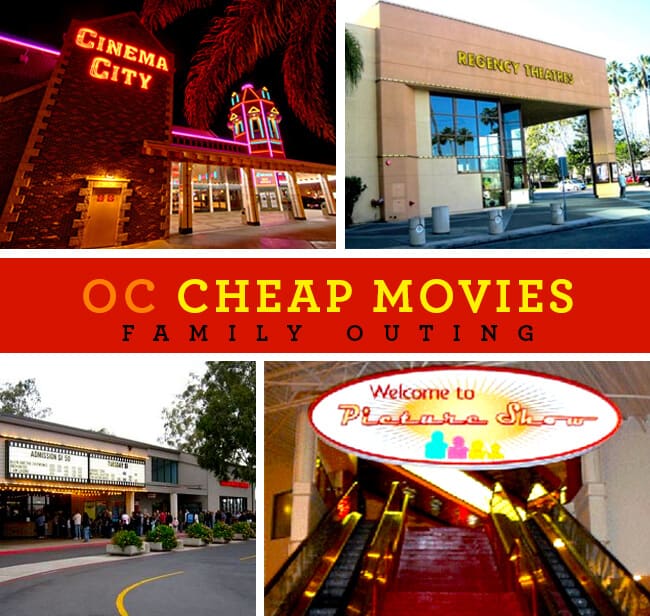 Cheap Movie Family Outing
when in doubt, there is always the movie theater...something that adults and children can both enjoy together. here is a list of cheap movie theaters that are found in the OC.
if you want to get movie treats, i recommend picking up a few boxes of candy from the grocery store before the movie. if you love popcorn, purchase a large bucket of popcorn at the theater, it should be enough to share. also, theaters often provide water cups, or you could have everyone bring a water bottle with them if you want to avoid high soda costs.
Picture Show at Main Place Mall (Santa Ana) $2 movies before 6pm, $3 movies after 6pm, $4 for 3-d movies. they offer $1 hotdogs.
Woodbridge 5 Starplex Cinema (Irvine) $2 movies before 6pm, $3 movies after 6pm, $4 for 3-d movies. they offer $1 hotdogs.
Regency Theater (Huntington Beach) $3 movies all day, $2 surcharge for 3-d. they have 2 ticket, 2 sodas and a popcorn combo for $10.
Brea Plaza 5 (Brea) $3 daytime and $3.75 evening
Cinema City (Yorba Linda) $5 before noon, Mondays, Tuesdays and before 6pm on Sundays.
Cost breakdown:
Tickets $3-5 per person = $15-20
Bucket of Popcorn or Treat from the Grocery Store = $6-10
Total: $25-30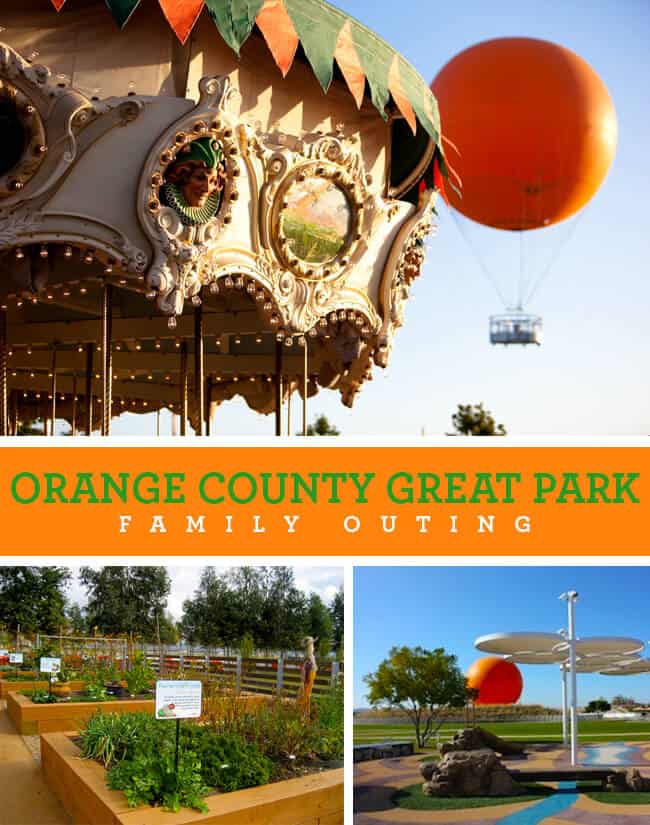 Orange County Great Park Outing
the Orange County Great Park or OCGP in Irvine is a great resource for our community. the park often hosts free community events that are actually quite awesome. practically any day you would like to visit, you can take a ride on the Great Park Balloon, and ride on the Great Park Carousel. i recommend making a day of it and bringing a picnic lunch. kids can play at the rock, a playground located near the Great Park Balloon and even check out sport equipment free of charge to play with. if you walk around the grounds near the Great Park Carousel, you will find the Farm + Food Lab, an area where many kinds of plants and vegetables have been planted and are growing. it is pretty cool to see them growing in their natural habitat. check the website often for free sports and gardening classes, if you come to the park during one of these events, you get more for your outing.
Cost breakdown:
OCGP entrance FREE
OCGP Playground FREE
Farm + Food Lab FREE
Great Park Balloon: $10 per adult, Kids 18 and under FREE with paying adult = $20
Great Park Carousel Rides: $2 per person single ride or $3 all day pass = $8
Total: $30
suggestions:  bring - picnic, drinks, sunscreen, small blanket, stroller for small children. double check the weather and balloon schedule. if it is windy, they balloon isn't allowed to fly. usually before noon of after 6pm is the best time to fly.
finally,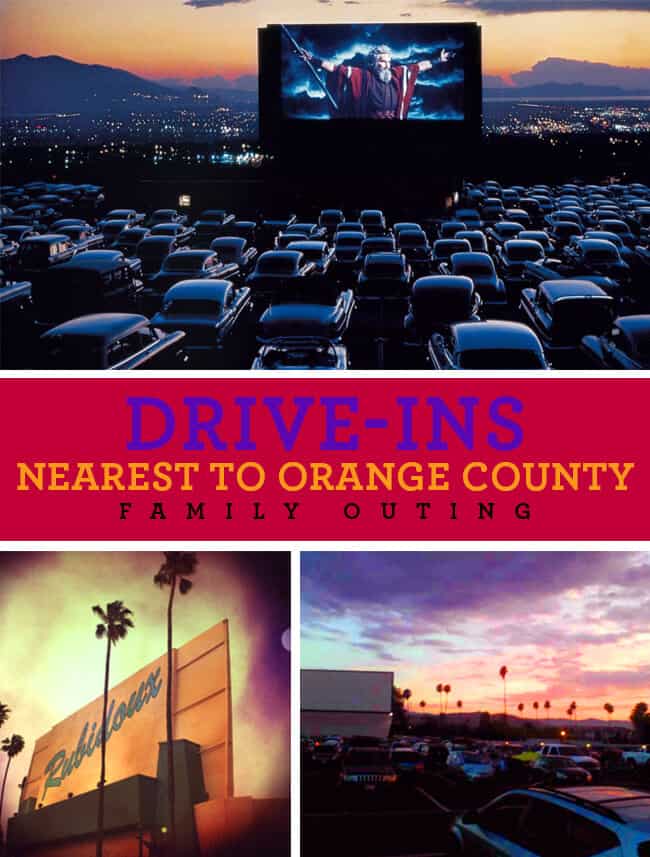 Drive-In Movie Outing
many families have never experienced a drive-in movie. so i have included a list of drive-ins closest to Orange County as and idea for a family outing. pack up the car with comfy pillows and blankets, pack a picnic, pop some popcorn and gather some treats for an adventure of snuggling up for an evening watching movies under the stars. be sure to check the schedule, as the selection of kid-friendly movies is slim.
Vineland Drive-In Movie Theater located at 443 N. Vineland Avenue in the City of Industry
Mission Tiki Drive-In Theatre located at 10798 Ramona Avenue in Montclair (coupons)
Van Buren Drive-In Theatre located at 3035 Van Buren Boulevard in Riverside (coupons)
Rubidoux Drive-In Theatre located at 3770 Opal Street in Riverside (coupons)
Cost breakdown:
Adult Tickets: $9-$9.50 per adult x 2 = $18-$19
Children Tickets: $1-$3.25 = $2-$7
Total: $20 - 26
suggestion: dress the kids in jammies to make transfer from the late night movie to bedtime easier on everyone. pack hand wipes, extra drinks and blankets.
____________________________
and those are my top suggestions for inexpensive outing for families in the OC. be sure to double check the websites before heading out on your family outings, as prices, times and hours are subject to change at any time. and if you are still looking for some more fun outing options, be sure to check out my list of 101 Things to Do in Orange County or search for special events on sites such as OC Register or OC Events. many times there are free activities hosted in the community each week.
do you have any suggestions for cheap family outings in Orange County?