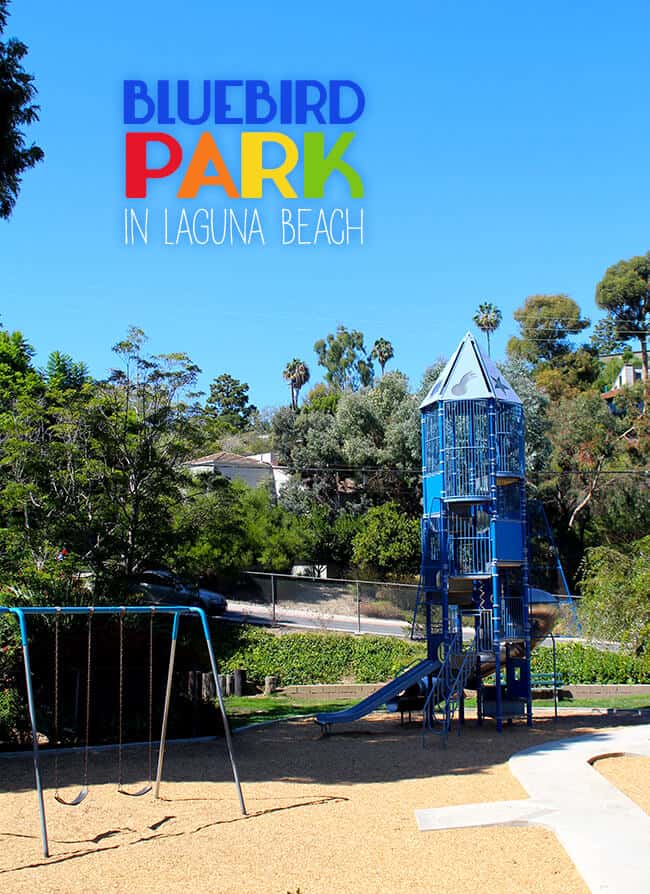 i have been wanting to visit Bluebird Park in Laguna Beach for a while now. and since we were in Laguna Beach last weekend, we decided it was the perfect time to check it out. the day was hot, and the kids were a little crabby, so they complained that we were heading to the park instead of heading home after a semi-long day. but once we arrived and they saw all that Bluebird Park had to offer, they were very happy and excited to go out and explore.

Bluebird Park is located a few blocks north of Pacific Coast Highway off of Bluebird Canyon Drive and Cress Street. it's a beautiful park with lots of play areas, shade and is somewhat enclosed so you can feel better about the kids running around. Nature Play Trips has lots of information on the details and amenities of Bluebird Park, so i am not going to get into those details on this post. i'd rather share our story in pictures.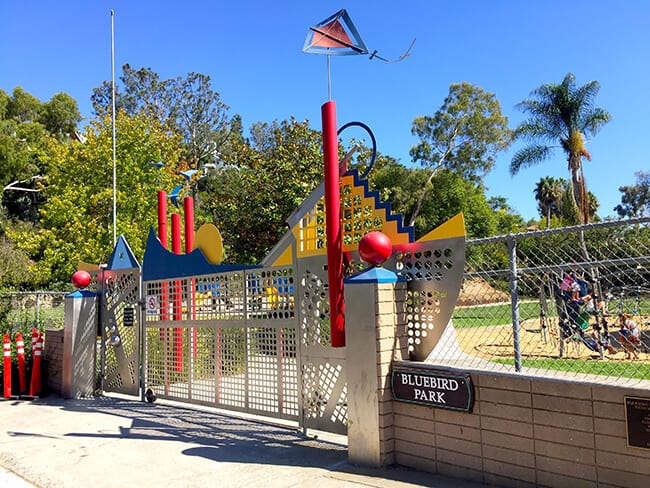 we parked in the back parking lot off of Cress Street and Temple Terrace and took the walkway that over looks the Bluebird Park into the park. Since Laguna Beach is an artist town, you will find that artistic charm has been encompassed into this park. it really is a special place to visit.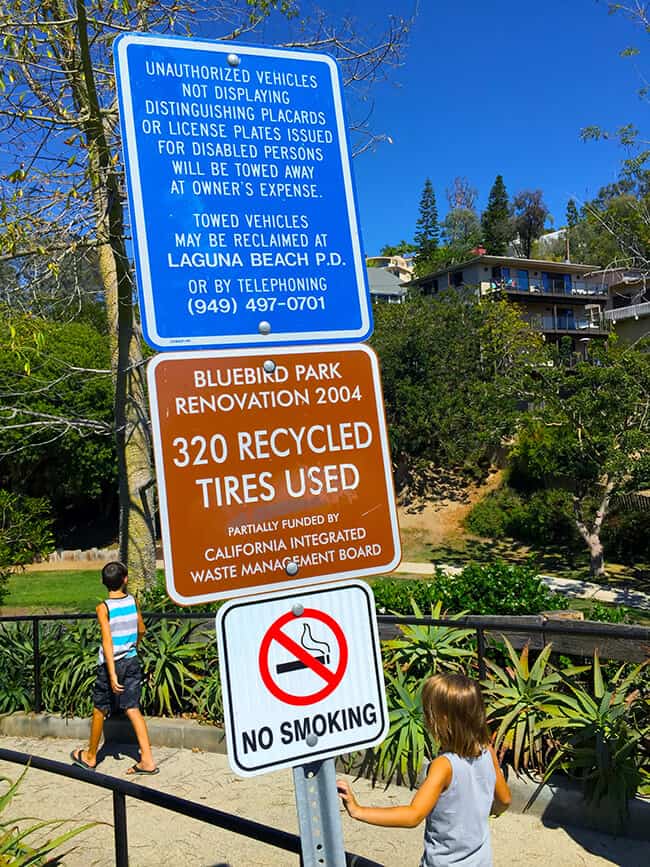 the boys were excited to find fun slides along the walkway that they could slide down into the park from the top of the walkway. AWESOME!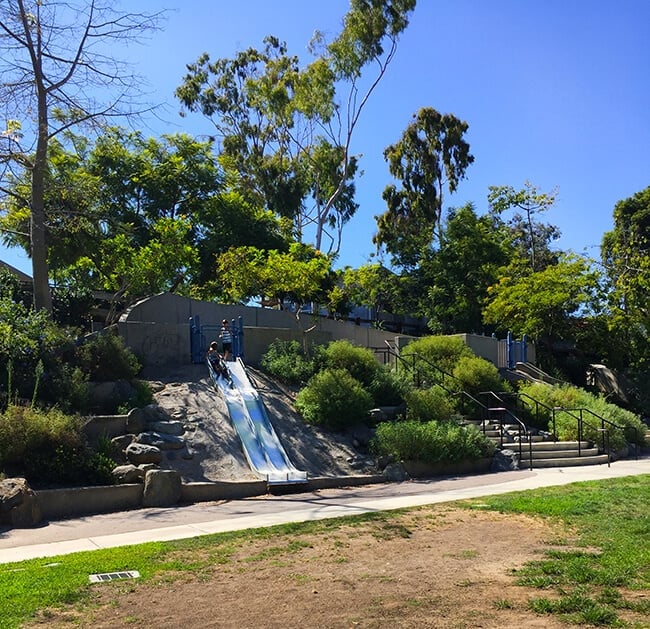 the slide are nice a big, so it was a blast going down them over and over.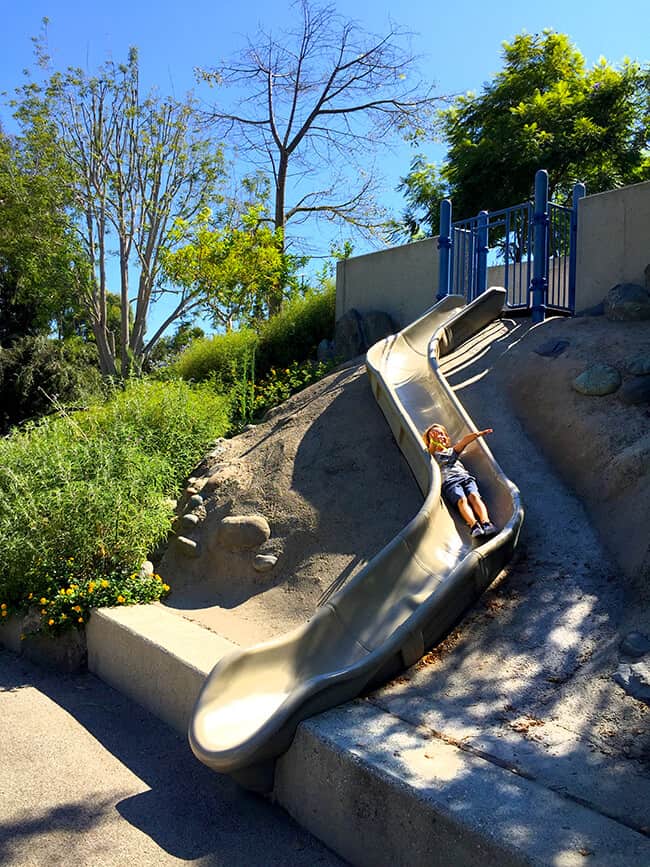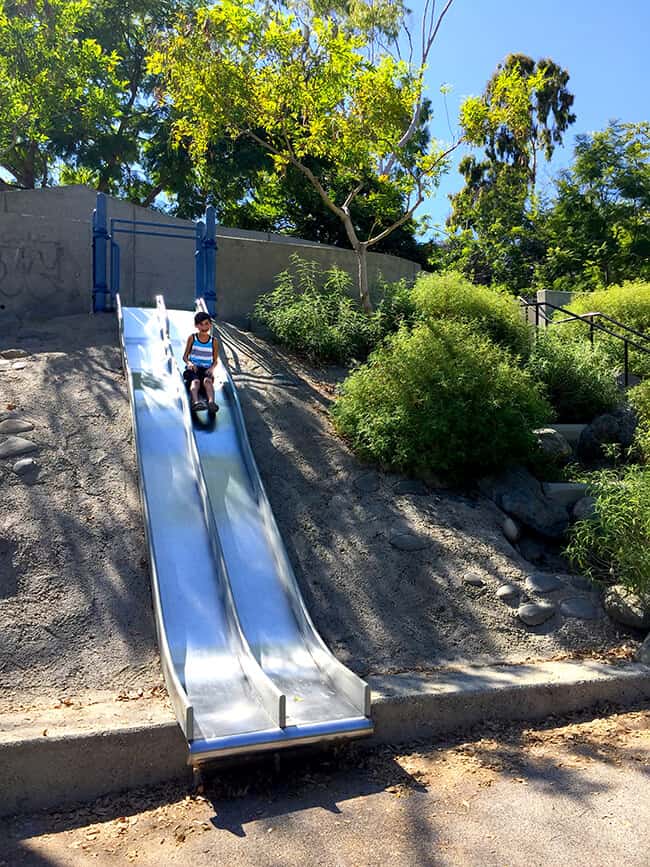 Bluebird Park has many different areas to play and enjoy different adventures, starting with this cool rocket ship play structure. this had to be one of the boys favorite things about the park.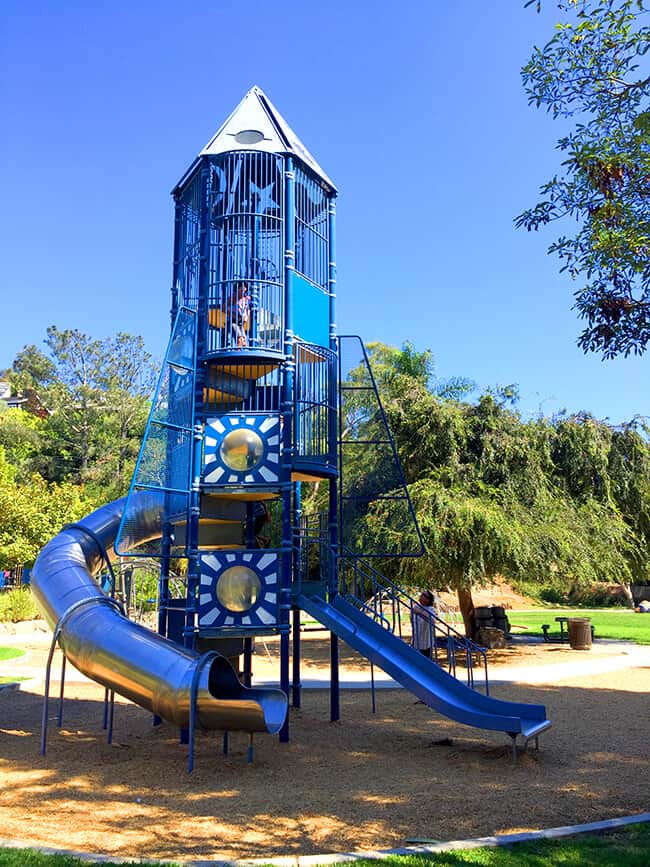 i haven't played on one of those since i was a little girl, and thought that most parks in California had banned these in playgrounds. but this rocket ship play structure is brand new, modern and most of all fun.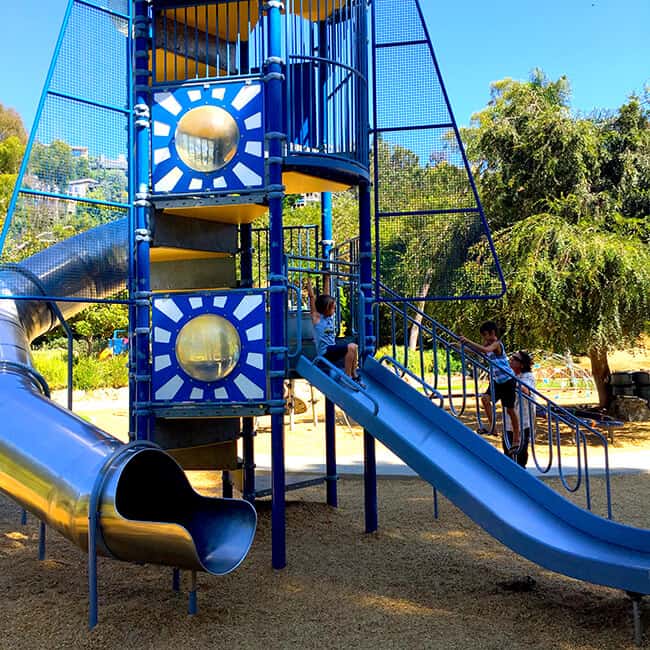 there were also swings located next to it.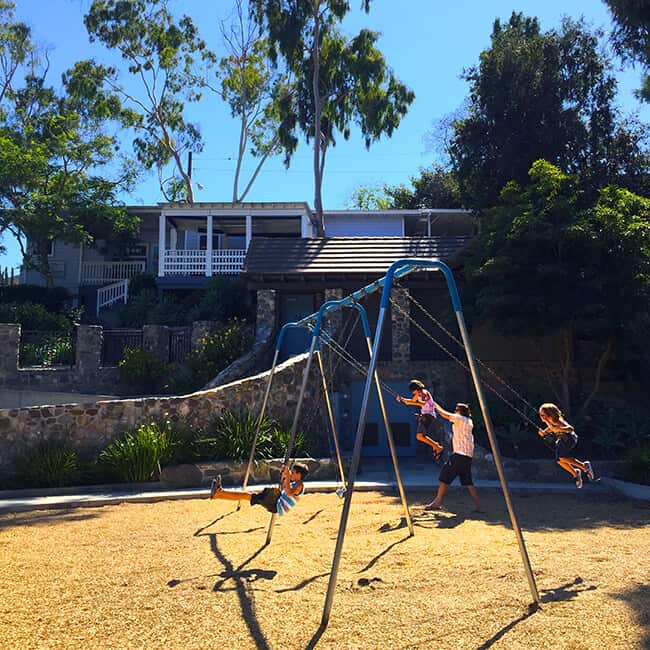 even day had fun of these.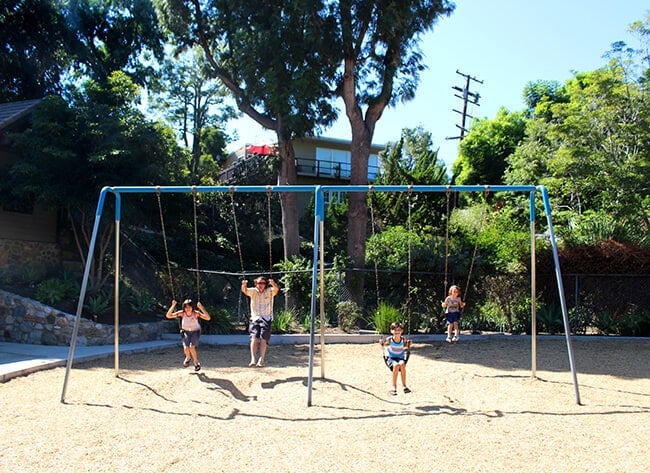 across from the rocket ship play area, there is a large playground with different types of jungle gym equipment. there were lots of things to climb.
things that go round and round. and make dad work very hard!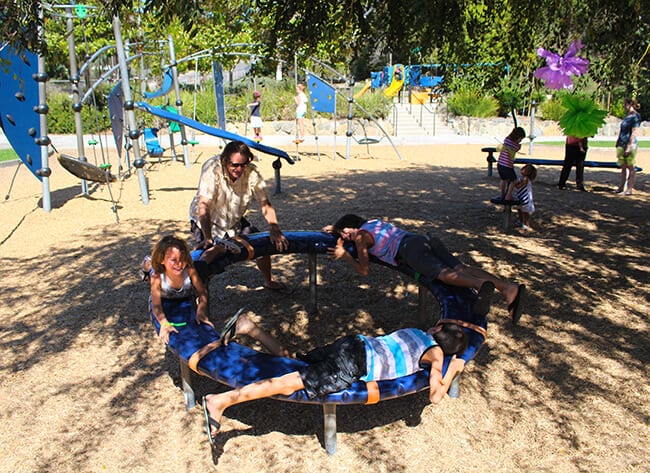 plus a giant jungle dome!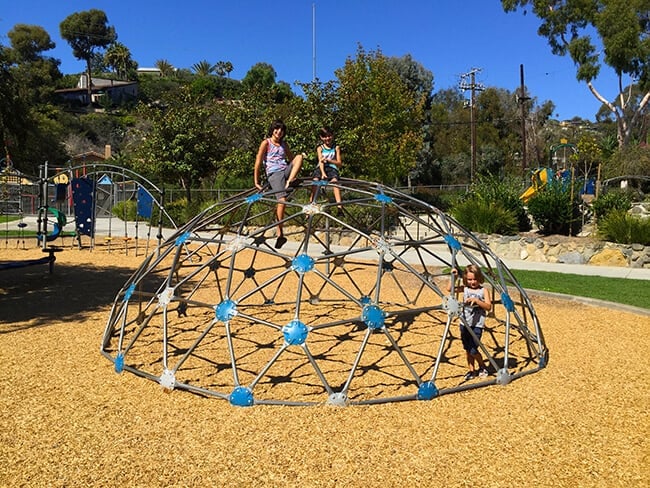 there is also another full playground area that has even more fun things to play on. this area is perfect for toddlers. the slides and steps are smaller, and there are swings for babies.
one of the most iconic things in Bluebird Park is this rainbow mosaic turtle sculpture. it is unique and beautiful, and just make you smile looking at it. the boys begged my to take picture of them sitting on it.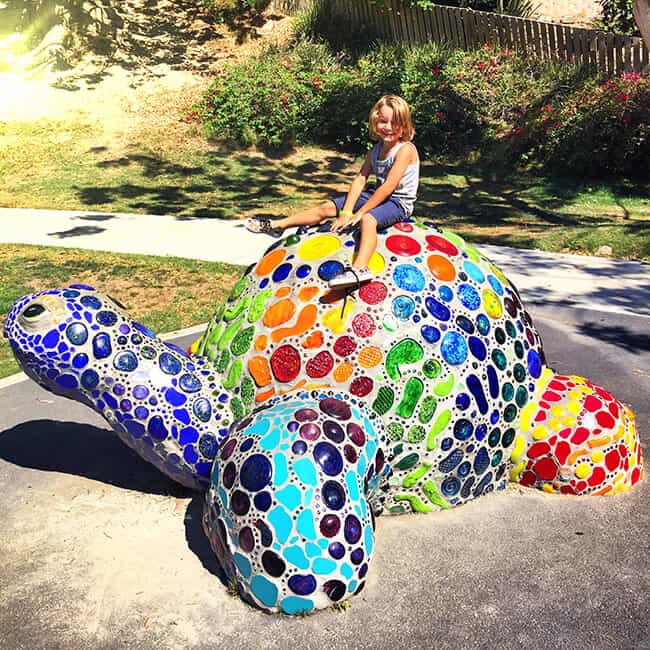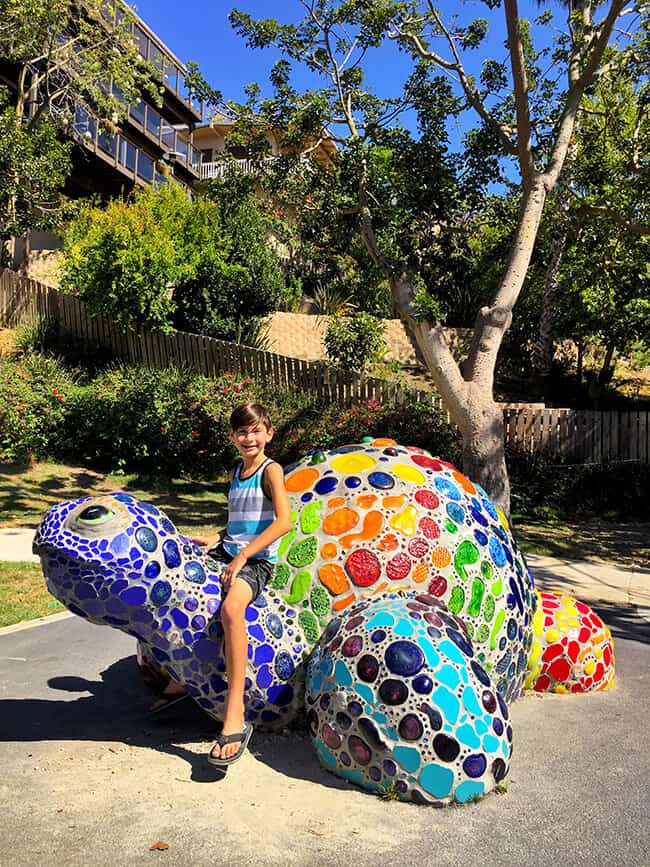 on the north corner of Bluebird Park, there is a quaint little pathway flanked with flowery shrubs that leads over a cute bridge, and a nice little shady area that is perfect for hide n' seek.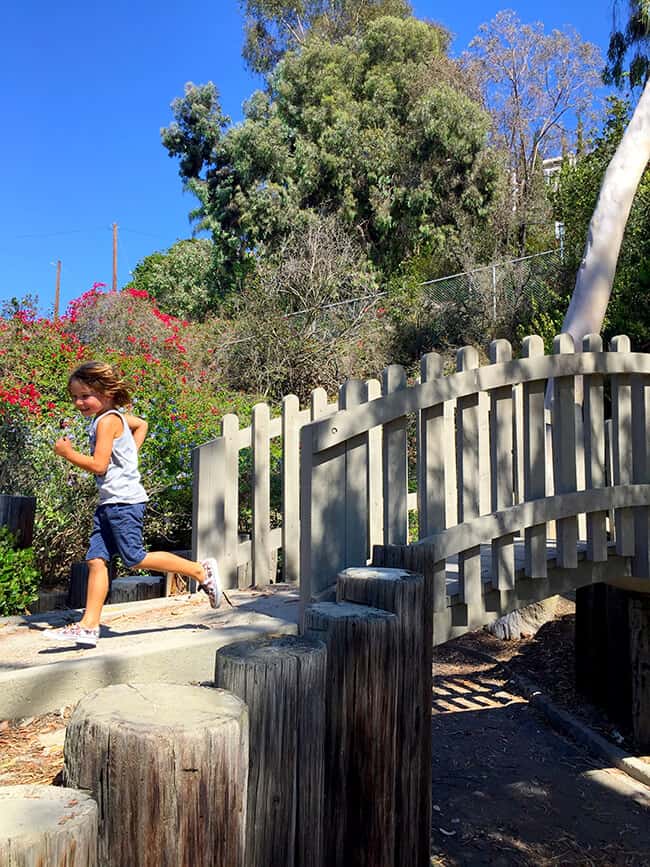 a big shady tree and tunnels to crawl through make this area feel like a fairytale. this might have been my favorite area of the park. it was quiet a serene. it made me wish i lived closer to this park, so i could enjoy some quiet afternoons here.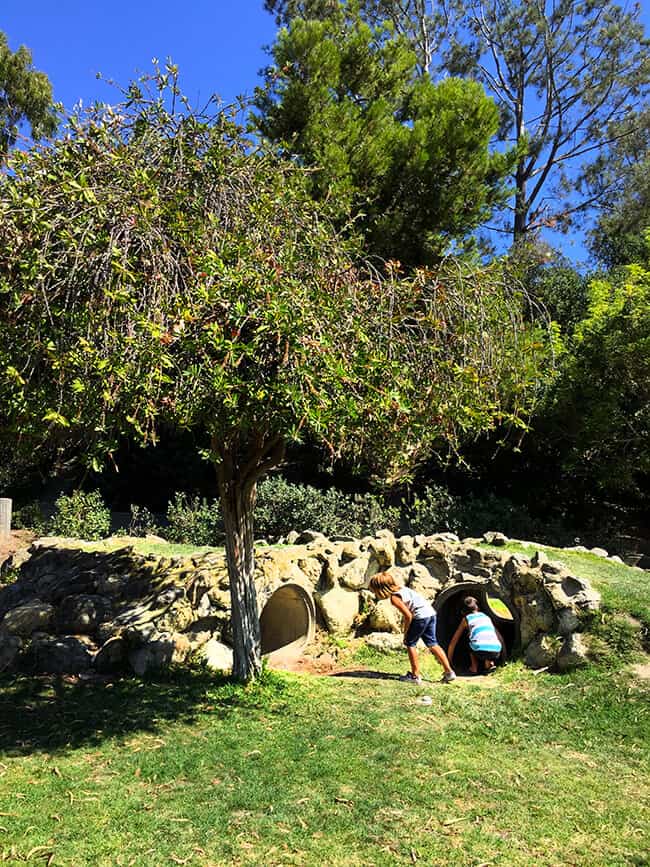 Bluebird Park also has a very nice bathroom area, in fact my husband said it was the nicest bathroom he had ever seen in a park. so you can be comfortable that there are facilities for your children at this park. reason number 99 that this park is great.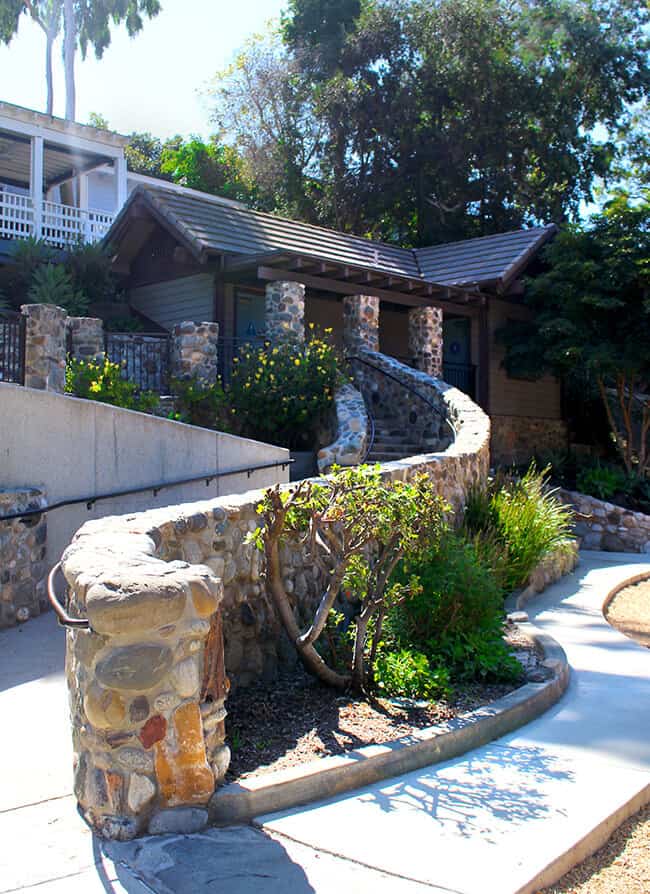 if you happen to be in Laguna Beach, or are looking for a great park to enjoy the day at, Bluebird Park is a fun one. unique, different and full of charm. it's one of the reasons why i love exploring Orange County. there are always new places to discover and something fun to do.