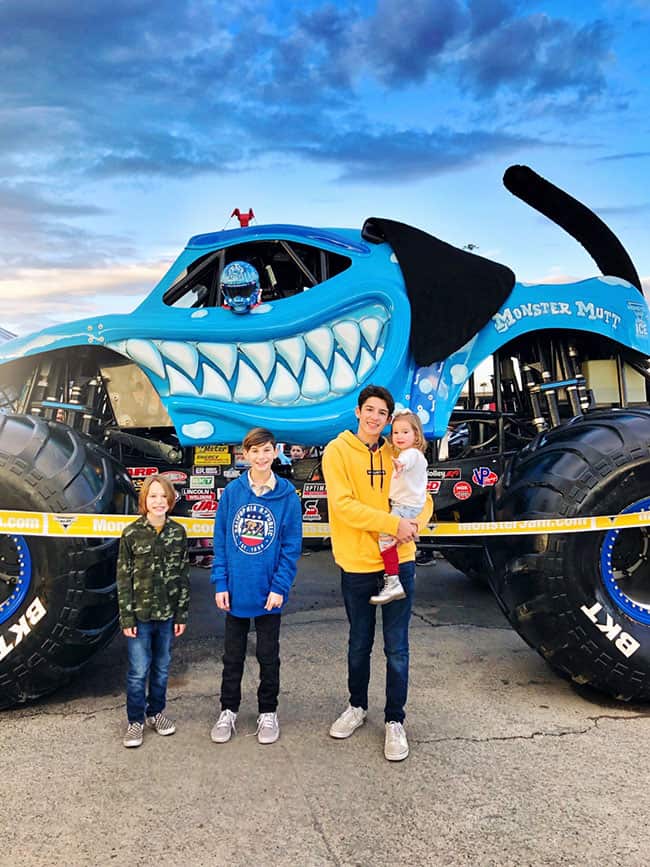 For us, this time of year is all about Monster Jam! The boys look forward to going to Monster Jam all year long. And the wait is finally over. Monster Jam is coming to Angels Stadium in Anaheim on January 11th & 25th, and February 8th & 22-23rd. We go as an entire family – mom, dad, boys and girl. even grandma and grandpa usually go with us. Monster Jam is great for the whole family...and I would love to share some of my BEST TIPS for Family Fun at Monster Jam.
Best Tips for Going to Monster Jam
Tip #1 - Make a day of it. We always have the most fun when we do the whole experience. Pit Party, Tailgating and then heading to official Monster Jam show.
Tip #2 - Plan ahead and don't run late. Angels Stadium is big and there will be a lot of people trying to get into the venue. Whether you are going to the Pit Party or just the main Monster Jam show, plan on getting there about an hour early. Lines can be long getting through security and you don't want to miss the show.
The Pit Party
The Pit Party, happens a few hours before the Monster Jam show. It's a separate ticketed event and these tickets sell out quick. Tickets are $15 per person. The Pit Party is where you can get up close to actual monster trucks and even meet the drivers. There are also booths with hands-on activities, game booths and food vendors. this year, the lines to get into the pit party were extra long due to security, so we only got to enjoy it for a short time.
Tip #3 - get to the pit party when it opens. This is one of the best parts of Monster Jam in my opinion.
Tip #4 - Bring something to get signed by the drivers. It's really fun to wear a Monster Jam shirt or bring a Monster Jam poster to get signed by the drivers during the Pit Party. I have also seen people bring toy Monster Jam trucks and also notebooks to get signed.
Here are some of the photos from our visit to one of the Monster Jam Pit Parties.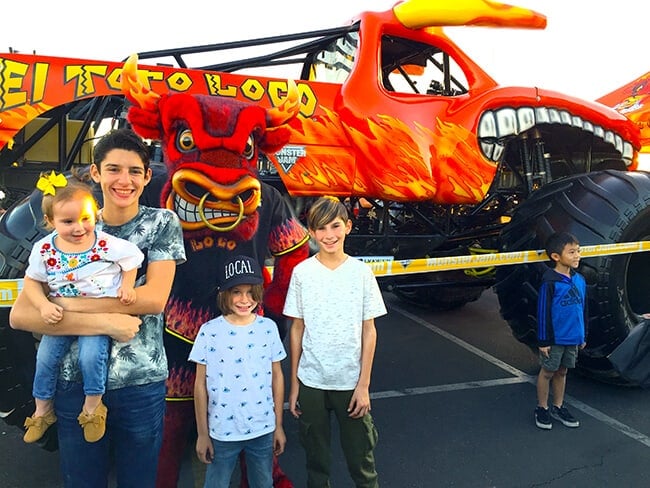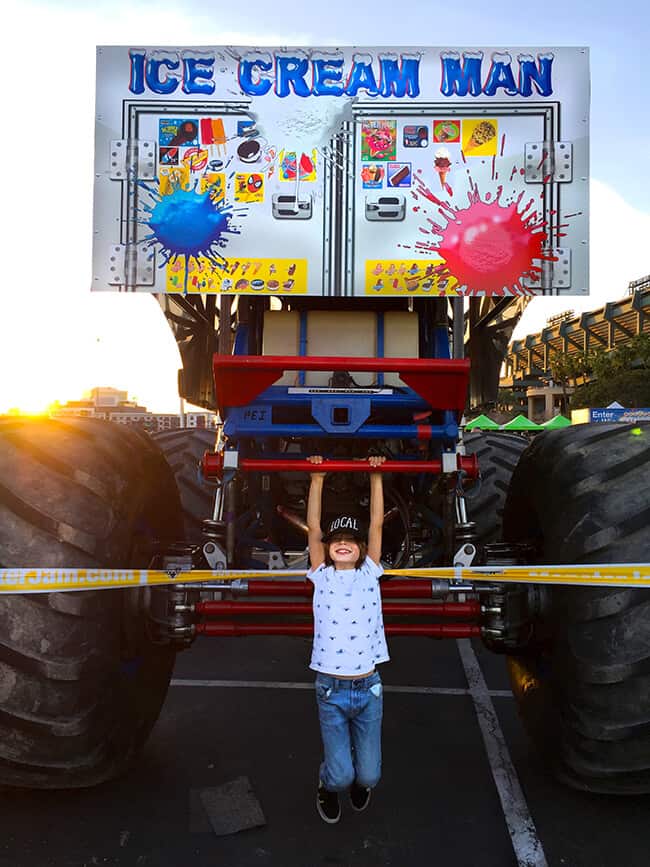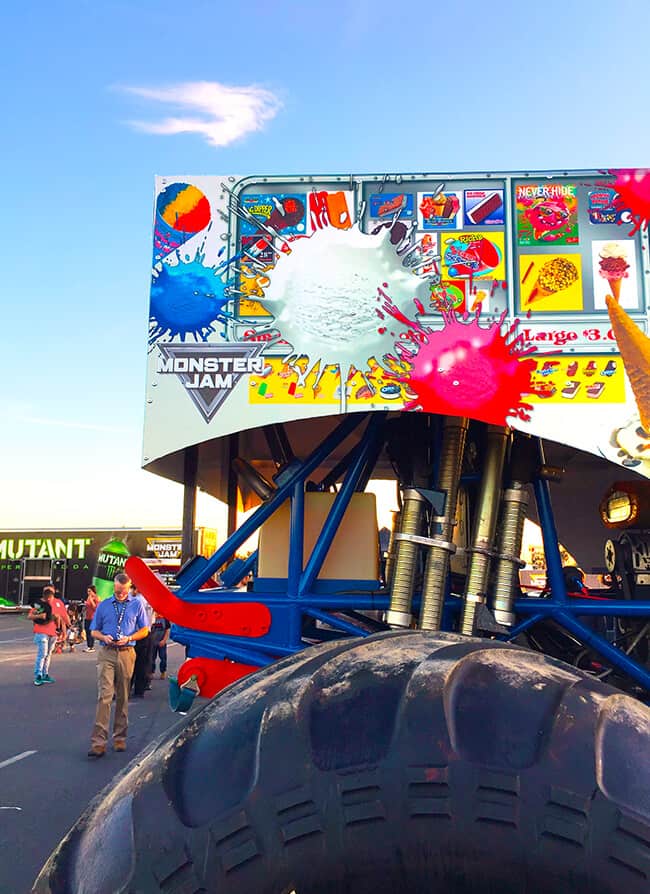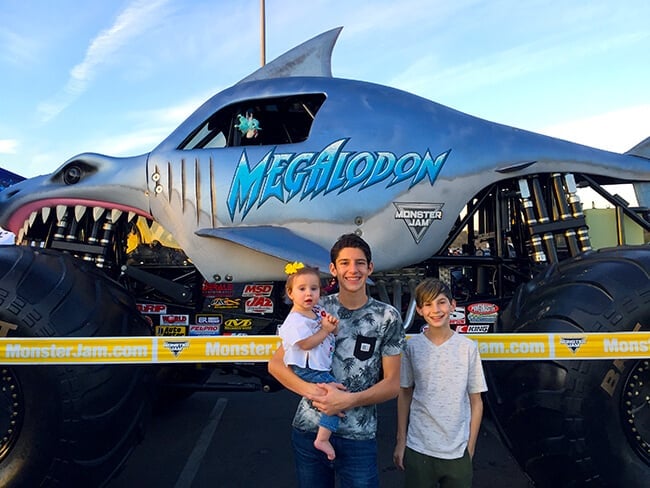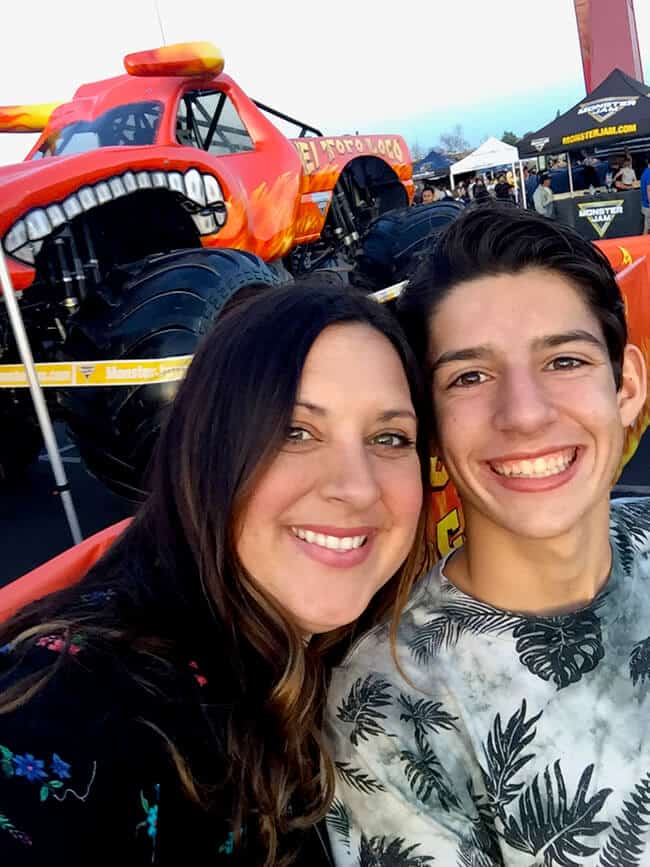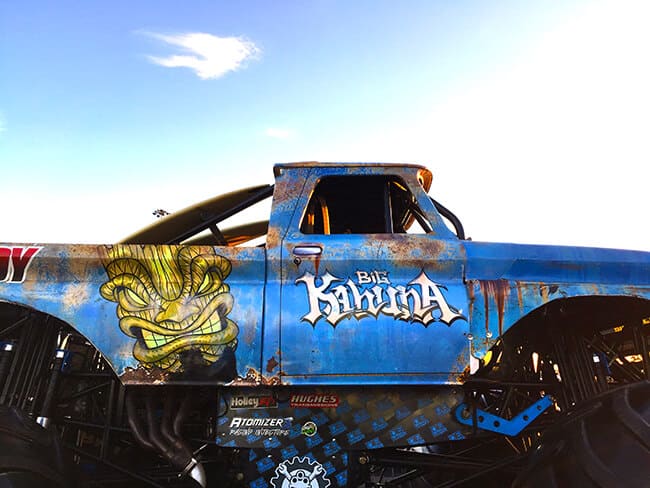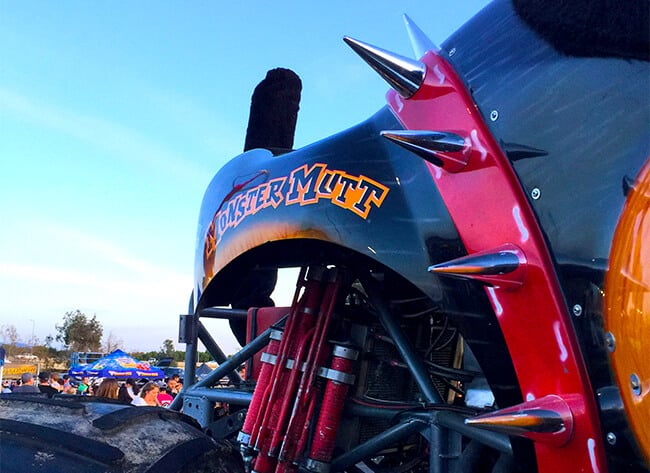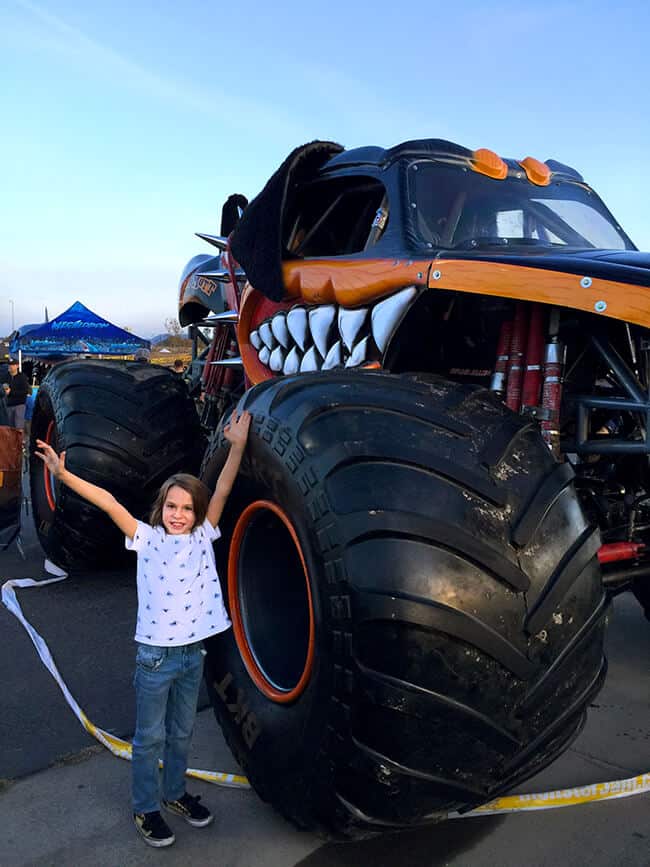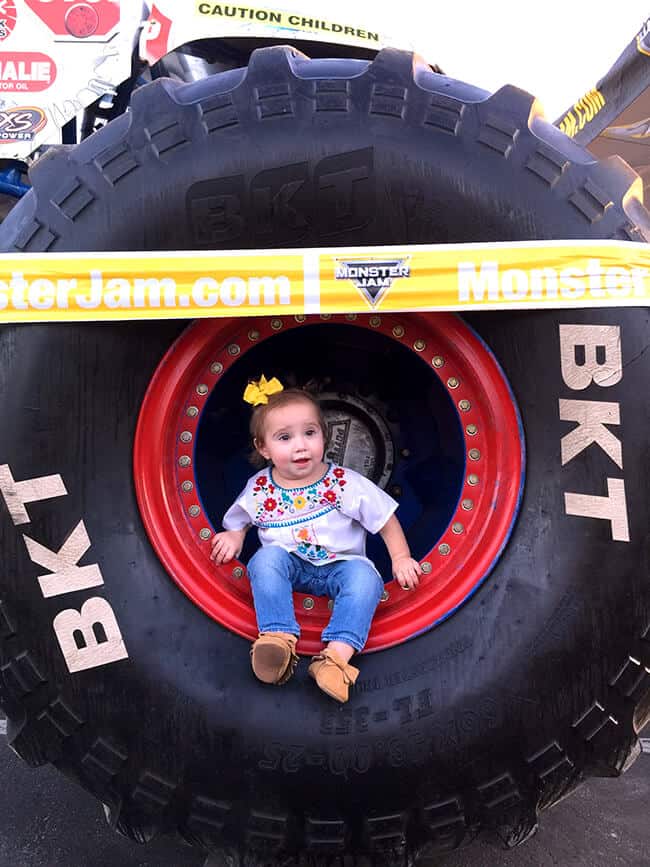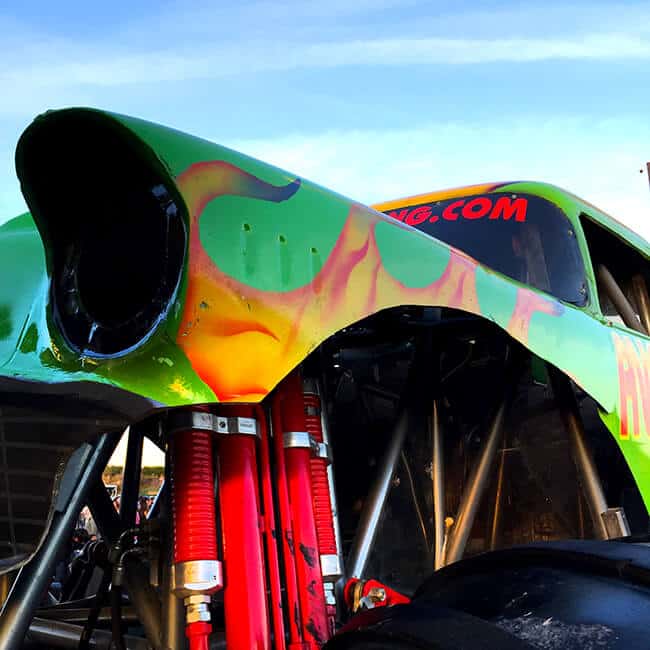 I really like to get Dani's photo with girl drivers so that she can see driving monster trucks is not just for boys. This is Brianna Mahon's monster truck, Whiplash. She was the only female driver of the evening when we went. Unfortunately, we got to the truck a little late and Brianna had to run out. But we still got Dani's photo with Whiplash!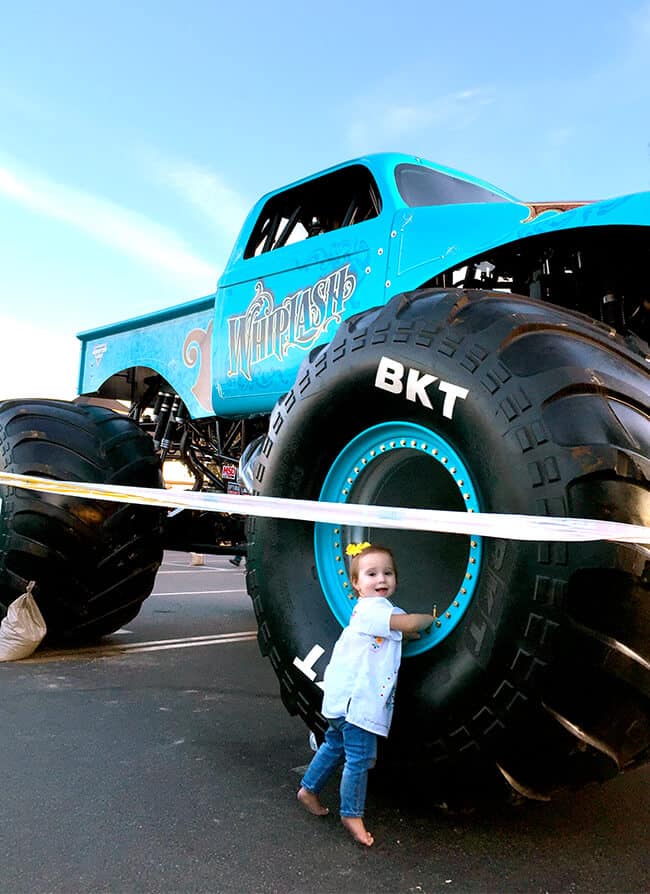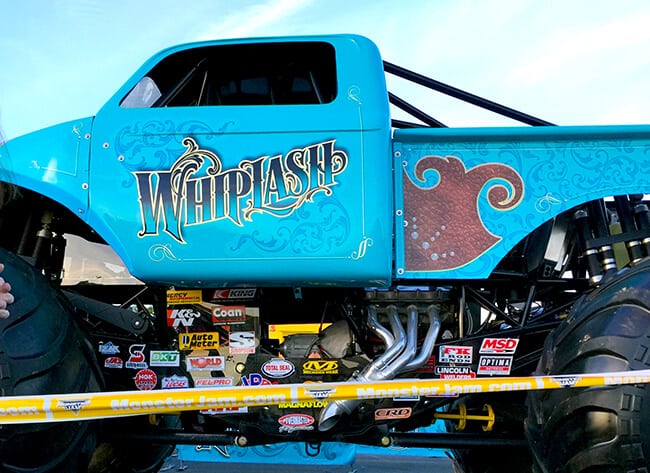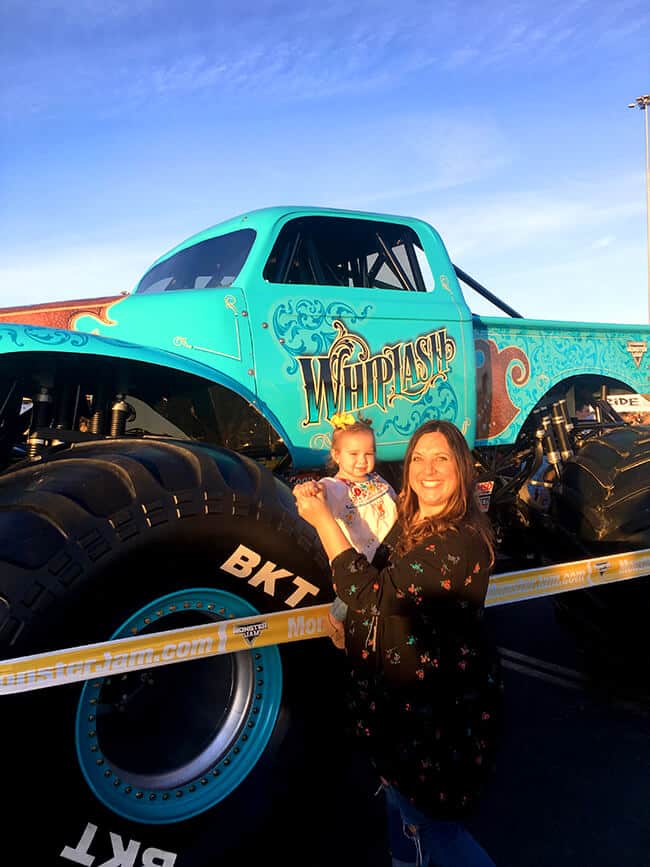 We all really enjoyed the Pit Party, and so did our grandparents! Then we headed back to our car for a tailgate dinner....because that is what you do at Monster Jam.
Bring a Picnic to Tailgate at Monster Jam
Tip #5 - Bring food to Tailgate. I love to make our Monster Jam extra special, so I buy special picnic foods to enjoy between the Pit Party and Monster Jam show. My yummy picnic includes cold cut sandwiches, deli style chips, dips, pasta salads, homemade cookies, brownies and drinks.
TIP #6 - When Tailgating, bring a folding table for the food, and some beach chairs. You can open your trunk and enjoy your picnic dinner right in the parking lot before the show.
TIP #7 - You can also bring food into the stadium...as long as it is not in bulk. Unopened water, gatorade, juice boxes, empty reusable water bottles are also allowed into the stadium. I like to bring snacks such as peanuts, popcorn, candy and licorice for the kids to enjoy during the show. Because they always beg for food inside no matter how much they've already eaten.
After dinner, head into Angels Stadium to get ready for the show to start. It's very exciting to see it all ready and set-up for a Monster Jam competition. The show is super loud once the trucks get going, so it is really important to protect those kids ears from the noise...even adults need ear plugs. Of course the baby had a really good pair pf headphones to protect her ears.
TIP #8 - Bring Earplugs for everyone, and noise cancelling ear phones for kids and babies. You can usually find them at Walmart, Buy Buy Baby, and Amazon. Vendors usually sell them outside of Angel Stadium for a premium price, and of course they sell them inside the venue.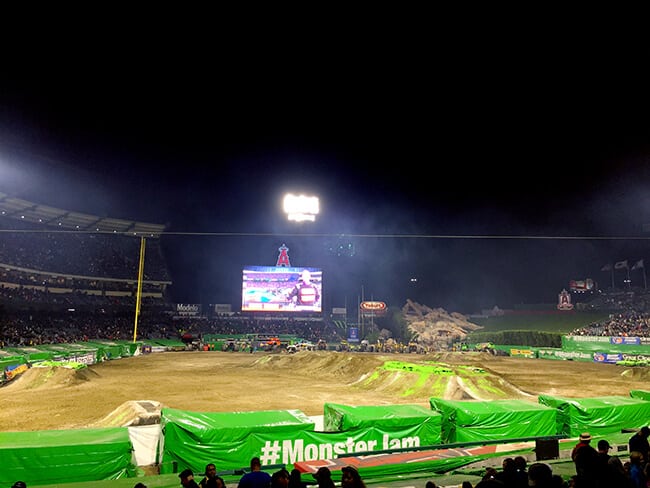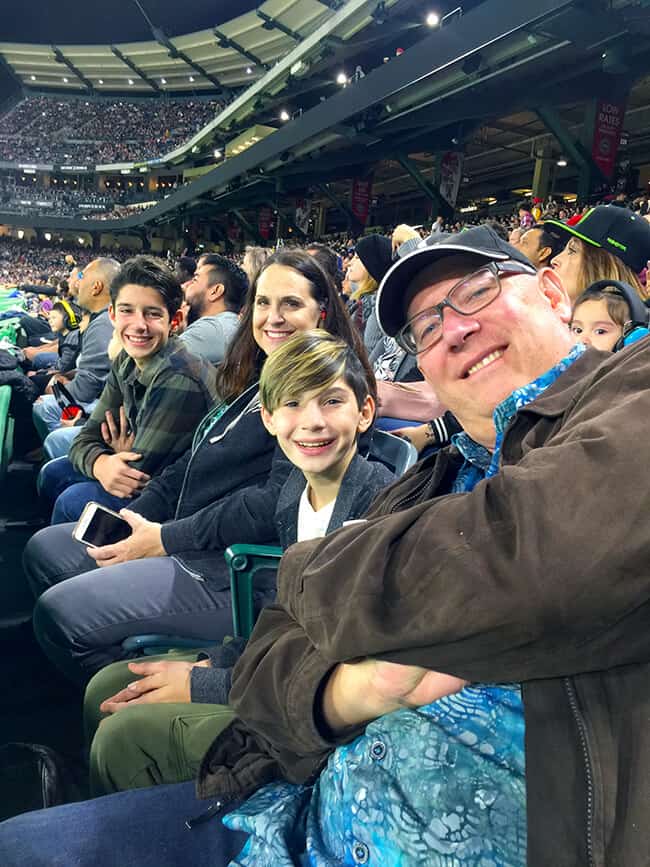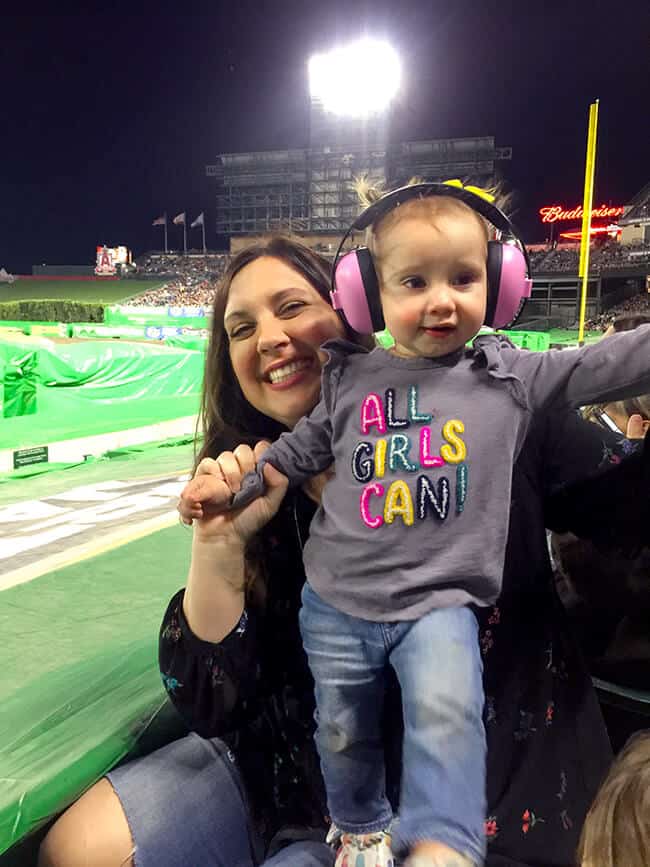 TIP #9 - Dress for the weather. Monster Jam happens whether is warm or cold, rain or shine, so make sure to dress appropriately. Ponchos are great for rainy weather, and jackets, scarves, hats and gloves are great for cold weather. You can also bring a light blanket.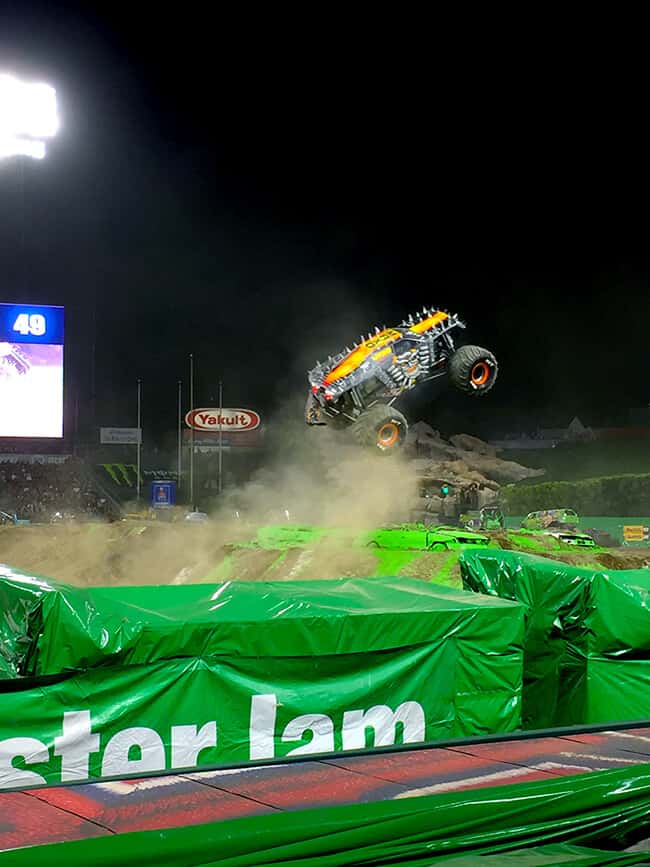 The Monster Jam competition began with a head to head competition race with trucks racing against each other. then they had a new race, called the "two wheel" competition. where trucks tried to do tricks on jut two wheels. It's amazing to see what some of these truck can do. There will be a few wrecks...which always makes the crowd go wild!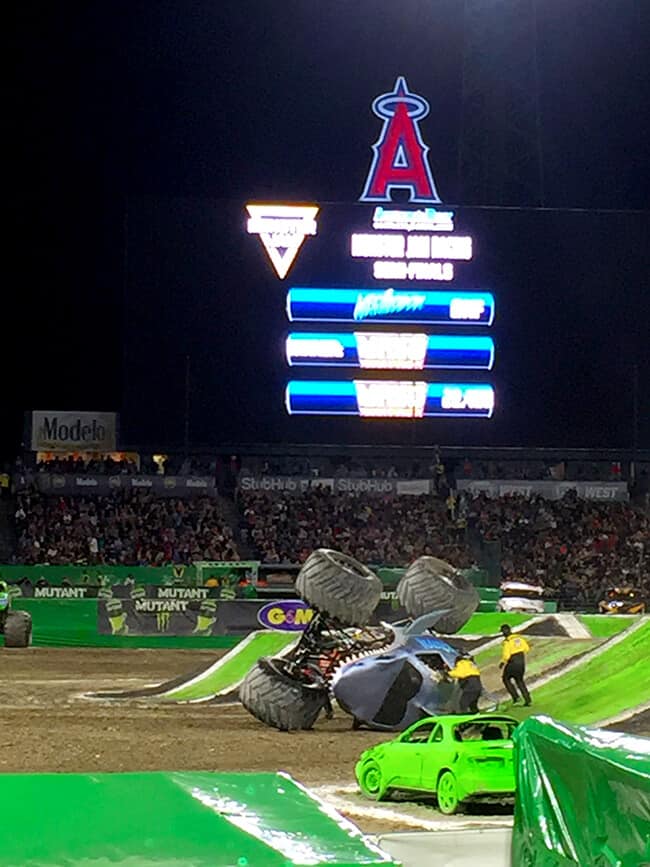 Tip #10 - Have your cell phone ready with the Monster Jam App. Fans were able to vote for the trucks using their cell phones, so you can get in on the excitement and vote for your favorite drivers. It's pretty interesting to see the scores the kids give to the drivers, and hearing their explanations on why they deserve each score given. I love that everyone gets to participate, it make the show even more fun.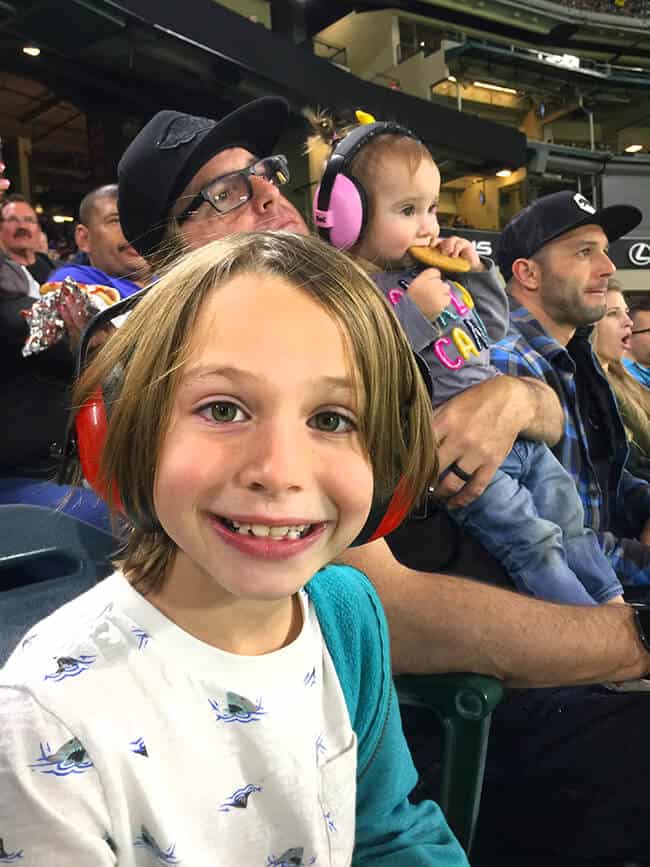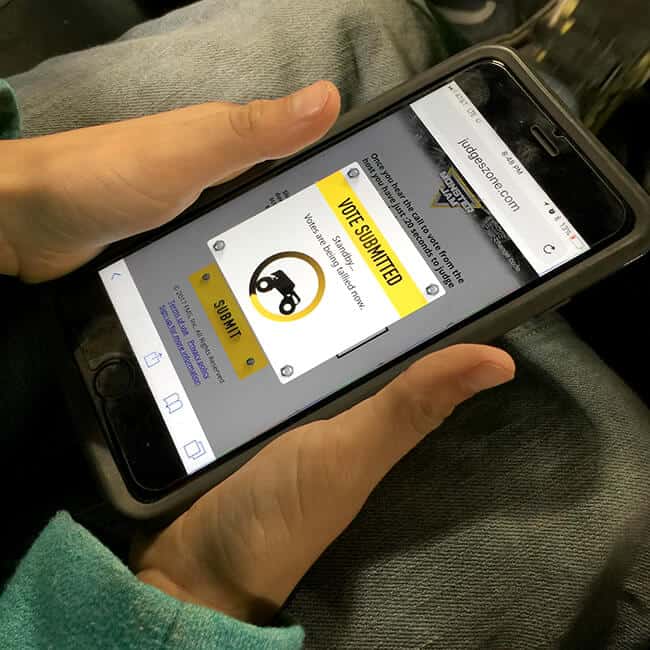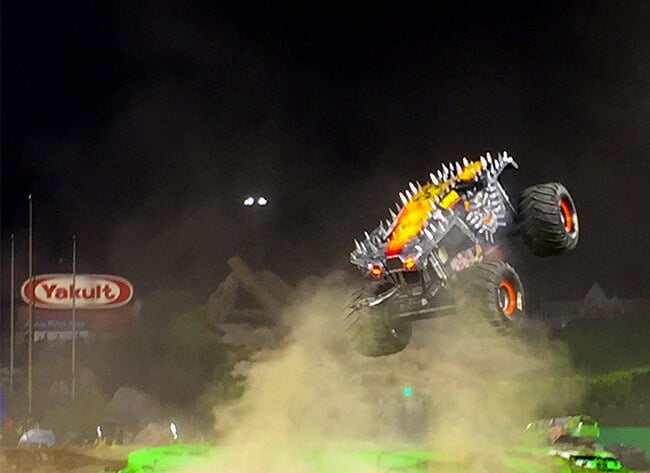 The last race of the night is a freestyle competition. All of the trucks pretty much wreck themselves by going all out on the tricks and speed. Almost all the trucks ended up without shells, and trucks will even do backflips!!!!! It AMAZING!!! Get ready for the crowd to go wild.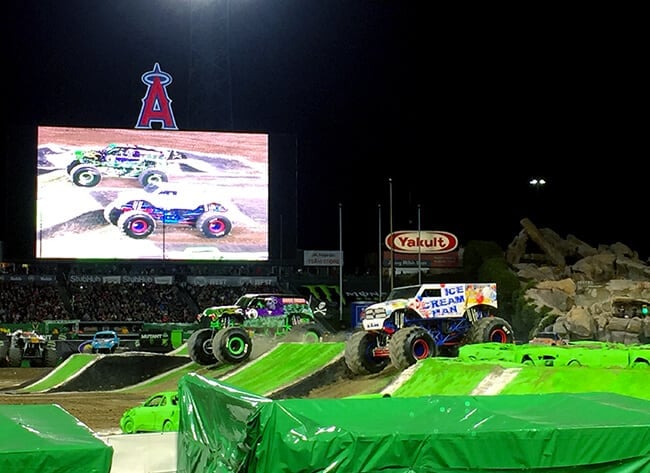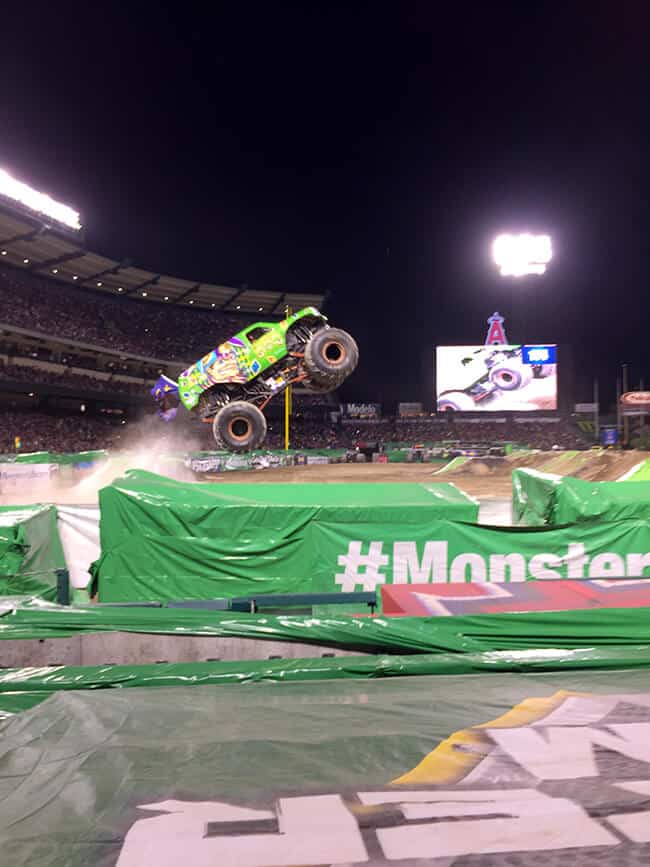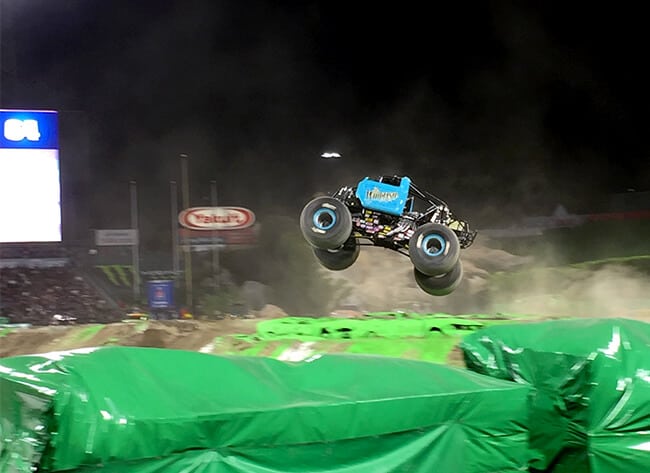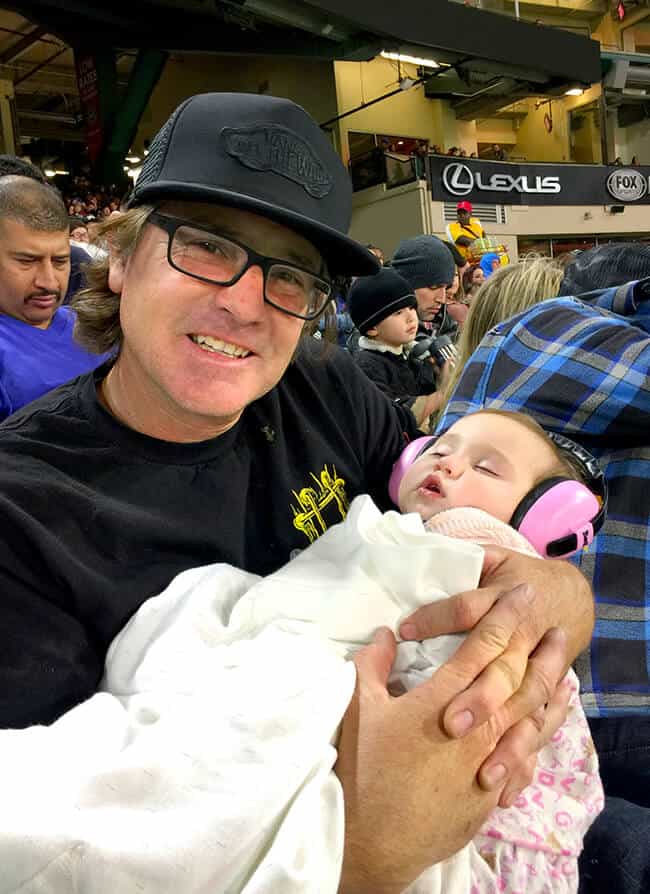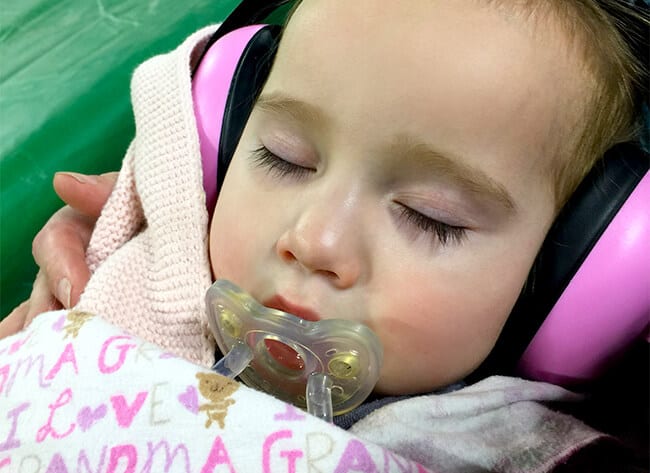 By the end of the night, we have so much fun that the little kids are usually all tuckered out.
I should also mention that our family feels that Monster Jam gets better and better every year. Last year was the best we had ever been to! The driving was awesome, the tricks were amazing, the crowd was ecstatic, and the show was very entertaining. Monster Jam surely didn't disappoint, I'm so glad that I got to experience it with my boys AND my little girl.
Discount Promo Code for Monster Jam Tickets
Tip #11 - You never know how fast Monster Jam tickets will sell out, so I suggest getting tickets early...especially pit party tickets (those sell out the fastest). This year there are five chances to see Monster Jam in Orange County! Last year there were six, so if you want to go, make sure to get your tickets soon before they sell out.
Tip #12 - Use discount code MJMOM20 for $5 off each ticket.
Lastly,
TIP #13 - If you can only afford seats at the top...it's okay! I just wanted to mention that all seats at monster jam are great! You can see everything up there. Some people prefer sitting up high. Seats down low are great for being up close, but you can't always see everything. So there are benefits up high as well as down low.