Thank you to the Chinet® brand for sponsoring this post.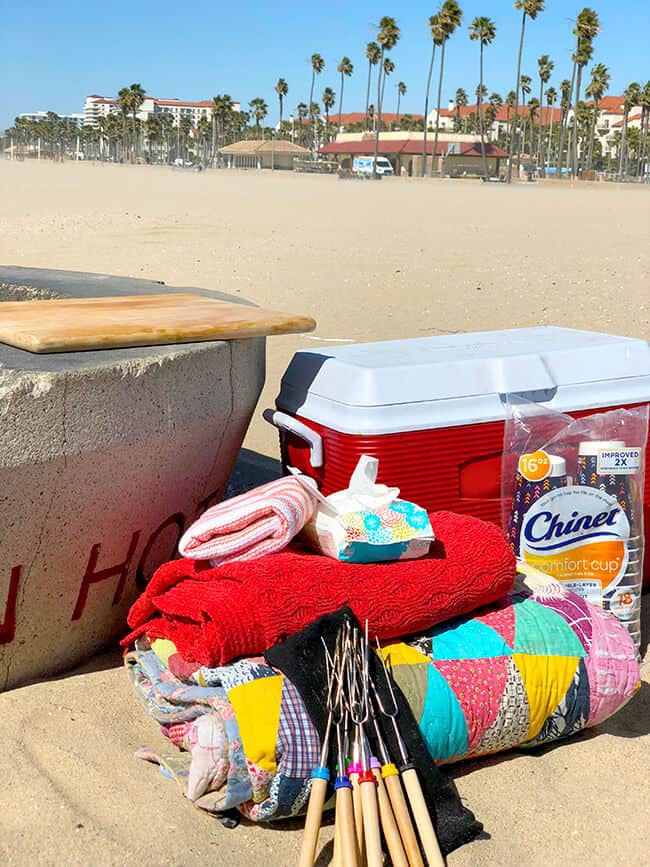 With Spring Break around the corner, and summer coming up thereafter, i get a lot of emails asking how and where is the best place to have a bonfire in Orange County. I also get a lot of emails asking about the best low-cost activities in Orange County. well, having a bonfire is one of my favorites AND is doesn't cost a lot of money. PLUS it makes some of the best family memories for the kids. I've partnered with the Chinet® brand to bring you this post on How to have the best beach bonfire in Orange County.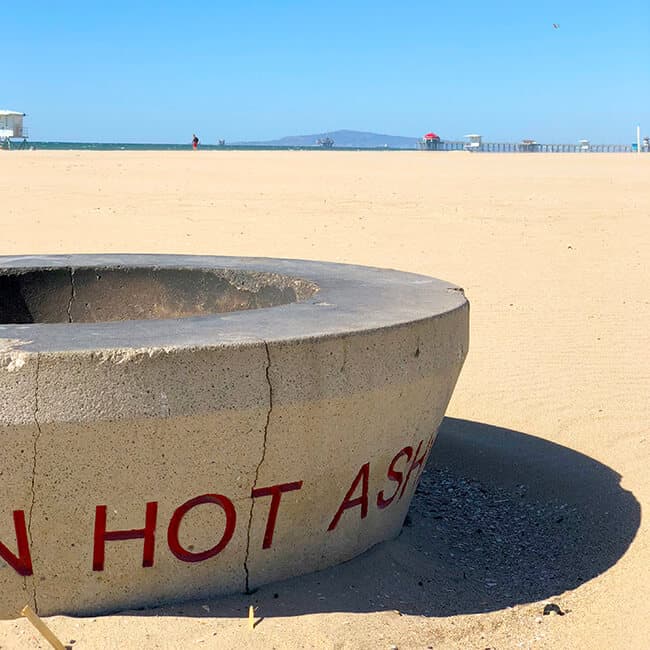 First, you need to pack the food.
The Best Foods for Beach Bonfires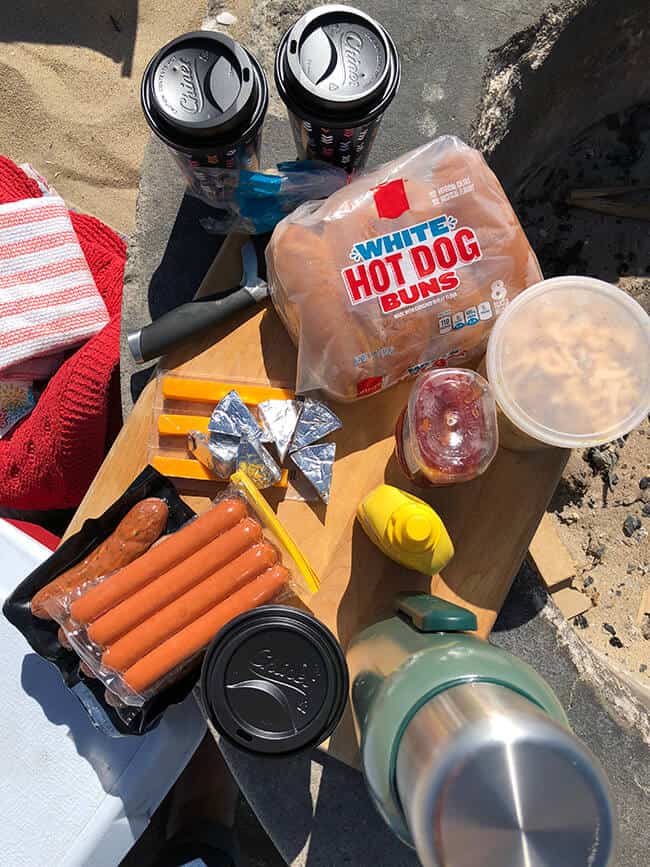 When packing food for a beach bonfire, I have three go-to meals. use these ideas as inspiration! P.s. don't forget to bring supplies for s'mores.
Meal idea #1, the traditional hot dog meal. bring some roasting sticks and let the kids roast their hotdogs over the fire. you can even bring gourmet sausages for the adults. chips, fruit and corn are great sides that are easy to pack. butter the corn and wrap in foil, then place next to the campfire till cooked.
Meal idea #2, you can make foil dinners. cut up veggies, onions and your favorite meats and put them in a foil packet. add your favorite seasonings and a little olive oil or butter. these are super easy, make practically no mess, and you can customize for each person. prepare them ahead of time, then at the beach, lay them on the fire until the food is cooked.
Meal idea #3, make a gourmet picnic. this is my favorite kind of meal. i like to pick up stuff to make a nice cheese and meat board, specially chips and snacks, fried chicken is always fun, pasta salads, soup and hot chocolate.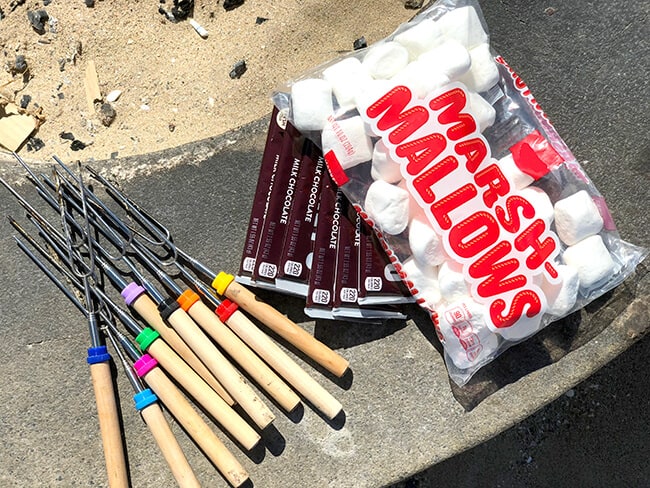 Don't think i am crazy for suggesting soup and hot chocolate. One thing i love to use are these Chinet® insulated hot cups. They make traveling with hot beverages easy, and the double-layer insulation keeps drinks warm and outside cool to the touch. Just fill a large insulated thermos with your favorite soup or hot chocolate and serve at the beach in a Chinet Comfort Cup insulated hot cup.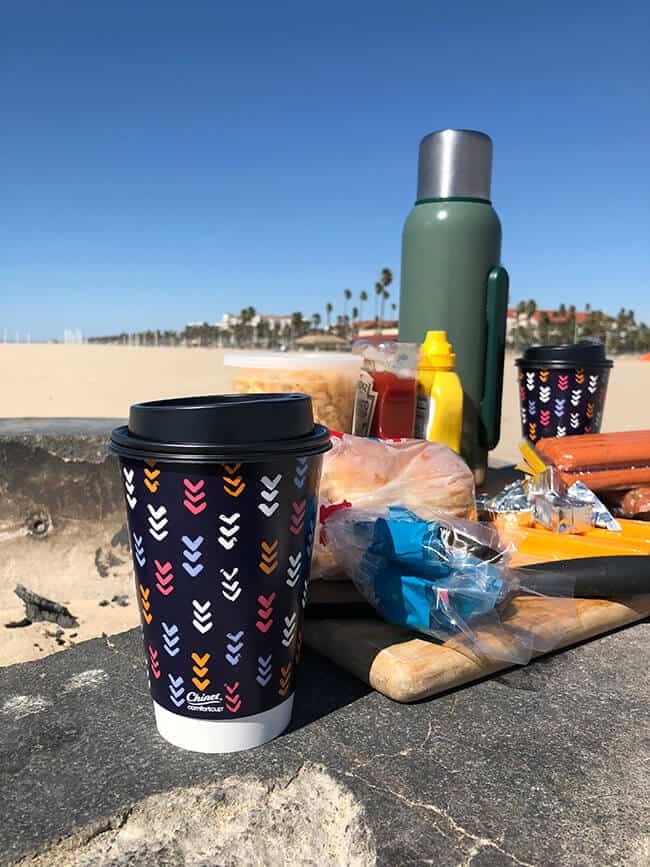 Sipping something warm around the campfire is the best! and these cups are great for all beverages....even adult beverages. They keep things hot or cold and are convenient to carry. since they have an easy fit, snap-and-go lid, your drink is sure to be sand-free. Just throw away when done, which is helpful at a beach bonfire!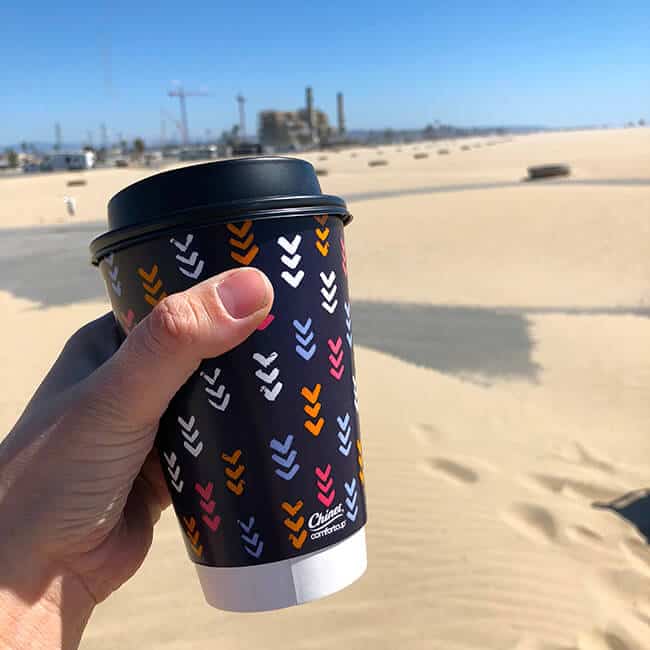 And i gotta tell you, these Comfort Cup insulated hot cups make life on the go so much easier. Not only do they work great at bonfires, they also make life as a busy mom better. they are high-quality and sturdy. I've put my morning drinks in them as i'm running kids to school and doing morning errands – the perfect commuter cup, right? We use them on evening hikes around the OC, and I've used them at my kids class parties at school....they really help preventing all the spills that happen at those events.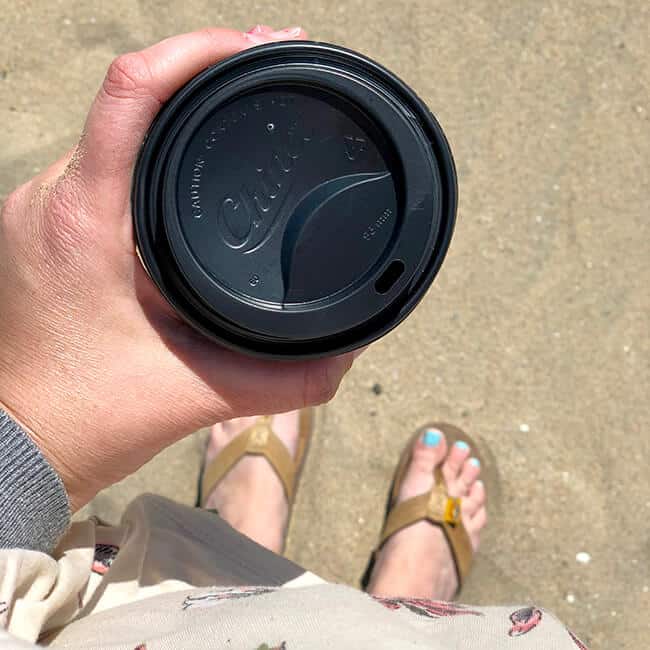 Chinet Comfort Cup insulated cups hold 16 ounces of your favorite beverage, and are available in 18-count at most major retailers. If you can't find them at your local stores, you can find them online here. Did i mention...they are made in the USA?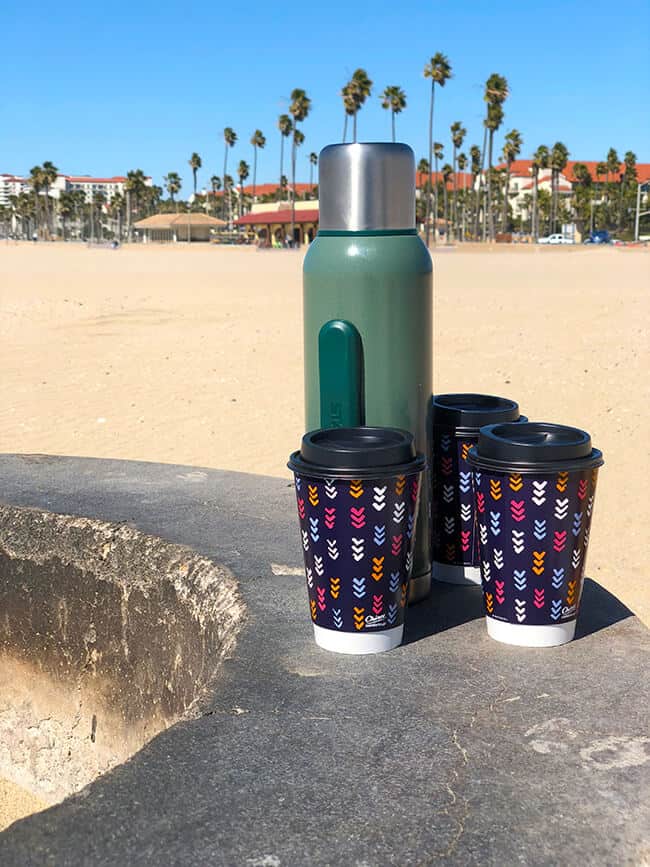 Now that you have your food, you need to know where to take it.
Where to Have Beach Bonfires in Orange County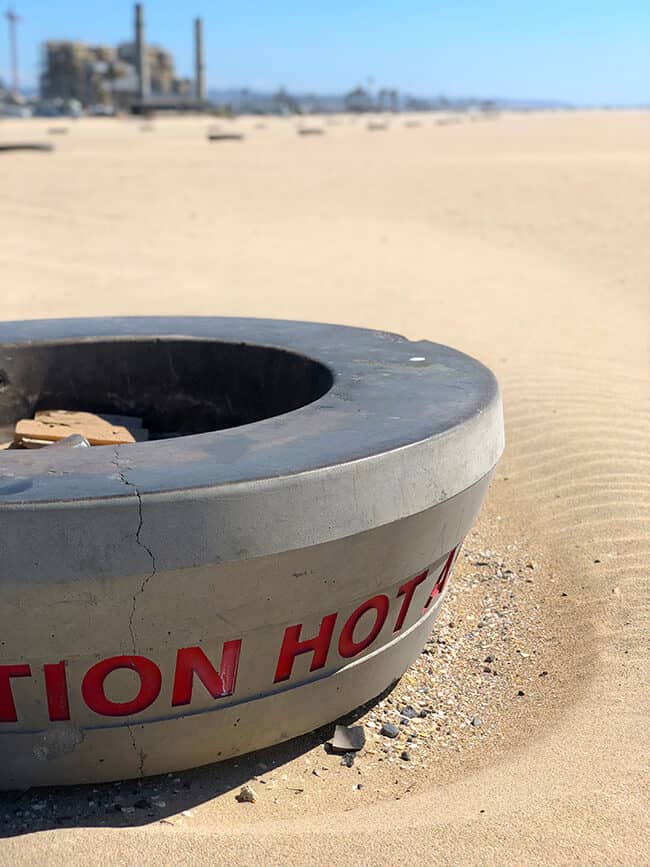 When it comes to having a fire in the OC, you must be careful. as you know our area is very fire prone. there aren't any parks or areas other than near the beach that allow an outdoor bonfire. it's too much of a fire risk. but luckily the beaches are great for that sort of thing. here's a list of beaches in Orange County where you can have a bonfire:
Aliso Beach
Bolsa Chica State Beach
Corona Del Mar State Beach
Crystal Cove State Beach (you can rent from the Beach Comber)
Huntington State Beach
Newport Dunes along the beach
Newport State Beach east of Balboa Pier
San Clemente State Beach
If it's a weekend or holiday, it may be hard to get a campfire ring, so i recommend heading over early in the morning and reserving the one you want. If you're going on the off-season or a weekday, there's usually campfire rings available.
Don't forget to bring some fire making supplies...
What You Need to Build a Bonfire at the Beach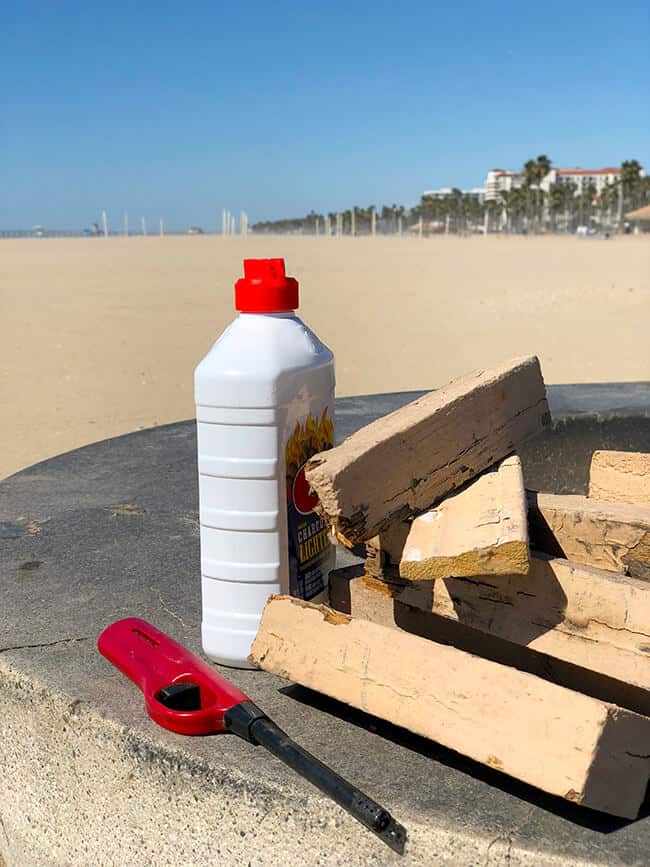 Be mindful when building a bonfire. make sure kids do not jump in the fire pits, as there may be hot coals from previous users. Make sure that you put out your fire completely when you are done. Here are some items that you need to remember to bring:
Matches or a lighter.
Starter sticks. i highly recommend these.
Fire logs. if you don't have any, you can usually find them at a hardware store, or at grocery stores near the beach.
BBQ lighter fluid.
Newspaper.
Kindling or small sticks. you can send the kids out to find these. it gives them something to do.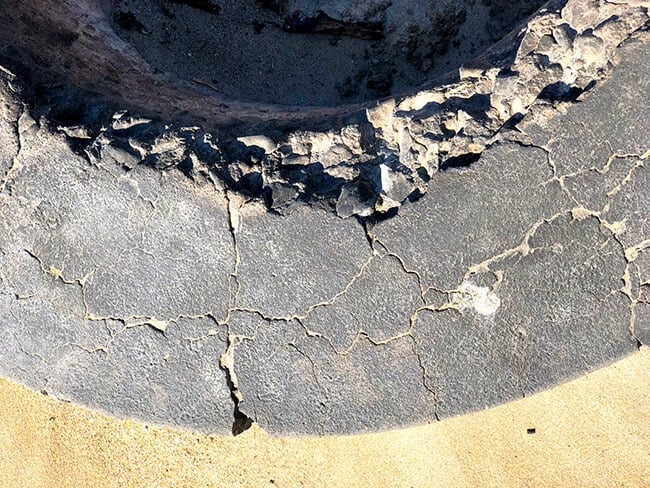 Things You Need for a Bonfire
Finally, you probably want to bring a few items to make your bonfire comfortable. My motto is always less is more – remember, whatever you bring, you have to bring back! So I try to just bring the necessities.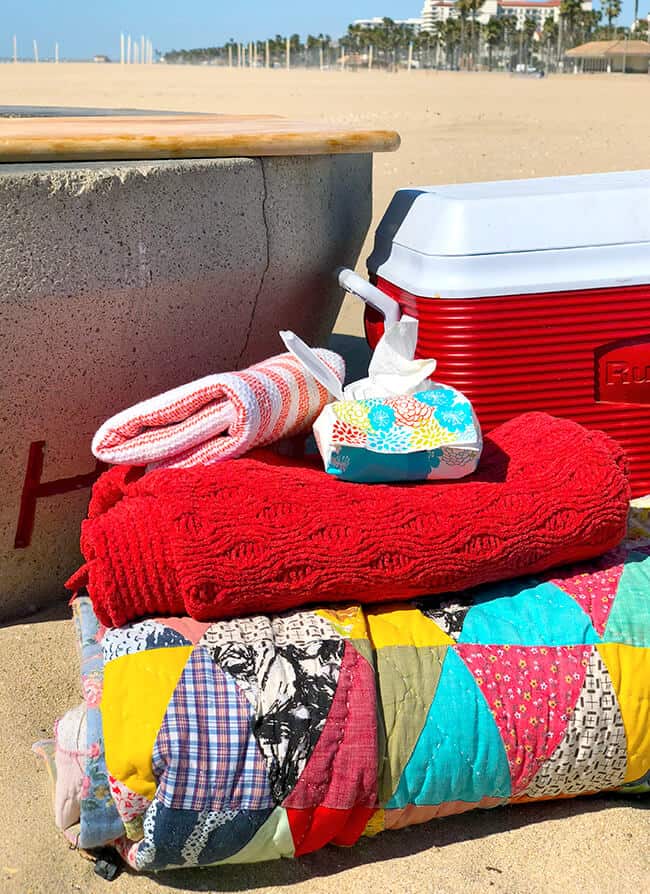 Food. ideas mentioned above.
Fire making supplies. items listed above.
Plates, napkins, trash bag and Chinet Comfort Cup insulated hot cups.
Blankets. i like to use flat sheets to sit on and soft, thicker blankets to cuddle up with. flat sheets are thin and lightweight, making traveling easier.
Chairs. these in my opinion are optional. i usually ditch the chairs, one less thing to carry. blankets make great seats.
Cutting board and knife. you will need these to prepare the food.
Wipes. these a great for dirty hands
Jackets. i suggest also dressing in layers.
Wagon. great to carry food and supplies
Music. either a Bluetooth speaker connected to a phone or a guitar if someone can play.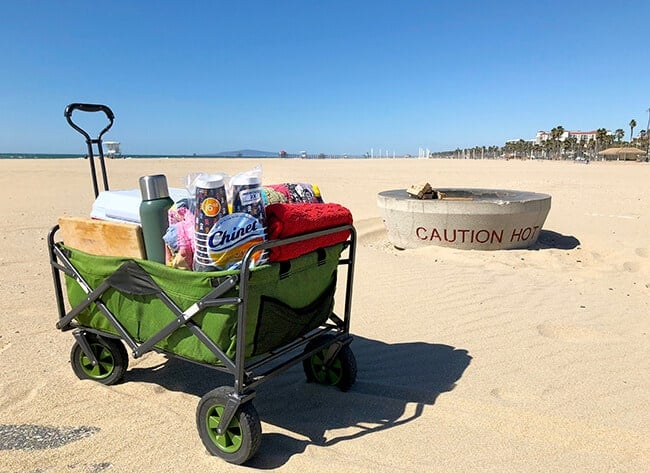 You are now ready to have an awesome bonfire!
All this talk about bonfires is making me excited for Spring Break. however, since Southern California has great weather all year round, you can have a bonfire practically every day of the year. A fun and inexpensive activity that is fun for the whole family!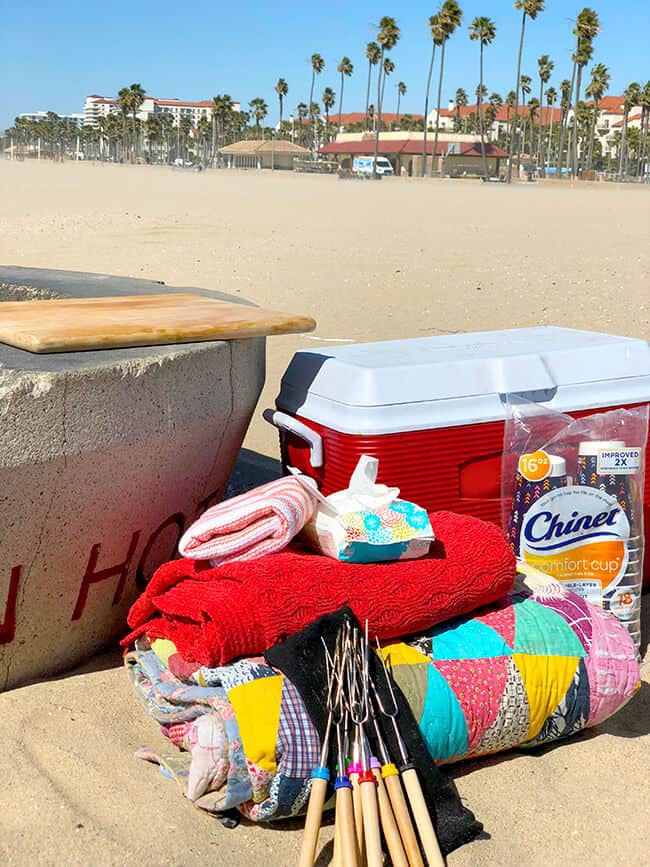 I was selected for this opportunity as a member of CLEVER and the content and opinions expressed here are all my own. Chinet® and Comfort Cup® are registered trademarks of Huhtamaki, Inc. in the U.S. and other countries.