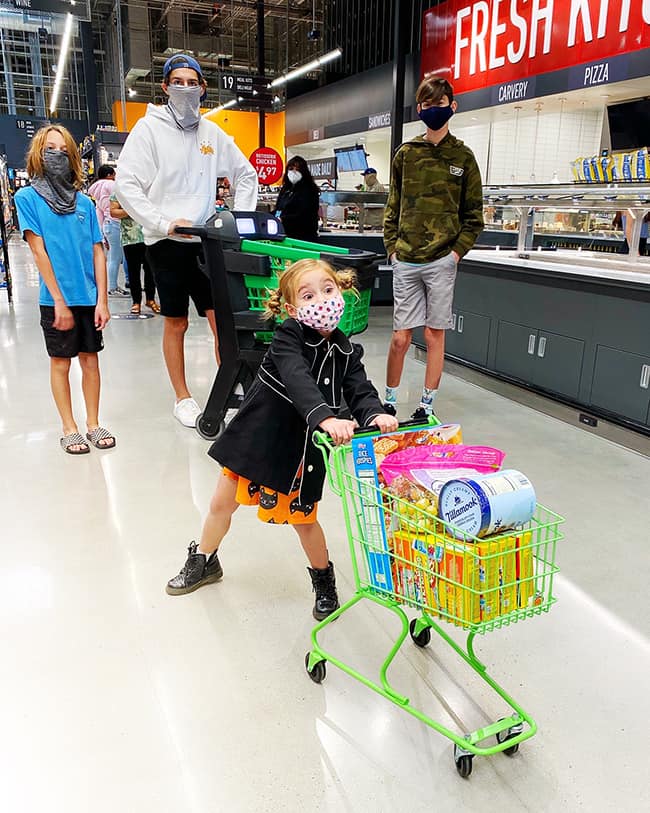 A new Amazon Fresh Grocery Store has come to Irvine, California! This is the first one of its kind to come to Orange County and the kids and I were excited to check it out. We wanted to see what it is all about and how things work. The new Amazon Fresh in Irvine is located in the Marketplace at 13672 Jamboree Road, Irvine, CA 92602. It's really easy to find as it is right off the 5 freeway.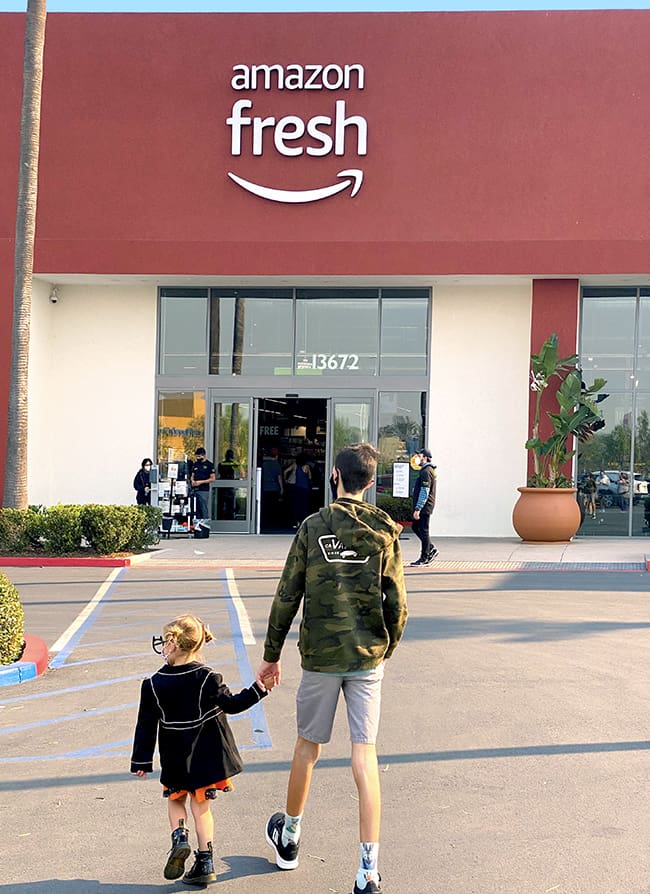 Amazon Fresh's goal is to offer shoppers a seamless grocery shopping experience, whether shopping in-store or online. The store claims it will have consistently low prices for all, and FREE, same-day delivery and pick-up for Prime members. Its goal is to introduce new ways to make grocery shopping more convenient, including the Amazon Dash Cart, new Alexa features to help customers manage their shopping lists and better navigate aisles.
The Amazon Dash Cart
The entire reason my kids wanted to check out the new Amazon Fresh store. The new Amazon Dash Cart is a smart shopping cart that is designed to make a quick grocery trip quicker. This is because it allows you to skip the checkout line. You sign into the cart using a QR code on your Amazon app, then place your bags in the cart. Now it's time to go shopping in the store. When you're done shopping, you can exit through the store's Dash Cart lane without having to go through the checkout. The cart uses a combination of computer vision algorithms and sensor fusion to identify items put into the cart.
Although the Dash Cart was super exciting, we found that it was a very small. It was not big enough to hold all the food we needed to purchased and also work properly. I would say if you need a lot of groceries, it is easier to just use a regular cart.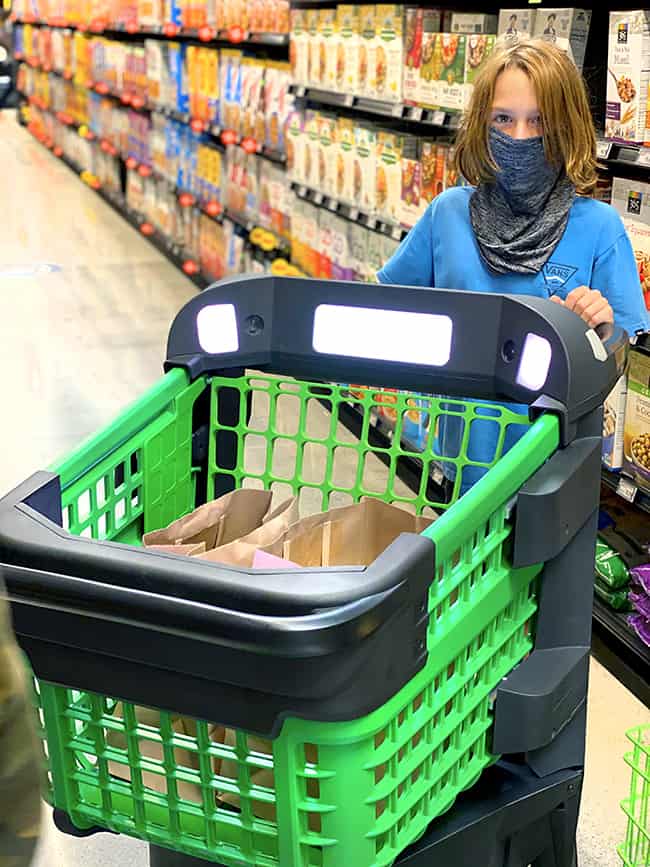 They also have regular carts if you prefer to shop regular, and mini carts for the kids. My daughter was offered some super cute fruit stickers that made her very happy, and added to the whole shopping experience to make it fun. However, we she did run that little shopping cart into a few shoppers. Oops!!!!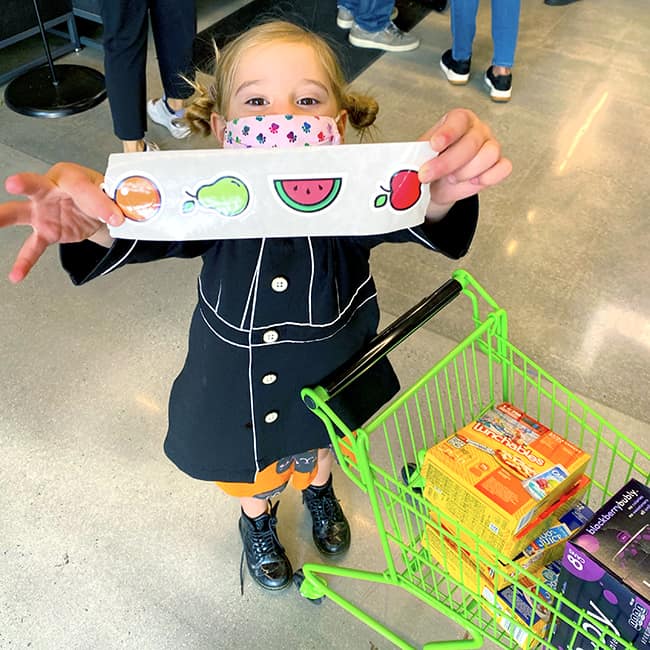 What to Expect at Amazon Fresh in Irvine
At Amazon Fresh we found a wide assortment of national brands and produce, meat and seafood, as well as a range of prepared foods that are made fresh in-store every day.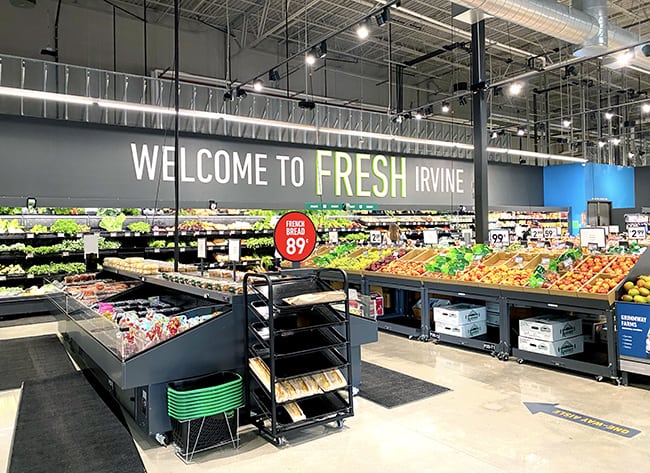 We found anything from fresh-baked bread and made-to-order pizzas, to rotisserie chickens and hot sandwiches like our brisket panini. We also found brands such as 365 by Whole Foods Market organics, plus national brands like Coca-Cola and Kraft Mac and Cheese. It made us happy to find local brands like Good Culture cottage cheese, Tosi snack bars, Mother-in-Law's Kimchi and Rockenwagner Bakery; regional favorites like Duke's Mayo, Ellenos Yogurt and Boston Chowda; and new Amazon exclusive brands like Fresh and Cursive.
Repacked meals and meals to-go are a big thing at Amazon Fresh stores. This really reminds me of Wholefoods!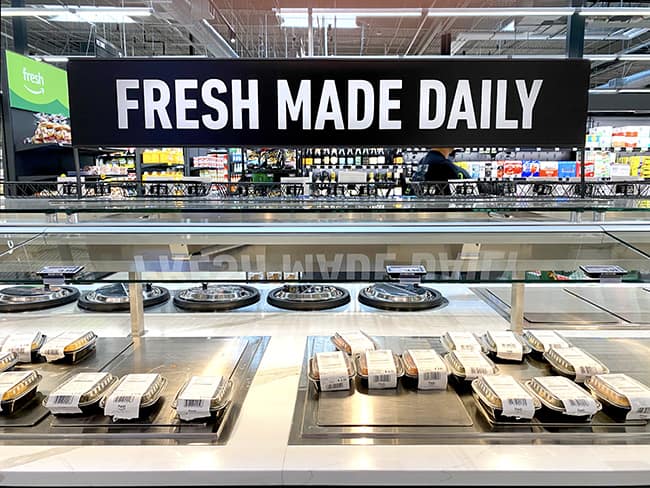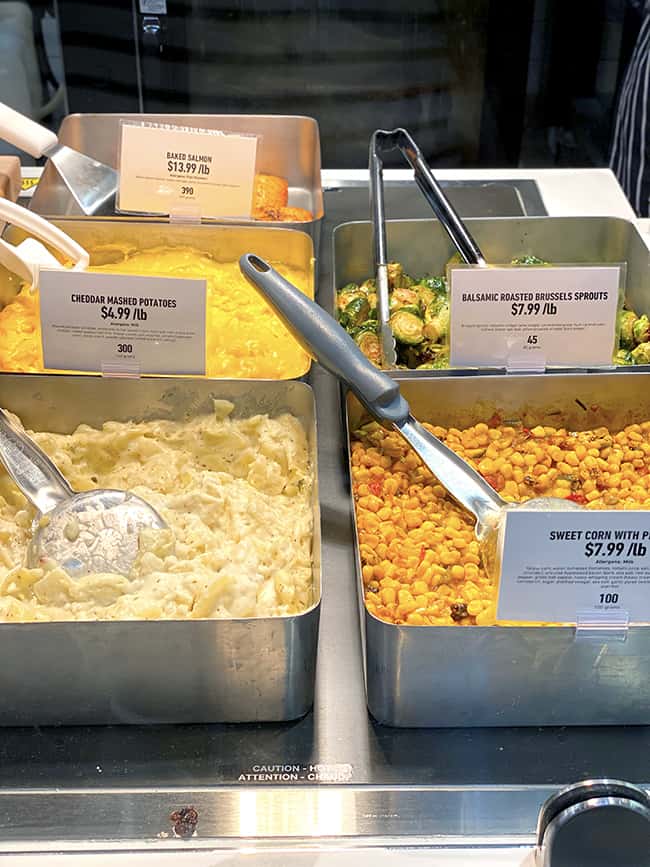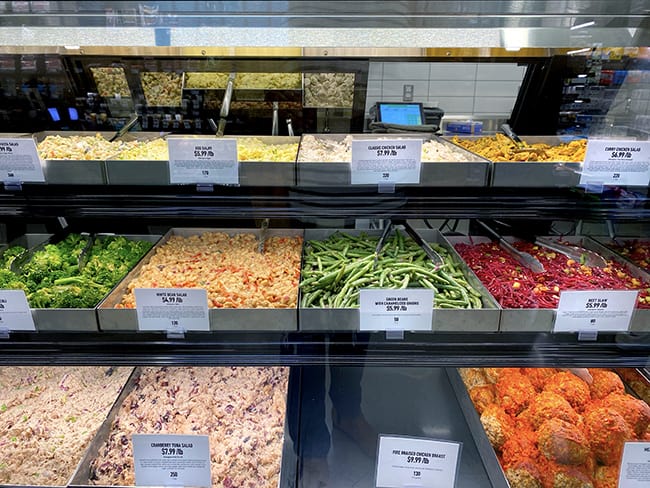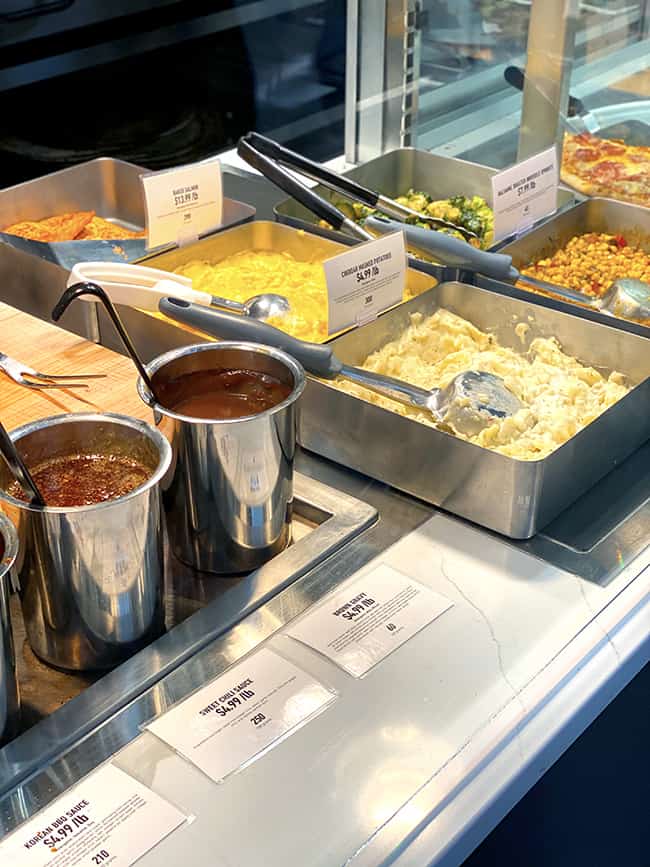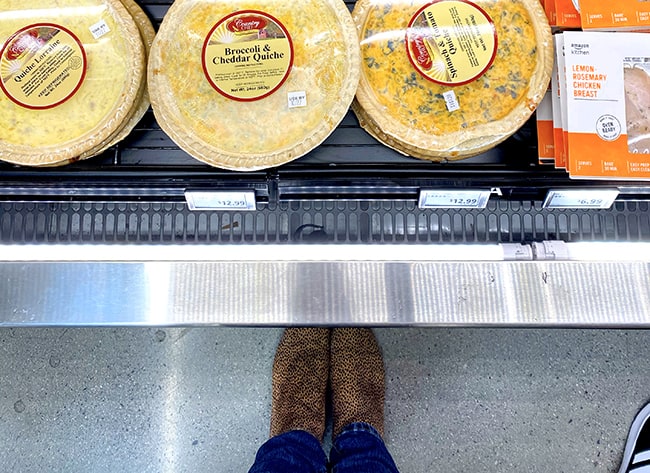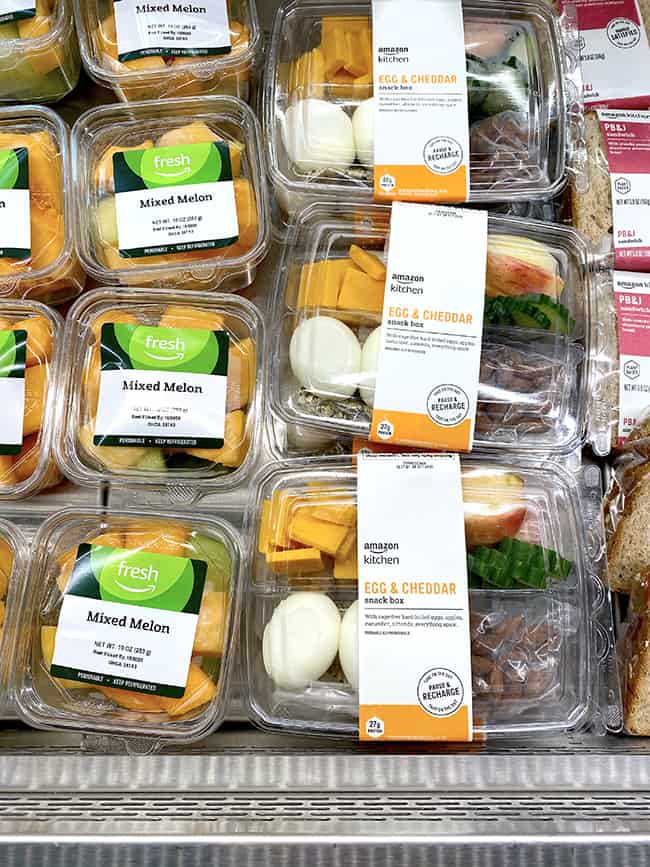 There is also a table area to enjoy your food and beverages at. It will open up as soon as Covid-19 restrictions open up.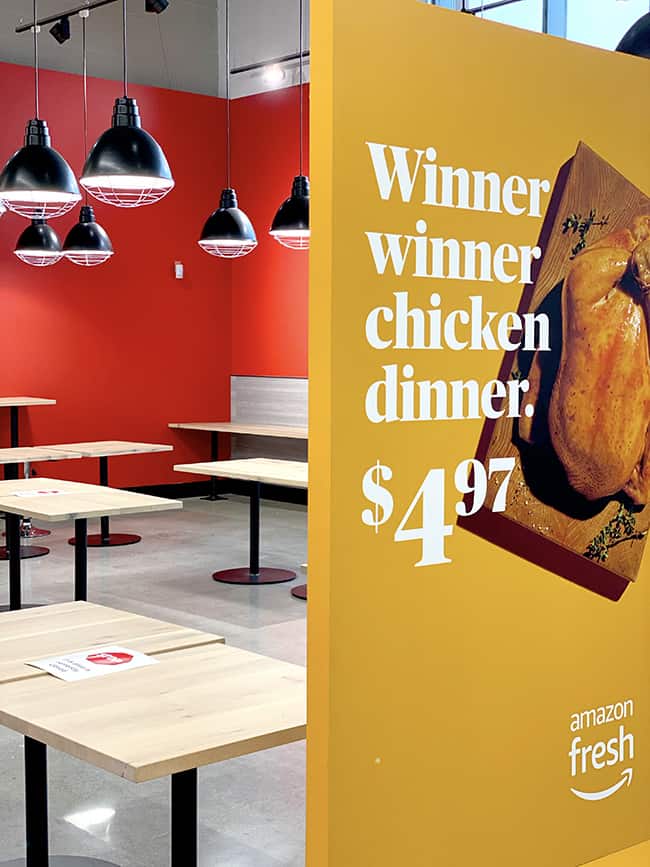 Amazon Fresh claims they offer low prices. For the most part, we found that to be true. Like our favorite ice cream for under $5.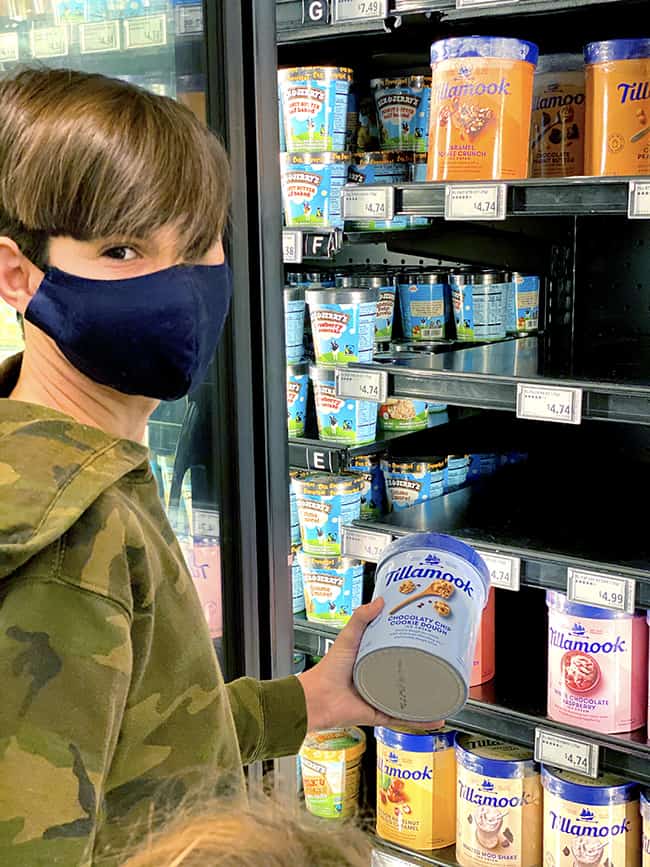 I did notice that the prices were equivalent to the sale prices on the items I normally buy. There were $0.15 cent bananas, $0.89 cent freshly baked bread, $1.79 freshly baked pizza slices and $4.97 rotisserie chickens. I must say that the rotisseries chickens were very tiny! Milk was $2.69, so a great price. My kids especially liked that is came in different shaped jugs.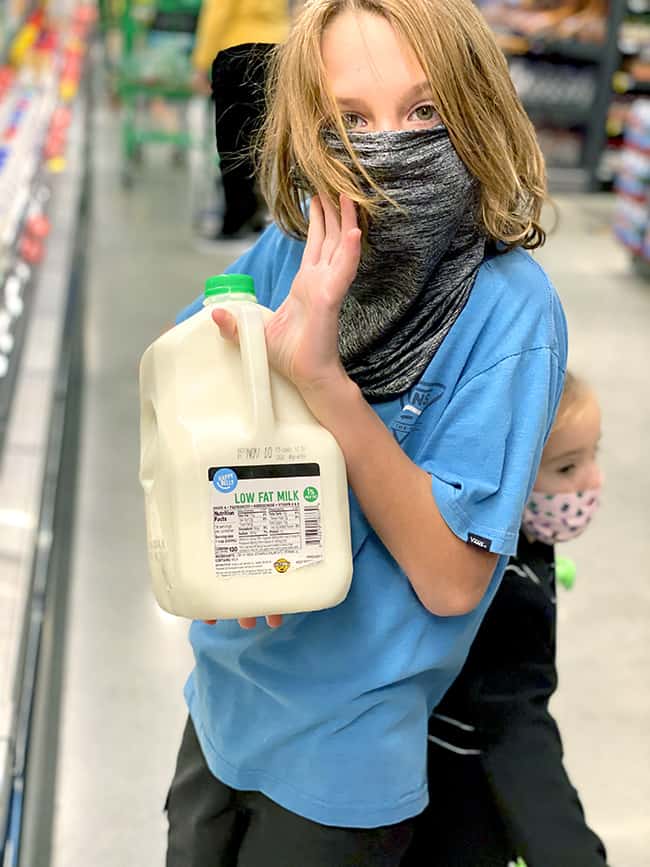 Fun Finds at Amazon Fresh
When it comes to products, we found that Amazon Fresh offered a big selection in some items, and a limited selection in others. We were able to find most of the brands we normal purchase and use...along with a bunch of new ones! This was exciting because we were able to buy some new brands that look really good. We will keep you updated.
It was funny to find cereal of every size on the the cereal aisle. They had regular, family size and even giant size. So. Many. Sizes. The biggest box of Rice Krispies we've ever seen was there....of course we had to buy it.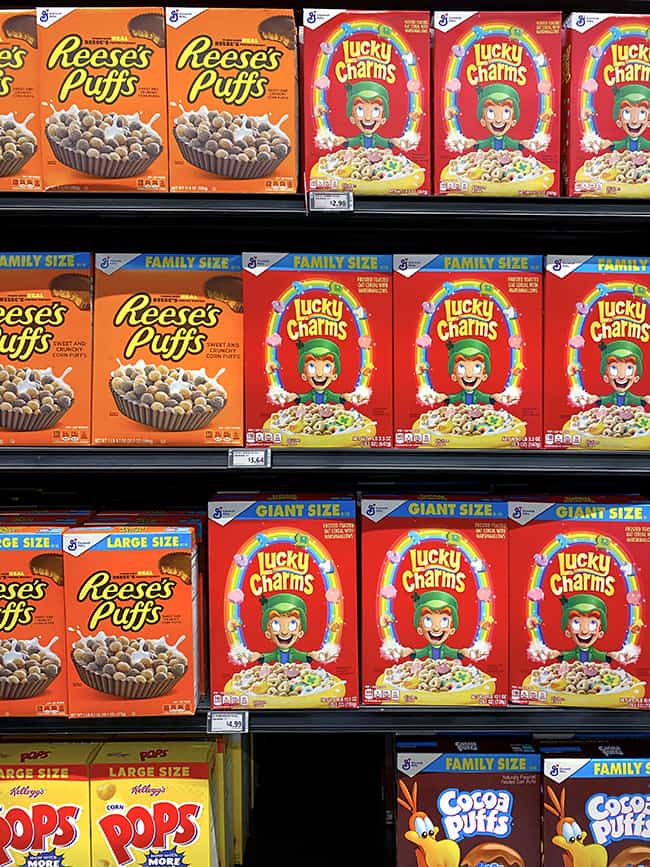 And have you ever seen so many varieties of Hershey's chocolate syrup?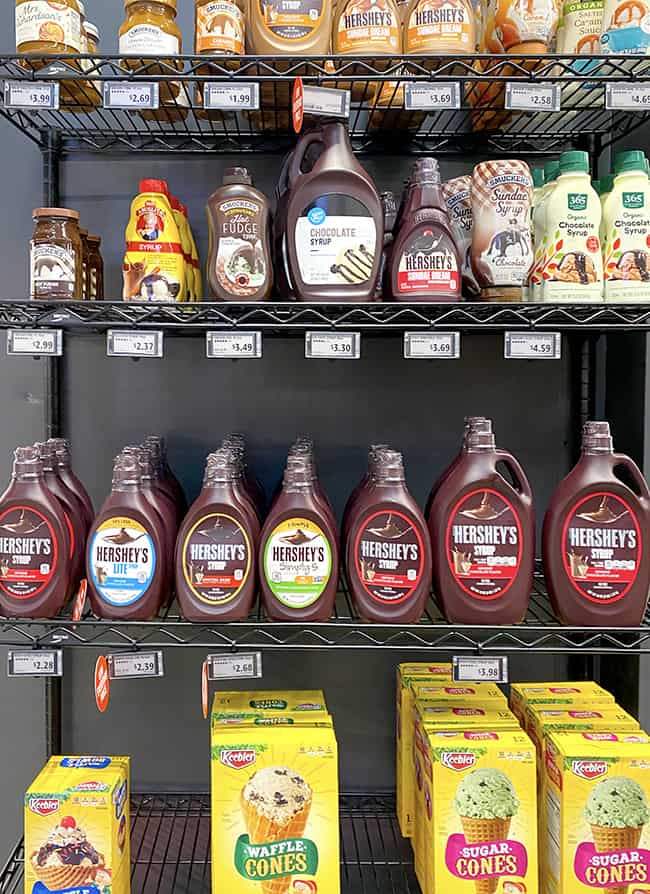 It makes it easy to treat yourself to flowers when they are only $5 a bunch. This is another fun find!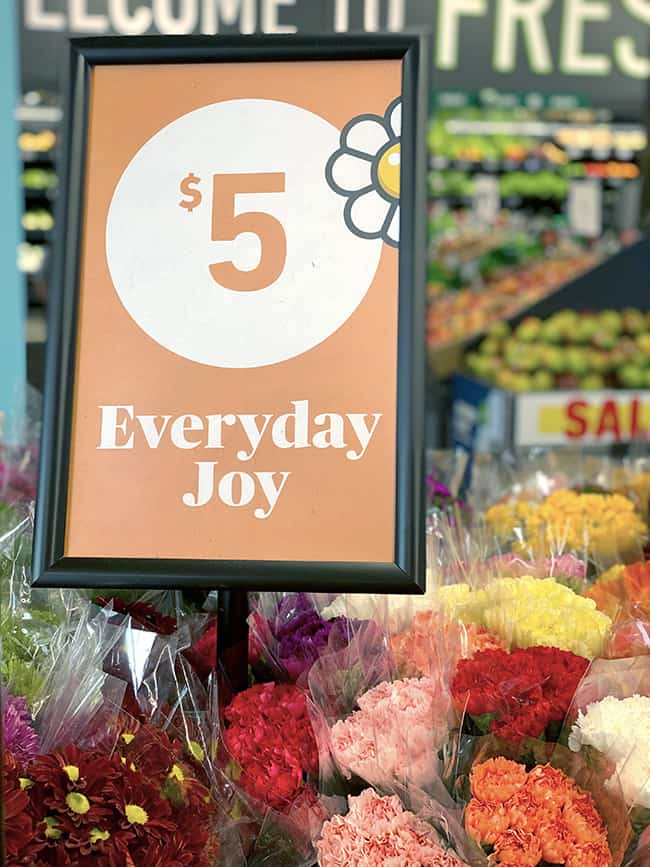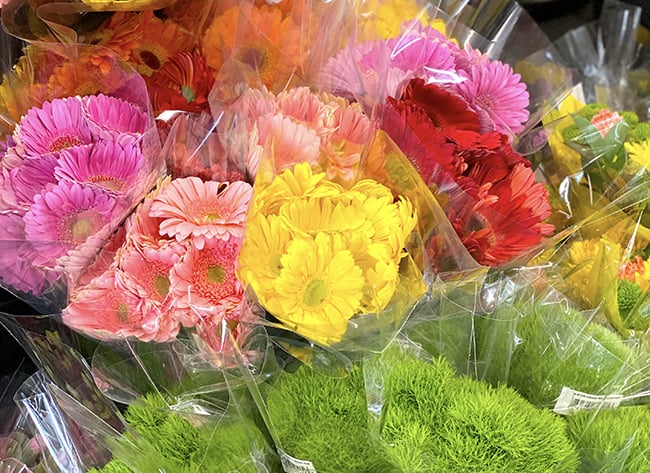 Can You Buy Fresh Meat?
Yes! There is a meat section located inside the grocery store with a selection of seafood, beef, chicken, pork and more. All of the meats are freshly packaged daily and are ready to purchase.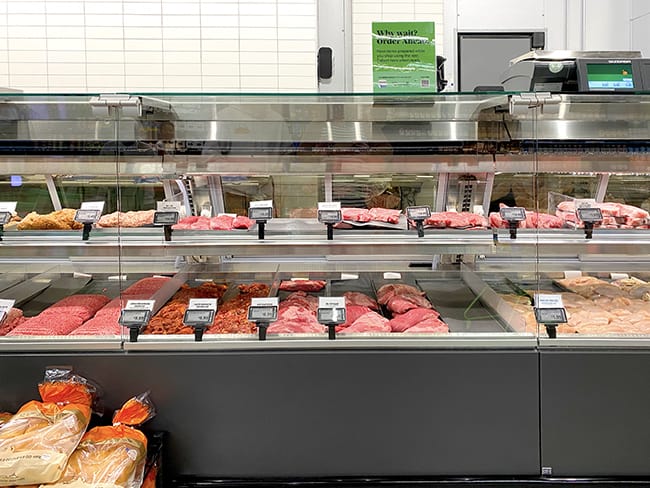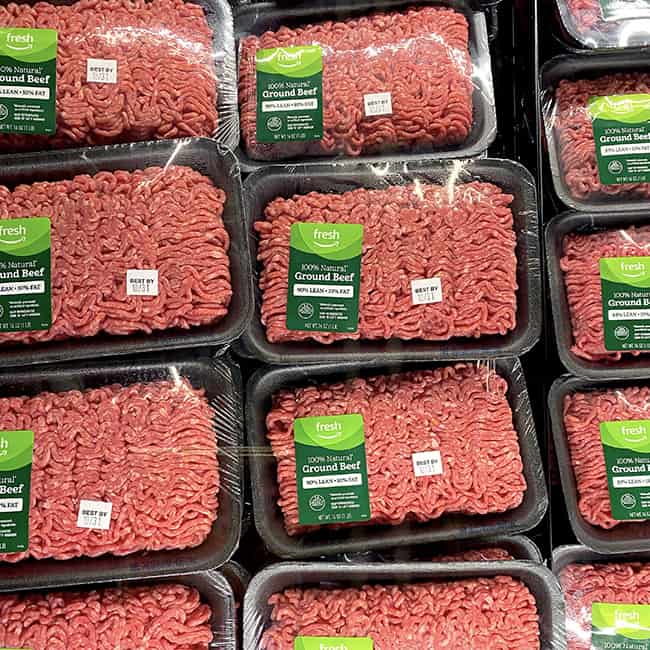 You Can Ship Your Packages!
Get two things done in the same place. Yes, you can I pick up and return Amazon.com packages at the Amazon Fresh store. Your packages can be sent to an Amazon Fresh store for secure delivery. Returns are hassle free—you don't need a box, label, or tape. Also, you can purchase Amazon products such as an Alexa.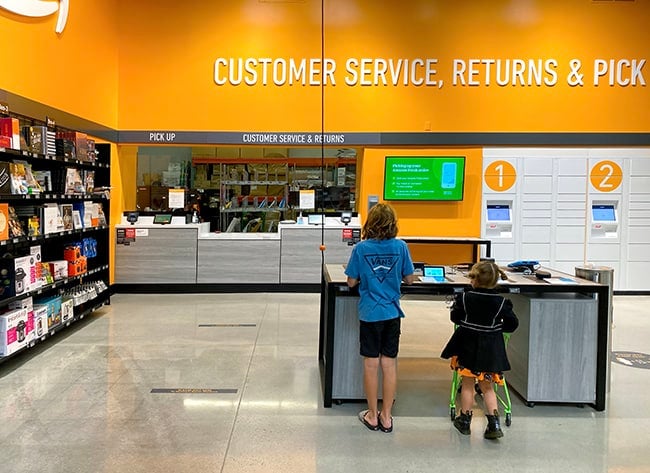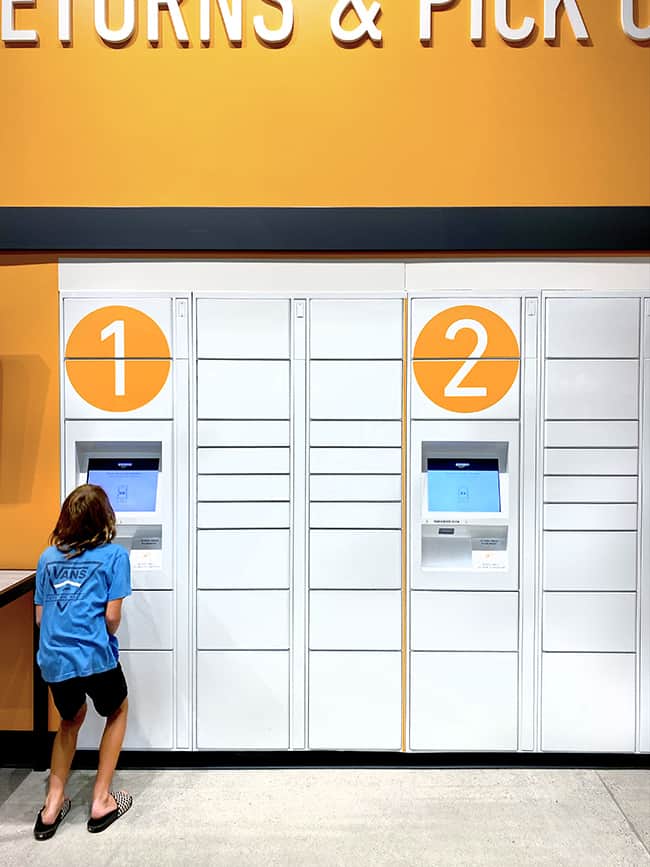 Safety at the Store
Wondering about the safety measures during this time at Amazon Fresh? They applied the same safety measures in place at Whole Foods Market, such as requiring face coverings and daily temperature checks for all employees and vendors entering the store, face coverings for all customers entering the store, also offering free, disposable face masks for those who want one. All stores are operating at 50% capacity. Amazon Fresh has stated that nothing is more important than the health and safety of their employees and customers.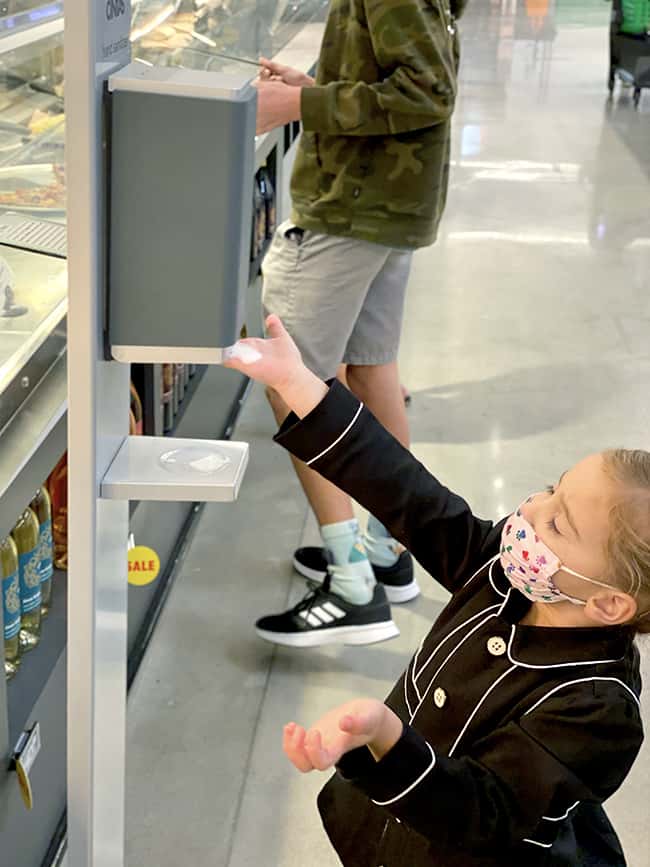 Check out at Amazon Fresh
When checking out at Amazon Fresh, you can choose a couple of options. If you chose a Dash Cart, you can go to the Dash Line. Since the cart has already scanned your items to your app, you just press accept on the app and go on your way.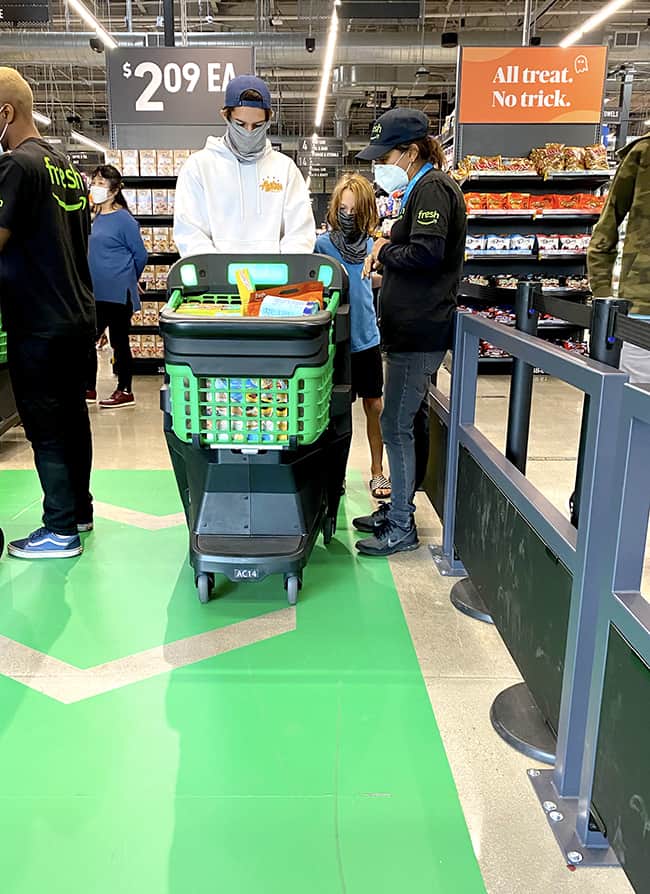 You can also checkout with cash, or use the app at the regular checkout lanes. Amazon Fresh stores accept cash and SNAP benefits at all stores. If you have a bigger haul, this is where you'll go.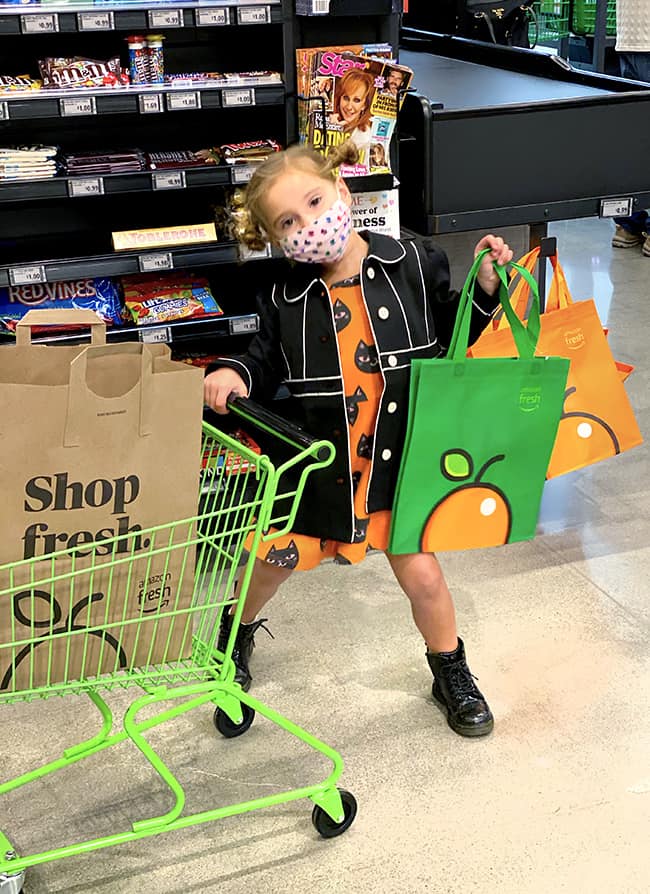 It was fun to check out the new Amazon Fresh store in Irvine. It's always great when new stores open and support the community by creating hundreds of high-quality local jobs. And did you know that Amazon Fresh donates surplus food from its Amazon Fresh stores to local food banks. They have already donated over 180,000 lbs. of food (equivalent to over 150,000 meals). We love that.
Welcome to Orange County Amazon Fresh.