We LOVE Knott's Berry Farm!!! We love it so much that we've been over 100 times and would love to share all our Best Tips for Visiting Knott's Berry Farm with you. Hopefully you can use some of them to make your visit to Knott's extra enjoyable!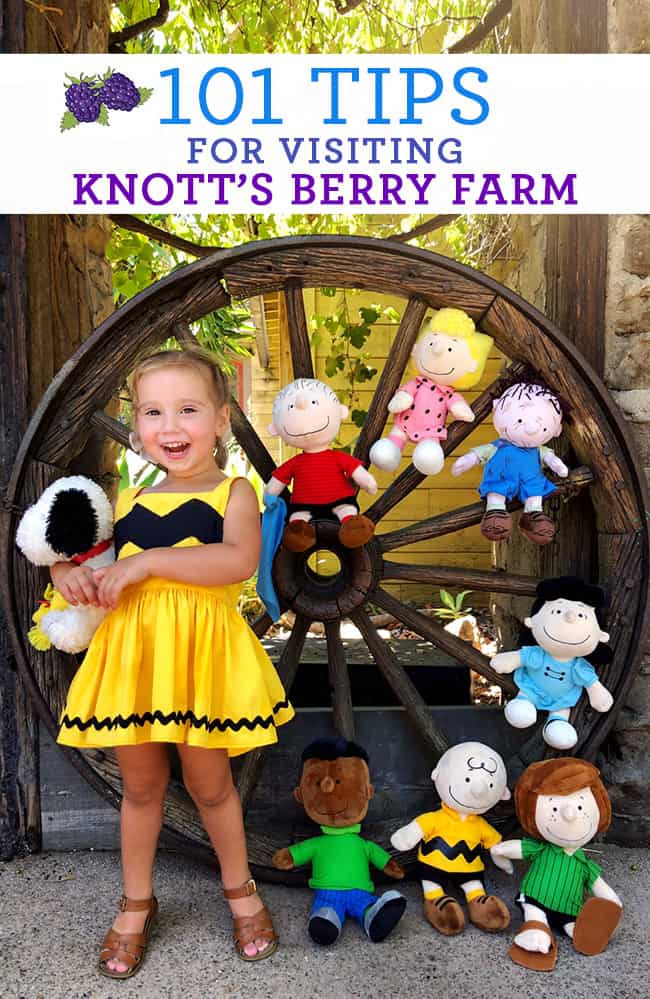 There are 101 Tips for Having the Best Time sat Knott's on this list...Do you have any more??
How to Get the Best Prices at Knott's
1) Pre-purchase your tickets, food and parking online so you are not paying full price at the gate. You can get tickets on the Knott's website for less.
2) You can get discounted tickets on Goldstar!
3) Knott's has bring-a-friend days for Season passholders where you can get up to 4 friends in for a discounted price.
4) Get a Season Pass - for a low price, you can enjoy Knott's all year long. This is the best deal ever in my opinion!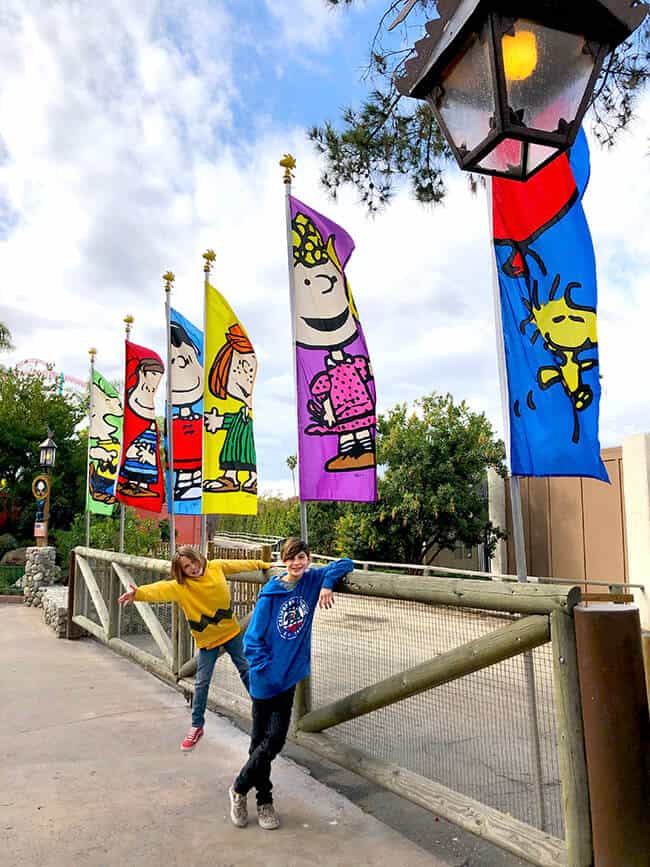 General Tips for Visiting Knott's
5) Check isitpacked.com to check how the general crowds will be in the park that day.
6) Follow Knott's on Facebook and Instagram for special news updates
7) Knott's has fun happenings all year long called Season of Fun - you will want to visit all year long to experience all the seasons!
Peanuts Celebration
Boysenberry Festival
Ghost Town Alive! & Summer Nights
Knott's Spooky Farm
Knott's Scary Farm
Knott's Merry Farm
8) You can rent a locker to hold all your stuff all day. Lockers are located near the Ghost Town Bakery in Ghost Town.
9) There are 4 ATM's inside of Knott's - at Lee's Last Stop Service store near Xcelerator, inside Classic Candy near the Charleston Fountain, at Peppermint Patty's Candy Cabin in Camp Snoopy, and inside the General Store in Ghost Town.
10) Follow the hashtag #KnottsAmbassadors on Instagram for insider tips on visiting Knott's.
11) The First Aid Center is in Ghost Town near Ghost Rider.
12) Buy a Single Day FunPix card to document all of the fun you're having at Knott's!
13) Take a peek into the parks from the comfort of your own home through one of the Knott's Webcams. You may be able to see how crowded it is.
14) Learn more about California History by checking out the California Mission models located throughout Fiesta Village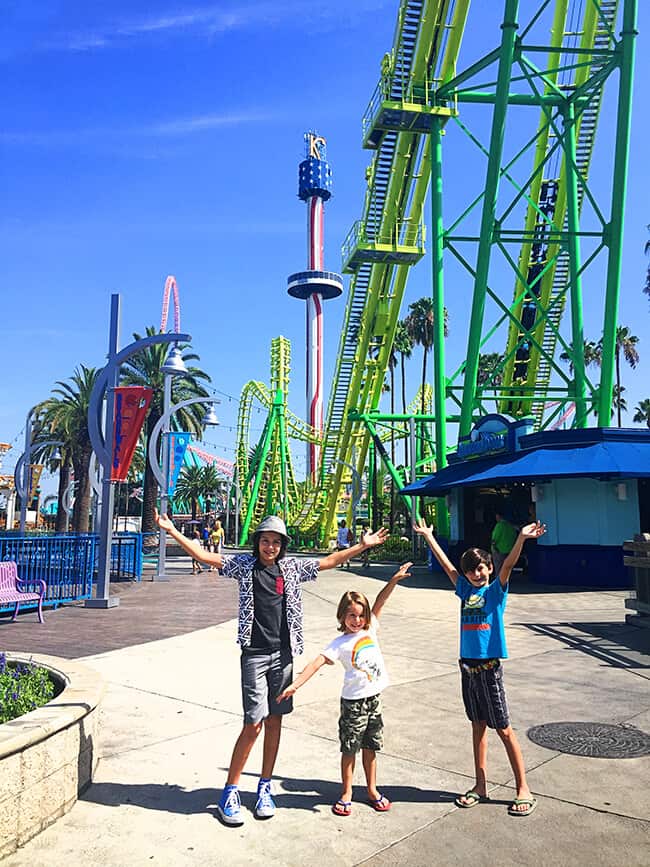 Tips for Rides at Knott's
15) The longest lines in the park is usually Ghost Rider, Pony Express, Silver Bullet and Hangtime. Try to get to the park at opening, and ride these coasters first.
16) Use the Knott's App to check for ride wait times.
17) If you want to skip the lines, you can purchase a Fast Lane Pass for an additional fee. This is AMAZING for crowded days. You only need to purchase for those who want to ride coasters and thrill rides.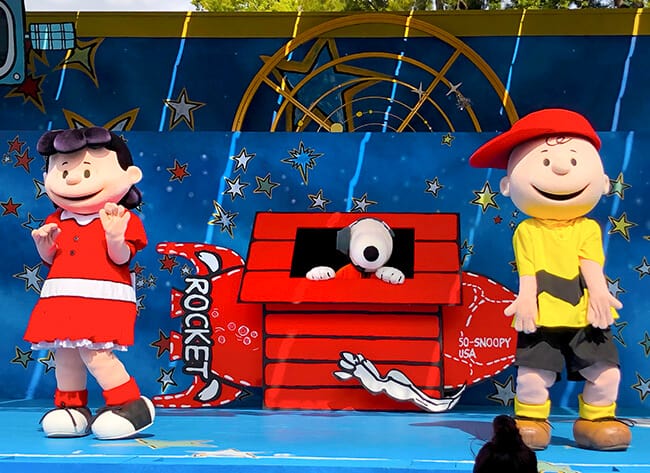 Tips for Shows at Knott's
18) The shows at Knott's are popular, so make sure to arrive at least 15 minutes before the shows begin.
19) The Snoopy on Ice Show happens during Merry Farm, and is a must see!
20) At the Wild West Stunt Show, you can sit in one of the stage coaches if you get there early. Best place to sit if you want some shade.
21) Meet Native Americans at the Native American Dance presentation. It's filled with amazing movement, mesmerizing stories and fascinating culture and history.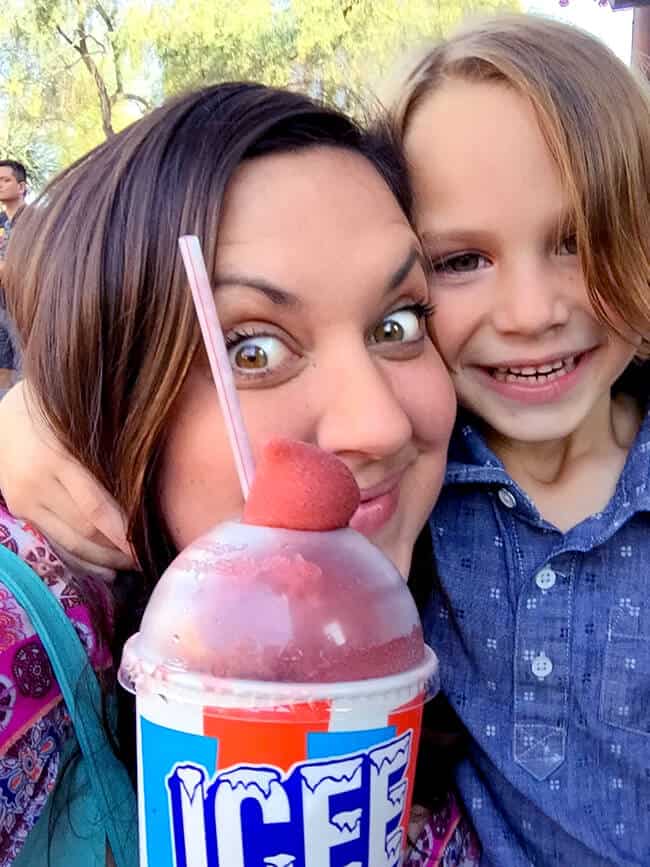 Tips for Knott's Berry Farm Food
22) Purchase a Single Meal Deal online for less than inside the park. Includes one entrée, side and a regular size fountain drink at any of the 16 participating locations throughout Knott's Berry Farm.
23) Purchase an All Day Dining Plan. You'll never go hungry, and you'll save a bundle all day long. Enjoy an entrée and a side at any of the 16 participating locations throughout Knott's Berry Farm every 90 minutes for one low price. (Drinks not included with this one.)
24) These food locations inside Knott's accept Knott's Dining Plans:
Beachy Keen's Pizza
Boardwalk BBQ
Calico Fry Company
Cantina
Coasters Diner
Fiesta Dogs
Fireman's BBQ
Grizzly Creek Lodge
La Papa Loca
Panda Express
Sutter's Grill
Sutter's Pizza
Wilderness Broiler
25) Purchase a refillable drink cup for unlimited refills on the day of purchase. Refills are $1 after that.
27) Want a Knott's chicken dinner but don't want to dine at Mrs. Knott's Chicken Dinner Restaurant? You can get a full chicken dinner to go at Chicken-To-Go located outside the park next to Mrs. Knott's Chicken Dinner Restaurant. You can even bring it into the park.
28) Make reservations for Mrs. Knott's Chicken Dinner Restaurant on OpenTable so you don't have to wait in line.
29) There are Starbucks located at the entrance to Knott's and inside the park at Gourmet Coffee Hut near the Charleston Fountain. Hint: You can get the exclusive Boysenberry Frappuccino year round at the Starbucks located just outside the entrance.
30) Funnel cakes, popcorn, and churro sundaes make great sharable treats.
31) There is a Johnny Rocket's and a Panda Express located within the park if you are looking to get food that is more familiar to you.
32) At the Classic Candy Store, they sell 2-foot licorice ropes in lots of yummy flavors. It's buy 2 get 1 free!
33) You can get a boysenberry pie milkshake at the Ghost Town Grill. AMAZING
34) Need to feed a family. You can purchase full sized pizzas at Wagon Wheel Pizza, Beach Keen's Pizza and Sutter's Pizza
35) You can purchase alcohol at Judge Roy Bean's Hitchin' Post, the Calico Saloon, Boardwalk BBQ and the Cantina.
36) You can get the best deals on single cookies, cupcakes and donuts at the Ghost Town Bakery.
37) Knott's sells Boysenberry Icees, a flavor only sold at Knott's.
38) Want to have a special Snoopy experience while eating breakfast? Go to the Amber Waves Breakfast Buffet at the Knott's Hotel. Snoopy comes during breakfast for a visit. Make sure to double check the times at which he comes.
39) You can bring a small amount of food into the park for those with dietary restrictions. Just don't bring in fast food with the wrappers still on. Make sure to pack it in ziplocks and tupperware containers. You can also bring unopened water and sports drinks into the park.
40) The best donuts are found at DoughKnott's located near the entrance to Knott's Berry Farm.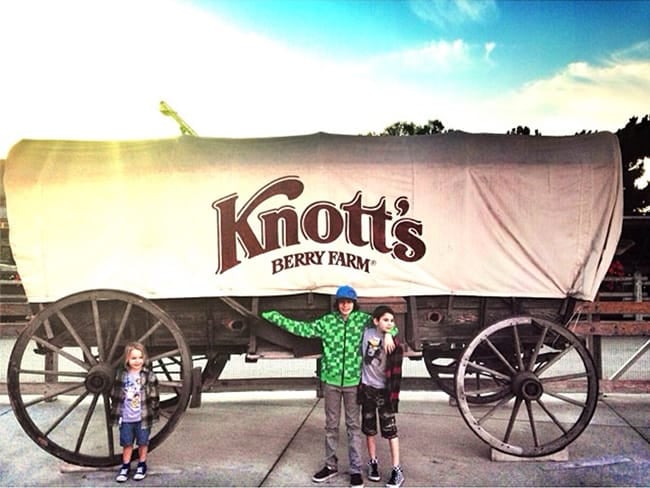 Tips for Knott's Season Pass Holders
41) Season Passholders get early entry into Knott's all summer long.
42) Use your Season Pass to get 10% - 20% discounts on food and merchandise. Save 15% at the Knott's Berry Farm Hotel.
43) Join Knott's Season Passholders Group on Facebook, and/or search for Knott's Groups on Facebook to chat with other Knott's Season Passholder's and fans!
44) You can load your Season Pass (and other family member's passes) onto the Knott's App on your phone so that you don't have to get your season pass card out.
45) Purchase an All Season Souvenir Bottle for unlimited drink refills all year long.
46) There's a new refillable popcorn Snoopy bucket. You can refill with popcorn for $1 all year long.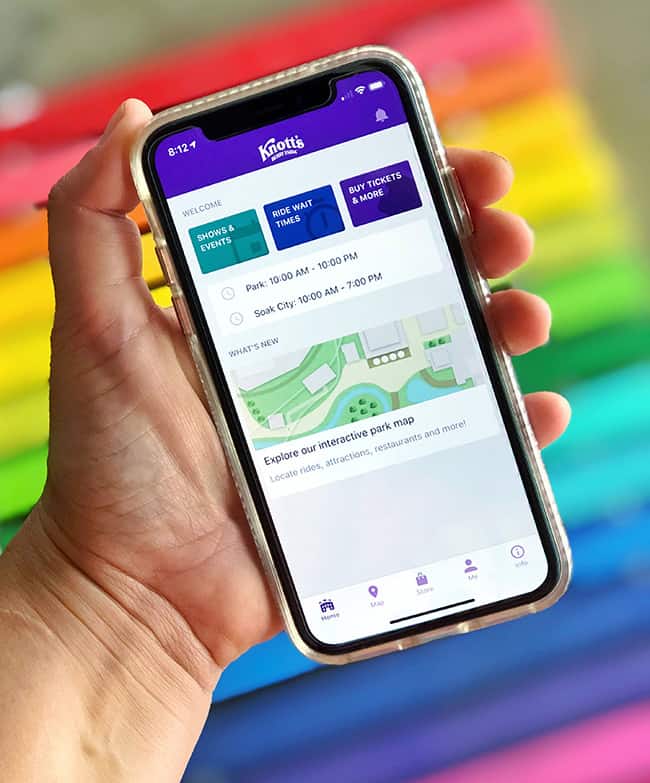 Tips for Using the Knott's App
46) Trust me. Load the Knott's App onto your phone. It can help you navigate the park with ease.
47) The interactive map on the app helps you find your location and every ride, restaurant, shop and show easily.
48) While inside the interactive map, choose the category you would like to view. Then press the location symbol on the top right of the screen for detailed descriptions.
49) Knott's App has show times and wait times for all the rides!
50) Knott's App has sections for all the rides in categories so you can choose the ones that are best for you – coasters, thrill, family, and kids.
51) You can attach your FunPix photos to the app.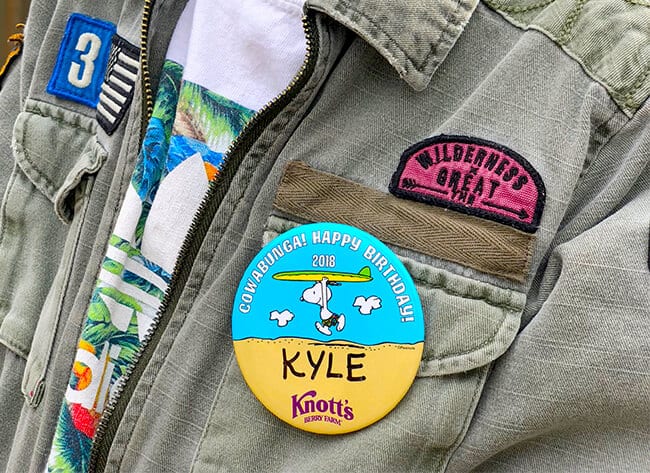 Tips for Birthday Parties at Knott's
Although Knott's doesn't have a formal birthday package, you can still enjoy your birthday at Knott's. Read this blog post on How to Celebrate Your Birthday at Knott's, and follow these tips below for the best Knott's Birthday ever.
52) Get a Happy Birthday Button at Guest Services.
53) Purchase Happy Birthday Snoopy Ears
54) The Knott's Bakery sell birthday cakes that are delicious and very reasonable in price.
55) During Ghost Town Alive! you can have the birthday person's name added to the newspaper. Just talk to one of the characters.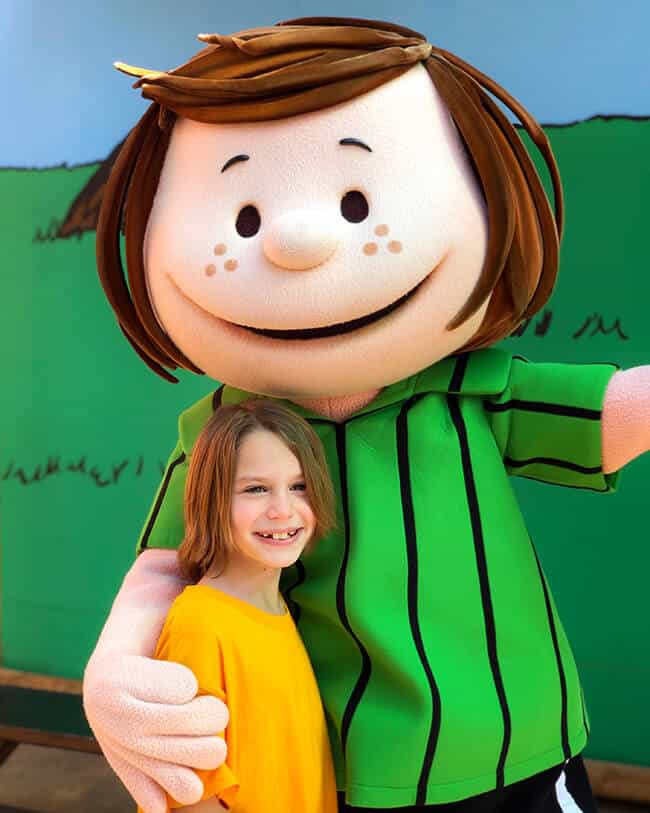 Tips for Knott's with Kids
56) Use the "Parent Locator Service" for your kids. Register your child with the Information Office when you arrive, so that if he or she is found without you, your cell phone number will be on file. They give you wristbands to help.
57) Camp Snoopy has the most of rides for kids and toddlers...plus a cute Snoopy show at the Campy Snoopy Theater, a family-friendly restaurant called Grizzly Creek Lodge and a baby changing center.
58) Use the Knott's App to check height restrictions ahead of time to avoid meltdowns
59) Visit and get your picture taken with Snoopy and the Peanuts gang at Beagle Scout Headquarters located near Flying Ace. Snoopy and his friends are there throughout the day. Your best chance to catch them is directly after the shows at the Camp Snoopy Theater.
60) If there a lot of day camps when you are visiting, save visiting Camp Snoopy until the afternoon when the day camps start to leave the park.
61) Cheapest souvenirs are pressed pennies. Make them at the Penny Press near the Mystery Lodge. You will need two quarters and a penny for each pressed penny you want to make. You can even buy a pressed penny book at the Mystery Lodge to keep them organized.
62) There is a mini play area in Camp Snoopy with logs to climb on and shade.
63) Are your kids too short to go on the Calico Rapids River Ride? Walk down to the area near the entrance of Pony Express. There they can have fun blasting the Calico River Rapids riders with water while you wait for the rest of your party to ride it.
64) There is a carousel in Fiesta Village with lots of cool vintage carousel animals. It's a great ride for younger kids to enjoy while the big kids go on the other rides in Fiesta Village.
65) In Camp Snoopy, there is a suspension bridge that takes you into a cave behind the waterfall. It's fun and cool!
66) Are your little ones thrill-seekers? Have them board their first roller coaster, Timberline Twister in Camp Snoopy.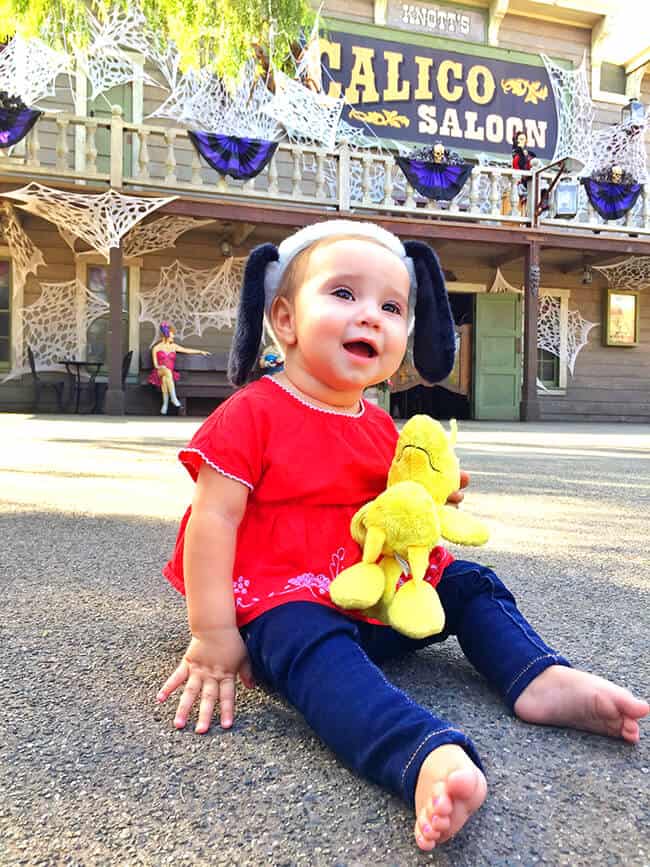 Tips for Knott's with Babies
66) There is a nursing room with changing tables and rocking chairs located in Camp Snoopy near the Timberland Twister. (kiddie roller coaster)
67) Addition Baby Changing Stations at located at the Mystery Lodge, Excelerator Bathrooms and the Market Place (outside the park near Mrs. Knott's Chicken Dinner Restaurant).
68) Need a shady spot to rest? Here are some of my favorite shady spots around Knott's:
Ghost Town near the Pitchur Gallery
Camp Snoopy near the waterfall and Grizzly Creek Lodge,
Under the patio cover at Boardwalk BBQ
Tables and area near Charles M. Schultz Theater and Wheeler Dealer Bumper Cars
Entrance near the Mystery Lodge
69) They sell baby necessities at Snoopy's Camp Store
70) Knott's allows strollers and wagons into the park.
71) Use Parent Swap and avoid having to stand in line twice for height-restricted rides.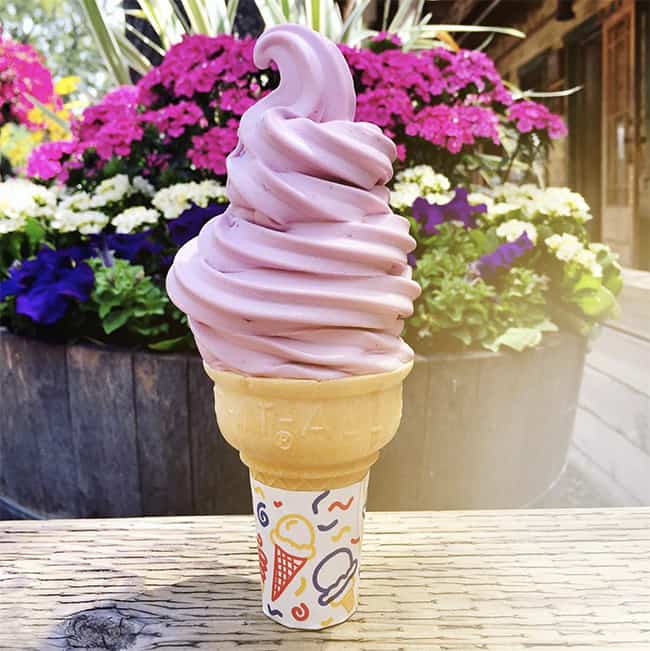 Tips to Stay Cool at Knott's
72) Get wet on the water rides. Timber Mountain Log Ride and Grizzly Creek Rapids are the two rides at Knott's Berry Farm that have water. Make sure to bring extra socks or to wear waterproof shoes to avoid having to walk around in wet shoes all day.
73) Head into one the indoor shows to rest your feet and some air conditioning. (Charles M. Schultz Theater, Birdcage Theater, Calico Saloon)
74) Eat a meal inside one of the Knott's restaurants.
75) Bring a portable fan or water misting spray bottle.
76) Boysenberry soft serve from The Churro Factory. Enough said.
77) Purchase a cooling bandana to take with you into the park. These work great!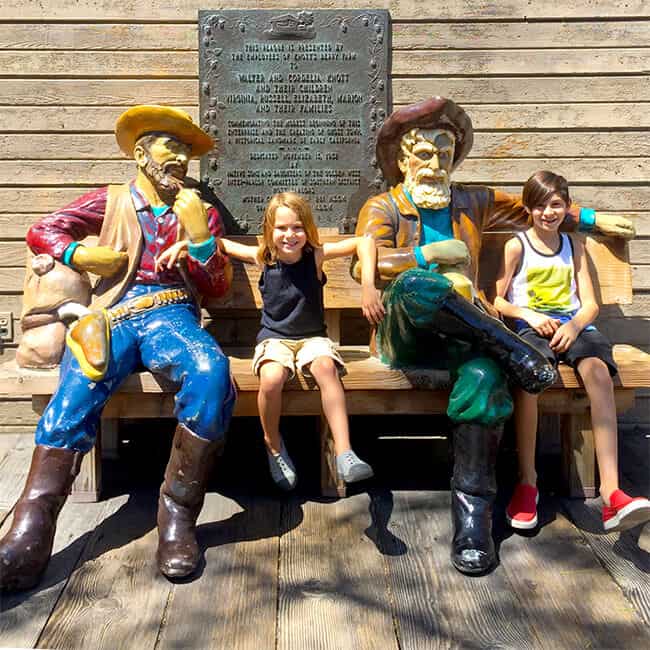 Tips for Visiting Knott's for the First Time
Although there are tons of great things to do at Knott's, these are my tops picks if you are visiting for the first time!
78) Ride the Timber Mountain Log Ride and Calico Mining Ride. These rides are iconic.
79) Eat at Mrs. Knott's Chicken Dinner Restaurant. The fried chicken is famous, and the reason Knott's is here today.
80) Visit Calico Ghost Town. This is the oldest section of Knott's and full of history. If you see a cowboy or one of the townspeople of Calico, ask them to tell you a little bit about the history.
81) Take a picture with the cowboy statues next to the Calico Hotel and the saloon girl statues near the Calico Saloon.
82) Get your family photo taken at the Pitchur Gallery. They dress you up in western wear and take an old fashioned photo. It's an amazing keepsake and so much fun.
89) Visit the Berry Patch across from Silver Bullet to learn more about the little berry that started it all, the boysenberry, which helped create California's First Theme Park.
83) Now you must get a slice of boysenberry pie at the Ghost Town Bakery, Farm Bakery, Mrs. Knott's Chicken Dinner Restaurant or Ghost Town Grill since boysenberries were founded here.
84) See a show at the Charles M. Schultz Theater. Snoopy on Ice or the summer shows are top notch entertainment.
85) Get a funnel cake. Preferable topped with boysenberry topping.
86) Ride the Calico Railroad. You may get a visit from some robbers in this real life working Steam Engine.
87) If you are brave enough to ride Hangtime, do it! It's the first and only dive coaster in California, and towers over 150 feet with a beyond vertical drop. Yikes!
88) Take a jar of Boysenberry preserves home with you to enjoy Knott's after you leave.
90) You can ride a real stagecoach pulled by the Knott's horses. It's located near Calico Square next to the entrance of Fiesta Village.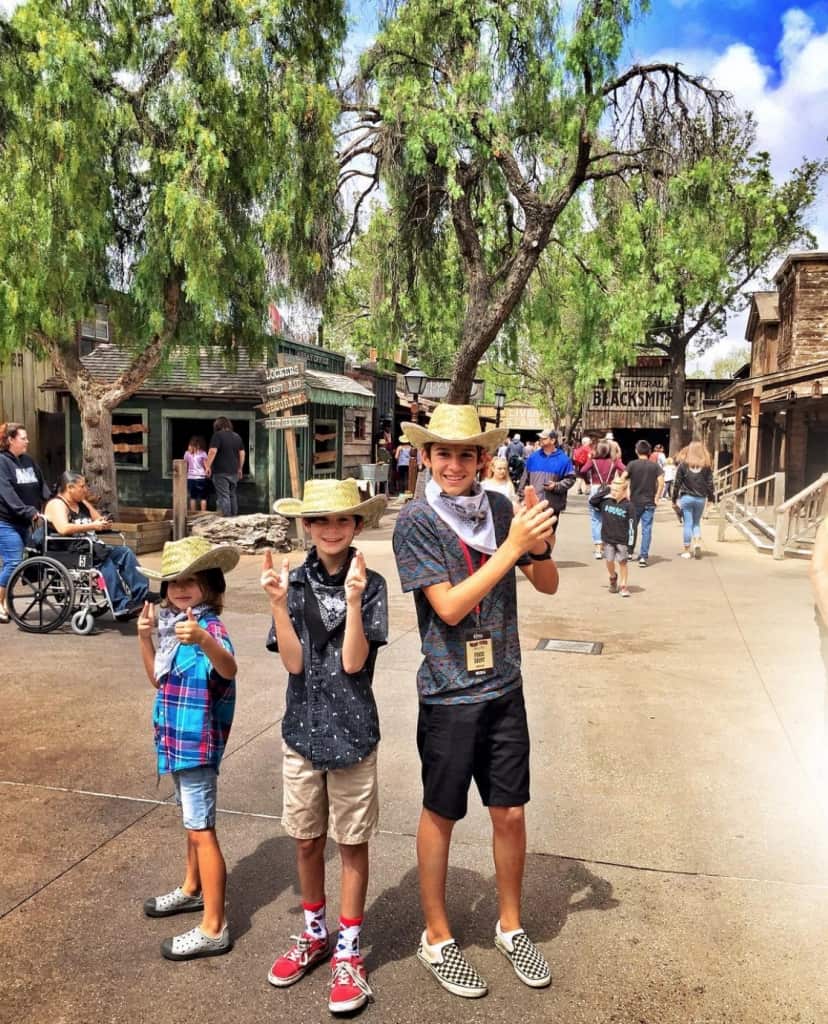 Tips for Visiting Calico Ghost Town
Calico Ghost Town is the oldest area of the Farm. Here are some fun things to check out while in town.
91) Say hello to Sad Eye Joe–he's been serving (on the wrong side of the law) a LONG time! He's locked up in a jailhouse in Ghost Town, where he's been sitting since 1880. If you peek through the bars, he'll talk to you. Want Sad Eye Joe to surprise your friends? Tell the hotel manager some information about them.
92) Find the beating heart grave at the Boot Hill Cemetery. You must stand on top of the graves to feel the heartbeat.
93) You can pan for real gold at Knott's. Panning for gold is located near the entrance for Ghostrider.
94) Visit the Blacksmith and have him show you a demonstration on making horseshoes.
95) Bird Cage Theatre hosts great musicals and shows throughout the year. Stop by and rest your feet while watching one of their iconic shows.
96) You can meet the real animals of Knott's at the Livery Stable.
97) Visit the Old Schoolhouse. A real school house from 1879 that was brought to Knott's Berry Farm in 1952. The teacher in the schoolhouse is a real historian and will tell you all about it.
98) Visit the Western Trails Museum, located across from the Bank. It is filled with curiosities from the days of old.
99) You can watch people actually knit and sew year round in Ghost Town.
100) See "live" baby rattlers next to Boot Hill Cemetery
101) Pump water at the old water pump in front of the Pitchur Gallery. Kids love this!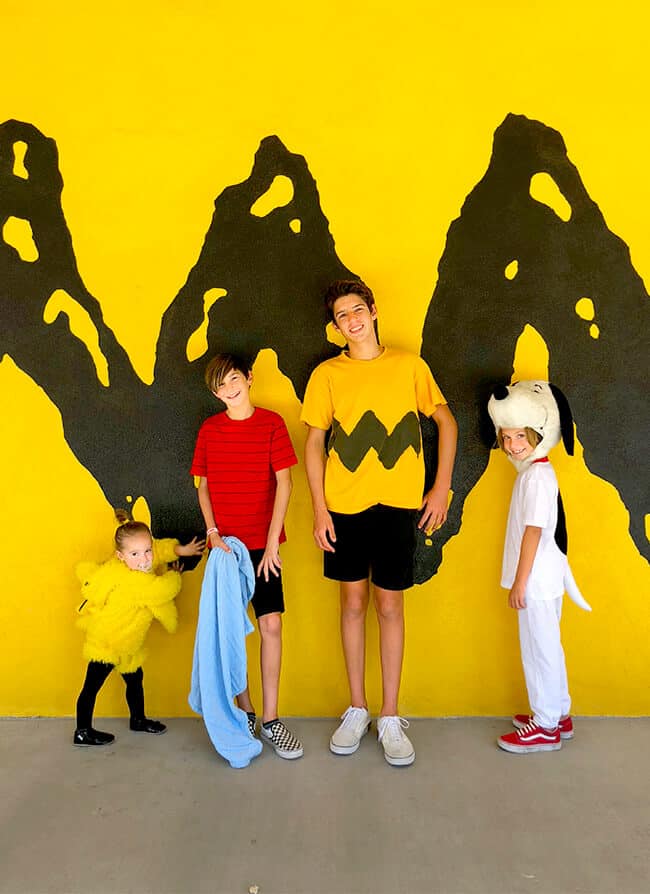 Most of all...
Have Fun! Knott's has so much to do, you will have a blast exploring all there is to do with your friends and family.