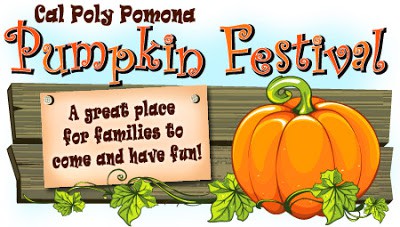 words can not express how much i look forward to the Cal Poly Pumpkin Festival each year. it's one of our family's must-go-to pumpkin patches each year. imagine thousands of pumpkins spread out as far as the eye can see. it really is a spectacular site! the picture below is just a fraction of the field.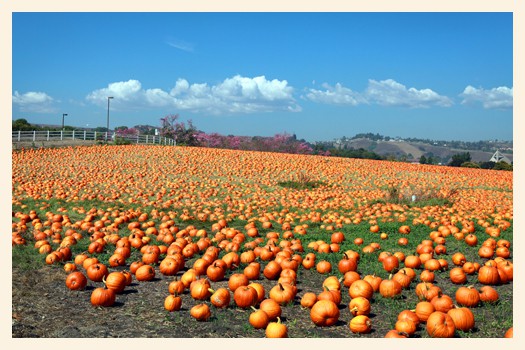 this year the Cal Poly Pumpkin Festival will take place on October 20th & 21st, this year is it's 20th anniversary! hundreds of people will visit the pumpkin festival, but the funny thing is, you see all those people taking pumpkins from the patch, but there are still be thousands of pumpkins left. that's how many pumpkins there are! the Cal Poly Pumpkin Patch will then remain open until October 31st.
every pumpkin on the Cal Poly Pumpkin Patch is $5....so you can get a bunch. we stock up every year and make our front porch into our own pumpkin patch. you can also purchase larger pumpkins, different specialty pumpkins and gourds, as well as corn stalks and fresh vegetable at the college farm store.
at the festival, you can also play games at the College of Agriculture student club booths or head over to the popular Insect Fair featuring nearly 500,000 live and preserved insects (runs from 9am-5pm). you can also visit the gigantic corn maze!  there will be a petting zoo, horse rides, entertainment, and lots of activities for kids! and if you like pancakes, there will be a pancake breakfast Saturday and Sunday morning from 8:00 a.m. -11:00 a.m., so bring your appetite!
  this year, Spookley the Square Pumpkin will be popping up all around the Pumpkin Festival.
who is Spookley the Square Pumpkin? he is an adorable little square pumpkin who overcomes the challenges of being different in the children's story The Legend of Spookley the Square Pumpkin by Joe Troiano. the movie Spookley the Square Pumpkin will run hourly from 11:00 a.m. - 4:00 p.m. in the AGRIscapes Theater.
wanna go? you have too go!  here's the info....
Cal Poly Pomona Pumpkin Festival
4102 S. University Drive
Pomona, CA 91768
when
Saturday, October 20th, 2012
Sunday, October 21st, 2012
8:00 a.m. - 5:00 p.m.
prices
admission and parking:FREE
pumpkins from the patch: $5 each
 Insect Fair: $6 adults; $4 students & children 3-12 years; under 2 are FREE!
 Pancake Breakfast: $5 adults, $4 for 12 and under
Individual activities: corn maze, horse rides and petting zoo vary.
 *All proceeds support College of Agriculture student clubs, activities and farm operations.