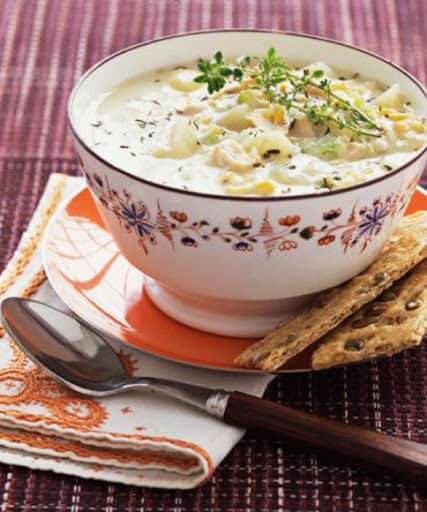 with the cold weather slowly arriving here in California, i am getting excited to finally start making homemade soups and chowders. my all-time favorite is Mimi's Cafe's Corn Chowder. so yummy with a slice of crusty bread. a nice mild chowder. Mimi's used to have the recipe up on their site, but not anymore. but i found it
here
. it makes a gigantic batch, sooo good for leftovers at lunchtime.
Mimi's Cafe Corn Chowder
ingredients
¼ cup butter (½ a stick)
6 tablespoons chopped onions
¾ cup diced celery
2-½ cups hot water
2 cups cubed potatoes (½ inch pieces)
3 cups frozen corn kernels, thawed
2 tablespoons sugar
2 teaspoons salt
1 dash white pepper
3 tablespoons flour
1 quart half-and-half cream
directions
1. melt butter in large saucepan. once melted add celery and onion and saute for 5 minutes (not til brown, just til soft).
2.
add water, potatoes, corn, sugar, salt and pepper, making sure water covers everything, adding more if not covered completely. cover and simmer until potatoes are tender, usually about 30 minutes.
3.
whisk flour into 1 cup of the half and half and then stir into soup.
4.
add remaining half and half and simmer until soup is thickened to a creamy consistency (usually about 15 minutes).
5.
season to taste with additional salt and pepper if wanted. if the chowder is too thick, add some milk, if it is too thin, simmer for 5-10 minutes more.
if you're in the mood, try adding a couple slices of uncooked chopped bacon to the pot when you are sautéing the onion and celery. it adds a lot of flavor