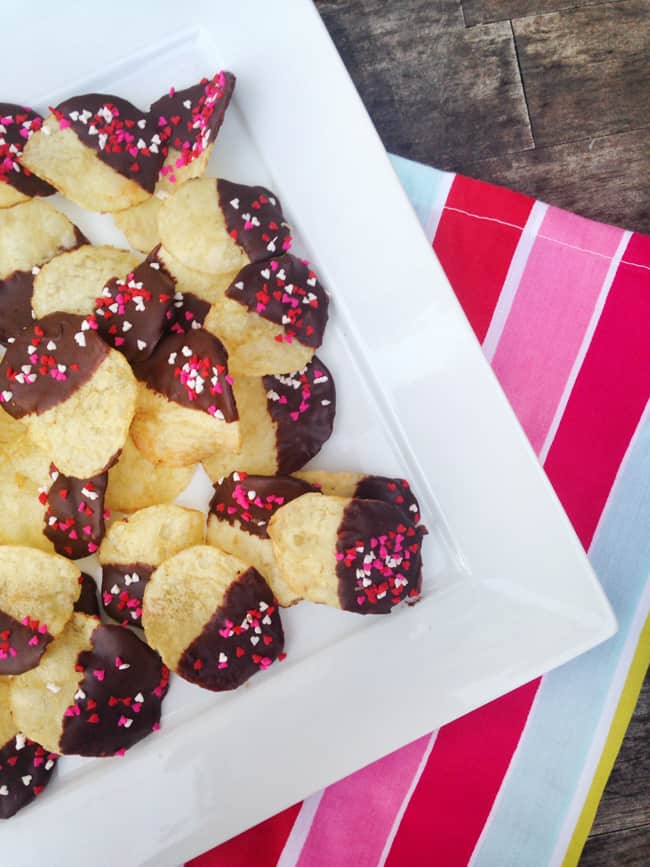 Happy Valentine's Day friends! Life has been a bit busy around here, but not too busy to make Chocolate Dipped Potato Chips! Yep...it's a thing, and guest what?!!! They are super good.
I decided on a whim to make homemade chocolate dipped potato chips for an after school snack. I don't know why, but the thought of sweet & salty really excited me. And since I have cut out sweets for the past three weeks, I guess anything sweet sounds good at this point. Ha!
And since I used organic, gluten free potato chips, you can call them healthy, right?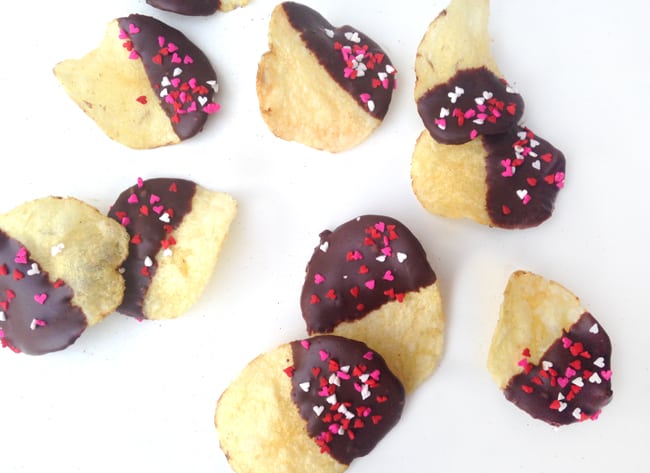 Anyways, these are super fun and easy to make. You just gotta try this recipe.
What You Need to Make Chocolate Dipped Potato Chips
It's very easy to make these chocolate dipped potato chips. You will need:
Your favorite potato chips
Your favorite chocolate. (You can use chocolate chips or chocolate bars)
Sprinkles or sea salt (optional)
Wax paper or parchment paper
Baking sheet
I prefer to use kettle cooked potato chips because they are super crispy and crunchy...and my absolute favorite kind of potato chips. Regular potato chips or potato chips with ridges are just as good!
For chocolate, I love to use a bar of Cadbury Dairy Milk Chocolate. But you can use chocolate chips, melting chocolates or any chocolate candy bar you like. All flavors of chocolate are good as well – milk chocolate, dark chocolate, white chocolate, and event peanut butter chocolate.
How to Make Chocolate Dipped Potato Chips
Step 1
In a bowl, carefully melt chocolate chips by microwaving the chocolate in 30 second intervals. Continue to microwave until smooth. You can add a dash of olive oil if you need a smoother consistency to your chocolate.
If you don't have a microwave, you can melt on the stovetop using the double boiler method.
Step 2
In the melted chocolate, dip the potato chips halfway in. Tap the dipped chip on the side of bowl to remove excess chocolate.
Place the chocolate covered potato chips onto wax paper or parchment paper on a baking sheet.
Step 3
If you want to add sprinkles or sea salt, now is the time before the chocolate hardens.
Place baking sheet into the refrigerator until cooled and chocolate has hardened.
Step 4
Enjoy! Eat immediately or place in an airtight container in a cool place.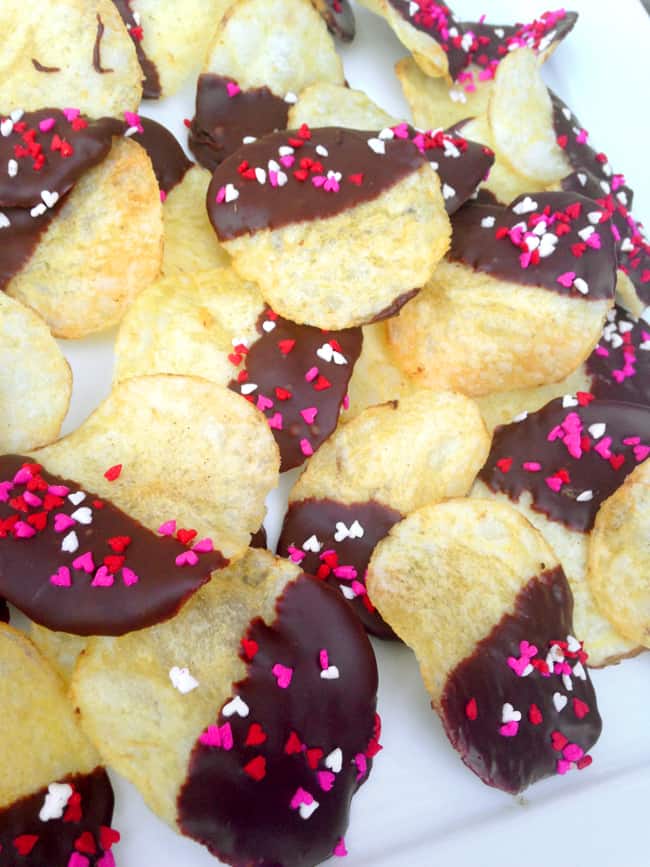 Aren't these so fun?!!! A yummy treat that solves not only your salty snacks craving, but your sweet tooth craving as well.
Hope all of you have a wonderful Valentine's Day! Are you doing anything special?