Brought to you by got milk? Food Loves Milk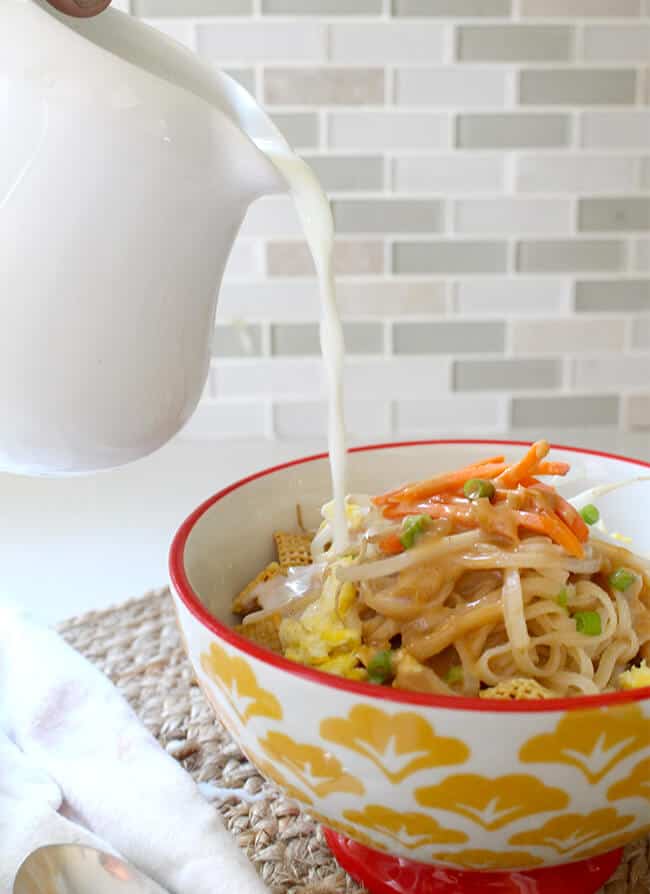 did you know that "Night Cereal" was a thing? well apparently, high profile chefs around the country are now creating savory... not sweet... "Night Cereal" dishes for their customers. i shared this with my boys... who want to think they will be the next Junior Chefs, and they thought it would be fun to concoct their own version of "Night Cereal."
we thought and thought about what kind of cereal cuisine we could create. something really unique. when it comes to unique cuisine, my boys aren't very adventurous. however, they do love Thai food, and we often go to a special nostalgic Thai food place in Los Angeles. they love this place, so why not create a twist on Thai food.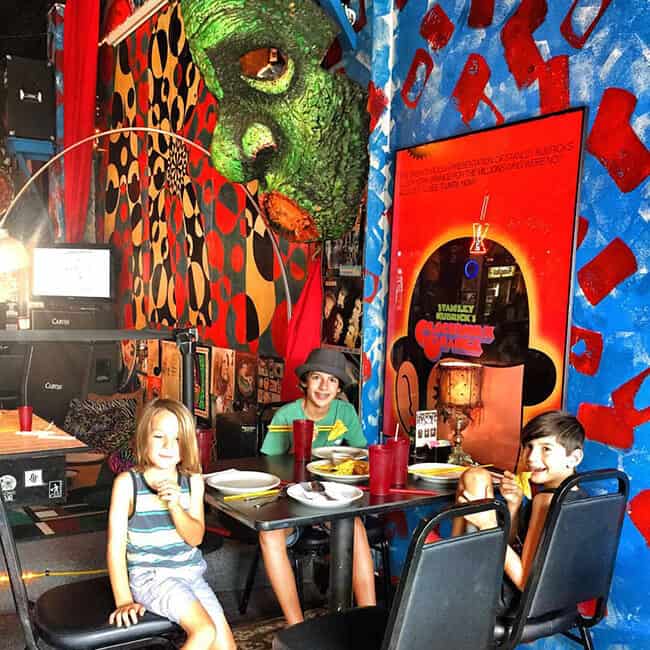 the boys thought it would be fun to create a Pad Thai / Peanut noodle version of "Night Cereal." Pad Thai is one of their favorites dishes, and what goes better with milk and cereal than a little peanut butter? this was definitely going to be a culinary experience!
to start our culinary cuisine, we needed our hero ingredients! ice cold milk and Corn Chex cereal. you definitely can't eat cereal without milk.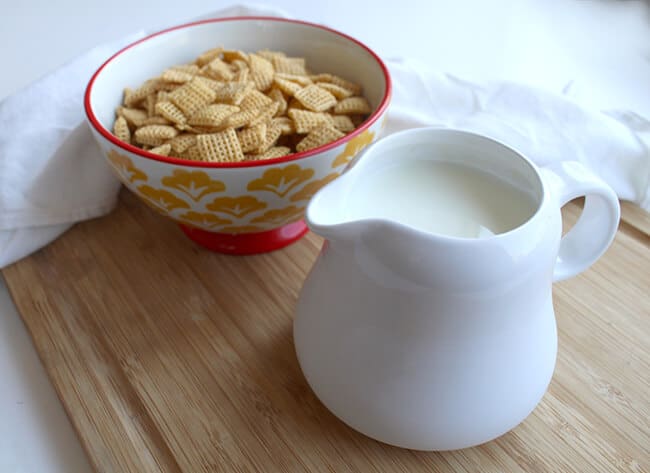 the rest of the ingredients are pretty simple. besides the milk and Corn Chex cereal, we also needed Thai rice noodles, scrambled egg, bean sprouts, shredded carrots, chopped green onions, and a special peanut Pad Thai sauce.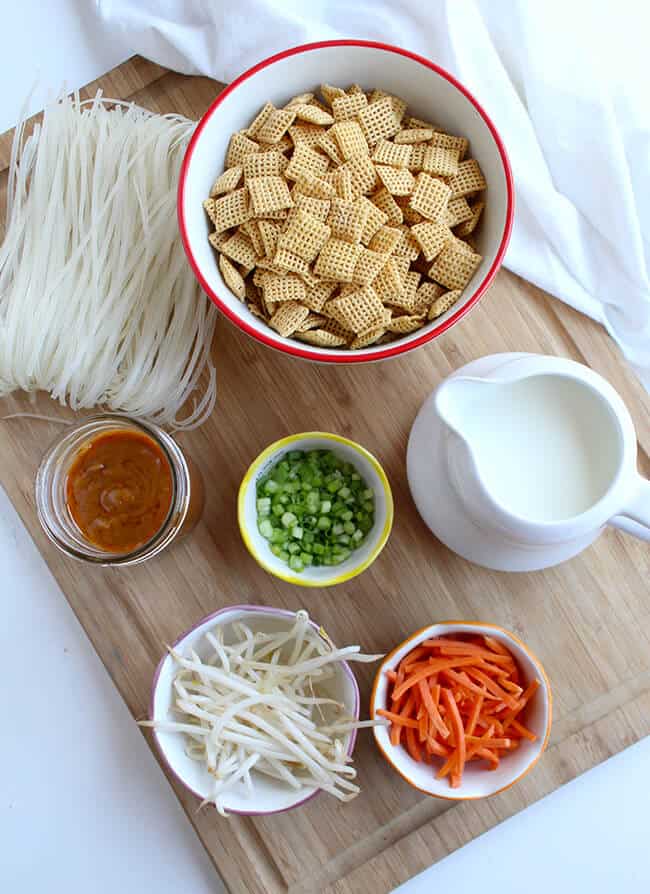 we filled our bowls with cereal, and then stacked the noodles, bean sprouts, carrots and scallions on top. we also sprinkled some of the scrambled egg around.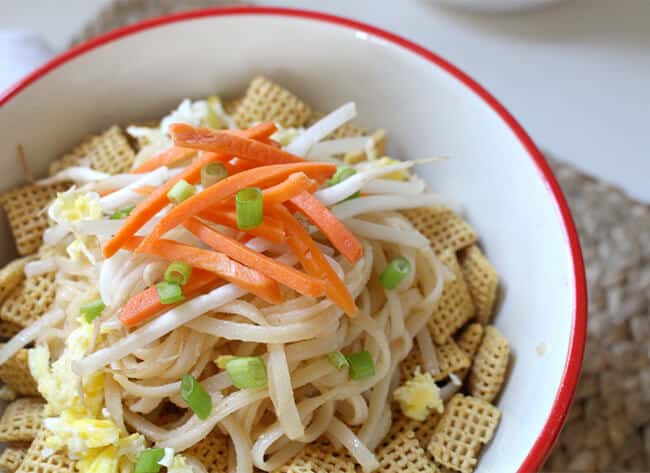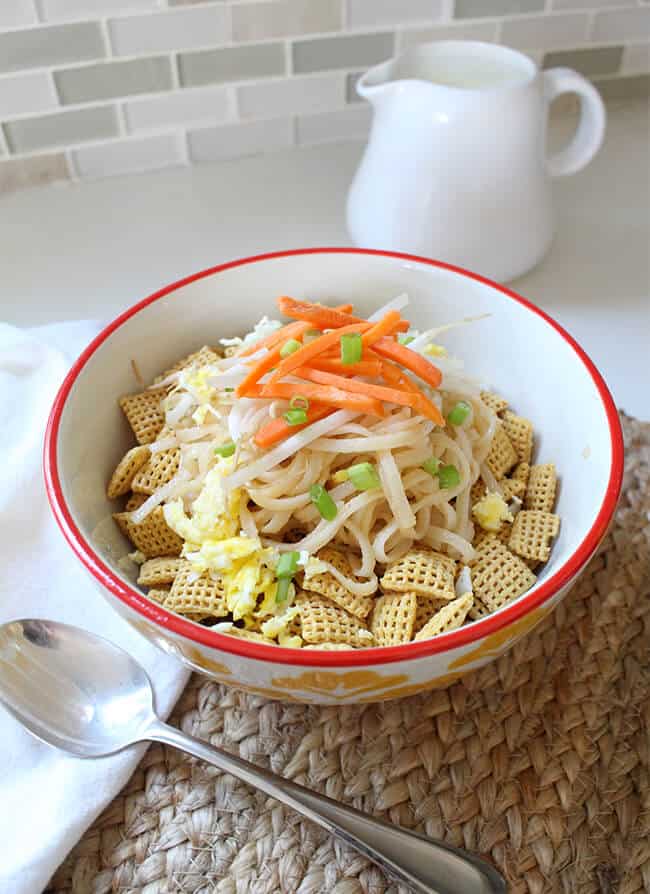 next, we added a special peanut Pad Thai sauce over the top. it is a mix of onions, butter, soy sauce, Siracha, peanut butter and apple cider vinegar. i have included the recipe below. this sauce is really yummy!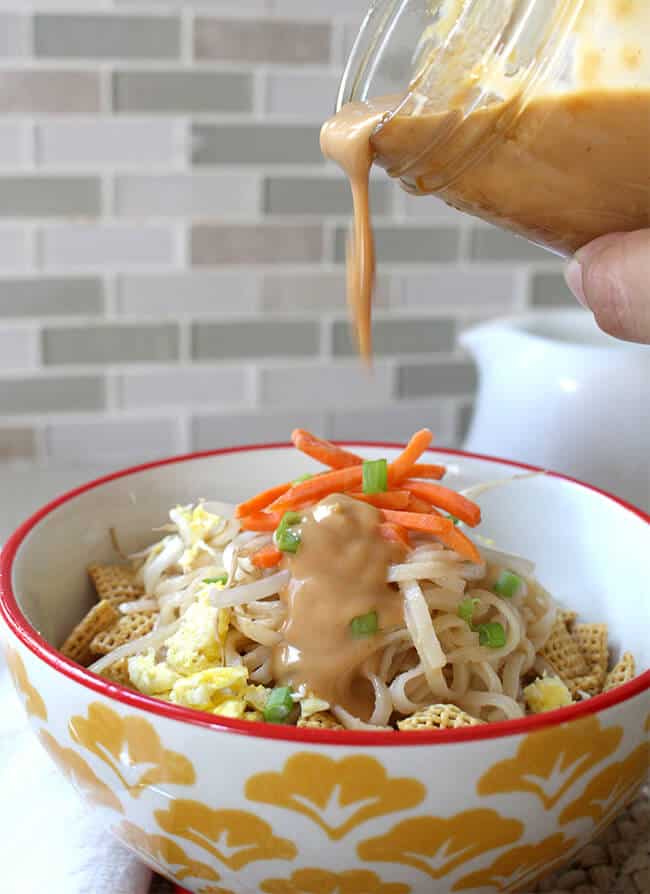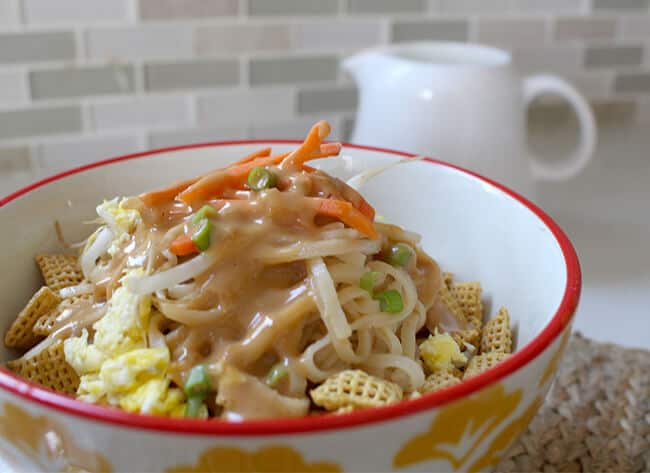 finally, to finish off our "Goodnight Cereal" we had to top it off with milk. as the boys say, milk and cereal are best friends!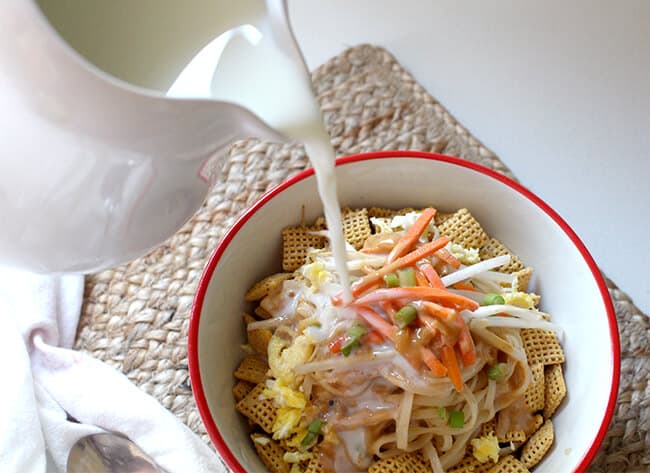 now it was time to try our creation. i must say, it actually was good! you probably wouldn't expect it, but it tastes almost like our favorite Pad Thai. the Corn Chex added a great crunch, and milk tastes great with peanut butter.
Night Cereal: Thai Peanut Crunch
ingredients
Milk for cereal
3 cups Corn Chex
Thai Rice Noodles, cooked according to the package directions.
1 egg, finely scrambled
¼ cup green onions, chopped
1 cup bean sprouts
½ cup carrots, shredded
Pad Thai Peanut Sauce
3 Tbsp. peanut butter or almond butter
2 tsp. Soy sauce
1 tsp. sesame oil
1 tsp. apple cider vinegar
2 Tbsp. brown sugar
4 Tbsp. Water
1-2 tsp. Siracha
first, make the peanut sauce. sauté onions in butter and sesame oil until translucent over medium heat. turn heat to low and with a whisk, add the rest of the sauce ingredients. meanwhile, cook the Thai Rice Noodles. once the sauce and noodles are ready, assemble the Thai Peanut Crunch cereal bowls. divide cereal among 4 bowls. next, layer noodles, bean sprouts, carrots, scallions and scrambled egg. pour Pad Thai peanut sauce over the top. right before serving, add the milk. eat like you would cereal.
makes 4 servings.
Enjoy & GOODNIGHT!!!!
{ This is a sponsored post. All thoughts and opinions are 100% my own.}