This week I made my Sweet'N Low Pumpkin Cheesecake Popsicles as part of a sponsored post for Socialstars #SweetNLowStars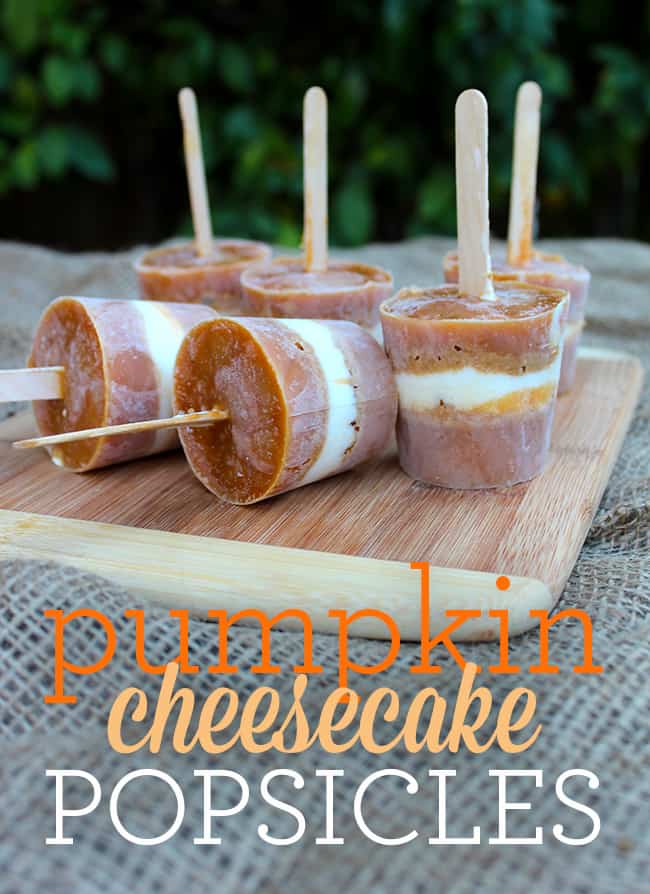 it's that time of year when pumpkin everything pops-up all over the place. pumpkin lattes, pumpkin bread, pumpkin desserts, and pumpkin drinks. once the pumpkin starts to appear, you know that Fall is in the air. however, here in Southern California, it's hot....really HOT. today it was 95º where i live. you aren't going to see me walking around with a hot pumpkin drink. i prefer cold treats right now...of course popsicles are always my fave. these Pumpkin Cheesecake Popsicles are just something i whipped up to satisfy my pumpkin craving. i am pretty happy with how they turned out. they were also super easy to make since i had all the ingredients already.
to make Pumpkin Cheesecake Popsicles, all you need is pumpkin, milk, cream cheese, pumpkin pie spice, Sweet'N Low and some popsicle molds.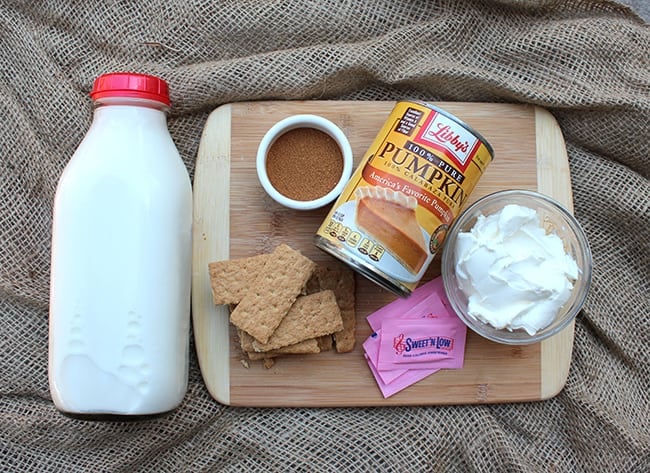 using the Sweet 'N Low cuts down on the extra calories of added sugar....plus, i can't tell the difference. you can add more or less according to your taste. once the popsicles are frozen, the sweetness becomes less intense. so i tend to make the mixtures on the sweeter side.
you will make one mixture of pumpkin flavor, and the other mixture cream cheese flavor. in between the layers, you will put a thin layer of graham cracker crumbs. they are what makes these popsicles extra flavorful and yummy. once you have made your two mixtures, layer them along with the graham cracker crumbs in your popsicle molds or dixie cups. then, stick them in the freezer until frozen.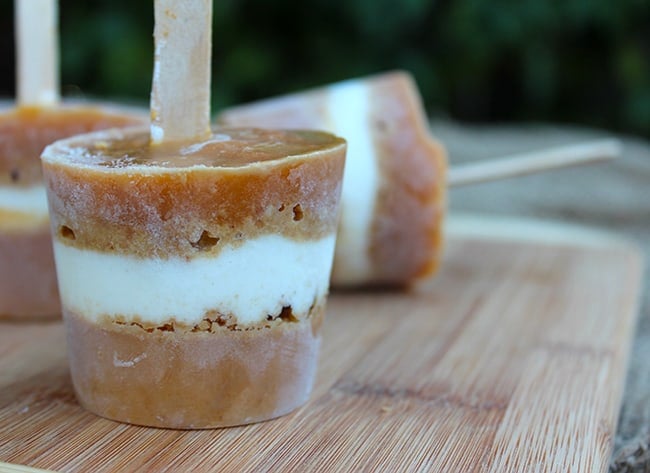 what you end up getting, is a low calorie, pumpkin treat on a stick that is nice and refreshing. they really taste like pumpkin cheesecake.
these popsicles are on the icey side, which i like. i have been enjoying them every afternoon this week! they are slow melt and take a long time to eat, so its the perfect snack to curb your hunger till dinnertime...or they make a nice late night snack. if you prefer a more creamy treat, use vanilla pudding or whipped cream instead of the milk. and if you are in a hurry, forget about layering the cream cheese and pumpkin, just whip them both together and layer with the graham crackers. i am sure they will taste just as good. now go make some!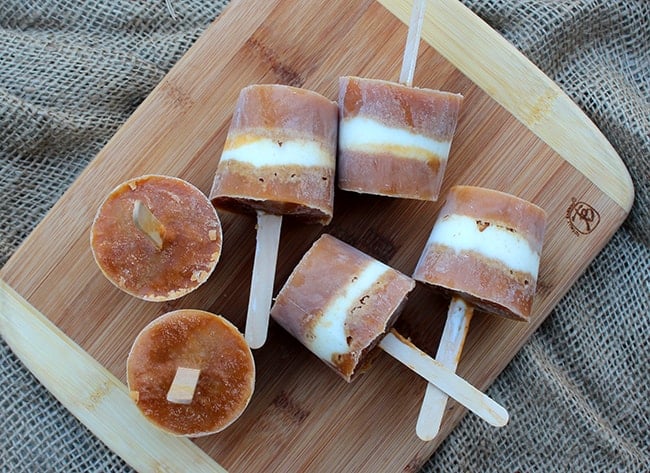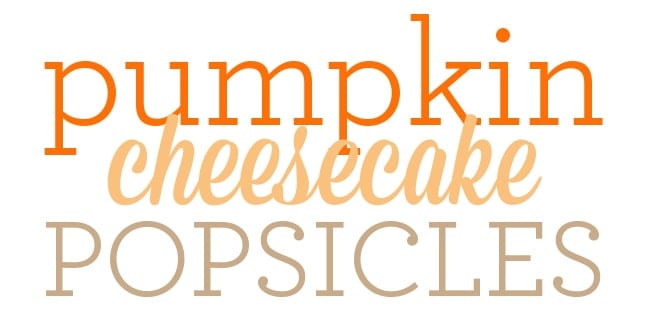 ingredients
3 cups whole milk
1-½ pumpkin pureé
1 cup cream cheese
1 cup crushed graham crackers
1 teaspoon pumpkin pie spice
4 packets Sweet N' Low
popsicle molds or dixie cups ( 3oz size) & popsicle sticks
directions
cream cheese layer: in a bowl, mix 1 cup milk, 1 cup cream cheese and 1 packet Sweet N' Low with a mixer until foamy.
pumpkin layer: in another bowl, mix pumpkin, 2 cups milk, 1 teaspoon pumpkin pie spice and 3 packets Sweet N' Low until fully combined.
in a popsicle mold or dixie cup, layer, first pumpkin mixture, then graham crackers, then cream cheese mixture, graham crackers again, and finally pumpkin again. insert popsicle stick, cover and freeze. once frozen, enjoy!
makes 6-8 popsicles
tip: you may need to freeze the first layer of pumpkin with the popsicle stick before adding the additional layers and freezing. if using dixie cups, a piece of tin foil laid across the top before inserting the popsicle stick will help the stick to stay upright.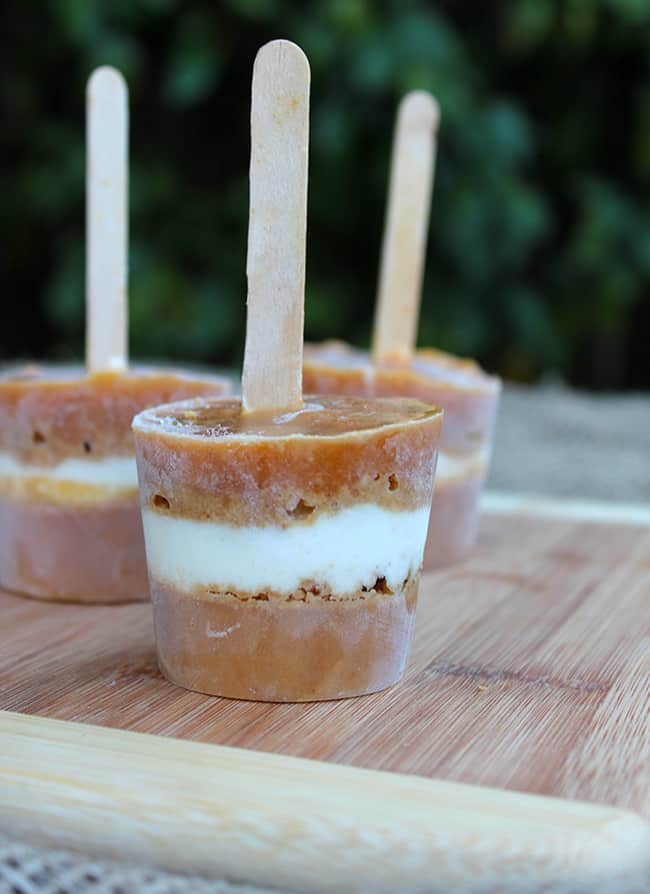 to find more yummy Sweet'N Low drink recipes, visit the Sweet'N Low Beverage Page or Facebook page.

{ disclosure: This is a sponsored post. I am an Ambassador for Sweet'N Low. All thoughts and opinions are my own. }