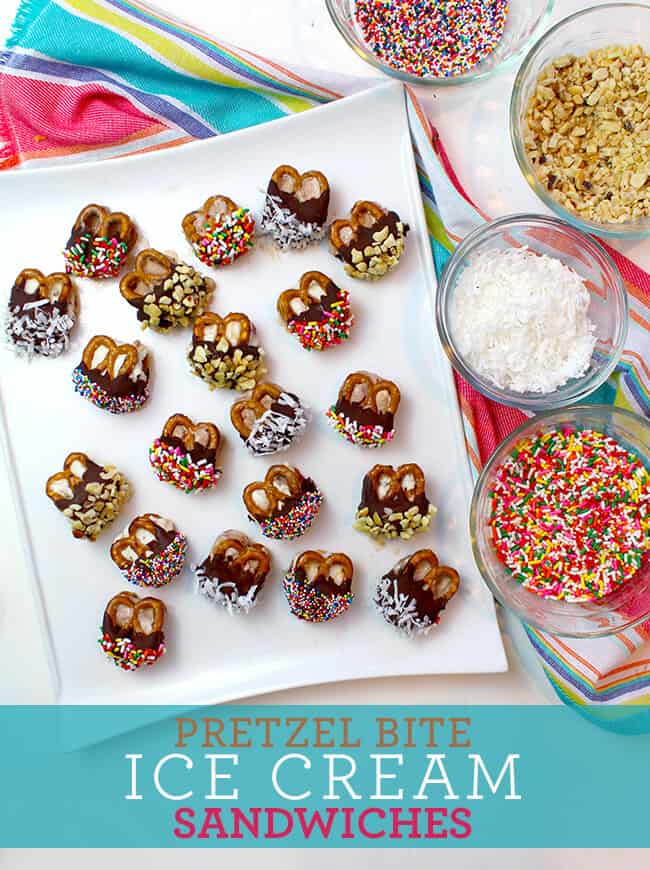 it's National Ice Cream month! that means that i must share a fun and oh so good ice cream dessert with you. i have partnered with Real California Milk to bring you this yummy Pretzel Bite Ice Cream Sandwiches recipe that is pretty easy to make. it is also great to make with the kids as a fun summer craft that you can eat! kids can help layer the ice cream sandwiches, dip and sprinkle these cute little creations.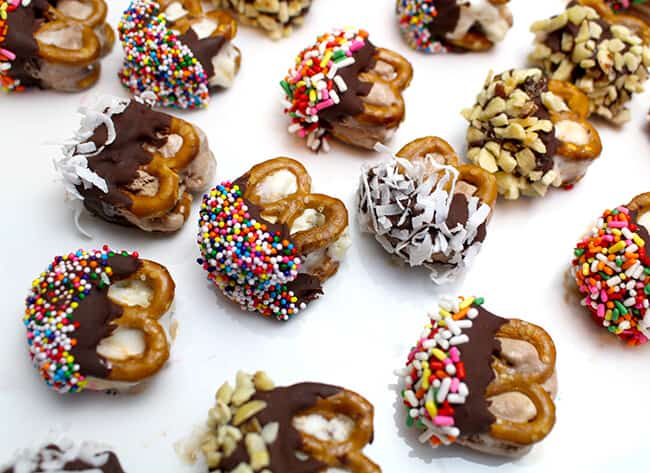 for this recipe is used Peanut Butter Candy Bar ice cream and Chocolate Malted ice cream. two flavors that i thought would taste great with pretzels. i also used ice cream made with 100% real California milk. i know this because of the Real California Milk seal. when you see the Real California Milk seal, you'll feel good knowing that the product is certified as having been made with 100% Real California Milk from Real California Dairy families. California is the country's leading producer of milk, ice cream, butter, nonfat dry milk and whey protein concentrate. if you'd like to learn more about the Real California Milk seal and California Dairy, visit the Real California Milk website.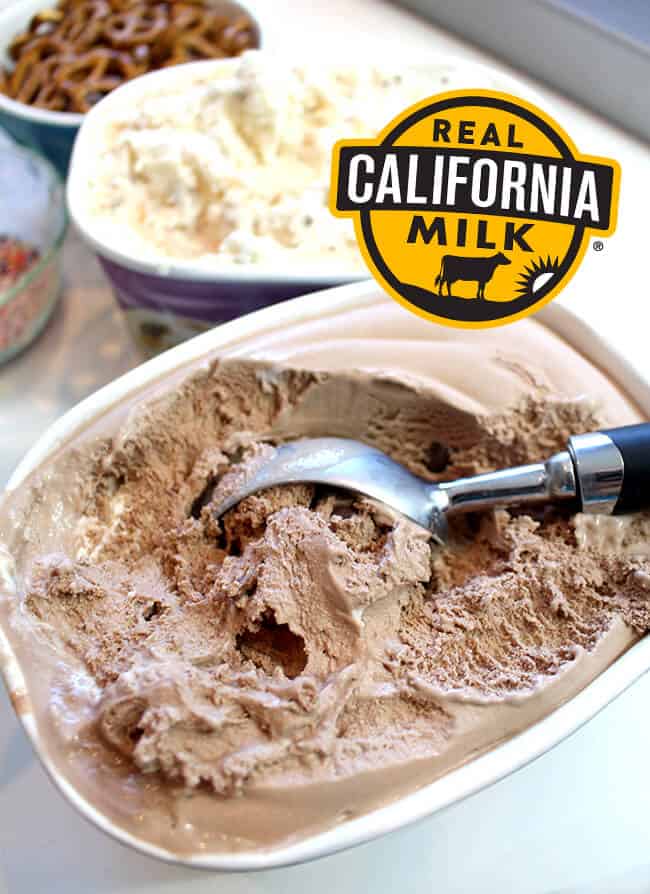 here is what you need to make Ice Cream Pretzel Bite Sandwiches: ice cream….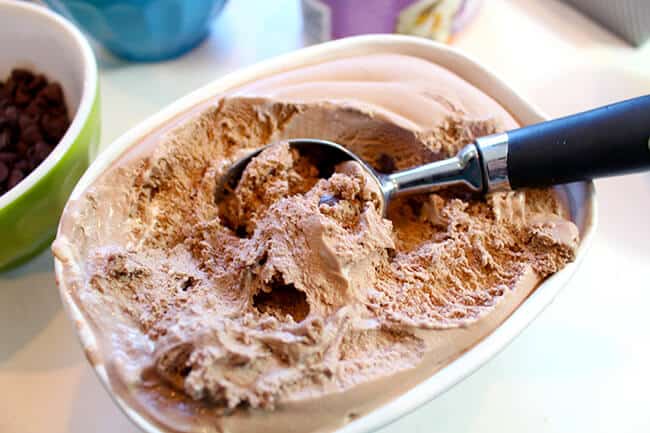 pretzels…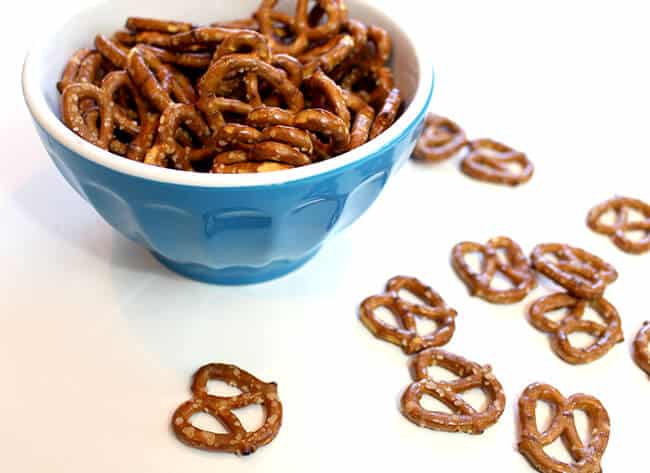 chocolate chips…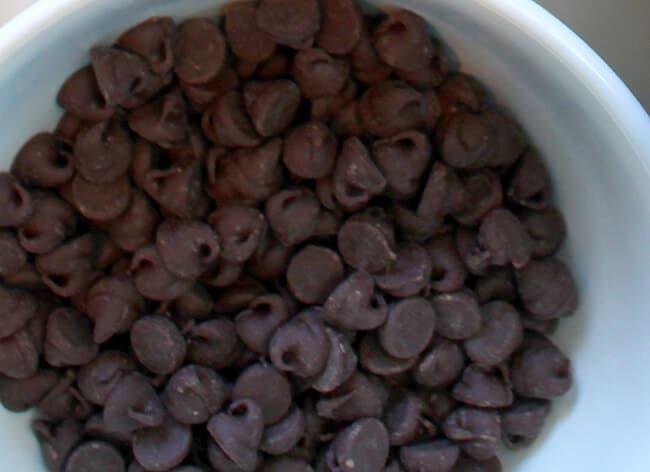 and toppings such as sprinkles.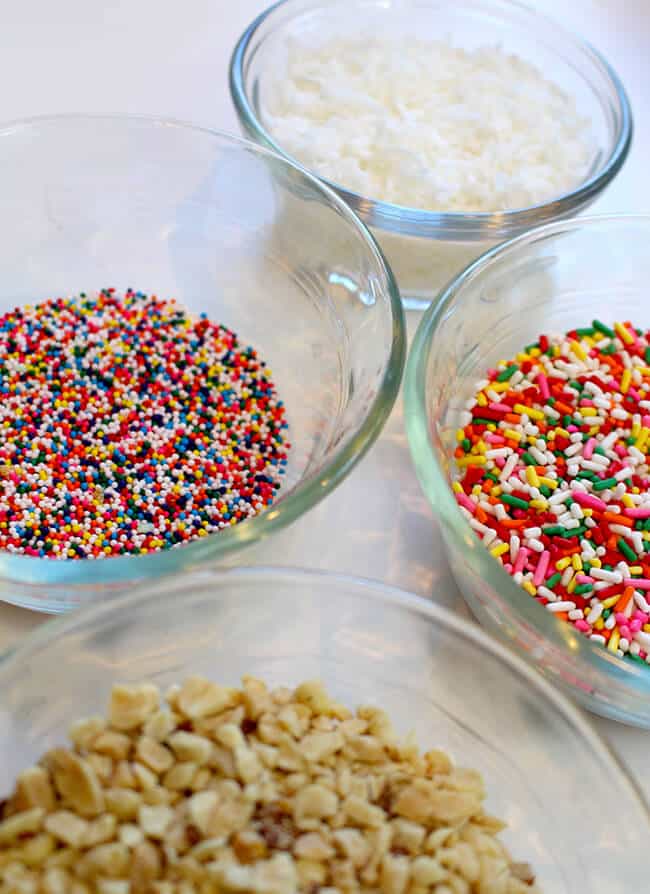 place a teaspoon size scoop of ice cream on a pretzel.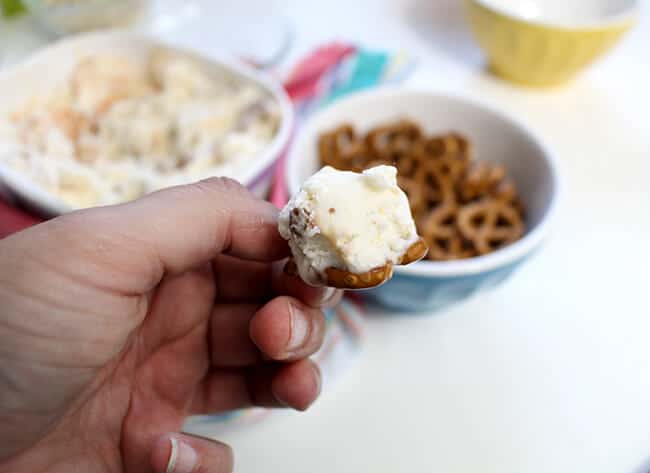 then put another pretzel on the top.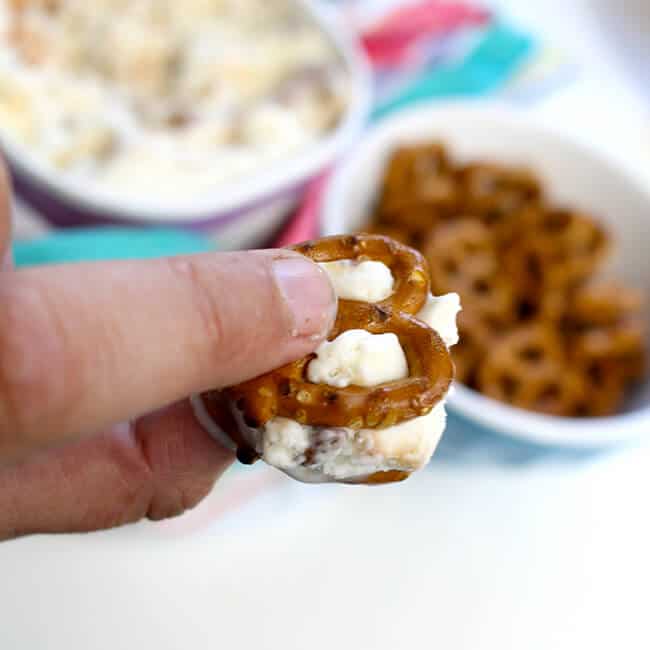 place all the pretzel ice cream sandwiches on a chilled tray that will be placed immediately into the freezer so the sandwiches will not melt.
while the ice cream pretzel sandwiches are in the freezer, melt the chocolate chips. place 1-1/2 of chocolate chips in a microwave safe bowl. microwave for 1 minute or just until the chips are almost melted. you can also add a dash of olive oil to make the melted chocolate smoother.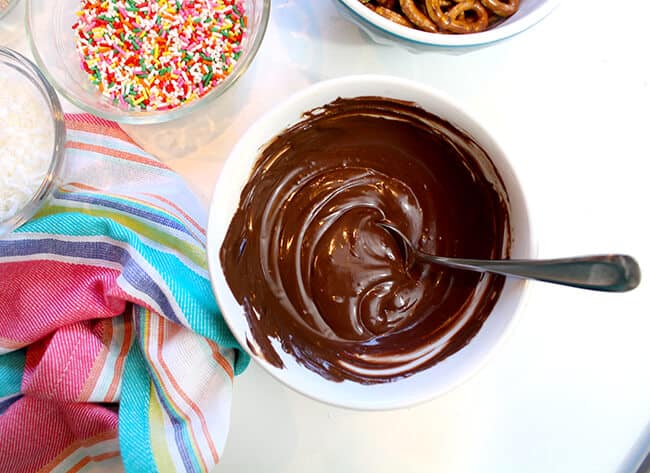 once the pretzel ice cream sandwiches are frozen solid, they can be dipped into the melted chocolate. gently tap your hand on the side of the bowl to shake the excess chocolate off.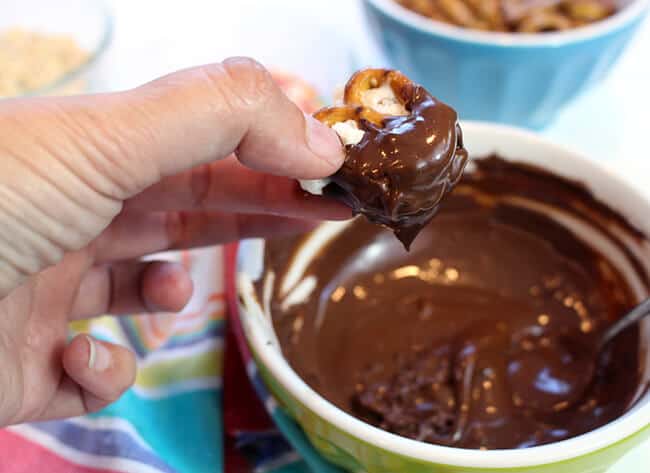 immediately dip the chocolate dipped pretzel ice cream sandwich into sprinkles or toppings of you choice. or just leave it plain with only chocolate.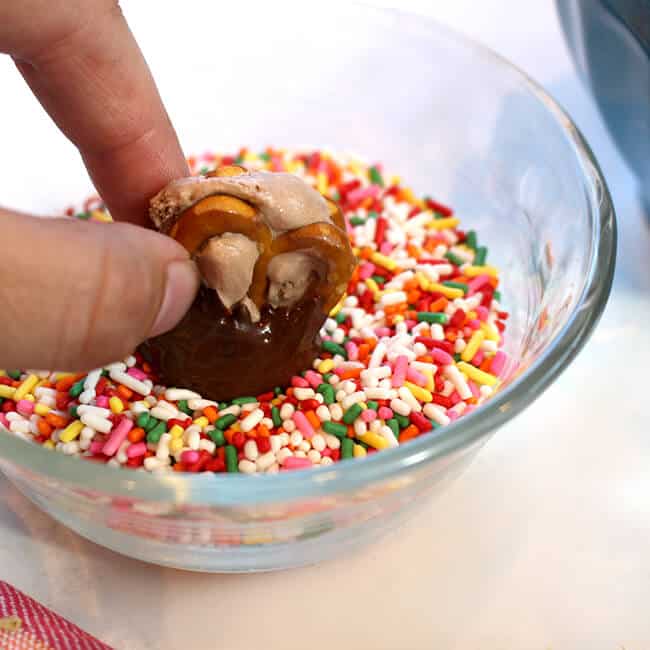 lay them on a chilled platter or tray to harden. if they look like they are melting, place back into the freezer until fully frozen. once they a completely frozen, you can eat them or store them in an airtight container until you are ready to serve them! this is what you will end up with.
yum.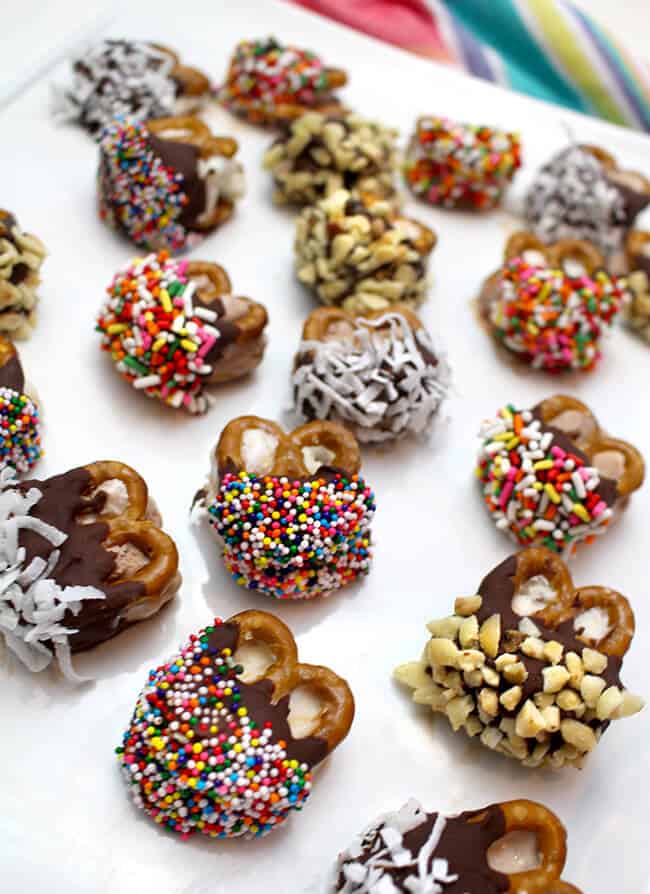 yum!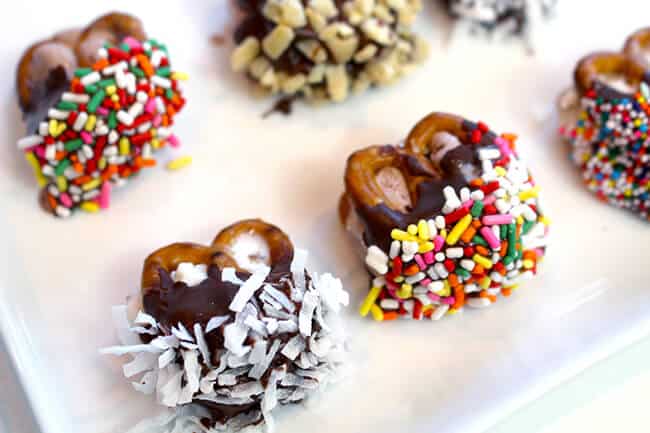 they are Pretzel Bite Ice Cream Sandwiches are fairly easy to make and taste REALLY good. they are a new favorite of my boys who had a lot fun making them…and eating them!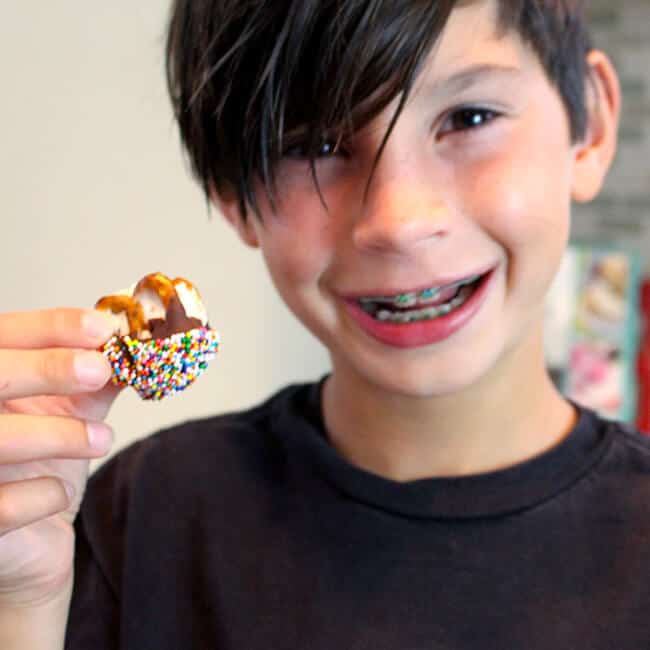 there are so many ways to enjoy ice cream featuring the Real California Milk seal – from ice cream sandwiches to milkshakes to ice cream! for some ice cream delicious recipe ideas, visit the Real California Milk website, and for milkshake recipe inspiration check out this short video from Food52 using Real California Ice Cream!
{ Disclosure: This post is sponsored by Real California Milk }