it's a Hot Chocolate Recipe Party! today i'm sharing my favorite favorite hot chocolate recipe along with 10 of my friends. make sure to read all the way to the bottom of this post to get the links to 9 more yummy hot chocolate recipes, plus each one has a free printable recipe card, so be sure to collect them all….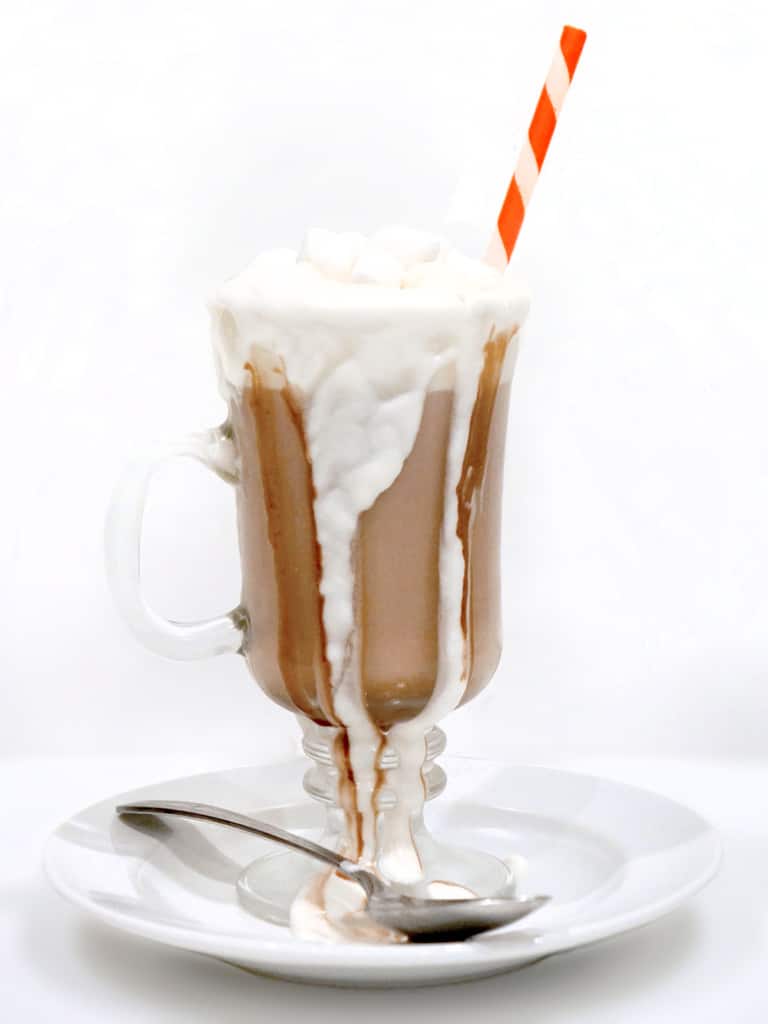 here is a fantastic and easy recipe for my Creamy Hot Chocolate with Marshmallow Cream Topping. it's tastes great and makes a nice treat on a cold evening to enjoy with family or friends. the marshmallow topping adds a special unique flavor to the hot chocolate. here is how you make it…..
Creamy Hot Chocolate
2 cups of milk
2 cups of half and half
1 teaspoon sugar
1 cup of semi-sweet chocolate chips
• pour milk and half and half into a saucepan and heat until warm.
• add sugar and chocolate chips and heat until chocolate chips are melted.
• pour into a mug
Marshmallow Cream Topping
1 jar Marshmallow Cream (7oz.)
1 cup whipping cream
½ teaspoon almond extract
• place all ingredients into a bowl and whip until fluffy.
• spoon over a mug full of hot chocolate
• enjoy!
makes 4 servings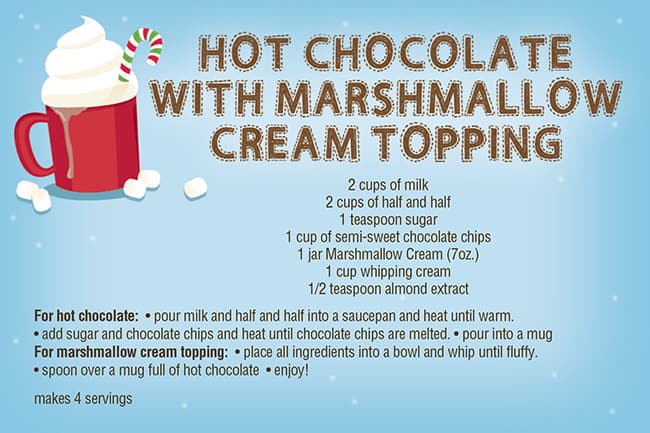 click here for the FREE printable recipe card
and if you are looking for a bunch of Yummy Hot Chocolate Recipes….check out my Hot Chocolate Recipe Party. here are 10 great recipes that 10 of my blogger friends are sharing. each one has a FREE PRINTABLE RECIPE CARD of their favorite hot chocolate recipe. so hop over to their blogs and collect all the recipe cards. gather them all and make a nice hot chocolate gift for a friend, neighbor or teacher.

Orange Cardamom Hot Chocolate
Sharon at Cupcakes and Cutlery
Nutella Hot Chocolate
Tee at That's It Mommy
Mexican Hot Chocolate
Pattie at Living Mi Vida Loca
Peanut Butter Hot Chocolate
Linsey at Lille Punkin
Crockpot Hot Chocolate
Aracely at Day Tripping Mom
Cup-O-Joe Hot Chocolate
Kara at Small Things are Big Things
Frozen Hot Chocolate
Jamie at Minnesota Girl in the World
Hot Chocolate Peppermint Ice Cream Floats
Caryn at Rockin Mama
Caramel Hot Chocolate
Alma at Field Trip Mom
Hot Chocolate with Marshmallow Cream Topping
Jill at Sandy Toes & Popsicles