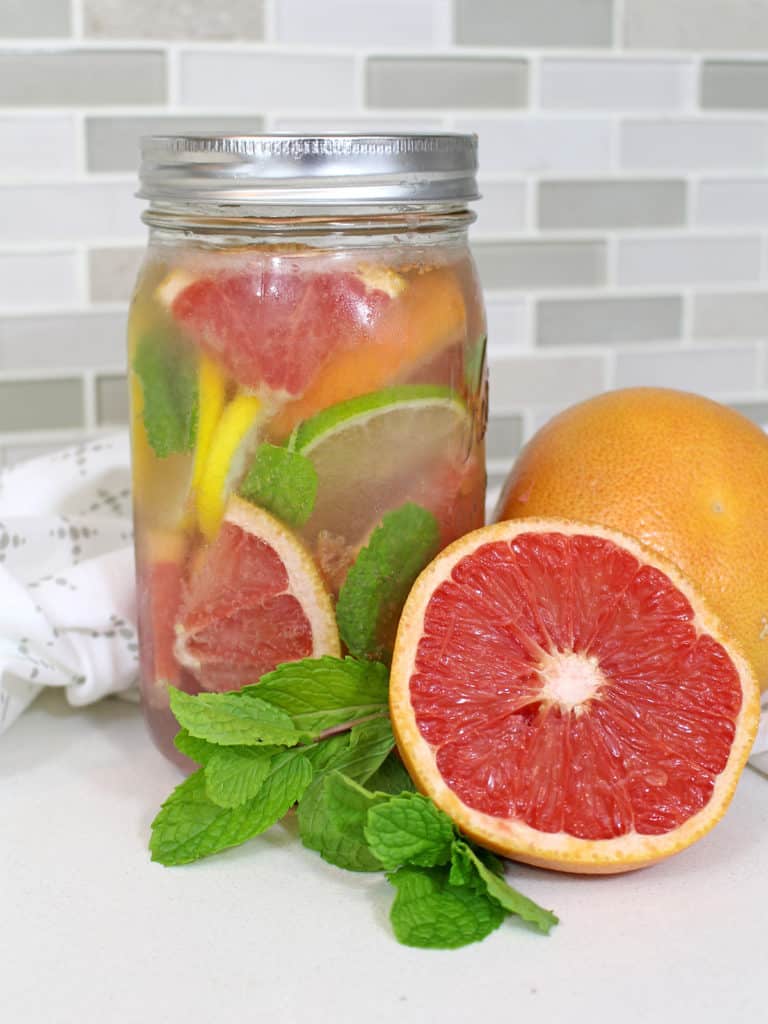 This is a sponsored post.
it's the New Year! hooray....and one of my resolutions is to eat healthier and also work on loosing weight. i have had to give up sugary drinks and soda for the meantime...which is very hard since i have a major sweet tooth. so i have been trying to find alternatives of lower calories drinks to satisfy my need to drink soda. for the most part, i have only been drinking water, but sometimes i get so bored with it and really crave something sweet. so i have started making this Homemade Grapefruit Sparkling Soda as a treat. the recipe is inspired by my love of grapefruit, and by using Sweet'N Low, i don't get all the calories of sugar which i usually use to make my grapefruit sweeter. no joke, this is soooooo good, and probably one of my favorite drinks. i love the fresh citrus taste and hint of mint. if you like grapefruit, i highly recommend it.
to make this Homemade Grapefruit Sparkling Soda, you will need a grapefruit, seltzer water, fresh mint leaves, Sweet'N Low, plus lemon, lime and grapefruit slices.
i like to take a large mason jar and fill it with the juice of half a grapefruit, 1-2 packets of Sweet'N Low, and cold seltzer water. i stir them together until combined. next i add a few mint leaves and slices of grapefruit, lemon and lime, layering them as i go. if the jar is not filled to the top, i just add a little more seltzer water. my Sparkling Grapefruit Soda is now complete and ready to enjoy.
i personally love to sip this throughout the day. if i drink all the soda, you can just add some more water and it will turn to grapefruit infused water.
also, i wanted to also mention, if you are like me and love to eat grapefruit, but like them sweetened with sugar. just sprinkle a little Sweet'N Low on each half to add the sweetness...but no calories! yummy.
this Homemade Grapefruit Sparkling Soda is only around 55 calories for the entire quart-sized mason jar of soda...unless you eat all the grapefruit slices as well, then it is only around 110 calories. you can also just use plain water for a flavored water taste. it is great paired with a light sandwich or to sip throughout the day. i hope you enjoy it as much as i do.
ingredients
1 Grapefruit
4 cups Seltzer Water
1-2 packets Sweet'N Low
mint leaves (optional)
1 lemon (optional)
1 lime (optional)
directions
in a large mason jar or pitcher, combine the cold seltzer water, juice of half a grapefruit, mint leaves and Sweet'N Low. stir until combined. fill the rest of the jar with grapefruit, lemon, and lime slices. you can also add crushed ice if you would like it colder.
tip: when making grapefruit soda for guests, or for future use, place everything except the seltzer water in the jars or pitcher ahead of time. when it's time to serve add the seltzer water. you can also use plain water, for a grapefruit water drink.

to find more great Sweet'N Low drink recipes, visit the Sweet'N Low Beverage Page.