as a work at home mom, dinner time has always been a struggle for me. not only because of time constraints, and the fact that i am grocery shopping challenged, but because of the fact that my kids are a bit difficult when it comes to pleasing everyone at once. one of my sons will complain about any meal i make, even if it is his favorite....and then there is a two-year-old that is just plain stubborn.
my kids would be happy eating pasta every night. hey...its easy and everyone is happy and all, but it's not the most healthy solution to my dinner woes. so, here is one meal that is easy to prepare....and gets few complaints.
i like salad. my kids and hubby....not so much. UNLESS....i make my giant family salad.  it's an easy way to get my kiddies to eat a healthy, rainbow colored meal full of fresh veggies.
how do i get my kiddies to eat this salad. i don't do much....i don't even put it in a bowl. i just chop up a bunch of different salad items on a cutting board and set it on the table.  they grab everything they like and make their own personalized salad on their plates.
lettuce
tomatoes
corn
cucumbers
carrots
hard-boiled eggs
avocados
cheese
croutons
chicken strips (precooked from supermarket deli counter)
anything you would like on a salad.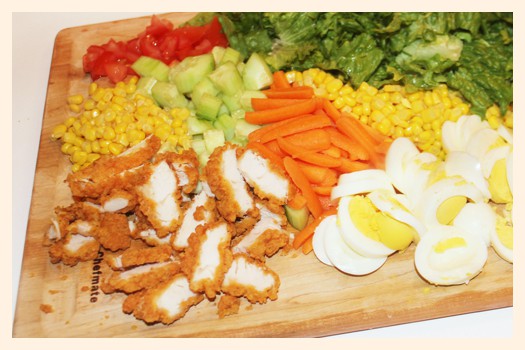 i think my kiddies enjoy this type of salad over the premixed in bowl ones because this salad makes a statement. it's big, colorful and DIY. it gives the kiddies the excitement of creating food themselves. my kids love it.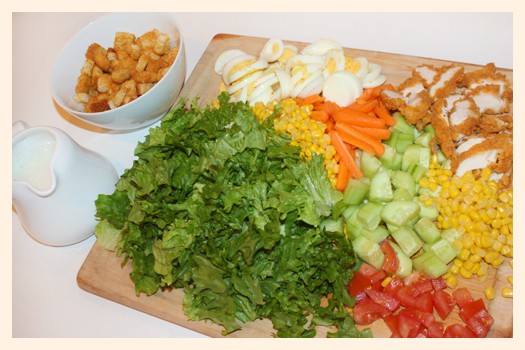 happy salad eating!