]This is a sponsored post.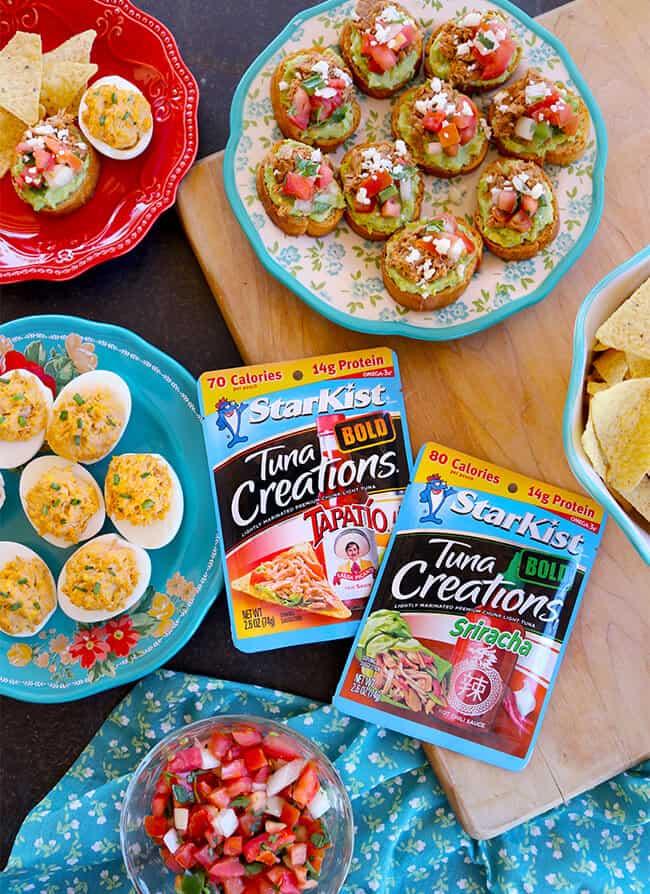 there is going to be a heat wave here in Orange County this week, which is exciting for my boys. they really want to invite their friends over to swim one last time before the weather cools down. since we just recently moved, we haven't had anyone over for a swimming playdate. it's so exciting for us to have a pool! of course the kids will be having a blast swimming, while i will get to hang out with the moms. the perfect opportunity to make light lunch or snack for everyone to enjoy. StarKist sent me over some packets of their new StarKist Tuna Creations BOLD – with flavors that include Thai Chili Style, Jalapeño, Hot Buffalo Style, Tapatío, Sriracha and Rice & Beans in Hot Sauce. wow! so i created a food spread around them that i think everyone is really going to enjoy.
the two flavors i used were the StarKist Tuna Creations BOLD Sriracha and the StarKist Tuna Creations BOLD Tapatio.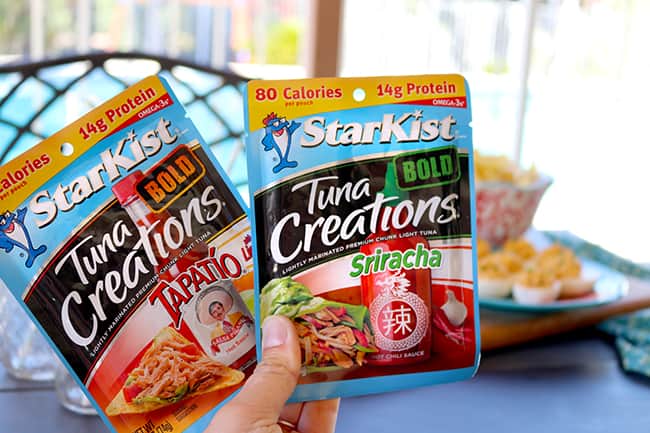 i made two super simple pairings that were quick and easy to make. a fun way to enjoy tuna that is already seasoned in a BOLD way. us moms are always looking for delicious and nutritious meal solutions to fit our busy lifestyles. each StarKist Tuna Creations packet is single-serve and requires no can opener and no draining. it gives you a good source of lean protein and is 110 calories or less to keep you fueled. plus they add an extra kick of flavor! add it to your favorite salads, meals and snacks…or you can just grab a fork and eat straight from the pouch wherever you are—just Tear. Eat. And Go!
for my first easy pairing, i used Tuna Creations BOLD Sriracha. this tuna's hot sauce flavor is made from red chili peppers, garlic and vinegar with a garlicky spicy kick. it's the perfect addition to a ramen noodle salad or tuna burger. enjoy on rice cakes, crackers, noodles, with eggs, bok choy, salad, edamame, and sesame seeds.
i decided that Tuna Deviled Eggs would be a favorite for everyone. in a bowl, i mixed the yolks of four hardboiled eggs, one packet of Tuna Creations BOLD Sriracha, 1-½ Tablespoons of mayonnaise, and a dab of mustard. once mixed together, i filled the hardboiled eggs halves and then topped with chives. EASY!!!!!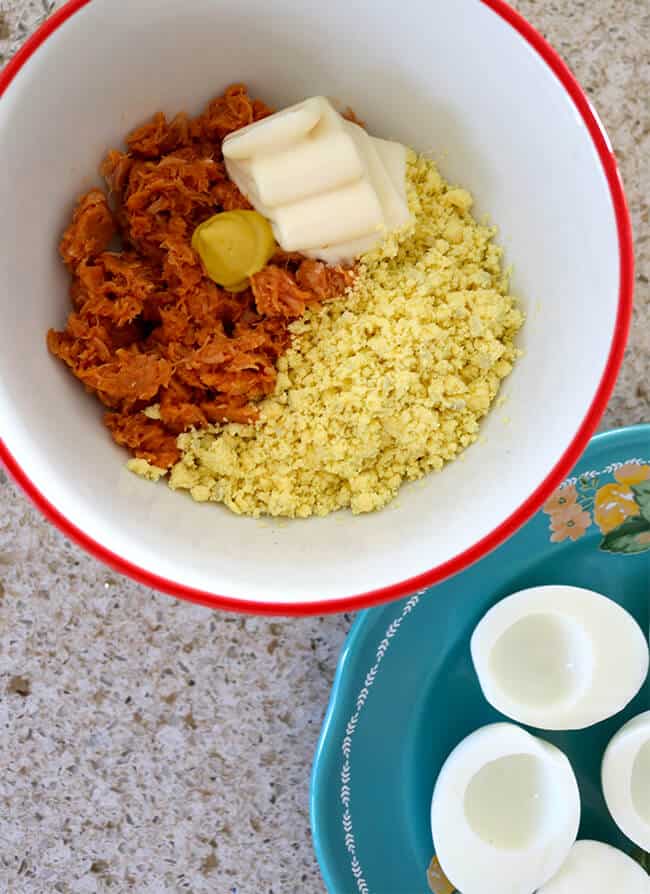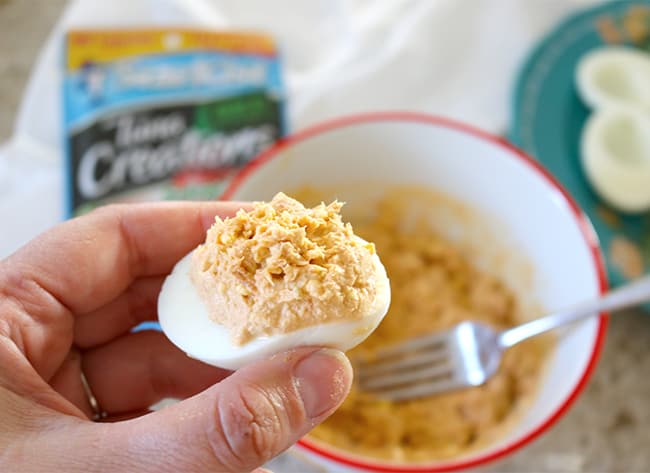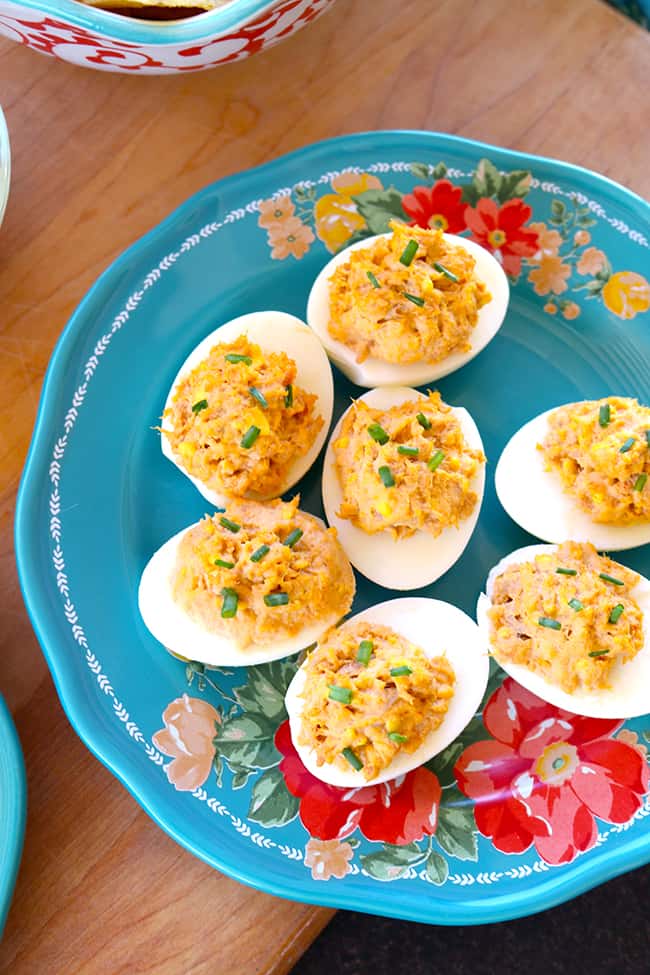 next up i used the StarKist Tuna Creations BOLD Tapatio with Lime flavor to make mini avocado toasts with a Mexican flair. the Tapatio flavored tuna is pretty spicy, so it works well with cooler foods. StarKist partnered with Tapatio to add their hot sauce and a touch of lime juice to their classic chunk light tuna. a perfect blend is ready to enjoy on corn chips, on a salad, in a taco or straight out of the pouch.
to make the Mini Avocado Tuna Toasts, i used mini baguette toasts, drizzled with olive oil. broiled them in the oven for ten minutes till crisp. then i spread avocado on each of them, followed by StarKist Tuna Creations BOLD Tapatio, pico de gallo and a sprinkle of quest fresco. EASY!!!
finally, for the table spread, i am just going to use some items i already have around the house. it's really easy to create something that your friends will think is amazing with very little work. the tuna deviled eggs and tuna avocado toasts, along with a few pretty plates, a pitcher of water with ice, some small mason jars with paper straws, and a bowl of chips with some salsa will make the perfect light lunch for everyone to enjoy at the playdate.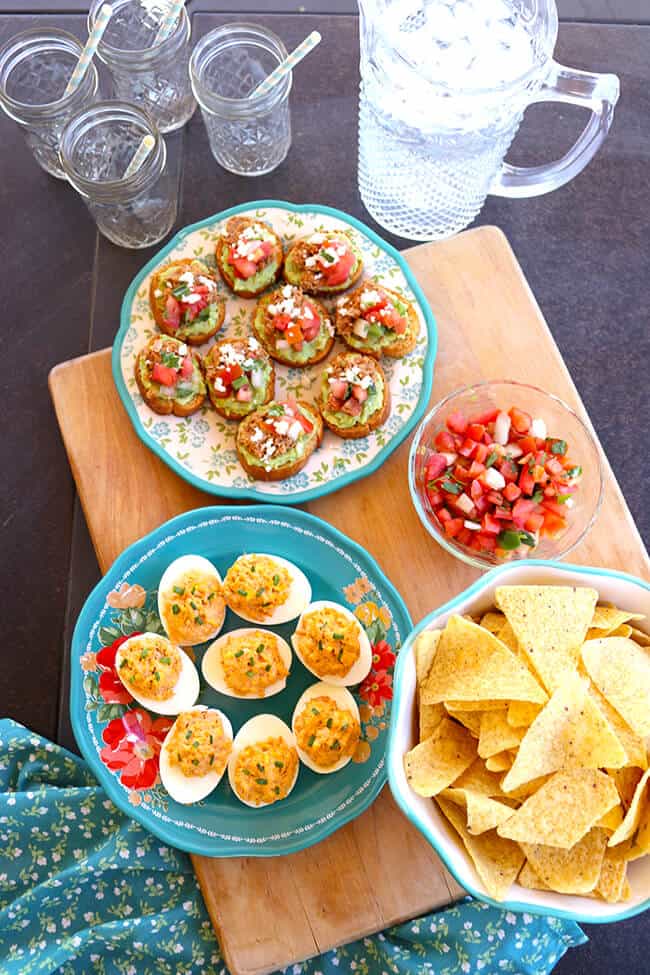 i can't wait for my last swimming playdate of the year. i kind of hope it stays sunny so we can have few more. i just love living in sunny Orange County. we are so lucky!
for more great recipes and ideas, visit StarKist online, and follow them on Instagram and Twitter.
{This is a sponsored post. All thoughts and opinions are 100% my own. }
SaveSave
SaveSave
SaveSave
SaveSave
SaveSave
SaveSave
SaveSave
SaveSave
SaveSave