This is a sponsored post.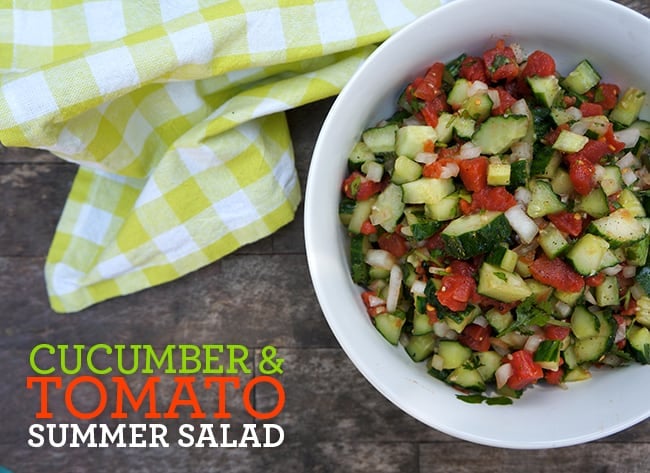 many of you know that we planted a summer garden a few months ago. we have been waiting patiently for everything to grow. so far we have grown lettuce, basil, cilantro, zucchini and cucumbers…SO MANY cucumbers. unfortunately, we haven't gotten a single tomato yet. i've been waiting for those tomatoes to make a yummy Cucumber and Tomato Salad. it's one of my favorite summer recipes. luckily, Hunt's Petite Diced Tomatoes will work out perfectly for this cucumber salad. Hunt's Tomatoes are peeled using a special flash stream process using only water and no lye like some other brands. all their tomatoes are grown in California where they are picked and canned in less than 10 hours. that means they are vine ripe, 100% natural with no preservatives. it's one of the best canned tomatoes around.
this Summer Cucumber and Tomato Salad is a super easy recipe to make, and it tastes great as a side dish for your favorite barbecued meats or alone as a summer lunch or snack. it's light, crunchy and low calorie.
to make this salad, you will want to use garden grown cucumbers or the English cucumbers from the grocery store. if you need to use the cucumbers with the thick waxy skin, make sure you peel the skin before making this salad. these are Japanese cucumbers that i grew in my garden. i also am growing Persian cucumbers, but they were so good we've eaten them already.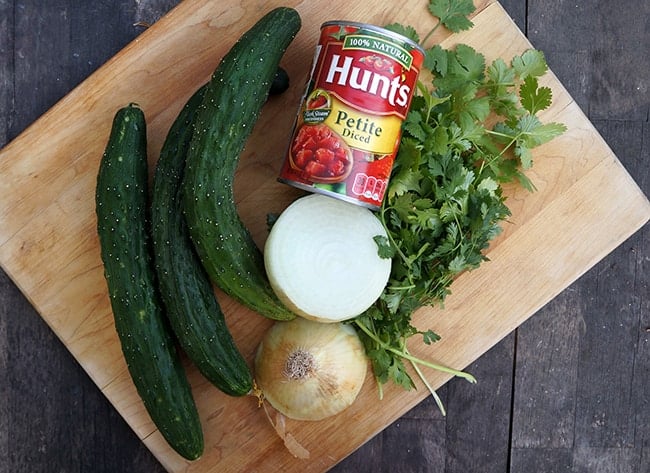 first, drain your tomatoes, letting them sit to drain while you prepare the rest of the salad.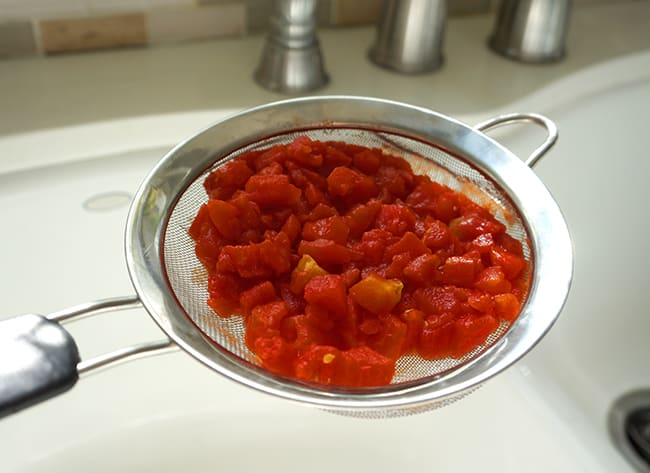 next, chop the cucumbers. first de-seed the wedges, and then cut into bite sized pieces or half rounds are good too. dice the onion, and chop the cilantro. i usually use a red onion, but today i had a yellow one...any kind of onion is fine. once you're done chopping the vegetables, salt and pepper the tomatoes. you can even leave them in the strainer to do this.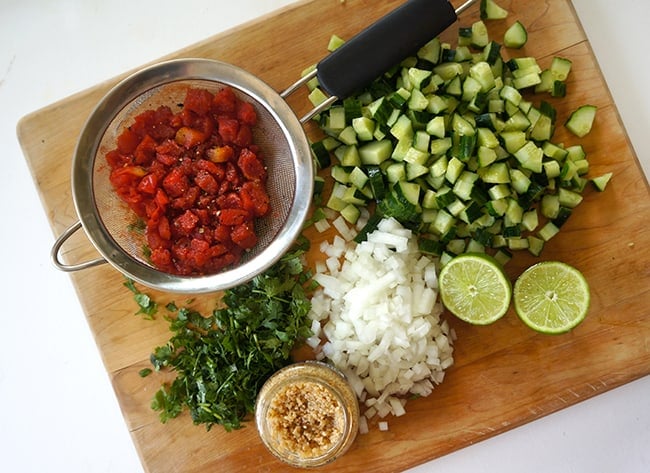 now everything is ready for you to put the salad together. place everything into a bowl and toss together. add 1 tablespoon of olive oil, ½ teaspoon of minced garlic, and the juice of one lime. taste your salad and adjust the seasoning to your liking. your Cucumber and Tomato Salad is finished!

ingredients
3 Large cucumbers
1 can Hunt's Petite Diced Tomatoes
⅓ cup chopped onion (red or yellow)
¼ cup chopped cilantro (or parsley)
1 lime
1 Tablespoon olive oil
½ teaspoon salt
Cracked pepper
½ teaspoon minced garlic
directions
drain tomatoes with a strainer, and set aside to drain. chop the cucumbers into bite sized pieces. chop cilantro and onion. take the tomatoes in the strainer and salt and pepper them. then put the tomatoes, cucumbers, onions, cilantro into a bowl and toss together. add olive oil, the juice of one lime and minced garlic and toss together. eat immediately or refrigerate until ready to serve.
enjoy!
for more great recipes using Hunt's tomatoes,
go to www.hunts.com.
i found Hunt's Diced Tomatoes at Walmart!