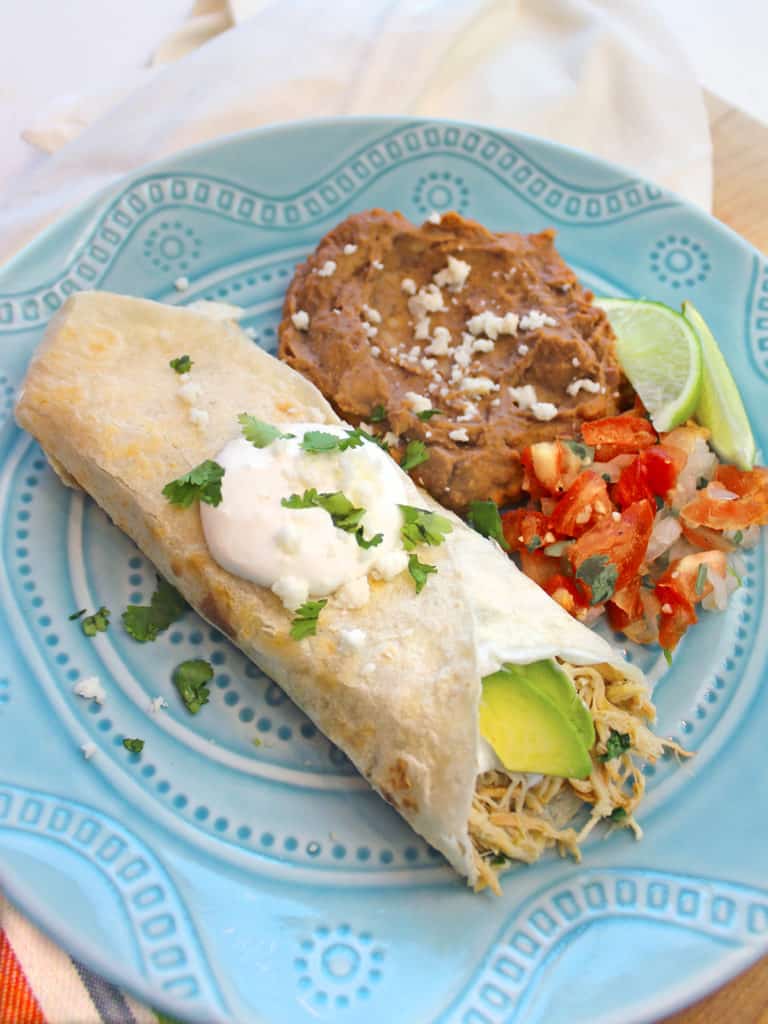 This is a sponsored post. - The holidays arriving, things are about to get hectic. The last thing that anyone wants during this busy season is a big mess in the kitchen, and to have to come home from a busy day and make a big dinner. That's why I LOVE the crockpot and this recipe for Crockpot Chicken Verde Burritos with Caramelized Onions are easy to make, and leave practically no mess! everyone in the family loves them, and they are the perfect meal to come home to after a chilly and busy day.
To make this meal, i did my shopping at Smart & Final. i love, Smart & Final. it's my go to store for party shopping as i have written about before, and it's also one of my favorite places to shop for food in general. it's my secret oasis…because it has great items…like family sized food items, fun bulk candy, drinks, unique paper goods, party supplies and a whole lot more. i always find unique food and serving ware items. i really like Smart & Final because it carries warehouse sized items with the feel and convenience of a neighborhood grocery store and there's NO club fee. it's one-stop shopping because you can buy everything from fresh produce to bakery items in large and small sizes.
How to Make Crockpot Chicken Verde Burritos
I was able to make my entire Crockpot Chicken Verde Burritos with Caramelized Onions dinner by shopping exclusively at Smart & Final. You will need Chicken Breasts, Sour Cream, Salsa Verde, Monterey Jack Cheese, Queso Fresco, Cilantro, Lime, Tomatoes, Avocado, Onion, Tortillas, and Refried Beans.
These are the ingredients you need for the first step of making Crockpot Chicken Verde Burritos with Caramelized Onions.
Start by turning on the crockpot to high heat. Put a couple of pats of butter into the bottom of the dish and let them melt.
Slice half an onion, and place slices into the crockpot.

Stir the onions around to coat with the melted butter.
Generously salt and pepper the chicken breasts on both sides, and place into the crockpot on top of the onions.
Pour an entire jar of salsa verde verde over the chicken.
It will look like this.
Now let it cook! Set crockpot on high if you plan on eating in 3-5 hours. set on low if you will be eating in more than 5 hours. You can't get any easier than that. 
You will end up with something like this....fully cooked chicken breast in salsa verde juice. DO NOT REMOVE THE JUICES.
When you're ready to eat, use two forks to shred the chicken with all the juice. It should absorb all the juice while you shred it.
Next add some chopped cilantro and combine.
Now your chicken verde is ready to eat.
You can eat it in tacos, or by itself, or on top of nachos, but i prefer to eats it like this:first, warm a tortilla on the stovetop. Sprinkle shredded jack cheese over the top.
Wait for the cheese to melt and tortilla to brown.
Remove from heat, and pile chicken verde, sour cream, fresh cilantro, and avocados on top. Wrap it up buy folding up the end first, and then the sides. you want to keep all the yummy juices in the tortilla. You can also top with more sour cream and crumbled queso fresco.
This is a warm, savory, comforting dish that is not heavy at all. The chicken by itself, is low calorie and low fat. Not so much after adding the sour cream and cheese, but you can adjust any of the toppings to fit your liking. It tastes so fresh with the cilantro, and even better with a squeeze of lime. serve it with some pico de gallo and refried beans topped with queso fresco.
Your family will love this meal, and being so simple to make, it will probably make it into your dinner meal line up. enjoy!
P.S. you can also this exact meal using pork instead of chicken. i like it just as much, and it's probably a little juicier. just prepare the pork with the same instructions, but make sure to skim the fat off the top of the salsa verde liquid after it is cooked BEFORE you shred it.
ingredients
4-6 chicken breasts
1 jar salsa verde
1 half of medium onion
1-2 tablespoons butter
¼ cup chopped cilantro
sour cream
shredded jack cheese
avocado
tortillas
cilantro (optional)
lime (optional)
queso fresco (optional)
directions
set your crockpot to high. place 2-3 pats of butter into the crockpot. let melt while you slice ½ an onion into thin rings. place the onion slices into the crockpot and stir to coat in the melted butter.
next, generously salt and pepper both sides of the chicken breasts. place them into the crockpot on top of the onions. pour the entire jar of salsa verde over the chicken breasts. put the lid on the crockpot. leave crockpot on high if you plan on eating in 3-5 hours. set on low if you will be eating in more than 5 hours.
when you are ready to serve, shred chicken with two forks. do not remove the juice, it will absorb into the shredded chicken. mix in ¼ cup of shredded cilantro. serve on tortillas topped with melted cheese. top with sour cream, avocado and cilantro. squeeze lime on top for a fresh citrus taste. enjoy!
and don't forget you can get everything you need to make this yummy meal at Smart & Final!Find more fantastic recipes at the Smart and Final Social Circular
{ Disclosure: This is a sponsored post. All thoughts and opinions are a bazillion times my own. }