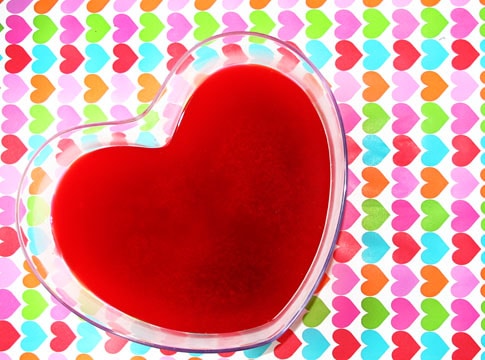 This jello recipe is my mom's specialty. It's just about the only dish she doesn't burn. (sorry mom!). I have been eating this since Red Hots Jello since was a little girl...and we still have it during the holidays.
It's been quite awhile since I've made this recipe because Jello isn't something I think of making on a regular basis. And if you have been a regular reader of my blog, you know I really have a problem of planning dinners ahead. Something that isn't friendly to jello recipes which DO require planning ahead. But, I've been craving Ret Hots Jello lately, and figured it's a perfect side dish for a February meal. Being red with red hots and all.
Really, Red Hots Jello is great all year round. So i suggest you make it at least once. And BTW, I may be a bad cook (inherited but improving), but Jello is easy. And you don't need to be a good cook to make jello recipes. Just patience...you do need that. That's really the only way you can mess this one up. By not waiting till it set. So try it out, patiently wait for it to set up, and enjoy. You can adjust the ingredients to your liking. More or less red hots or applesauce...it's easy to to make it fit your liking.
Cupid's Red Hot Jello Recipe
1 large box cherry Jell-O
½ cup red hots 1-½ to
2 cups applesauce
water
Directions:
Bring two cups of water to a boil. add Jell-o and red hots.
Stir until Jell-o and red hots are completely dissolved.
Stir in applesauce and 1-½ cups cold water.
Pour into a mold, dish or dishes and refrigerate until Jello is set.
Enjoy! Top with whipped cream or eat alone. It will become a family favorite for every holiday.
{P.S. i got the wrapping paper for $1.00 and the plastic heart bowl for $2.99 at Target. }