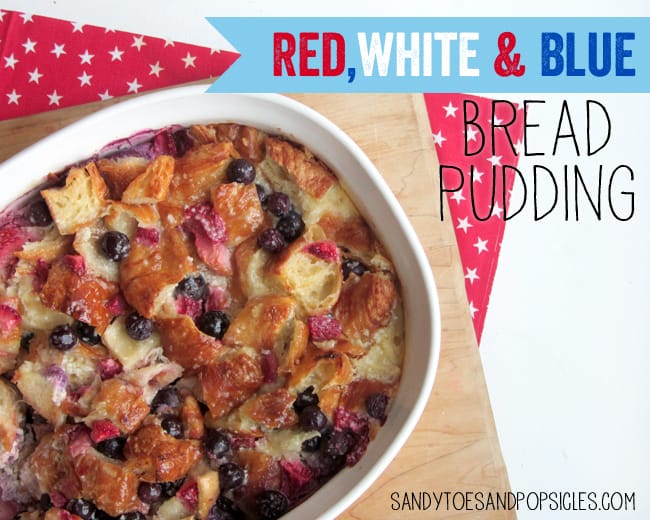 bread pudding is one of my weaknesses. i love it...especially right out of the oven when it is warm a gooey.  so when i had a craving for it the other night, i looked in the fridge to see if i had ingredients to make some. i didn't have the typical bread pudding ingredients, but i did have a whole flat of croissants, and an abundance of strawberries and blue berries. so i came up with this easy AND yummy dessert perfect for the 4th of July. a Red, White & Blue Bread Pudding! of course, this dessert can be made any time during the year, but since i had red strawberries and blue blueberries, it just happened to be perfect for the upcoming 4th of July holiday.
it's really easy to make this yummy 4th of July dessert recipe...or breakfast. all you need are some croissants, fresh (or frozen) berries, cream cheese, sugar, eggs and milk.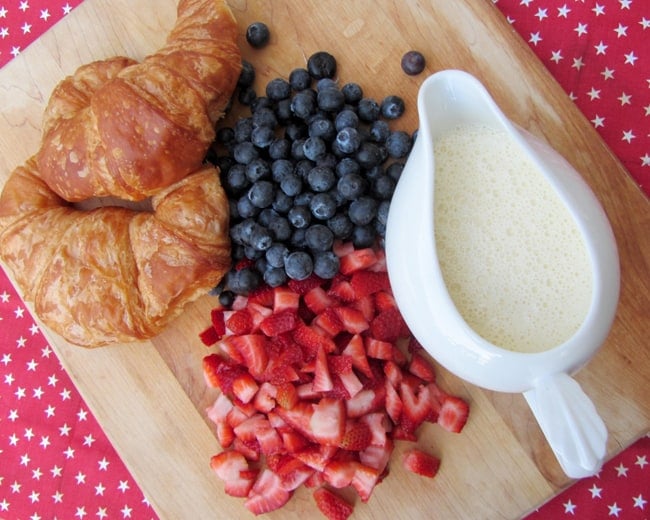 you can use any kind of berries that you'd like. raspberries, blackberries or boysenberries could be really tasty too.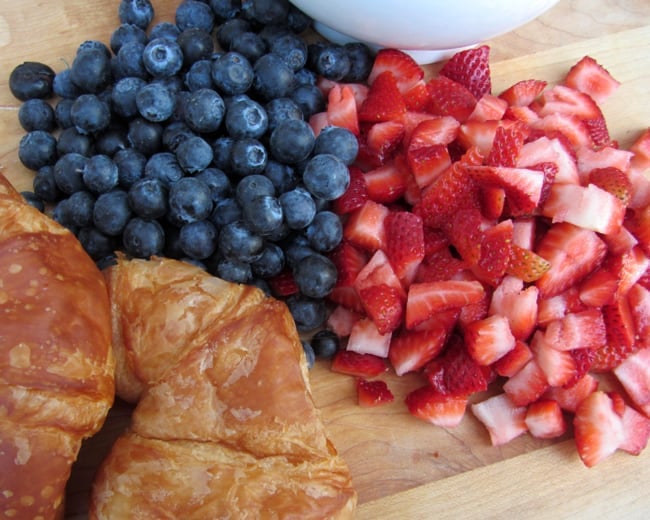 place your cubed croissants into a baking dish, and then spread the berries over the top.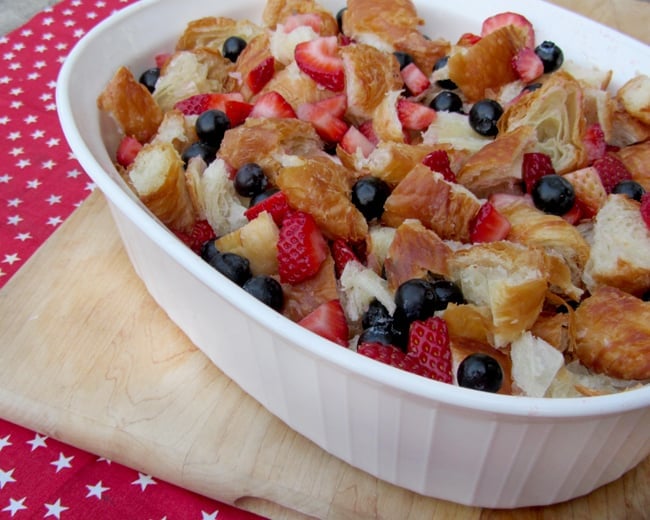 in another bowl, mix the softened cream cheese, eggs, sugar and vanilla. after the mixture is smooth, add the milk and continue to blend until blended and smooth.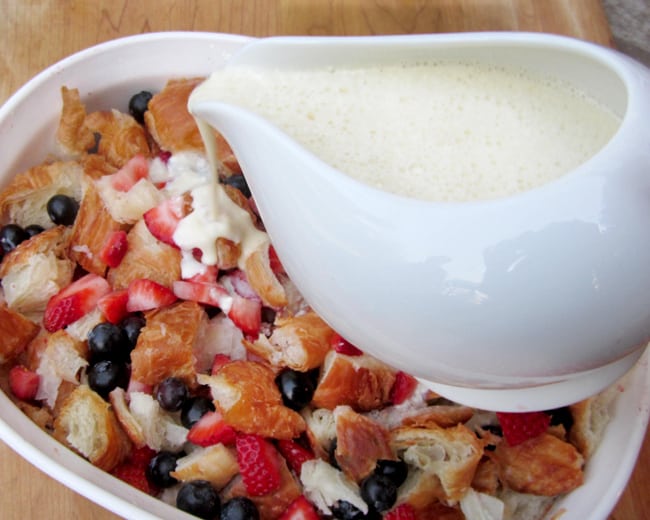 now, pour all of the cream cheese mixture over the croissants and berries.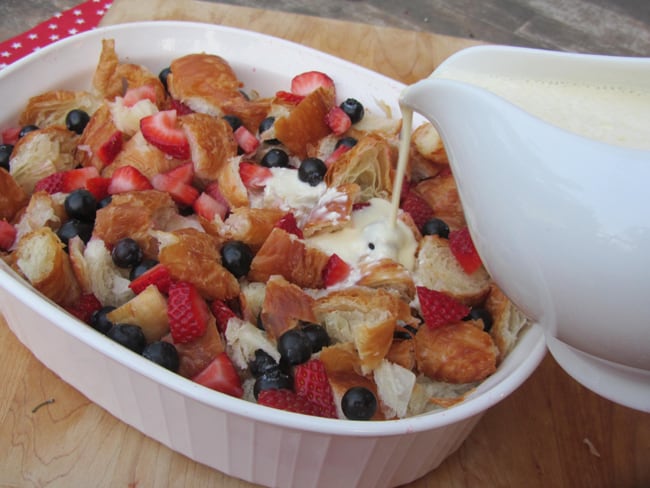 let the cream cheese mixture soak into the croissants by letting it sit 20 minutes before placing it into your preheated oven. cook the bread pudding for 25-30 minutes or until center is set. if top starts to get too brown, place a piece of tin foil onto until it is fully cooked. you can eat it immediately, and topping it with powdered sugar, whipped cream or ice cream is a really good idea (wink). enjoy!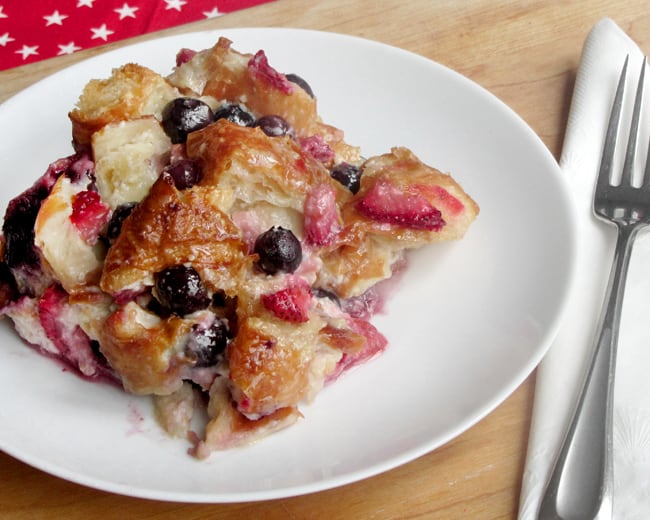 ingredients
5 large croissants, cut into cubes
1-¼ cups fresh or frozen blueberries
1-¼ cups fresh or frozen strawberries cut into small pieces (raspberries work too!)
1 pkg. (8 oz.)  Cream Cheese softened
¾ cups sugar
2 eggs
1-½ tsp. vanilla
1-½ cups milk
directions
• preheat oven to 350°F.
• place croissant pieces evenly in medium baking dish or 9 x 9" pan. sprinkle with blueberries and strawberries.
• with an electric mixer, beat cream cheese, sugar, eggs and vanilla in a medium bowl until well blended. then, gradually add the milk, beating well until mixture is smooth. pour cream cheese mixture evenly over croissants pieces and fruit. let stand 20 min.
• place dish into preheated oven  for 25 to 30 minuntes, or until center is set and top is golden brown. if the top starts to brown before the bread pudding is finished, place a piece of aluminum foil over the top until it is fully cooked. serve warm. it also tastes go when it is sprinkled with powdered sugar.
• enjoy! (makes 8-10 servings)