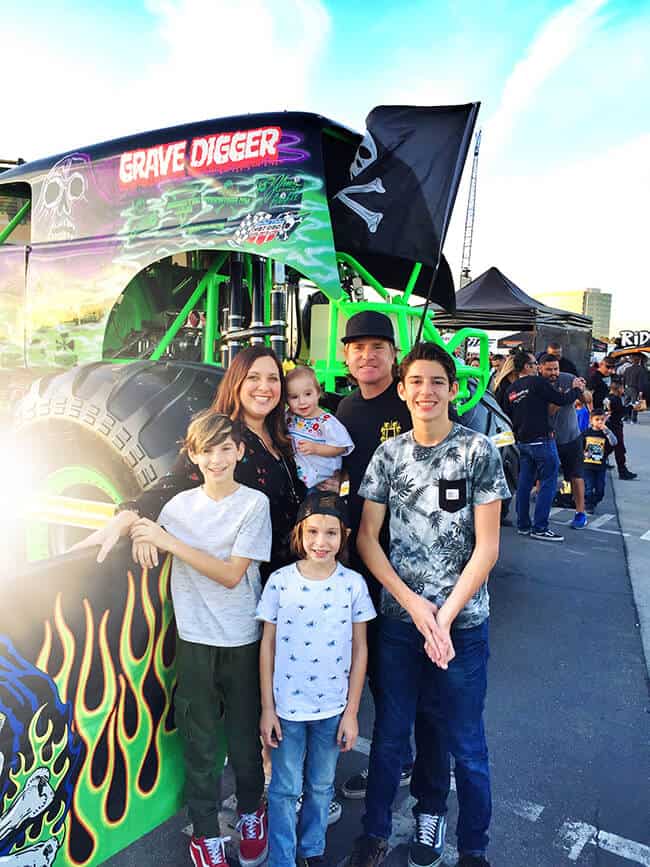 last weekend was all about Monster Jam! my boys have been looking forward to going to Monster Jam at Angels Stadium of Anaheim for weeks. last year i just had a baby during Monster Jam season, so we didn't get to go. this made going this year extra exciting. and we went as an entire family – mom, dad, boys and baby. we even invited my mom and dad to go with us.
first up was the Pit Party, which happens a few hours before the Monster Jam show. it is a separate ticketed event…tickets are $10. the Pit Party is where you can get up close to actual monster trucks and even meet the drivers. there are also booths with hands-on activities, game booths and food vendors. this year, the lines to get into the pit party were extra long due to security, so we only got to enjoy it for a short time. so i suggest getting there early…when it opens. my kids love this part of Monster Jam.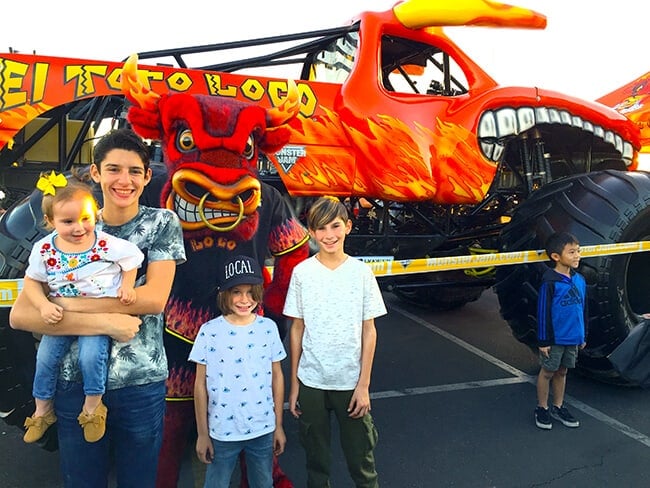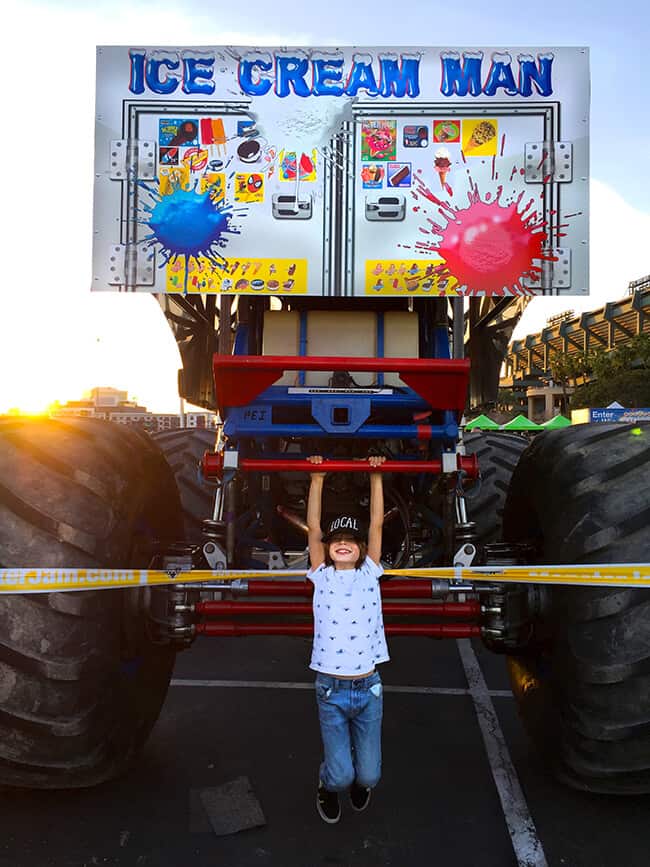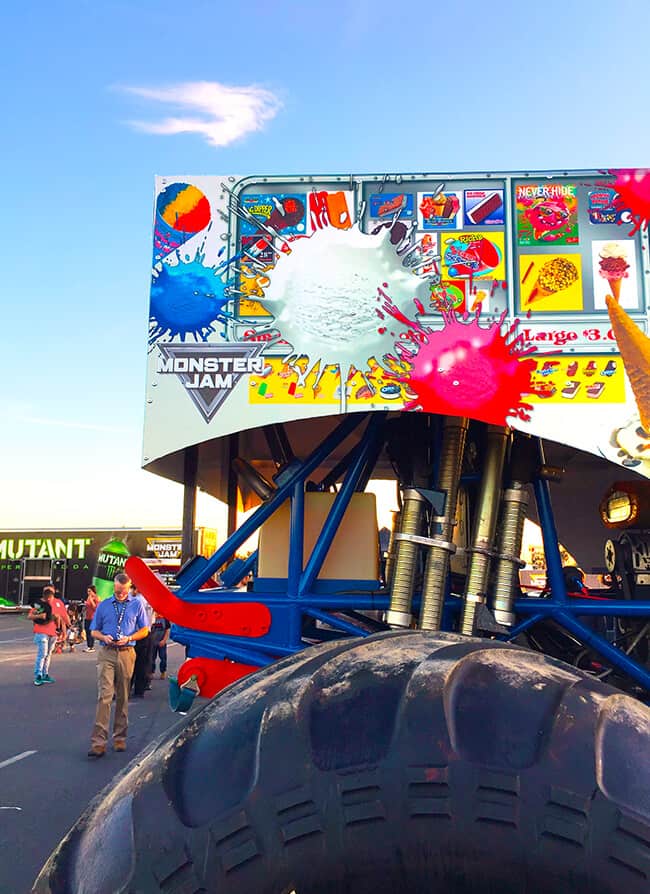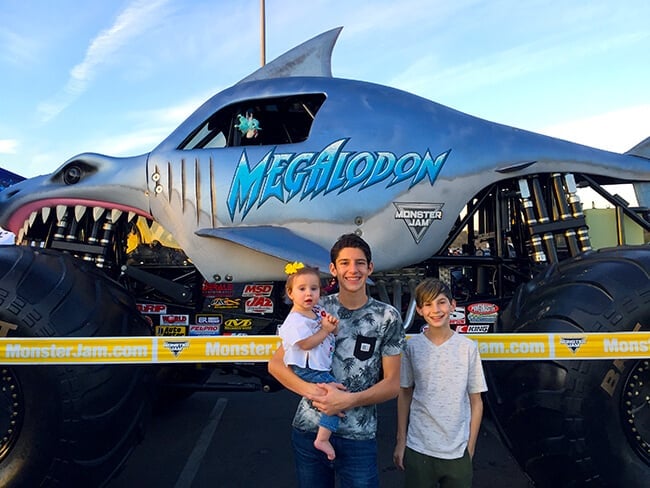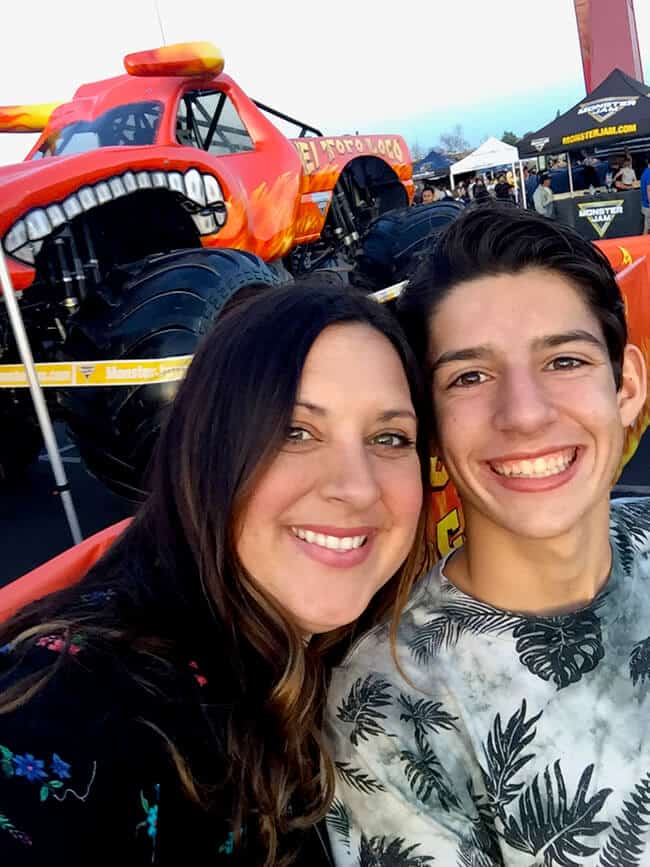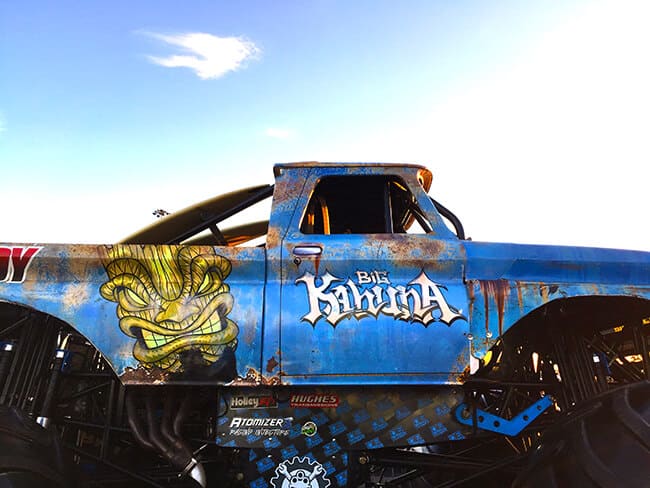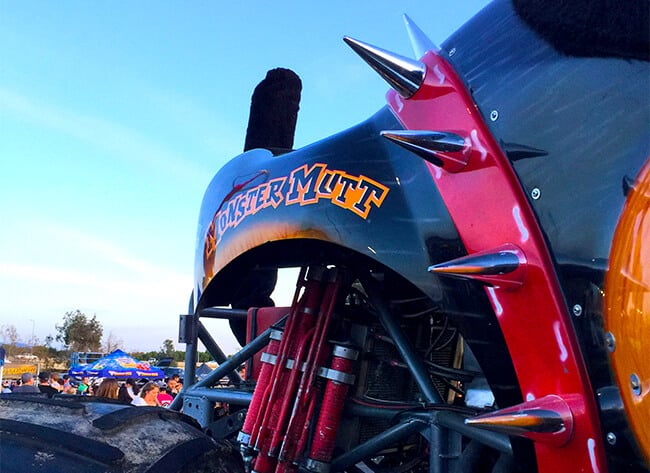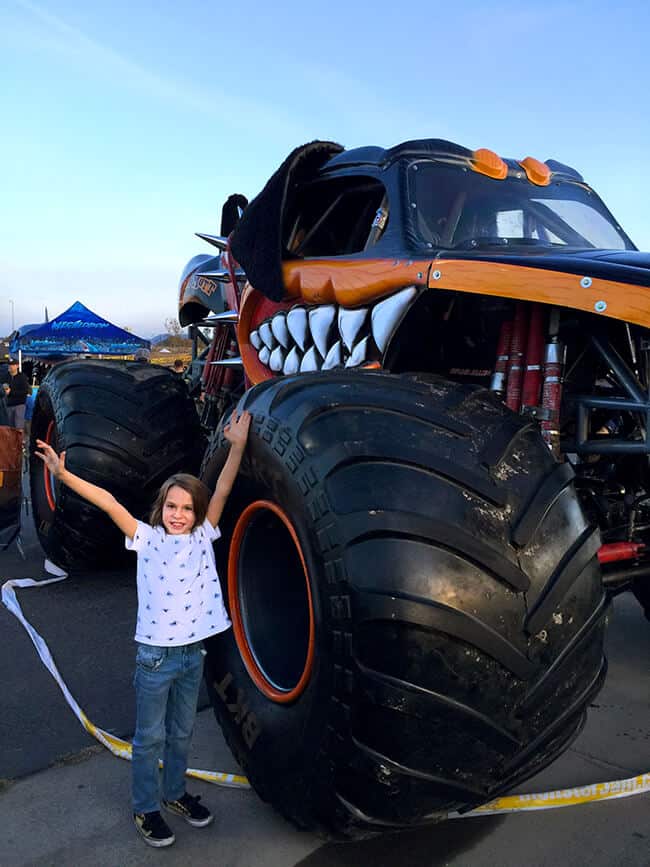 we got lots and lots of photos with many of the boys favorite trucks.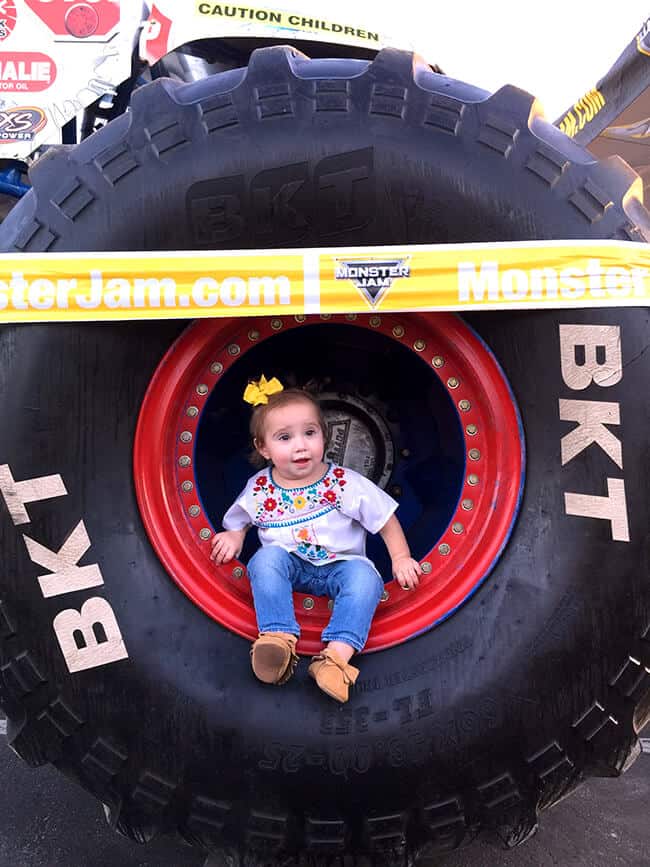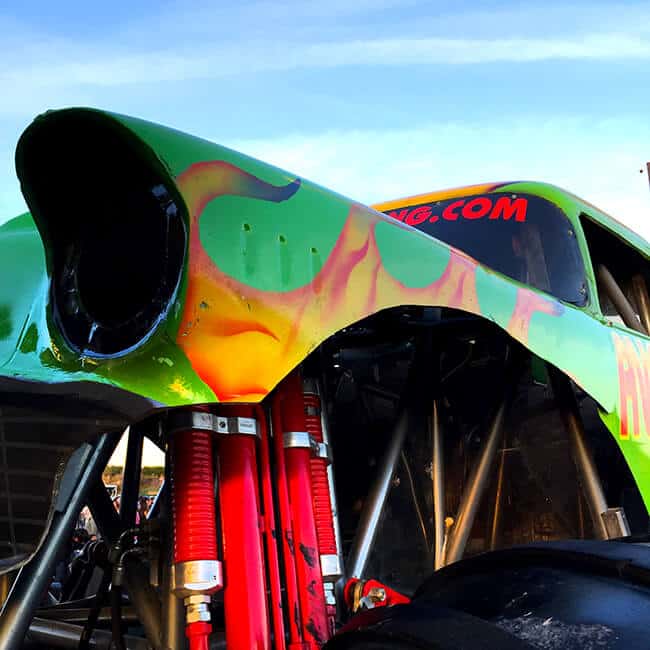 i really wanted to get Dani's photo with Brianna Mahon, the driver of the monster truck Whiplash. she was the only female driver of the evening. i thought it would be nice to have some photos to show Dani when she gets older…just so she can see that women can do the same things that men can do. unfortunately, we got to the truck a little late and Brianna had to run out. but we still got Dani's photo with Whiplash!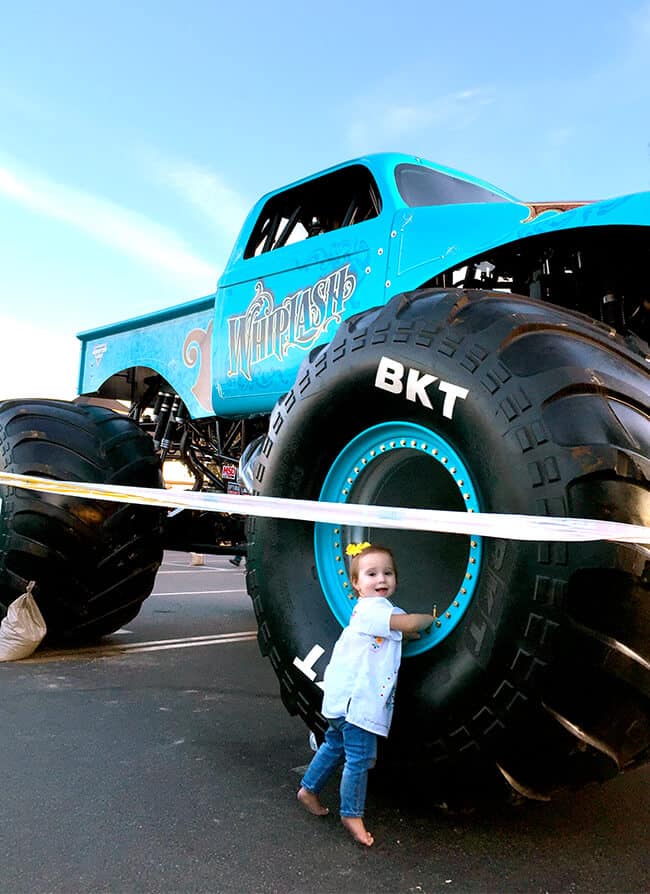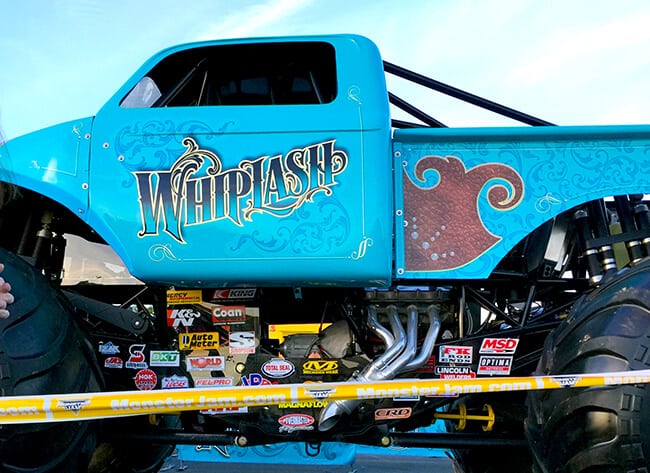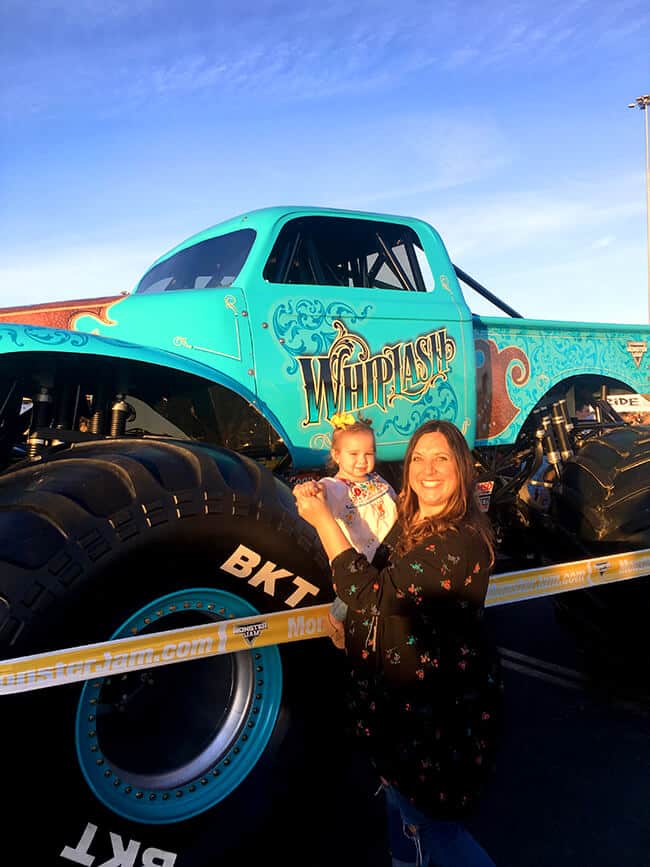 we all really enjoyed the Pit Party, even the grandparents!  then we headed back to our car for a tailgate dinner….because that is what you do at Monster Jam. i had made a really yummy picnic with sandwiches, chips, dips, pasta salads, cookies and drinks. you can also bring food into the stadium…as long as it is not in bulk. you can bring unopened water, gatorade, and juice boxes into the stadium as well.
after dinner, it was time to head into Angels Stadium. it was all very exciting to see it all ready and set-up for a Monster Jam competition. the show is super loud once the trucks get going, so it is really important to protect those kids ears from the noise…even adults need ear plugs. of course the baby had a really good pair pf headphones to protect her ears.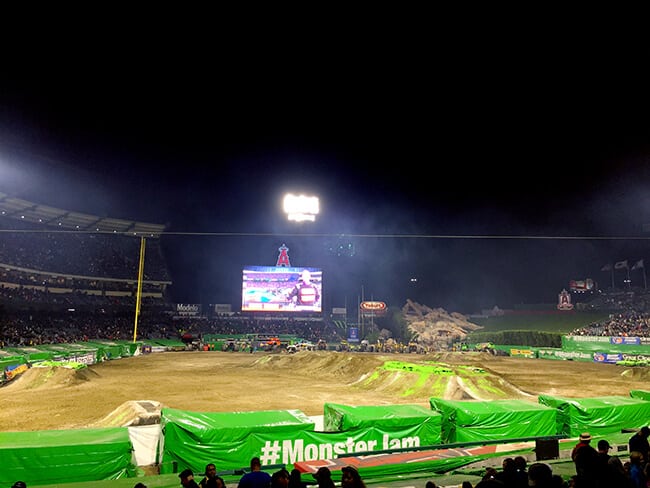 as i mentioned before, the whole family, even my mom and dad went to Monster Jam this year.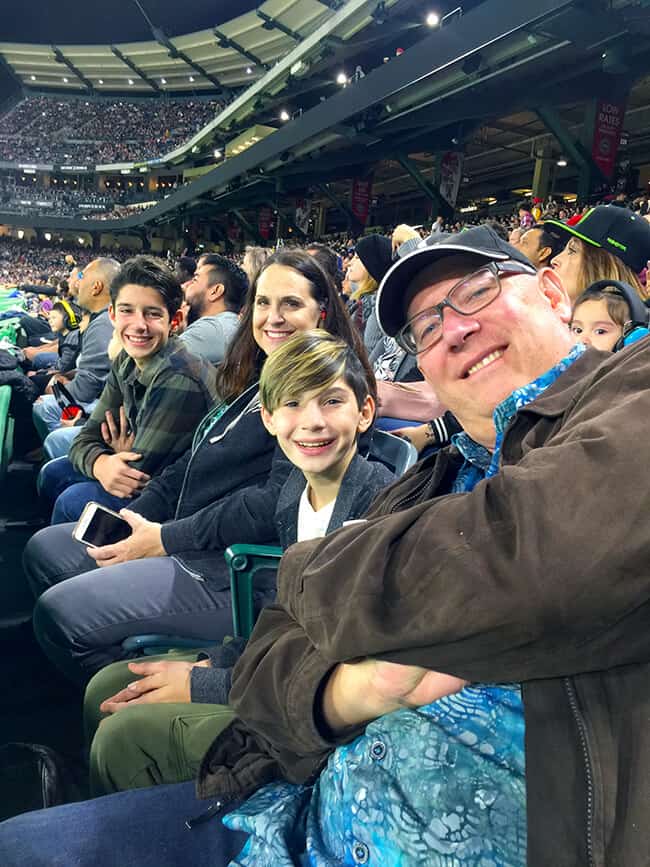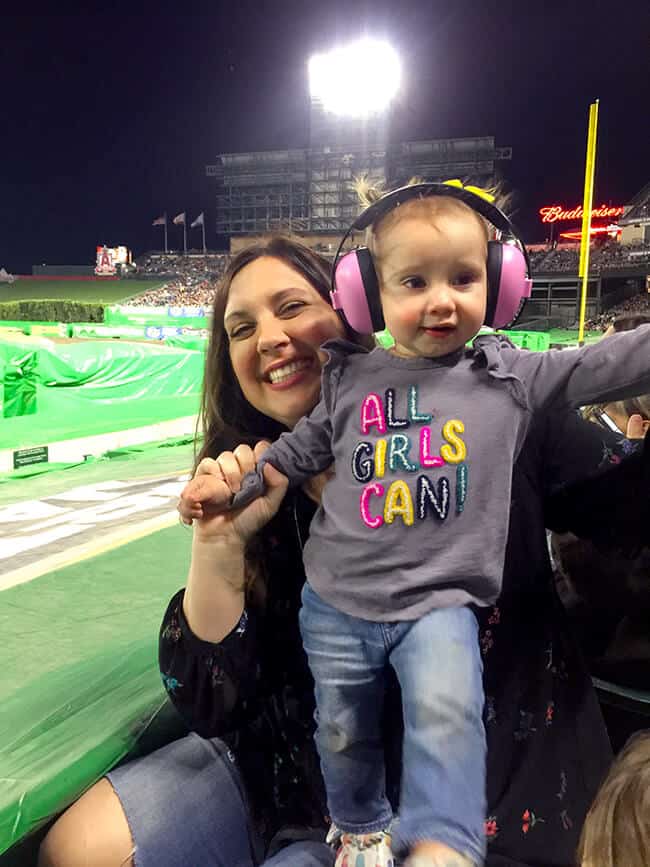 the Monster Jam competition began with a head to head competition race with trucks racing against each other. then they had a new race, called the "two wheel" competition. where trucks tried to do tricks on jut two wheels. it was amazing what some of those truck could do.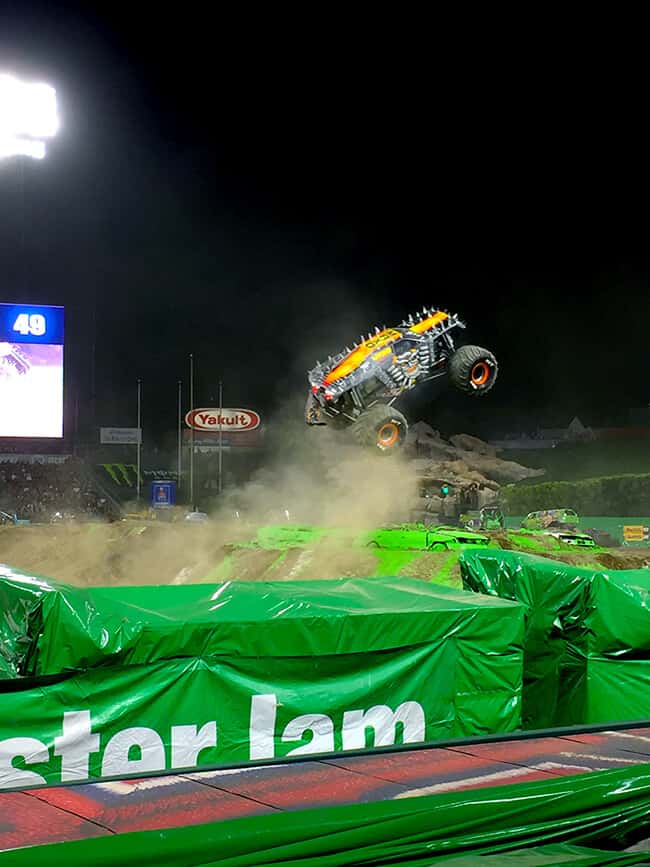 there were even a few wrecks…which make the crowd go wild.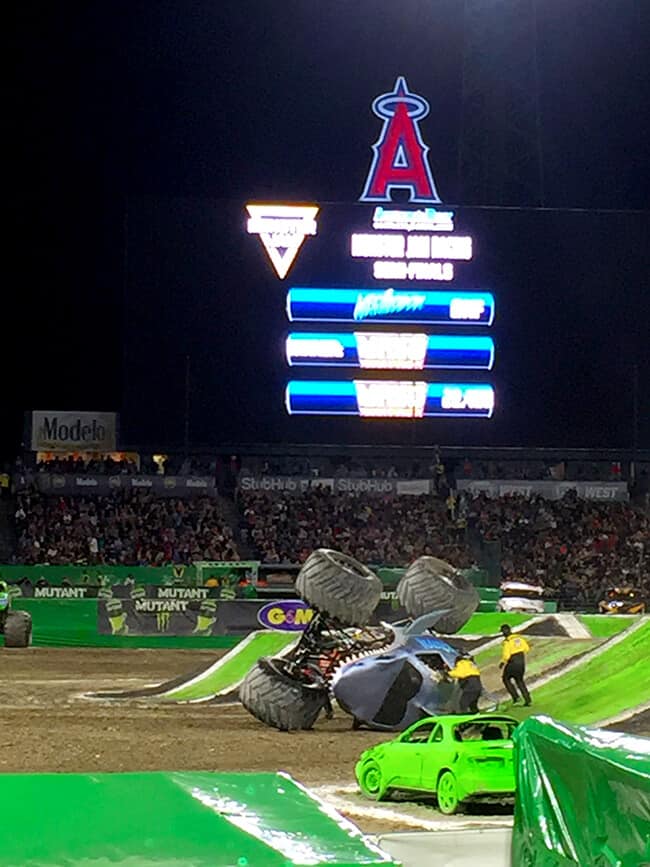 this year, the fans were able to vote for the trucks using their cell phones. that was pretty fun for everyone to get to participate. it was pretty interesting to see the scores the boys were giving to the drivers, and hearing their explanations on why they deserved the scores given. this made the show even more fun.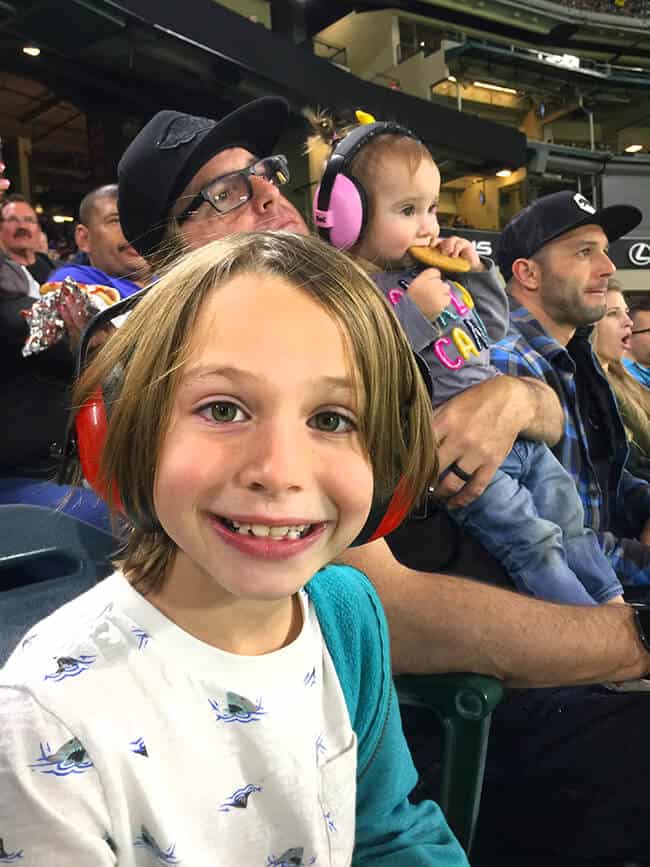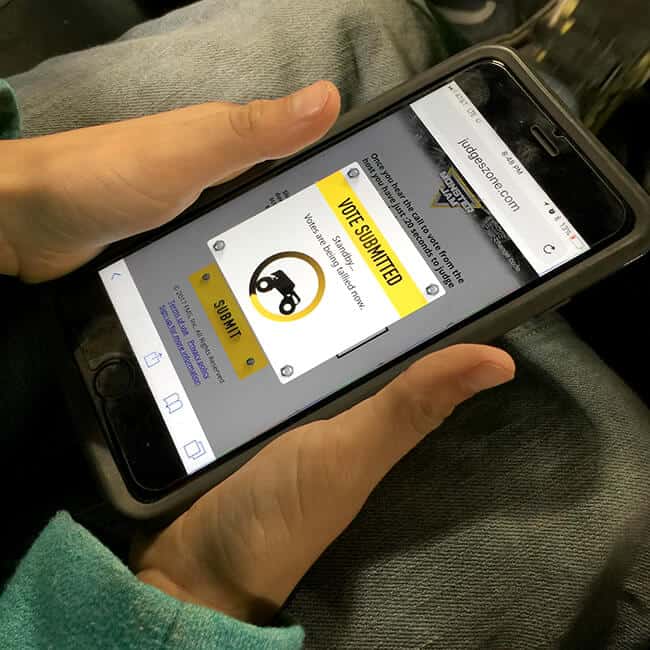 the last race of the night was the freestyle competition. all the trucks pretty much wrecked themselves by going all out on the tricks and speed. almost all the trucks ended up without shells. 3 trucks even did backflips!!!!! it was amazing….the crowd went wild.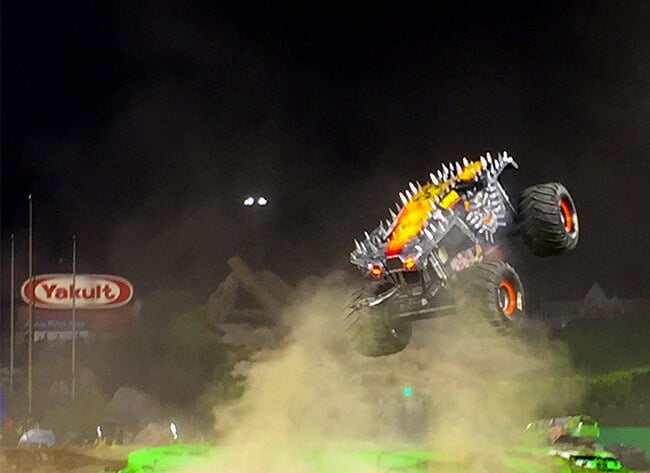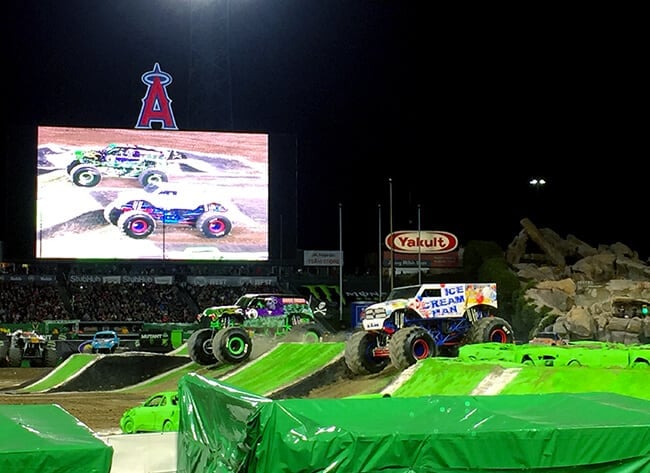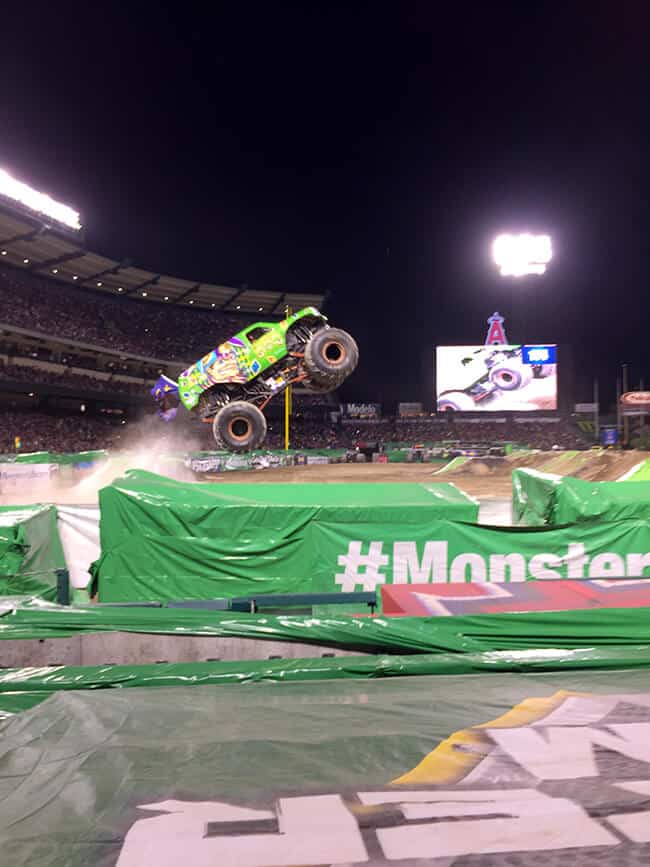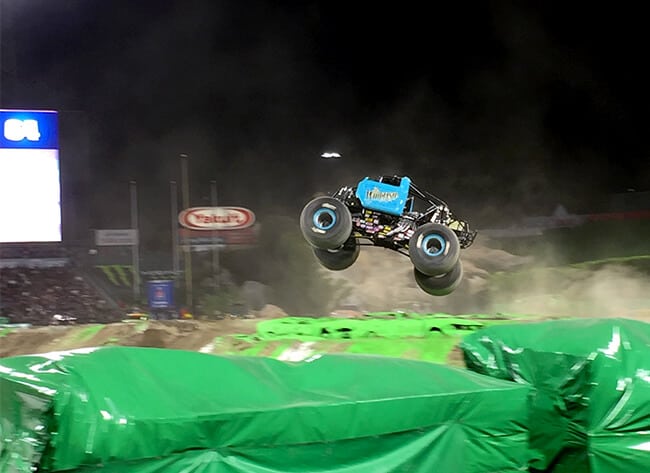 by the end of the night, we had so much fun that little Dani was all tuckered out.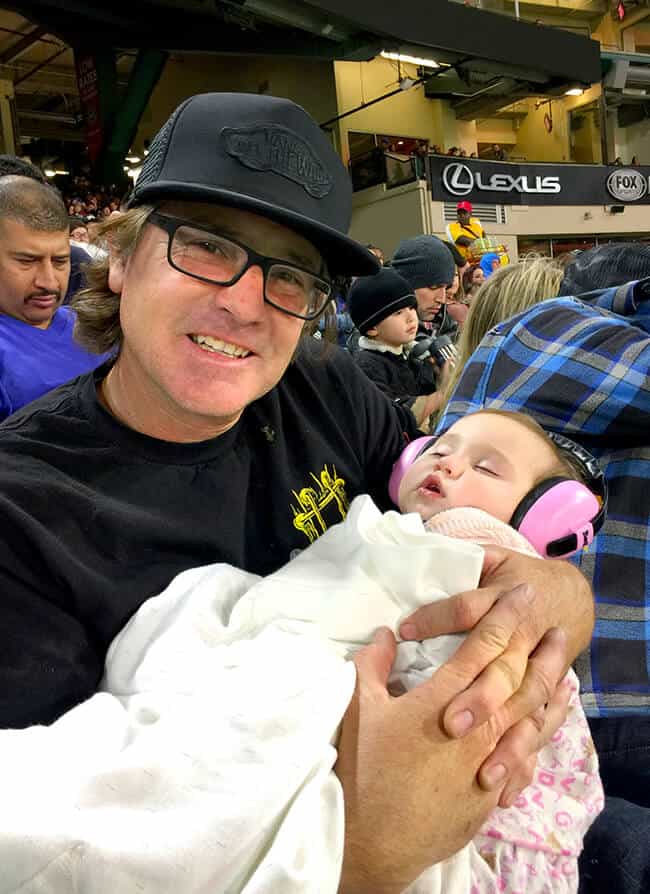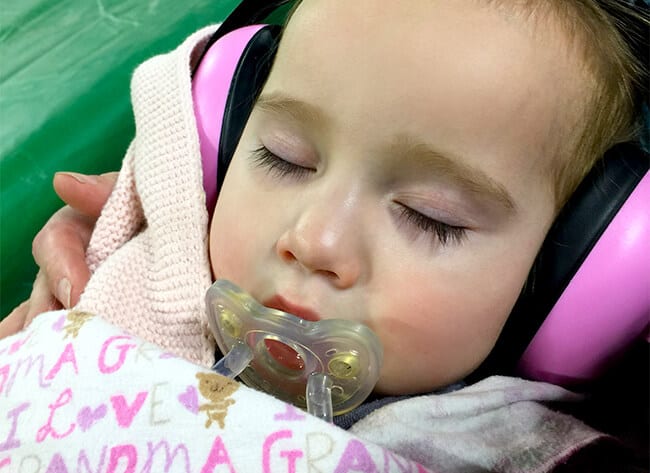 i do have to mention that our family felt that this Monster Jam was the best we had ever been to!  the driving was awesome, the tricks were amazing, the crowd was ecstatic, and the show was very entertaining.  Monster Jam surely didn't disappoint, i'm so glad that i got to experience it with my boys and my little girl.
there are still 4 more chances to see Monster Jam in Orange County this year! the most ever offered, so if you want to go, make sure to get your tickets soon before they sell out. so much fun!