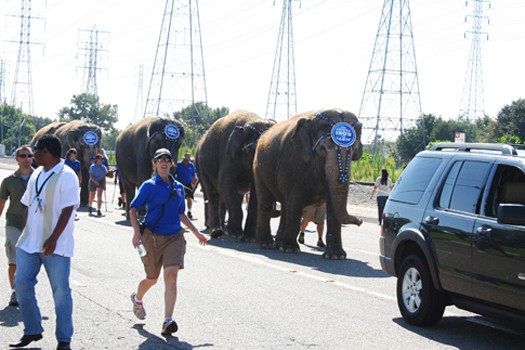 disclaimer: i apologize in advance if any of this information is wrong.....i will update as information becomes available. 
if my prediction is correct, the Ringling Bros. and Barnum and Bailey Circus elephants are arriving on the circus train tomorrow, wednesday, july 25, 2012! this is called the "Elephant Walk." and since the circus begins in the OC on friday, they gotta bring all the circus animals and equipment by train to the Honda Center. well....the elephants have to get from the train to the Honda Center somehow, so they walk them down the street from the train drop-off to the Honda Center. people can sit along the curbs and watch!
the reason i haven't posted it until now, is because it is hard to find information about this event. plus Ringling Bros. and Barnum and Bailey Circus doesn't publicly announce when the train will arrive, especially because traveling with animals can be unpredictable. and because a lot of times PETA does protesting when the circus comes to town. (which is sad because a lot of these elephants have been rescued from circus' around world that were abusing them.)
however, if the schedule is as years past, then the "Elephant Walk" is tomorrow! and the elephants walk down Cerritos Street and Douglas Street to the Honda Center. i know that the train can arrive as early as 11:30...but you know what happened a few years ago year. there are parking lots near by, so if you want to try and go, bring some treats and a book to past the time.
 i will post any updates i learn on facebook, so check there tomorrow.
here are directions. and here is a link to last years elephant walk.