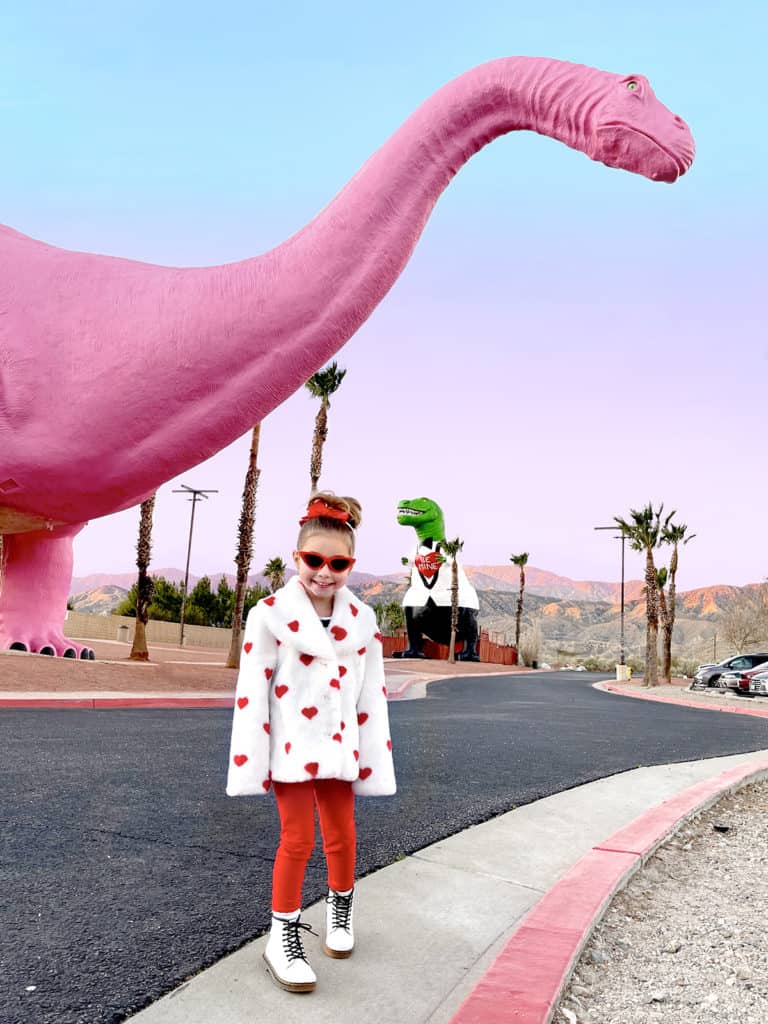 The Cabazon Dinosaurs have gotten a makeover for Valentine's Day! This is a first for these iconic roadside attractions. Mr. Rex is now sporting a tuxedo coat and ready to give a Valentine to that special someone. And Dinny the Dinosaur is tickled pink!
I mean...it doesn't get cooler than this!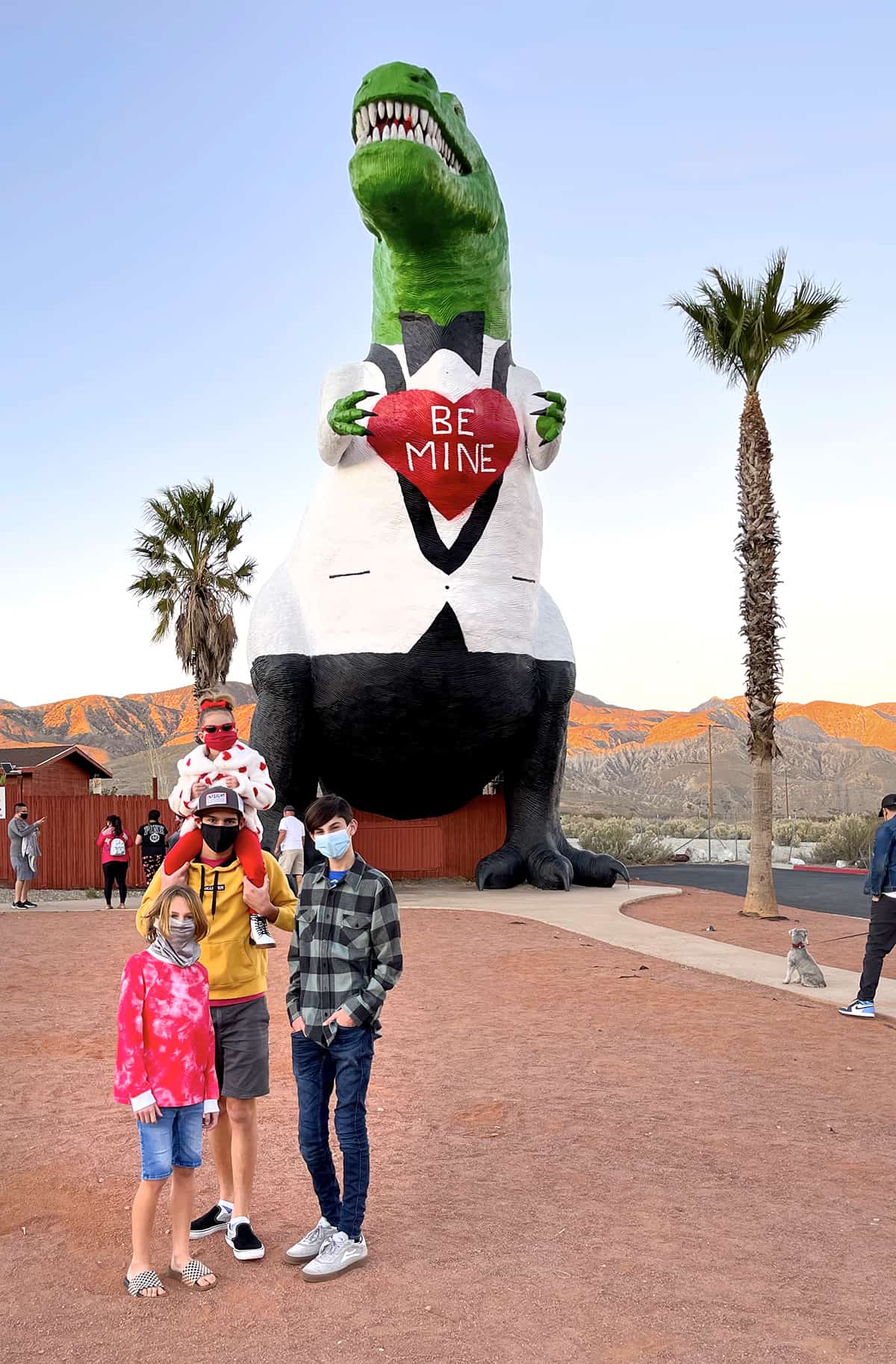 If you haven't heard of the Cabazon Dinosaurs, they are located in Cabazon, California along the historic route 66. They are formerly know as the Claude Bell's Dinosaurs and are two enormous, steel-and-concrete dinosaurs named Dinny the Dinosaur and Mr. Rex. you would say they are a tourist trap, as how could you not stop and visit them?. They've been featured in cult classics such as Pee Wee Herman's Big Adventure and The Wizard and have staked their place in pop culture. And guess what? They are free to visit.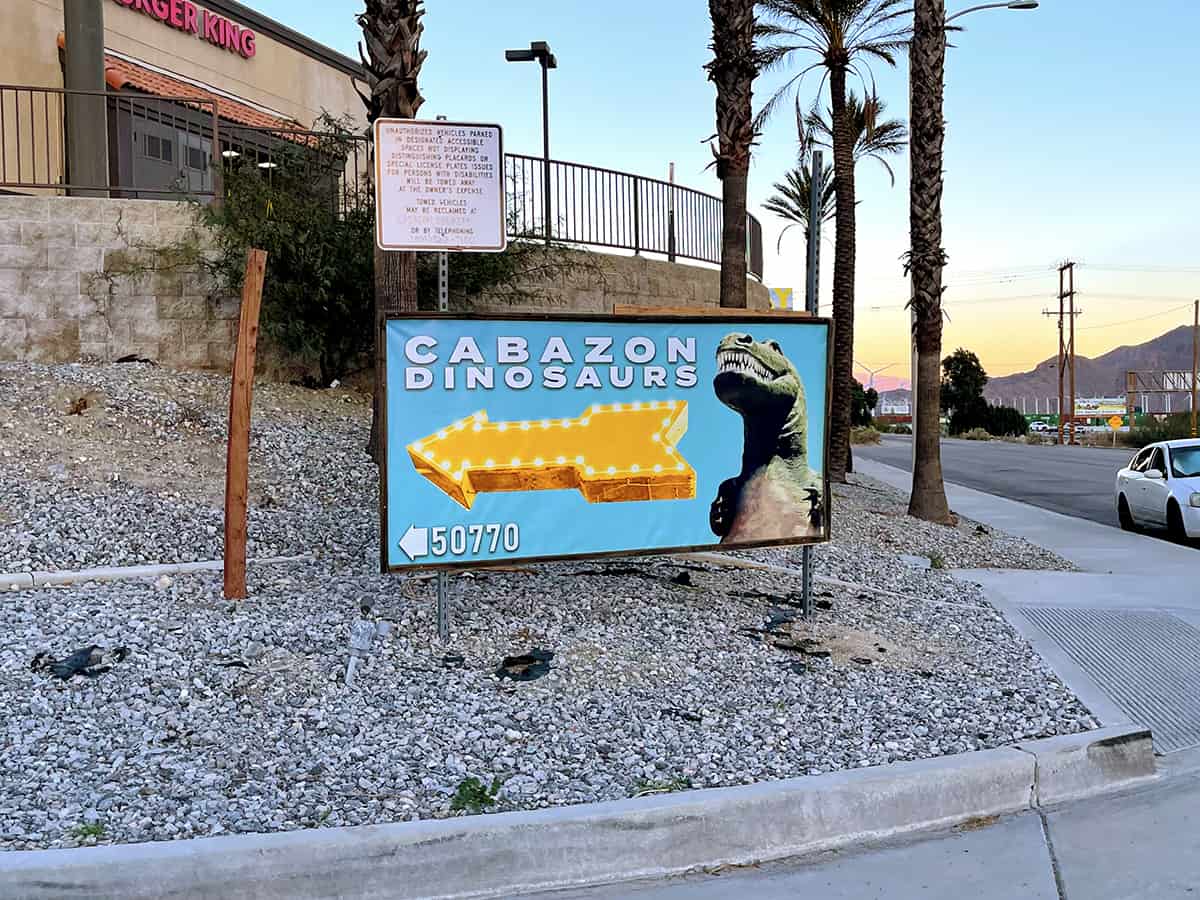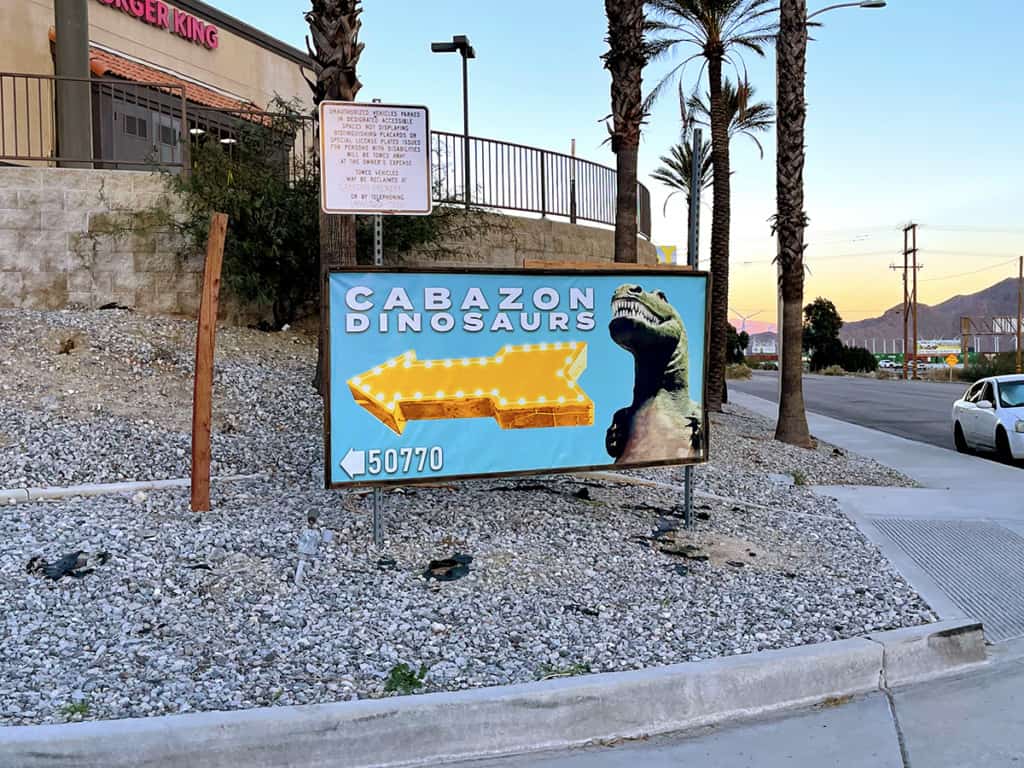 What to Expect at the Cabazon Dinosaurs Valentine Celebration
Mr. Rex's Valentine Celebration begins January 16, 2021, and along with their Nights in Colorful Lights, that will continue through March 31, 2020. We decided to take an evening adventure to visit the Valentine dinosaurs...because first, they are super cool especially with their new paint job. And secondly, there is really nothing to do with the current shut downs. There is no better time to drive and hour from OC to visit dinosaurs.
And wow...we actually got the teenagers on board.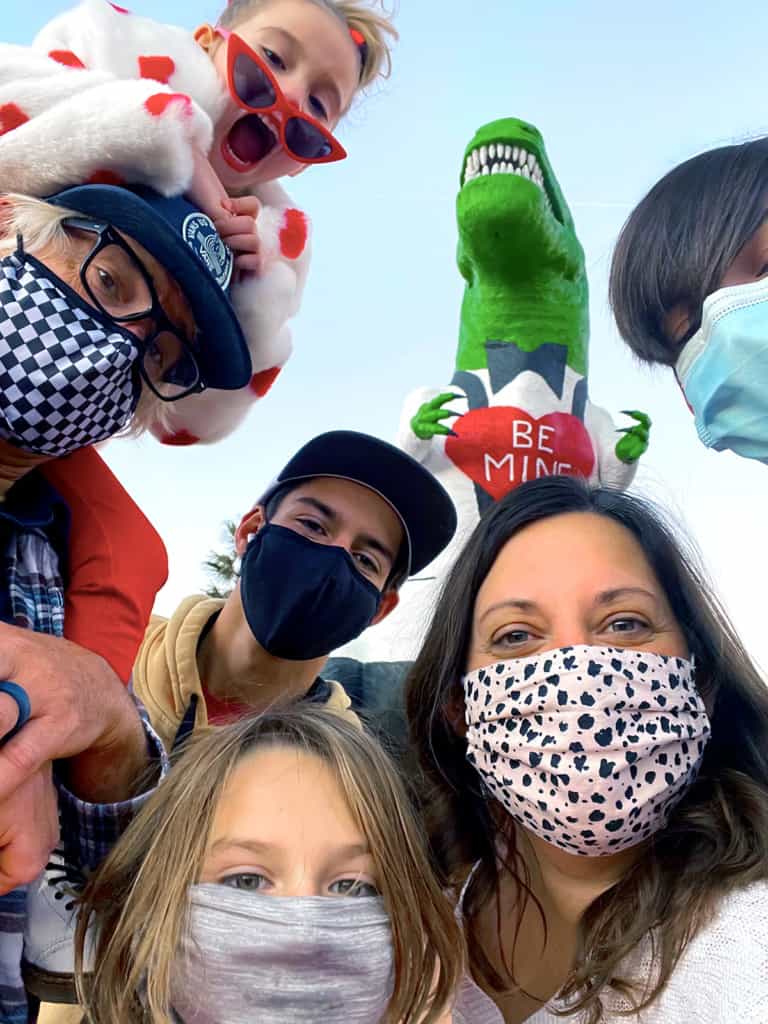 The Cabazon Dinosaur Valentine Celebration isn't really that different from visiting the dinosaurs normally, but they do look really cool in the Valentine colors. We had fun talking some family photos in front of them for our memory books. They are both free to visit and take photos in front of. Here are some of the photos we took...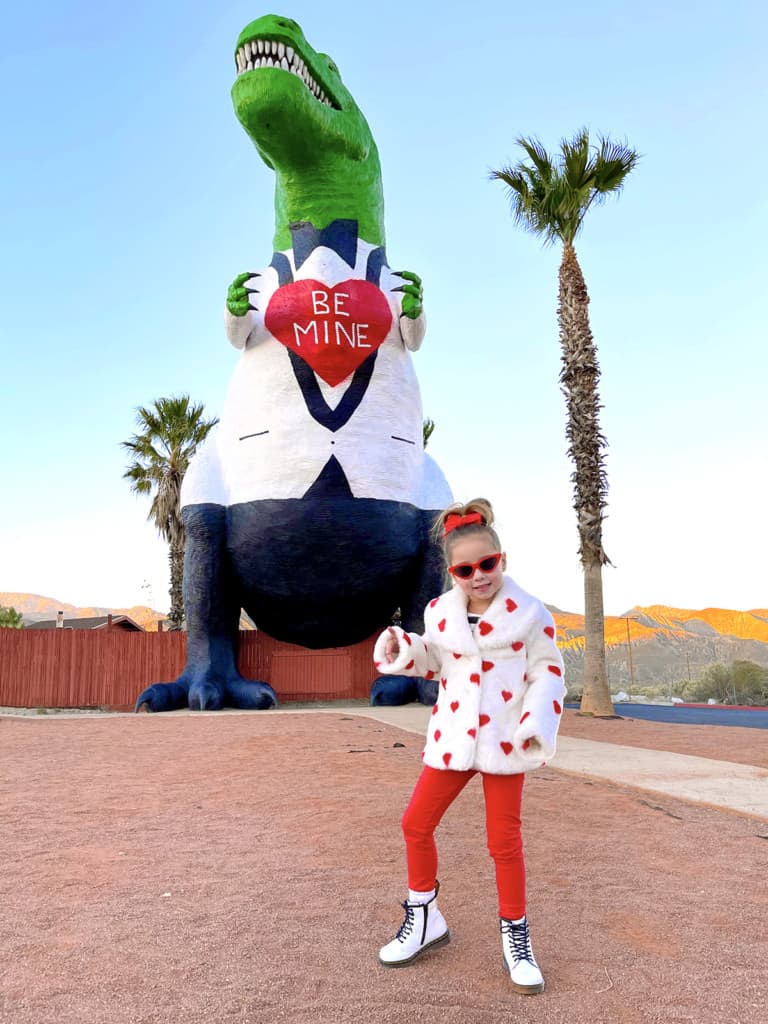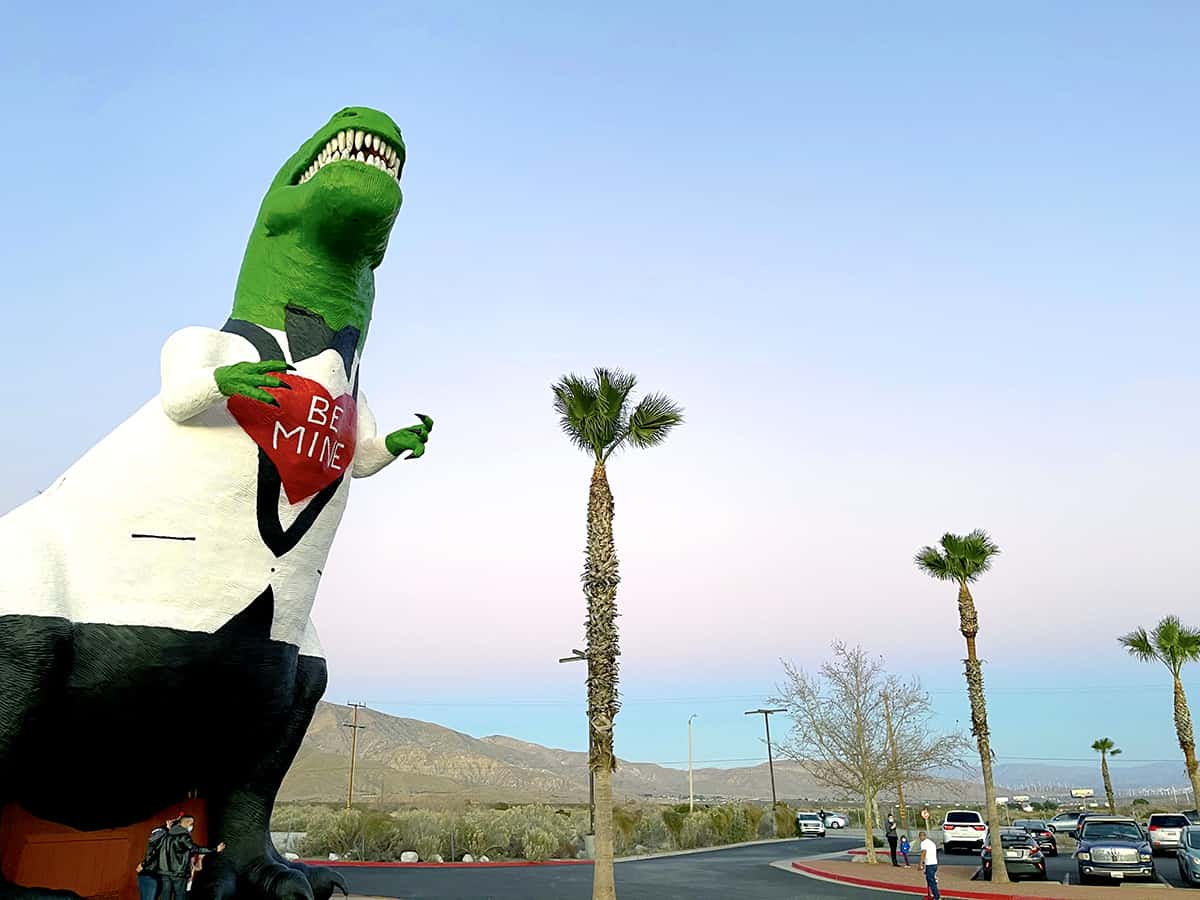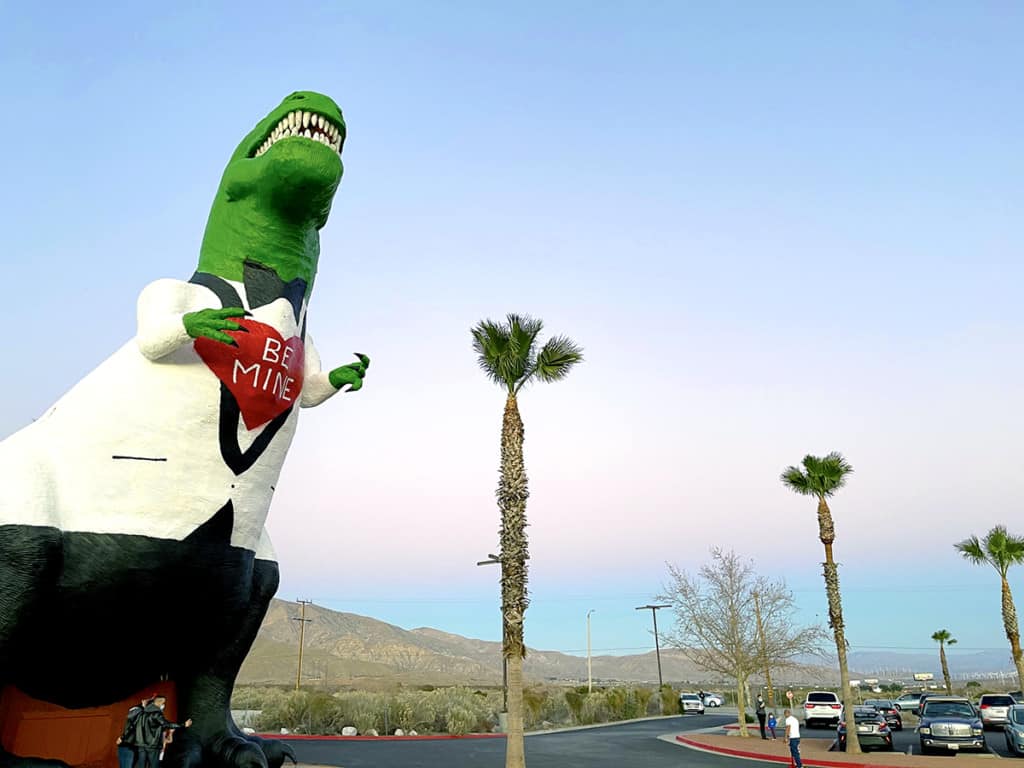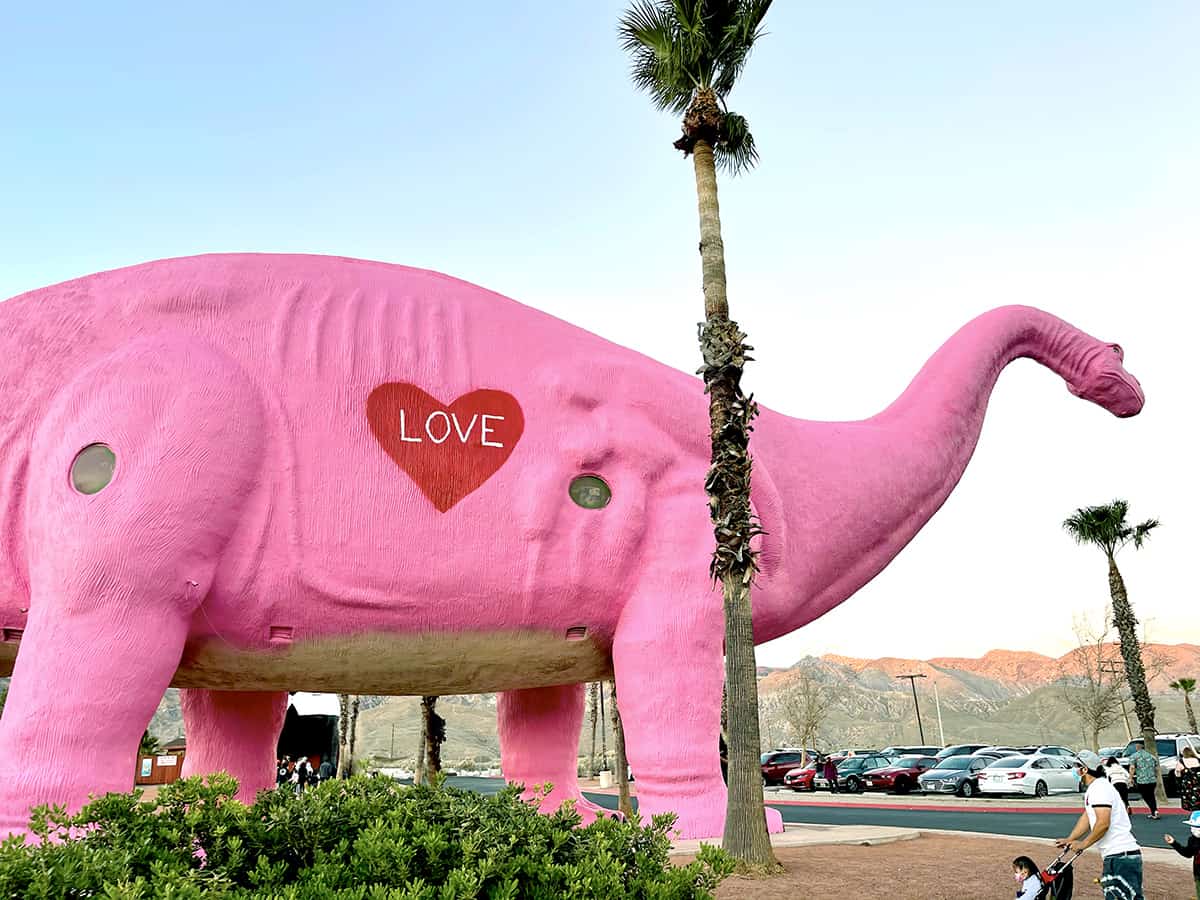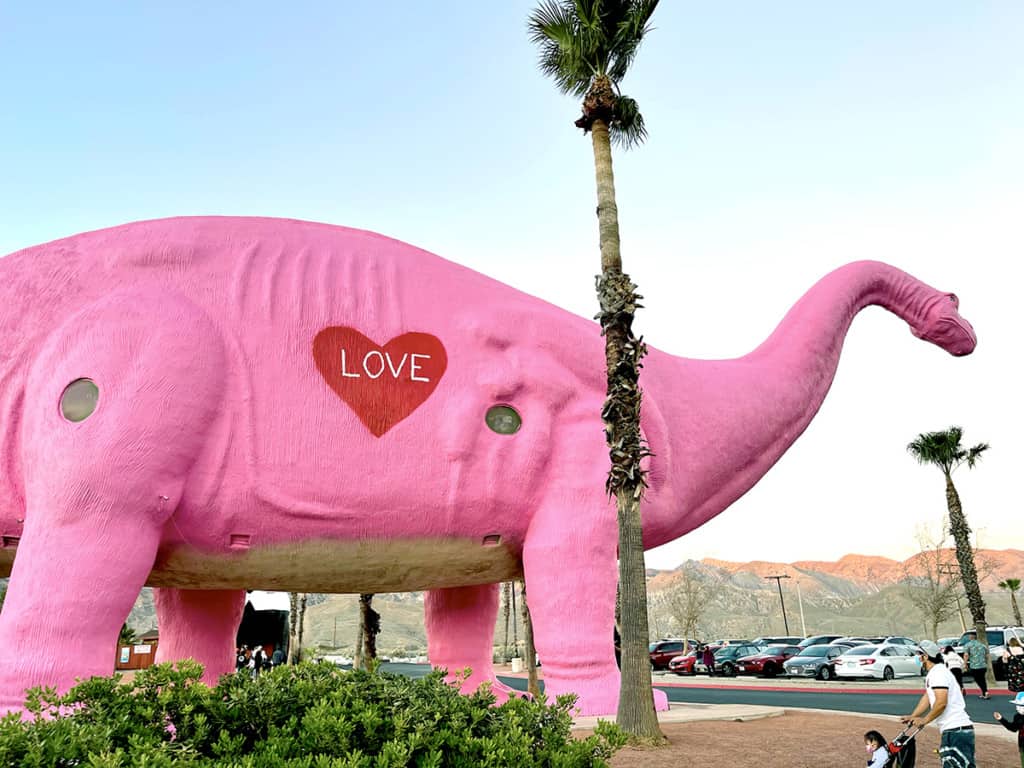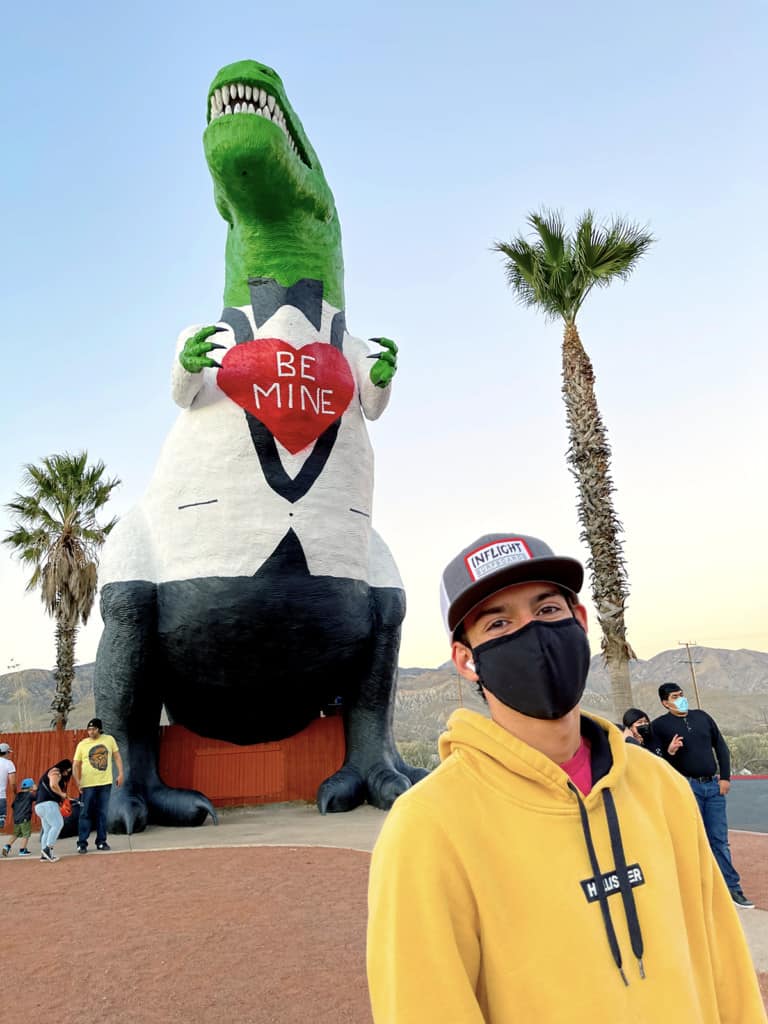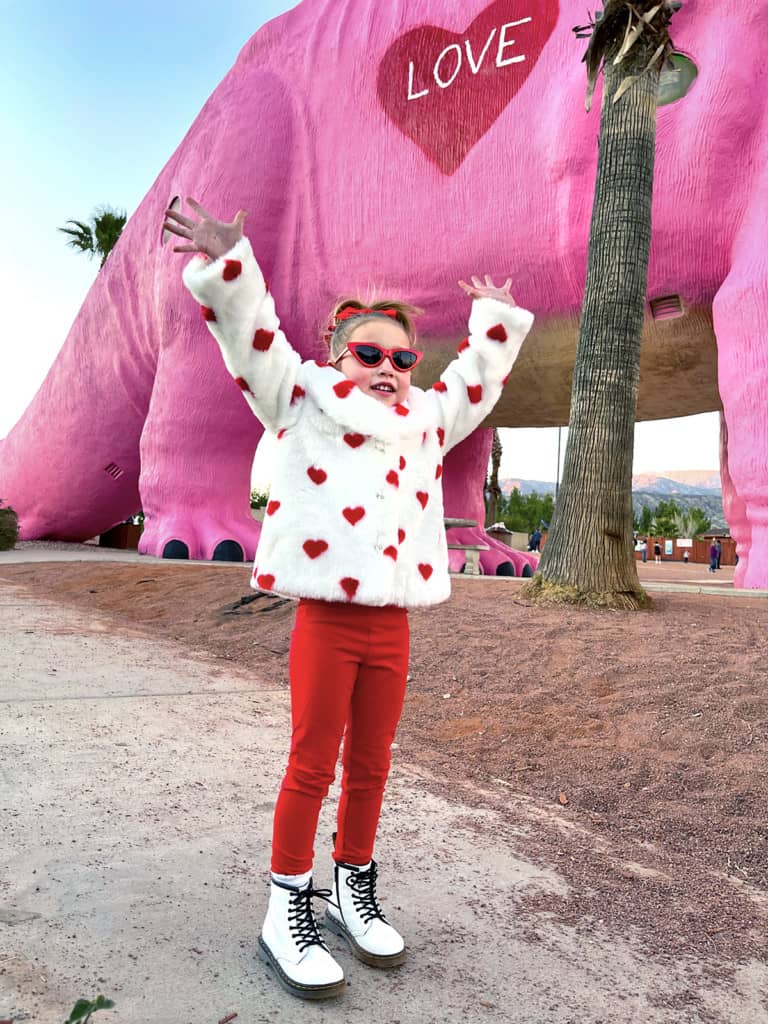 Of course Dani stole the show, because she demanded to most photos!
After our mini photoshoot, we headed over to the Cabazon Dinosaurs outdoor dinosaur trail. During the weekends, the Sweet-o-saur Truck is serving up delicious dinosaur-themed ice cream treats! We may or may not have enticed our teenagers to come with the promise of one of their freshly made waffle dinosaur ice creams. Yum yum yum...Sweet-o-saur didn't disappoint.
(Note: It takes around 20 minutes to get your ice creams once ordered as they make the dinosaur waffles fresh. Also, expect to pay around $7 per ice cream. So plan accordingly.)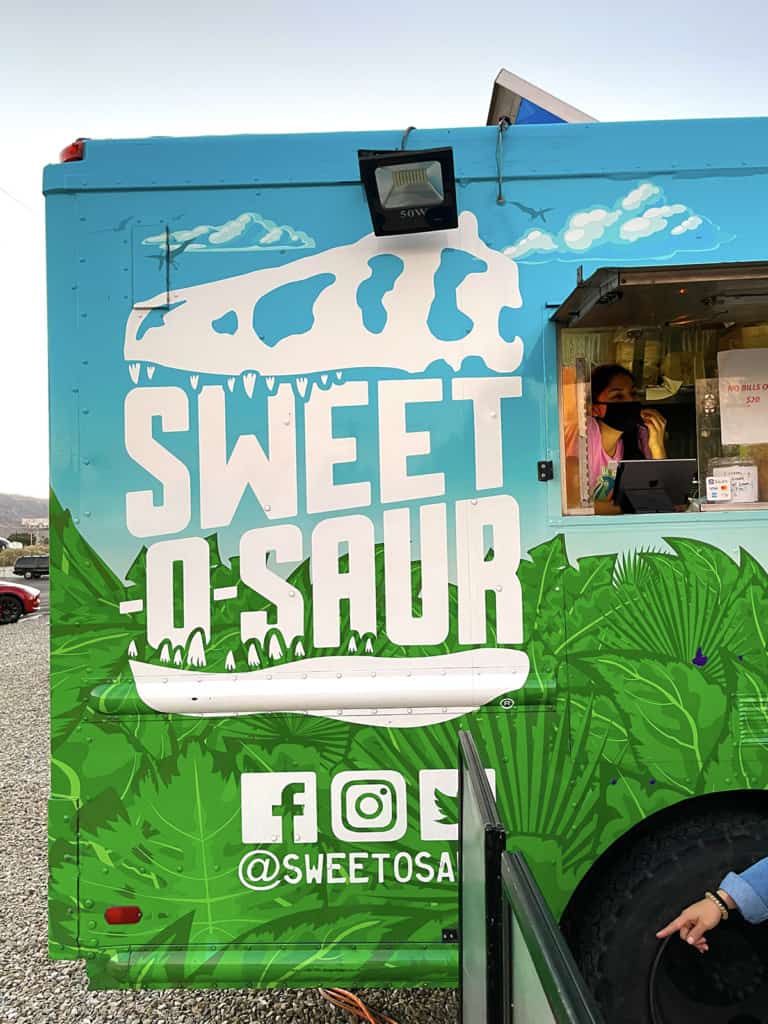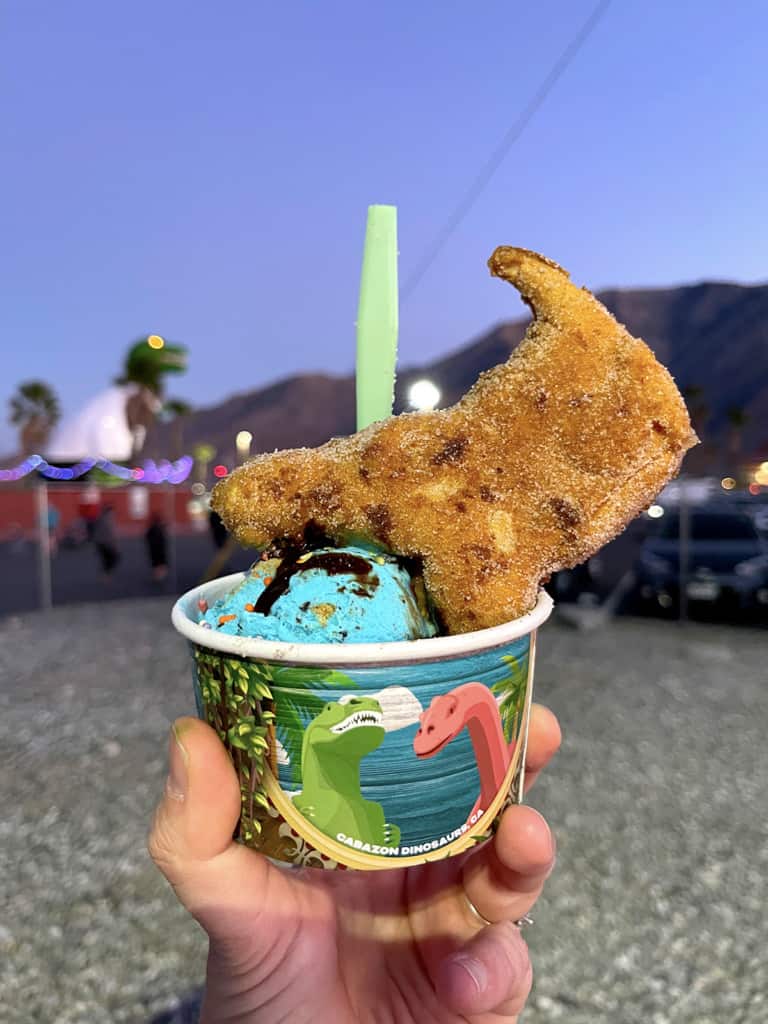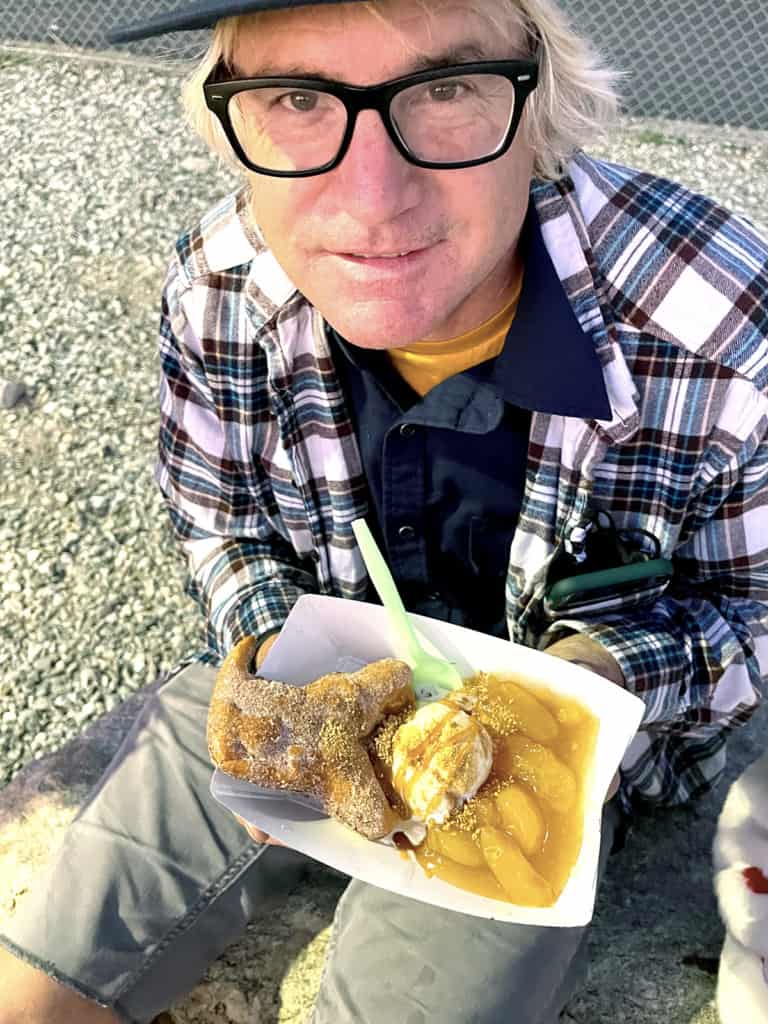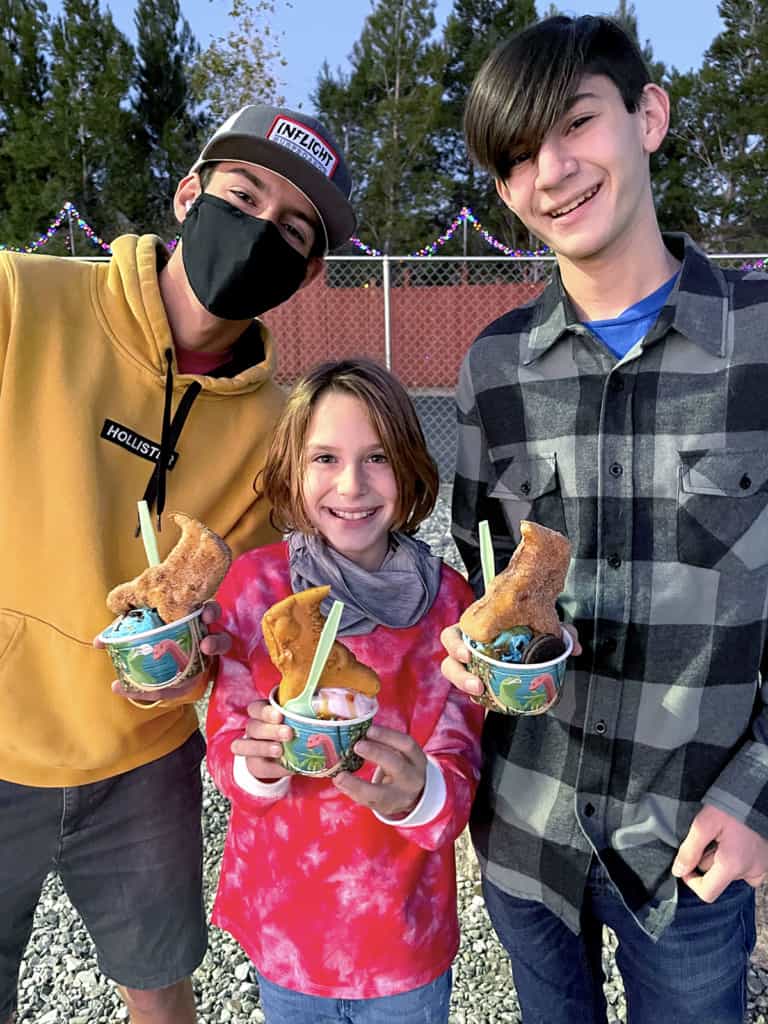 This was our view as we enjoyed our ice creams!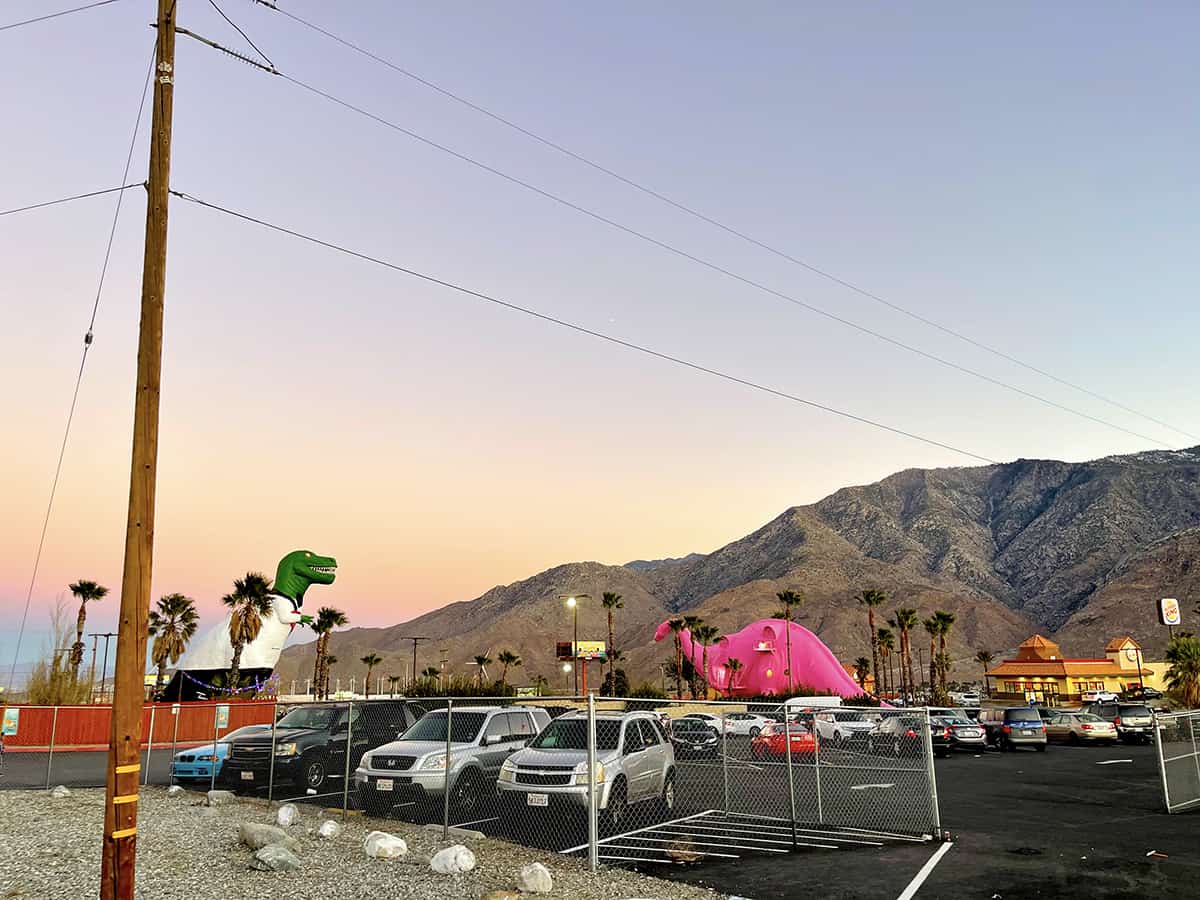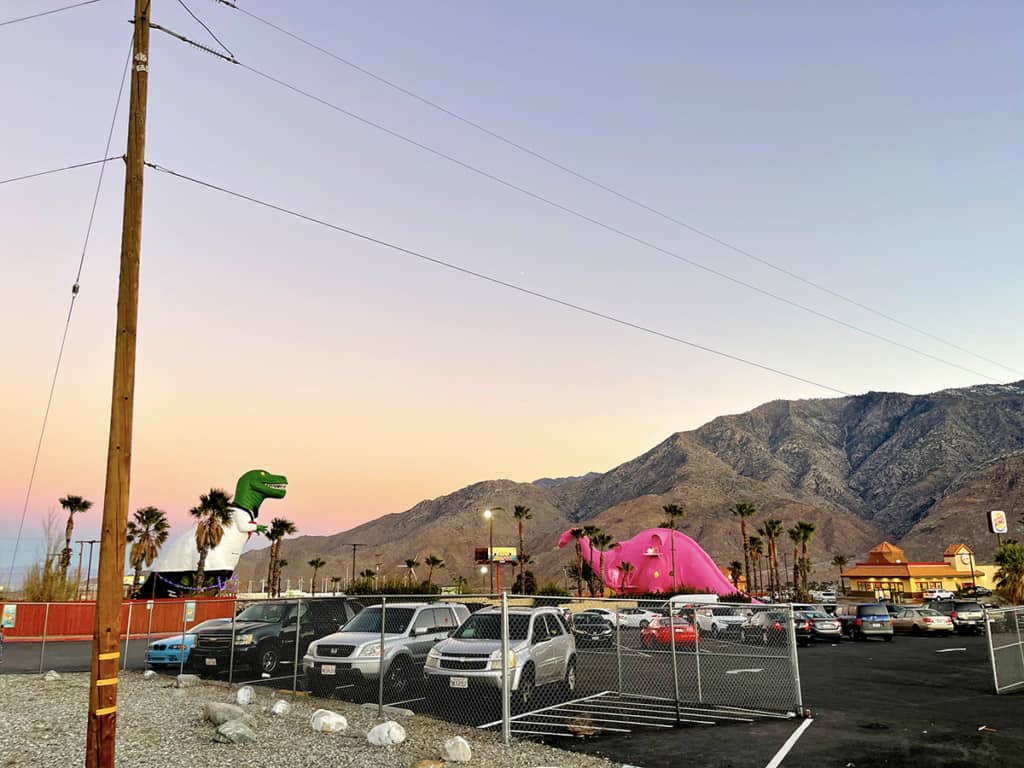 Mr. Rex's Dinosaur Adventure
After our ice cream, we decided to go into Mr. Rex's Dinosaur Adventure. An outside dinosaur trail where you can see dinosaur replicas, read about the different dinosaurs, and check out the Cabazon Dinosaur toy and gift shop. This is a paid experience separate from the giant dinosaurs. Except this experience does give you the opportunity to go inside Mr. Rex, the giant tyrannosaurus rex.
We have been before, but wanted to check out the Nights in Colorful lights, and the Cabazon Dinosaur Valentine Photo Opp.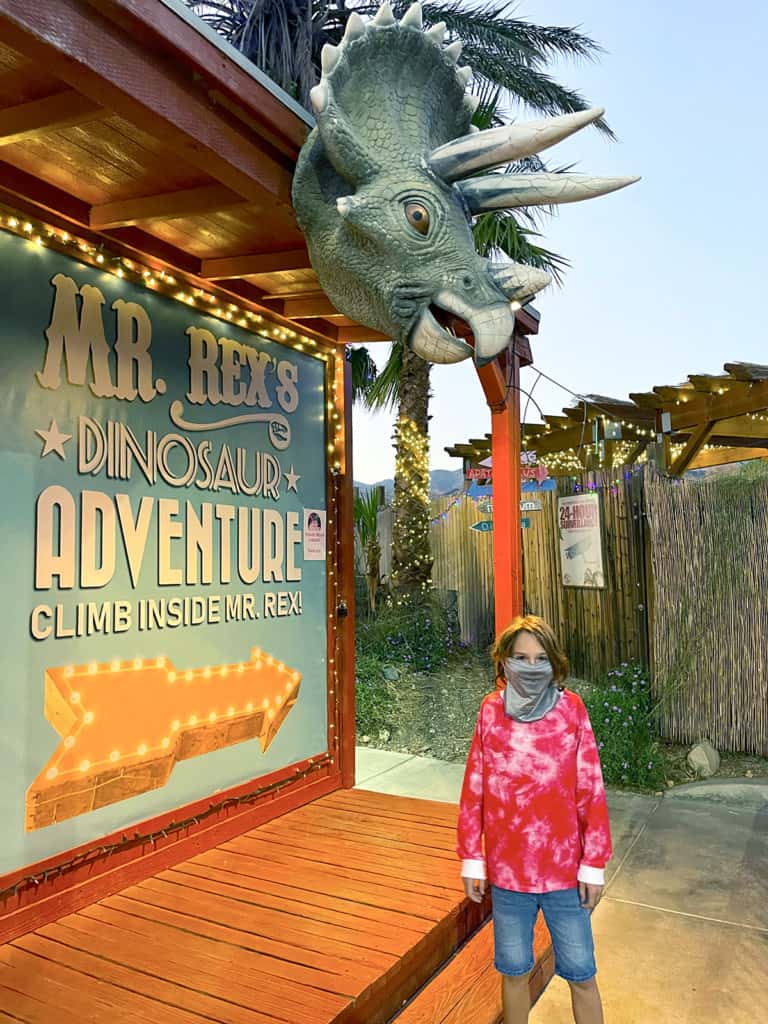 Here are the current admission prices. It is reasonable...but does add up if you have a large family. I recommend going a couple hours before dark. First go through the trail in the daylight, then get some ice cream, then go back to see the trail with the lights.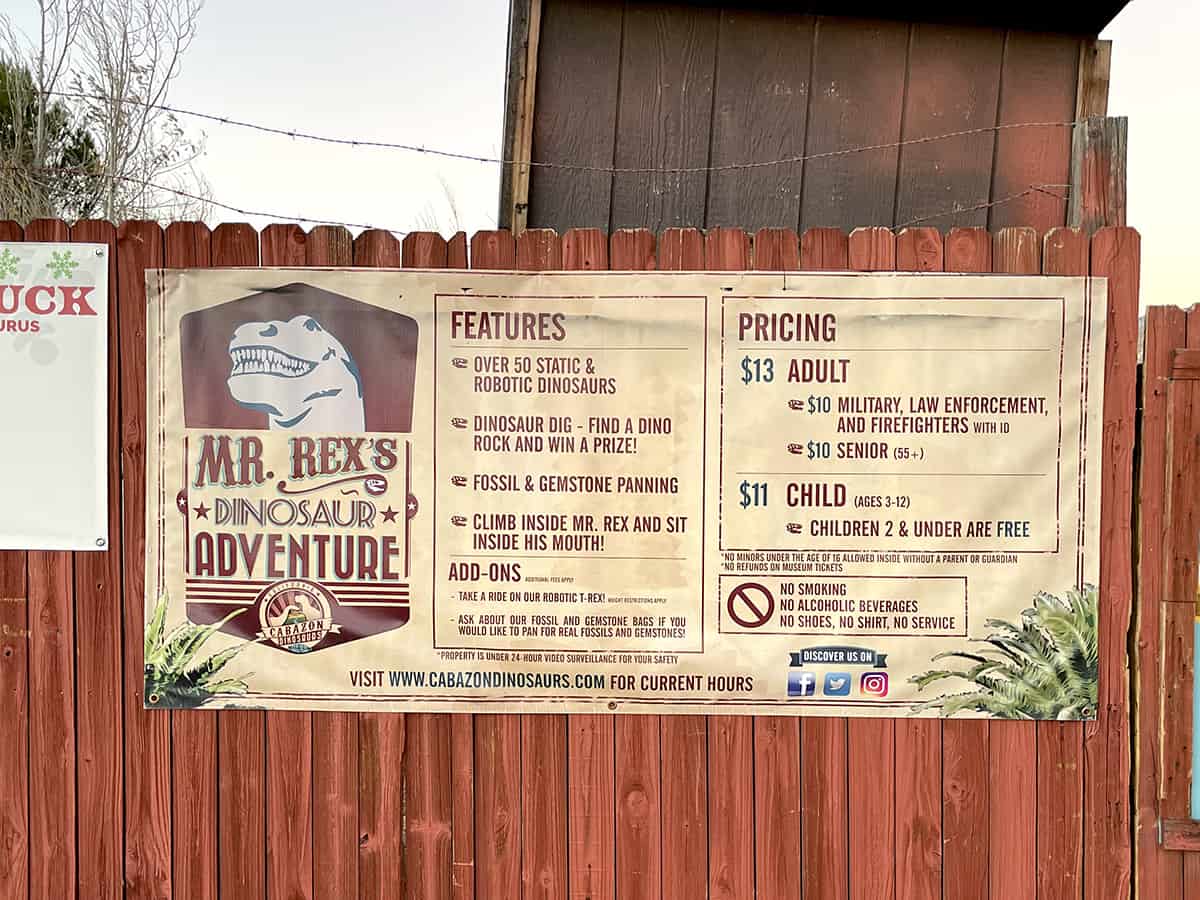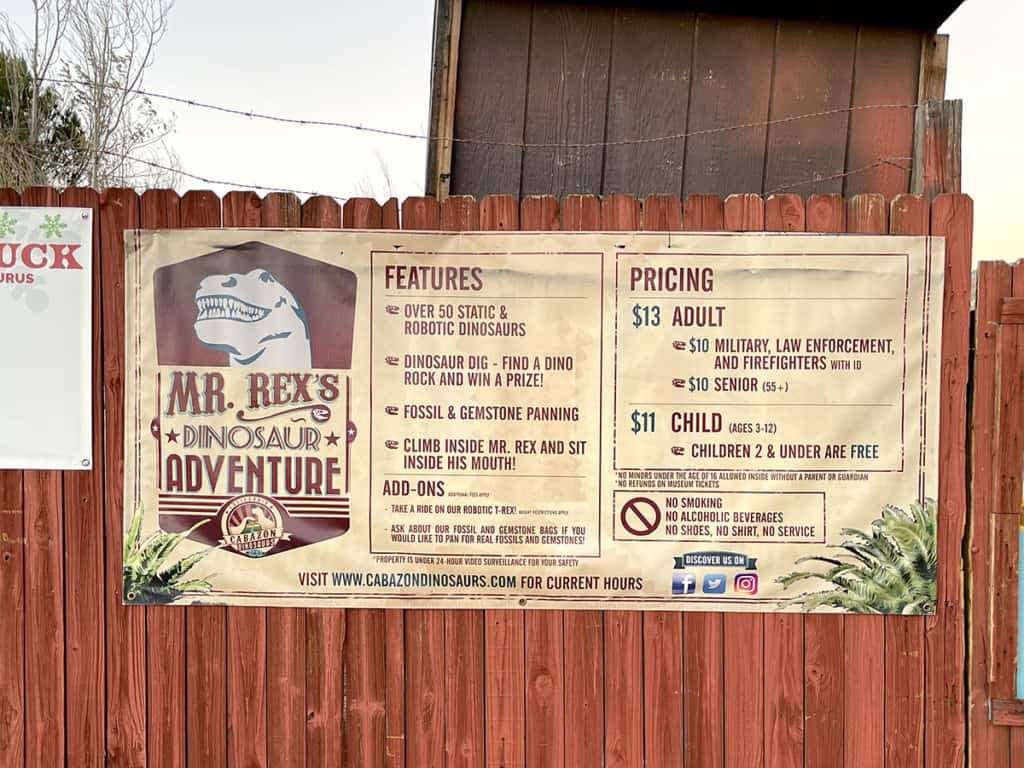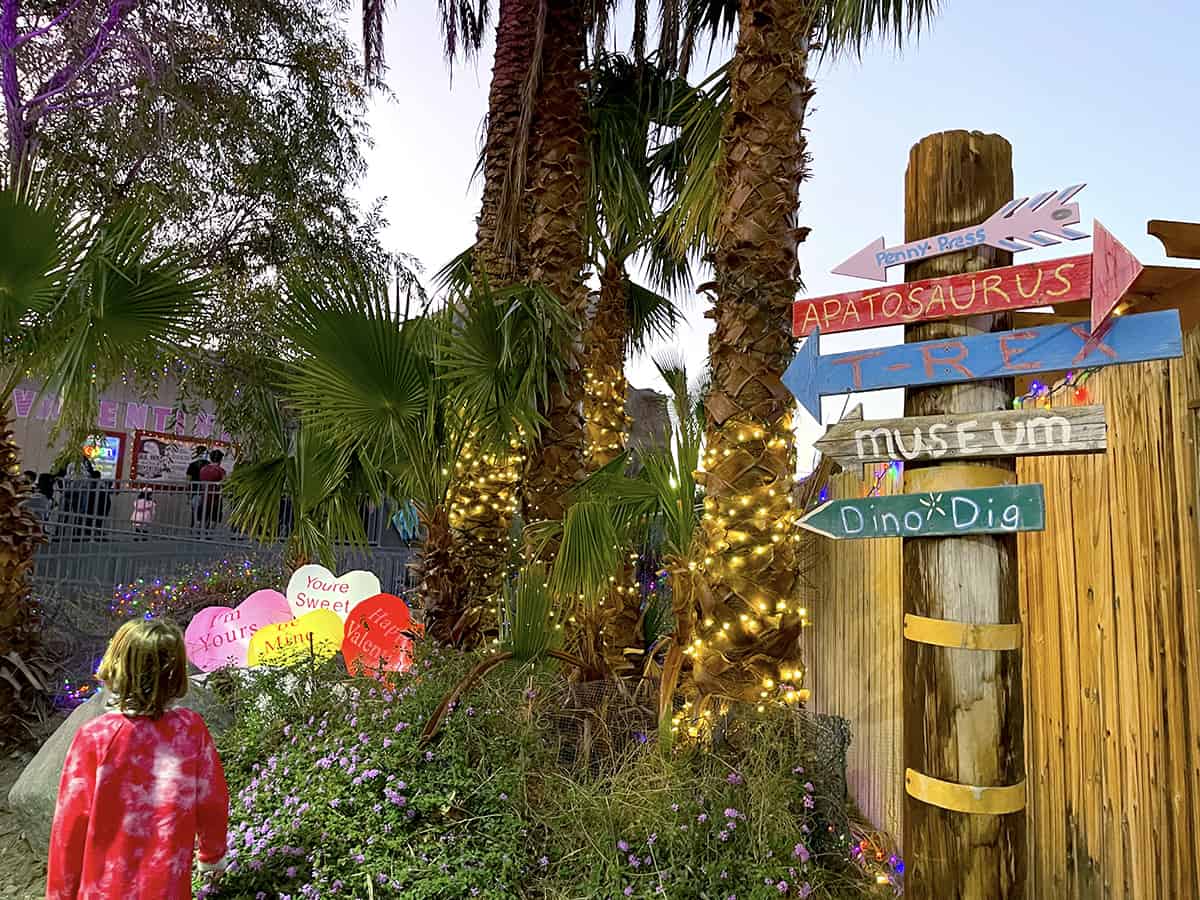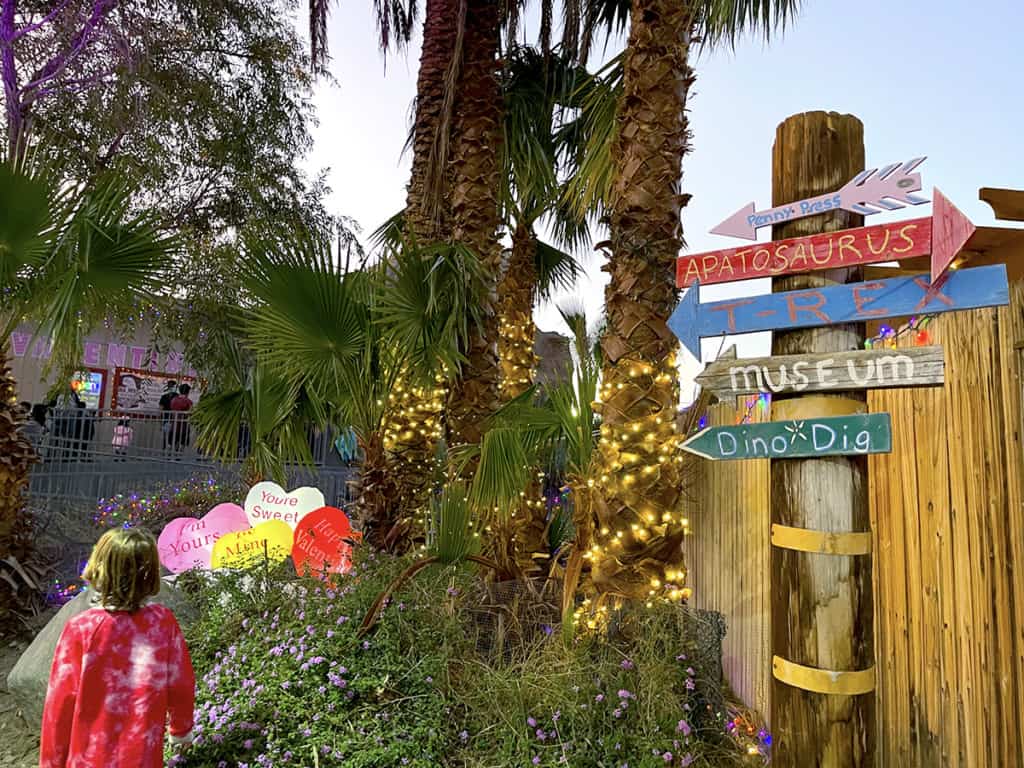 The Cabazon Dinosaur Nights in Lights is basically just Christmas lights decorating the trees, bushes and fences, but it did make experiencing the dinosaur trail at night a little more fun. The Cabazon Dinosaur Valentine Celebration photo opportunity was cute! Even though I didn't purchase the photo package, I still took these photos to show you what it looked like.
Cabazon Dinosaur Valentine's Photo Opp
Here are some photos of the Dinosaur Valentine photo opp. It was really cute. I loved the pink tyrannosaurus rex with the conversation hearts all over!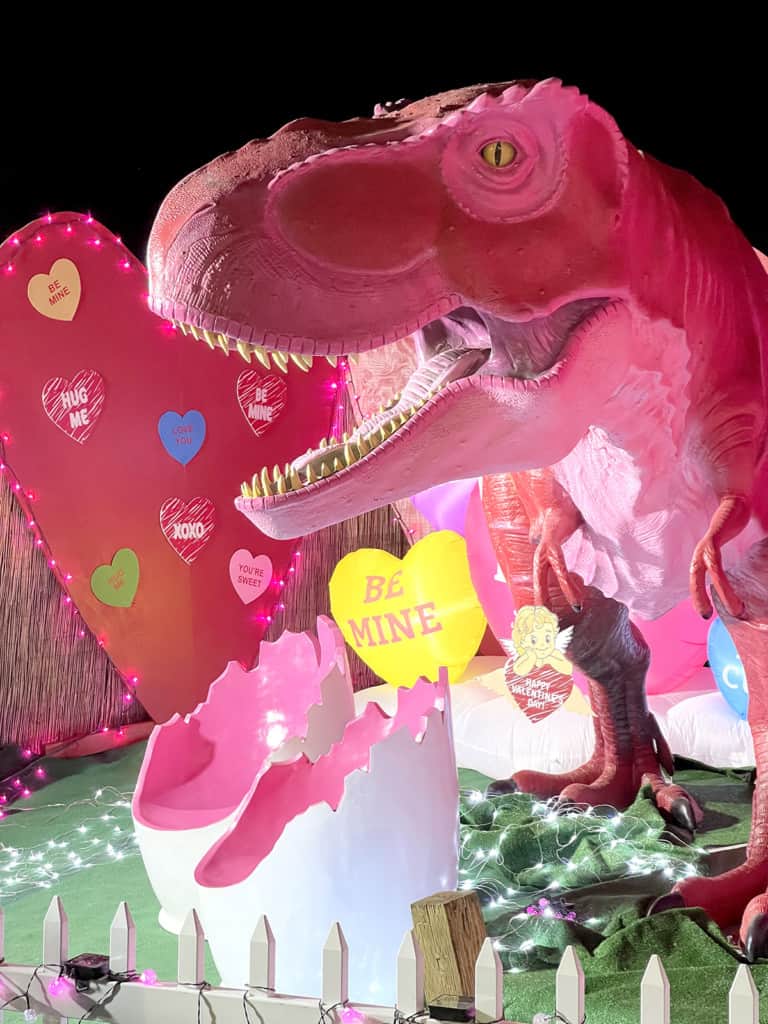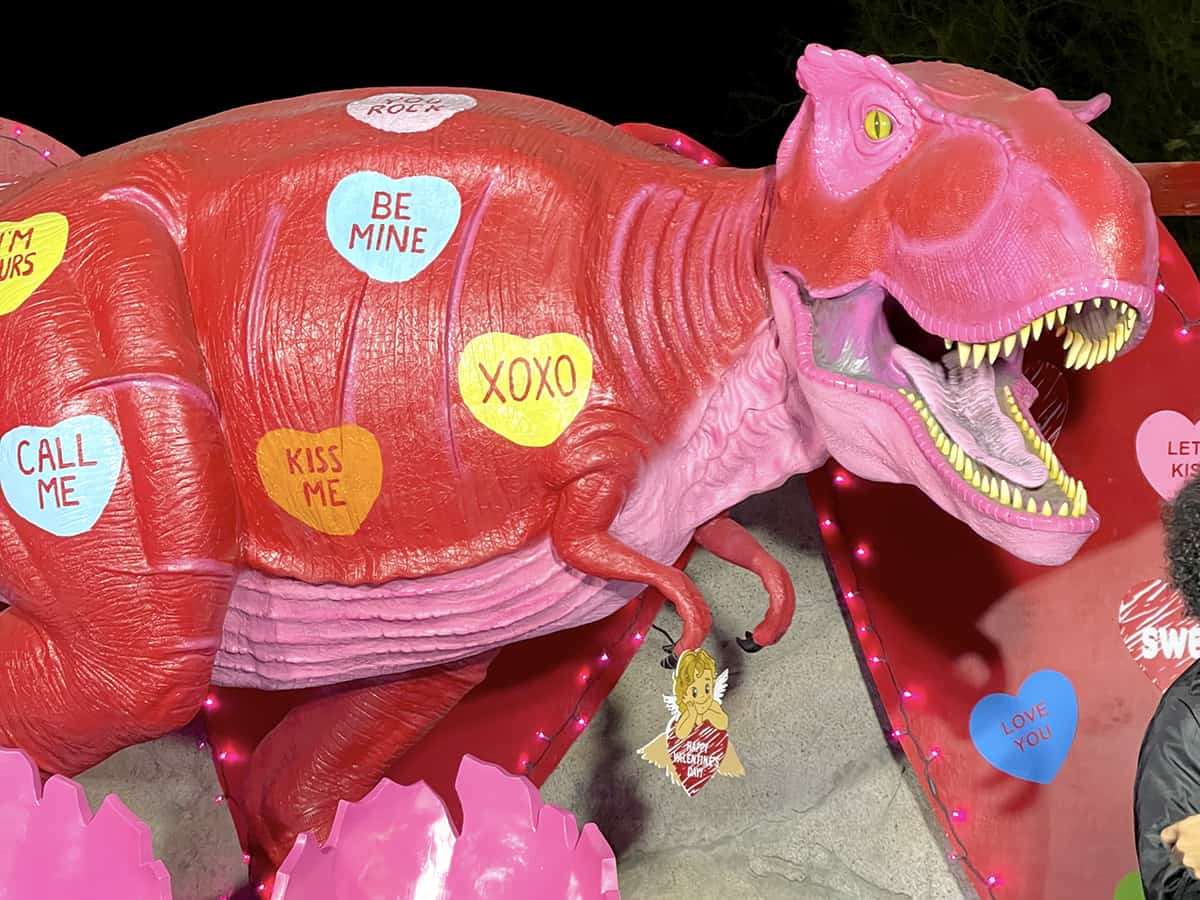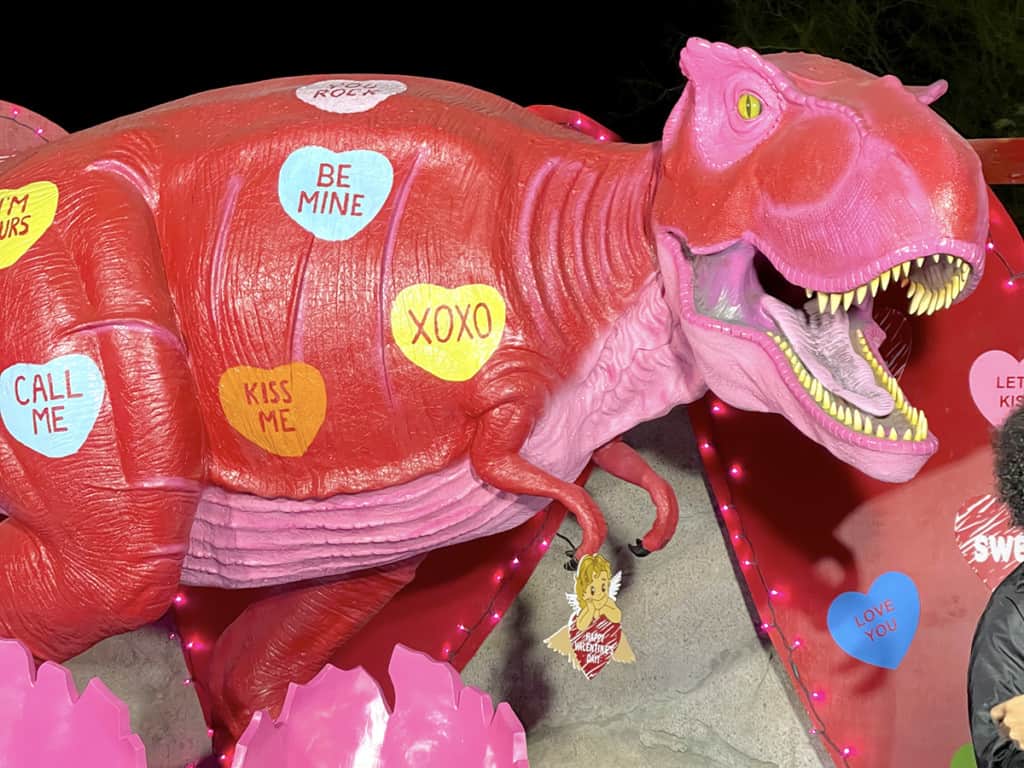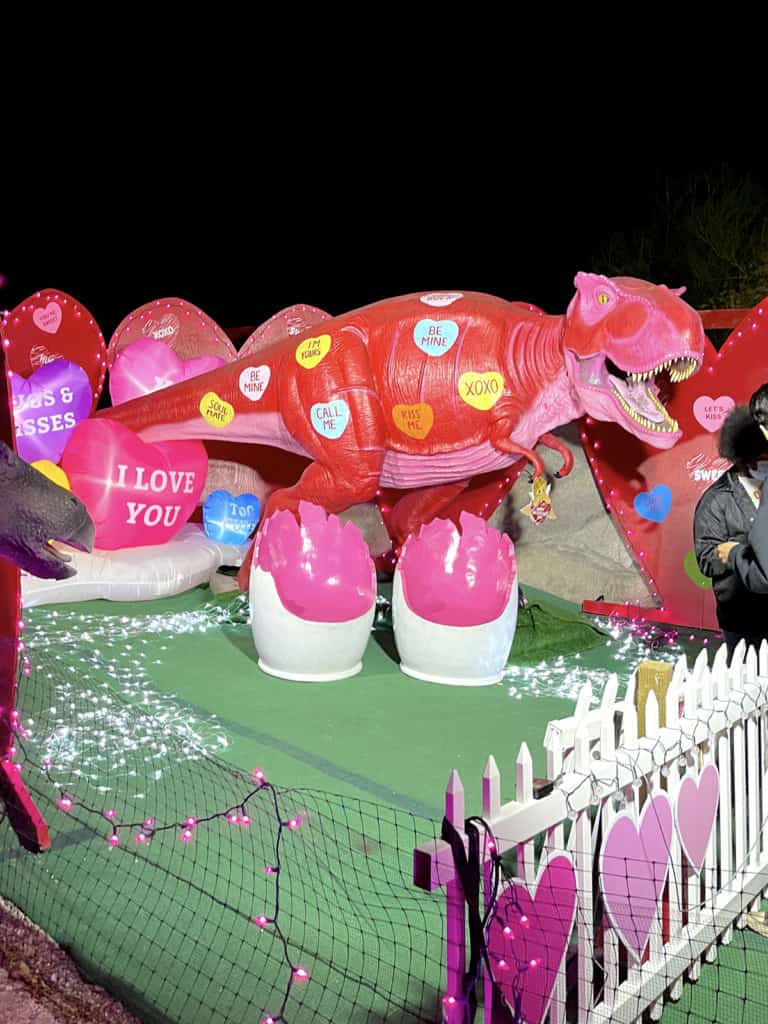 Then we headed through the dinosaur trail to check out the dinosaurs. Here are some photos from our visit...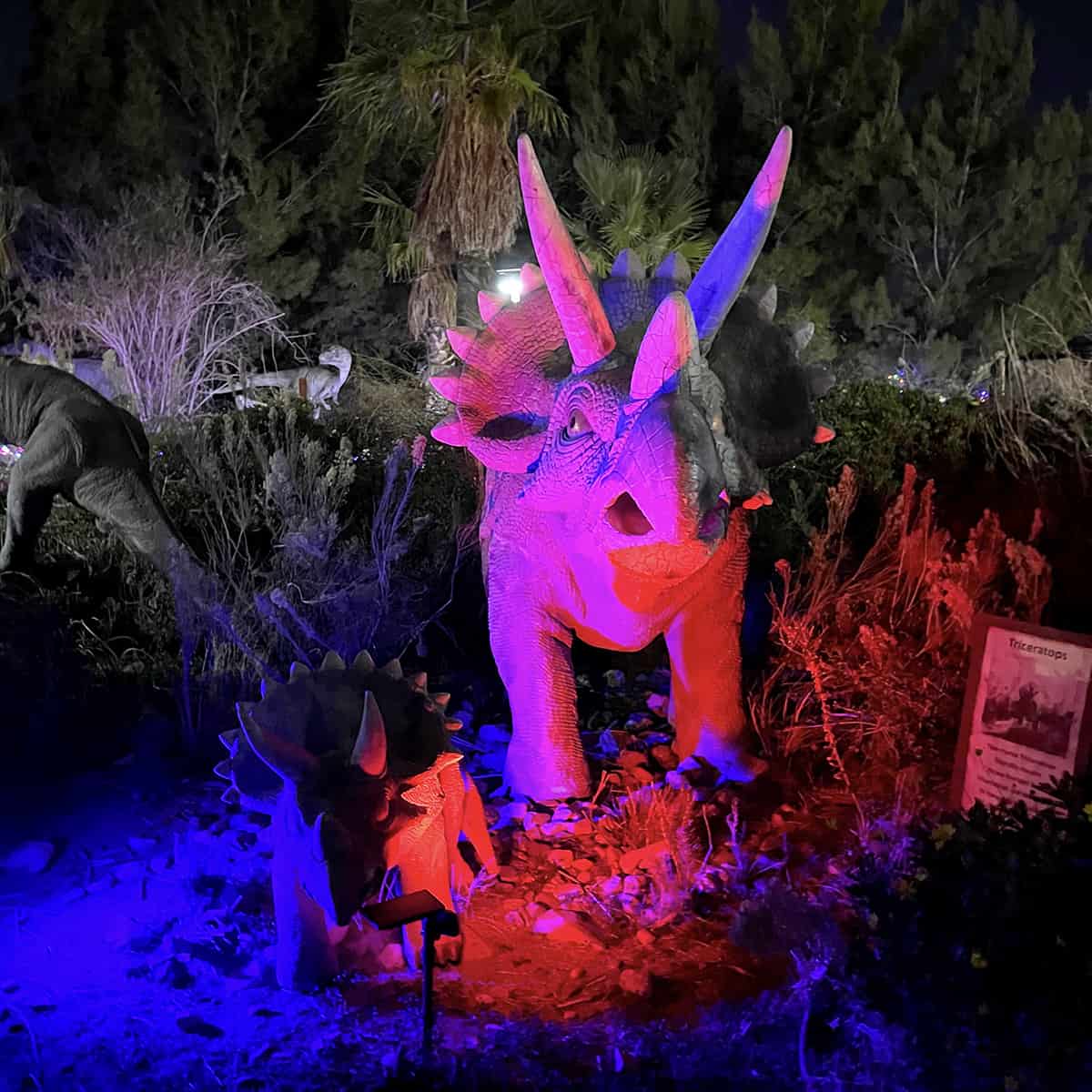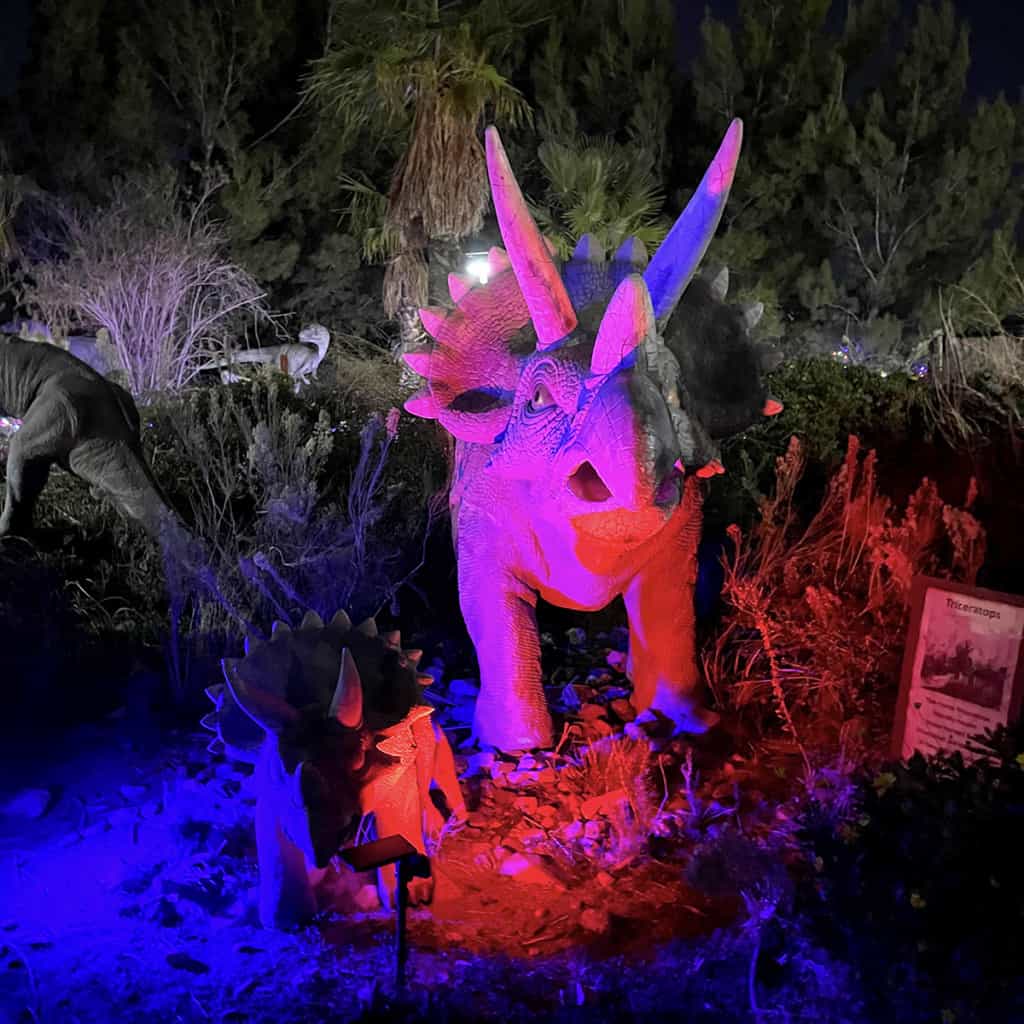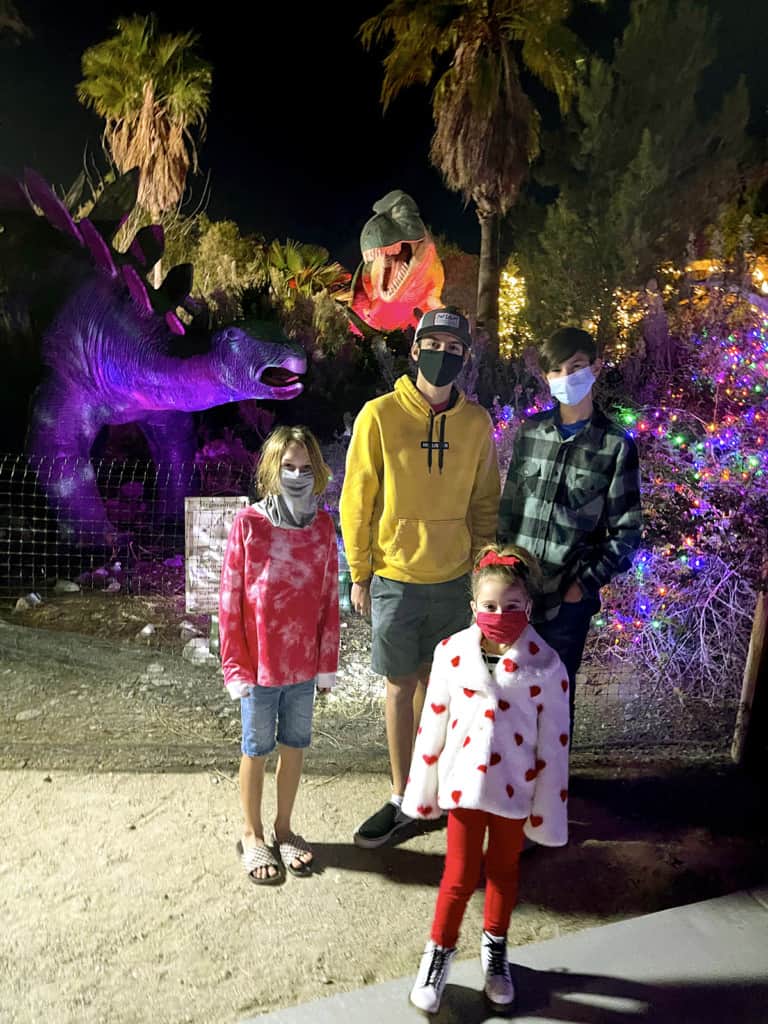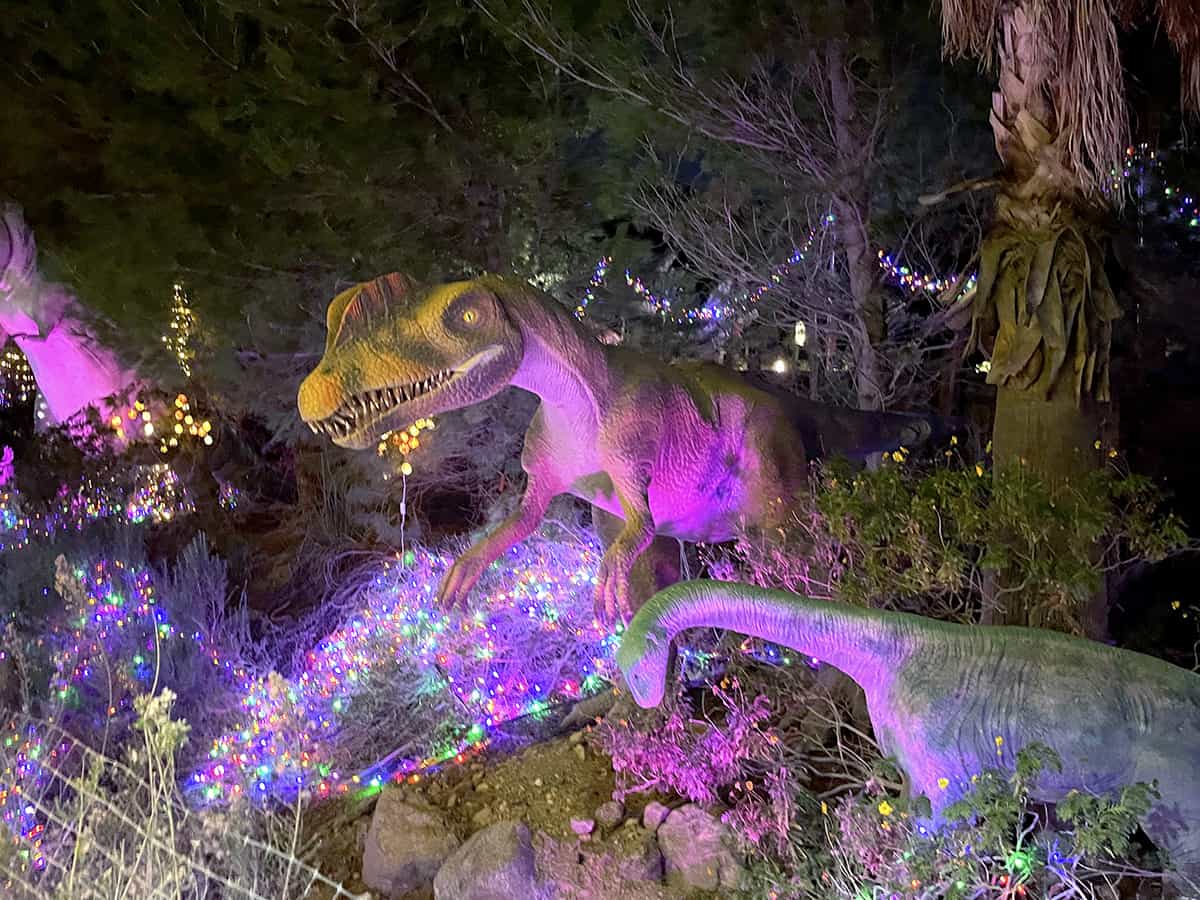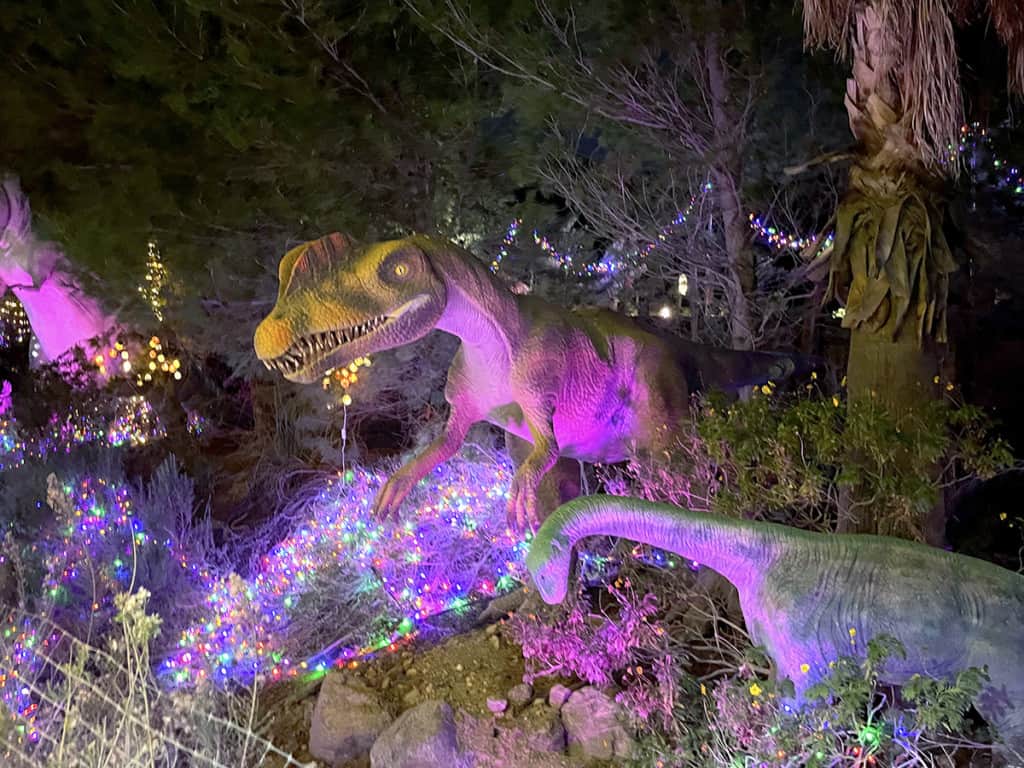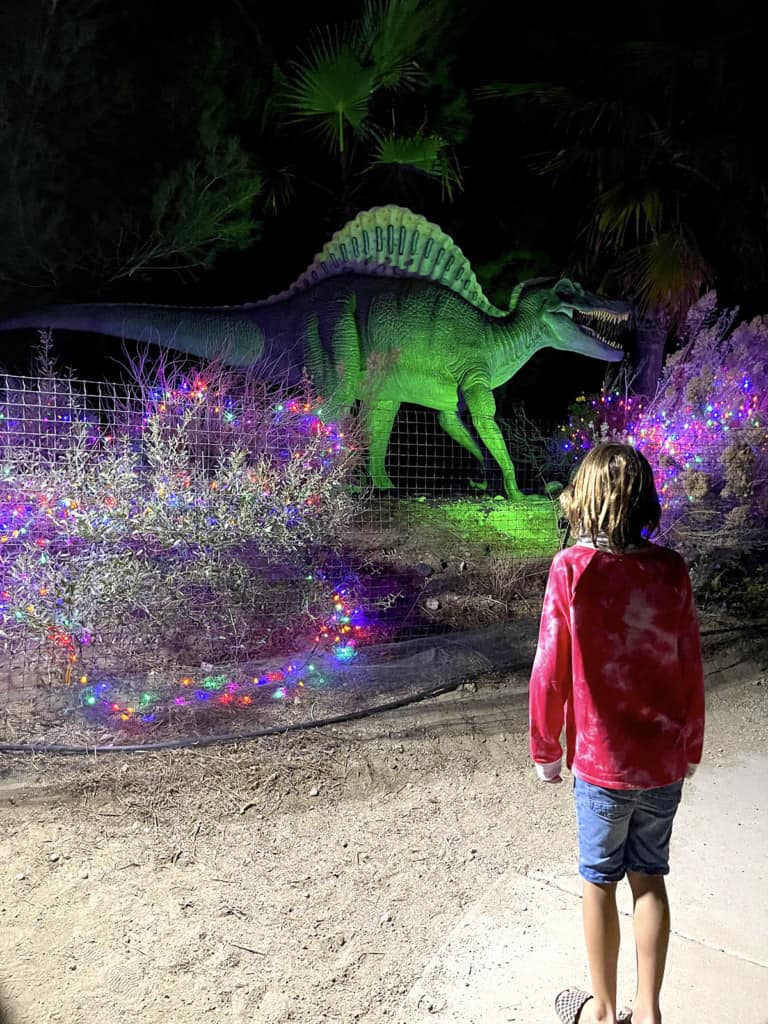 This is the back of Mr. Rex. Like mentioned before, you can enter through the back and go inside to the top. There is a view of the mountains that you can see through his teeth.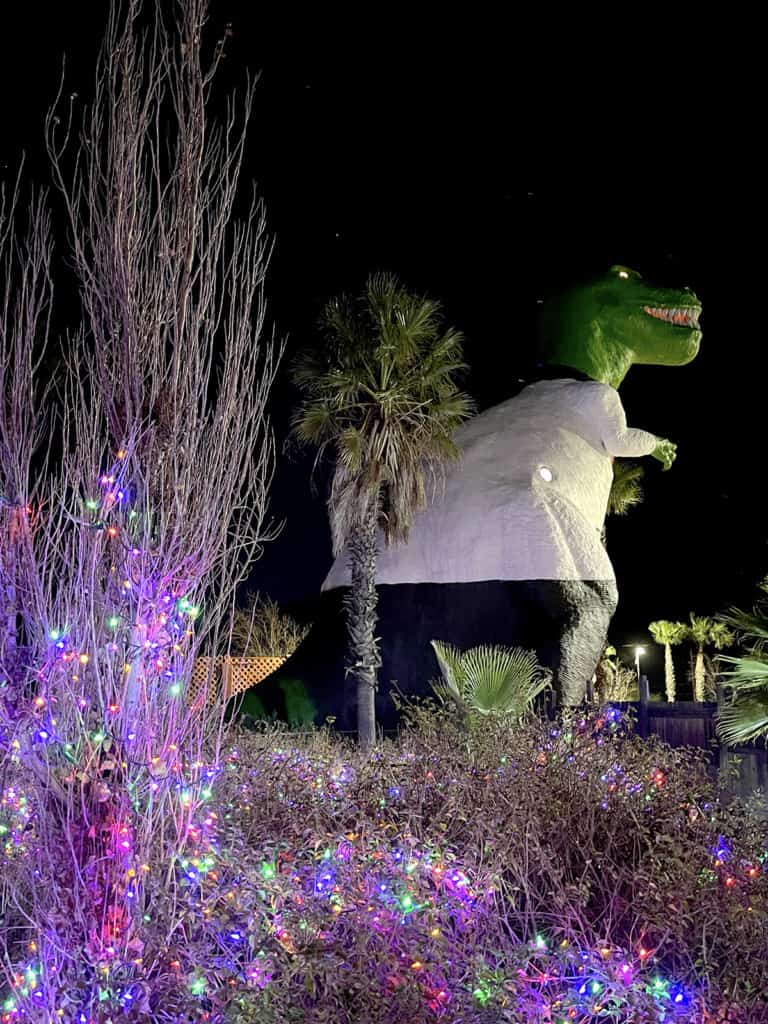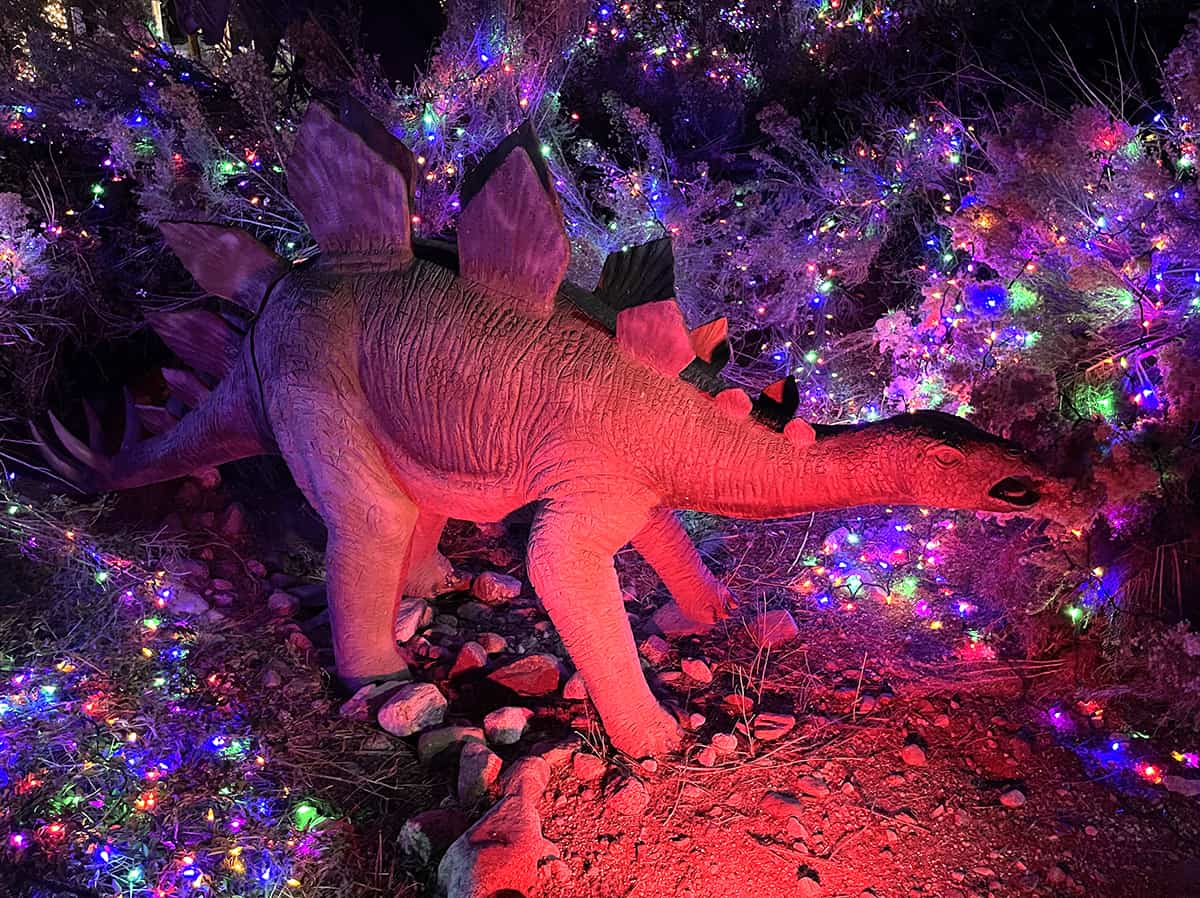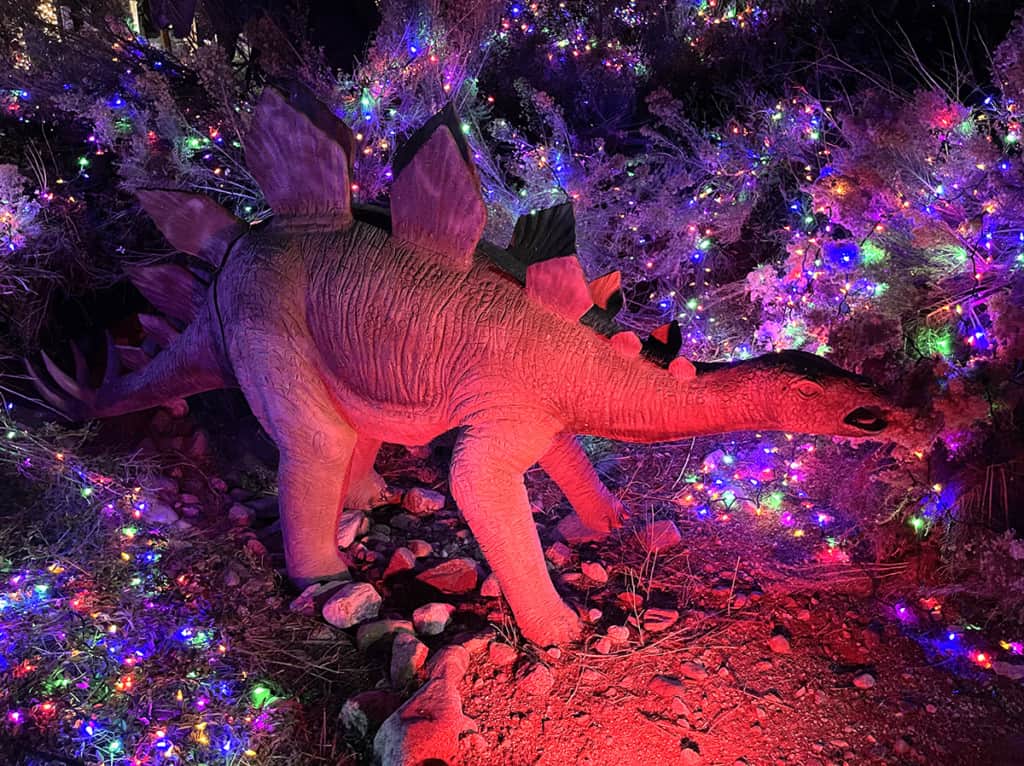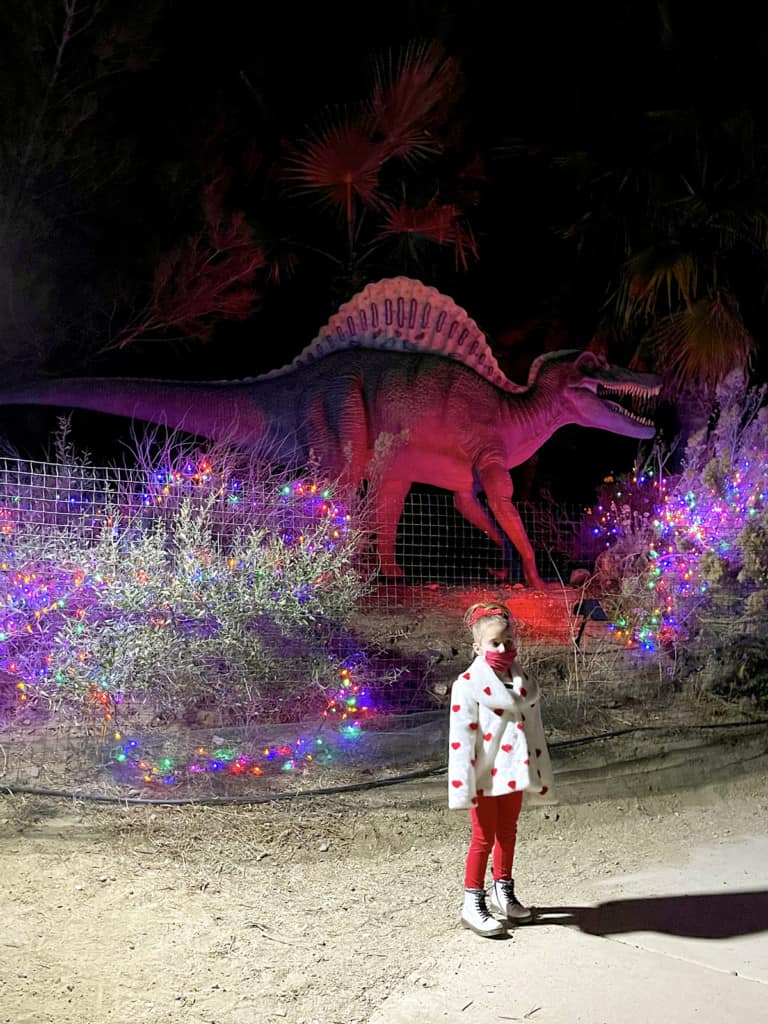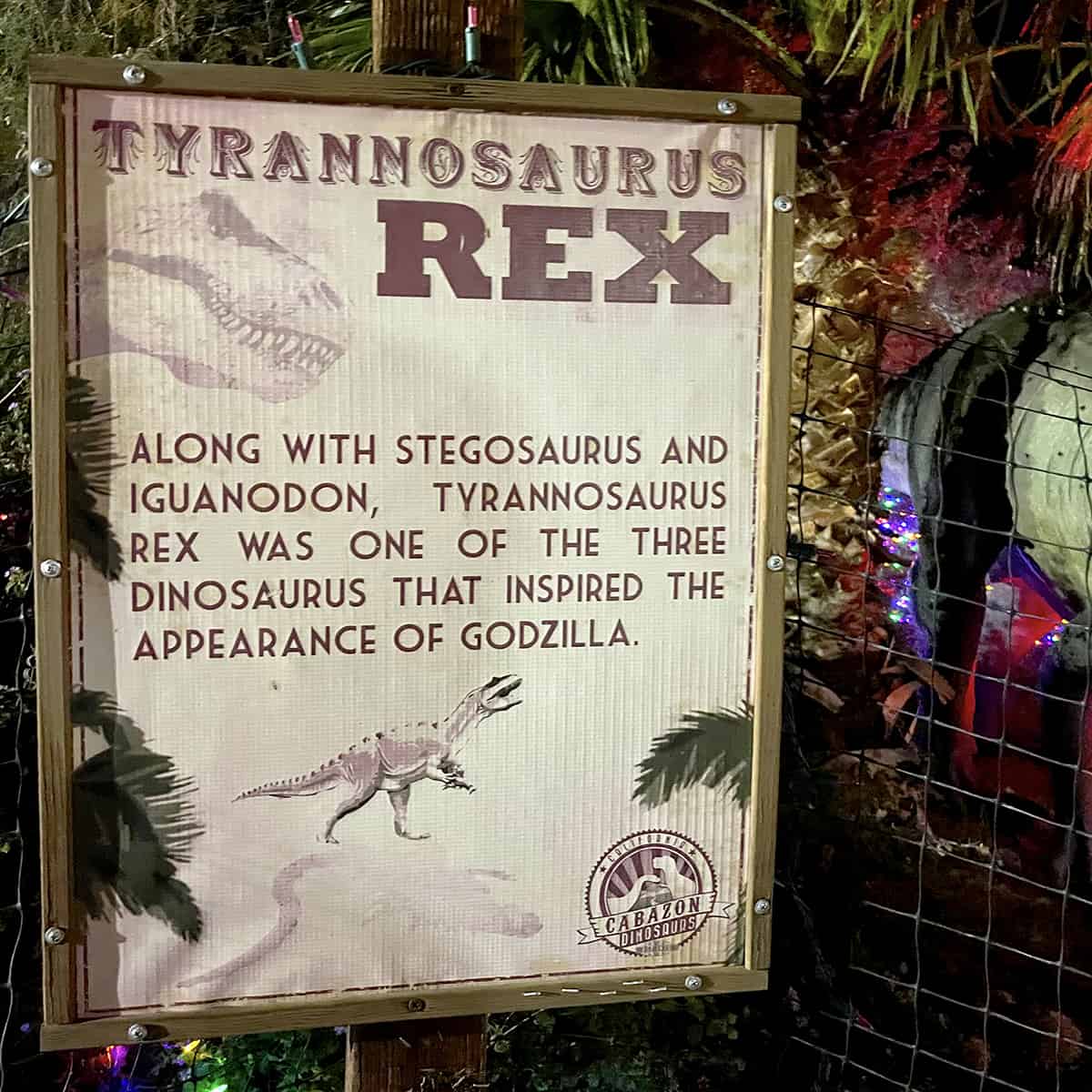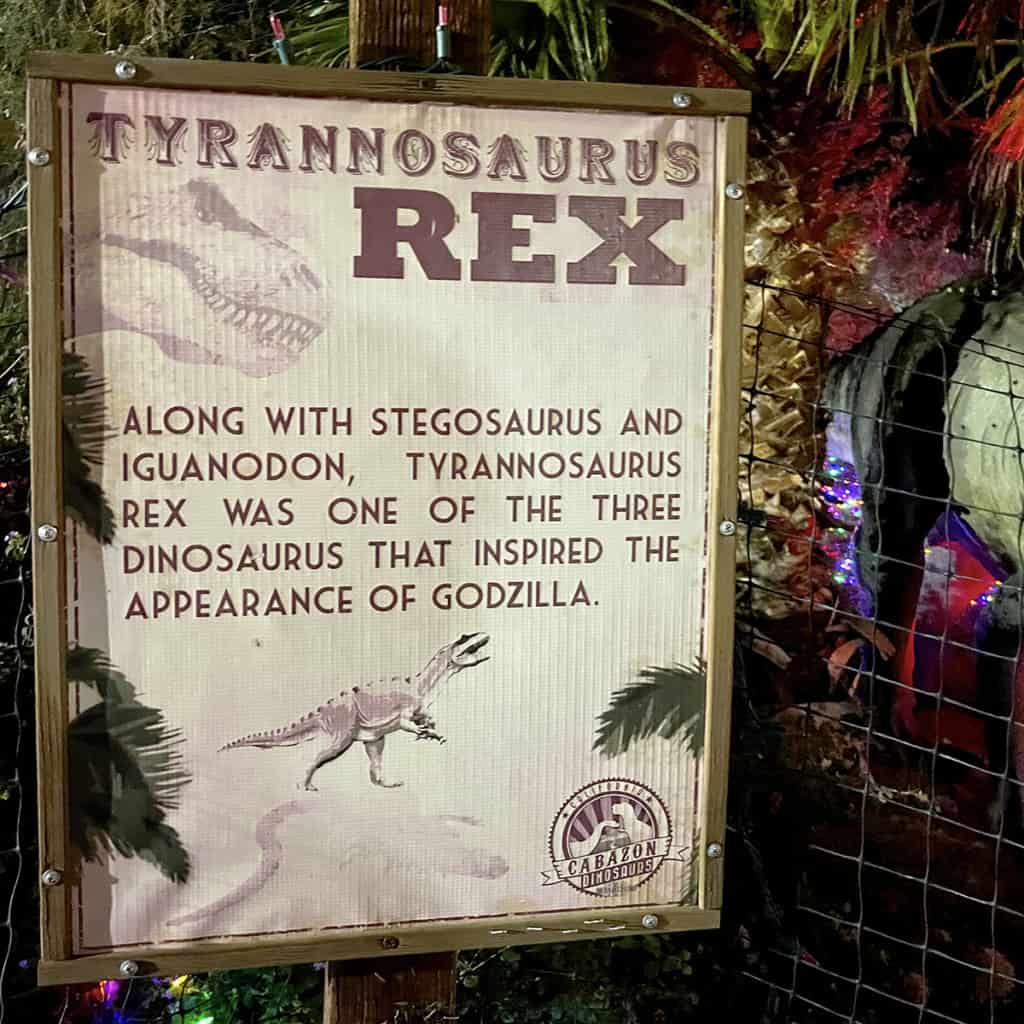 This was one of our favorite dinosaurs. It made a fun photo and you can also go inside the dinosaur egg if you would like.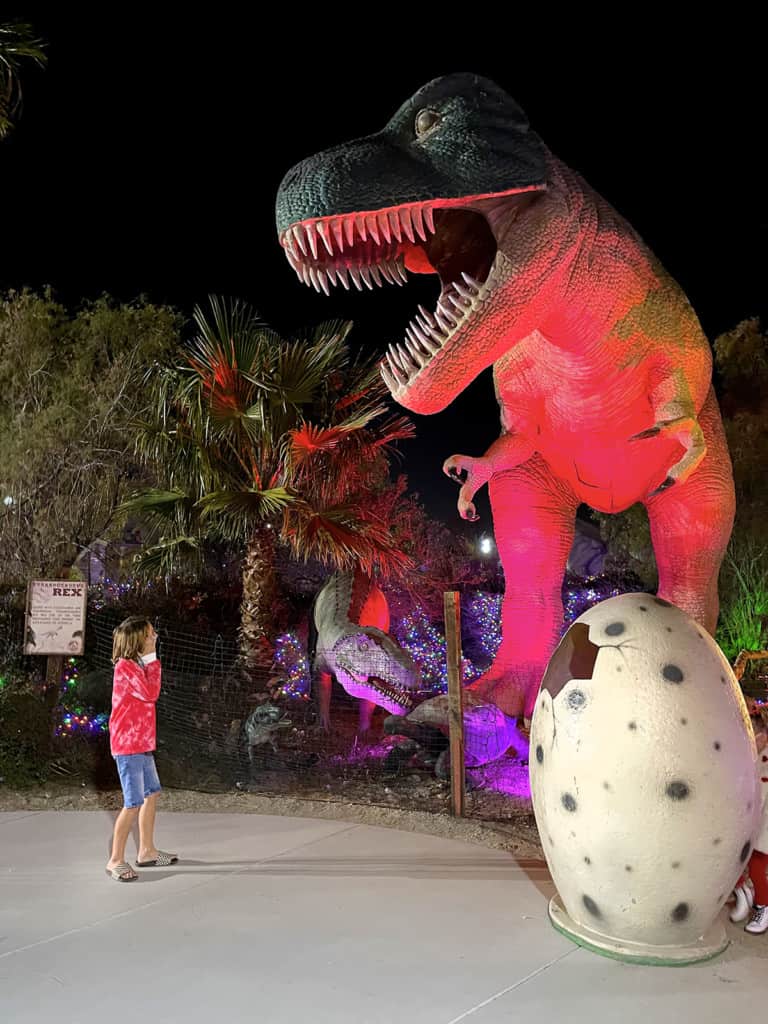 What Else is there to do in the City of Cabazon?
If you make the long trek from Orange County to visit the Cabazon Dinosaurs, you might not want to head home so quickly after you arrive. Although the city of Cabazon is small, there are still some things to enjoy in Cabazon if you want to make a day out of it.
There is a small museum and gift shop inside Dinny the Dinosaur. It is free to check out. You could also head over to the Cabazon Premium Outlets which feature 18 major retail outlets, lots of food options and a nice atmosphere. You could also head over to Morongo Casino if you like that sort of thing, however I believe it is 18+.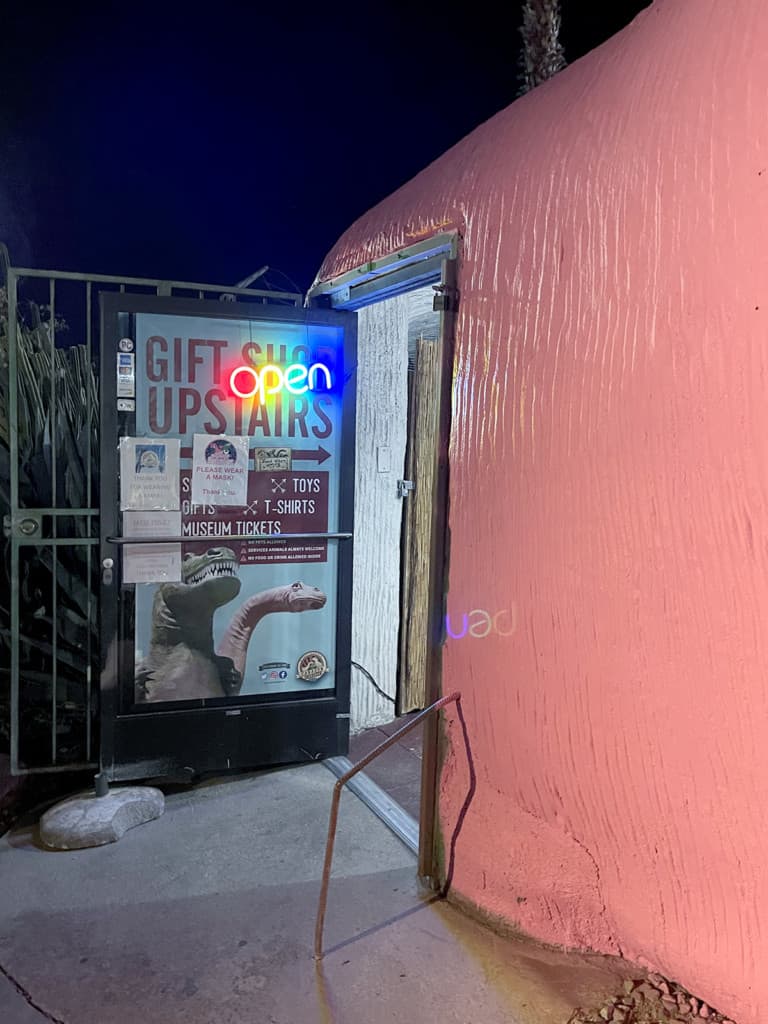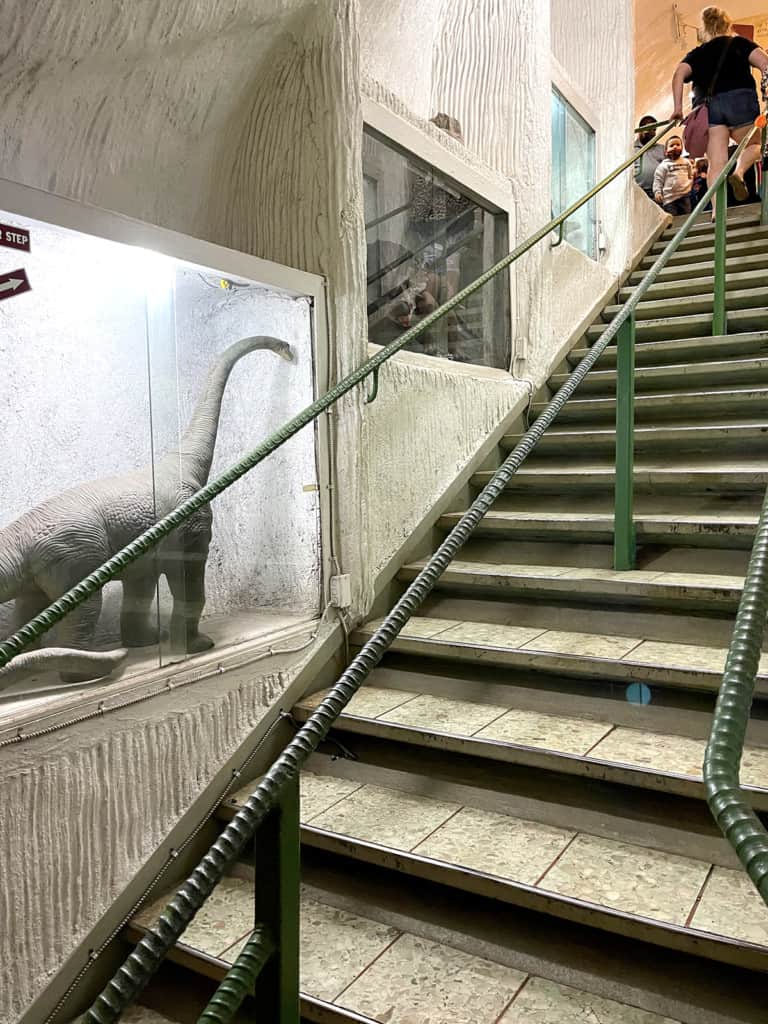 Overall, we had a great family outing and highly recommend visiting the Cabazon Dinosaurs Valentine Celebration if you are looking to get out in the fresh air and check out a change of scenery. The desert landscape is beautiful, especially at sunset. And I can definitely stay we all needed to get out of the house. The dinosaurs were a welcome adventure!