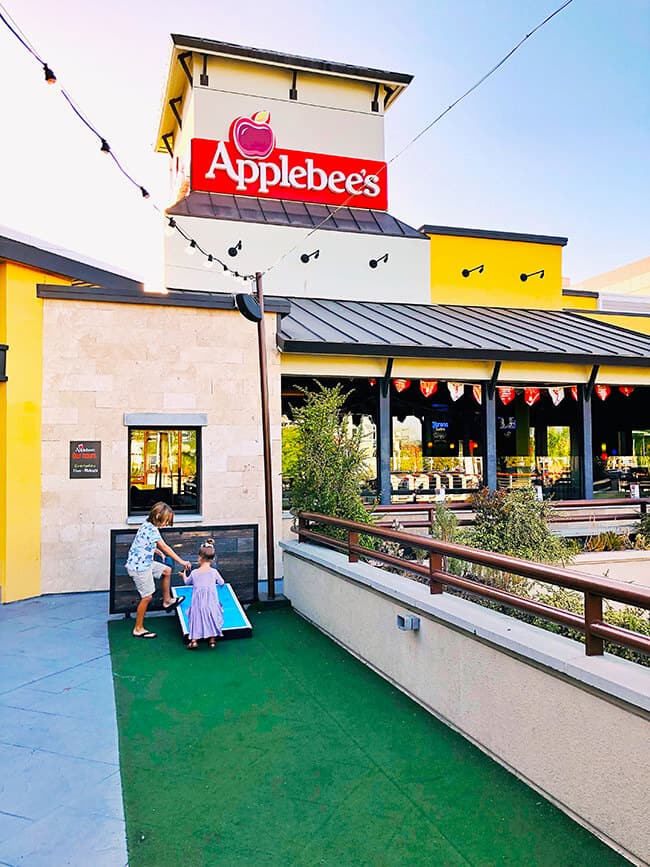 if you have kids, then you probably have experienced the struggle that comes with taking them to a restaurant. i had finally gotten to the point in life with my boys, that going to restaurants with them was fun again. but now that Dani has come along, things are back to crazy! taking a two year old to restaurants isn't fun at all. so we decided to try a family dinner night at Mainplace Mall since we heard it had been renovated to be more family friendly.
if you haven't been to Mainplace Mall in a while, then you will be surprised when you go. they have done some great things in the mall, all towards making your family, food and shopping experience better.
there are a bunch of great family restaurants, and outside, Mainplace has created lounge areas with lawn games, plants, lights and music, to make waiting for your table enjoyable. and although there wasn't a wait for dining at all, the kids had so much fun playing and running around. no fighting, great weather, nice music and a fun atmosphere started our dinner experience right.
on this evening we decided to try out Applebee's, because we've never been to an Applebee's before. it is a very family-friendly restaurant, with great kids meal options, a relaxed atmosphere, video/game pads for the kids to play and more.
having a family with kids ranging in age from teen to baby, it's not always easy to find a restaurant to please everyone in the family. but we were able to find food that all the kids enjoyed, and including the parents. some of the things i liked about Applebee's were the meal deals. they have a bunch of different deals where you could get an appetizer, side and entree for around $12-16, they also had couple deals where you could get two meals and an appetizer for around $20. the kids meals all come with drinks, and there was a little bit of everything on the menu.
after dinner, we headed into the mall to check out some of the improvements. a lot of changes have been made, and stores are being added. just think, the more people who come, the more stores will come, and the better Mainplace Mall will be. i totally see the potential. i was happy to see a lot of my favorite children's clothing stores.
i was please to find two large family lounges with bathrooms, nursing rooms, changing tables, microwaves, televisions, game boards and couches. if your a parent, then you know how helpful this can be.
finally, we headed down to the first floor of Mainplace to check out the kids place area...
and we also rode the train!
i enjoyed my time Mainplace so much, that i brought back Dani the next week for some mommy and me time. the mall isn't crowded and there are lots of things to enjoy, there are brand new art murals, and a big food court that have a dining area for families...including kid sized tables. and did you know that there is a movie theater in Mainplace?
yes, Mainplace Mall has changed for the better, and we can't wait to see what else is instore for this mall. don't be afraid to check it out, and be sure to go online to find out when they are having special events. there are many fun family friendly events that are being offered free to the public. way to go Mainplace!