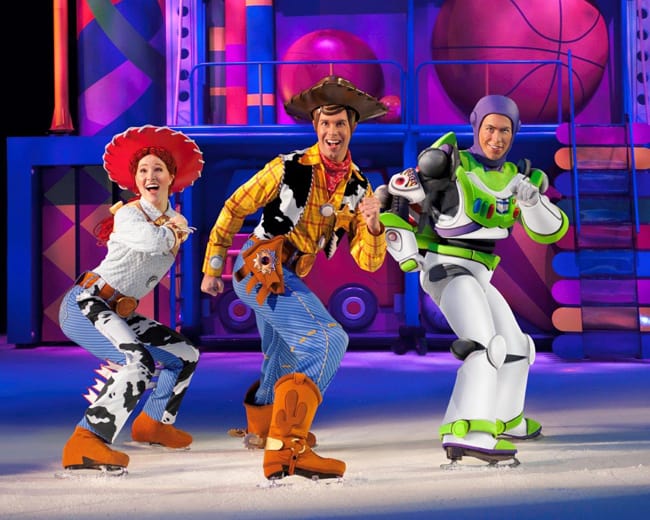 you will want to join the festivities when Disney On Ice celebrates 100 Years of Magic comes to Southern California! this special Disney On Ice is a special experience because 65 of Disney's most beloved characters from 18 unforgettable Disney stories come to life in this commemorative celebration. in this exciting ice show, everyone's favorite sweethearts, Mickey Mouse and Minnie Mouse, will take audiences on a fun-filled adventure, sharing memories with Disney friends including Goofy & Donald Duck; the Disney Princesse, Chip & Dale, Pinocchio, Belle & The Beast and many more. audiences will be captivated by the magical moments from Disney's Aladdin, Mulan, The Lion King, Disney/Pixar's Finding Nemo, The Incredibles and Toy Story!you will be mesmerized by the choreographed skating, breathtaking production numbers, stunning costumes and clap-happy songs will inspire fond Disney memories. families can share this once-in-a-lifetime skating spectacular as Mickey and the rest of the gang take the audience on a whirlwind tour of favorite Disney moments.
you are invited to experience the beauty, sparkle, and spirit when Disney On Ice Celebrates 100 Years of Magic comes to the Inland Empire and Long Beach!
wanna go? here's the info...
April 16 - 20th, 2014
Long Beach Arena - Long Beach
300 E. Ocean Boulevard, Long Beach, CA 90802
April 23rd - 27th, 2013
Citizens Business Bank Arena - Ontario
4000 Ontario Center Parkway, Ontario, CA 91764
$22, $28, $45 (vip) and $65 (front row)
opening night tickets available for only $12 each (not valid for premium seating)
all seats are reserved and available at the venue Box Office,
LongBeach at 800-745-3000.
Ontario at 888-9AXS-TIX.
use code MOM for a great discount!!! (valid only certain days)