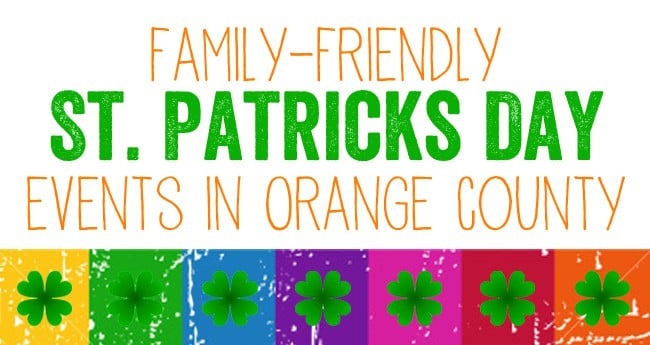 St. Patrick's Day is just around the corner and there are some fun event happening here in the OC to celebrate this lucky day of green. the kid and family-friendly St. Patrick's Day events are sure to put the rainbow in your lucky day.
St. Patrick's Day Storytime at Pottery Barn Kids
Tuesday, March 11, 2014  •  11:00  •  Pottery Barn Kids South Coast Plaza
kids can enjoy a fun storytime event with a St. Patrick's Day theme!
OC Zoo St. Patrick's Day Celebration
Saturday, March 15, 2014  •  10:00 am - 4:00 pm  •  OC Zoo
the zoo animals will be receiving St. Patrick's Day themed "toys" and "treats" on this special day.
Kids can also make St. Patrick's Day crafts. In honor of this "green" day, we will be accepting donations of gently used blankets, comforters, and towels, boxes of any size, dog and bird toys, and perfume. these items are used for the animals, and for each item donated, you will receive one free zoo admission.General admission is $2 per person, ages 2 & under are free.
Parking $5 per car.
St. Patrick's Day Magic Show with Dave Skale
Saturday, March 15, 2014  •  1:00 pm  •  Huntington Beach Central Library
come celebrate St. Patrick's Day early with the Friends of the Children's Library in Huntington Beach! Patty O'Furniture the Leprechaun has lost his most prized possession, his gold! will your kids be able to help Patty find his treasure? come find out in this comedy magic show with audience participation and tons of fun! Tickets go on sale Saturday, February 22, 2014. Advance purchase is highly suggested.
St. Patrick's Day Leprechaun Hunt
Saturday, March 15, 2014  •  9 - 11:00 am  •  The Reserve at Rancho Mission Viejo
bring the "wee-ones" out for a morning in pursuit of the mischievous Irish faery - the Leprechaun.
kids will decorate a blarney stone and learn more about the Irish history of The Reserve at Ranch Mission Viejo. register at www.rmvreserve.org or call 949-489-9778. all participants must be registered or on the wait list by 4:00pm on Friday, March 14th.
8th Annual St. Patrick's Day Celebration & Green Festival
Sunday, March 16, 2014  •  Orange County Marketplace
everything green will share the spotlight during this festival which combines a bit o` the Blarney spirit and eco-friendly living. from earthworm and food composting and trash fashions to champion Irish dancers and leprechaun magic, there will be tons of St. Patrick's Day fun.
St. Patrick's Day Crafts and Activity Program
Sunday, March 17, 2014  •  3 - 4:00 pm  •  Irvine University Park Library
Join us for crafts celebrating all things Irish! Fun! Free! This is a drop-in program so stop by anytime between 1pm and 3pm. Suitable for kids of all ages. Sponsored by the Assisteens of Irvine.
Celebrate St. Patrick's Day at Pretend City
Monday, March 17, 2014  •  3:00 am - 1:00 pm  •  Pretend City
green's the way to be on this fun filled day! Celebrate St. Patrick's Day through a treasure hunt, Irish art, and leprechaun visits. everyone will have the opportunity to participate in sensational Story Time, End of the Rainbow Treasure Hunt, the Lucky Leprechaun Game and Leprechaun Magic. Don't forget to wear your favorite green costume for an Irish inspired heading home parade!