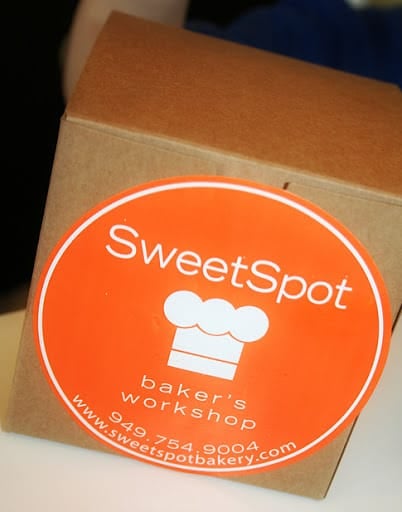 (update: SweetSpot has closed.)
friday was one of those perfect days when the weather felt crisp, clean and just warm enough for shorts. the kids were being angels, the house was perfectly clean and i was feeling much better than i usually have been with my pregnancy yuckiness. yes, pretty amazing! (i think this has only happened a handful of times since i have had kids) it was also the last weekday of my oldest's winter break from school. so i decided to take the kiddies down to the Irvine Spectrum for some mommy time.
we just went for a bite to eat and then i took them over to Sweet Spot Baker's Workshop. which is just located in front of that giant wheel. i have never been to Sweet Spot Baker's Workshop, so it was a fun new experience.
it is a bakery that has fabulous cupcakes, but best of all, you can decorate your own cupcake. how it works is: you pick your cake flavor, pick your icing color, and then you get to fill two condiment cups with your favorite decorations from their candy display. then you go to town with frosting and decorating your very own cupcake. it a kids dream. and my kids just loved it.
the cost per cupcake is a little pricy, $4.75 each, and i think that i would prefer to eat one of their premade treats (did you see how much candy my kids put on them!) but it was 40 minutes of so much fun. plus we had an enjoyable lunch at Subway, counted the animals on the carousel and watched kids at the ice skating rink.
(the ice skating rink)
so go make a cupcake!
jill, jack & kyle