i don't know if it is because we are on the middle of spring break or because summer is my favorite time of year, but i have been thinking of all the things i need to do to get ready for a fun summer. in reality, i should be getting ready for this little baby to arrive. i have done very little. besides getting the bassinet down and the carseat ready, most of my thinking has been – what will be the best way to take all three kids to the beach, what kind of crib would be best to take the baby camping in our trailer, and oh, i need to buy all three kiddies swim gear. yep, all not really priorities.
i also have been looking for fun sand toys and a new Splash Rocket. what's a Splash Rocket? only the best outdoor water toy we have ever had. i mean this Splash Rocket = 2 hours of fun for the kiddies and 2 hours of peace for the momma.
it is a light weight plastic rocket that can be launched in the air by a stream of water. the stream of water is controlled by a lever which you can control.
we have had two of these rockets in the past 3 years, and we have pretty much worn them out. and they haven't been easy to find. i have had to search all over the internet to find one. and i did a quick search on ebay to find them selling for $99. but this year browsing through Target AND Toys "R" Us i spotted this: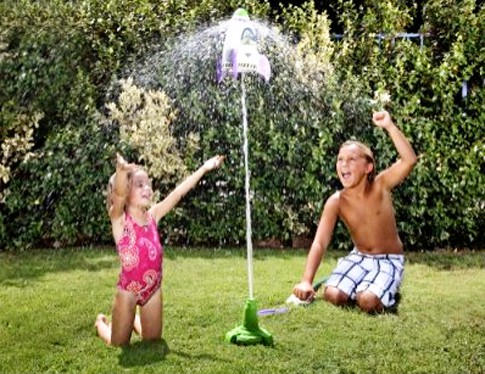 Disney's version of the Splash Rocket. "Banzai Buzz's Rocket Blast Sprinkler" for only $19.99. yippee! and believe me, we will get hours of fun out of it. my husband, my kiddies and yours truely have had a blast with this toy. so if you are looking for a fun summer toy for the kiddies....you have just found my #1 pick.