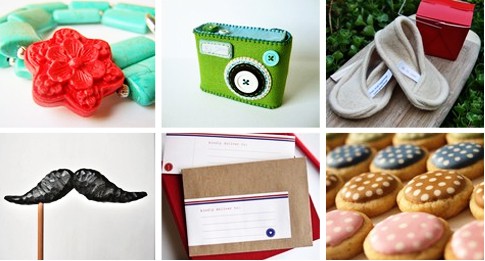 okay, so i know this blog has been a little blah lately. with school starting and having a lot of deadlines i have had no time. and just when i was doing a "time-out for mom" series. i need to listen to my own words.
and it's about time i did another giveaway. as promised, i wanted to give away something for pampering ourselves. just a little treat. i have thought long about this, and just couldn't seem to decide. because my readers are all over, i didn't want to limit the prize to a place in the OC.
then i thought about one of my favorite places to go when i need a break, some inspiration or just something unique and artsy. it's
etsy
. and since i am on the computer a lot, it is right at my fingertips. and for anyone who doesn't know what etsy is, it is a website where crafters can sell handmade and vintage items. there are so many fun things that i could treat myself with! here are some of my favorites!
stationary
cute slippers
camera cases
mustaches on a stick
jewelry
so for this weeks giveaway, i am giving a $20 gift card to etsy. yeah!!!!!!! and promise me you'll spend it on yourself.
to win, you can leave up to 5 comments below on things you do to pamper or relax yourself. and if you want to subscribe to my blog you get an extra entry! first subscribe, and then put subscriber in the comment field. and if you already are a subscriber, you can put subscriber in the comment field as well. contest will end saturday!
thank again for reading sandy toes & popsicles! good luck in winning!