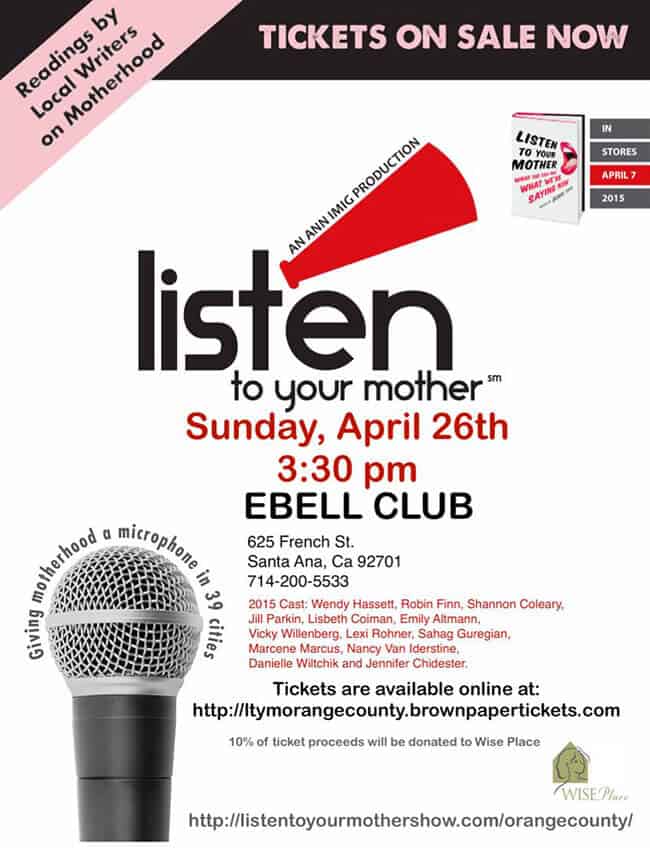 this Sunday, April 26, 2015, i will be stepping out of my comfort zone, out from behind the computer screen and onto the stage in front of hundreds of people. i will be joining 11 other women as part of the cast of LISTEN TO YOUR MOTHER–Orange County 2015. i am super nervous, but also excited. after hearing all these amazing women share their pieces at rehearsal, i was very impressed and realized just how awesome this show is going to be. the words are typed from their heart and their stories and essays were brilliant...we were all laughing and crying!!!
i invite you to join me at LISTEN TO YOUR MOTHER Orange County 2015. bring your mother, bring your daughter - come laugh and cry with us! tickets are on sale!
About the Show
LISTEN TO YOUR MOTHER (LTYM) is the work of over 100 visionaries across the country. during the two weeks before Mother's Day LTYM will take place in 39 different cities, performed by members of the community. the mission of each LISTEN TO YOUR MOTHER production is to take the audience on a well-crafted journey that celebrates and validates mothering through giving voice to motherhood–in all of its complexity, diversity, and humor. LTYM aims to support motherhood creatively through artistic expression, and also financially–through contributions to non-profit organizations supporting families in need.
if you live too far away from one of LTYM live-staged shows, you can experience LTYM through the pages of our new anthology, and online this summer when we add 500 new videos to our archive of 1000 stories from past seasons on our LTYMShow YouTube channel.