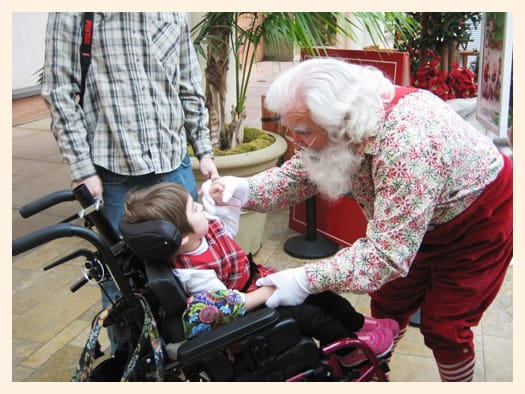 do you have a child with special needs who would love to meet Santa, but would rather meet him in an environment that is geared towards them? Westminster Mall will hold a special Caring Santa™ event tomorrow, December 2nd from 9:00 - 10:30 a.m. 
Caring Santa is a special event dedicated to families that have children with special needs, providing a subdued environment to visit "The Santa Photo Experience."  many steps will be taken to reduce sensory triggers, creating a more comforting environment for the children's magical visit with Santa. during the duration of the event, Simon Mall will take important steps such as:
• turning off in-mall music
• stopping escalators located near the Santa set
• dimming the lights
• shutting down fountains
• eliminating queue lines through the use of a numbering system so that guests approach the set when their number is called
special activities and stories geared toward the needs of the child during the 'wait' period to help the child understand what activities will occur during the visit.
this will be the second year for the Caring Santa program at many Simon malls, this event was very successful last year. participants are encouraged to RSVP (but is not necessary) for the Caring Santa event at Westminster Mall by going to www.AbilityPath.org.