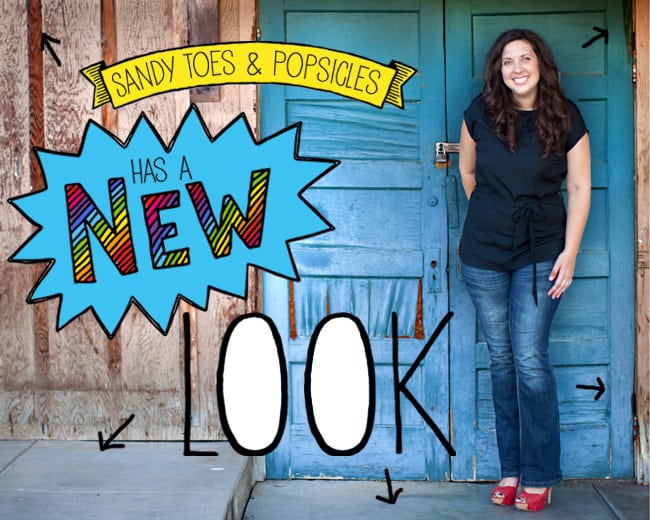 as you can see, Sandy Toes and Popsicles has a new look!  i've been blogging in this space for five years now and have only updated the blog once. a lot has changed for me in the last five years, and i figured with that, my blog needed a change.
WOW.  that is all i can say. who knew i would still be blogging today. all starting from this simple post, where i began blogging my preparations for summer, and tips of free activities and offers i found around Orange County. i started this blog to share stuff with my personal friends. short and sweet.
life seemed so simple back then. i still remember that summer. it was milestone in my life. a kid just finishing kindergarten, a two-year old, a new set of school friends, and me....i was just trying to be an involved mom, learning along the way how best to raise my kids.
it was that summer that i realized i loved blogging. people....other than just my friends read my blog. i started to meet and connect with new persons i would never have met otherwise. blogging helped me get out of my comfort zone, made me get out of the house and out into my community, sharing the treasures of the OC with my kids.
who knew i would ever be a writer. not i.
forward to now.
Sandy Toes and Popsicles has evolved from that first summer of sharing deals and tips on having a frugal summer in SoCal. things like crafts, recipes, reviews, giveaways and printables have all made their way onto this blog. and as Sandy Toes and Popsicles has evolved....so have i.
so it is time to change Sandy Toes and Popsicles up a bit. i feel the need to bring my personal life into it more.
a lifestyle blog.
as my children have grown, they have desired to take life at a slower pace...and taking their cue, i need to slow down too. having a lazy day at home is perfectly acceptable to them. we have shared so much of Orange County on this blog and after years of enjoying every inch of Orange County, we. are. tired.
going forward with the Sandy Toes and Popsicles....we will still be sharing our adventures of living in Southern California, but look forward to us sharing it in a more personal light. more of me, more of my kids and more of LIFE.
what you will find on this blog....
crafts. i'm all about making and creating things. from crafting with kids, to gifts and decor, i am always creating something. i want to share more of what i do on the blog.
recipes. i may not be the best cook, but i can bake. i like making pretty desserts and fun family meals that are easy. i'm going to start sharing more of that.
printables. these happen to be some of my most popular posts. and they are probably what i am most known for. so lets make more!
me. i'd love to share some more of my personal thoughts and ideas on this space. since my kids are growing up, they are not always thrilled to be the spotlight of every post and photo.
and yes...
Orange County events. i will still be sharing upcoming events with all of you, BUT i am going to try to keep those great OC happenings in bi-weekly posts. their are plenty of new OC blogs that have minute by minute updates of every kind of activity you could ever imagine. they are great resources, and i don't feel that my time and energy needs to be spent duplicating their efforts. on the sidebar, you will now see a a list of 101 Fun Things to do in Orange County as well as a link to the archives of tips and resources to the best Orange County adventures.
and to my readers...
thanks for all the support throughout the years. it is so lovely to read the many comments and emails you leave me. it makes me happy when i can help others find the beauty in SoCal that i do. and creating projects that are fun for them to do too.
i look forward to many more years to come, as i hope you will enjoy the new Sandy Toes and Popsicles.
So what do you think? What brings you to this blog?